Basalt Island is one of the Ung Kong island groups south of the High Island and Highland Reservoir in Sai Kung. It is also part of the Sai Kung Geological Park. An uninhabited island, it is the largest in the Ung Kong group and famous for its Kwai To Arch, which is one of the four famous sea arches in Hong Kong.

To fully explore Basalt Island, you would need to hike, swim, and find your own way over! Here's how:
Essential information on visiting Basalt Island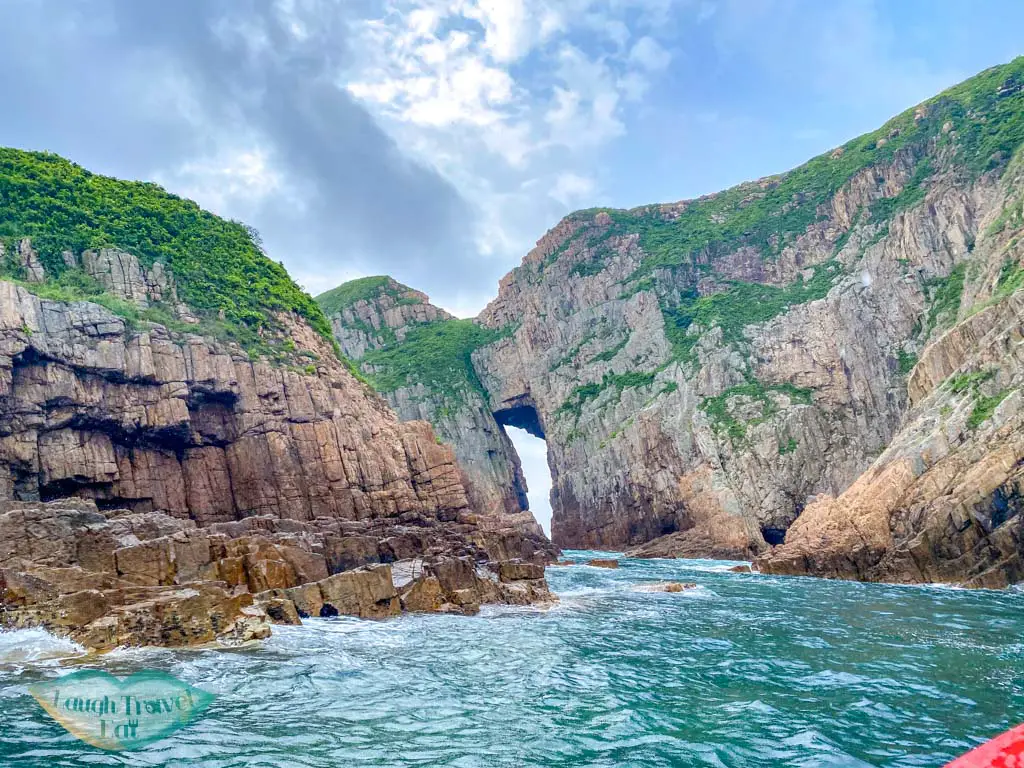 Given that Basalt Island has no inhabitants, there are no refreshment points nor any signal on your phone most of the time, you need to go prepared.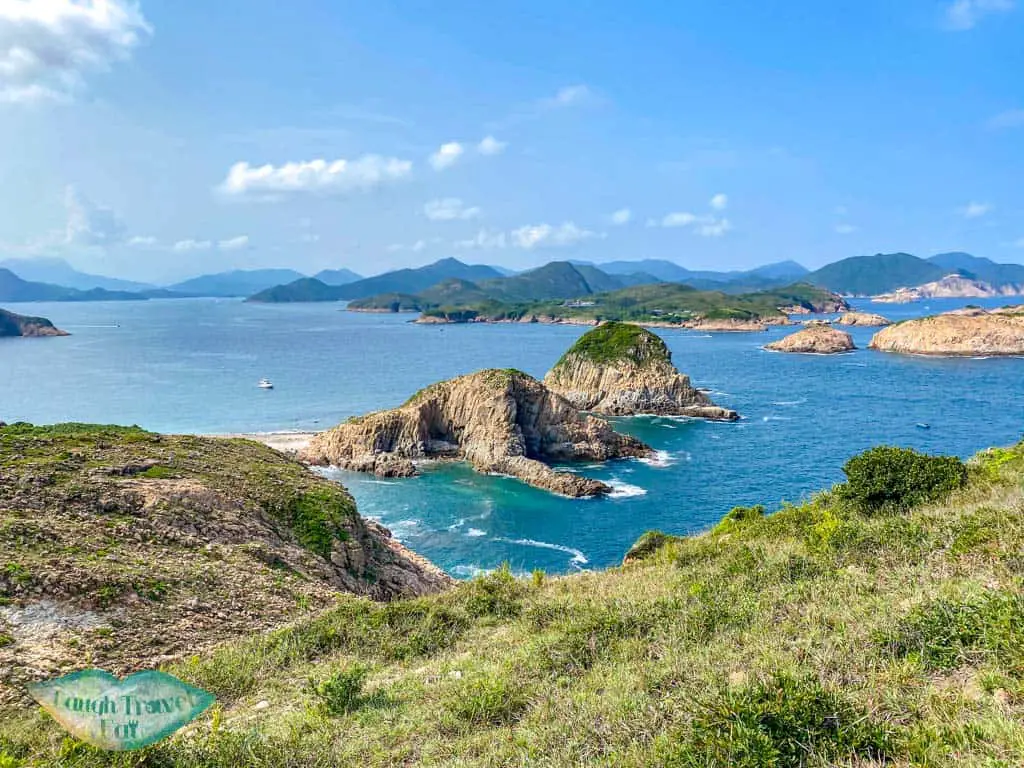 While the general route only requires about 2-3 hours of hiking total, the lack of shade means you'll be under the sun the whole time, and it'll be hot. Here is a quick checklist of what you need to bring/do:
1.5-2 L of water
A waterproof bag (or liner bag) for your items 
An umbrella for shade
Lifejacket or floatation device
Long sleeves top and leggings for the swim
Wet shoes
Swimming goggles or snorkeling gear. I actually think swimming goggles with a floatation device is better since we are more concerned about seeing where we are going
A small, waterproof bag to hold your phone/camera on the swim. Ideally, you should double bag/use extra waterproof protection
Sunscreen and sunglasses
Hat
Packed lunch and snacks. I highly recommend fruits, especially tangerine
Medium sized towel for sweat/swim
Spare socks (it's always a good idea)
Gloves for climbing on rocks
Note: to be completely honest, I think a helmet might even be a great addition!

Geology of Basalt Island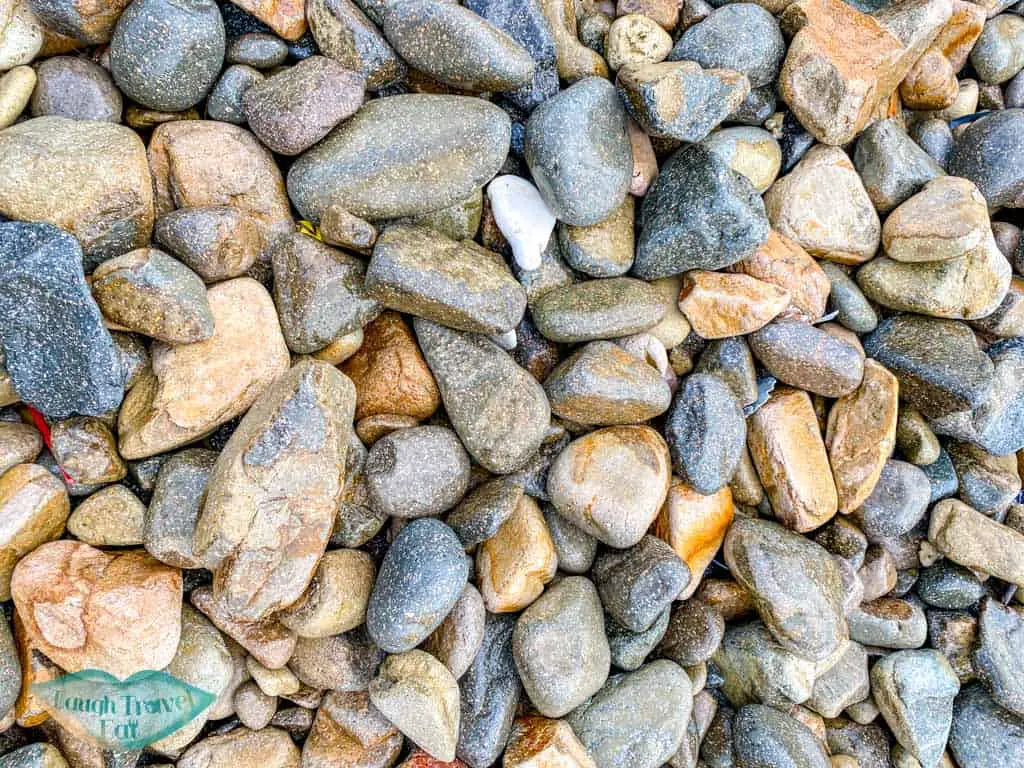 While it is named Basalt Island, the rocks and columnar joints that you see around the island are in pale colour, which means they are more granitic in composition. But around the pebble beach of the island there are pebbles of two other colour composition: one basaltic, the other an intermediate. All three types of rocks contain large feldspar phenocrysts: the pink ones are Potassium feldspar, the white ones are plagioclase feldspar.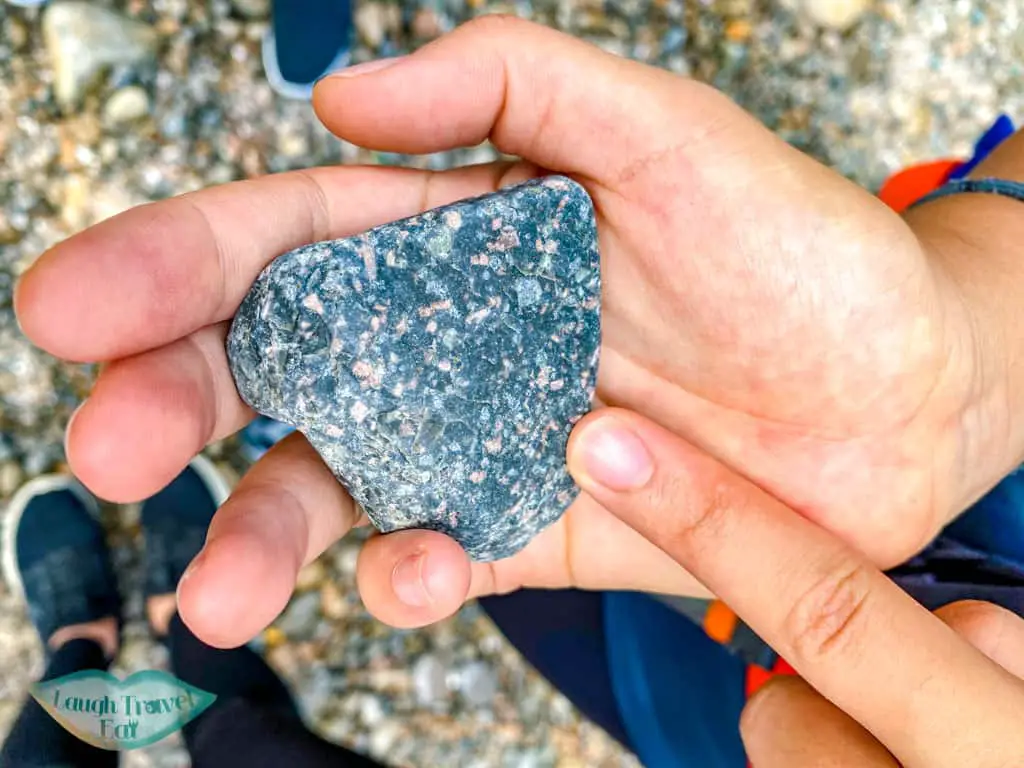 What this means is that the magma had undergone two stages of cooling. Initially, the magma cooled as a whole slowly which allowed the feldspars, who have a higher crystalisation temperature, to form. Then it segregated into different compositions and cooled quickly, most likely due to tectonic movement or even eruption that caused the other minerals to crystalise quickly.

Given that we can see the formation of columnar jointing, which happens during slower cooling, it is likely due to tectonic events.
How to get to Basalt Island
There is no public transport to Basalt Island, so there's only two options:

Speedboat charter
A speedboat generally takes around 15 people and costs ~200 hkd per person (or more depending on how full you can fill the boat). You have to rearrange beforehand and negotiate with the speedboat driver/owner, and it's wise to do that about 2 weeks in advance.

Truth be told, my friend organized it but here are a speedboat rental I've found online:
We set off from Sai Kung pier and it took 30 minutes for us to reach Basalt Island. You need to confirm pick up time in advance and not be late because there is no signal on Basalt Island.

Kayaking
For the adventurous, kayaking over is an option. But it is not for those who are inexperienced. The nearest spot is Pak Lap or Sheung Tsz Wan. See my kayaking in Sai Kung post for more details.

The cost for kayaking is likely the same as taking the speedboat over, but you might be able to leisurely get closer (or even through) the famous archway depending on the wave condition. As otherwise you'd have to swim over.

Note: there are also boats that have kayaks or SUP that can get you close and let you paddle out. But note that they'll cost more per person than getting a speed boat over.

Exploring Basalt Island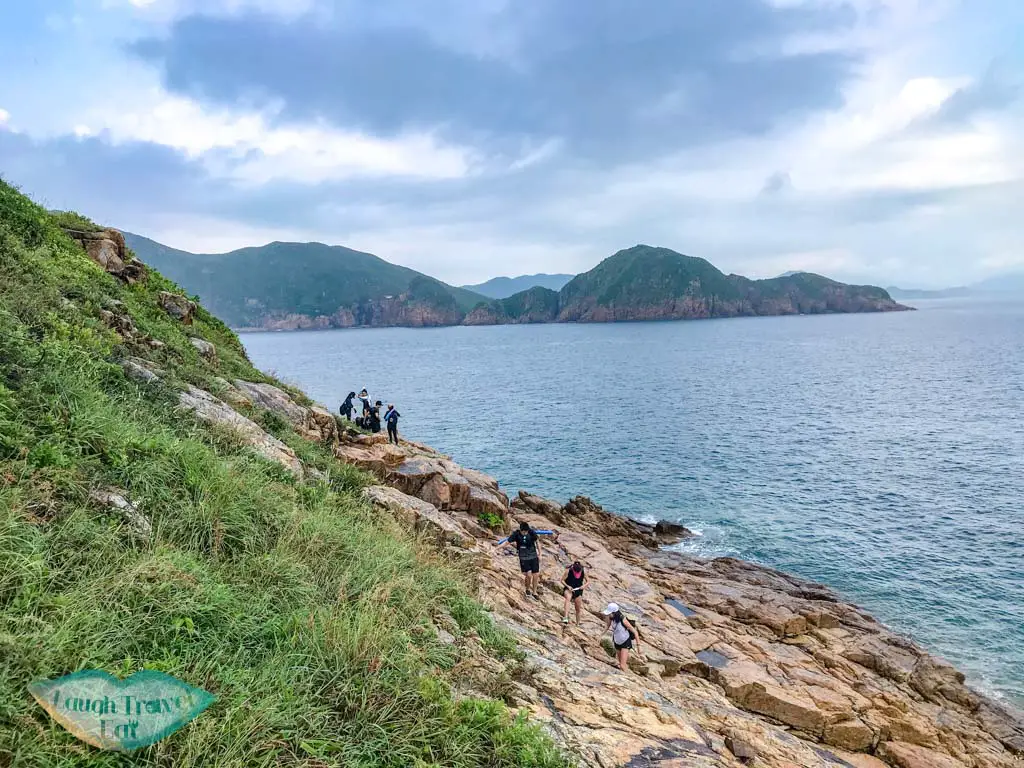 We were dropped off in the northeastern end of the island and had to go around the coast, heading towards a pebble beach to the south.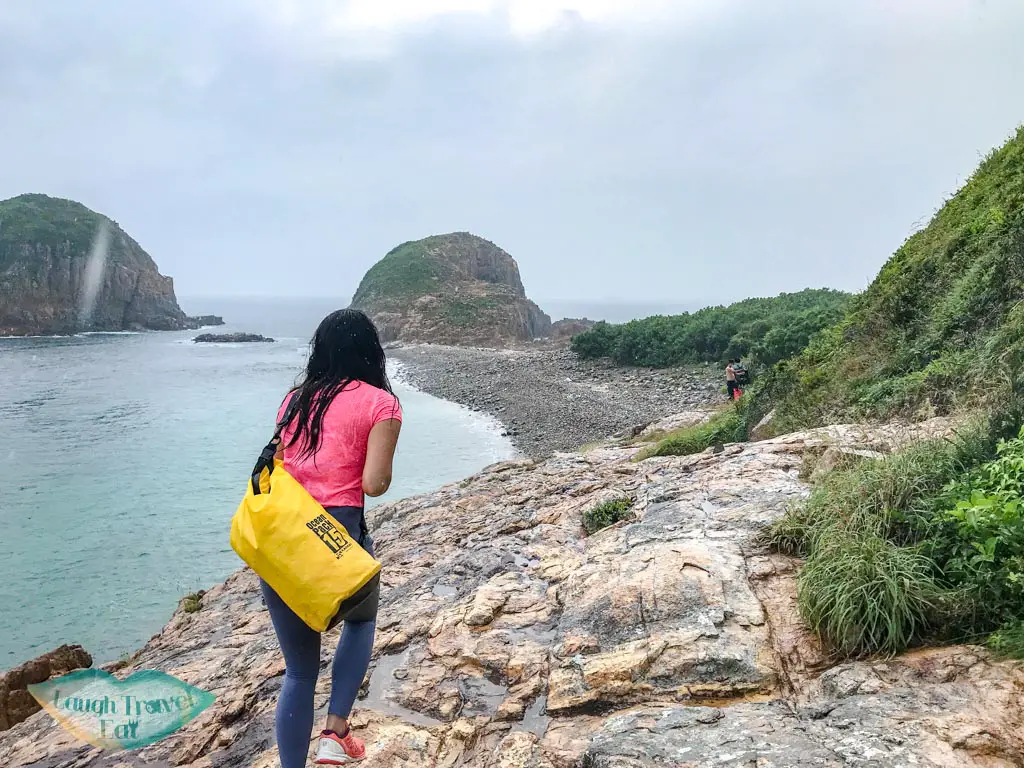 It's only about ten minutes' walk on rocky outcrops. The pebbles on the beach were relatively large so be careful of your footing.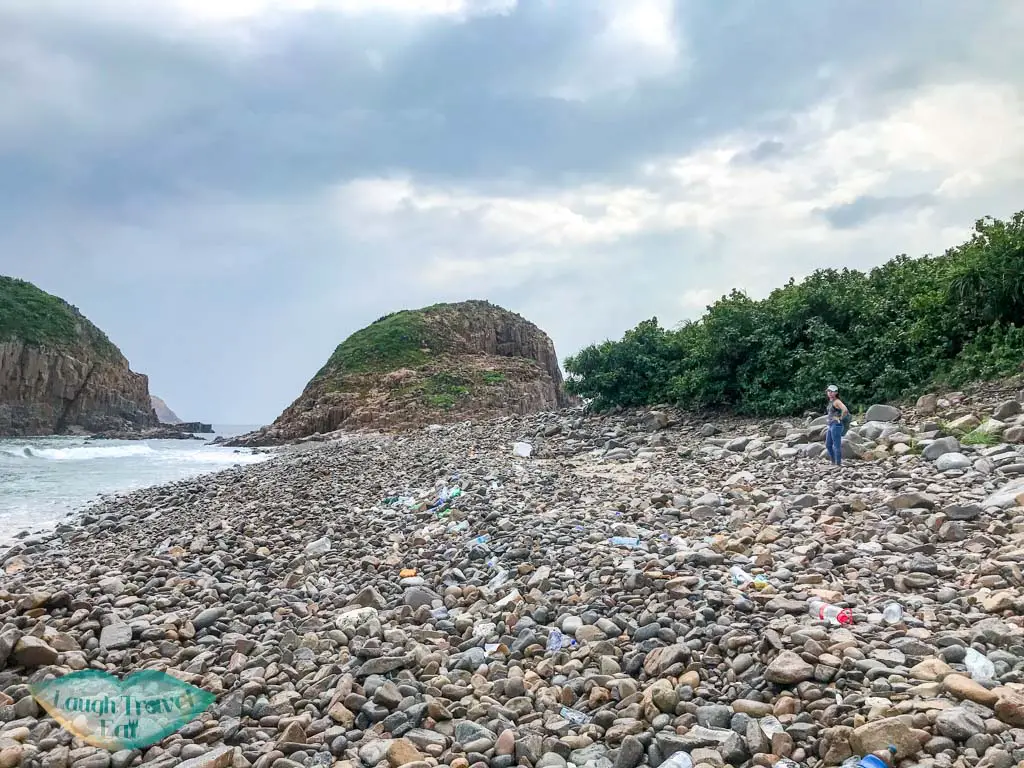 Maybe it's due to the currents, a lot of rubbish has collected along the beaches. From small plastic bottles to fridges.
At the end of the beach, turn right and go up the hill there. This leads to a small hill where a memorial for a plane crash in the 1940s is built.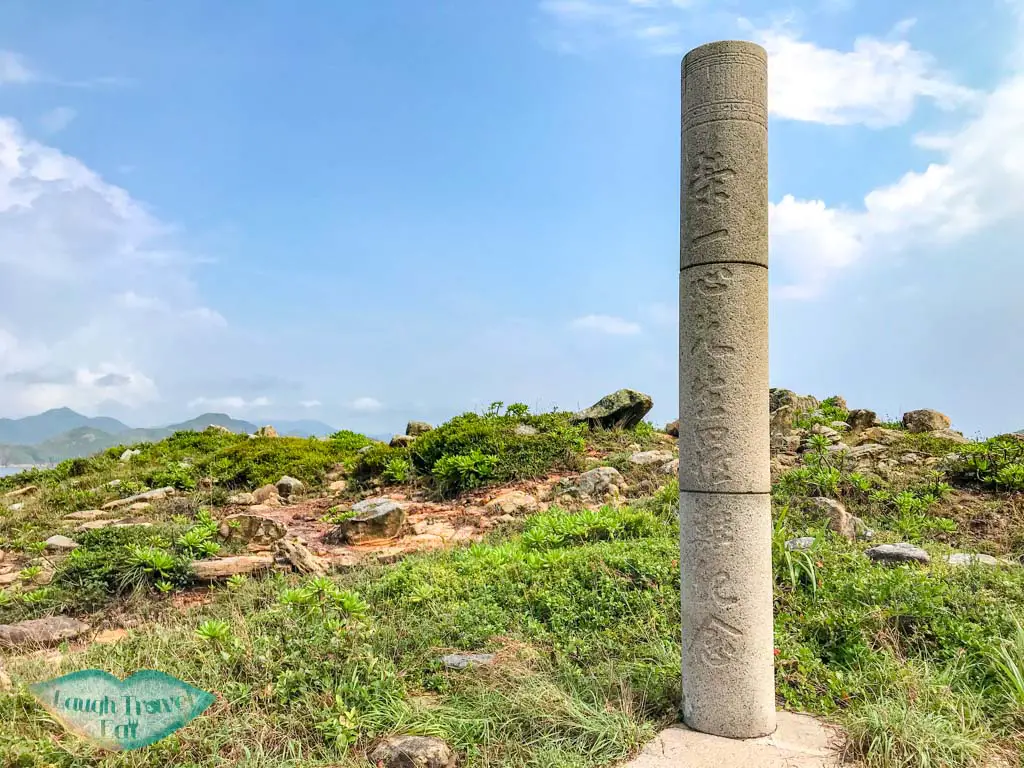 After that, continue up the hill behind, then the small dirt trail heads straight into the thicket of bushes. So it's best to wear long trousers or leggings.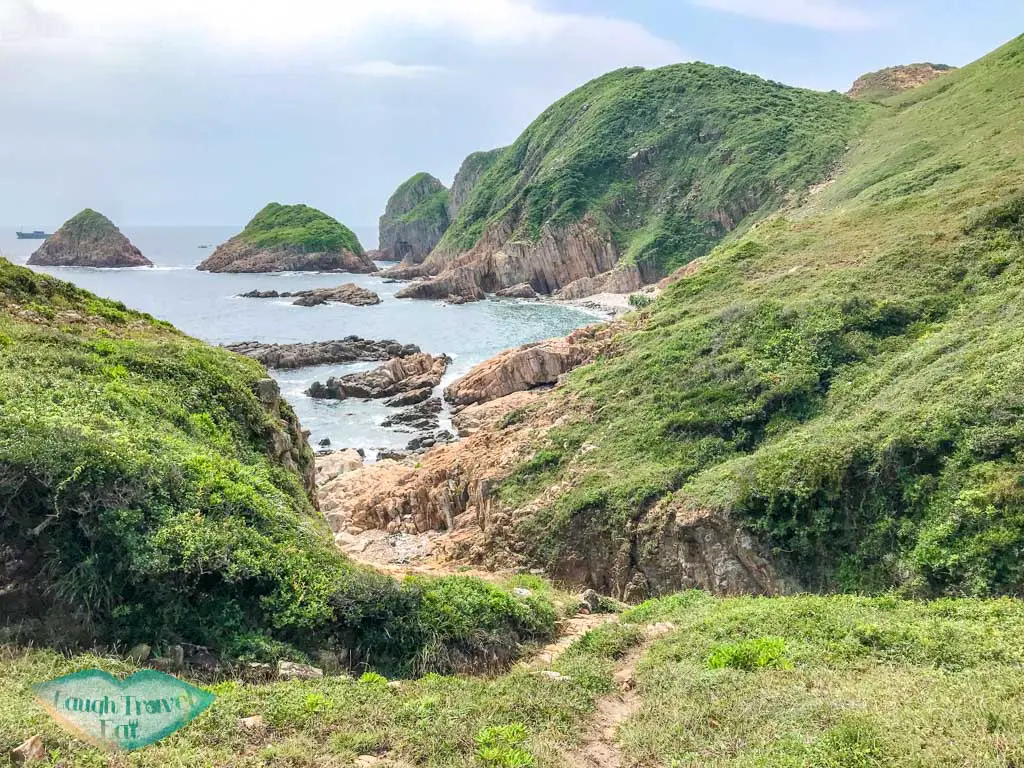 This leads towards the second pebble beach and the trail that leads down to it looks scarier than it is.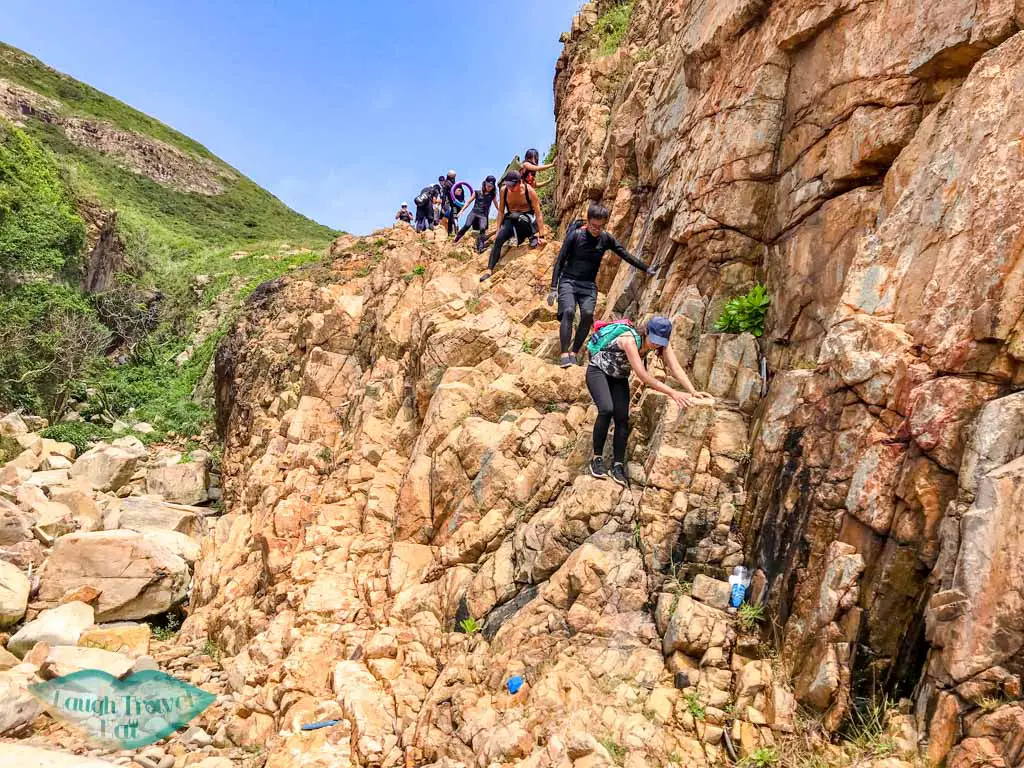 Although you do have to climb down (carefully).
To get to the bigger pebble beach, hop back up the rocks to climb over. The coastline here is pretty nice if you want to take some photos.
The whole journey takes about 1 hour (but budget 1 hour 30 mins if you are not an experienced hiker). There aren't any shades so bring your own umbrella for picnic/lunch.

Kwan To Cave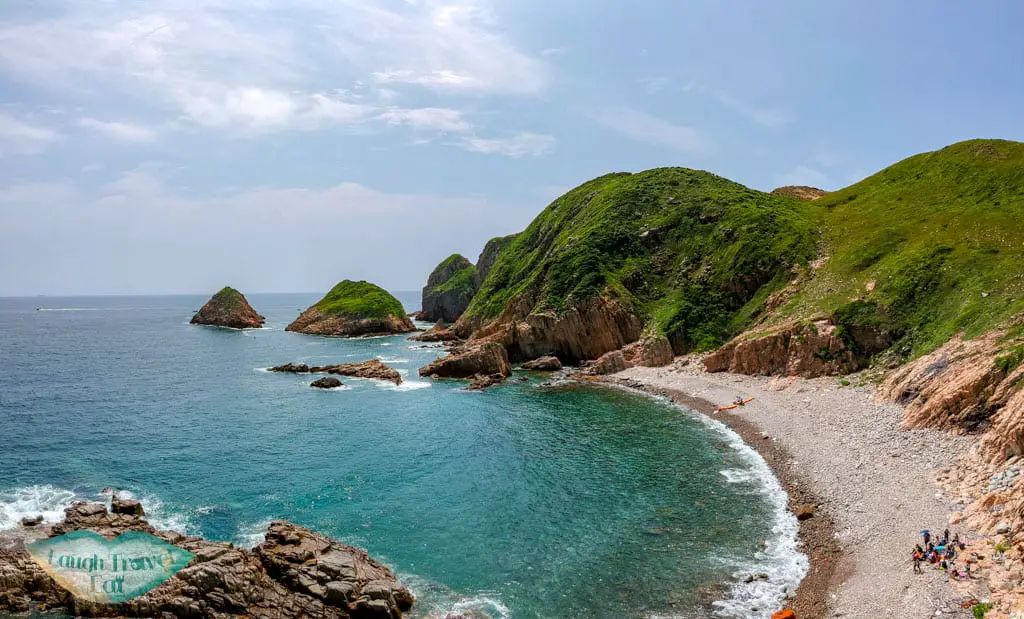 The second pebble beach is as close as you can get to the Kwan To Cave by foot. We watched another group trying to scale the mountain to go over and it was futile.
To go over, you have to swim.

It's not a long distance, but still a good 20 minutes (I think). The waves crashing into the beach is quite powerful so getting out and in is going to be a bit of a challenge.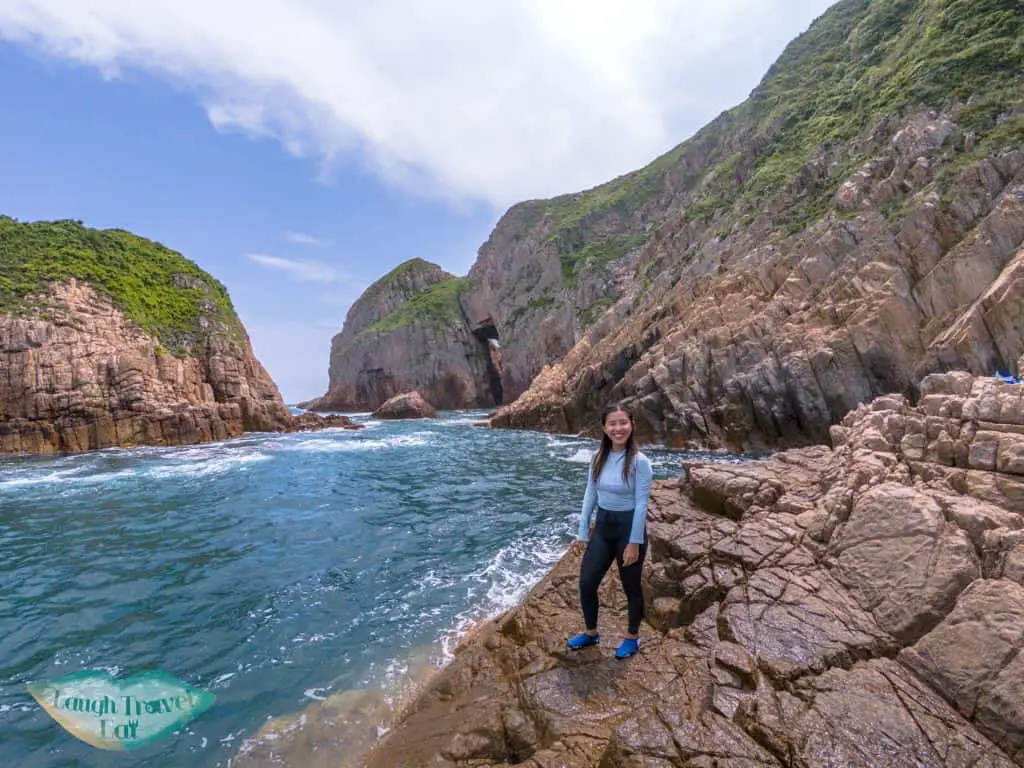 There are several places you can climb on near the front of the cave, and naturally the best photo spot is the small outcrop directly in front. However, the wave surge around there was crazy so we got on the one to the right but you can still see the arch.

Once we made it back to the pebble beach, we took another snack break. The southern end of the beach also has a great little area good for photos. Then we made our way back for our pick up!