Tung Ping Chau is an island in the most remote northeast corner of Hong Kong, just across from China. This little island is not only famous for its unique rock formation but also part of a marine park. Also known as Ping Chau, but don't confuse it with another island of the same name. Tung Ping Chau's unique landscape and remoteness have made it an interesting attraction, one that you can boast to friends about having been!
Table of Contents
Overview on Tung Ping Chau Island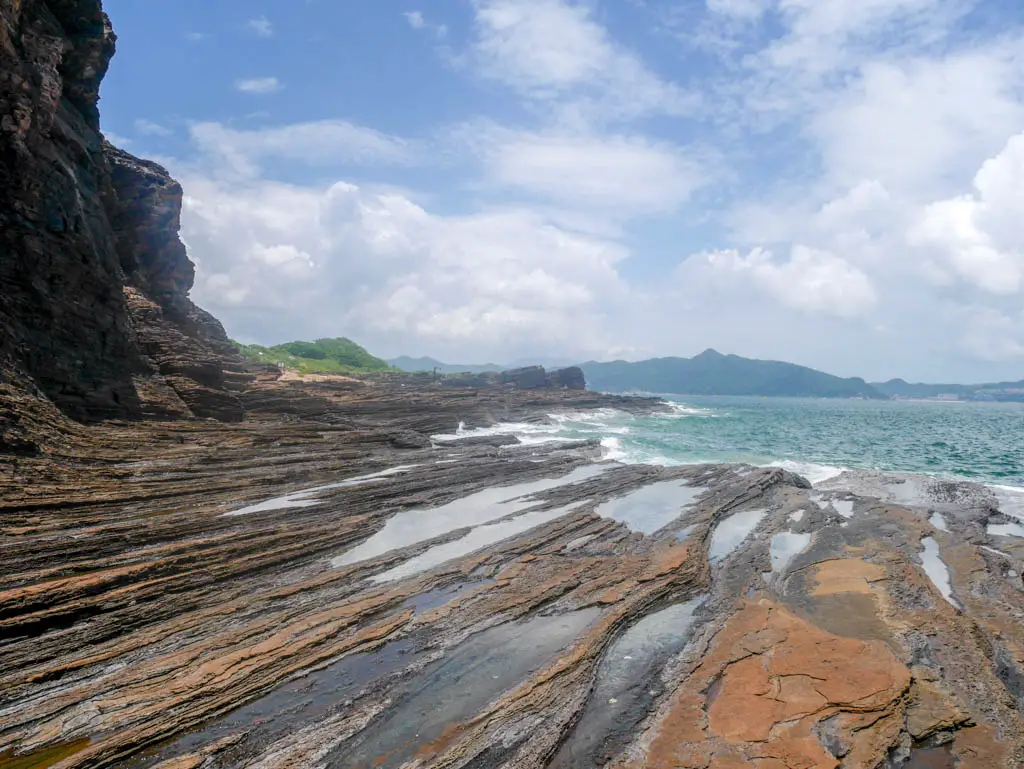 Tung Ping Chau, as said above, is unique due to its sandstone terrain. But its sandstone layers are not the same as the ones at Wong Chuk Kok Tsui, formed around 66 million years ago and is the youngest rock layers in Hong Kong.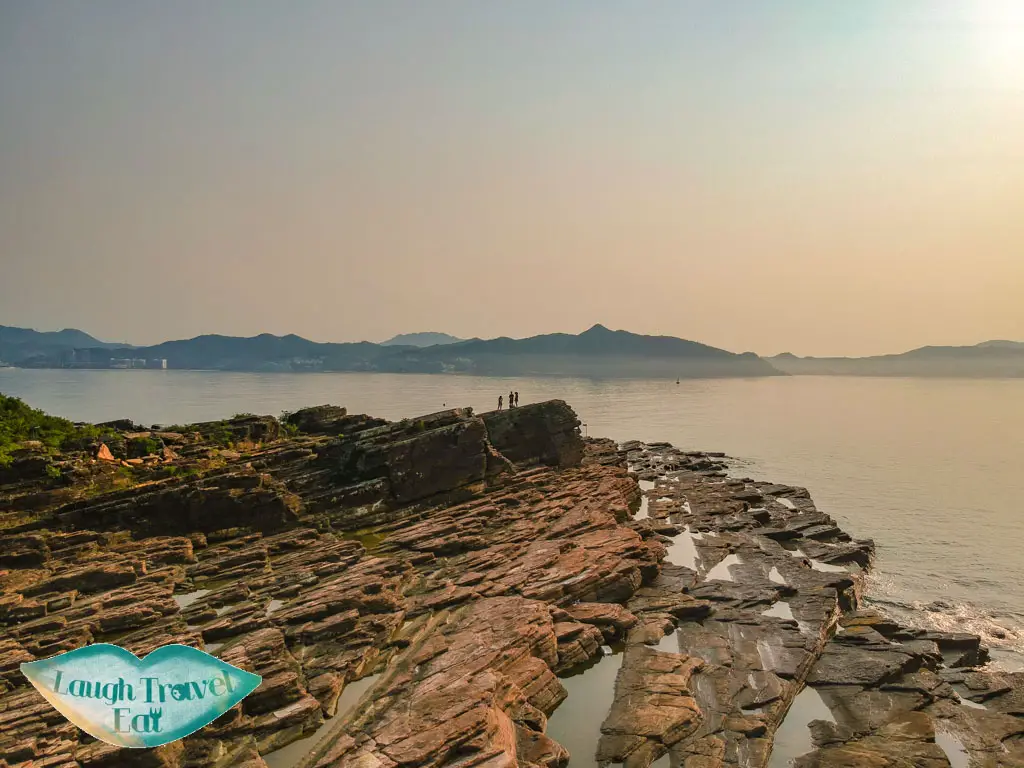 Given its remoteness, some think that it is uninhabited, but that is not the case! The island is home to several small villages despite the distance. In fact, back in the 19th century, there were over 2,000 people living there. You can rent a place for the night, eat at small local "store" cafes in the two villages on Tung Ping Chau – so there is refreshment should you need one.

How to get to Tung Ping Chau Island
The only public transport is to take a ferry from the Ma Liu Shui Ferry Pier to Tung Ping Chau:

Tung Ping Chau Ferry
The Tung Ping Chau ferry schedule is quite infrequent and only runs on weekends and public holidays, with one boat in and one boat out in the morning and afternoon! The ferry journey lasts around one hour and thirty minutes, departing from the Ma Liu Shui Pier that's a 10-15 minutes' walk from the University East Rail Station.
The Tung Ping Chau ferry timetable can be found here, and I recommend arriving 15 minutes early to start queuing as tickets are purchased before you board. You wouldn't want to be late and end up not getting on the boat! Also, don't miss the ferry out, or else you might have to spend the night or even the week at Tung Ping Chau.
You can also book Tung Ping Chau ferry tickets online for the weekend up until 11 am on Friday, and the booking reopens on Monday at 10 am. You need a minimum of 2 people to pre-book and a maximum of 30 can do so online. The website is not English-friendly, and they require an old-fashion bank transfer (now PayMe is also available) with an online order form, which can be a bit complex.
Cost: 90 HKD return
Pets: 40-80 HKD
Note: they are known to bring in more ferries if there are a lot of people, but be prepared for a long waiting time.

Speedboat charter to Tung Ping Chau
If you have a group of friends, getting a speed boat to and from might be a better idea. From Wong Shek Pier in Sai Kung Geopark, it's only a 30 minutes ride past Tap Mun (Grass Island), and you don't have to queue and potentially wait an hour on the returning ferry.

See my Sai Kung nature guide for speedboat contacts!

Things to do on Tung Ping Chau
As said before, the star attraction of Tung Ping Chau is the rock formations. The sandstones were formed during the early Tertiary when Hong Kong was underneath the ocean and layers of sediments sank to the bottom. The rocks were lithified, tilted, uplifted, and eroded to their present shapes.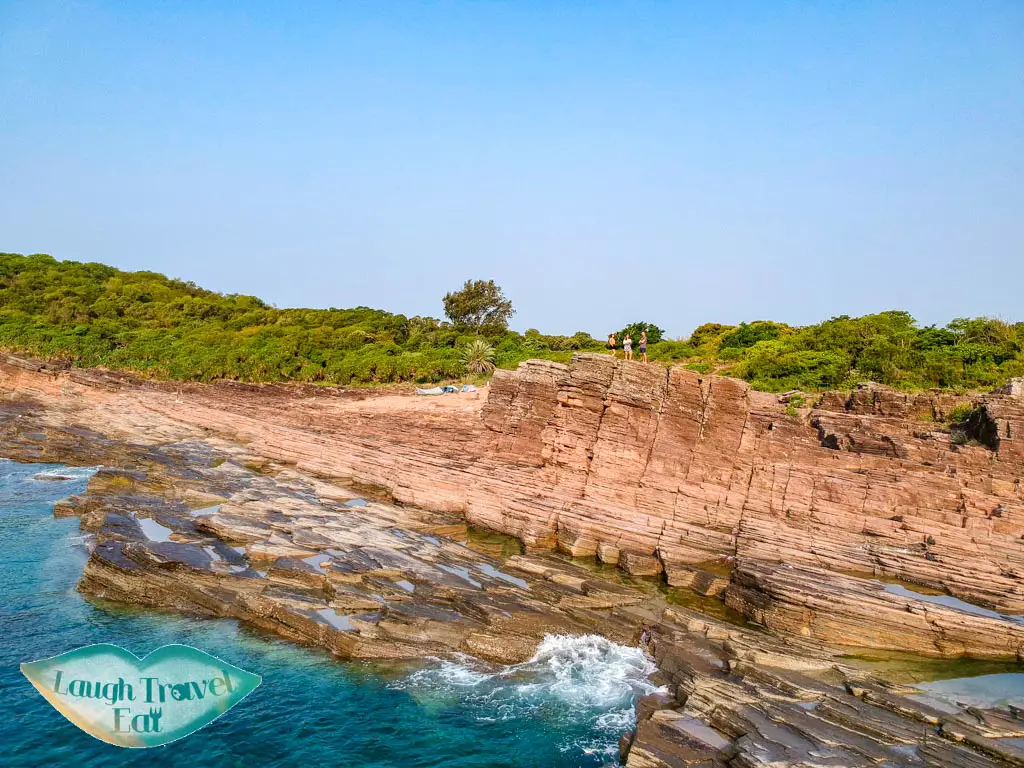 There are beaches, too, and good snorkeling and diving opportunities. It is possible to do everything on a day trip, but it is very hot in the summer so it might not be as feasible. But dining on fresh seafood at the local restaurants is also an excellent reprieve.

Tung Ping Chau Hike: seeing the rock formations
Almost the entire island is part of the Tung Ping Chau Geopark, and because there's no transport on such a tiny island, the best way to explore it is on foot. There are plenty of little Tung Ping Chau hikes to go on to see its famous rock formations. Here is a list and I have a recommended route for you further down:
Kang Lau Shek

Two rock towers left standing high against the shoreline, Kang Lau Shek can be translated as "Watch Tower Rocks" in English. They are on the southeastern end of the island and a 15-20 walk from the pier.
One of them can be easily reached while the other requires some ninja-climbing skills. It was a bit of an exaggeration, but you do need proper footwear and some climbing.
Lan Kwo Shui
The stretch of coast that extends west from Kang Lau Shek is known as Lan Kwo Shui – which basically means "Difficult to pass water". This refers to the low-lying tilted layer of rocks that are flooded during the tide, making it, you guessed it, difficult to cross.
When the tide it's out, it's surreal to walk along it, though one must be careful of the rough terrain and sharp shells. When the water level is high, I won't recommend crossing.
Lung Lok Shui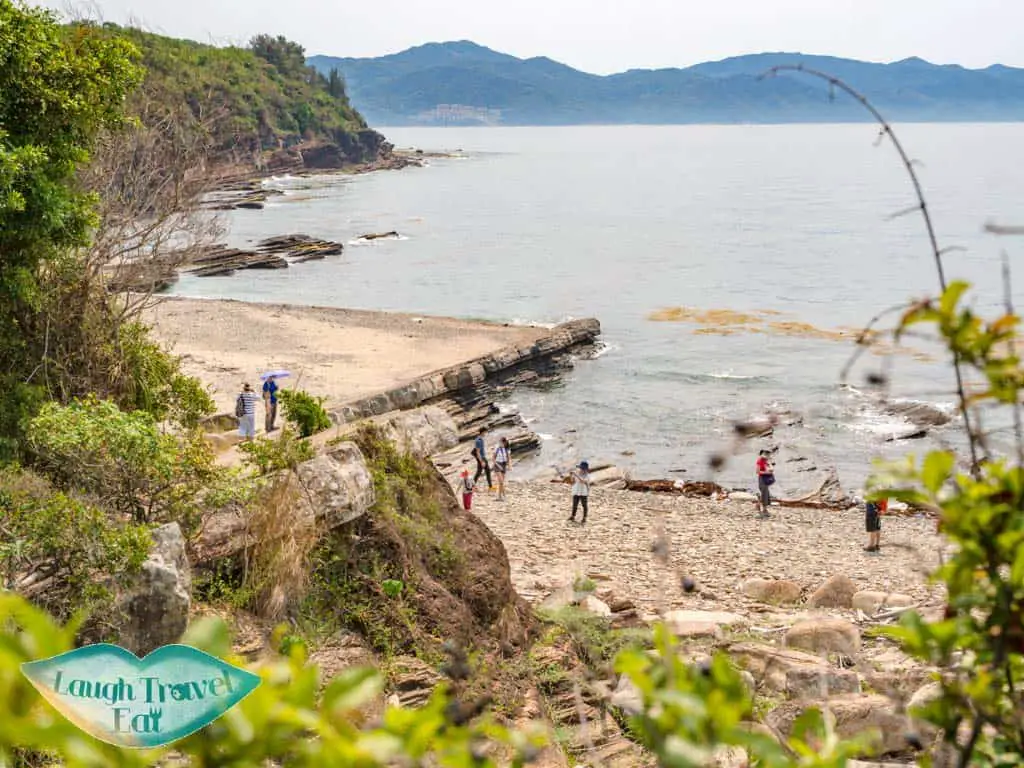 Translated as "Dragon falling into water", Lung Lok Shui is arguably less cool than it sounds. It is a dyke – an igneous formation that occurs when another rock type – usually hot lava or molten rocks – intrudes into existing rock layers. The difference in rock properties results in the quartz layer being more prominent and less eroded, which resembles the backbone of a dragon (apparently).
Cham Keng Chau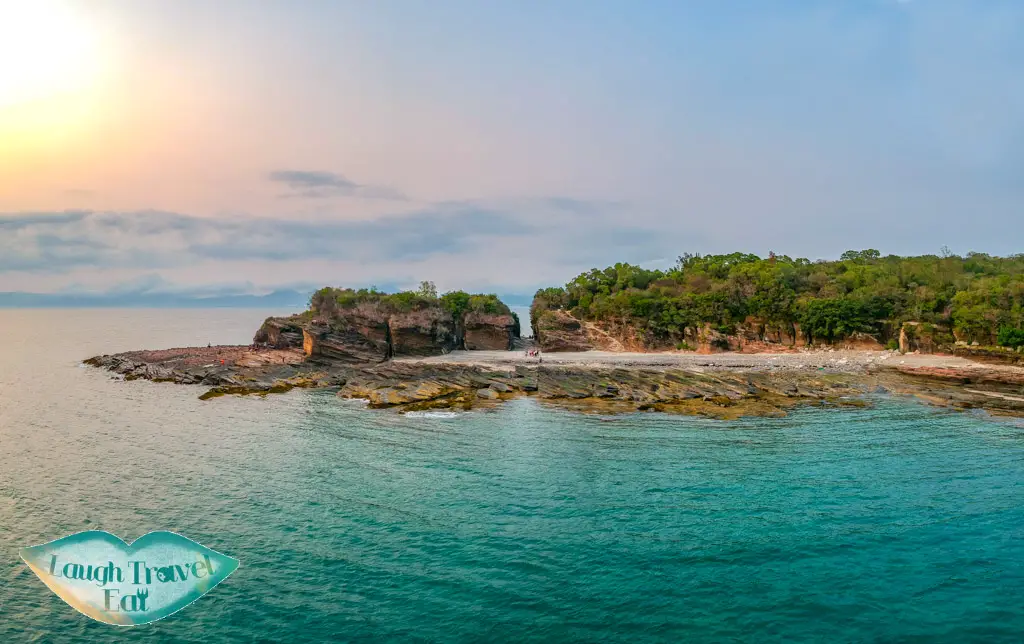 A gorge that cuts clean across the narrow part of the island in the north, Cham Ken Chau means "Chopped Neck Isle". I had incorrectly assumed that it is an island, but it is just the gorge.
Despite being unimpressed by it at first glance, it was actually very humbling and surreal to pass through a gap made by nature.
This is also the best place to watch the sunset as it is at the northwest tip of the island.
Cat Eye Cave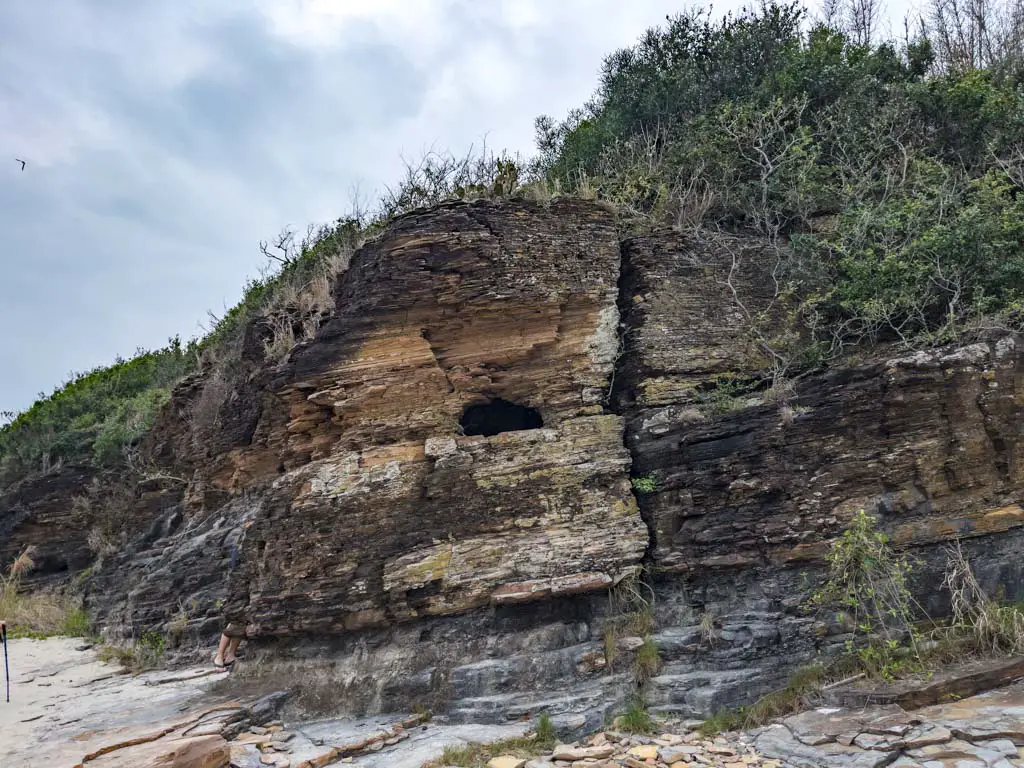 Cat Eye Cave is on the northeast side of the island near Cheung Sha Wan Beach and before you turn north. It's named after the semi-circle opening that you can climb up and stick your head through! It's an interesting spot that many would miss. I certainly didn't know about it until my 4th trip to the island!
Tung Ping Chau Marine Park
Tung Ping Chau is a popular place for diving and snorkeling because it's a marine park. Almost the entire stretch of the eastern coastline north of the pier is sandy beaches.
Cheung Sha Wan Beach
Not to be confused with Cheung Sha Wan in Kowloon, this one is a beach on the northeast part of the island. The water quality is amazing and you are sure to have a slice of the beach to yourself.
This is also a good place to go snorkeling with many gulfweeds (around April) and there is plenty of sea life to see.
Even jellyfish!
Temples in Tung Ping Chau
Tin Hau Temple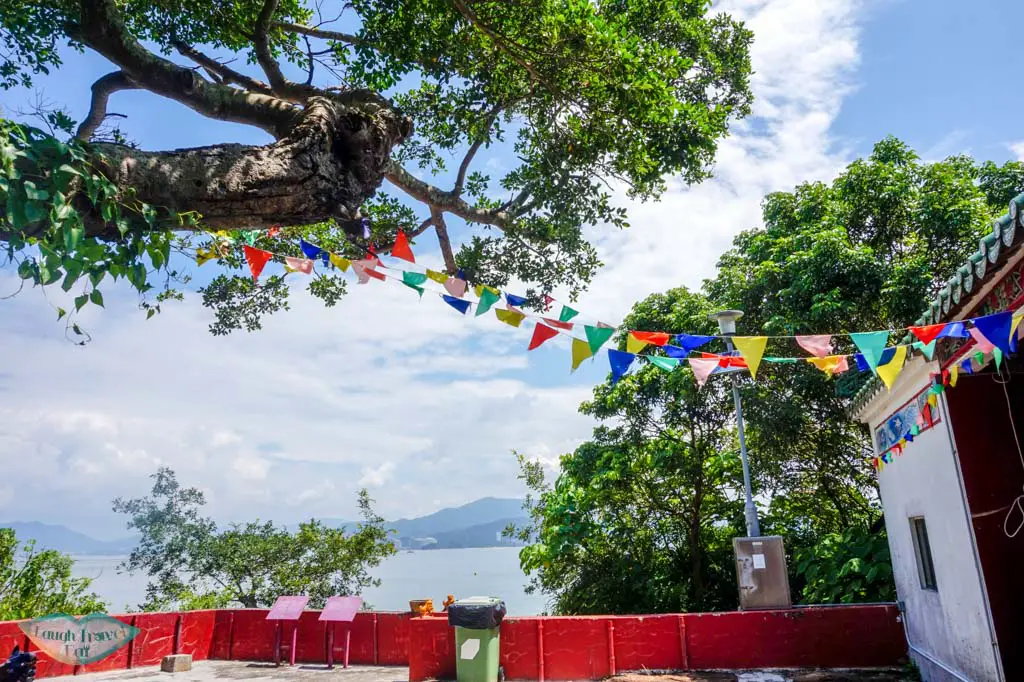 Tin Hau is the sea goddess of the Taoist religion and temples dedicated to her are frequently found along the coast. This particular one is the oldest on the island and also worships the Year Gods and the Hung Shing. The architecture is typical of Qing Dynasty with two-hall and one courtyards.
Tam Tai Sin Temple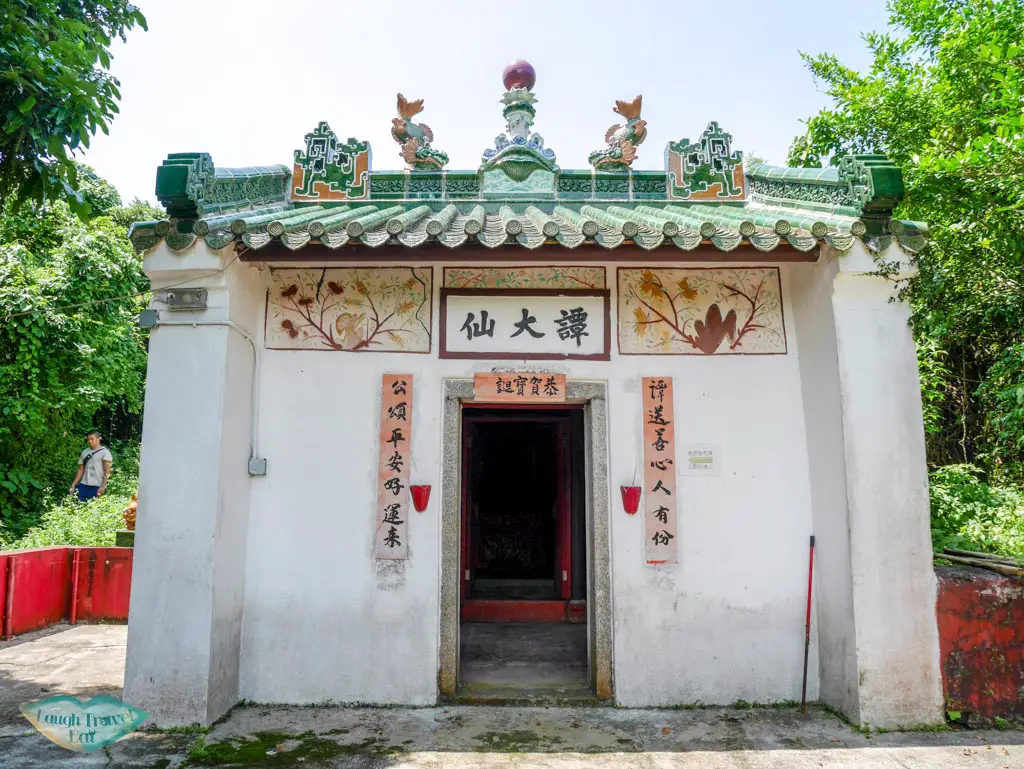 Equally as historic as Tin Hau Temple, the Tam Tai Sin Temple is only a five minutes walk away. Tam Tai Sin is also known as Tam Kung, who is also a sea deity in the Taoist religion, who was born in Huizhou, China, and could cure diseases. The islanders used to celebrate Tam Kung Festival, however, it stopped in the 60s since the population had declined.
The best route to visit Tung Ping Chau
The pier is situated on the eastern side of the island in the southern third. You can go either clockwise or anticlockwise, however, I would head clockwise to Kau Lau Shek first, passing the Tin Hau temple. Then you can continue west past Lan Kwo Shui, reaching Lung Lok Shui. From there, you can either head back to the village next to Sheung Cha Wan or carry on to Cham Keng Chau before looping back.
Of course, don't forget to feed yourself!
Restaurants on Tung Ping Chau
There are a few things that are famous at Tung Ping Chau, and most of them revolve around sea urchin. All of the restaurants are Chinese style, so if you want to go for feasting on Tung Ping Chau, you should come as a group to enjoy it most fully. There are also no English menu that I could see, so go armed with offline google translate.
I generally go to the Ping Chau Store which is at the back. They have a squat toilet that is quite clean and friendly staff. If that place is too crowded, then go left from the pier towards the Tin Hau Temple. There are two small restaurants there that serve basically the same thing, just cooked differently.
Ping Chau Store
Ping Chau Store is the one at the back with friendly staff and clean squat toilets. We generally go there for their French Toast and instant noodles, and they also have egg waffles.

They do seafood, too, of course, but we prefer Sun Cheong Store.
Sun Cheong Store
Sun Cheong Store is the one in front of Ping Chau Store a short walk from the seafront. They have amazing seafood dishes. We do generally eat here and the food is very delicious. Here are their menu (sorry it's only in Chinese):
The food are also very tasty and presented very nicely:



Sea View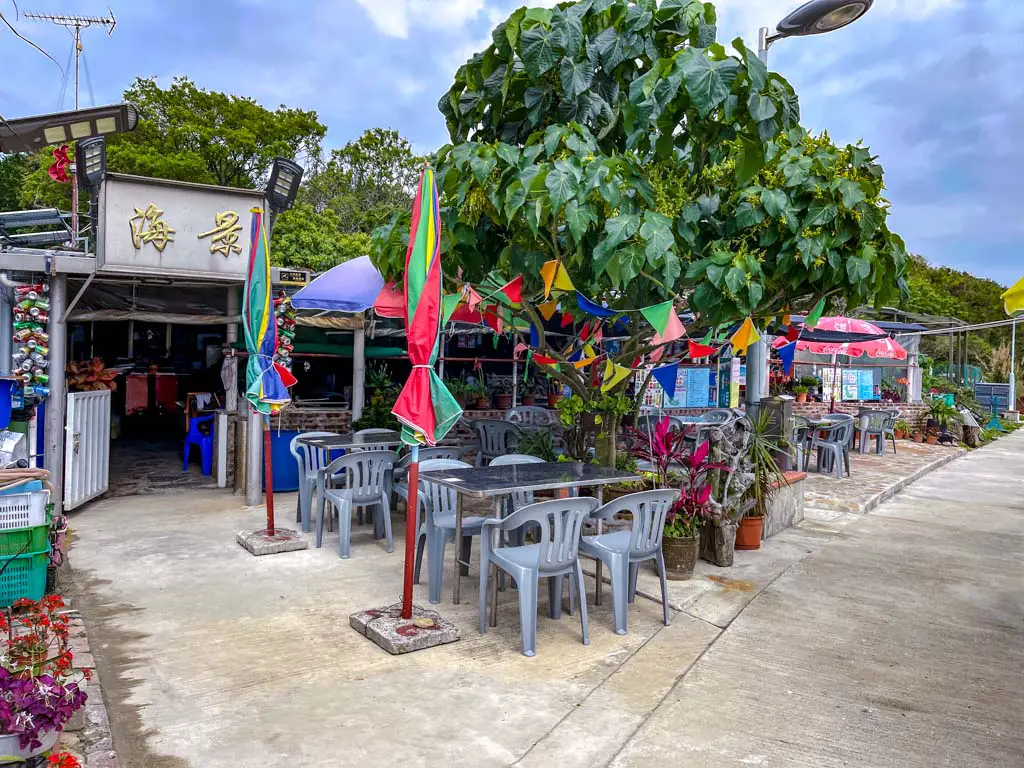 Seaview is near the two above but on the beach. They do not serve a la carte but only have a set menu for 2-3+ people. The prices are generally higher as well. I've never eaten here but if you want to eat with a view, this is the only choice.
What to eat on Tung Ping Chau
Sea Urchin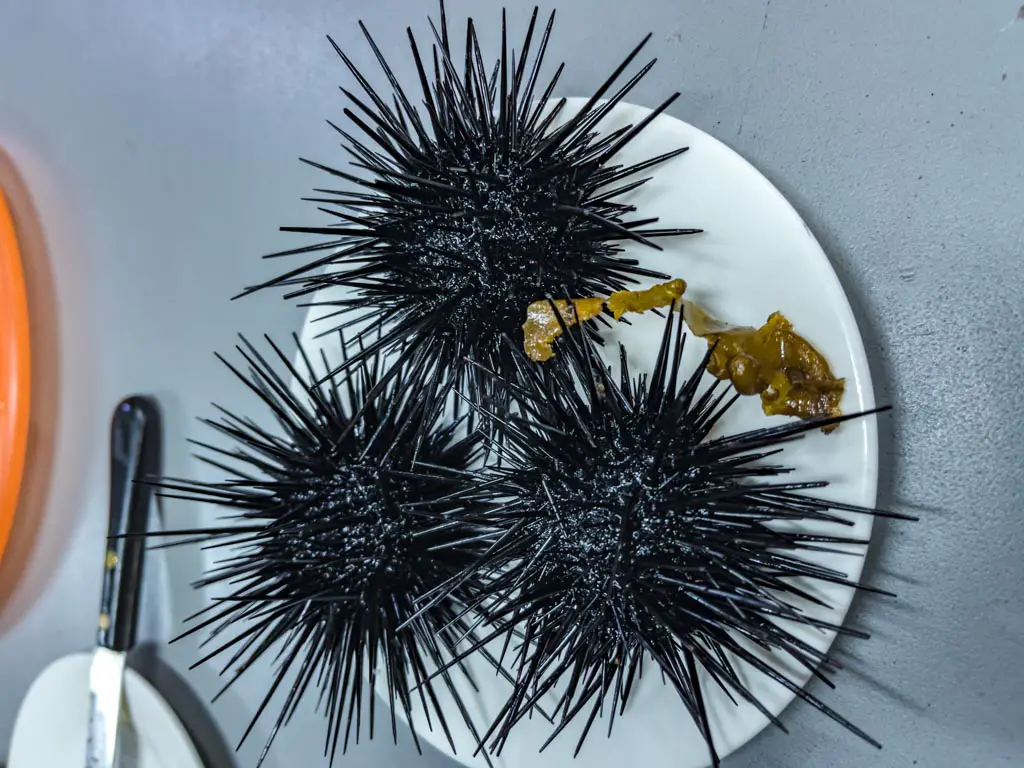 The sea urchin season is from February to May, sometimes edging into June. You can eat sea urchin sashimi or other sea urchin dishes, most popular is the sea urchin fried rice.
Seafood
As an island, it's safe to bet that seafood would be fresh and abundant. The signature dishes, in my opinion, are the fried squid, the uni fried rice, and the little silverfish.
You can also get the typical fare like luncheon pork and egg instant noodles and french toast, too, if you'd like. The price is pretty good considering how remote it is, given that you pay a lot more at Big Wave West Beach in Sai Kung.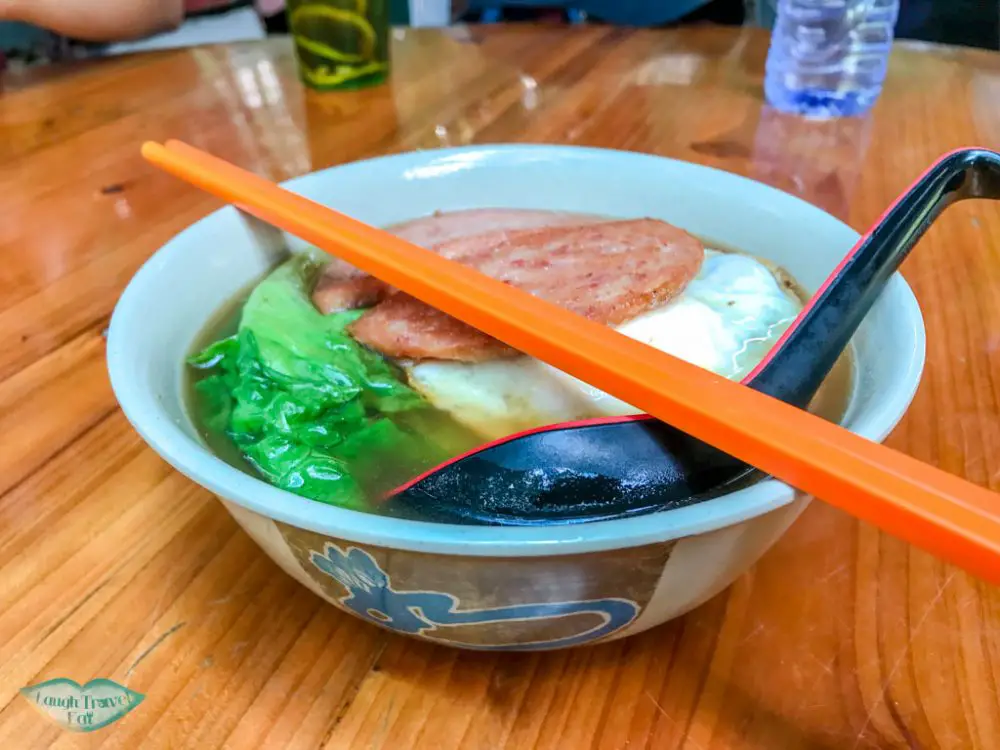 They also have a selection of drinks, too. They are all on the sweeter side, and I feel like the red bean, grass jelly and pineapple drinks are the most popular!

What to bring to Tung Ping Chau
The good news is that you don't have to worry too much about not bringing enough water and snacks! The bad news is that there is little to no shade by the coast and plenty of mosquitoes. So here's what you should bring:
Insect repellent
Wear trainers – it's rocky there
Hat and sunscreen
External charger for your phone or something to read/do on the ferry
Headphone
Camera!!
A handkerchief or towel because you will sweat!
If you plan on swimming
Towel
Swimsuit
something to change into
Tung Ping Chau hotels (there is no such thing)
There are no hotels on Tung Ping Chau, any options that you find while googling are just nearby hotels. But that doesn't mean you can't stay on the island overnight.
While there's no information online, from what I understand, there are basic guesthouses. But a more failsafe way is to go camping there.
Note: it's actually illegal to camp on the beach, so you should go to a camping spot. It's a great way to catch the island without the crowd during sunset and sunrise, as the ferries would have left or not arrived.