Last updated on June 26th, 2019 at 09:13 pm
Tung Ping Chau is an island in northeast Hong Kong, much closer to China than Hong Kong itself. This little island is not only famous for its unique rock formation, but also part of a marine park. Tung Ping Chau's unique landscape and remoteness has made it an interesting attraction, one that you can boast to friends about having been!
Overview on Tung Ping Chau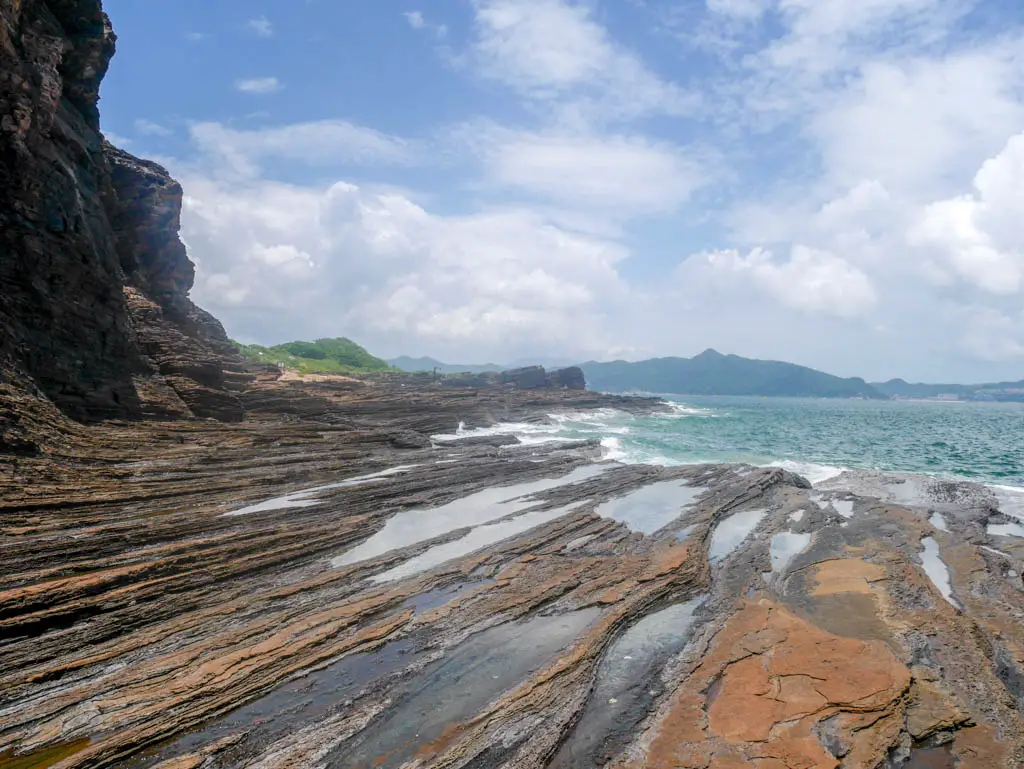 Tung Ping Chau, as said above, is unique due to the sandstone terrain. Most people thought that it isn't an inhabited island, given its remoteness, but that is not the case! The island is home to several small villages despite the lack of amenities and transport. In fact, back in the 19th century there were over 2,000 people living there. You can rent a place for the night, eat at small local "store" cafes in the two villages on Tung Ping Chau – so there are refreshment points should you need one.
Ferry to Tung Ping Chau
You can only visit Tung Ping Chau on weekends and public holiday, with one boat in and one boat out in the morning and afternoon!
The ferry journey lasts around one hour and thirty minutes, departing from the Ma Liu Shui Pier that's a 10-15 minutes' walk from the University East Rail Station.
The ferry schedule can be found here, and I recommend arriving 15 minutes early to start queuing as tickets are purchased before you board. You wouldn't want to be late and end up not getting on the boat!
Also, don't miss the ferry out or else you might have to spend the night or even the week at Tung Ping Chau.
Things to do on Tung Ping Chau
As said before, the star attraction of Tung Ping Chau are the rock formation. The sandstones are over 6.5 million years old, formed back when Hong Kong was underneath the ocean and layers of sediments sank to the bottom. The rocks were lithified, tilted, uplifted and eroded to their present shapes.
Rock formations on Tung Ping Chau
Kang Lau Shek
Two rock pillars left standing high against the shoreline, Kang Lau Shek can be translated as "Watch Tower Rocks" in English. One of them can be easily reached while the other requires some ninja-climbing skills. Just kidding, all you need to be is cautious!
Lan Kwo Shui
The stretch of coast that extends west from Kang Lau Shek is known as Lan Kwo Shui – which basically means "Difficult to pass water". This refers to the low-laying tilted layer of rocks that are flooded during tide, making it, you guessed it, difficult to cross.
When the tide it's out, it's surreal to walk along it, though one must be careful of the rough terrane and sharp shells. When the water level is high, I won't recommend crossing.
Lung Lok Shui
Translated as "Dragon falling into water", Lung Lok Shui is arguably less cool than it sound. It is a dyke – an igneous formation that occurs when hot lava intrude into existing rock layers – that is less eroded compare to its surrounding rock.
Cham Keng Chau
A gorge that cuts clean across the narrow part of the island in the north, Cham Ken Chau means "Chopped Head Isle". I had incorrectly assumed that it's an island but it is just the gorge. Despite being unimpressed by it at first glance, it was actually very humbling and surreal to pass through a gap made by nature.
Cheung Sha Wan Beach
Not to be confused with Cheung Sha Wan in Kowloon, this one is a beach on the northeast part of the island. The water quality is amazing and you are sure to have a slice of the beach to yourself.
Tin Hau Temple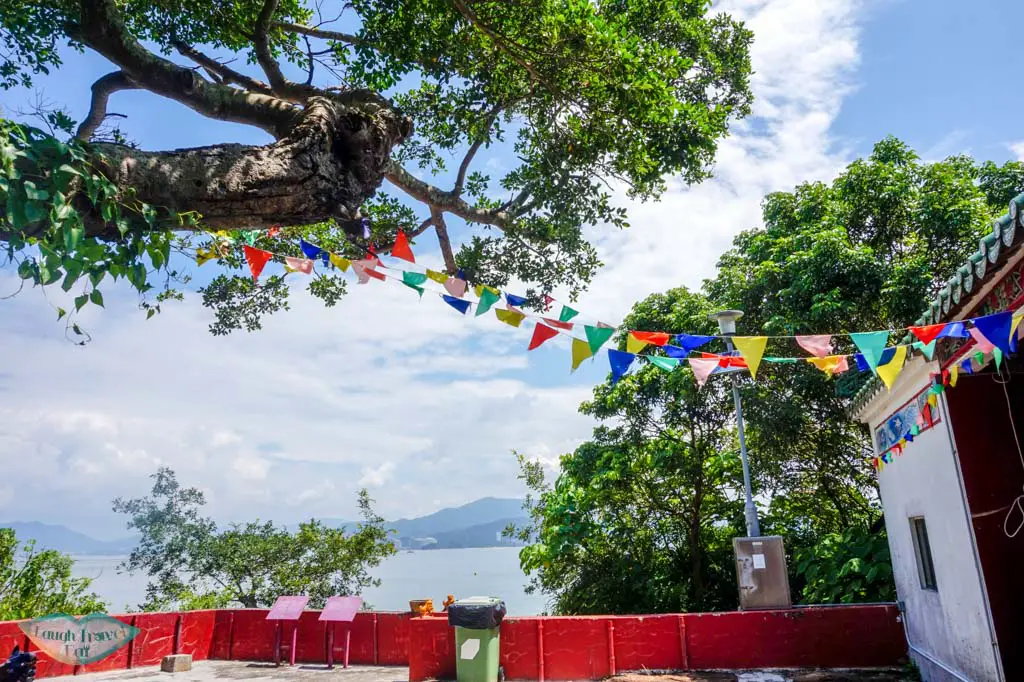 Tin Hau is the sea goddess of the Taoist religion and temples dedicated to her are frequently found along the coast. This particular one is the oldest on the island, and also worships the Year God and the Hung Shing. The architecture is typical of Qing Dynasty with two-hall and one courtyard.
Tam Tai Sin Temple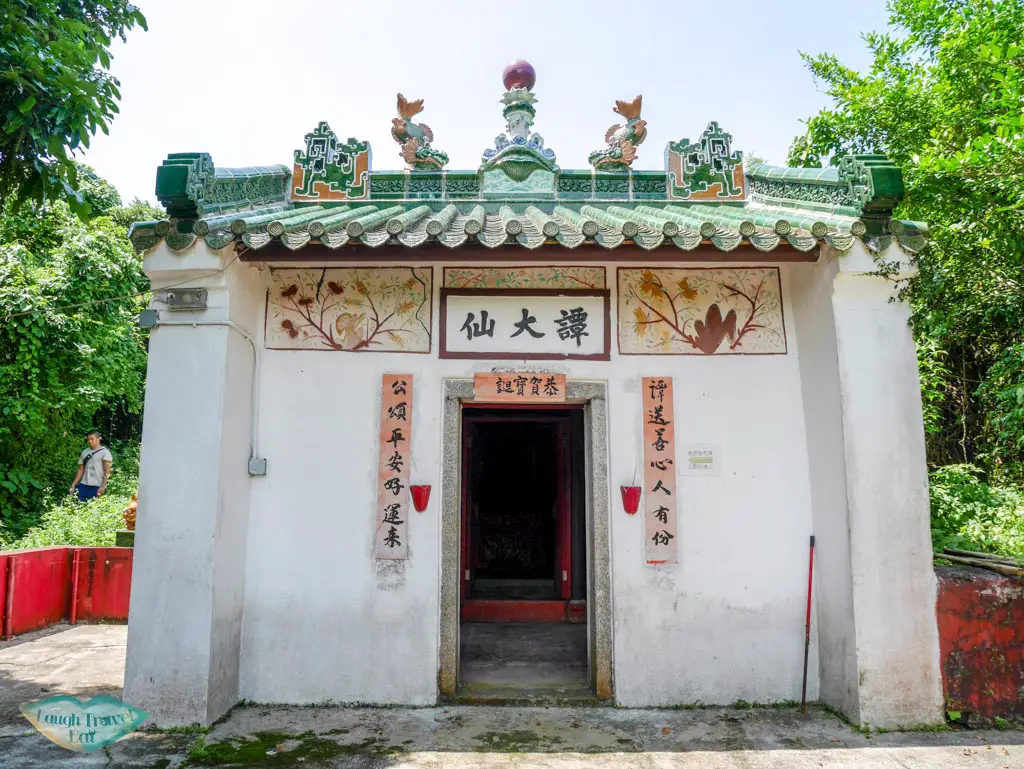 Equally as historic as Tin Hau Temple, the Tam Tai Sin Temple is only a five minutes' walk away. Tam Tai Sin is also known as Tam Kung, who is also a sea deity in the Taoist religion, who was born in Huizhou, China and could cure diseases. The islanders used to celebrate Tam Kung Festival, however, it had stopped in the 60s since the population had declined.
The best route to visit Tung Ping Chau
The pier is situated on the eastern side of the island on the southern third. You can go either clockwise or anticlockwise, however, I would head clockwise to Kau Lau Shek first, passing the Tin Hau temple. Then you can continue west pass Lan Kwo Shui, reaching Lung Lok Shui. From there, you can either head back to the village next to Sheung Cha Wan for or carry on to Cham Keng Chau before looping back.
Of course, don't forget to feed yourself! We ended up at the village of Tai Tong Wan just north of the pier and here's what we had:
Typical instant noddles with spam and eggs!

My fav tofu fa!
What to bring to Tung Ping Chau
The good news is that you don't have to worry too much about not bring enough water and snacks! The bad news is that there are little to no shade by the coast, and plenty of mosquito. So here's what you should bring:
Insect repellent
Wear trainers – it's rocky there
Hat and sunscreen
External charger for your phone or something to read/do on the ferry
Headphone
Camera!!
A handkerchief or towel because you will sweat!
If you plan on swimming
Towel
Swimsuit
something to change into
Pin me!