Looking for the best egg waffle in Hong Kong? You're in luck! A street food that was borned on the streets of Hong Kong in mid 20th century, it has evolved along side Hong Kong. Egg waffles have blossom from a mere snack found at street side snack stands to having many innovative flavours and dedicated shop. Whether you are seeking the best egg waffles in Hong Kong or just a cool photo to put on Instagram, here's my top egg waffle places that you should try:
If you are not that keen on egg waffle, here's my top 5 dessert place in Hong Kong.
What is Egg Waffle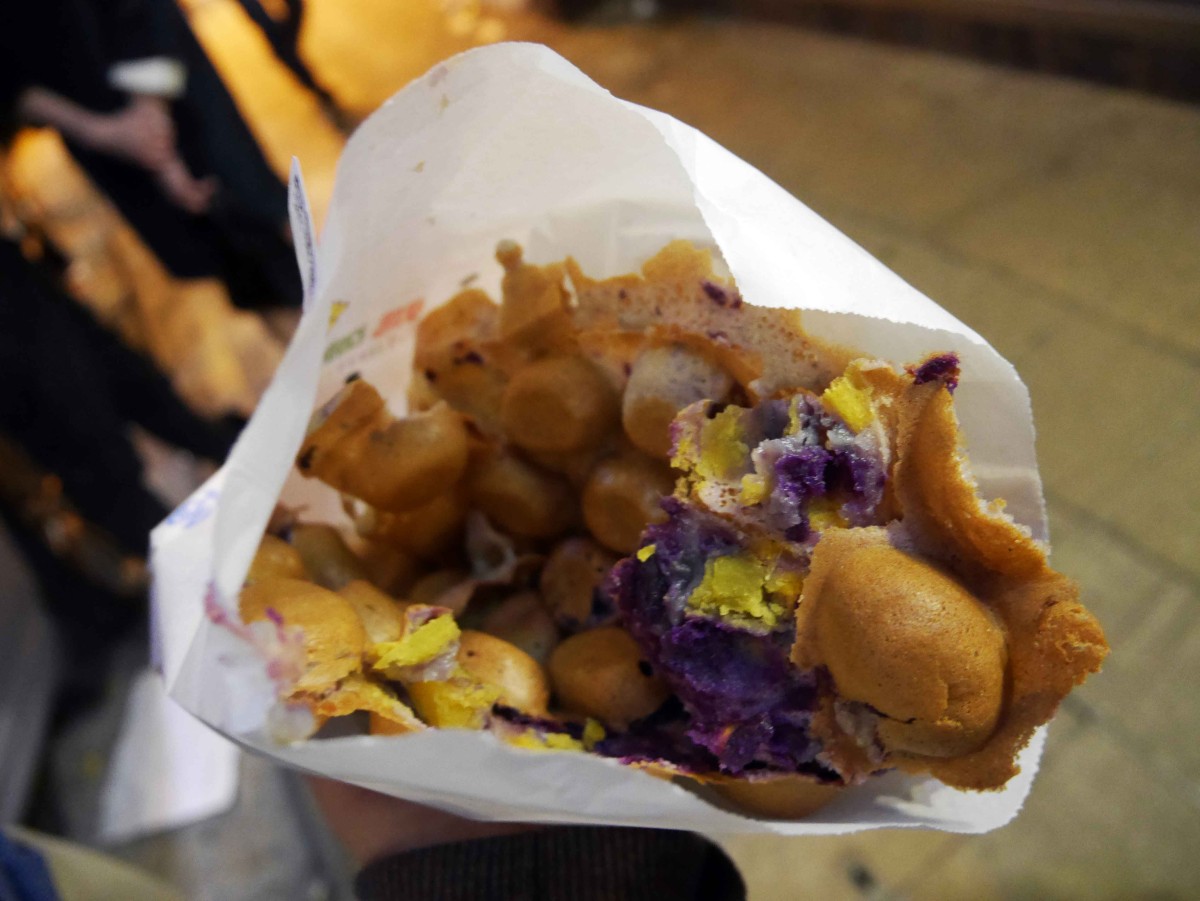 Also called eggettes and bubble waffle, it's primarily made of egg, flour, sugar and milk and it derives is named from its shape. The direct translation from Chinese is little chicken egg, and given its popularity, many places have started adding in innovative fillings and flavours to it.
The best kind of egg waffles are the ones that are crispy on the outside but chewy and soft on the inside – and it's all about timing.
Pro tip: let your egg waffle air out and don't wrap it up – or it'll get soft.
Modos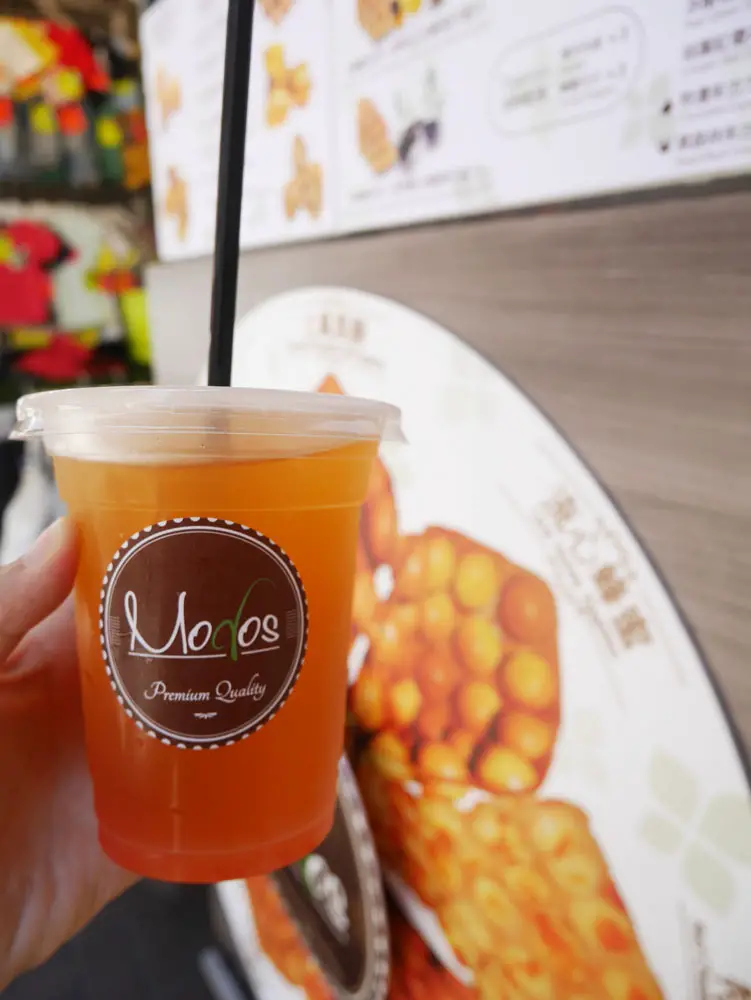 My new favourite egg waffle place, the pandan flavor and the cheese one are my go-to. Other innovative ones that are on my to-try list is the green tea with red bean and the earl grey flavour. My friend tried their spicy meat floss and shrimp paste one and it set my mouth on fire. The price ranges around twenty HKD and they have two shops in Mong Kok and one in Causeway Bay.
Pro tip: They also do drinks and you can get money off for purchasing combo meal.
Personal favourite: Pandan, it's green and makes for a good photo, too!
Address: 2/F, SA27A, Argyle Centre, 688 Nathan Road
                  Shop 3B, 5 Cannon Street, Causeway Bay
Mammys Pancake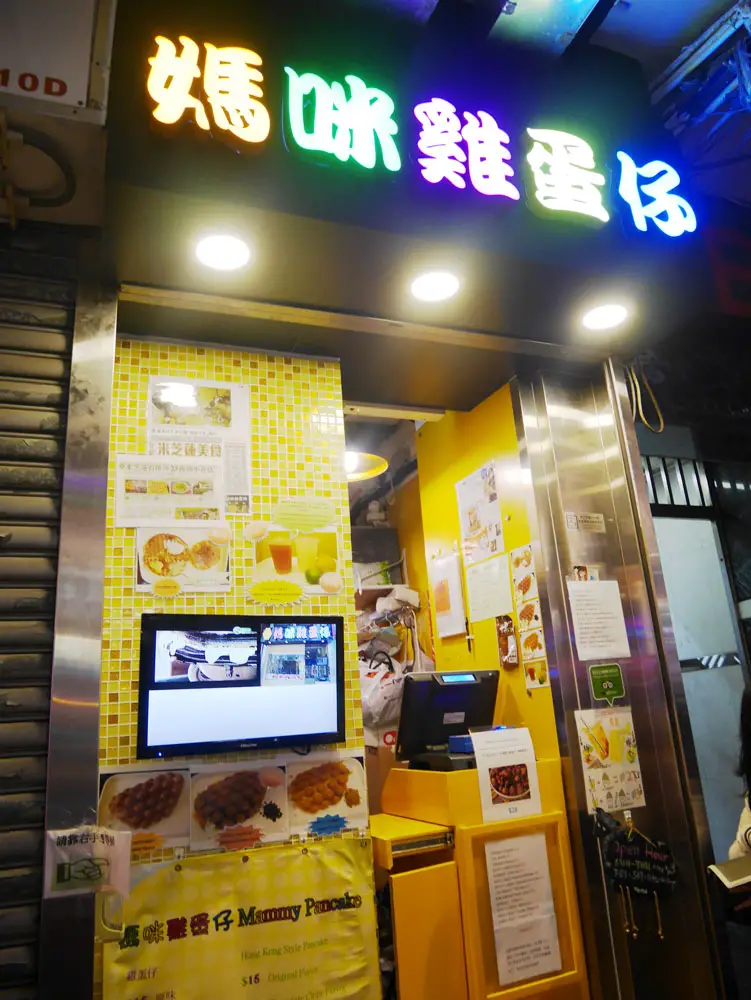 This used to be my favoruite egg waffle place before I discovered Modos. It's also a chain store, with the best store with the most flavours store in Tsim Sha Tsui. My favourite here is their sweet potato egg as well as the chocolate flavoured one, and they do have other ones like mocha and seasonal special like chestnut flavour. 
Pro tip: The best ones to go for are the Mong Kok and Tsim Sha Tsui one and be prepared to wait for your order.
Personal favourite: Sweet Potato flavour
Address: Shop G23, G/F, Young City Zone, 1 Kwong Wa Street, Mong Kok
Shop 17, G/F, Leishun Court, 1-5 Haven Street, Cuaseway Bay
Shop K1B, G/F, Man Tai Street, Hung Hom
G/F, Carnarvon Mansion, 8-12 Carnarvon Road, Tsim Sha Tsui
Shop 277-278, 2/F, Wo Che Plaza, 3 Tak Hau Street, Sha Tin
Shop D2, G/F, 181A-181G Wan Chai Road, Wan Chai
Shop 16A, G/F, Cheong Wah Building, 289-301 Castle Peak Road, Tsuen Wan
Shop 2A, G/F, Whampoa Street, Hung Hom
Low Key Master Food Shop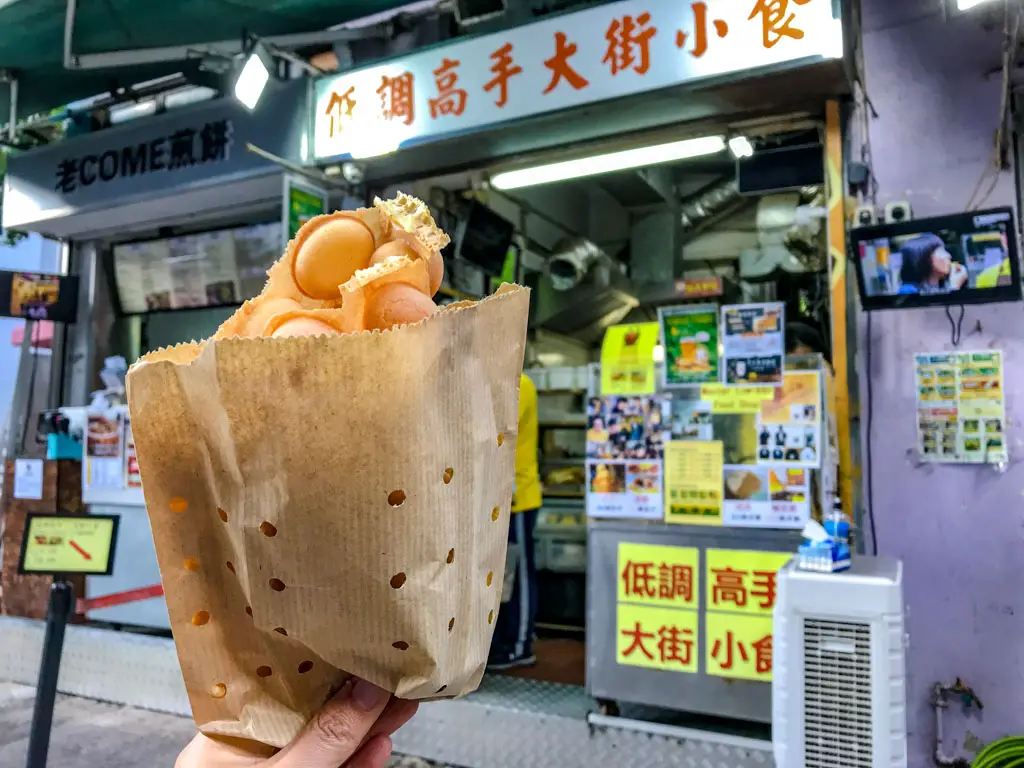 We all know that the secret to a great egg waffle is the crunchy exterior and soft interior, but the ratio of air to batter is also important. Low Key Master Food Shop is tucked next to one of Chai Wan MTR's exits by the park with a traditional snack shop decor popular in Hong Kong.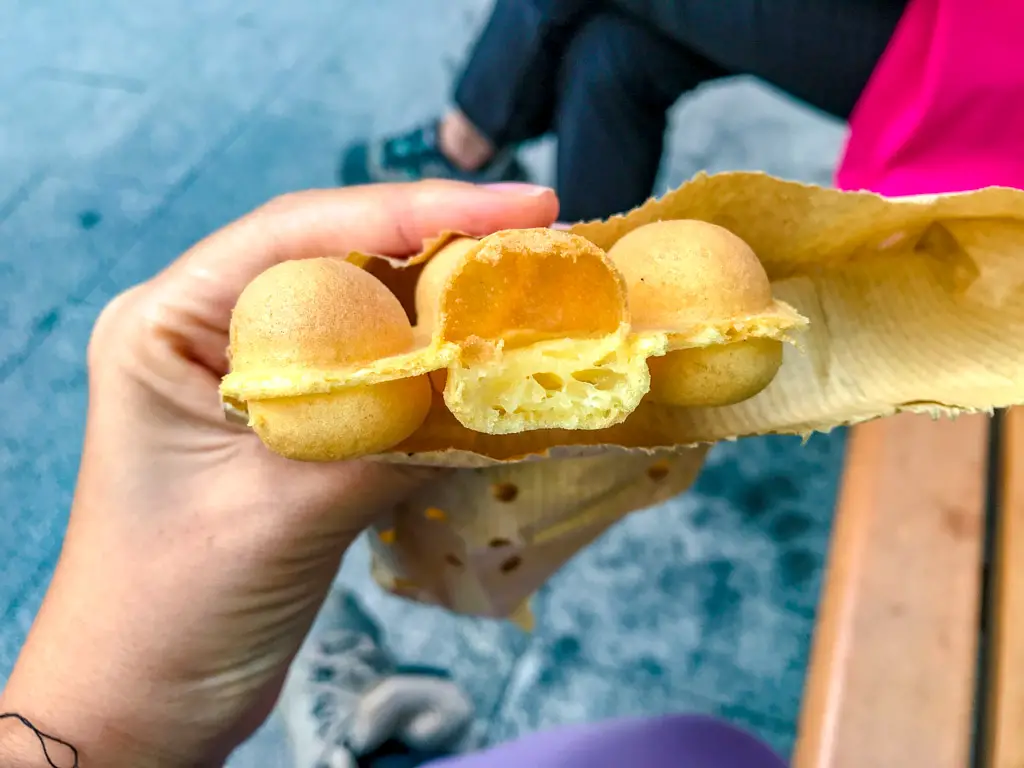 The red letters on white sign is the centerpiece but the store is also surrounded by news clippings on the food shop's tasty snacks and yes, it is a little pricier than some with a queue, but it's arguably the best egg waffle I've had.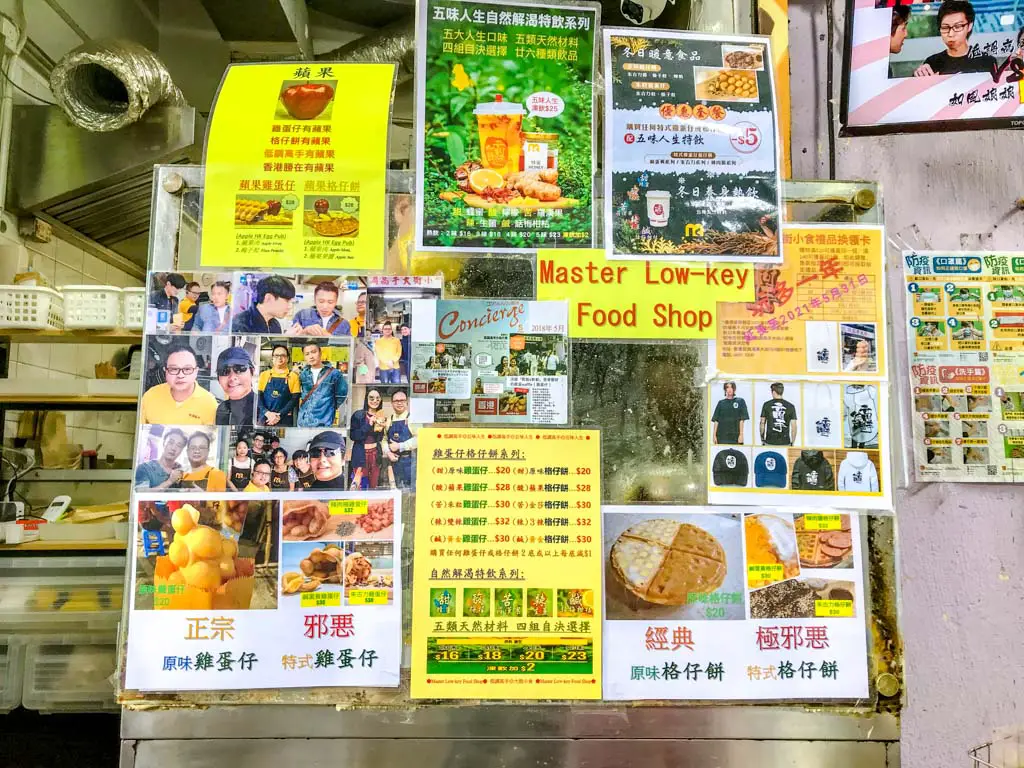 Aside from original egg waffles, they also have the usual chocolate chips and also the more curious spicy egg waffle, salted egg yolk egg waffle, and apple egg waffle! They range from 21 to 32 HKD and there are regular waffle counterparts, too.

Address: Shop B3, G/F, 76A Shau Kei Wan Main Street East, Shau Kei Wan
Opening times: 13:00 – 22:00

More Eggettes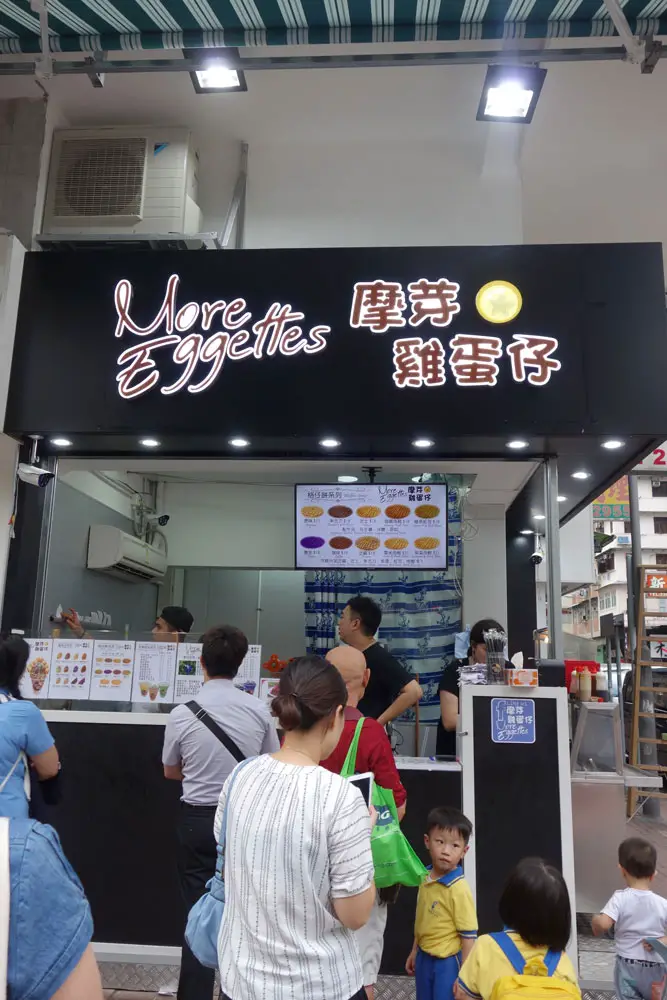 More Eggettes is more of an Instagram-worthy stop than a super tasty one. Their special is the starry egg waffles, but before you get excited, the stars are cereals. They do make a great photo though. Another specialty of theirs is their coloured drinks. Though not as tasty as the others, it's got stores in locations where the others don't.
 Pro tip: the most central location is in Prince Edward
Addresses: Shop 16A, G/F, Hong Keung Mansion, 32-34 Hong Keung Street, San Po Kong
Shop B2, G/F, 17 Yu Chau Street, Prince Edward
Shop C18, 2/F, Kwai Chung Plaza, 7 Kwai Foo Road, Kwai Fong
Shop 4A, G/F, 31 Tsuen Hing Path, Tsuen Wan
McQ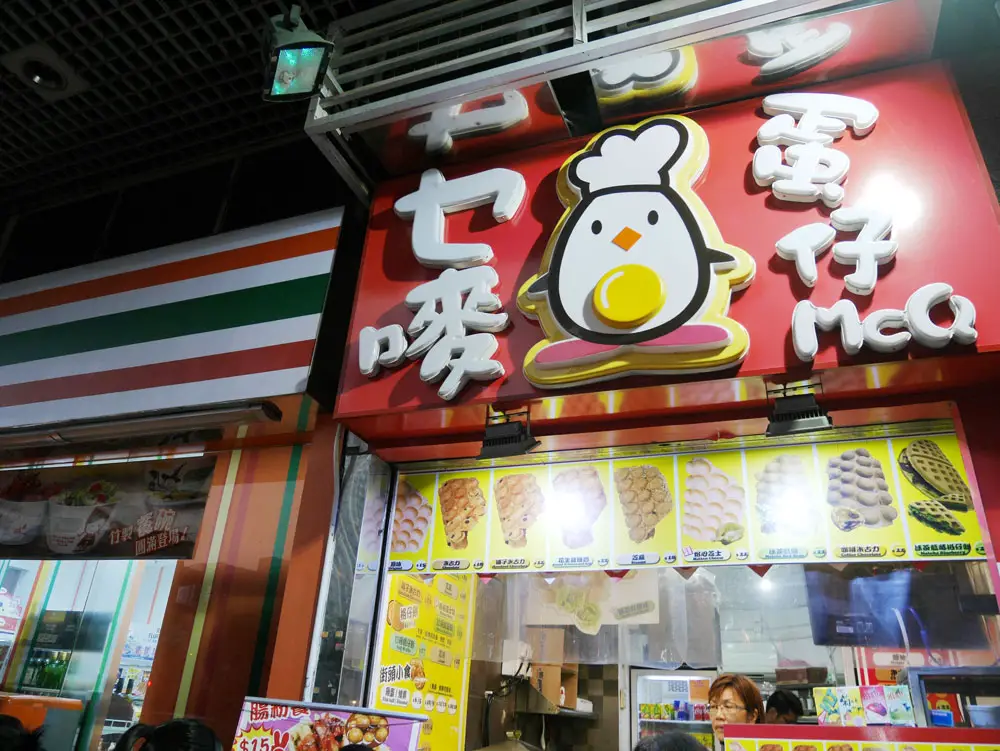 I think it's safe to admit that I won't have been to every single egg waffle place in Hong Kong, but I do try. McQ is a local snack shop that also whips up some highly rated egg waffles in Jordan. Curious, I headed over there to try this one particular flavour that I have yet to encounter: peanut butter and condensed milk. For those who aren't familiar with this combo, it's the best thing in the world and a common afternoon tea option on thick toast. And it didn't disappoint. Although it's good, the location of this store isn't ideal and involves going out of your way – which isn't worth it in my opinion. However, if you are in the neighborhood, give it a try!
Address: Shop 6, Keybond Commercial Building, 38 Ferry Street, Jordan
Opening times: daily 12:00 – 21:00
Oddies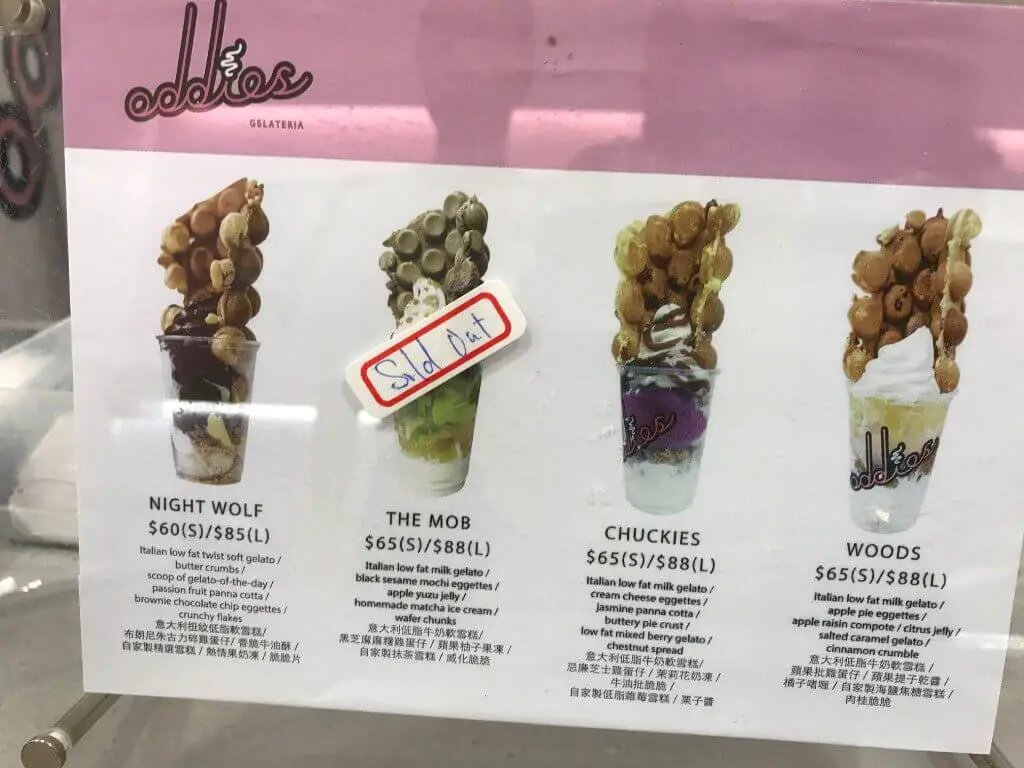 I've heard about the amazing egg waffle and gelato combo from Oddies for a while now and finally got around to try this hip Canto-snack place with Flo from Yogawinetravel (Who has recommendations for some other amazing Asian dessert places). While I was mainly there for the egg waffles, I must say that their unique gelato flavour also captured my attention.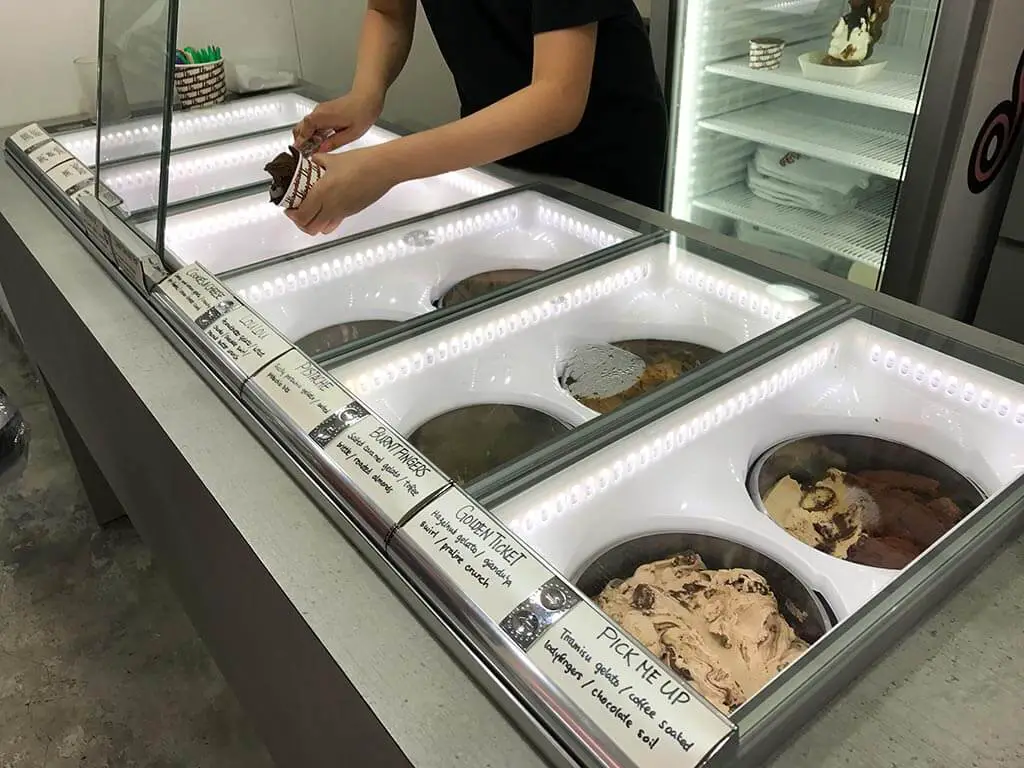 They have 4 different flavours of the famed egg waffle-gelato combo and we opted to share a Chuckies (HKD65) – featuring Italian low-fat milk gelato, cream cheese eggettes, jasmine pannacotta, buttery pie crust, low-fat mixed berry gelato, and chestnut spread.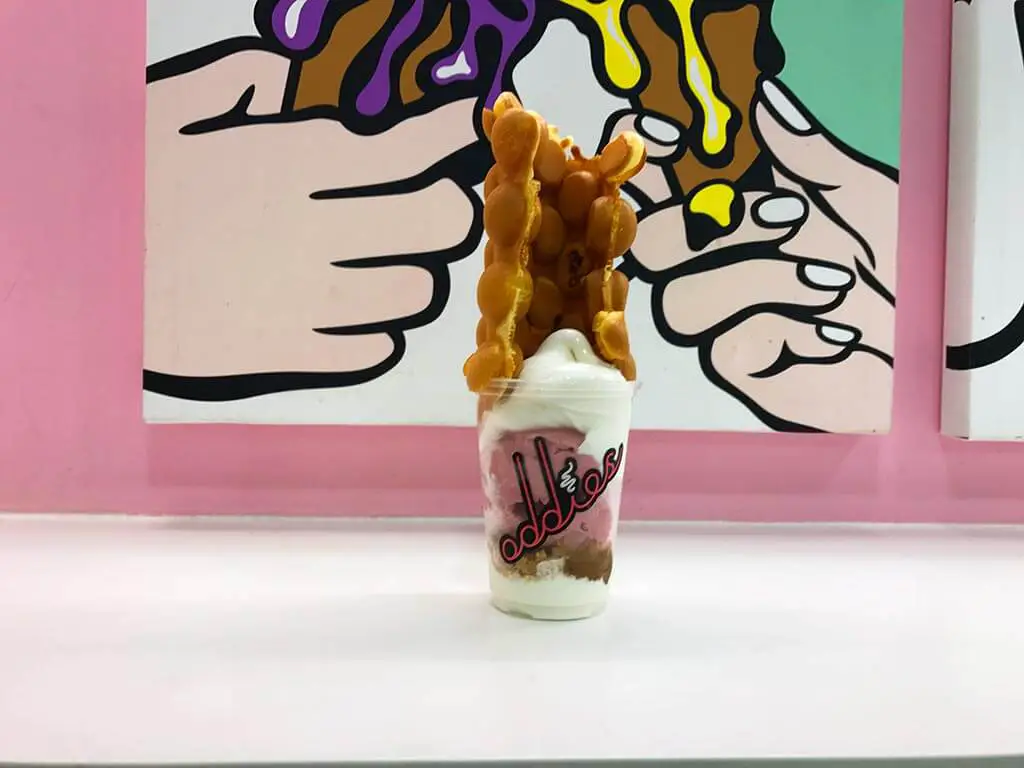 Honestly? It was amazing and I'll be going back.
Address: G/F, 45 Gough Street, Central
There will be updated as I try more.