Wang Chau is one of the islands in the Ung Kong Group in Sai Kung, famous for its hexagonal columns and tombolo. The small island is not to be confused with Wang Chau in Yuen Long, which is also famous in its own right. While it is not as attractive as the crystal clear water of Bluff Island or with arches like Jin Island and Basalt Island, it is a worthy day trip contender with its dusk-orange rock formations and small rock pools.

Essential information on visiting Wang Chau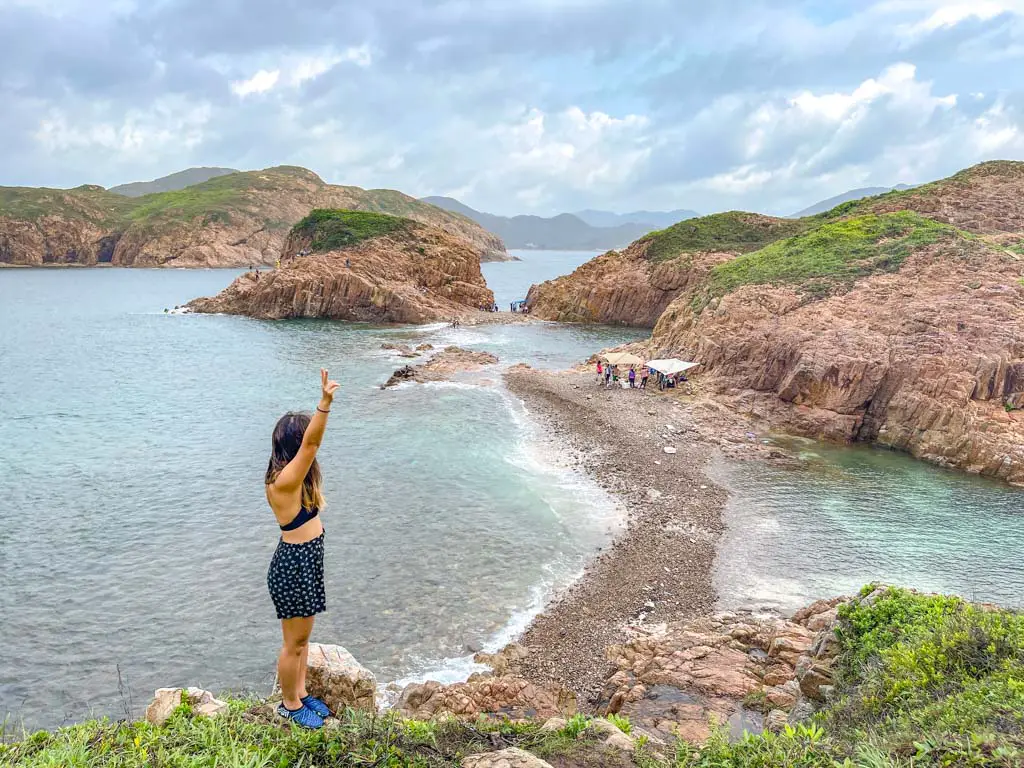 Wang Chau is an uninhabited island and has no shelter or refreshment points, therefore you need to bring everything you need with you and take them away when you leave as well.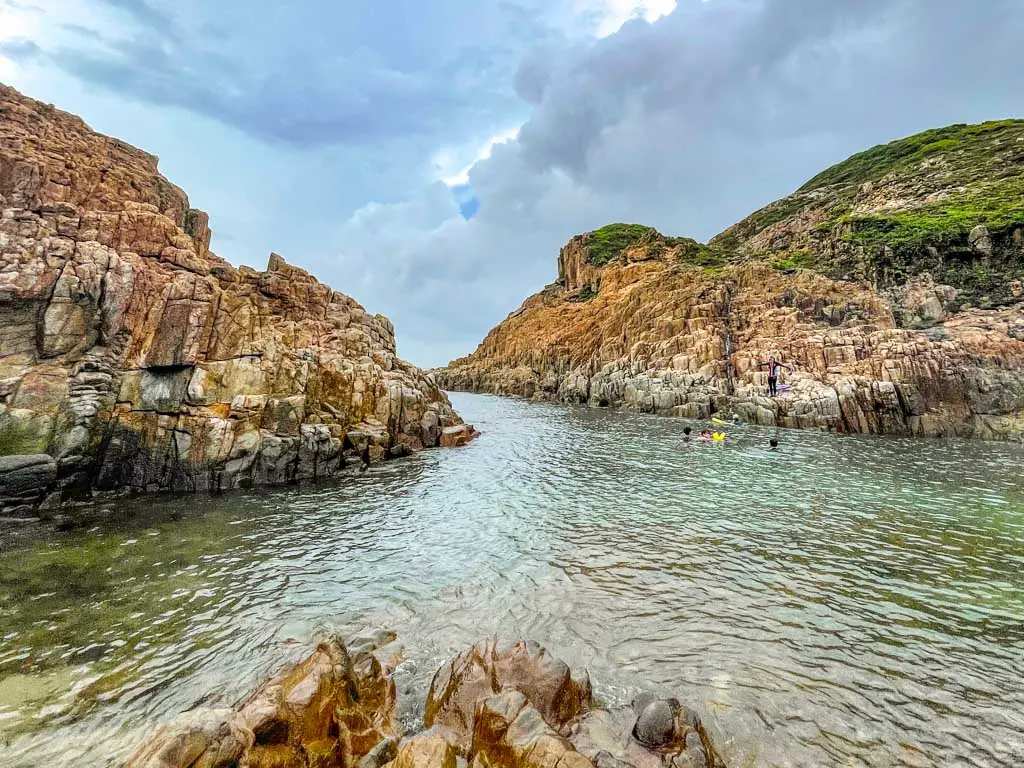 One of the smallest islands in the Ung Kong group, it also doesn't have any sandy beaches, with well eroded, rounded pebbles and boulders making up its beaches and tombolo. So expect to sit on rocky terrain!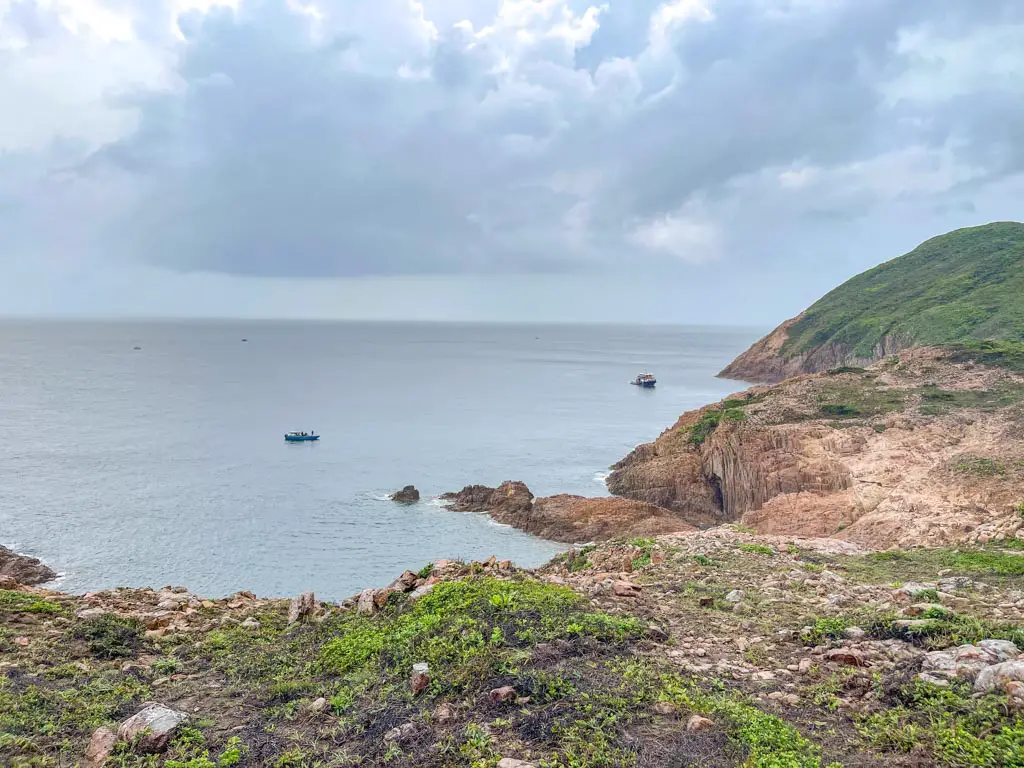 The highest point of the island stands at 80m, and you can probably hike it in sporty flip flops, sandals, or wet shoes. Here is a list of what you should have with you:
Hat and sunglasses
Sunscreen
Beach towel
Snorkeling gears
Pop up beach tent or shelter for your things
Floaties
1.5L+ of water
Wet shoes (with good grip if you want to hike, too)
Lunch and or snacks
Waterproof bag for your valuables
We visited on a day when it poured, and a shelter would really have been useful!

How to get to Wang Chau Sai Kung
There is no public transport to Wang Chau, so a private speedboat or kayaking is the only way to get to the island. If you want to kayak, see my kayaking guide for Sai Kung here.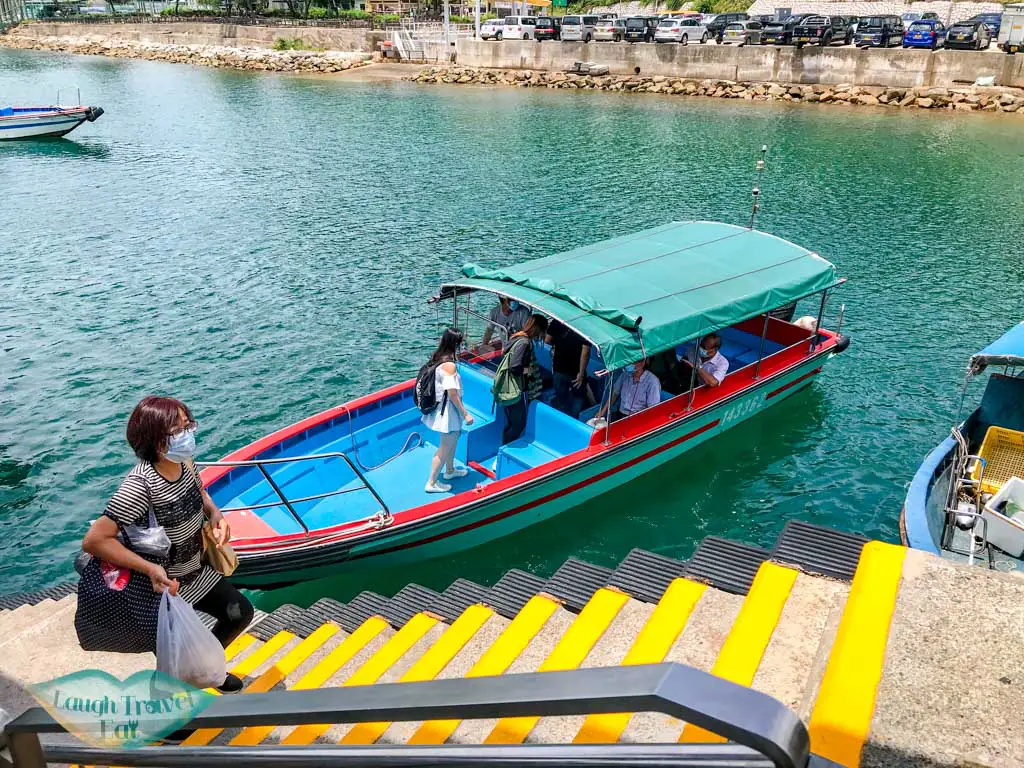 Generally, a speed boat charter costs around 200-300 per person for 10-18 people, or more, depending on the size of the speed boat. The best place to depart is from Sai Kung town center and the journey takes around 20 minutes, passing the beautiful Jin Island and Basalt Island as well.
The docking and pick up point are on the northeastern tip of the island (usually), directly onto the hexagonal columns. So it should be a dry landing onto rocks, then we climbed towards the narrowest point of the island: the tomobolo.

Wang Chau Sai Kung attractions
Despite being a small island, Wang Chau still has many attractions, some of which can only be accessed via the sea route (aka kayak or your speed boat charter). Let's start with the easier ones:

Tombolo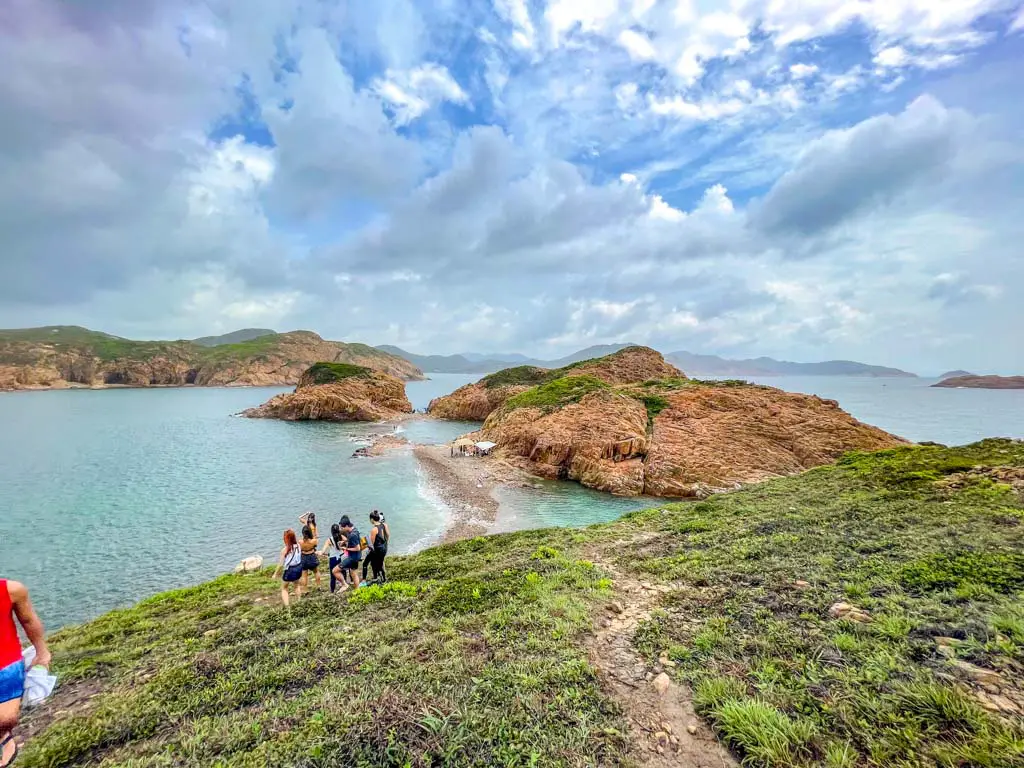 A tombolo is a sandbank, or in this case a gravel bank, that connects two parts of an island, much like the one at Sharp Island and Ap Lei Chau. It is covered during high tide but the water was only knee high, meaning you can still walk across. It is best viewed from the hill to its south, where you can see the beautiful colours of the water and the hexagonal columns, too.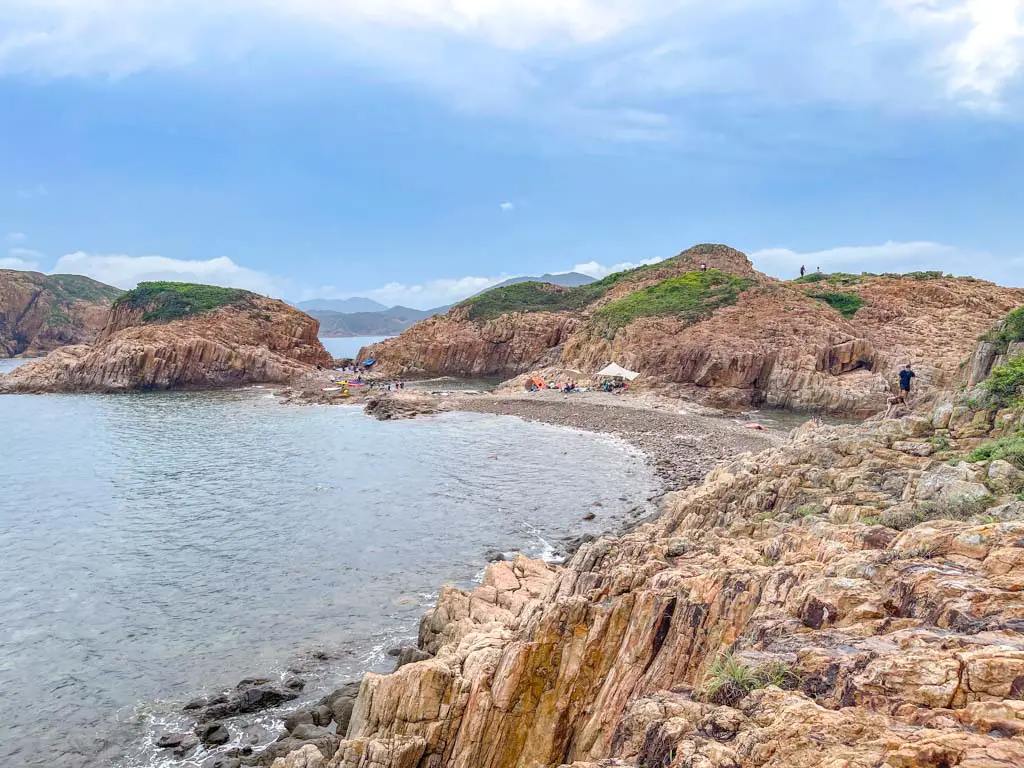 Either side of the tombolo are popular places to set camp and leave your things. It is generally very safe as people can only come here on private boat charter, but it's still best to carry your valuables with you.

Hexagonal columns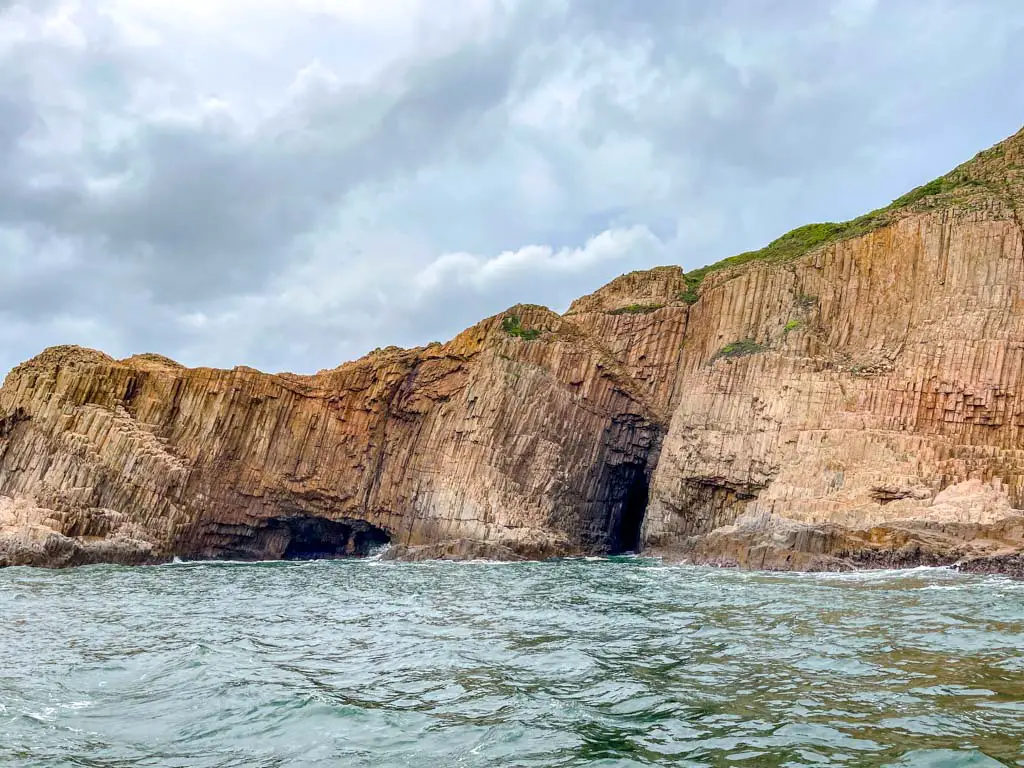 The hexagonal columns of Wang Chau are generally of a ruddier complexion and skinnier, giving it a more layered appearance that shows any tilting and deformation more clearly. The rock type is still the same as the others in the group, and I like that it has a different look and view to it compared to the Ninepin Islands.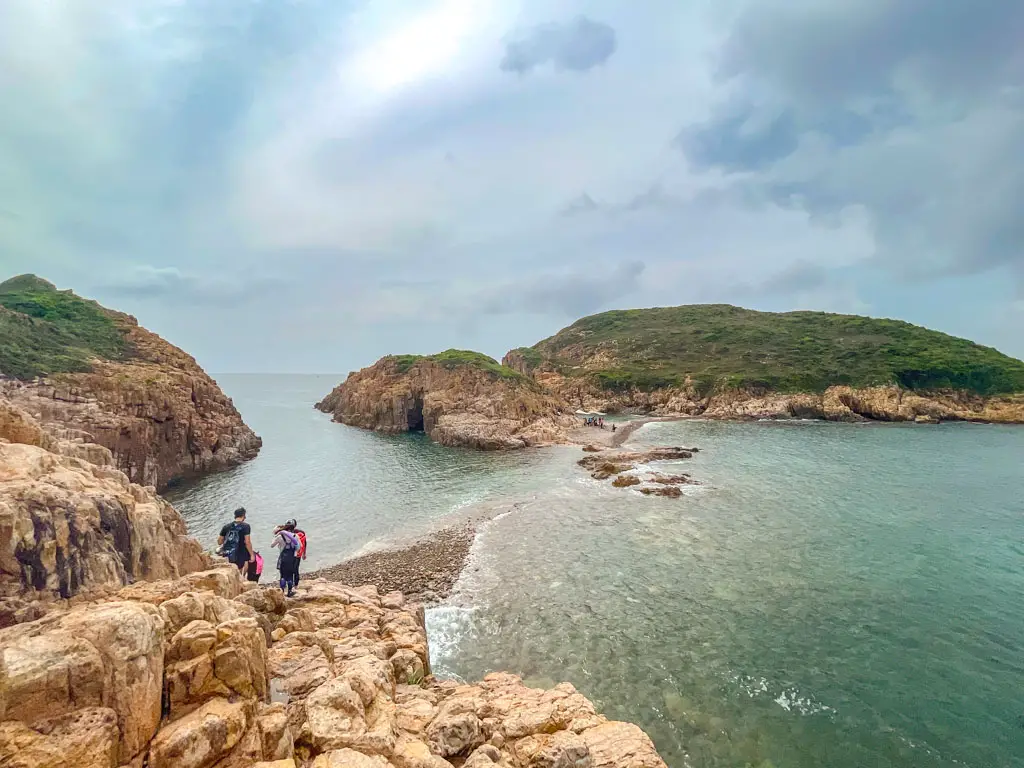 We took some great photos on the hexagonal columns where we landed!

Rock pools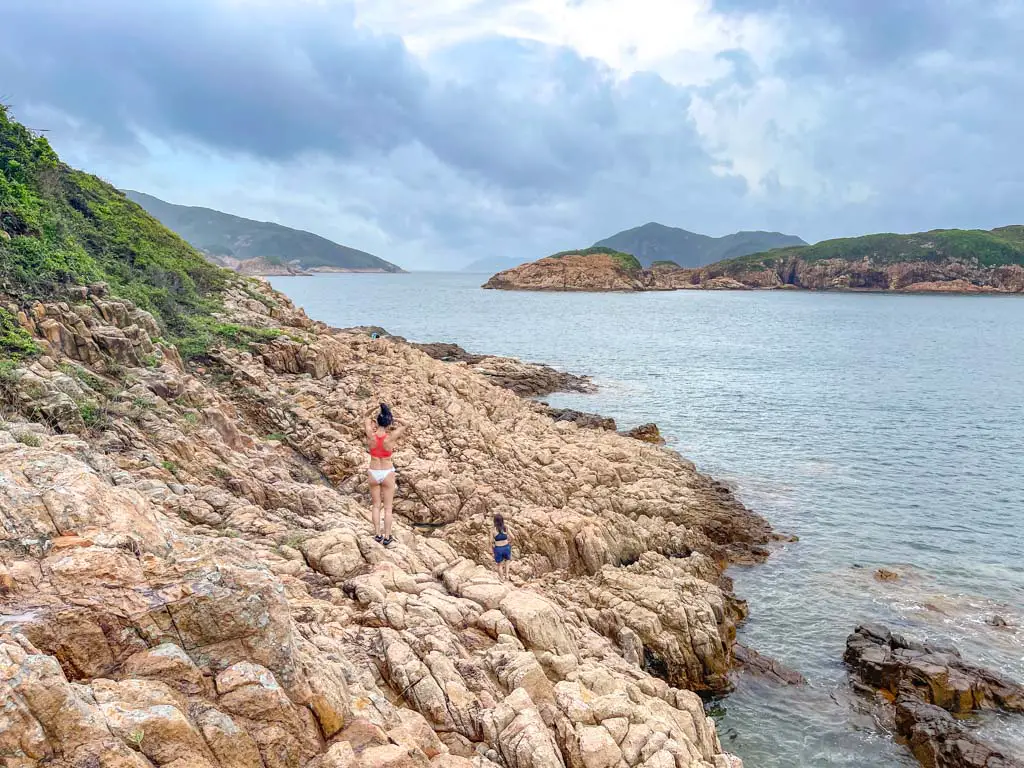 On the western side of the island as we walk south from the tombolo are some beautiful rock pools, though the bay near the tombolo is beautiful in its own right, too.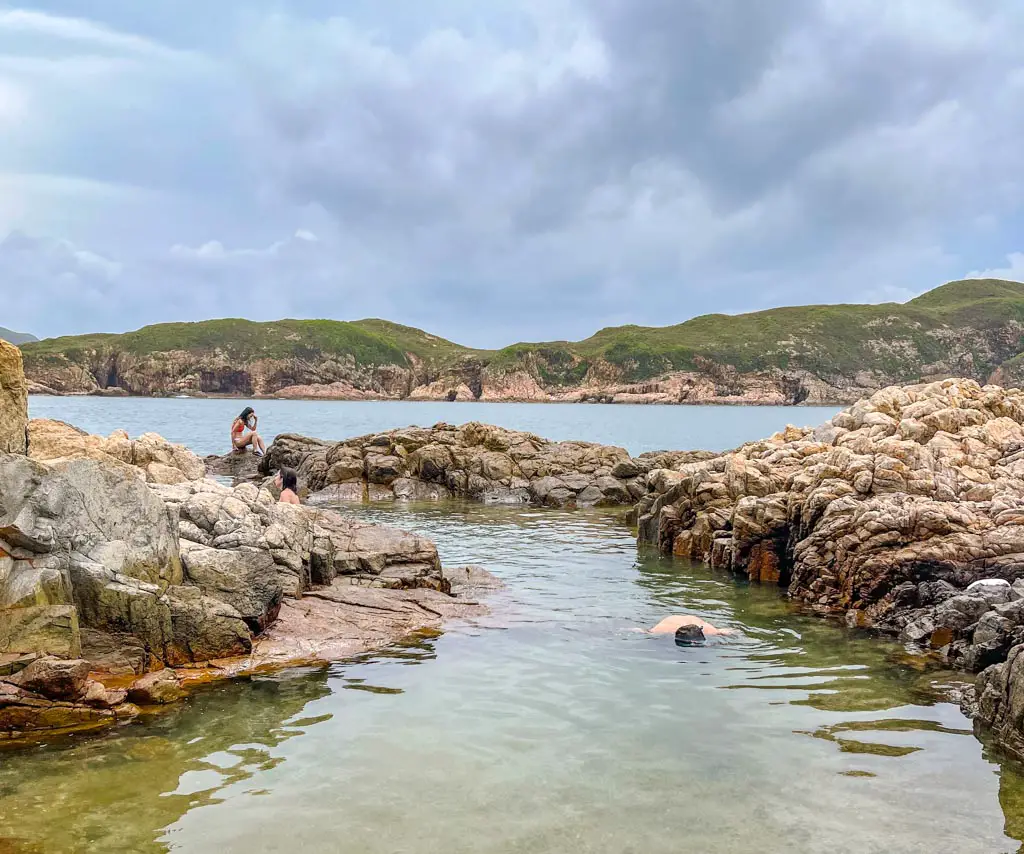 The island is still big enough for you to find pieces of secluded paradise by yourself, so if time and footwear permits, it's a good thing to do!

Wang Chau Kok Cave 橫洲角洞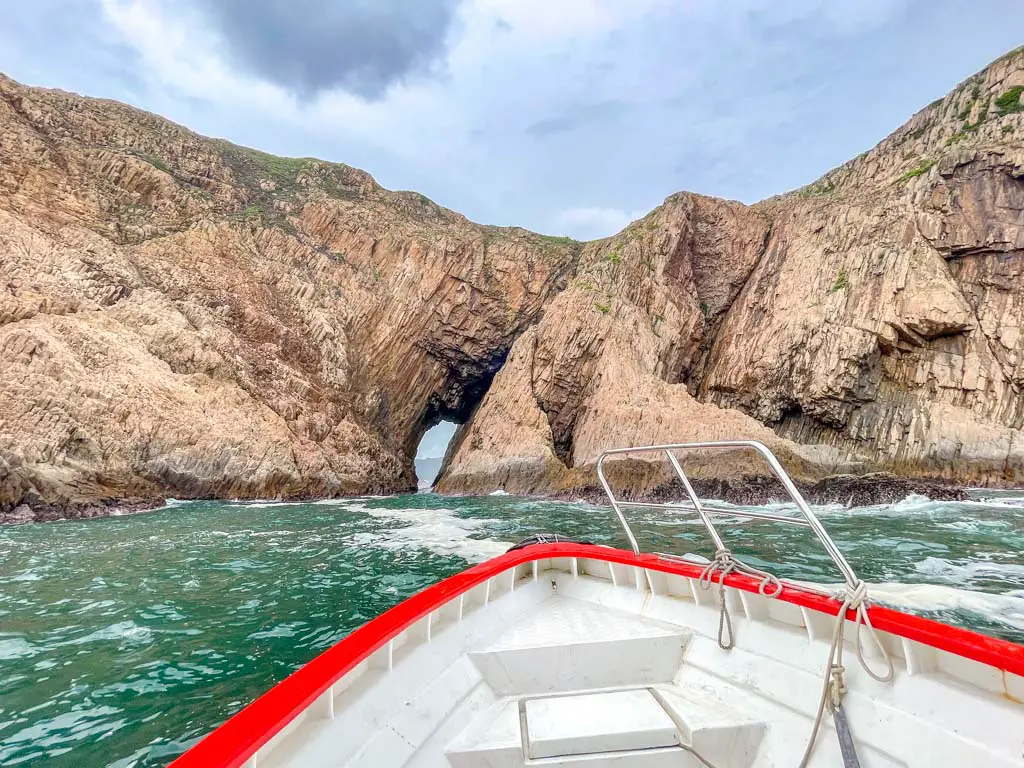 The Wong Chau Kok Cave is on the south side of the island and not accessible on foot. The arch is in a squiggly D shape, and kayakers can likely paddle through on calmer days. 

Candle Cave 蠟燭洞
Now this curious cave is a lot more distinctive compared to Wang Chau Kok Cave. It is named after the narrow exit on the other side, which is almost like the silver of a candle with the skylight. The hexagonal columns rise and connect dramatically at the wide entrance and make for an amazing photo!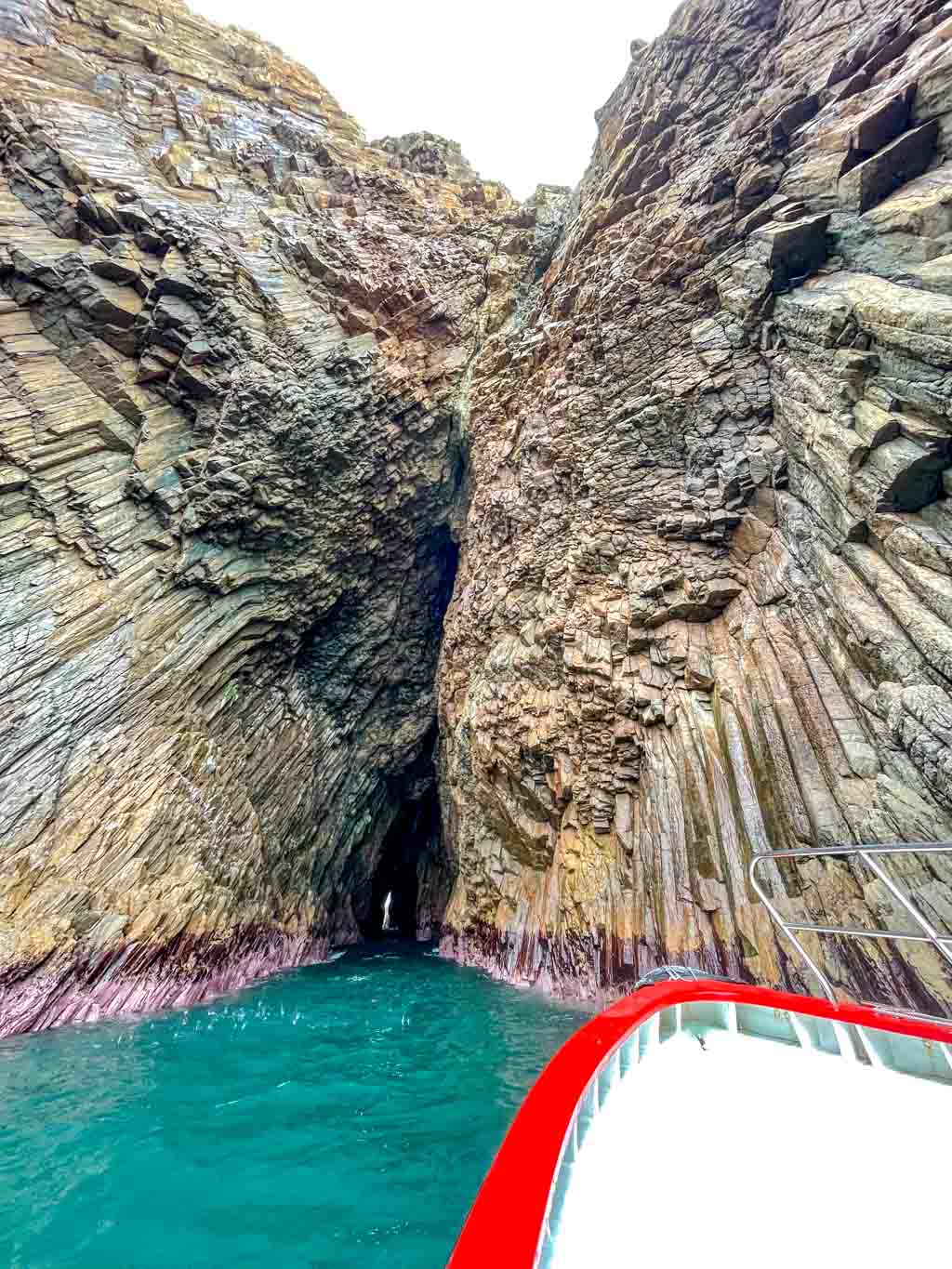 This cave is a lot harder to paddle in, and I'm not entirely sure if you can go all the way through. It definitely calls for a calm day to paddle in even some distance though!