Did you know that there's a hidden Hindu temple in Fanling? The Gurkha Hindu Temple of the Burma Lines Camp that was built by the Nepalese. You might better know it as Queen's Hill Camp.
A step away from the temples of Hong Kong I've covered, this temple is abandoned and the short hike is almost like urban exploration. You can also add on with a hike to the Lau Shui Heung Reservoir as well.
Hindu Temple hike summary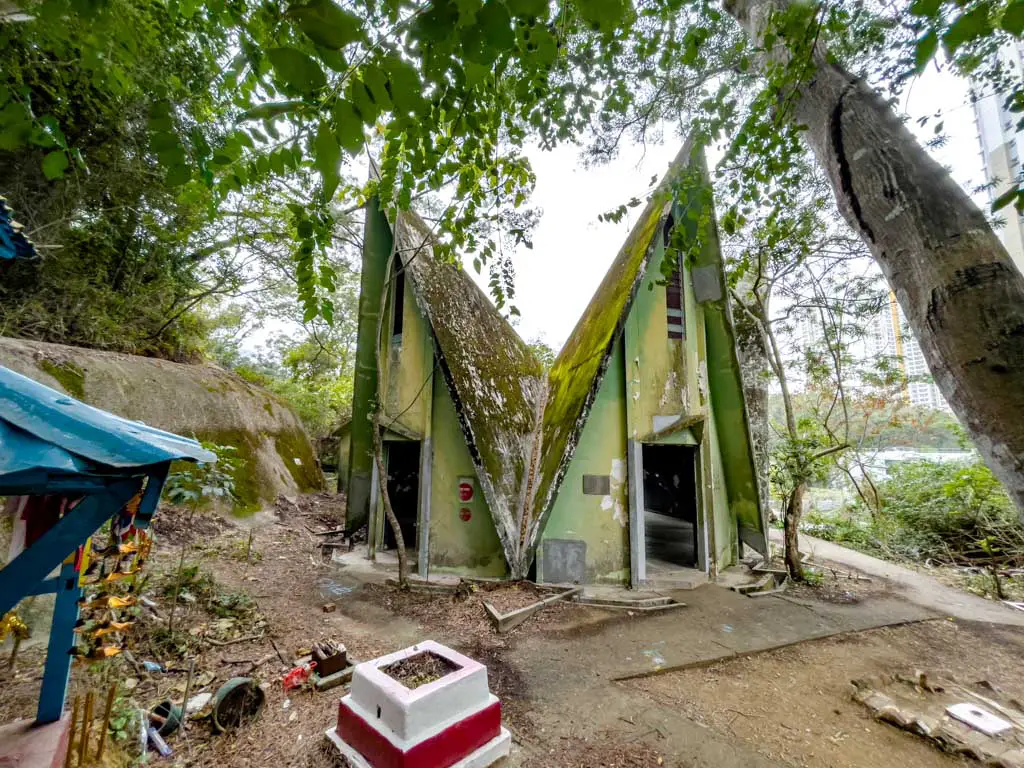 Time taken: less than an hour
Hike difficulty: 1/5 but it involves hiking up some broken trail
Pros: a short but cool hike
Cons: very short and mostly on road without pavement.
Hindu Temple Fanling history
The fading green-yellow temple stands alone on the small hilltop across from the newly built Queen's Hill Estate in rural Fanling. Its hexagonal shape imitates the holy lotus, and the temple was dedicated to Shiva, the destroyer god, and acted as their religious site.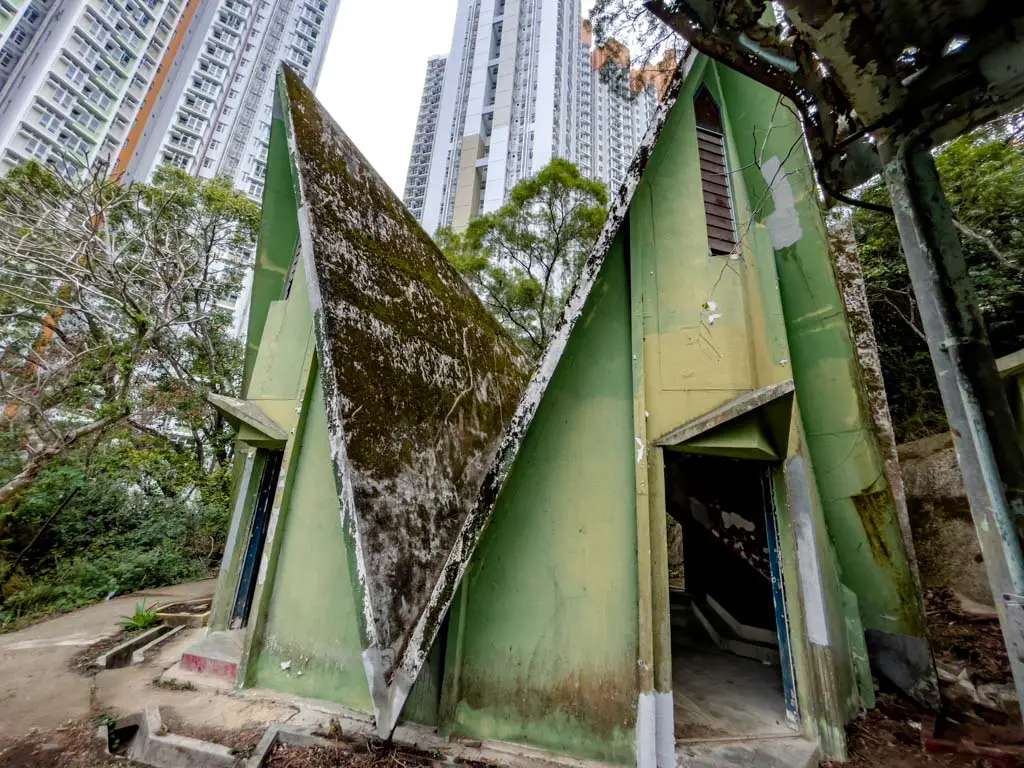 It was built by the Ghurkas stationed at the Burma Lines Camp in the 60s. The camp was a barracks that was the size of Victoria Park and was decommissioned in 1992 in advance of Hong Kong's return to China.
The temple was then abandoned and all the religious items inside were cleared out. Now completely empty, you can see a six-point star and six slopes pointing towards the middle, painted blue and red.

It was classified as a grade III historical buildings and was saved from demolishment. The army camp has now been redeveloped into Queen's Hill Estate.
How to get to Hindu Temple Fanling
The Hindu Temple is closer to the Po Kak Tsai Road with the trail start behind the Po Kok Tsai Lau Shui Heung Public Toilet.
You can either aim to go to the Queen's Hill Estate or to Po Kak Tsai Road to start the hike.
Queen's Hill Estate to Hindu Temple
The Queen's Hill Estate has a bus stop nearby that is serviced by:
Get off at the Shan Lai Court; Lung Ma Road bus stop and walk towards the public bathroom.
Po Kak Tsai Road to Hindu Temple
Take the minibus 52B from Fanling Station and tell the driver to let you off at the Po Kak Tsai Road and Lau Shui Heung Road junction. It's about a 10 minutes walk in on the side of the road.
There are occasionally some stray dogs and dogs barking from surrounding houses.
The hike up to Hindu Temple Fanling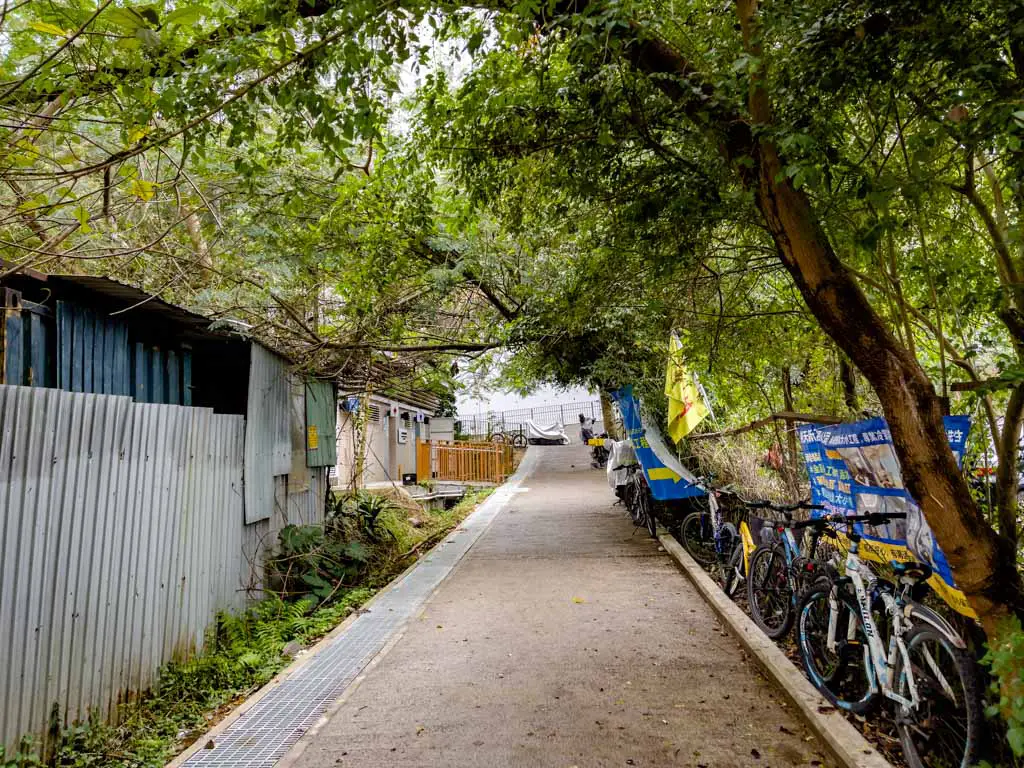 The hike itself is both straightforward and difficult. There used to be an entrance near where the Queen's Hill Estate southern exit is, but it's now sealed by a wired fence. To get to the trail, behind the public bathroom across the abandoned field through a (relatively big) hole in the fence.
There are some red ribbons on the tree that would guide your way. Once you go through the fence, turn right to the end and then go up along the fence. The trail here is a bit tricky because it's a mix of dirt and concrete, with some steel rods poking out. So while this might be an easy hike, I'd recommend wearing trainers with good grips.
Keep going up and sticking to the right slightly and it'll take you to the temple.
Hindu Temple Burma Lines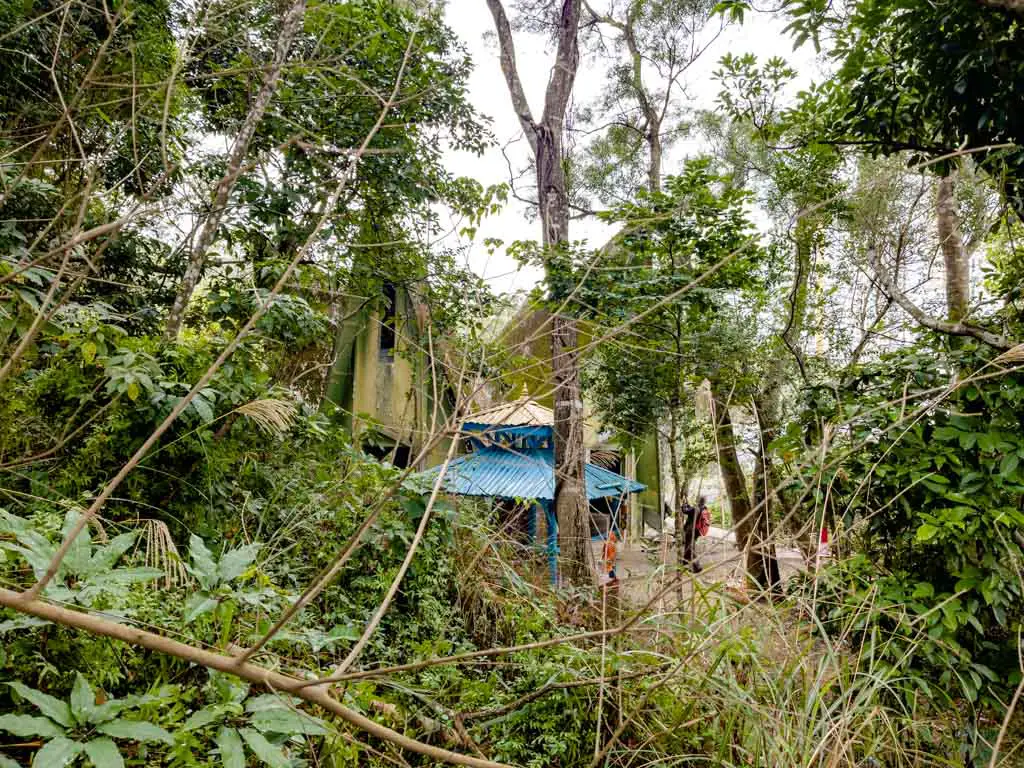 Although it's surrounded by trees, there is enough space in between that you can see the Queen's Hill Estate as well. There is a small shrine in the corner, so be respectful of it when you're visiting.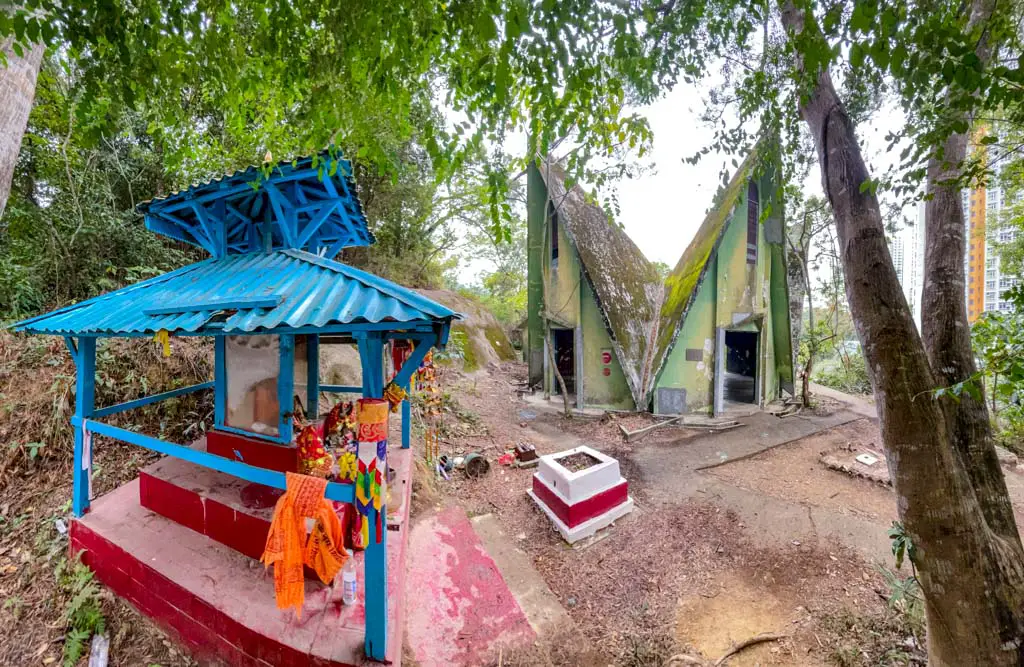 You can go around the temple in less than a minute. It's really a very easy hike so stay as long as you want before you head out the same way.
Add on for Hindu Temple
As this is a shorter than short small hike, here are some add on that might make your trek to Fanling more active:
Lau Shui Heung Reservoir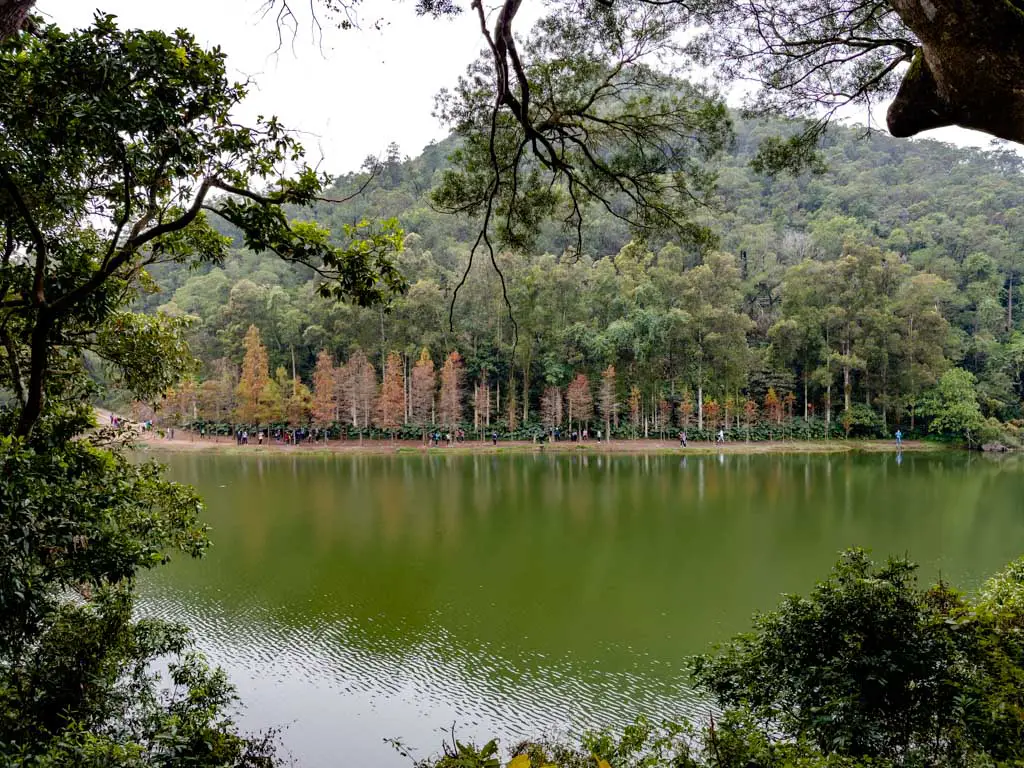 It's a 20 minutes walk from Po Kak Tsai Road to Lau Shui Heung Reservoir and the ideal extension. Although, again, you'd have to walk on the road without pavement for a while with an uphill stretch.
Cloudy Hill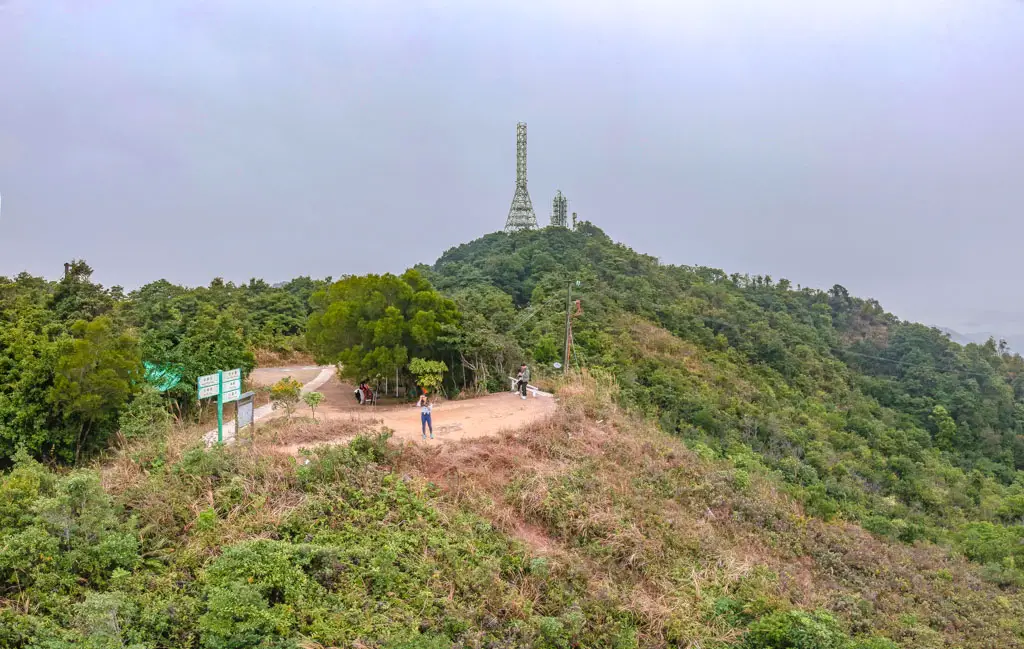 From Lau Shui Heung Reservoir, you can go up to Cloudy Hill as well and descend to Tai Po.