Bluff island is another member of the Ung Kong group in Port Shelter in Sai Kung and a lesser known one. It is across from Basalt Island and, although smaller, makes for a chill day trip option.

It is one of the best places to snorkel in Hong Kong, with a curious clasped hand rock formation on its mountain and a famous arch, too. Here's a quick guide to visiting Bluff Island:

Essential information on visiting Bluff Island
Much like visiting the nearby Basalt Island and Jin Island, Bluff Island has no refreshment point. You need to bring enough water and food for the day. I also recommend bringing some kind of pop up tent for shade as the beach has no cover. I highly recommend this one or you can also find affordable ones at Decathlon.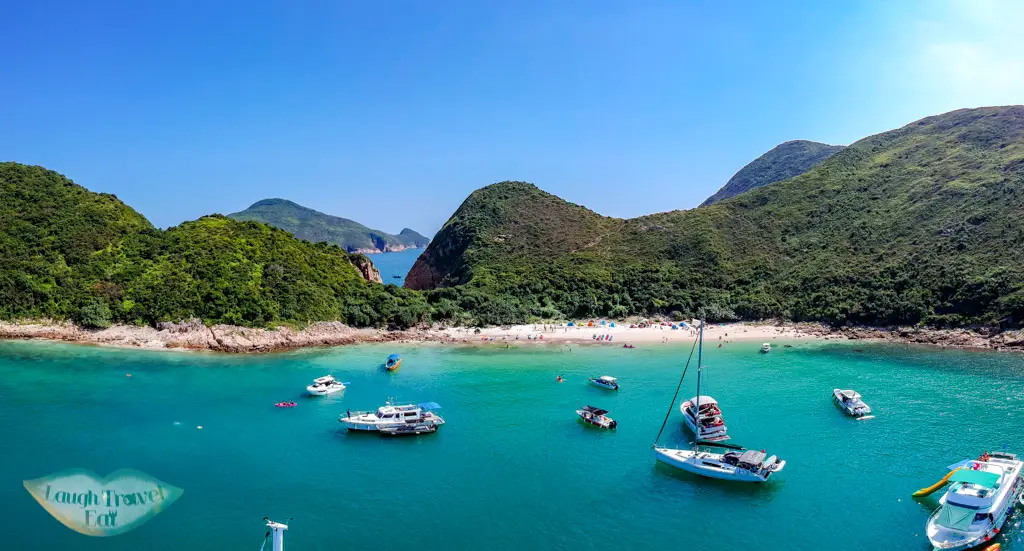 Here's a full list of things I recommend bringing:
Hat and sunglasses
Sunscreen
Beach towel or mat
Snorkeling gears (and fins)
Pop up beach tent
Floaties
1.5L+ of water
Wet shoes (with good grip if you want to hike, too. Or bring another pair like me)
Lunch and or snacks
How to get to Bluff island
As an uninhabited island, you can only kayak or charter a speed boat to the island. You can also join group tours (currently not possible due to COVID-19), who might also include a visit to the famous arch to the south that is only accessible by boat.

Kayaking to Bluff Island
From what I can see, it's not a massively popular place for kayakers – most tend to make their way to Jin Island's Goldfish Tail or the Kwan Tau Cave on Basalt Island.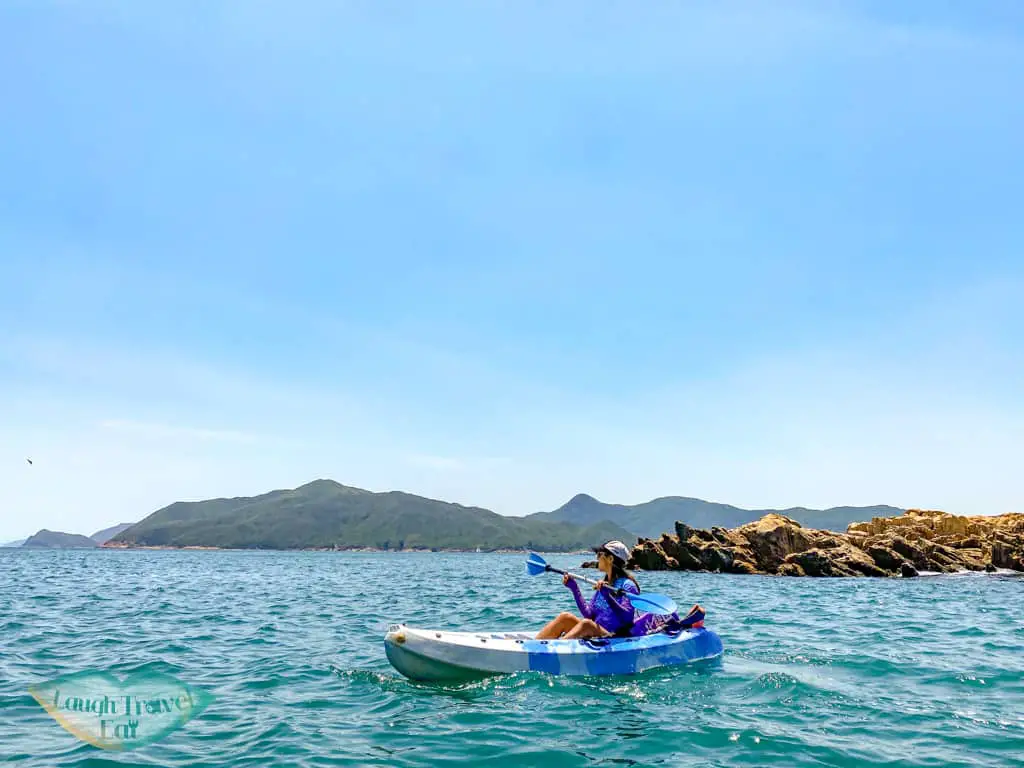 You'll have to dock on the same beach. It's possible to visit Bluff Island along with Basalt Island on a day trip but it's probably only for the very experienced kayakers.
I've covered kayaking in Sai Kung here. For even more information, you can check out my Sai Kung Nature e-guide!

Speedboat to Bluff Island
Chartering a speedboat is the best way to visit, so you can save some energy for the hike.
So the best way is chartering a speedboat. We went with Po Toi O Kayak at Po Toi O Village – we were only 4 so we paid 300 HKD each.

Ung Kong Wan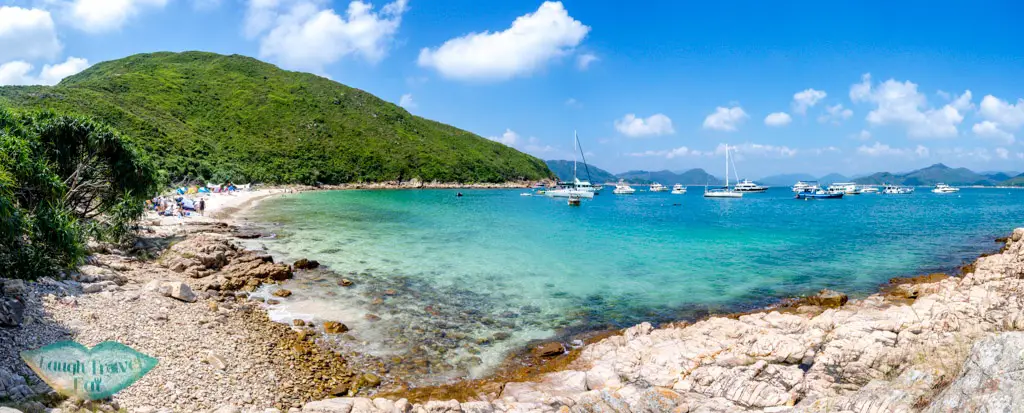 Ung Kong Wan is the beach on the northeast of the island where it's narrowest. It's not a long beach but the water rivals Thailand or Maldives. This is the drop off point for arrival (and if you kayak!).

Snorkeling on Bluff Island
The best snorkeling spot is to the north. From the beach, you should still be able to see the floating yellow buoys that mark the protected marine area. No motorised boats are allowed inside that zone to protect the carols.
On the day we went the water was quite murky, but we did see a lot of sea urchins and corals. I also spotted some fishes, but they were hard to capture on GoPro.

Clasped Hand Rock
For us, the main attraction was the Clasped Hand Rock (合掌石)- there's no official translation I can find so I made up my own.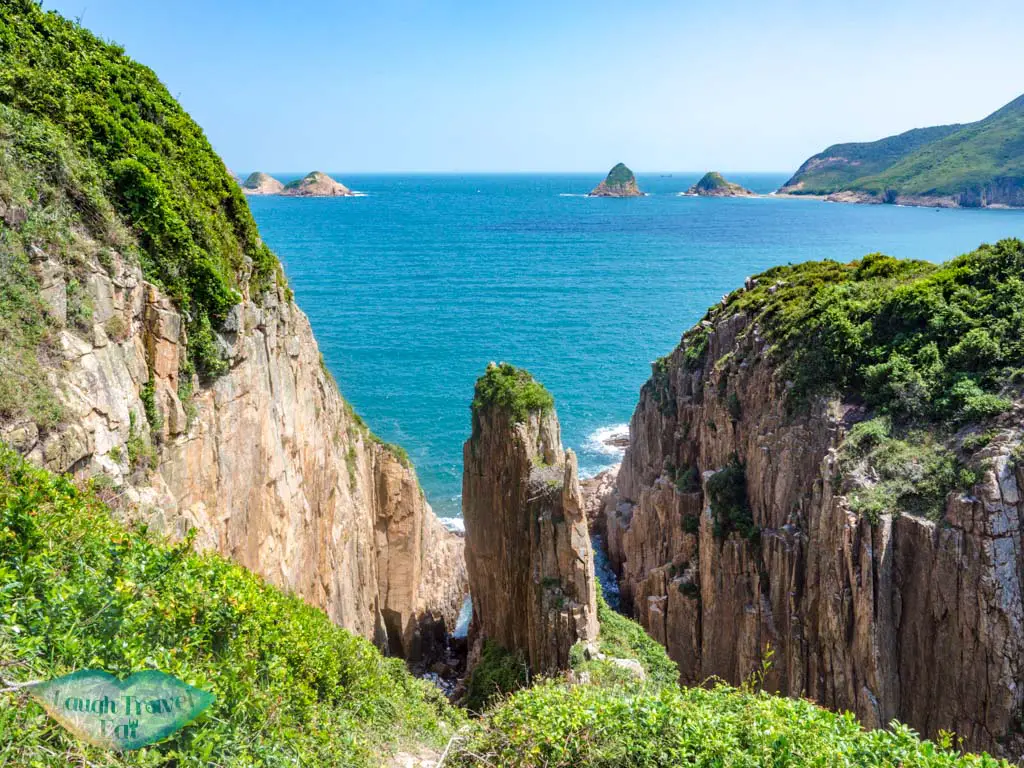 It is on the northern end of the island. You can find the trail that goes up on the northern end of the beach as well. If you're not good with directions, it's to the left of the beach if you can AWAY from the sea.
The trail is hidden in the bushes but luckily is marked by a ribbon. It first lead straight into the vegetation, then emerges mid hill and the view behind is spectacular.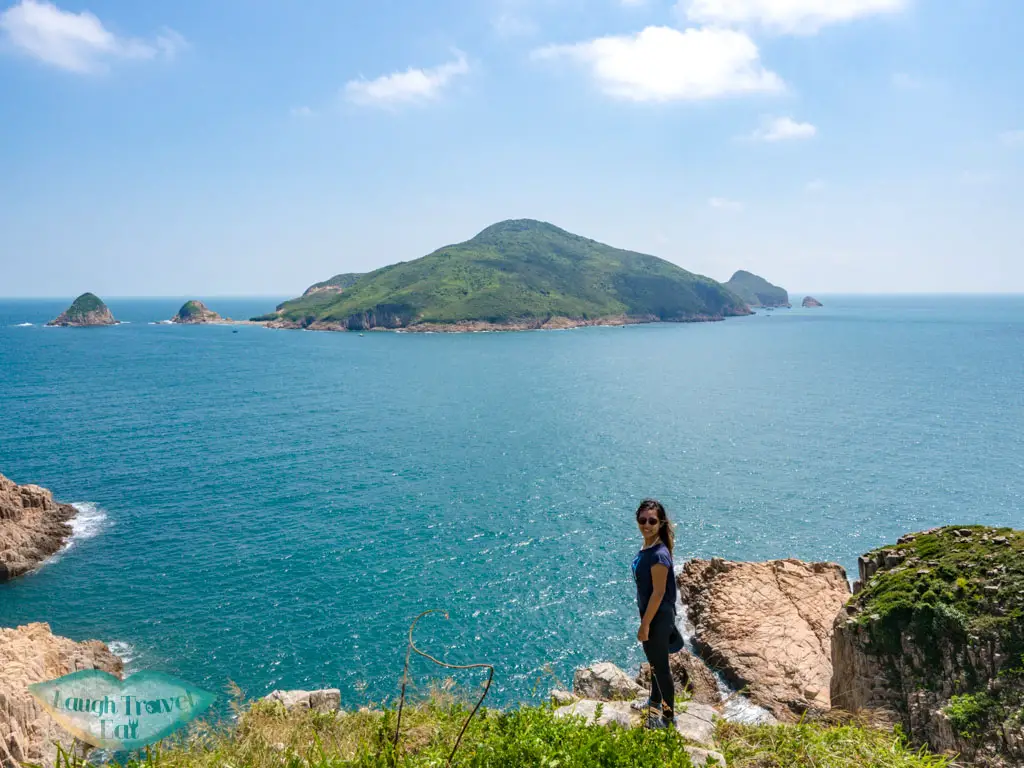 It takes us to a flatter area where there's a great view of the Basalt Island!
Carry on for another twenty minutes or so, first going up then down and you'll reach the bay where the Clasped Hand Rock is.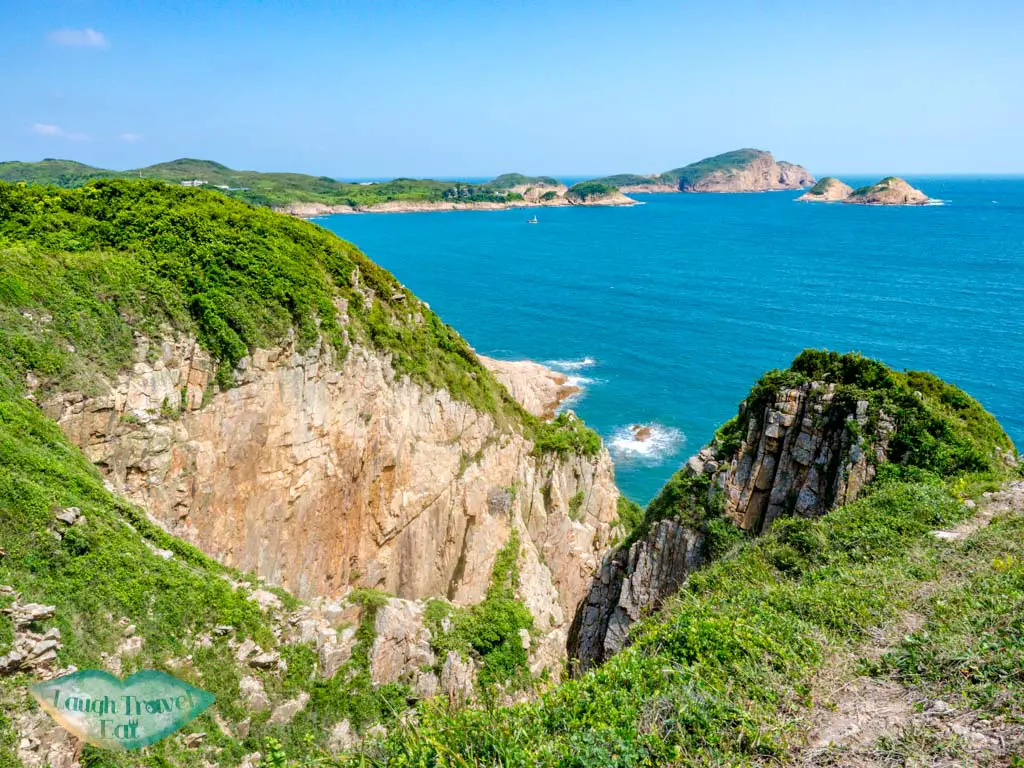 There's a narrow path that goes down, but it's pretty steep so depending on your footwear, you might or might not want to go down.
Note: the rope isn't very sturdy so I won't rely on it too much.

There is a small archway at the bottom but the pebble beach area is also full of rubbish.
To get back to the beach, simply go back the same way.