A Sai Kung boat trip is among the top things that Hong Kongese do during the long summer, and even the expats and tourists are a fan of sailing in the gorgeous water of Sai Kung. Why is Sai Kung such a hot spot for boat trips? Well, it is not only the region with the most beautiful beaches in Hong Kong (save maybe for the outlying islands), but also a Geopark and home to many sea life.
Being in the remote Northeastern corner of Hong Kong, Sai Kung is far from the busy ports of Hong Kong Island, making it a safe haven for water sports and swimmers. In fact, it has some pretty good hiking spots, too. So what exactly one must do to have a day out in the Sai Kung seas, and what does it involve? Let's have a look:
1. Get to Sai Kung Pier
While the time of departure for different ferry companies vary, most will depart around 9 to 10 am, so you can make the most out of the day. The universal departure point is one of the Sai Kung Public Piers, which is conveniently located right next to the main bus, minivan and taxi station.
There are many ways to get to Sai Kung, depending on your point of departure; the majority will take the minivan from Choi Hung or Mong Kok, while there are bus routes from Ma On Shan, Shatin and minivan from Hang Hau.
Here's your chance to grab some drinks, food or floaties depending on your boat package.
2. Heading to your destination of choice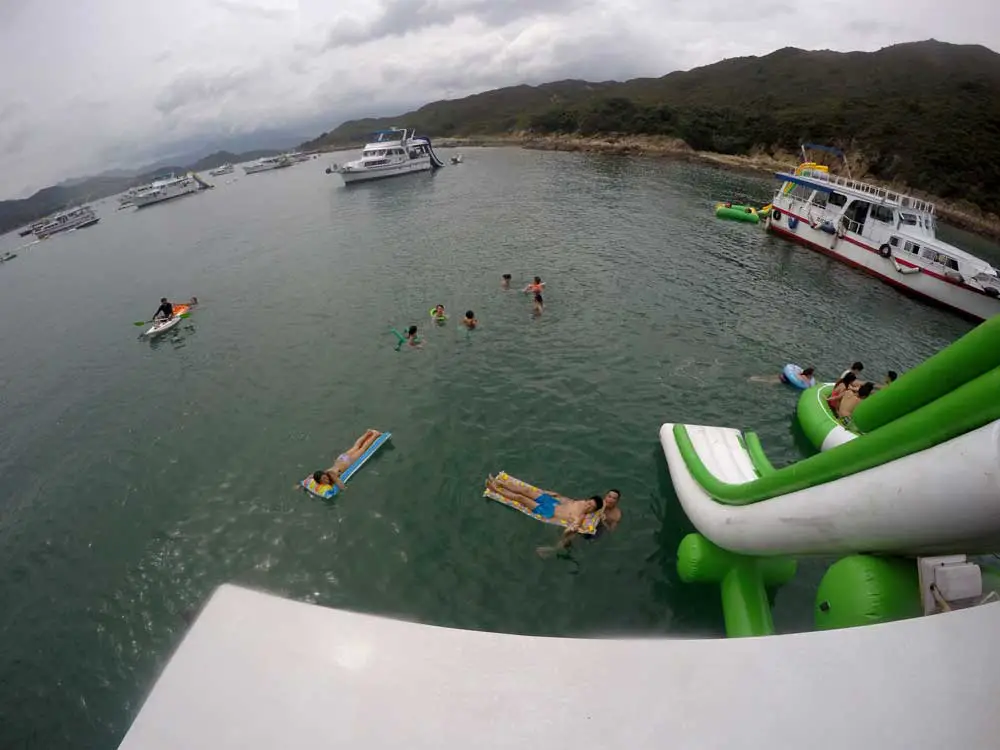 There are many secluded coves and bays dotted around Sai Kung, and you will have to liaise with your captain to decide where to go. Usually, all of the boats will head to Long Sei Wan, and another being Long Ke Wan. Whichever place you choose, it would be the location you stop at for the day – however that doesn't mean it will be boring.
3. Watersports + various activities
Most, if not all, boats offer extra activities. Usually included are entertainment options such as speedboat service, which can shepherd you to and from a nearby beach, Wakeboarding as well as banana boat.
Other popular options are sea trampoline or some form of inflatable toys. And there are usually some floaties from the boat owner. You are encouraged to bring your own, just remember to bring they back. Another thing you can add is a water slide from the top deck. While it does cost more – it is well worth the price as it's much more fun and exhilarating than leaping off the top deck.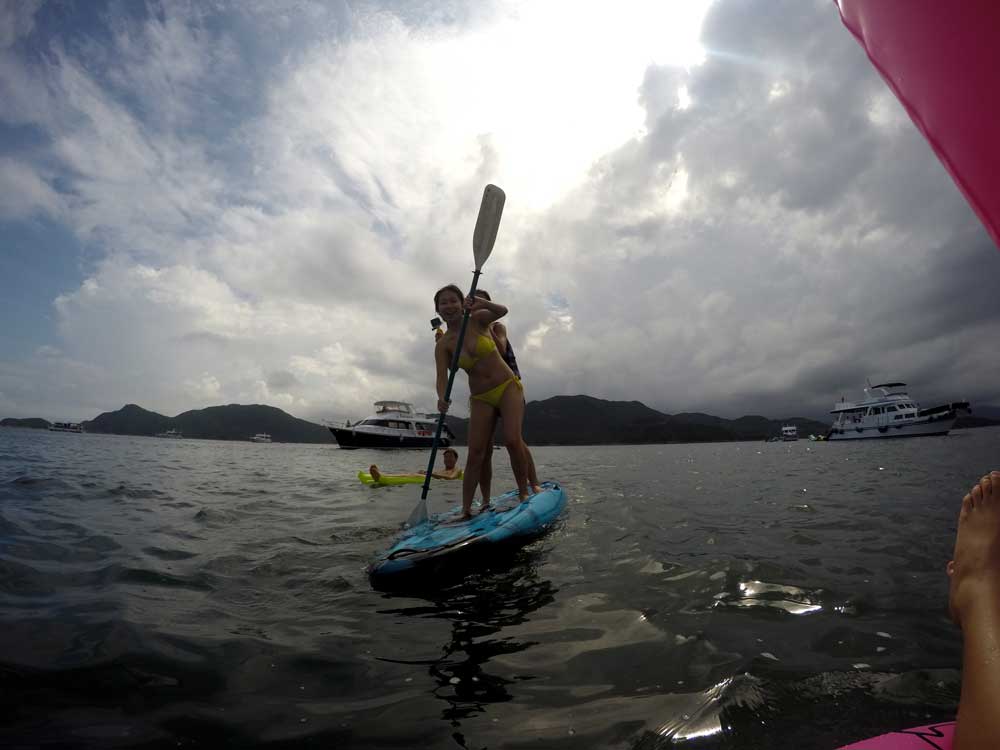 Some boat provides a kayak, or even a SUP for you to get around (well, one of you anyway). For those who are sick of the sea and heat, there is a karaoke room too.
4. Lunch
Depending on your package, you will either get:
No lunch
Takeaway lunch
Barbecue
In all honesty, eating lunch while everyone is dripping is not an easy experience. And most of the time food can remain largely uneaten. If cost matters to you, or the food quality matters, I strongly recommend bringing your own. Otherwise, having it ready for you saves planning and hassling
5. Heading back to Sai Kung Pier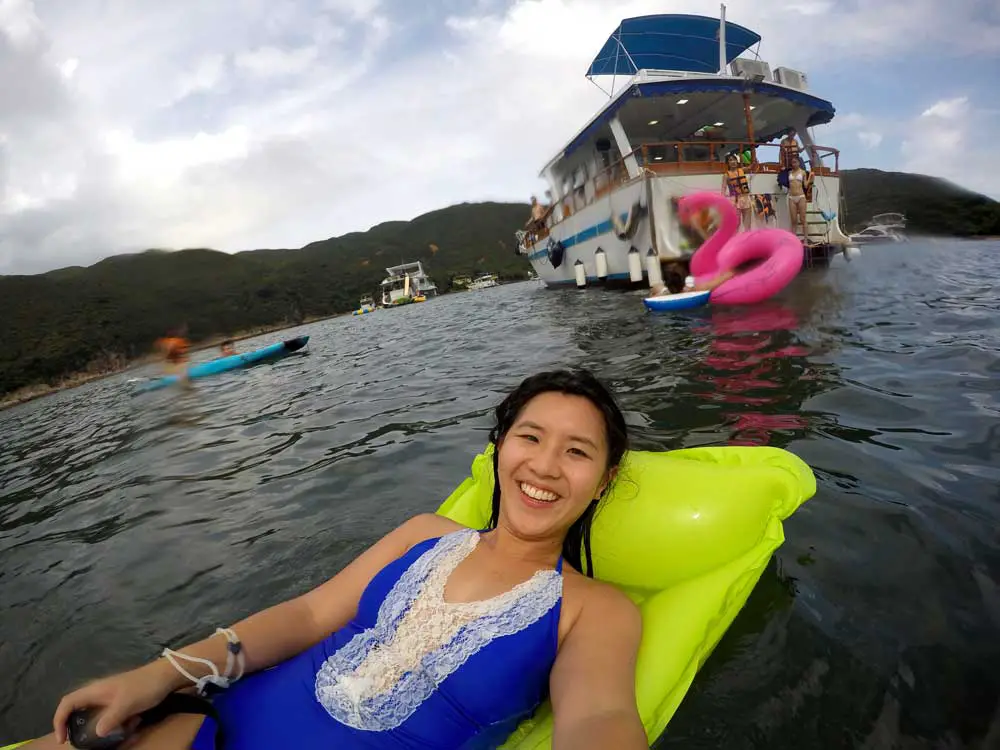 Boats usually return to the pier before 5, and if you don't want to head home dripping, you can pop over to the sports center of Sai Kung and make use of the free public showers. A long queue often awaits and the facilities are not stellar, but it's there.
>You can then return home or enjoy the many restaurants in Sai Kung town center.
Renting a boat
It's best to do this at least 1 month in advance and even earlier if you are in the summer season, as boats can get fully booked very quickly.
Prices are pretty much standardized, so the need to shop around is smaller as the main difference will be equipment and boats. Make sure you hash out all the extra options in the price quote.
Another huge cost-affecting factor is the number of people; the optimum number is 35, however, if everyone wants to go Wakeboarding, then that could be an issue as the max number of trip is usually three and they can only take up to 5 at a time.
Of course, if cost matters to you, a bareboat with nothing extra can be pretty cheap. The average cost per person is usually around 300 on a weekday and up to 450 for the weekend.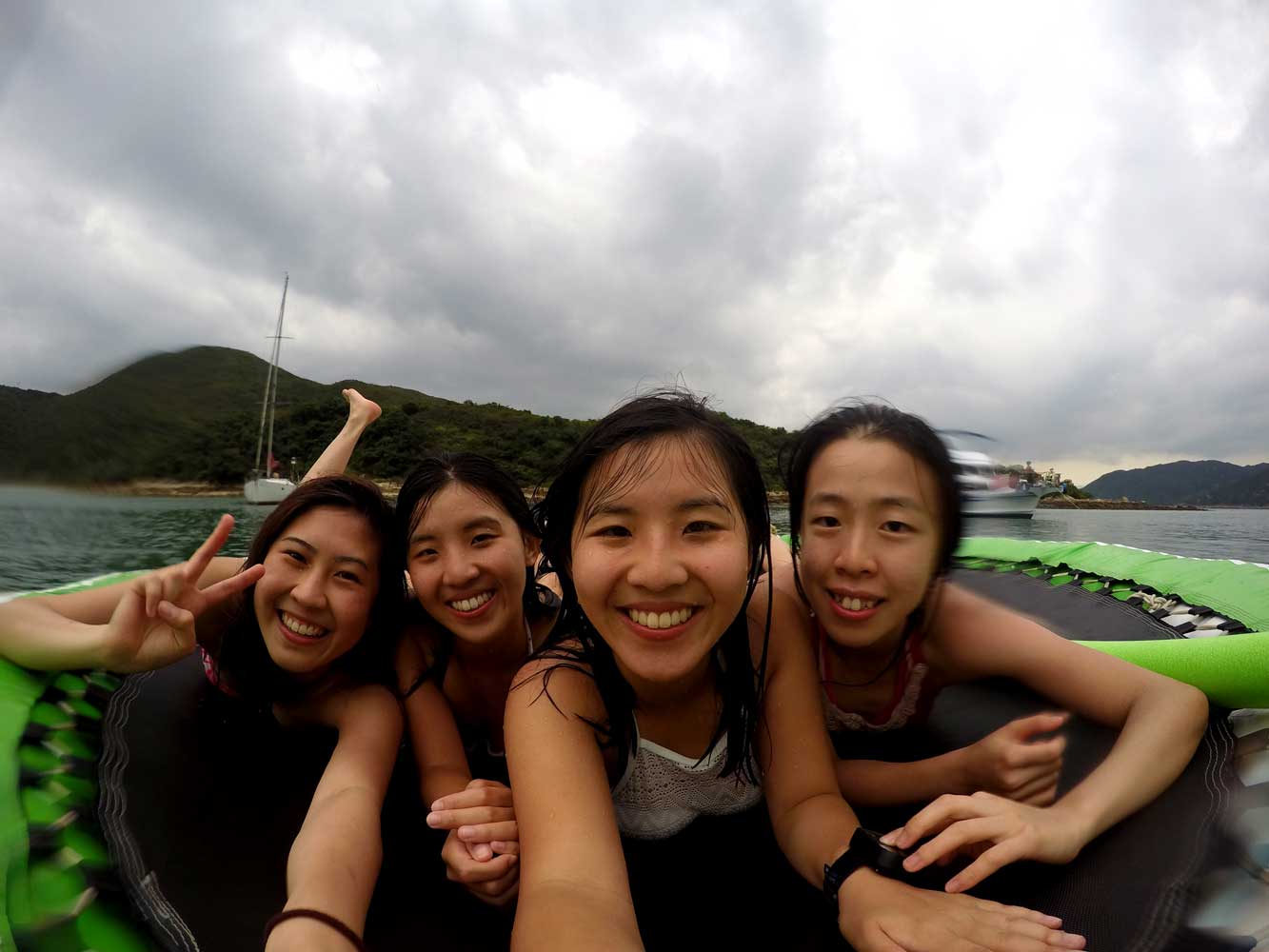 The general rule of thumb is that the more people, the cheaper. But only up to the maximum allowed abroad.
Some pointers/questions you should ask:
Cost for adding speedboat, wakeboard, food and drinks,slides

Does it include (or what are the costs) of music system, floaties, kayak or canoe, karaoke, ice box.

Maximum number on board and cost for each

Pick up time

Stop location
No price will include alcoholic beverages, but there is a Welcome supermarket in Sai Kung Town Center where you can do last minute shopping.
What to bring
1. Food/drinks
Depending on your package, food and drinks might not be included. The best option to make sure no one starves is to bring your own, as snacks and drinks are almost never included.
The easiest way to do this is having a central organizer purchasing from a pool of communal money, and demands are made prior to the trip.
2. Sunscreen
Even on a cloudy day, the UV in Hong Kong is still pretty strong. It's important to apply and reapply sunscreen throughout the day, otherwise you will end up peeling for a week (trust me, it happened to me)
3. Change of clothes and towel
Even if you are not planning on showering, having something to change into would make a huge difference, especially if your clothes got splashed on.
4. Waterproof for your electronics
Having your precious phones and electronics on a boat will always hold an element of danger. So make sure you put them in a waterproof bag and stowed safely in case someone drips over them.
5. Sarong (for the ladies)
The perfect cover up for when you stroll around the boat, and it acts as a makeshift towel.
6. Hair brush
Your hair will be a mess. It's a fact.
7. Your own float
If you have your own cool floats – bring it! They usually have a pump on hand.