Last updated on October 7th, 2020 at 09:43 pm
Kayaking in Sai Kung is one of the best summer activities to do in Hong Kong. Believe it or not, this concrete jungle has a pretty amazing coastline hidden and Sai Kung is one of the best. As we have a long summer here from May until basically October, it's too hot for hiking so most people turn to kayaking. My latest kayaking adventure to the Jin Island has brought a lot of questions over on Instagram so I decided it's time for a guide:

>Thinking ahead about what to eat after (or before)? See my Sai Kung guide!
Note: Please do your part to keep the national park clean. Do NOT catch/poke/step on sea life and bring everything back out when you leave. Use reef safe sunscreen if possible

Things to be aware of when kayaking in Hong Kong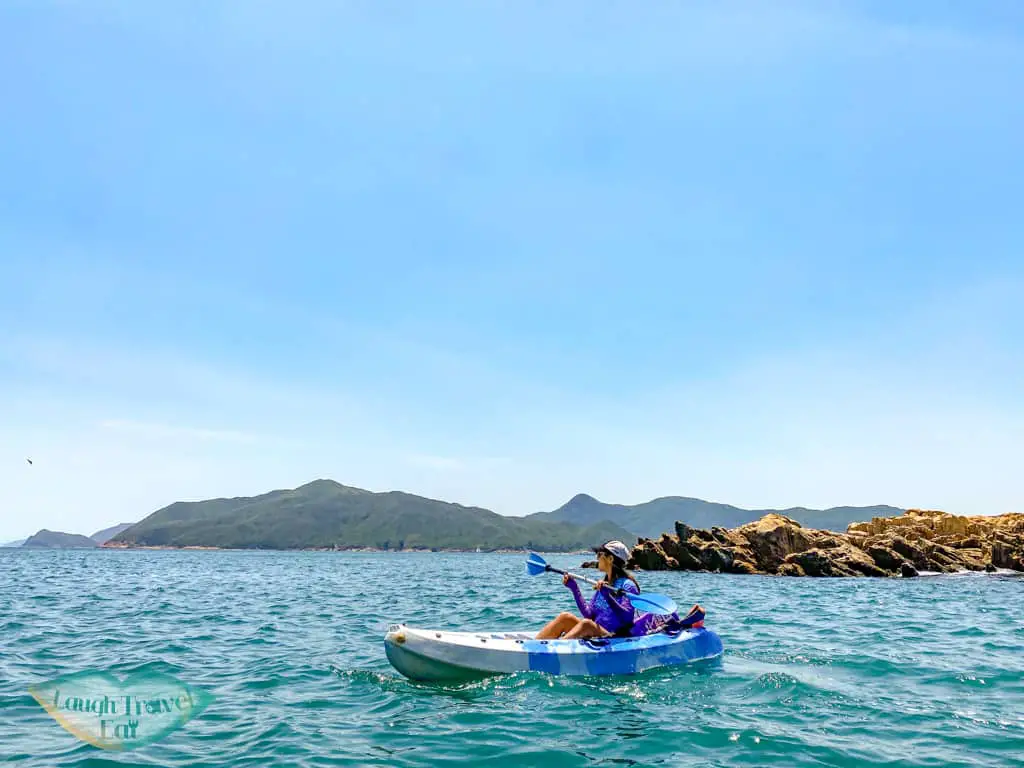 You don't need to have a kayaking license or have received training to rent a kayak in Hong Kong, and for the most part there is no dangerous current to look out for. That said, you can encounter strong wind therefore if you are a kayaking novice, it's best to know your ability and not overexert yourself. Here is a quick checklist:

Get the phone number of the watersports center/kayak rental place in case of emergency
Bring minimum of 1L of water depending on how long you plan to kayak for
Hat, long sleeves shirt and trousers for full day excursion since it's easy to get sunburned without realising
Sunscreen and sunglasses
Snack and maybe lunch
Life jacket should be provided by all rental place and you should wear it at all times (at minimum have it with you)
Waterproof bag for your valuables and belongings. Some center let you leave your bag there but usually security is minimal so you should only leave a change of clothes etc 
An app to check windspeed on the day – this one seems pretty good (I'm guilty of not doing it but it is very helpful to)
If you just want some relaxing time, head over to my top 5 beaches in Sai Kung and how to get there!

Renting kayak in Sai Kung
There are two places most common for people to rent their kayak: Sha Ha and Hoi Ha, but there are many other rental places dotted around depending on where you want to go (more on that later).
Prices usually start around 100 HKD on weekdays and go up to around 200 HKD on the weekend for the day. If you are planning to go already, it doesn't hurt to call up in advance and reserve a kayak since they can run out. In some cases, even reserving it is not guaranteed unless you pay a deposit (Ah Kwok Watersports Center is infamous for this).

Most of these establishments are more local-orientated and usually only take bookings on the phone/whatsapp, and usually only in Cantonese/Traditional Chinese. Do not expect a health and safety briefing or someone to guide you. If you are a complete newbie, it's best to take a group tour or training course. At minimum, go with friends who have experienced.

Sha Ha
A stretch of beach near the Sai Kung town center, Sha Ha is a good jumping point for those who want to kayak to one of the many islands inside Sai Kung Bay. That said, it's also one of the busier areas with both privately owned boats and yachts in addition to the kaitu cruising around. So if you have never kayaked before, I won't recommend setting off here.
Ah Kwok Watersports Center
I have mixed experience with them but they are the cheapest operator in Sha Ha and consequently I don't have much of a choice. It's more a collection of watersports equipment on the sand as opposed to a building with an open-tent where the guys operate out of. Hence there is no showering or changing facilities on site.
My sister and I had once called to reserve two SUP here and arrived only to find that they had given it to someone else. The organiser was less than sorry and let's just say I wasn't impressed.
On another note, on our trip to Jin Island we were two hours late and they waited and came to rescue part of the group. Late fee and rescue boat fee were added on at 200 HKD per kayak and 700 HKD (April 2020), which wasn't as bad as I feared.

Note: it's advisable to call and reserve (with a deposit) in advance for popular holidays, as otherwise there's zero guarantee. They also speak minimum English so it's best to find someone who know Cantonese to help

Opening times: 9:00 – 17:00
Whatsapp: 9170 7513 亞郭/ 9235 7842 WING
How to get there: it's about 10-15 minutes' walk from Sai Kung Town Center, or you can take the bus 99 or 299 for 2-3 stops.

Hoi Ha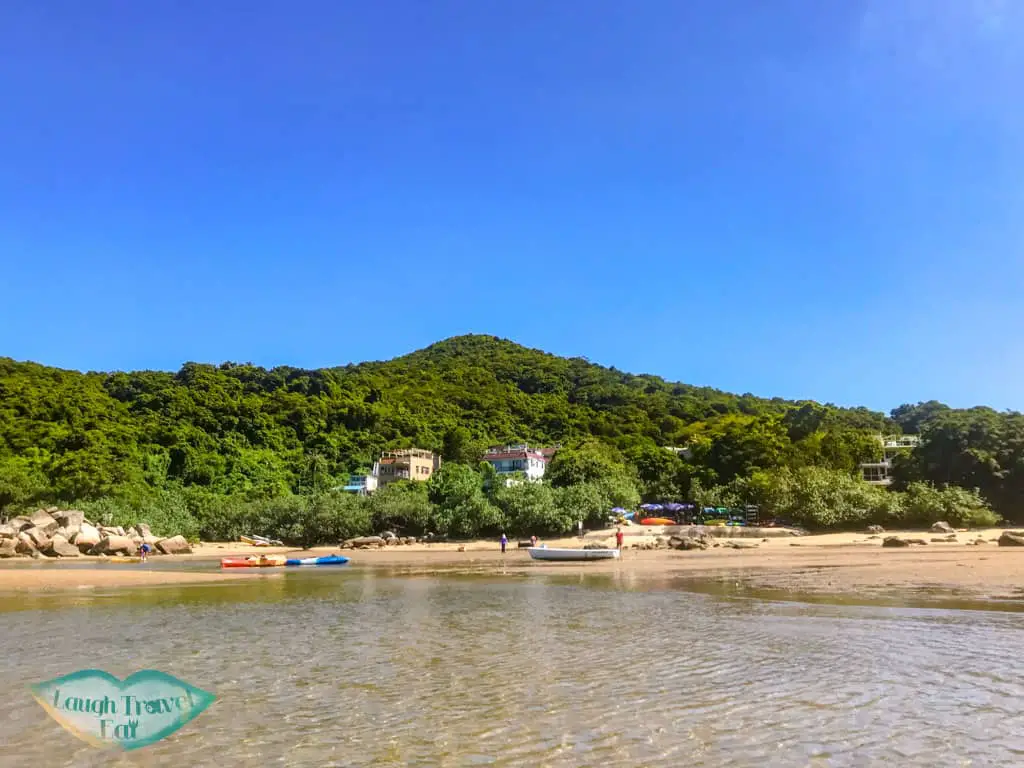 Hoi Ha is a bay nestled inside the Sai Kung Geopark and is itself a protected marine area. It's a great place for snorkeling too and ideal for those who don't have a lot of experience with watersports.

Hoi Ha Wan Hoi Store
A store is what is often used to refer to a basic restaurant in a remote part of Hong Kong that serves some simple food and drinks such as the classic instant noodles and lemon tea. In this case, it also doubles up as a watersports rental center.
Aside from kayak, SUP, you can also rent snorkeling equipment here. 

Opening times: 9:30 – 17:00
Phone number:  2328 2169
How to get there: if you want to drive in, you can call the store owner to see if it can be arranged. Otherwise, you need to catch the minibus 7 from Sai Kung Town Center. Taxi is also an alternative
Group tour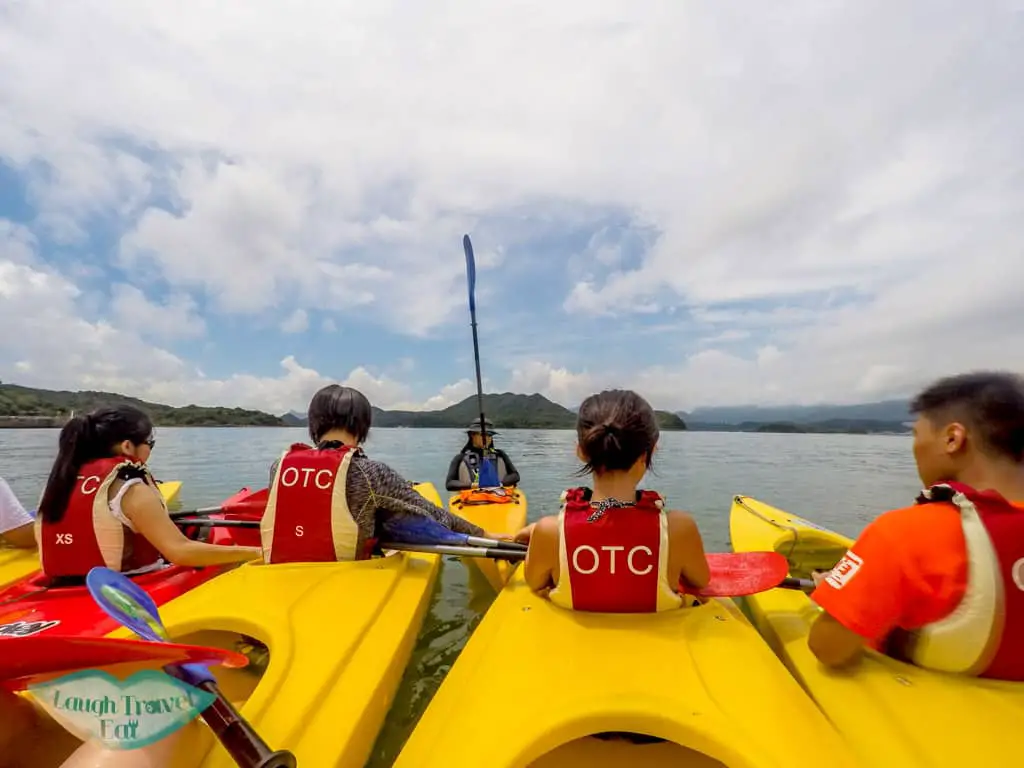 Finding a group tour for kayaking can be a hit or miss, and usually either a bit pricey or require booking fairly far in advance. If you are strapped for time and need an English speaking guide as well, your best chance is to book a tour on Klook. It's well reviewed and takes you to some of the classic and off the beaten path gems like Yim Tin Tze.
Where to visit on kayak
Depends on where you rent your kayak, there are many interesting places to visit and plenty of snorkeling to be done. Here are some of my top picks:

From Sha Ha
Pak Sha Chau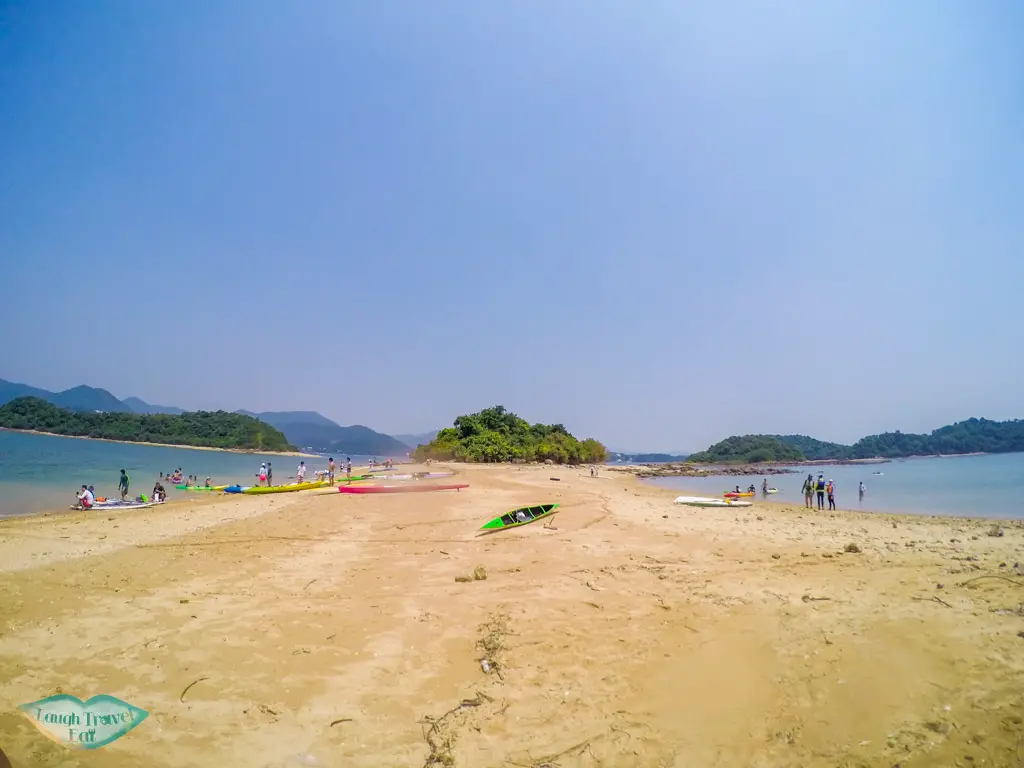 A small island with a beautiful sandbank in the middle, it's the closest interesting island from Sha Ha and popular for many kayakers to stop. There's no kaitu (private ferry service) that goes here and tends to be quieter.
There are BBQ facilities on the island but remember to take away any rubbish with you at the end. Snorkelling in the shallows there is nice as well.

Sharp Island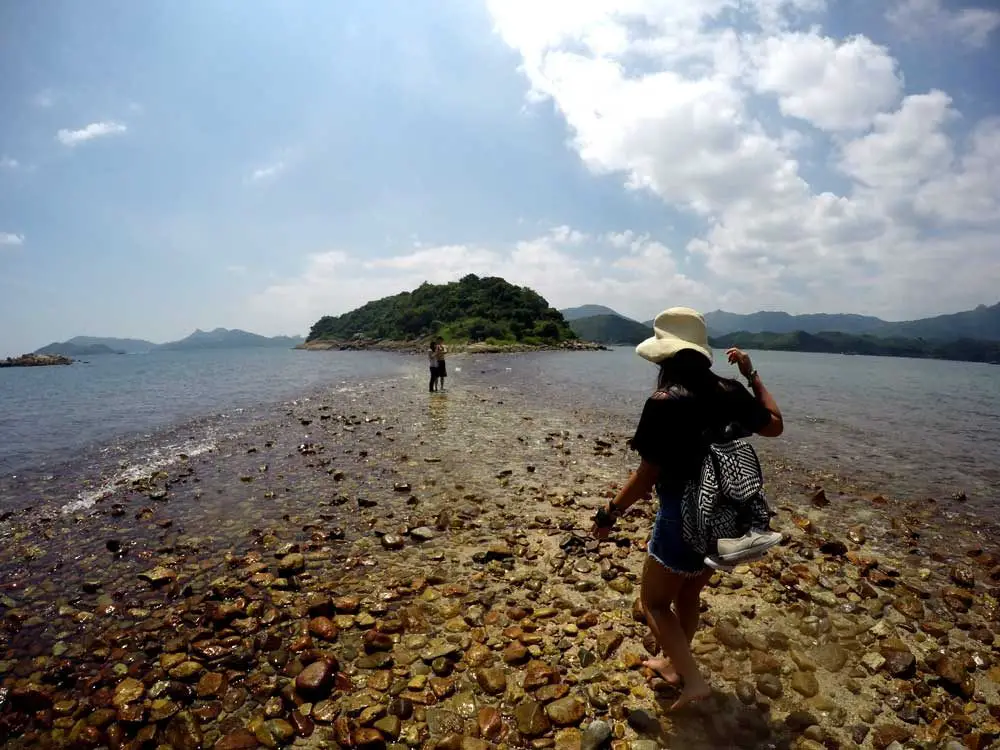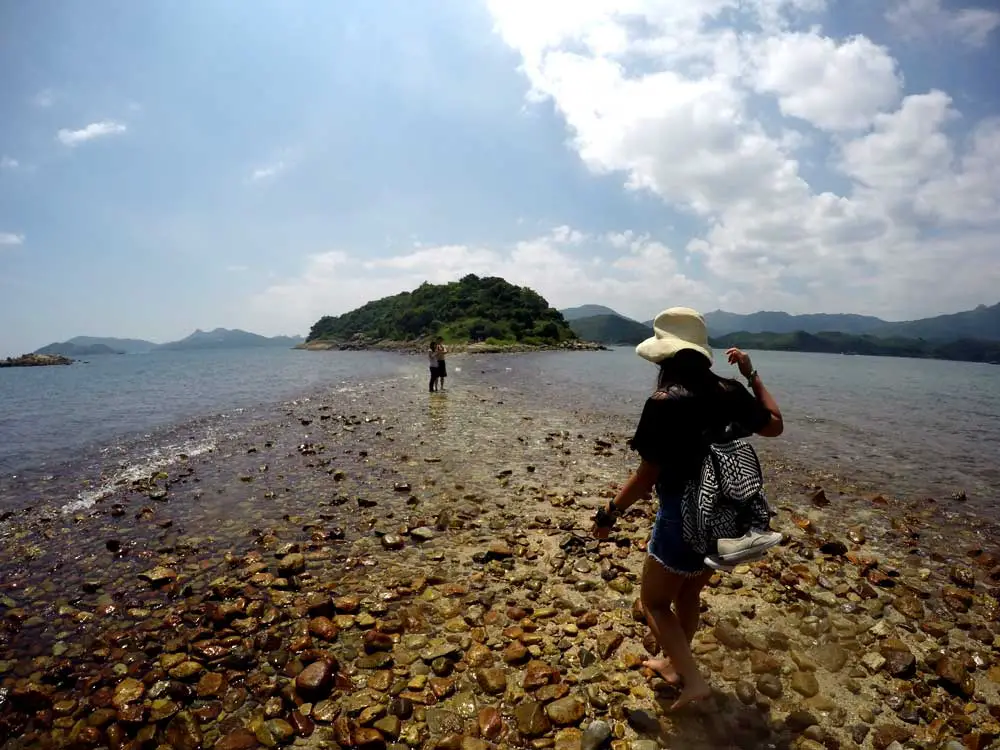 The biggest island near Sha Ha, Sharp Island is home to one of my favourite beaches in Sai Kung but if you are kayaking there, you should head to the tombolo side closest to Sha Ha. Since there are regular kaitu, the best time to go is during high tide in the morning so you can kayak across the tombolo that's still covered by water and there'll be less people.

Yim Tin Tsai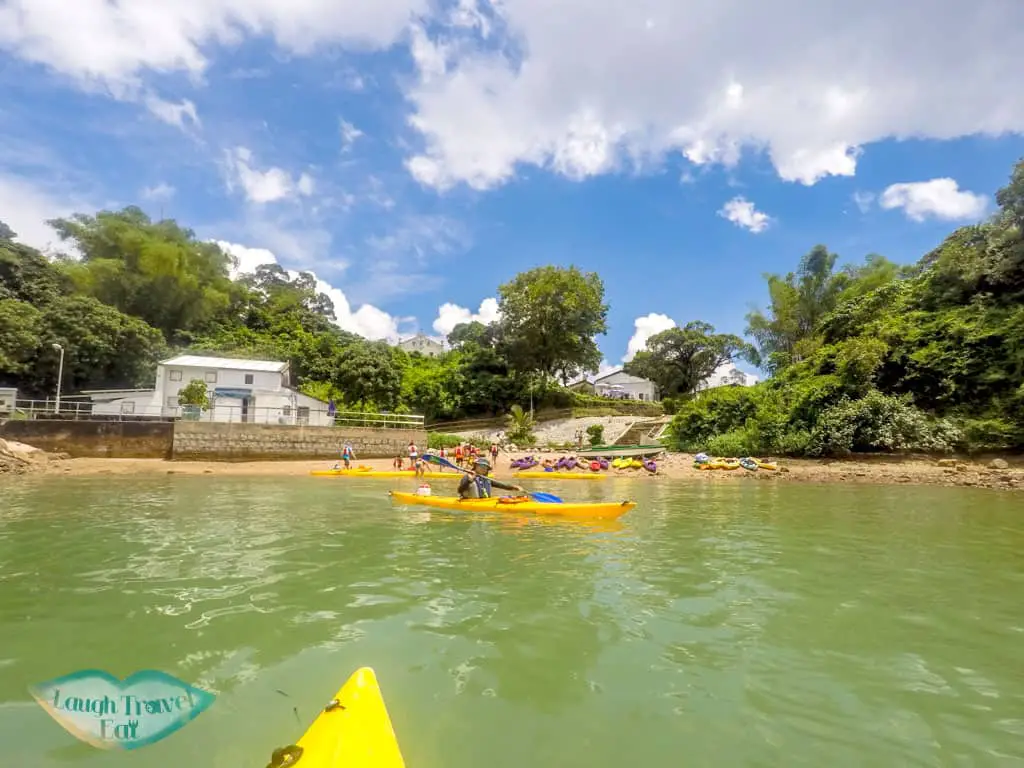 On the other side of Sharp Island, Yim Tin Tsai is a small island with an interesting history. While nowadays the population on the island remains in single figures, it used to be a large settlement who were all baptized in the 19th century. You can visit the St Joseph's Chapel and find some refreshment there.

Kau Sai Chau
A much bigger island next to Yim Tin Tsai, Kau Sai Chau is primarily occupied by a golf course which you can really see from the sea. Further on on its west side is a beautiful beach known as Whiskey Bay. I won't recommend going this far unless you are experienced and it's best to turn back from this point.

From Hoi Ha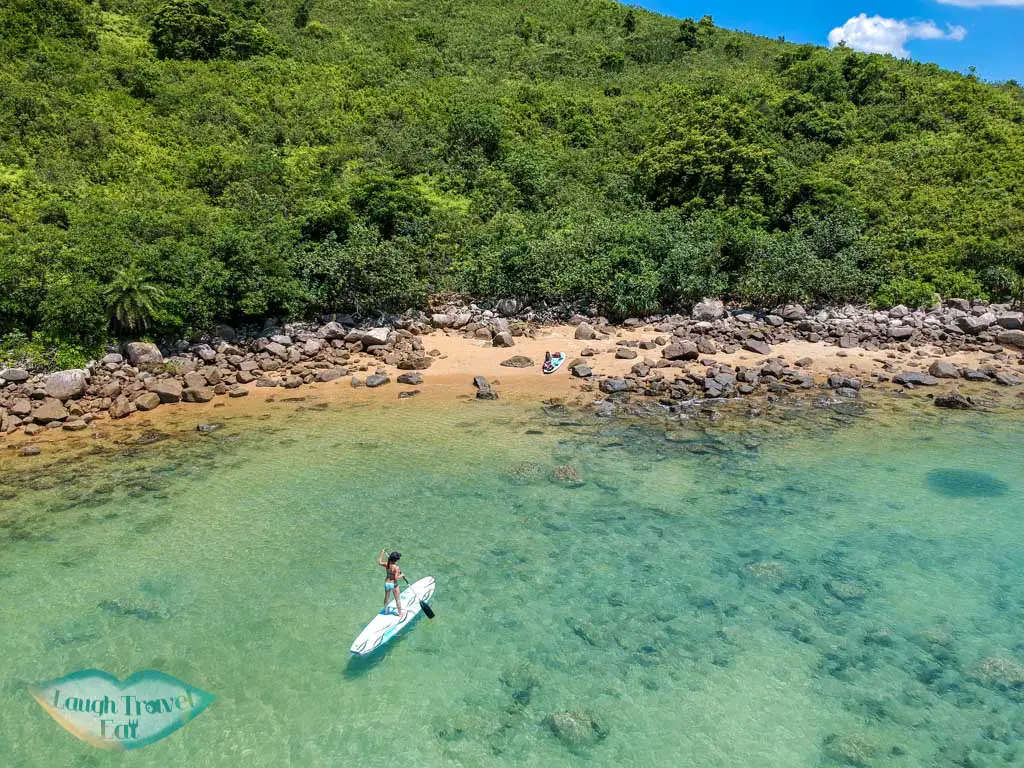 There are less specific places per say when kayaking from Hoi Ha. Hoi Ha itself is at the northernmost bay in Sai Kung with the area being a marine park. You can kayak around safely and I generally don't recommend going out of the bay.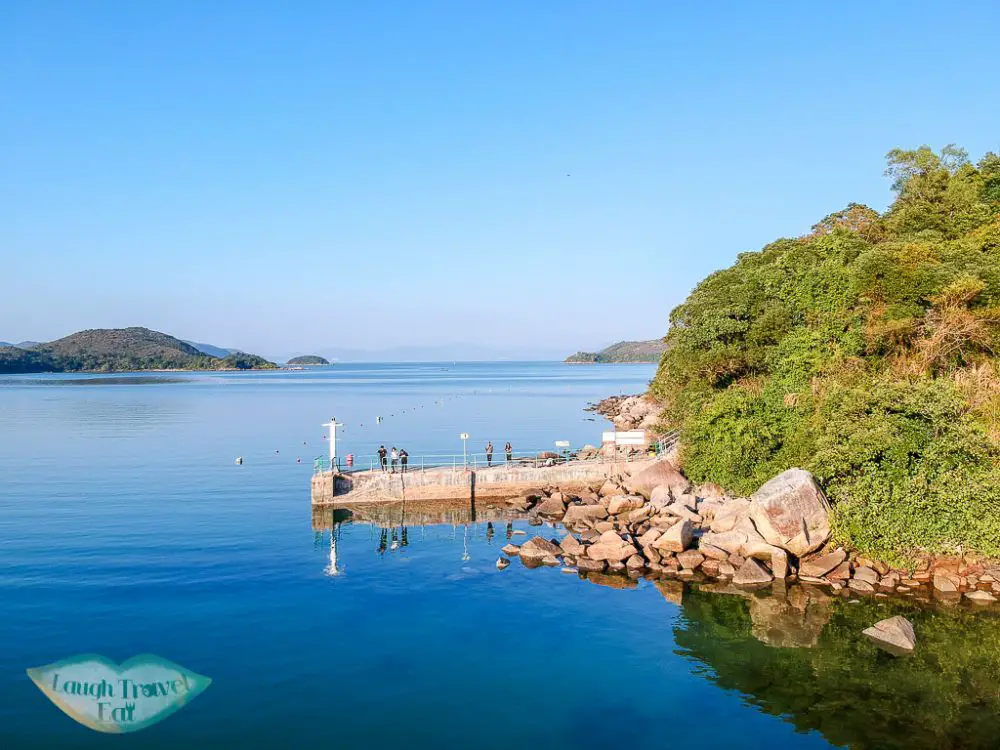 The best snorkeling spot is right by the Hoi Ha Pier which you can see from the beach that you set off from. You can also walk there but almost all snorkellers I've seen kayak or SUP over there.
This is the perfect place for beginner as I've previously stated, with refreshment available at the store that rent watersports equipment.

Other kayak destination
Jin Island
Further on from Kau Sai Chau is the Jin Island, where we naively set out during one windy day to see the arch way known as a Goldfish's Tail. It took us three hours with tailwind on our side and that alone took three hours.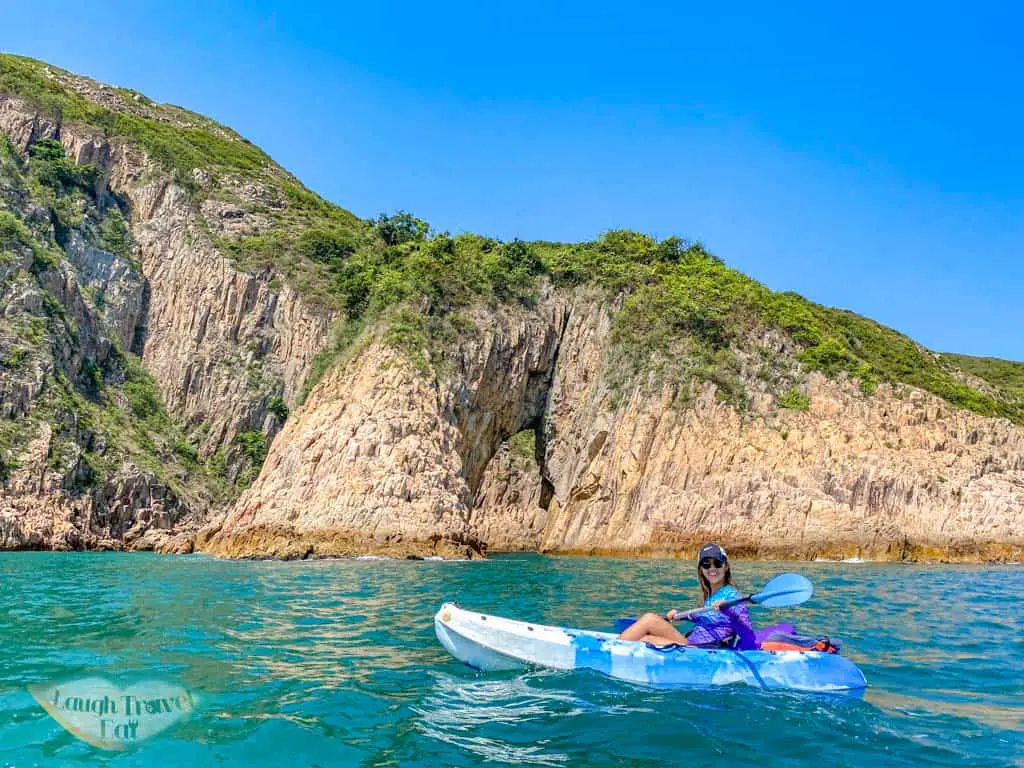 It's an absolutely beautiful structure and you can kayak in, though do be careful to wave for the waves close to the rocks as being smashed against it can damage your kayak.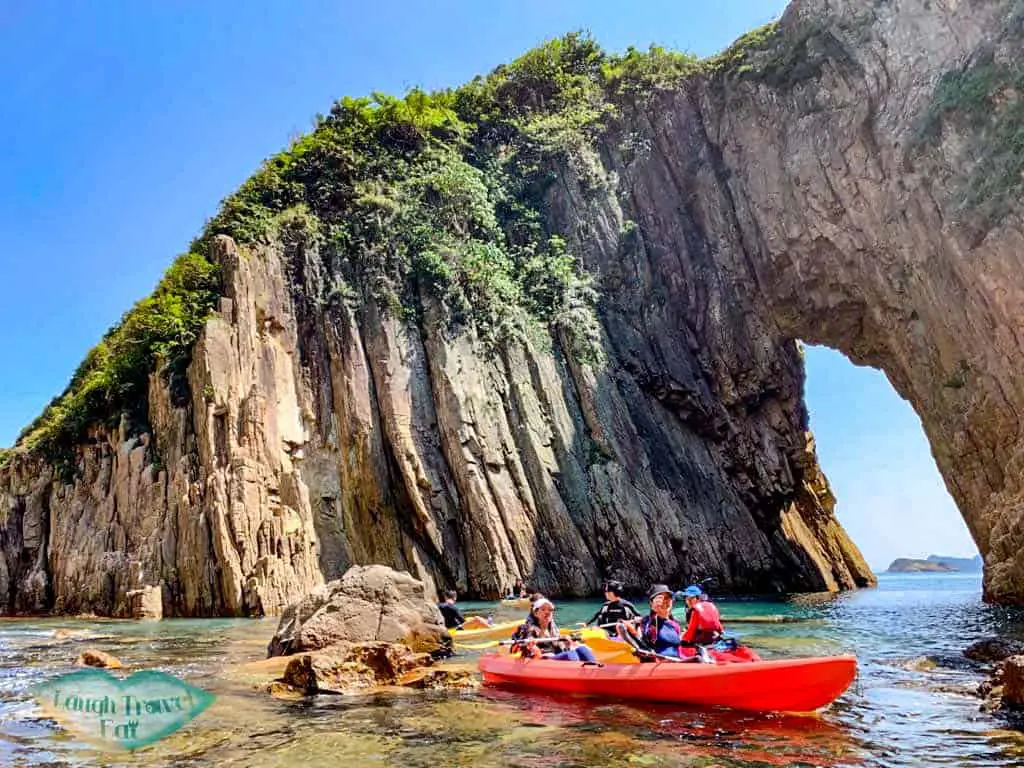 On the way back we were going against the wind and it took over six hours, with half of us being rescued by speedboats.

An alternative to setting out from Sha Ha is to go from Sheung Sze Wan, which is by Clear Water Bay on the other side of Sai Kung. However, it might be closer but it crosses a busy bay so you need to watch out for boats, so only experienced kayakers should attempt.

You can hire kayaks from Sheung Sze Wan Kayak Hire. I had never used them before but they also offer boat hires which might be a good alternative if you are a beginner but still want to go.

Sheung Sze Wan Kayak Hire
Address: 清水灣相思灣村38號
Phone/Whatsapp: 6109 4445

Green Egg Island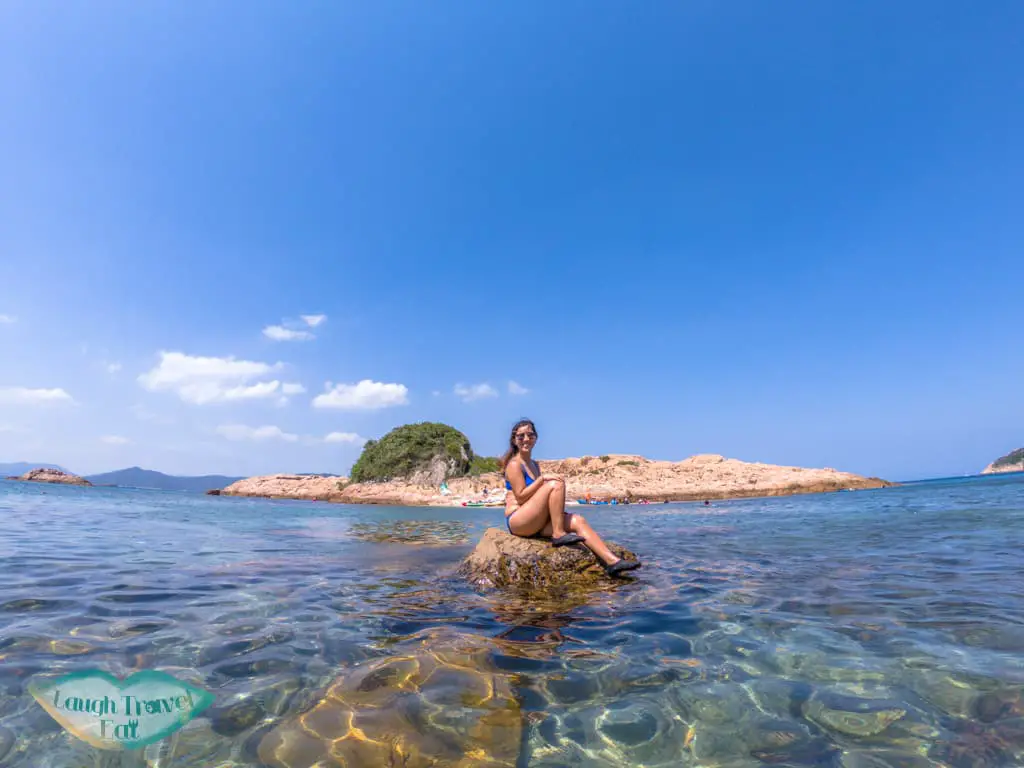 From Sheung Sze Wan, a much closer destination is the Green Egg Island right by the shore and visible from the Lung Ha Wan Country Trail. It is near to another island that's great for snorkeling and it has beautiful pebbly beaches. However, the island is easier to reach and hence can draw a crowd.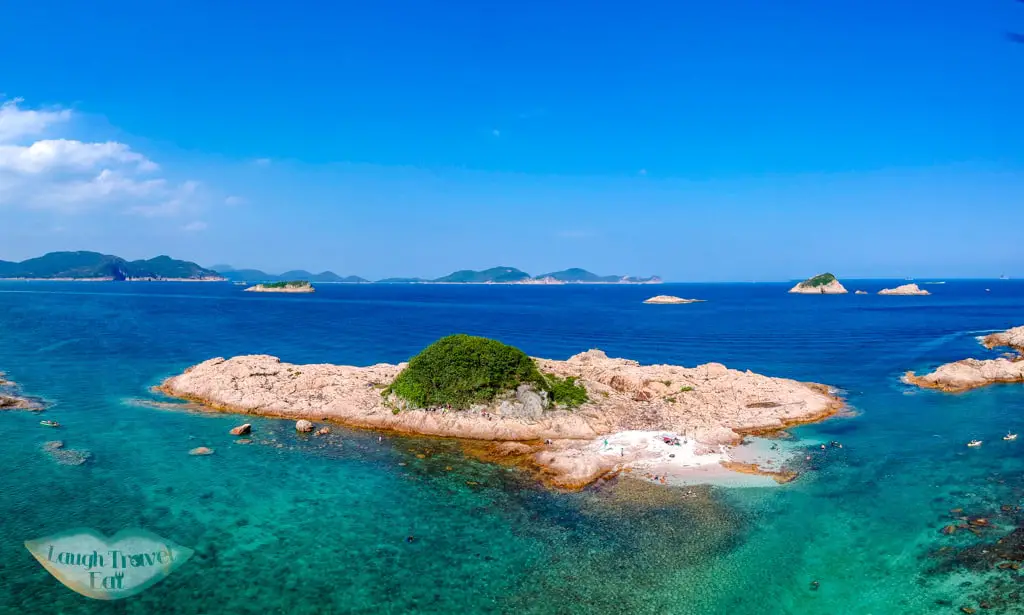 Plus, the best view of it is from the hiking trail that goes down.