Green Egg Island – does that mean that the island has green eggs? Not quite. The Green Egg Island off the coast of Clear Water Bay area in Sai Kung is shaped like an egg with a green yolk, hence its name. You can walk across chest-deep water to reach the island to a little beach, and snorkeling is pretty nice.

I've actually seen the island several times already hiking the Lung Ha Wan Country Trail, but it never stood out that much to me. But this little island paradise is not to be missed and here's how to get there.

Green Egg Island Summary
For the most part, it's 80% the same as Lung Ha Wan Country Trail, with an offshoot that will take you down to the island. The coast of the mainland is a pebble beach and it's pretty peebly in the sea, too, so best to bring wet shoes.
While you can kayak to Green Egg Island, it's better for the corals if you hike there! Learn more about kayaking in Sai Kung.here.
Difficulty: 4/5, as the trail down to the Green Egg Island is fairly narrow and steep at places. An alternative would be to kayak there.
Time: if you want to chill by the island, make this at least a half day trip. The hike in and out should take 4 hours, but the bus ride will take another 2.
Pros: a beautiful island with pristine water and a great hike + sea combo
Cons: the trail down is difficult and the island can get busy over the weekend
Here is a vlog on hiking in and out of Green Egg Island:
How to get to Green Egg Island
Want to know how to get to Green Egg Island? Since it's towards Clear Water Bay, there are some buses that would get you there.
Going to Green Egg Island by Bus
The trail starts at Tai Au Mun, the same as Lung Ha Wan Country Trail. The best bus to:
The bus is easier to find than the minibus and you are more likely to get on.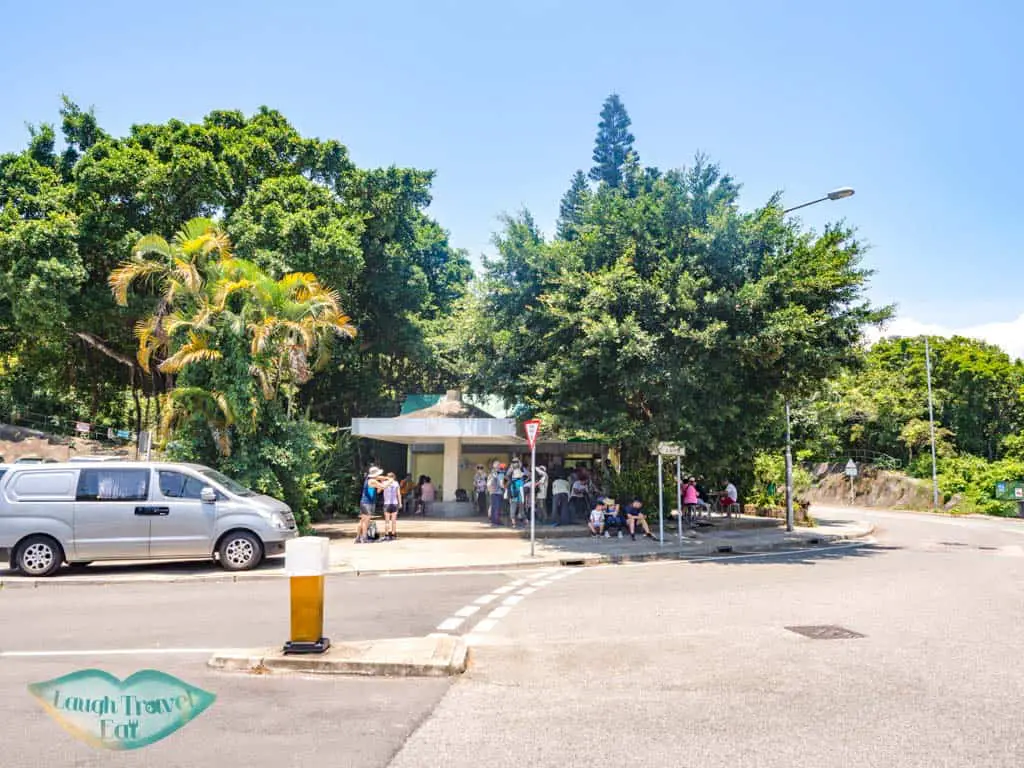 Taxi to Green Egg Island Trail Start
Alternatively, you can get a taxi that would drop you off straight at the Clear Water Bay Country Park, which will save around 15 minutes of walking along the road.

Green Egg Island Sai Kung Hike
Lung Ha Wan Road trail start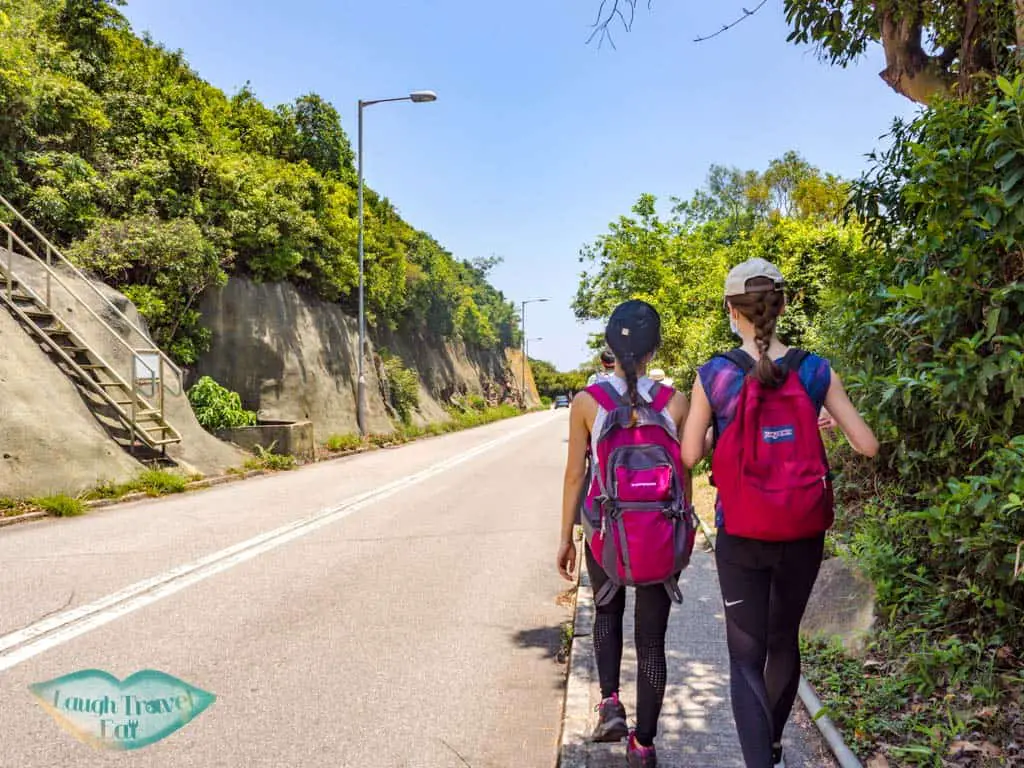 As it's an offshoot from Lung Ha Wan Country Trail roughly in the center, you can go either end. We ended up going up from the Clear Water Bay Country Park, but I think the usual way up by the horse riding center pass the rock carving is potentially better.
We went up from the Clear Water Bay Country Park which involves a lot of stairs. But this side might be nicer for getting out.
The branch off is not the easiest to find. It's before the highest peak and right by a cluster of rock. Here are some photos:
Going down to Green Egg Island
You definitely need to wear long trousers and shoes with good grip as the narrow trail down is mostly loose soil and gravel. The trail is narrow but it is marked by ribbons.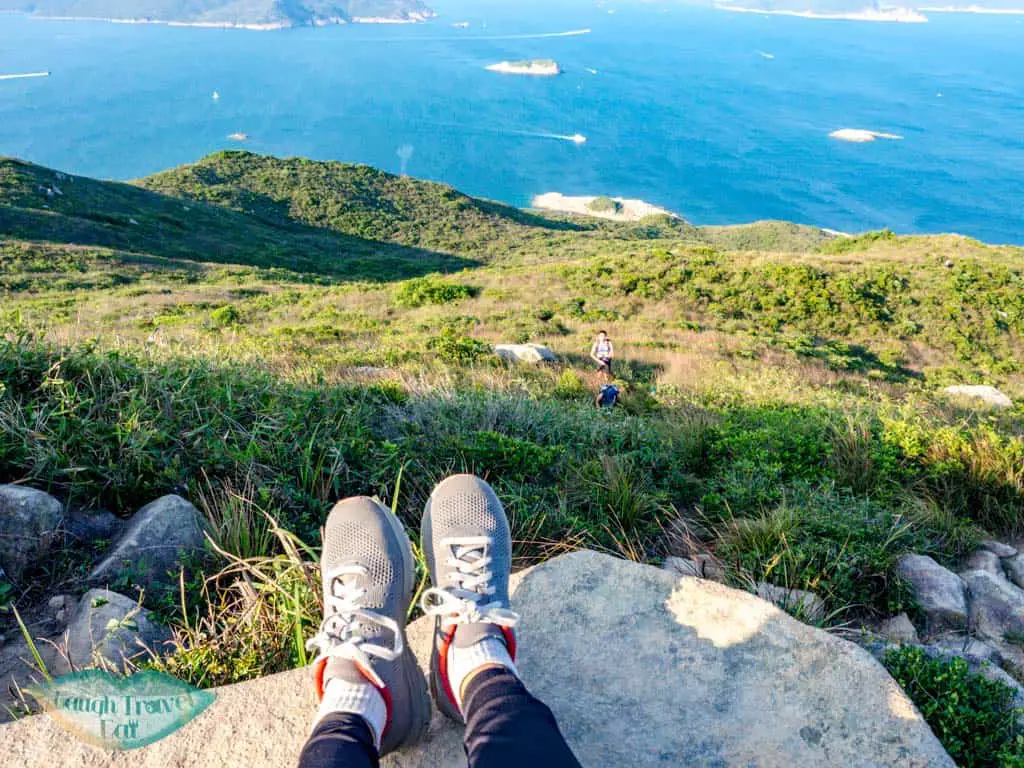 The general direction is down and left, and the initial stretch is straight down and relatively easy.

Then we started going left and encountered much steeper parts and crossed some giant boulders across what could be ravines. So best not to hike this trail after rain.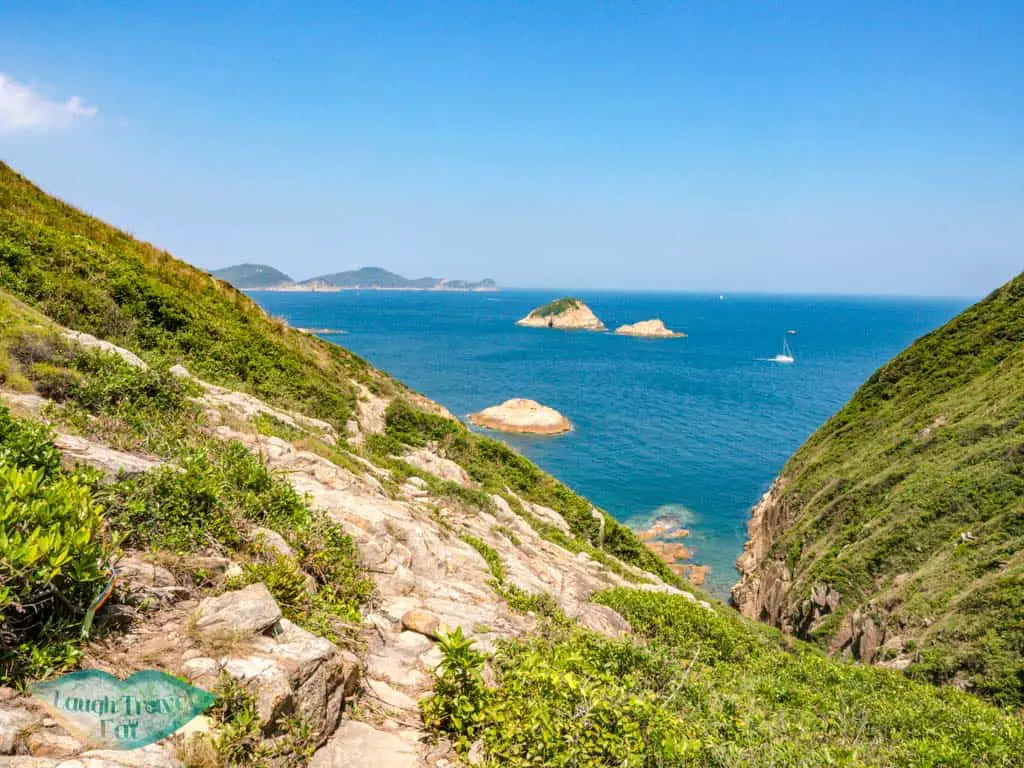 After a particularly pretty bay, there is a junction where the trail goes down or continues left.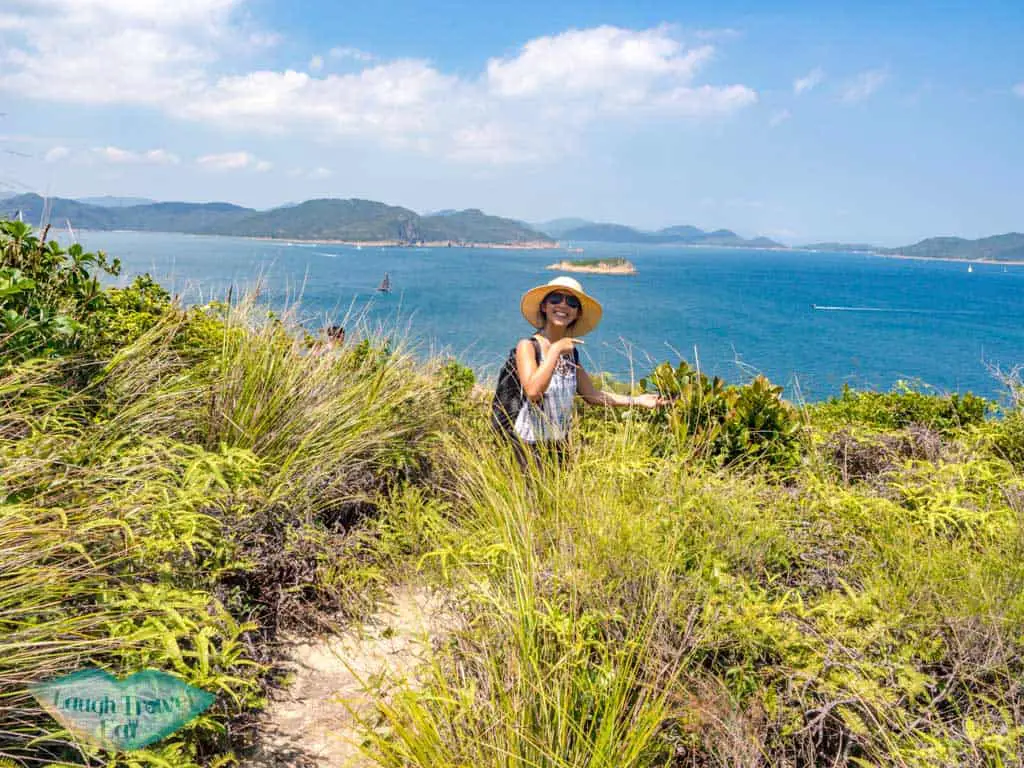 Head on down here with the Green Egg Island directly down.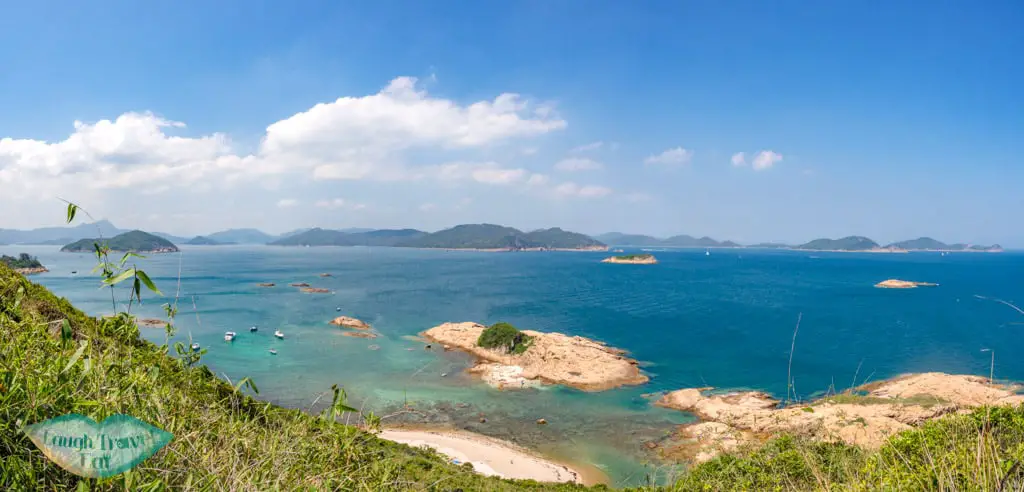 But towards the end of the trail there is a part that has rope assist and practically needs you to slide down.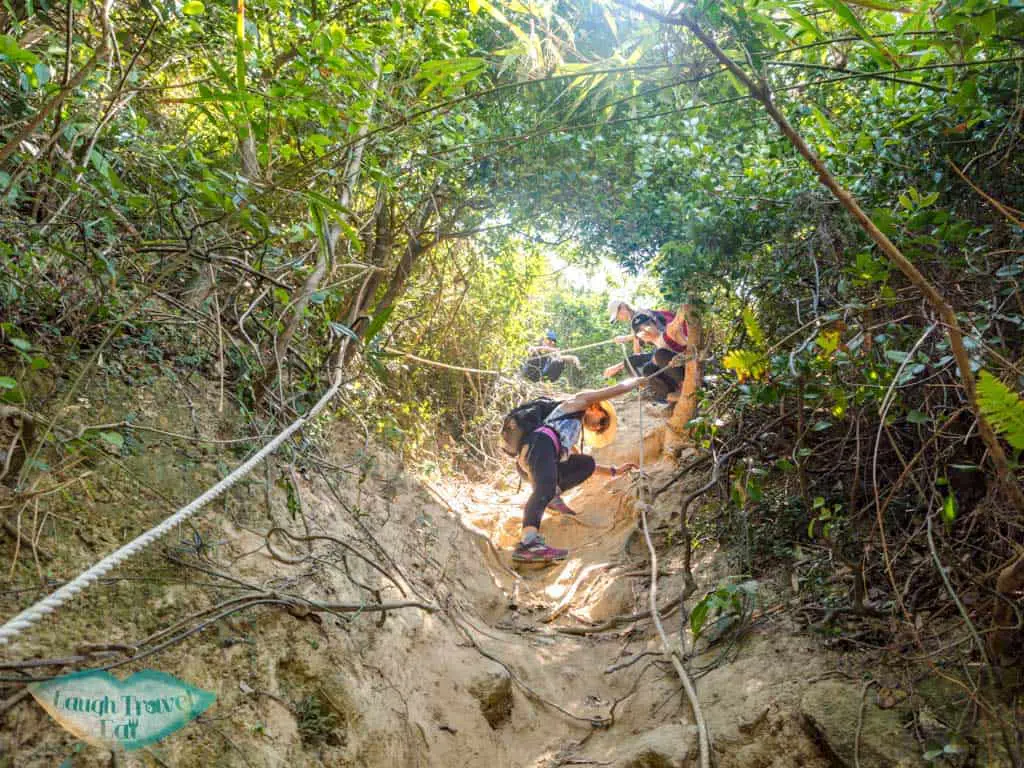 Be careful and eventually you'll emerge out of the trees and onto the pebbly beach.

Green Egg Island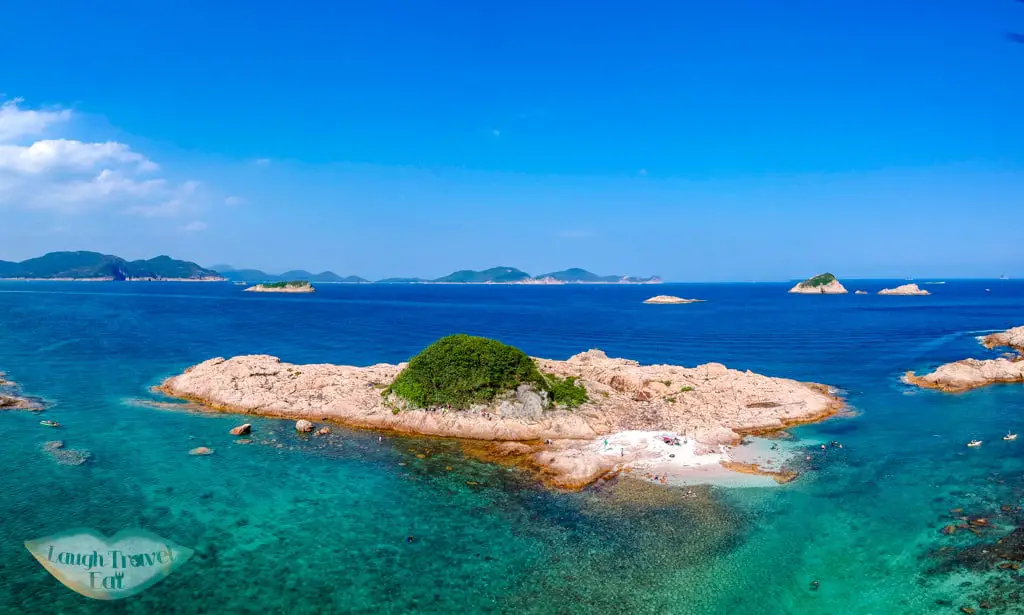 Most people set camp on the pebbly beach, as the water can reach up to your chest when you cross and the uneven ground makes it difficult to carry bags etc over.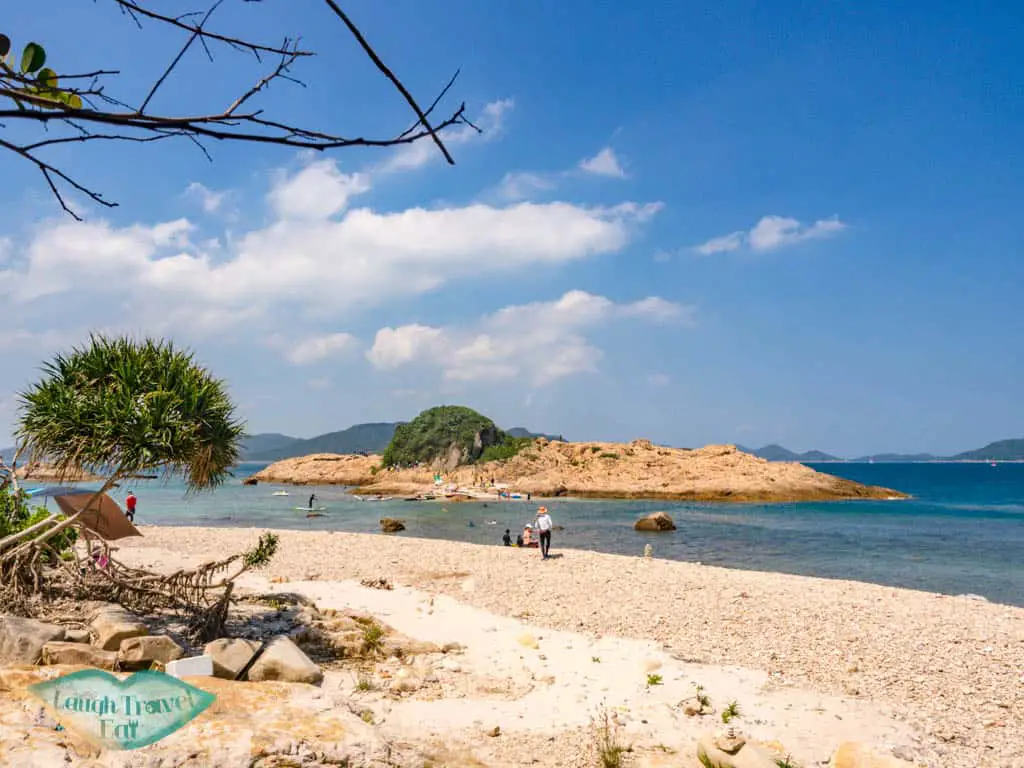 Snorkelling is lovely towards the right if you have brought along equipment. The Green Egg Island is best viewed on the descend down and less special up close.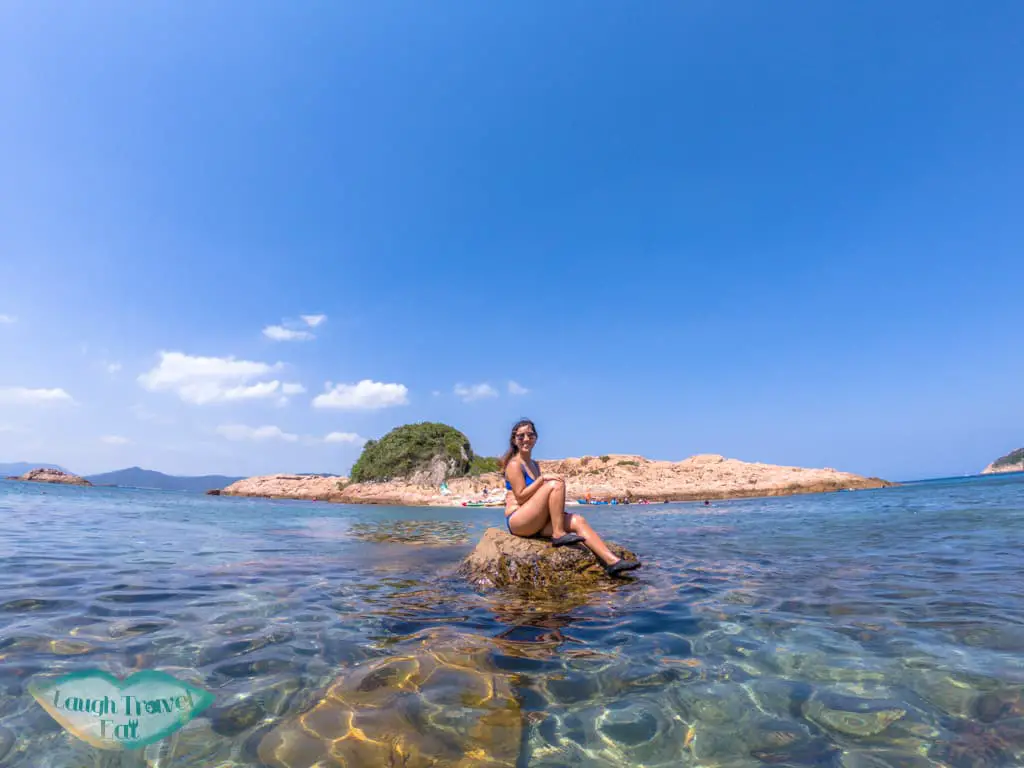 There isn't much to see on the island itself save for the little patch of beach directly across from the shore. There are a few ponds, but don't swim in it.

Getting back out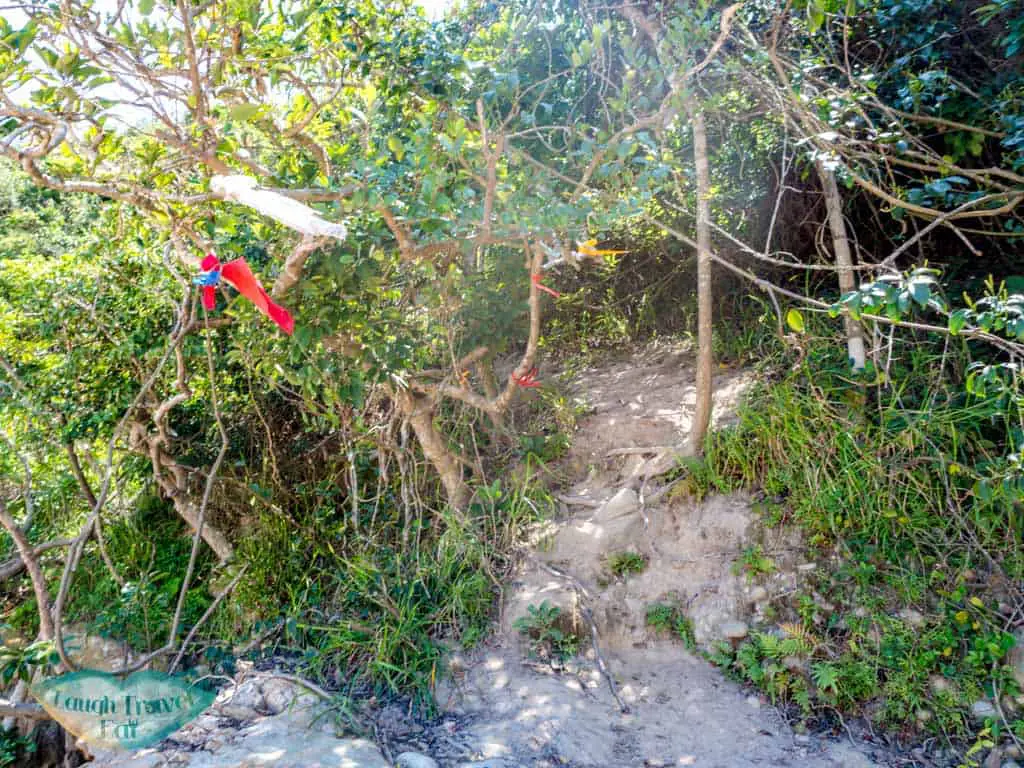 It's the same way back up and out to the Clear Water Bay Country Park. They have a snack stand there if you need refreshment before you get the bus back out.
Bus is the easiest option as minivan is often full from Clear Water Bay.