Tap Mun, also known as Grass Island in English, is an island on the northern edge of Sai Kung famous for its grass field, hence the name. Once a flourishing fishing village with over 2,000 inhabitants, nowadays Grass Island is a sleepy village that is a popular day trip and camping spot.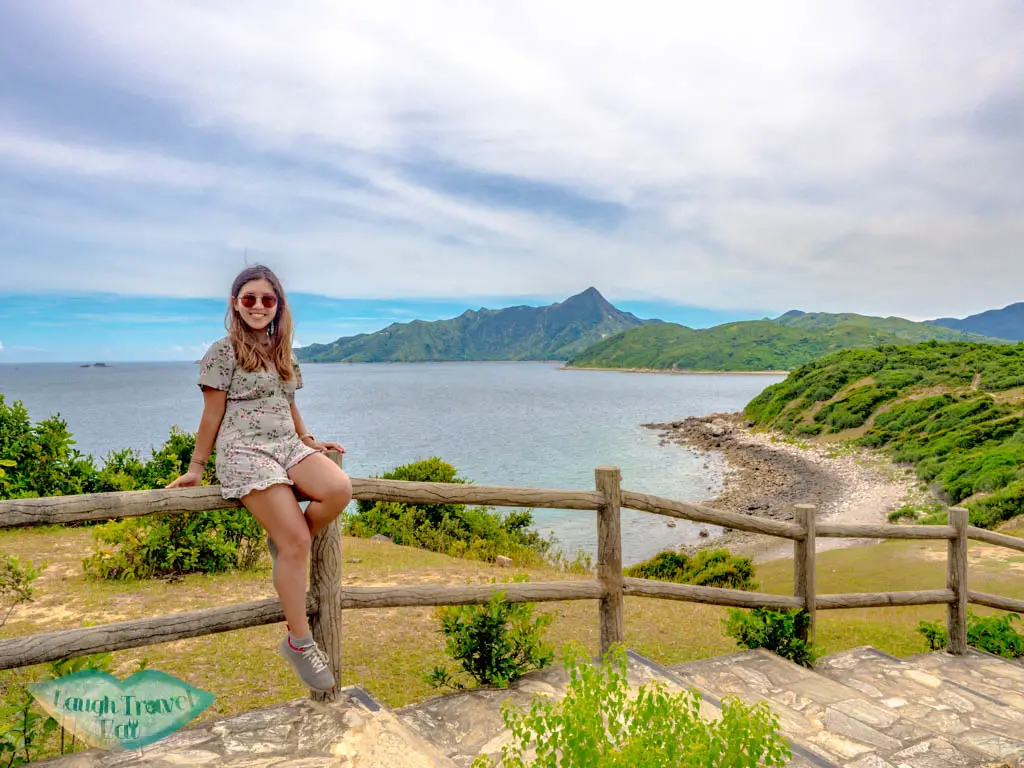 Shaped like an elongated comma, Grass Island is a thirty minutes boat ride from Wong Shek Pier. The most famous feature on the island is its Balanced Rock, which looks like the character 呂 in Chinese. It's perfect for a little day trip or overnight camping, and here's a quick guide to Grass Island:

Grass Island Hong Kong Essential Information
There are quite a few Grass Islands around the world, the Grass Island in Hong Kong is more commonly called Tap Mun, and one of the few islands in Sai Kung that is inhabited.
It has been inhabited since the 16th century and was a supply stop along the sea trading route during the Ming Dynasty. So it's not surprising to learn that Tap Mun is home to a historic Tin Hau Temple, and they also hold a Tin Hau Festival during her birthday.
The island used to have over 2,000 inhabitants, but most of them have moved to the city center for work. Nowadays, only around 100 people still live there.
Grass Island is a relatively small island and you can see everything in a day. Before we get to how to get to Grass Island, here are some frequently asked questions:
Where is Tap Mun?
Are there restaurants on Tap Mun?
Can you camp on Grass Island?
Are there hikes on Grass Island?
Are there beaches on Tap Mun?
Getting to Tap Mun Grass Island
How to get to Tap Mun Island? There is only one way: by ferry.
To reach Tap Mun, you can take a ferry from either Wong Shek Pier in Sai Kung or Ma Liu Shui Pier near the University East Rail Station in Tai Po. Both of the ferries are run by Tsui Wah Ferry Service and you can find the timetable here.
Grass Island Ferry from Sai Kung

The ride to Grass Island is only 30 minutes from Wong Shek Pier. The ferry from Wong Shek Pier only stops at Ko Lau Wan before heading to Tap Mun.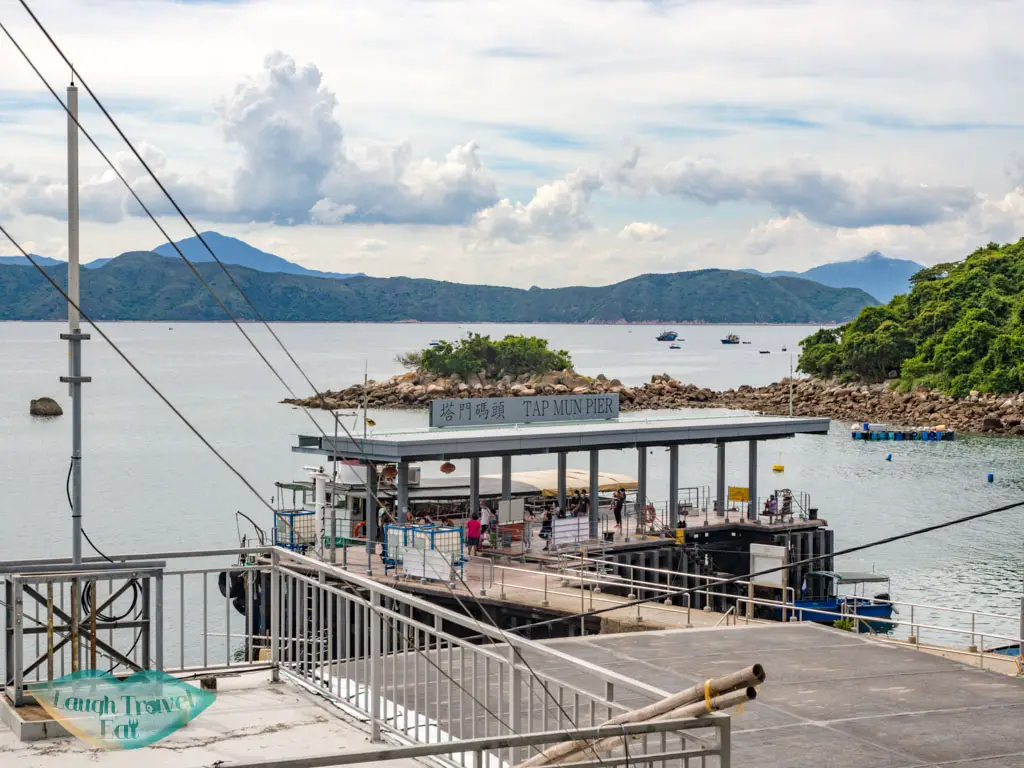 Ferries are far more frequent from Wong Shek Pier
To get to Wong Shek Pier, take the bus 94 from Sai Kung. On Sunday and Public Holidays, 96R from Diamond Hill and 289R from Shatin are also an option.
Ferry to Tap Mun Island from Ma Liu Shui
It takes 90 minutes from Ma Liu Shui Pier and stops at Sham Chung, Lai Chi Chong, as well as Ko Lau Wan and Chek Keng. You can take this ferry to Chek Keng for the Sharp Peak hike but this way takes longer.
But depending on where you are coming from, it might make sense to get the ferry from Ma Liu Shui.

What to do on Grass Island Tap Mun
As the island is not big, a day or even half a day is enough to see everything. It is an inhabited island with several villages dotted around the southern side, along with most of the attractions.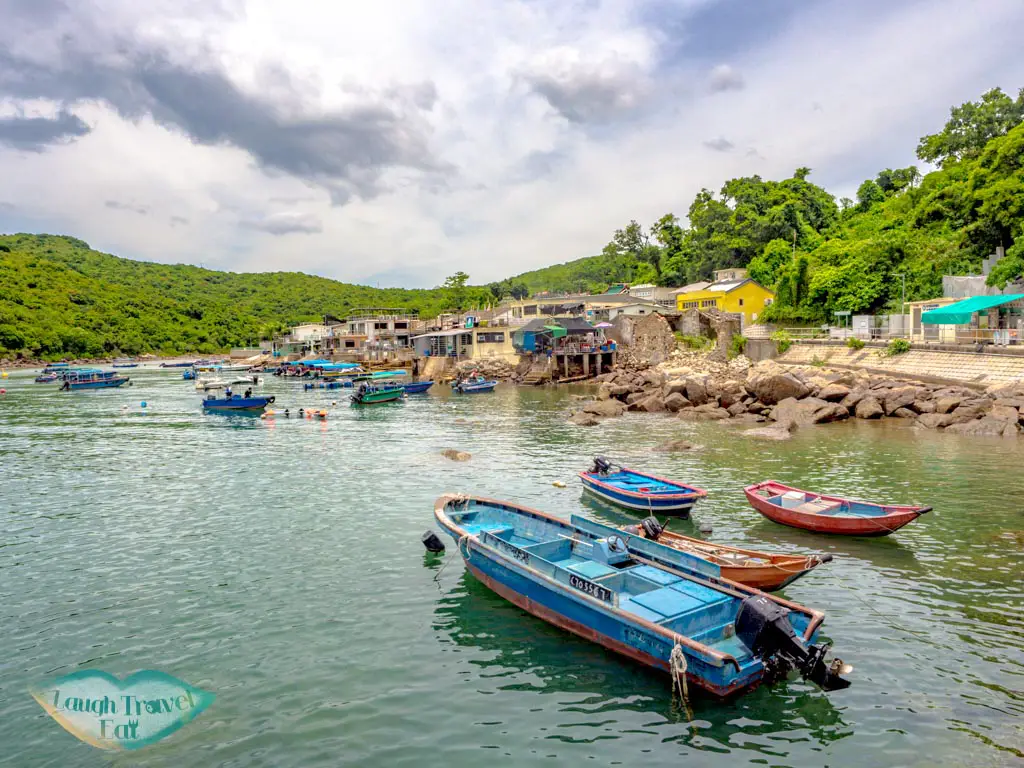 The coastline is mostly pebble and rocky beaches, but the area is good for snorkeling if you come prepared. If you are feeling adventurous, the highest mountain on Grass Island in the north or opt to walk along the nicely paved path in the southern end.
Here is a vlog if you prefer a video guide:
Enjoy the sea urchin fried rice
The famous dishes of Grass Islands happen to be sea urchin fried rice and Hong Kong milk tea. Just 2 minutes walk from the pier to the left are two restaurants that are across from each other, both serving exactly that. We ended up going with the first one, as it looks more lively, and ordered sea urchin fried rice, shrimp paste fried morning glory, and a bottle of milk tea.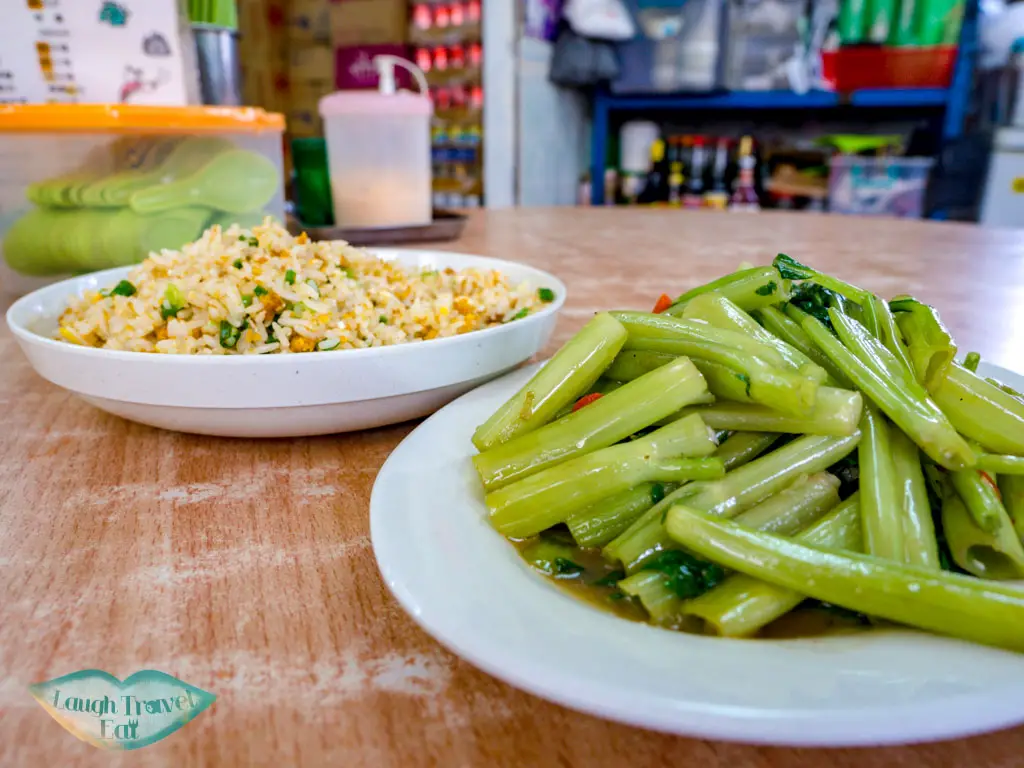 The portion is good for 2, or 3 if none of you eat a lot. The grand total of the meal was 190 HKD for two.

Note: the restaurant is not on Google Map or has an English name, so just use my photos for reference.

Visit Tap Mun's Tin Hau Temple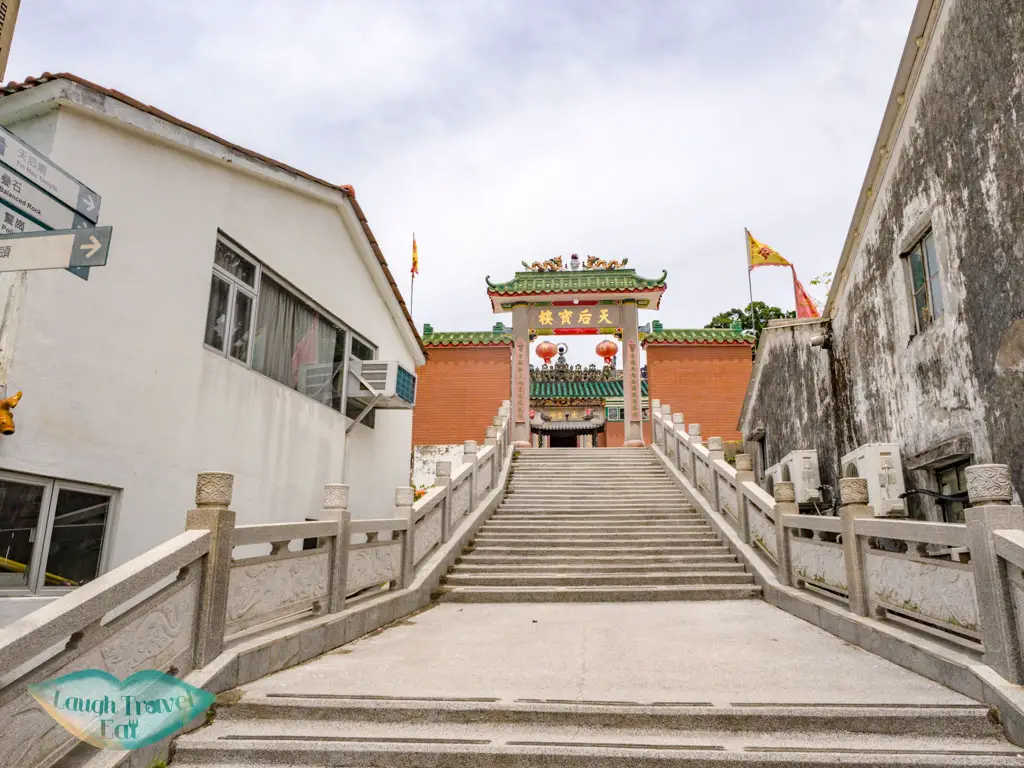 The Tin Hau Temple on Grass Island dates back to the 17th century, built during the Qing Dynasty. But the one we see today was renovated in the 70s. Tin Hau is a sea goddess in the Toaist religion and wildly popular in Hong Kong and surrounding areas. See more about temples in Hong Kong here.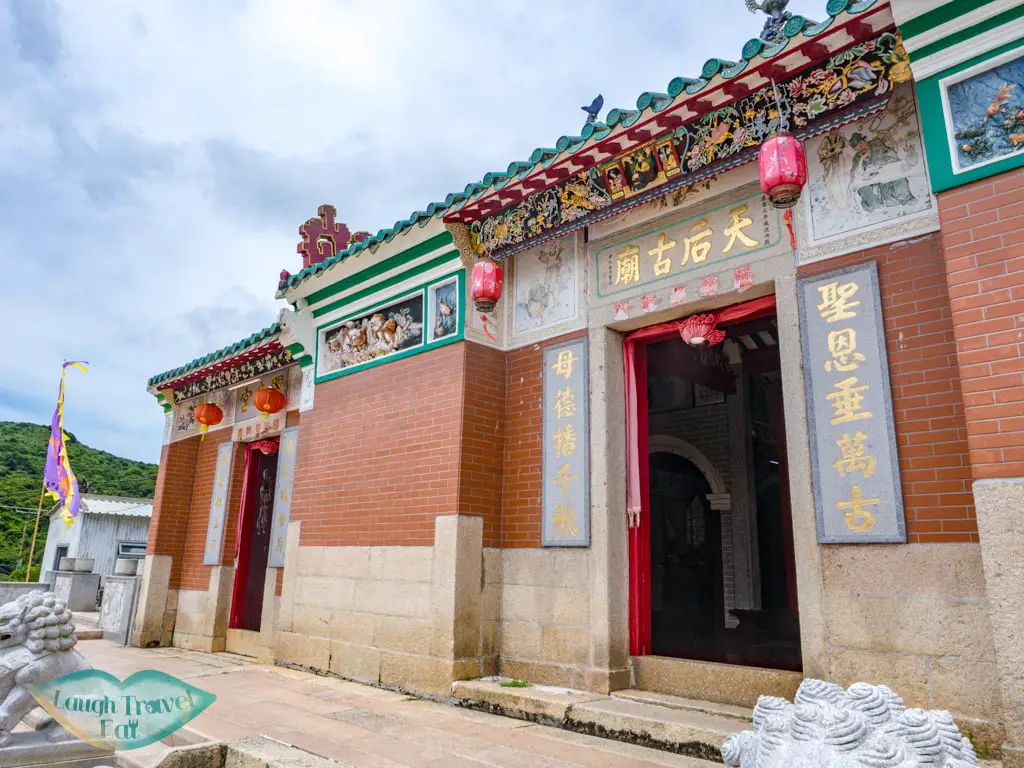 Like many of the other temples in Hong Kong, it is a compound temple with a small shrine for Kwan Tai, the god of Mercy and Martial Art.
Camp/picnic/chill on the grass field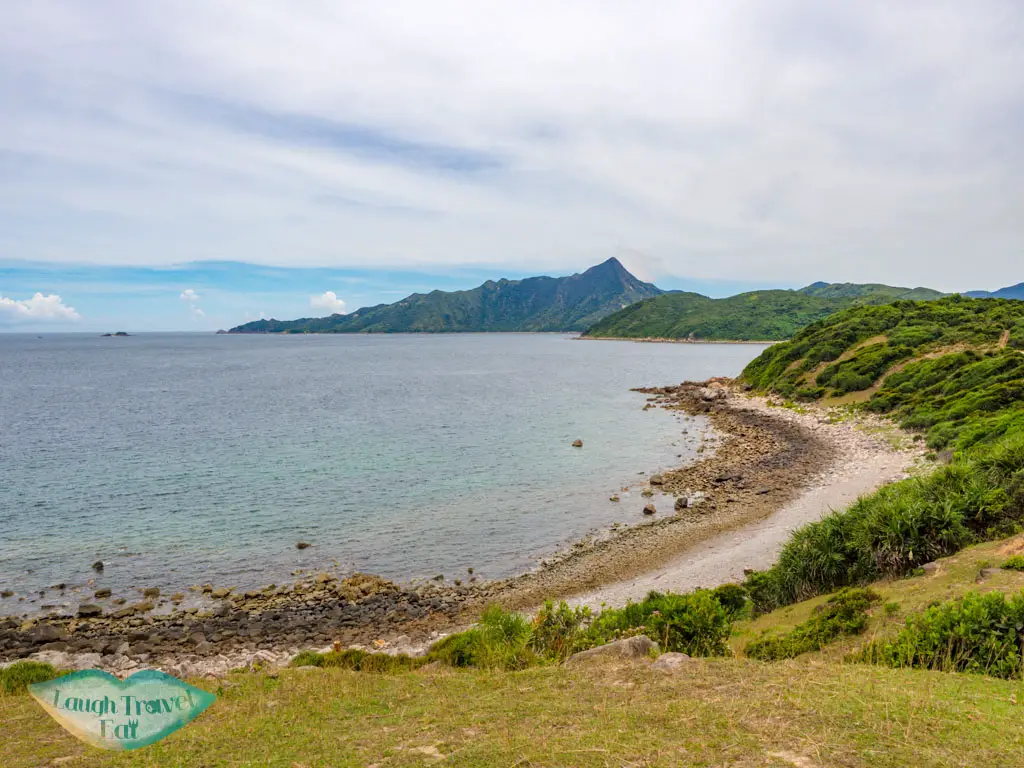 In case you didn't notice, but Grass Island is famous for its wide expanse of grassland. Admittedly, I got my hopes up a little and it isn't as big as I thought. I mean, Sham Chung has a bigger patch. But considering that we're in Hong Kong and the grass field overlooks the sea and Sharp Peak, it is definitely a good location.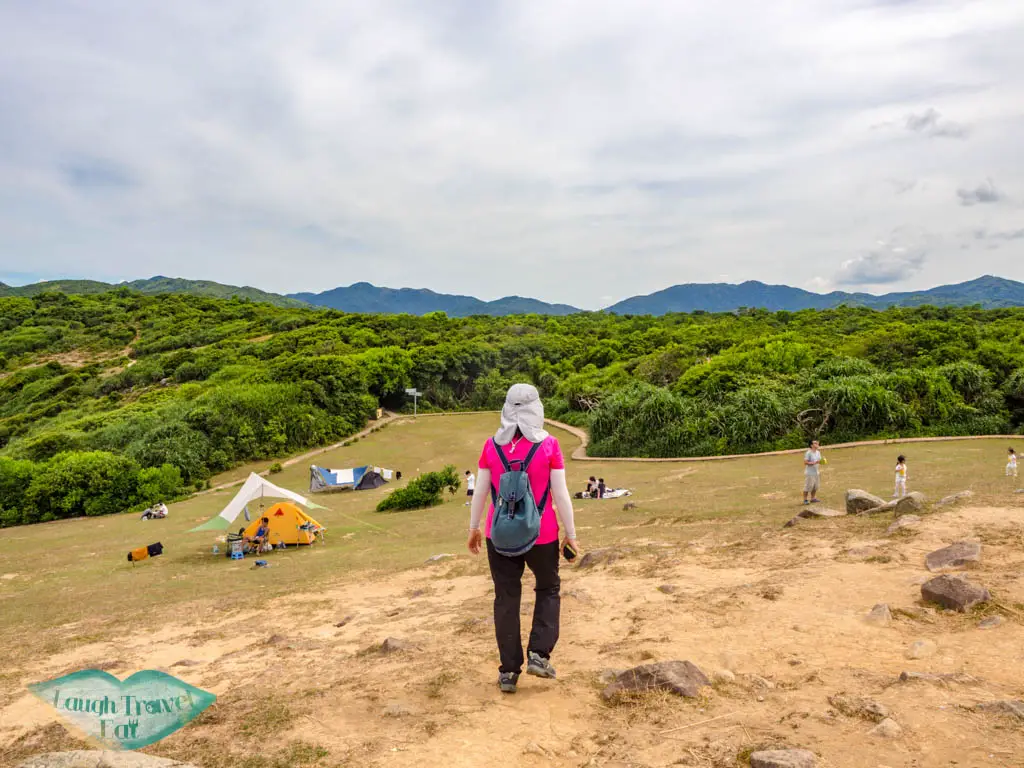 The biggest patch is about 15 minutes walk from the Tin Hau Temple. Simply follow the sign for the Balanced Rock and you'll reach a helipad/football field that is on the edge of the field. It does slope downwards with the occasional big rocks, an ideal place to camp/picnic/chill or fly a kite.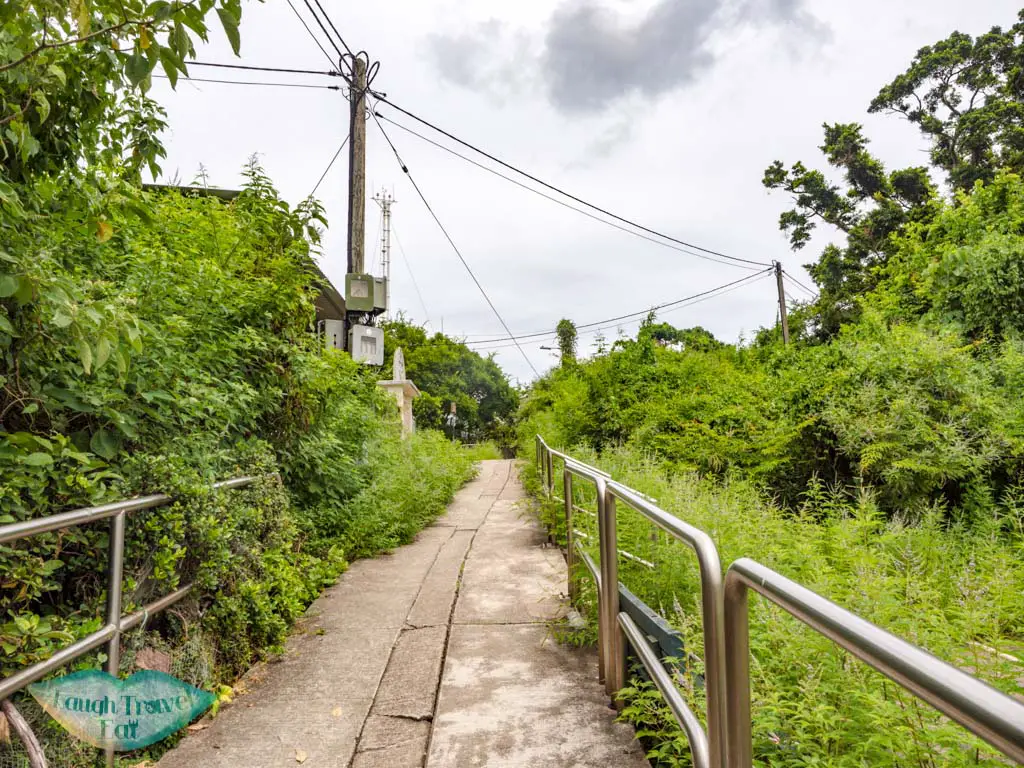 Note: please throw your rubbish away in one of the many rubbish bins on the island!

See the Balanced Rock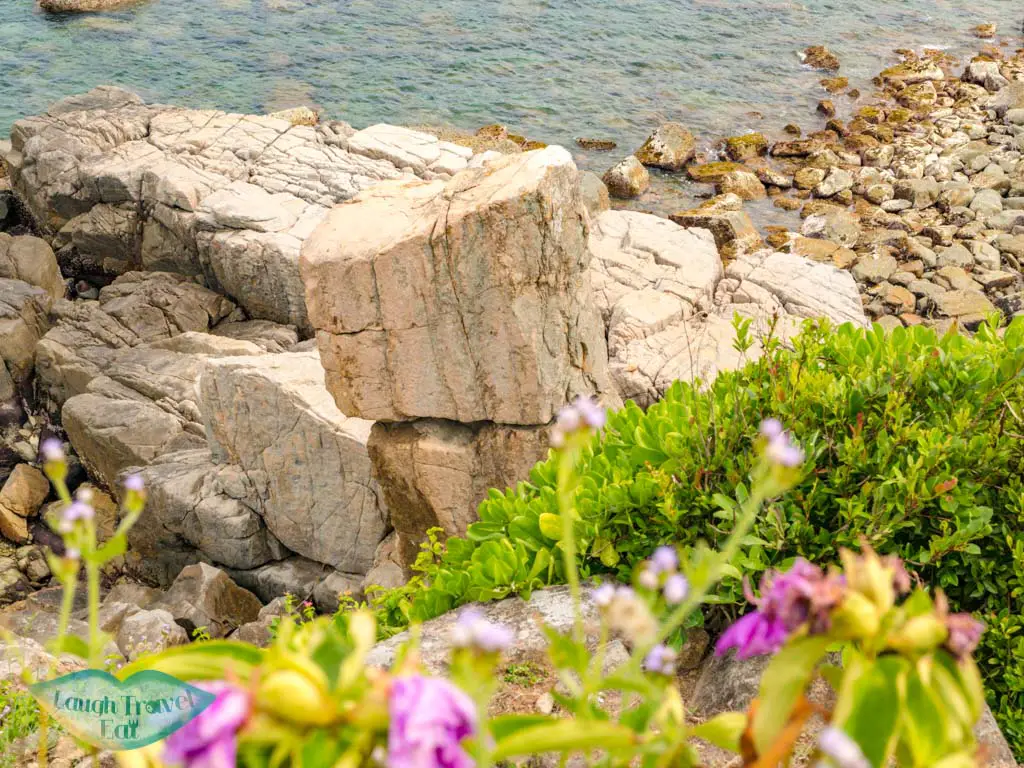 Continue to follow the trail that heads back down south to see the famous Balanced Rock. I almost missed it because it is actually very close to the cliff that the path takes you to. Be careful when you peer down. If you want a better view, go to the grassless orange ground or continue south and look back!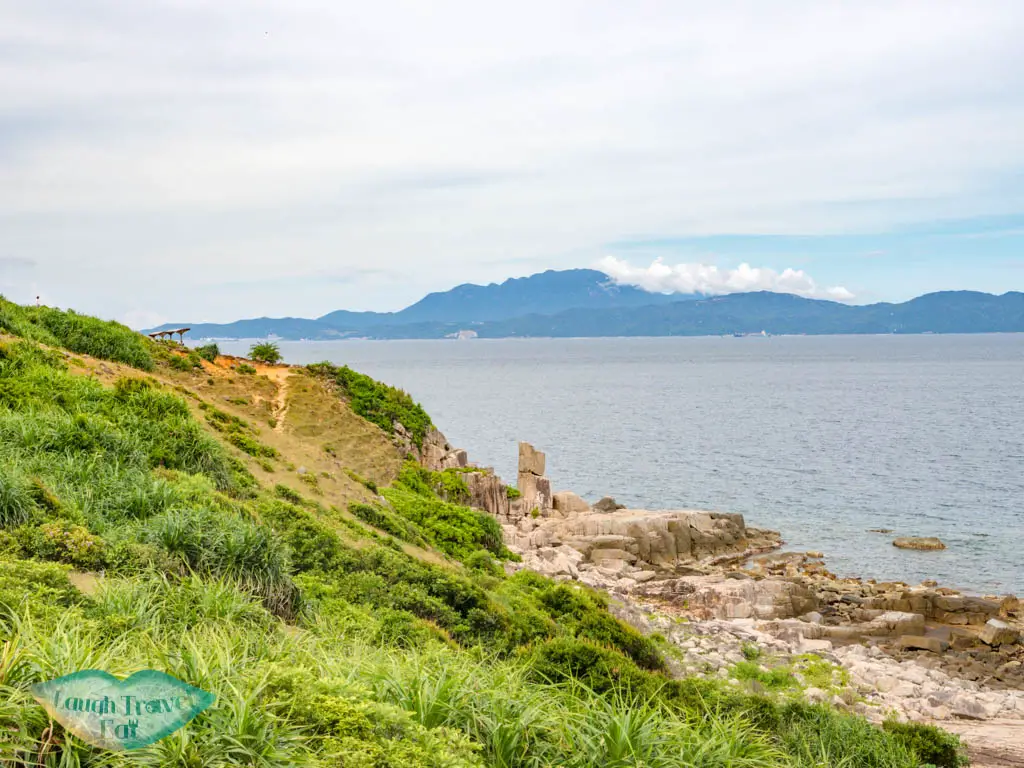 Fun fact: it's simply called the 呂(a Chinese character and a surname) stone in Chinese because it's shaped like that.

Go on a Tap Mun hike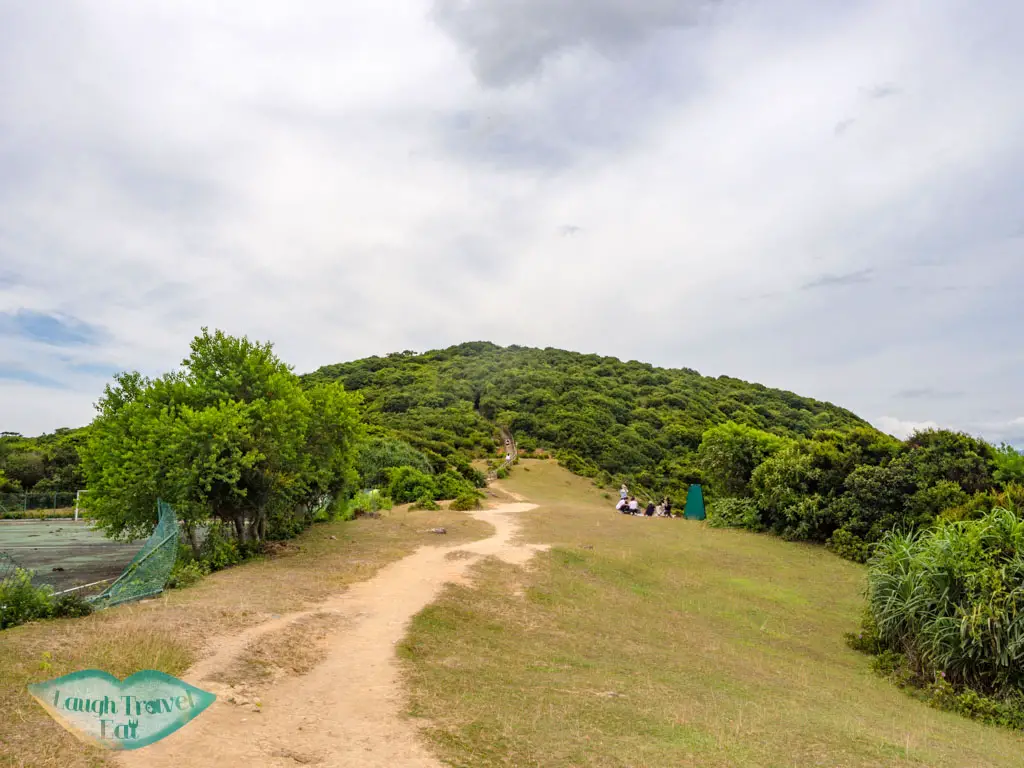 You can hike up the highest mountain or Lung Ka Keng.
From the helipad/football field, you can carry on up north along a flight of well-paved stairs to the Dragon View Pavilion. The first stretch of the steps is also a great place to sit and take photos, since you'll get the entire grassfield, the beach, the ocean, and Sharp Peak in frame!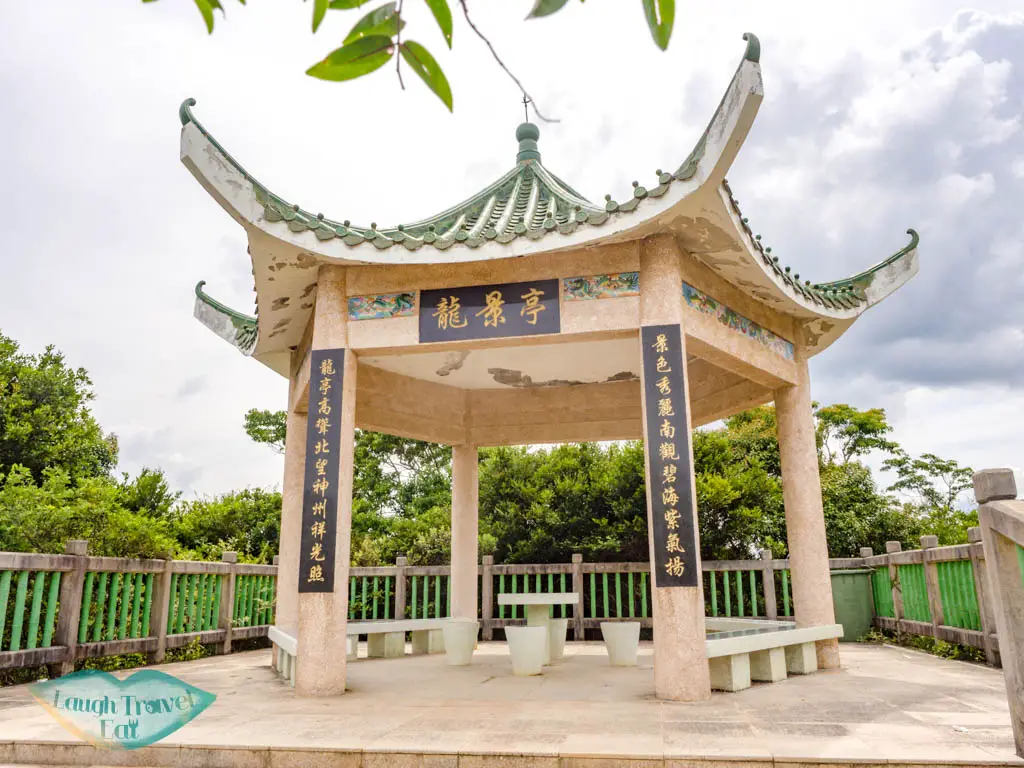 Once you reach the pavilion, there is a trail that continues north. If you follow it, you can either head to the highest mountain or to Lung Ka Keng (a pebble beach).
We went most of the way to Lung Ka Keng where we got a great view of the Port Island and Kung Chau, and decided that the descent to the beach was a little too much for us and headed back the way we came.
But I do believe that there are some angular rocks and boulders by the beach that you can take photos of!
Go on a walk in the south
From the Balanced Rock, many turn back to return to the pier, but if you carry on, you'll reach a red-railed walkway by the coast with a view of Ko Lau Wan and back to Wong Shek. It makes for a nice walk and takes you to the New Fisherman Village.

New Fisherman Village
The village south of the pier, it has a more live-in and chill vibe with a basketball field and a few murals of Grass Island. There is another public bathroom here and some local convenience stores for refreshments.

Visit the Tap Mun Church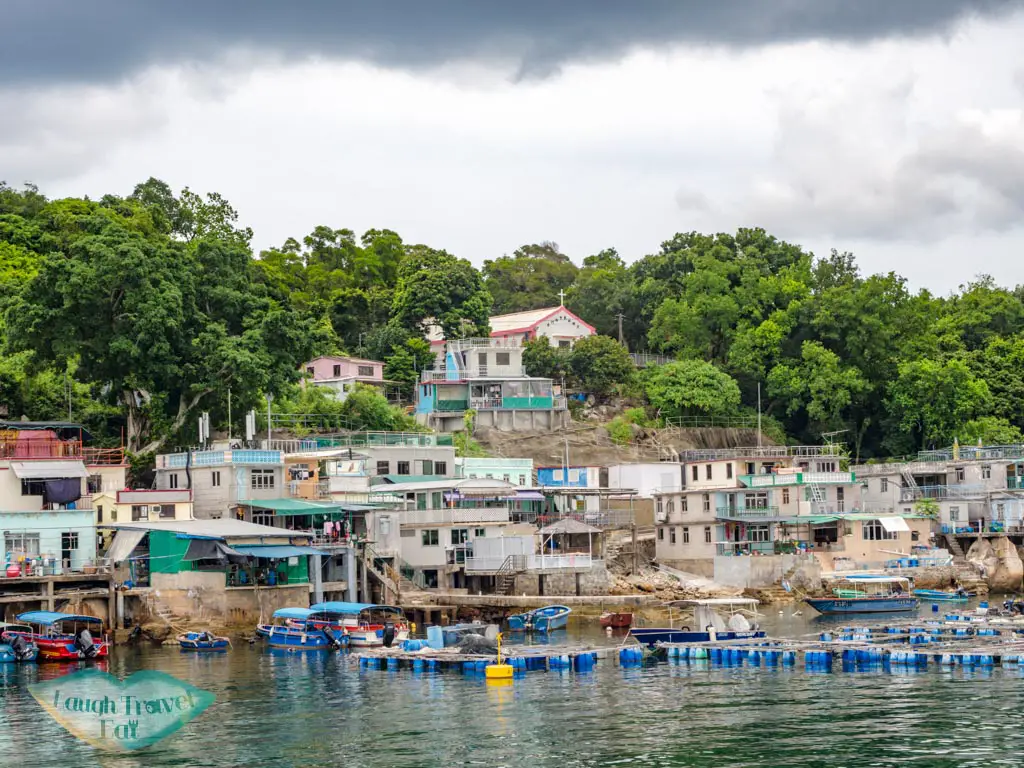 As the ferry pulls in at Grass Island Pier, a lone church stands on the hill and this is that Tap Mun Church. The pink and white church was founded in 1961 and at its height had 200 church goers among the 2000 inhabitants. There is a small path that goes up from the staircase by the public bathroom near the pier.
A Note on Grass Island Camping