Lantau Island is the largest island in Hong Kong but its mountainous landscape means that a large part of it remains untouched. With the new airport built there in the 21st century as well as better roads, Lantau is more easy to visit than ever with charming fishing villages, iconic Big Buddha Statues as well as the Ngong Ping 260 cable car. Here is your guide to things to do in Lantau Island.

How to get to Lantau island
There are several ways to get to Lantau Island: by MTR, bus, or ferry. Depending on your destination, MTR might be the best way to reach Tung Chung, which is at the end of the Tung Chung link connected to the Tsuen Wan Line. From there, you can get a bus, a taxi, or the Ngong Ping 260 Cable Car to continue your journey.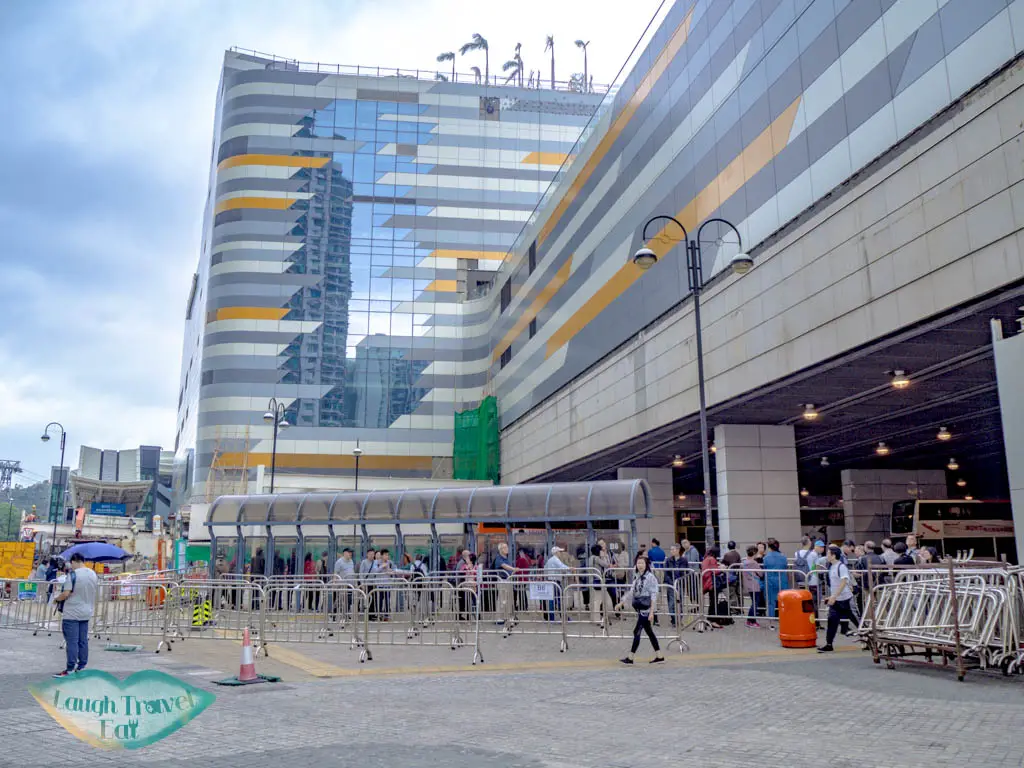 There are numerous buses, in particular airport ones, that goes to Lantau Island. You can change buses at the Lantau Link Toll Plaza, where you can change buses to reach Tung Chung or Disneyland. Do note the direction of the bus before you get on!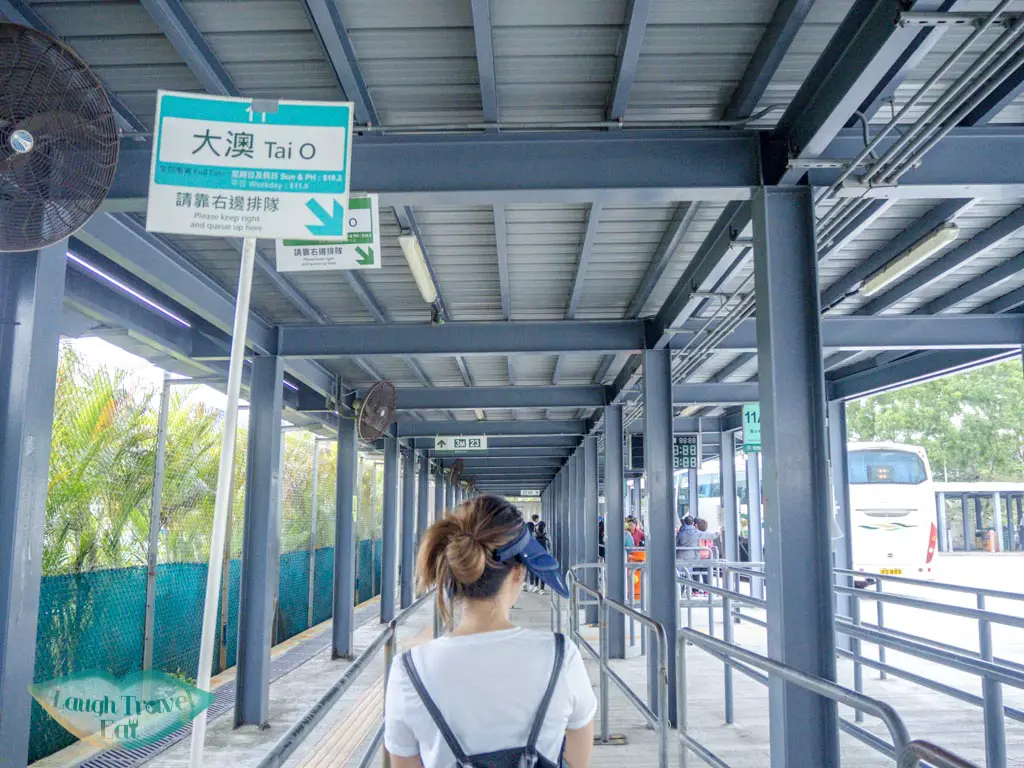 As for ferries, from Central Pier you can take a ferry to Mui Wo village at Pier 5 or Discovery Bay at Pier 3, both are a more residential neighborhood. But from both, you can get a bus to Tung Chung or other parts of Lantau Island.
Getting around Lantau Island
From Tung Chung:
To Tai O: bus 11, Tai O to Ngong Ping bus 21
To Mui Wo: bus 1, back to Tung Chung bus 3, from Mui Wo to Ngon Ping bus 2. For timetable and more information, visit here
To Big Buddha and Po Lin Monastery: bus 23
To Cheung Sha Beach and Pui O beach: Minibus 3M, bus 1, 2, 4, 11, 23 also go past the beach.
What to do in Lantau Island
For the most part, people go to Lantau Island for Disneyland, Tai O, or the Big Buddha. The best way to reach all three would be on the Tung Chung Line (aka via MTR). But of course, there are more than just those few things to do! But let's start with them:

Tai O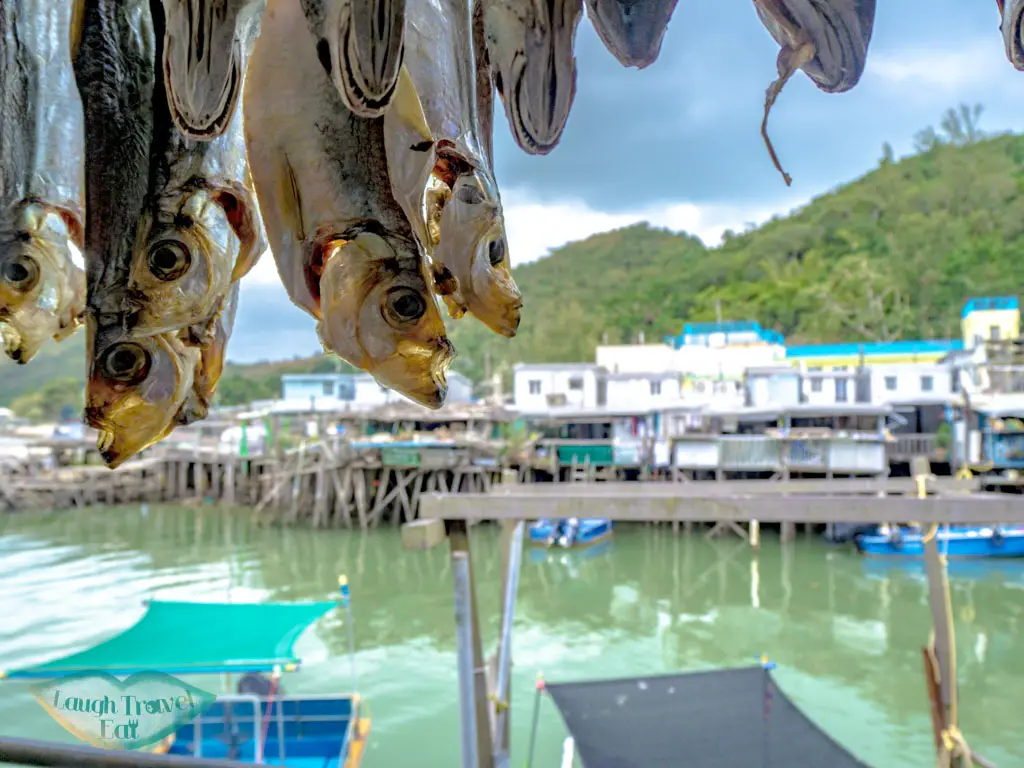 The fishing village Tai O is a picturesque little town and the perfect first stop for a day exploring Lantau island. See more about what to do in Tai O here.

Tip: From Tai O, head back to the bus station and take the bus 21 or a taxi to the Big Buddha. If there are 3-4 of you, then you can take a taxi for ~60 HKD total.

Lantau Buddha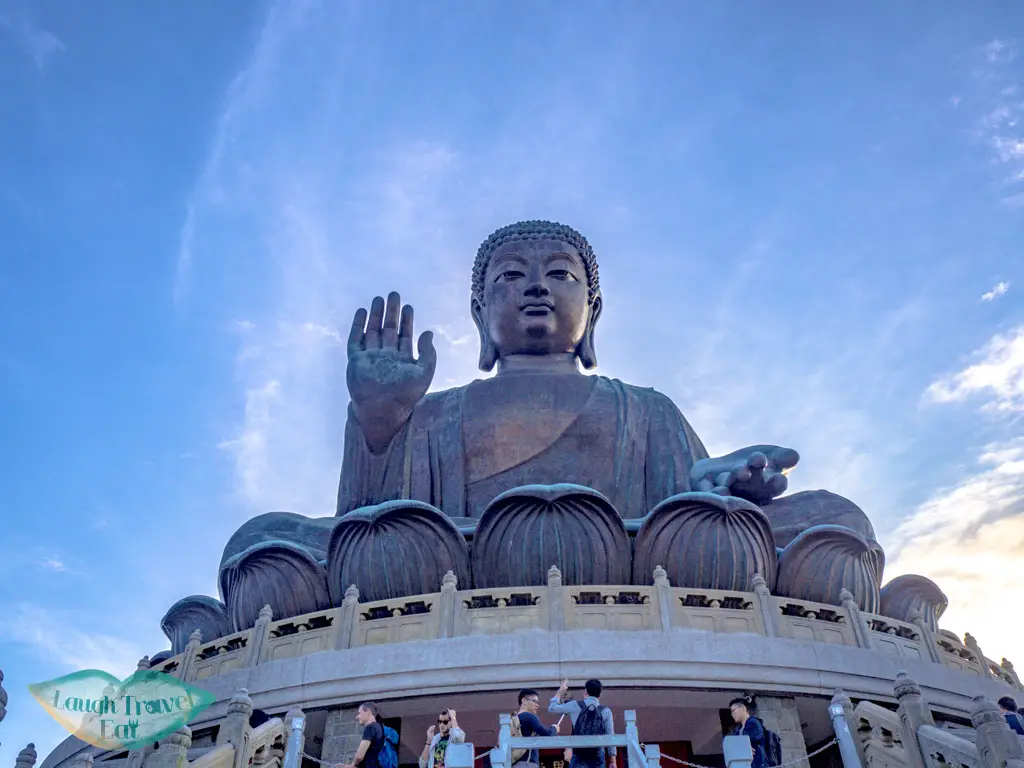 The Big Buddha, aka Tian Tan Buddha is the most iconic landmark on Lantau Island and a must visit for many tourists who comes to Hong Kong. It was built in 1993, sitting at 34m tall (including the lotus throne) and took 12 years to complete.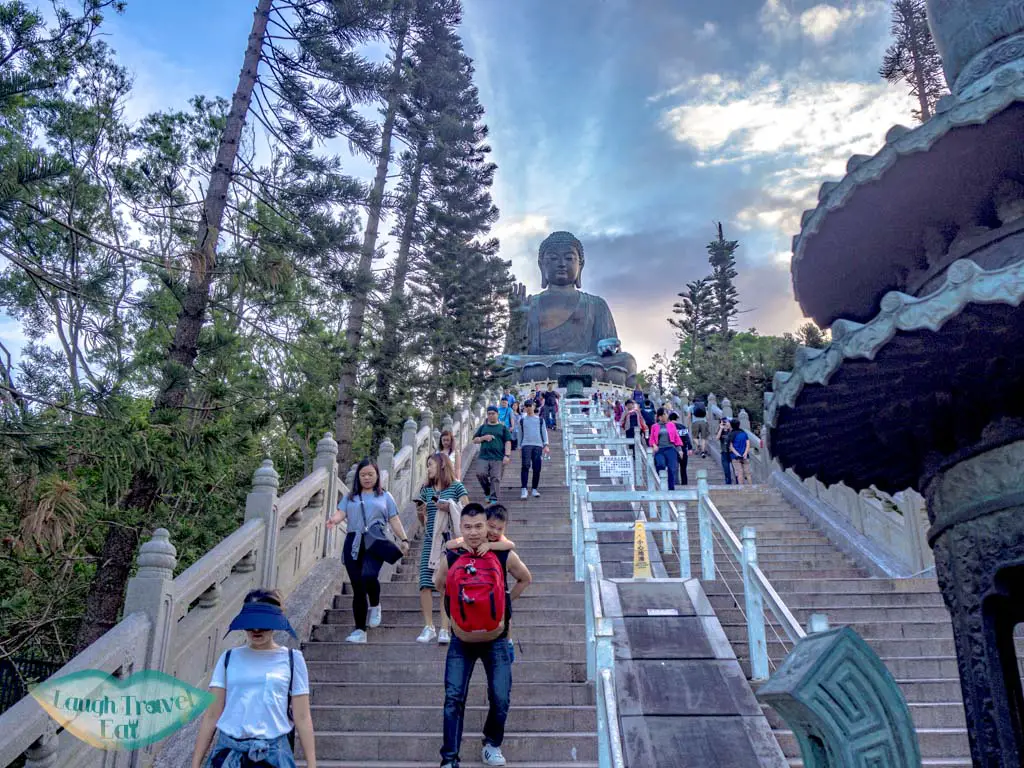 The statue faces north towards China and also symbolises that it's overlooking the Chinese people. It is the largest Buddha statue of Shakyamuni, the Gautama Buddha in the position in which he achieved enlightenment. You can reach the base of the Big Buddha by climbing all 268 steps – free of charge.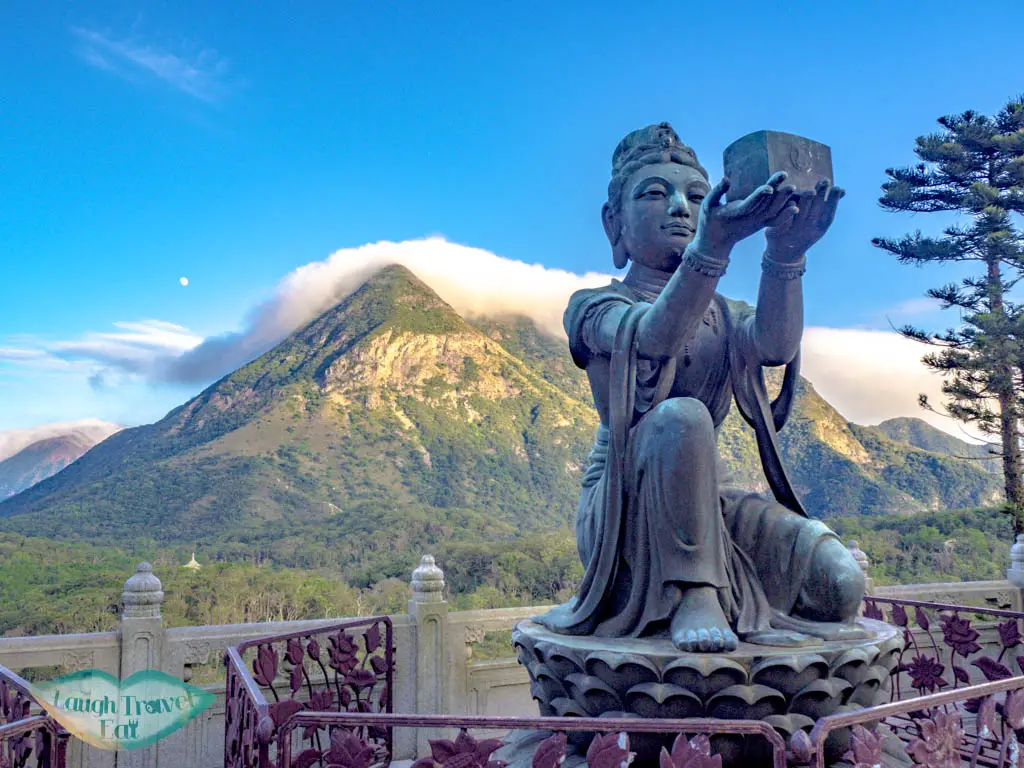 The six statues that surrounds it are "The Offering of the Six Devas" holding flowers, incense, lamp, ointment, fruit, and music to the Buddha. They also symbolise the 6 Perfections of generosity, morality, patience, zeal, meditation, and wisdom for enlightenment. You can go inside the base level of the statue for free, where it serves as a collabrium with gift shops. If you want to visit the higher levels, which houses a collection of Buddhist drawings, related calligraphy, and a Buddha relic, you'd need a ticket from the base of the stairs.

Opening times: daily 10:00 – 17:30

Lantau Island Monastery: Po Lin Monastery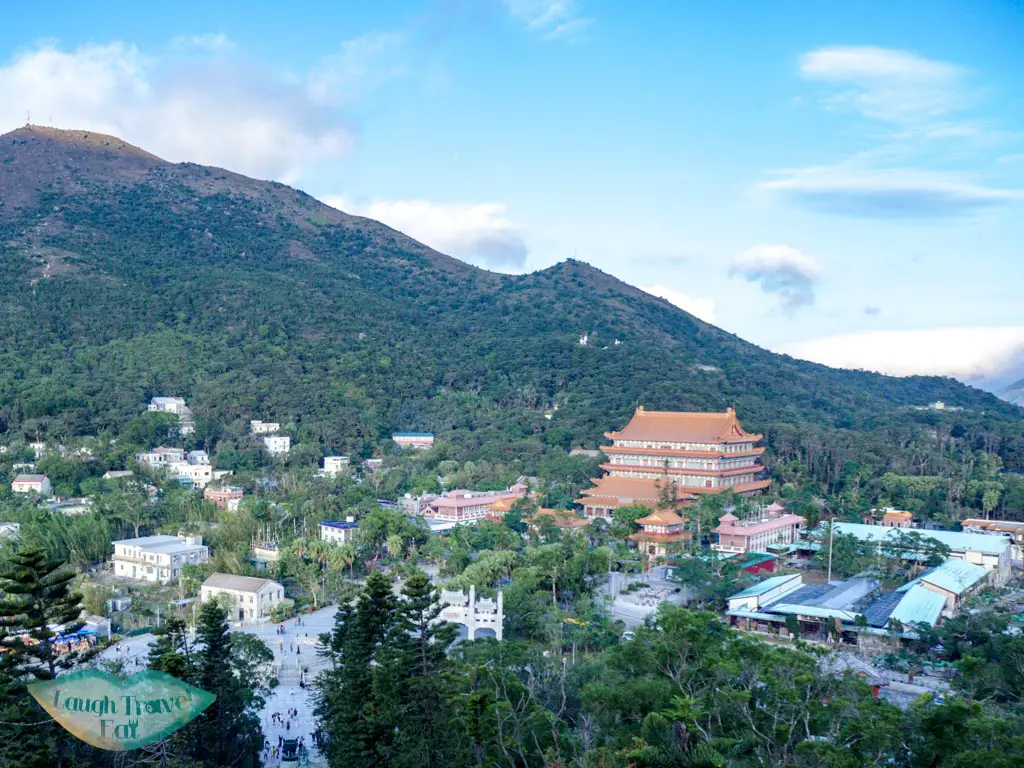 A buddhist monastery founded in 1906 by 3 Jiangsu monks, it didn't become famous until the Big Buddha was built.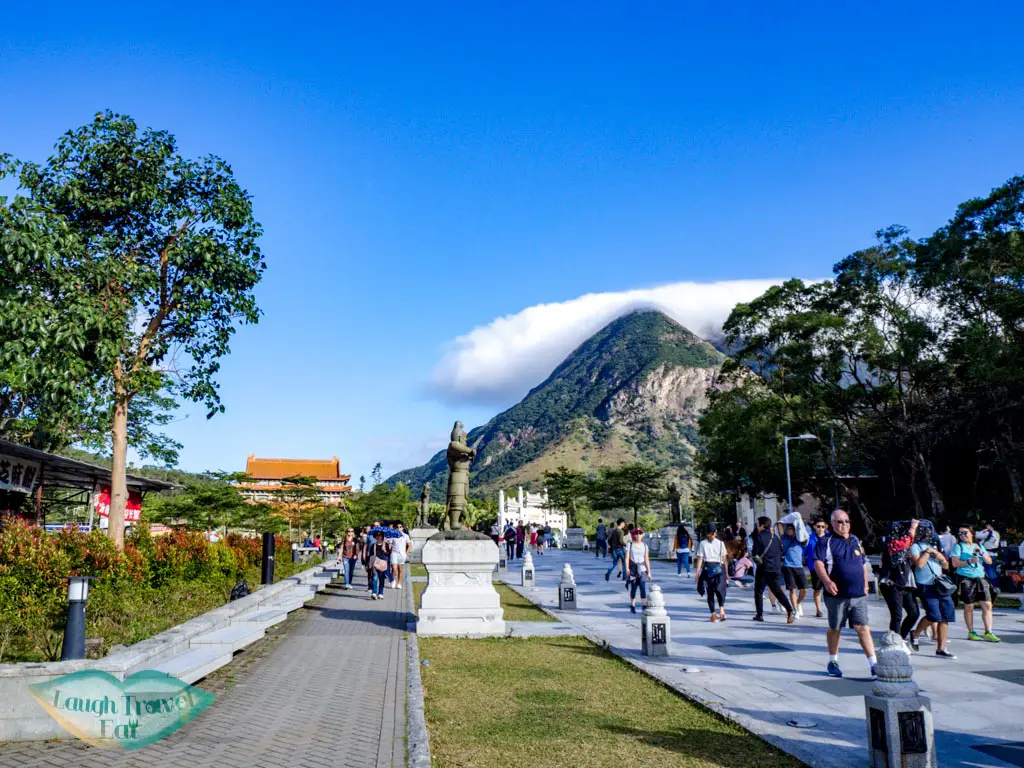 On entering the complex, you'll find sacred cows (please don't touch or feed them!) and the statues of twelve generals lining the path to the monastery and Big Buddha, each representing a Chinese Zodiac. The halls are built in the classical Chinese architecture style: the vernacular wooden designs. You can offer incenses outside, each packet costs 10 HKD.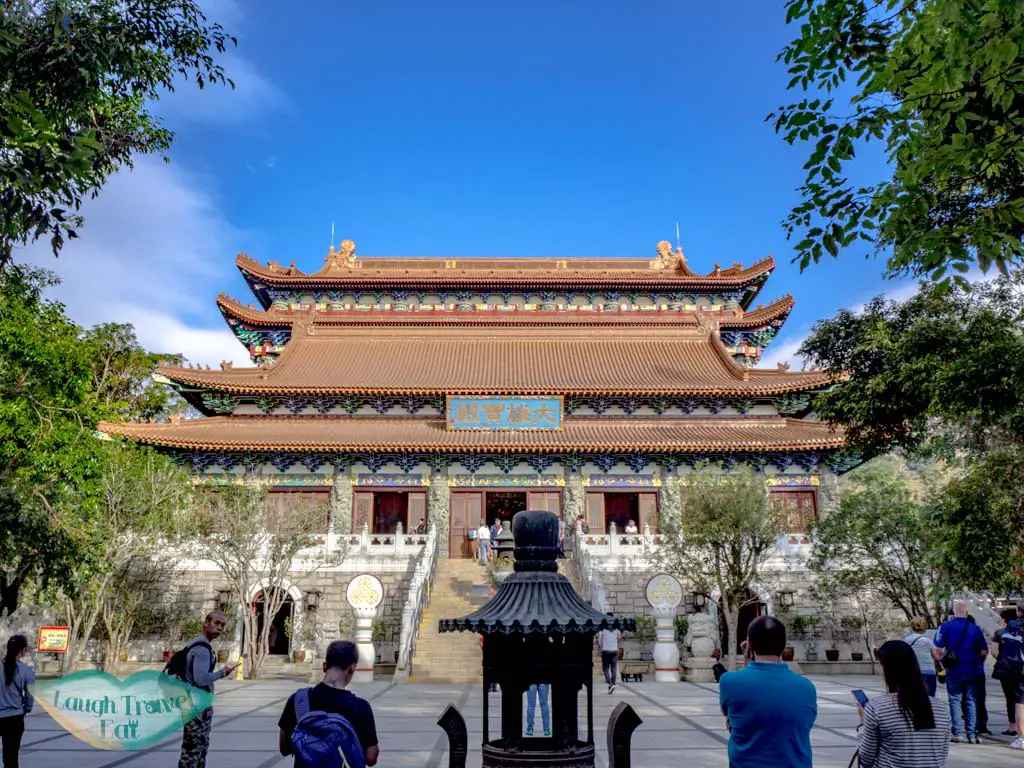 In the first hall one pass through before the main hall, it is guarded by the Buddhist/Taoist Four Heavenly Kings, who represents north, east, south, west.
The three bronze Buddha statues in the main hall represents the past, present, and future live of Buddha. Behind is the Hall of Ten Thousand Buddha, which covers 6000m square of ground, with ten thousand images of Buddha inside.Visitors are not allowed to enter but can observe from outside and take photos.

There is a vegetarian restaurant in the Monastery, and you can purchase meal tickets at the office by the base of the Big Buddha. However, the food is average and there are much better dining option elsewhere on the island.

Opening times: 8:00 – 18:00

Wisdom Path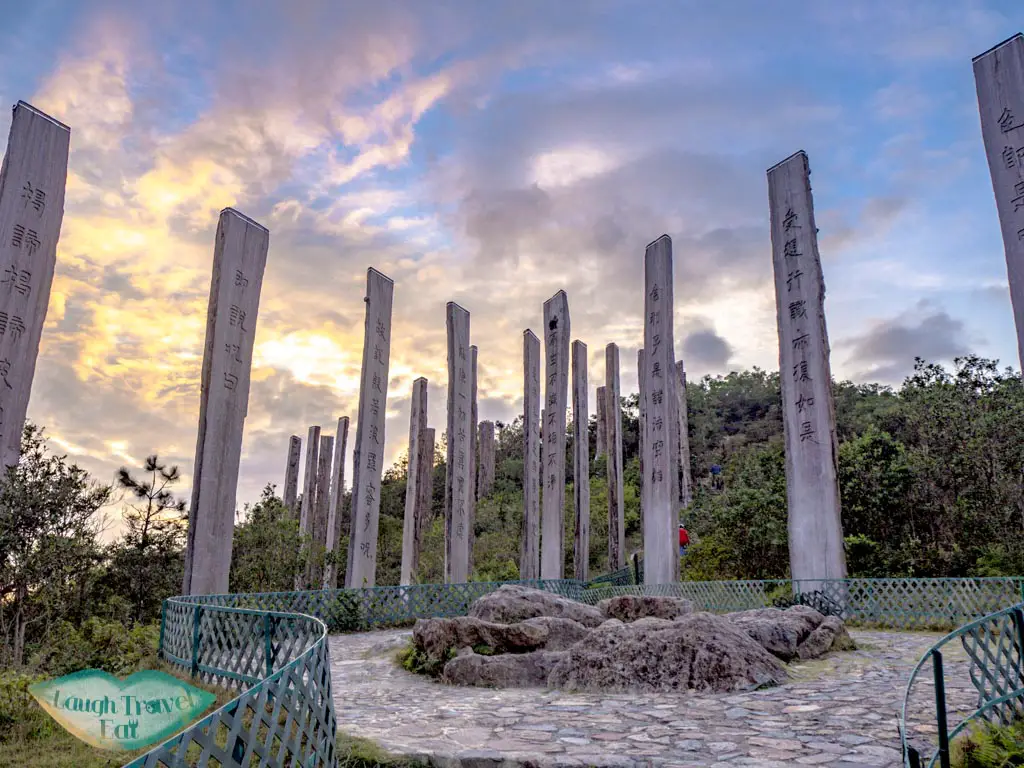 A footpath near the trail start for Phoenix Hill about 20-30 minutes from Po Lin Monastery with 38 wooden steles in infinity symbol. The words written on are prayers and sayings by Confucians, Buddhist, and Taoists. It is a great leisurely walk if you have time to spare. The path is well signposted from the monastery, and relatively flat.

Ngong Ping Village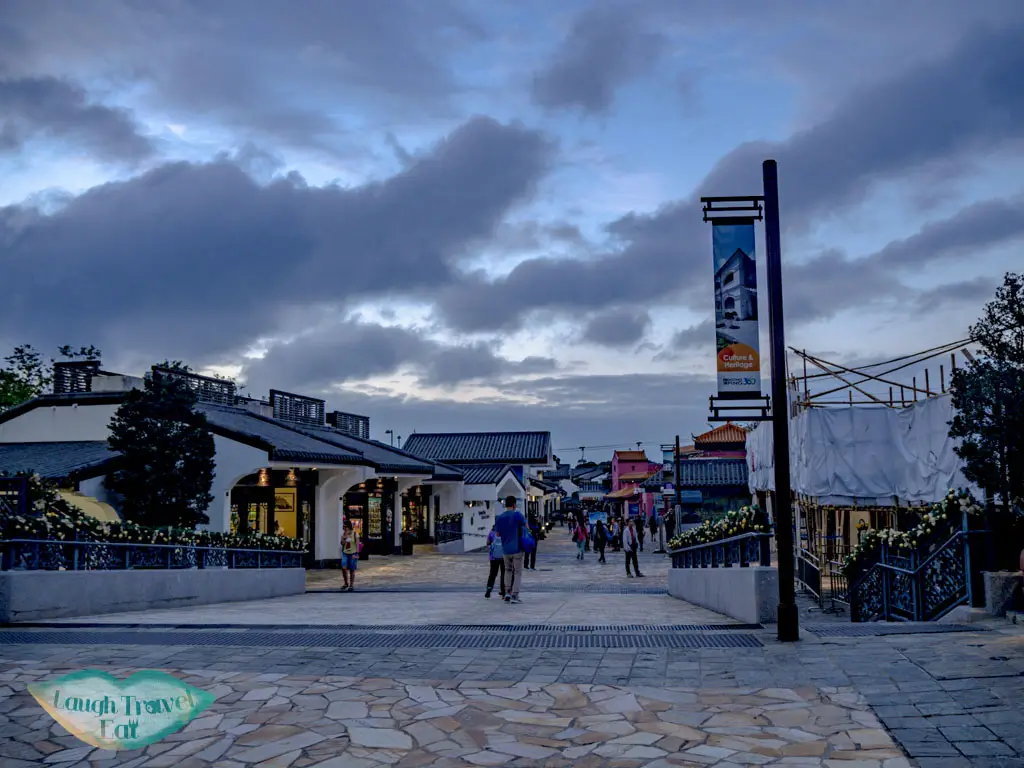 The Ngong Ping Village refers to the collection of shops and restaurants between the cable car and Po Lin Monastery. The entire village is built to resemble a traditional Chinese village with slate-gray roofs and white walls. There are various entertainment options, too, such as a virtual reality cinema as well as plenty of souvenir shops and restaurants.
Most of the food and items there are overpriced, but it can be a good place for family to eat and rest. There are also clean bathrooms here!

Pro tip: if the queue to the cable car looks to long, head to the bus station left of the village and get the bus out. However, it does take an hour through windy roads.

Lantau Cable Car: Ngong Ping 360
Built in the 21st century, the Ngong Ping 360 Cable Car is 5.7km long and connect the Ngong Ping Plateau to Tung Chung. The ride lasts about half an hour and is the fastest way to travel between the two. It offers an amazing view of the Big Buddha, the Hong Kong-Macau-China Bridge, Lantau Mountains, Lantau Bay, the airport, and finally Tung Chung.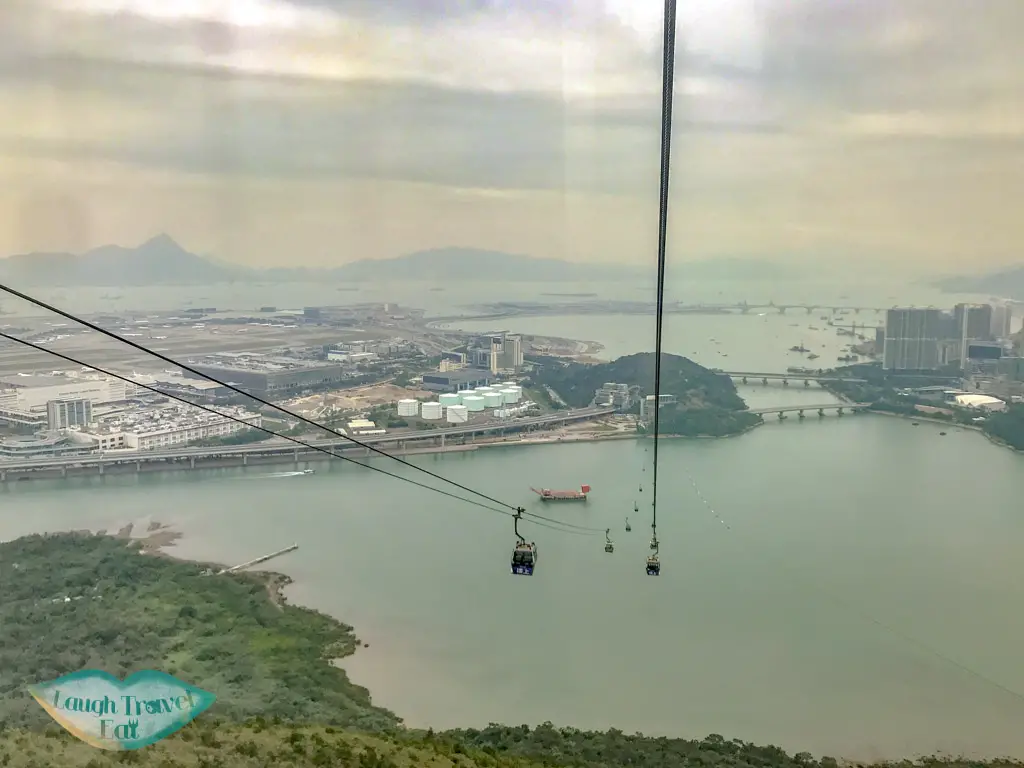 The cable car's safety are ensured with the double cable system, as well as regular stations between te start and end point that monitors the cable car's running.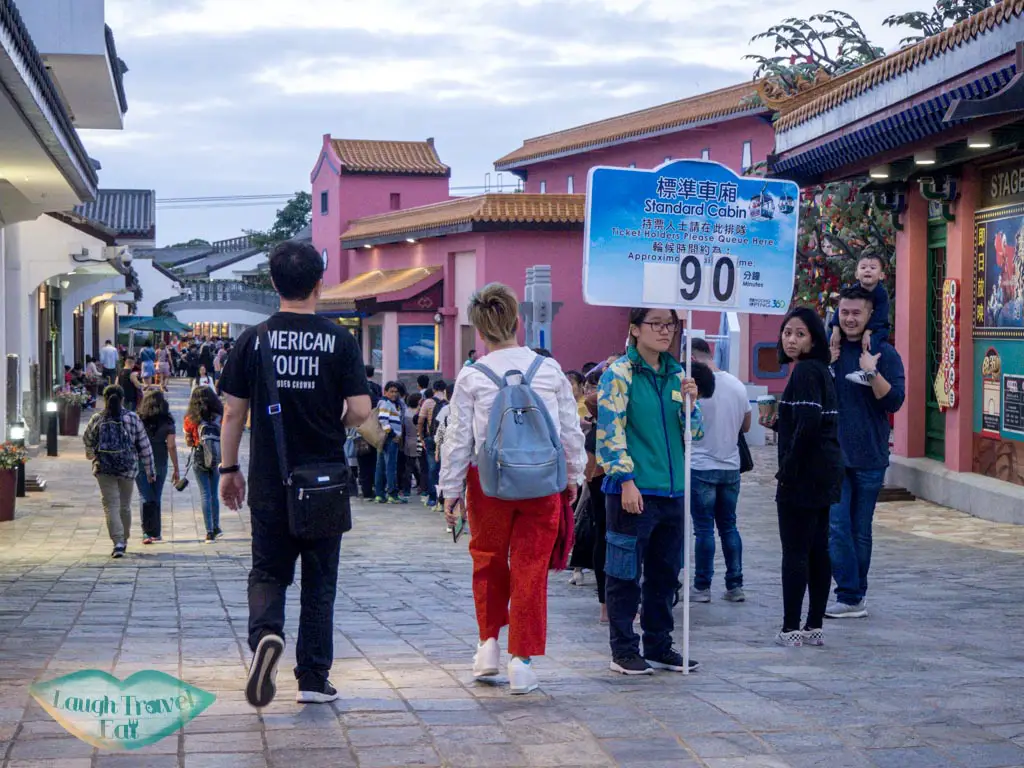 It tends to be fairly busy in the afternoon, so be sure to leave by 4pm if you want to wait less than an hour for your ride back to Tung Chung. Each cabin seats ten, and there are two different cabins to choose from. The regular cabin and the crystal cabin, which features a glass bottom. The crystal cabin, though more expensive, is a good choice if the queue is long for the regular cabin.

Cost: return and single tickets both available, costs can be found here
Operation time: weekday 10:00 – 18:00, weekend 9:00 – 18:30

Disneyland Hong Kong
Hong Kong Disneyland is located in Sunny Bay on Lantau Island, and is most easily accessed via MTR with the Disneyland Line. The carriages are also designed with Disney characters and the nightly parades and fireworks are the main attraction. Hong Kong Disneyland now also have several hotels where you can stay at.
Mui Wo
On the eastern coast of Lantau Island, Mui Wo is a popular town for expats with cute and hip restaurants and cafes. It is also close to the Silver Mine Bay Beach and various hiking trails, as well as the old Silver Mine. It is a half hour boat ride from Central Pier, making it a good alternate starting point to Tung Chung.

Discovery Bay
Although it is a residential area, Discovery Bay is a popular place for people to visit for photography or as a hiking start point. It's most famous for the beautiful church in triangle shape. It's a more upscale neighbourhood, not dissimilar to Stanley on South Hong Kong Island.

Lantau Beach
The beaches on Lantau Island is one of the few places in Hong Kong where surfing is possible. While the sand quality is great, many ferry routes are close by and the water quality may be affected. That said, water sports equipment rental are very affordable.

Pui O Beach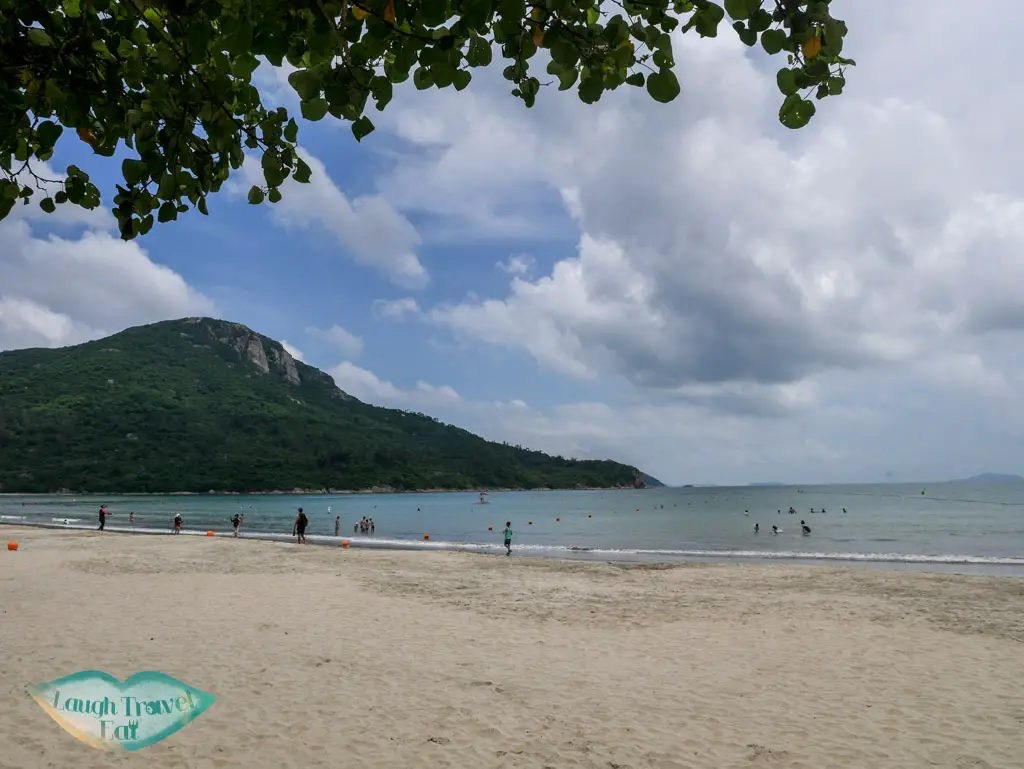 A popular beach about 15-20 minutes bus ride from Tung Chung, Pui O is good for swimming, SUP, and kayaking. It also has some great beachside restaurants and bars, one of which I like is called the Mavericks.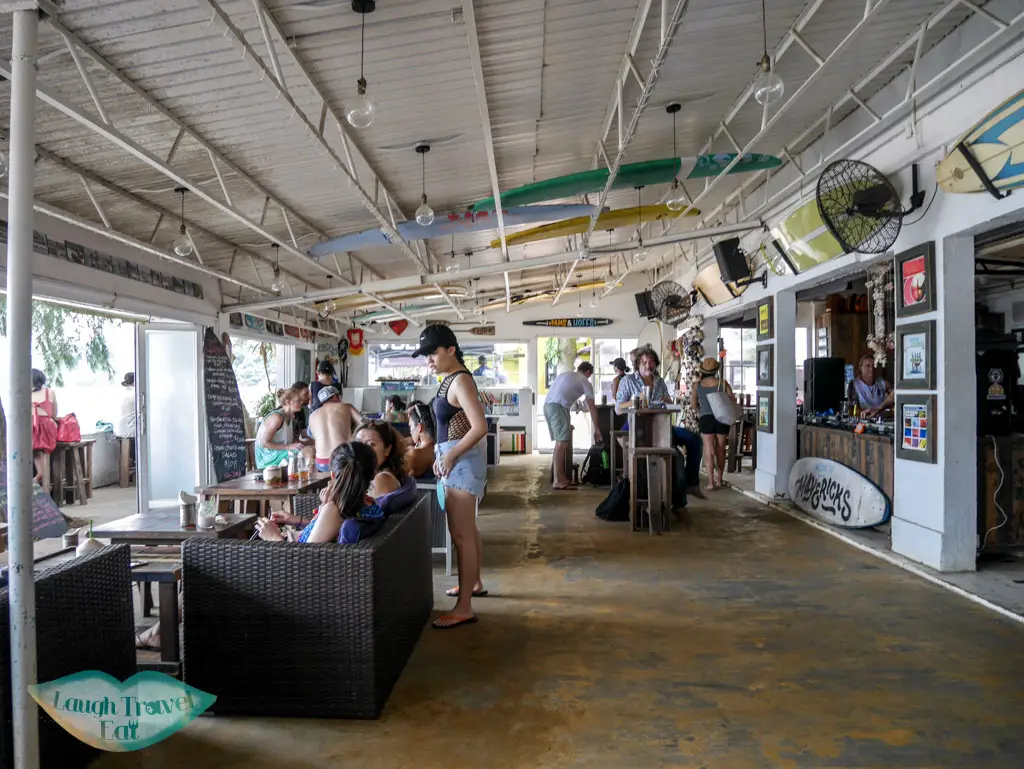 Do watch out for the buffaloes that strolls into the beach, who will nose through your stuff in search of food.

Cheung Sha Beach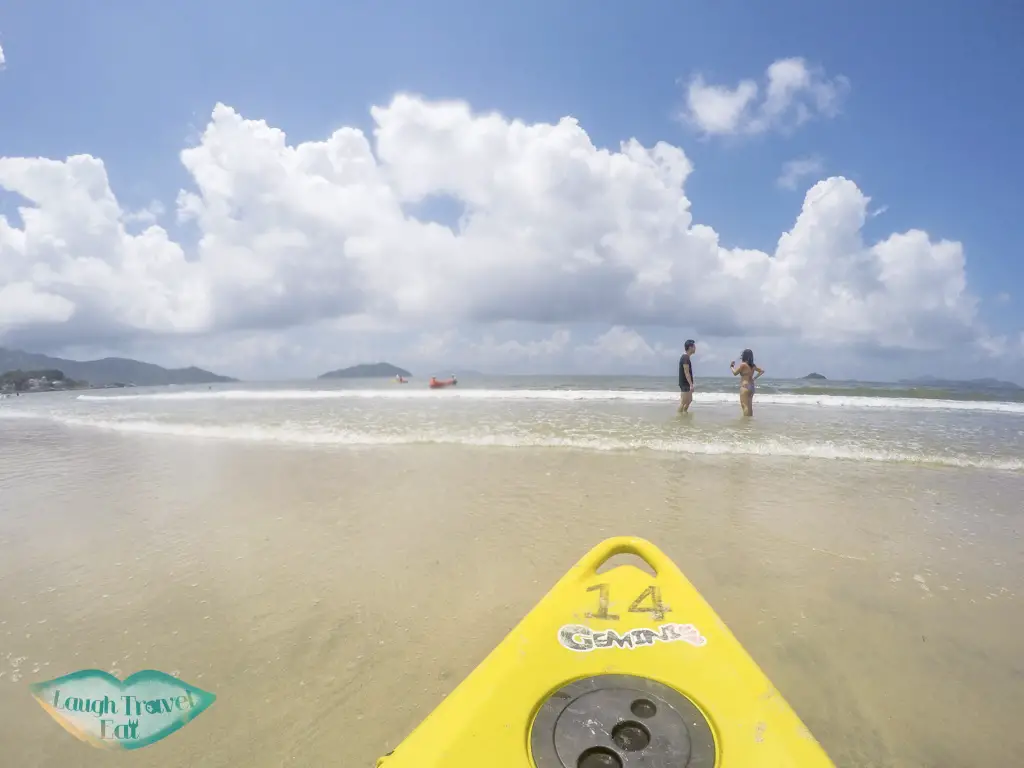 Split into Upper and Lower Cheung Sha Beach, Cheung Sha literally means long sand and extends for 3km, making it the longest beach in Hong Kong. Cheung Sha is west of Pui O, both on the southern shore of Lantau Island with Mui Wo being the closest town.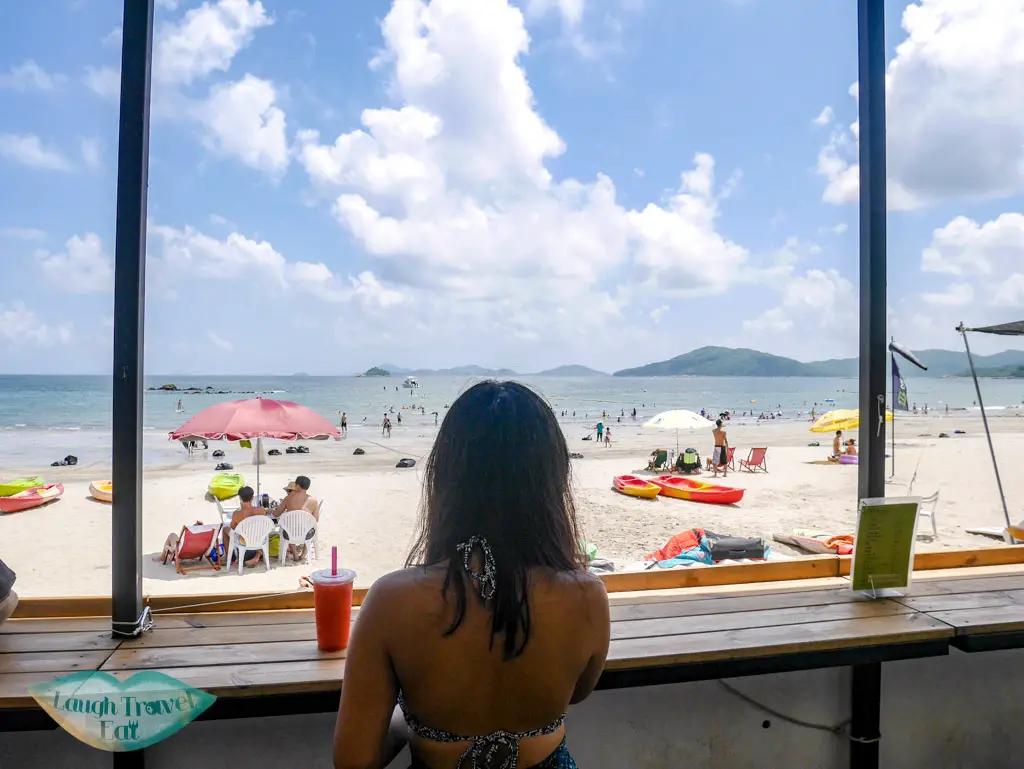 You can aslo rent SUP and surf boards here, too.

Lantau Hotel
There are quite a few hotel options on Lantau Island, even excluding the airport options. Tung Chung is arguably the best place to base yourself since that's where you can get buses to everywhere, but there are quainter options, too.
Novotel Citygate
Stay close to the MTR station with Novotel Citygate. It's a good choice to be close to both Lantau Island and the rest of Hong Kong, as well as the Citygate Mall with its dining options and outlet. The hotel also has a shuttle service to the airport, which adds even more to its appeal. Guests also love that it's well soundproofed with great facilities and breakfast
Tai O Heritage Hotel
Stay in a historic building and a former police station in a secluded part of Tai O Village. While the location is far, the atmosphere is peaceful and the rooms oozes early 20th century charm. The rooms are also much more spacious than most in Hong Kong, and there is an onsite restaurant. However, guests do note that the dinner menu doesn't offer a lot of options, but you can walk to Tai O very easily.

YHA Ngong Ping SG Davis Youth Hostel
Close to the Po Lin Monastery and Big Buddha, this youth hostel offers affordable dorms and even glamping tents. It's a good base for people who enjoys hiking, as it is near the trail start for the Lantau Peak as well as various other trails. Do note that the acommodation are more basic here!