Sai Kung is arguably the most beautiful part of Hong Kong, with plenty of things to do. Think stunning beaches, amazing hiking trails, as well as a geopark and many protected marine parks. It's the place to be if you are looking for nature, laid-back vibes, and seafood. Since I live fairly close to Sai Kung, I've spent a lot of weekends exploring it and time has finally come for me to share all my knowledge.
>For my top Sai Kung beaches, head to this post.
>Want the best insider tips for all things nature in Sai Kung? See my exclusive Sai Kung Nature Guide here.
Getting to Sai Kung
There is no MTR or rail to Sai Kung. If you want to visit, you'd have to take the bus or minibus. There are three major points to do it:
Take the MTR to Choi Hung and then change to minibus 1A or bus 92

From Diamond Hill, you can also take bus 92, as it is the end station

From Hang Hau take the minibus 101M
From Mong Kok take the red minibus
If you are in doubt, just go on google and put in your starting point and then pick Sai Kung town center as the endpoint. Th options should be the best one.
Sai Kung bus terminus
The endpoint for all buses, the Sai Kung bus terminus is right by the seafront near the pier. It is right by the town center so a short walk from everything. However, often times the traffic congestion to turn into the terminus is quite bad. In that case, you should pay attention and get off one stop early at the police station.
For minibusses, there are two places where they could stop. One is across the main road from the main bus terminus, which is even closer to the town center. If you want to continue on to Hoi Ha, you'll be taking one here as well. For those who arrive from Mong Kok, the terminal stop is at the sports center just down the street from the seafront. Everything is within easy walking distance.
Sai Kung town centre
The Sai Kung town centre is not what one would imagine a town would look like in Hong Kong. Almost completely devoid of tall buildings with no skyscrapers at all, it's got the laid-back vibe that attracts many to visit, especially on the weekend. There are more to Sai Kung than seafood restaurant and the seafront, but let's start with them:
Sai Kung pier
There are two Sai Kung piers, just behind the bus terminus. They are for regularly scheduled ferries as well as boat trips and street ferry departures, but the highlights are the fishermen selling seafood.
They form a long line by the pier, with buckets of fishes, shrimps, crabs, and shellfish for sale. People browse by peering down from the pier and price negotiations take the form of a shouting match from the pier to sea. If you are looking for dried seafood, then go to the edge adjacent to the pier where ladies in sunhats sells them in clear plastic packaging.
Sai Kung ferry pier
There are many ferry services in Sai Kung, with stalls spreading from the sides of the pier towards the beginning of the seafood street. Most of them offer the same service at the same price and I've used a few of them before. I wouldn't say that there is a particularly good one, the rule of thumb is to find one that is departing to your desired destination soon.
Once I had to wait around 20 minutes before there were enough people on the boat for them to depart – that isn't nice. Remember to check the return schedule, although most of the times they kind of just come and go in 30 minutes intervals.
More on where you can go from Sai Kung via a ferry further down.
Sai Kung market
There is almost always a weekend market going on in Sai Kung that extends along the seafront just past the piers, away from the center. They are usually on the craft side, with a lot of pet-oriented stalls too since many in the area have one.
Sai Kung seafood market
I wouldn't necessarily call it a market, as it is basically people in their fishing boats selling their catch right by the pier. It makes for an exciting scene, though negotiating and haggling is a must. It makes for a wonderful photo opportunity, though some fisherman won't like to have their face in the photos.
Sai Kung Seafood street and Sai Kung seafood restaurant
With its location by the sea, it shouldn't be surprising that Sai Kung has some great seafood restaurants. In fact, there's a whole seafood street. There are no less than dozens and it can be overwhelming to choose one. Most of them offer a set meal kind of deal, and it's (usually) safe to go with those. But my mum frequents this particular one:
Chuen Kee Seafood Restaurant
Address: 47-71 Sai Kung Hoi Pong St, Sai Kung
Opening times: 10:00 – 22:00
Sai Kung restaurant hong kong
There are so much more to Sai Kung's restaurant scene outside of seafood. In fact, I don't actually eat seafood a lot when I'm there because there are so many other amazing options, too. They are either near the bus terminal or along the street one block down from the seafood street.
Sai Kung Cafe & Bakery
Sporting a long queue almost every weekend, the pineapple bun at Sai Kung Cafe and Bakery is unrivalled. We often get the pineapple bun (with butter, of course), for takeaway because you are required to order a drink if you sit down and we'd always want to get something from Passion Drink.
They also offer lunch set and other bakery products – and since it's just down the road from the bus station, it's an easy pit stop.
Address: G/F, 6-7 Kam Po Court, 2 Hoi Pong Square, Sai Kung
Opening times: 7:00 – 21:30
The Conservatory
A surprise find in Sai Kung, the Conservatory a western restaurant that I stumbled across when looking for a place for afternoon tea with my friend. I had only tried their afternoon tea set, which is a total steal with Prosecco and full set under 200 HKD. They also have a good cocktail menu and set lunches.
Address: G/F, 26 Wan King Path, Sai Kung
Opening times: 9:00 – 23:00
Burger Deli
For burger fans, don't miss the Burger Deli just down the street from Passion Drinks. A burger starts at 49 HKD, they also have some themed burgers such as Australia or triple cheese and chilli dogs. I highly recommend their sweet potato fries, even if it's almost the same price as a burger at 39 HKD.
Address: G/F, 2 Ko Shing House, 9 King Man Street, Sai Kung
Opening times: Tue – Sat 11:00 – 21:00; Sun 11:00 – 20:30
Golden Chicken
Fans of chicken rice would be happy to know that there is a cheap and delicious chicken rice place: Golden Chicken. Located in the narrow street, the restaurant is famous for the boneless chicken rice, with a set meal only costing you 52 HKD.
Address: Shop 34, Ko Fu Building, Fuk Man Road, Sai Kung
Opening times: 11:00 – 21:00
Saigon Pho
One of the best Vietnamese restaurants in Hong Kong (in my opinion), Saigon Pho offers your quintessential Viet dishes like Pho, Banh Mi, and spring rolls. I have eaten the Banh Mi there while my family had the Pho and we all agreed that it was a pretty good find.
Address: Shop 16, G/F, Sai Kung Building, 42-56 King Man Street, Sai Kung
Opening times: 11:00 – 21:00
A new (as of August 2018) place on the other end of town center (still only about 10 minutes walk at most), Blacksmith Coffee Shop might be more coffee orientated, but its western menu is also pretty good. I tried their pulled pork burger which comes with Nacho and it was pretty good.
Address: G/F, 17 See Cheung Street, Sai Kung
Opening times: Mon – Fri 7:30 – 18:00; Sat – Sun 9:30 – 19:30
Kachimushi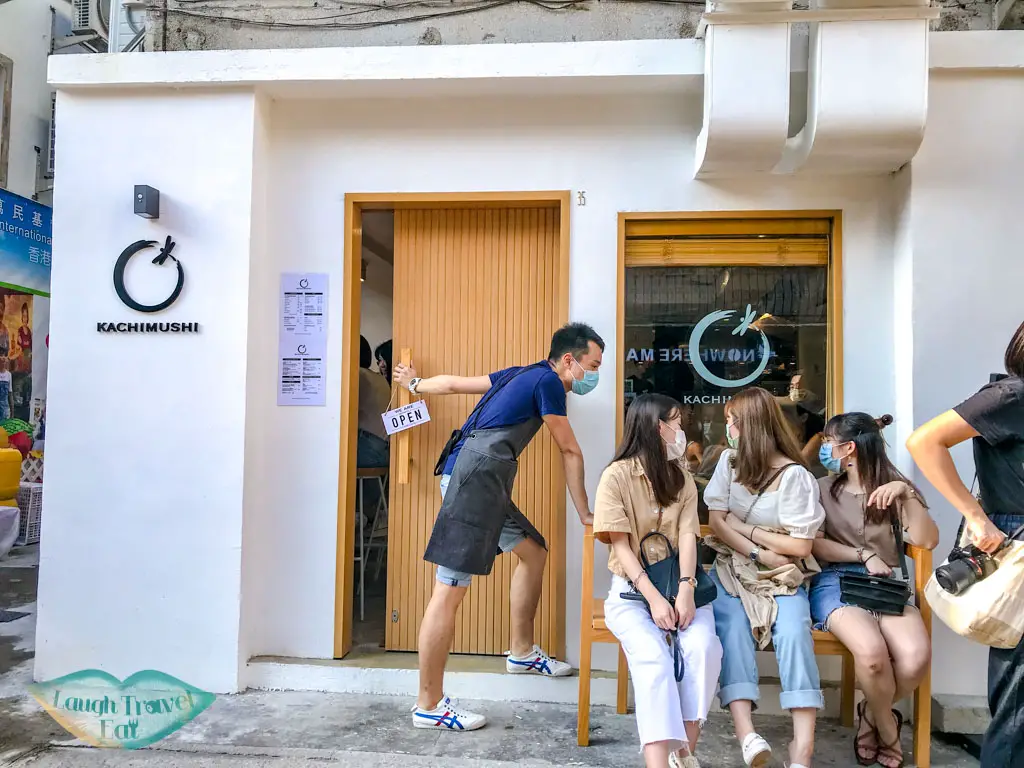 A simplistic cafe with a white wash decor, Kachimushi gives off a Japanese/Greek vibe that instantly puts you in a holiday mood. They mainly serve coffee, toasts, and dutch pancakes. The coffees and tea are on the pricier side given the portion size.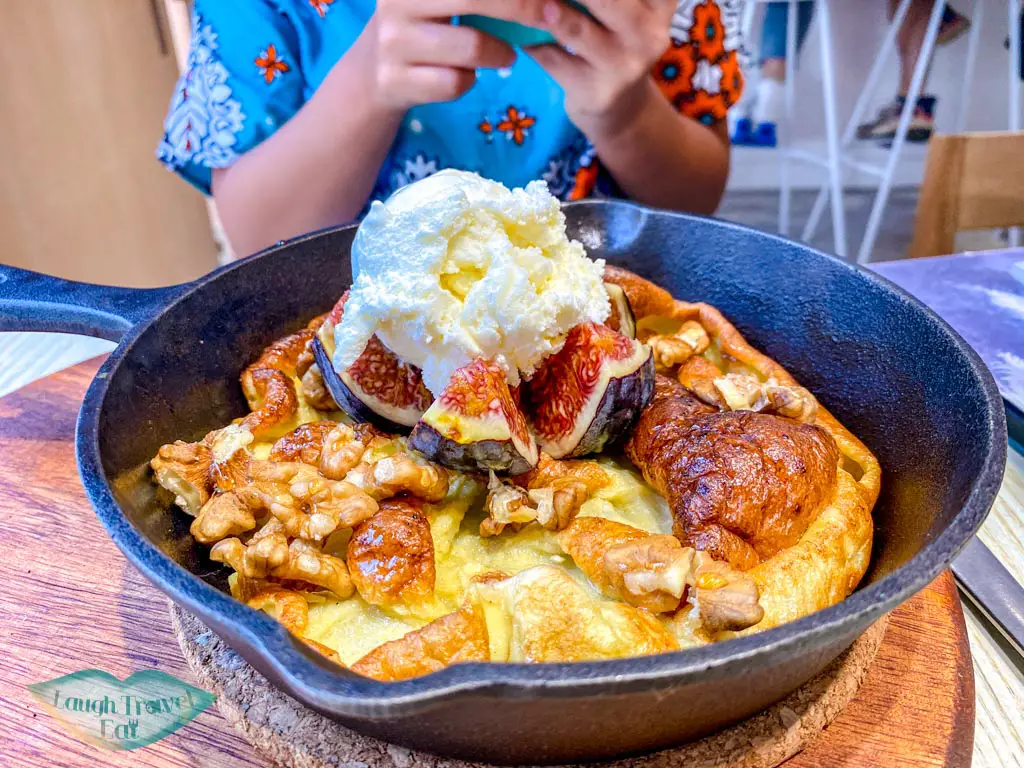 We ordered a beef toast and a fig dutch pancake with vanilla ice cream which were both delicious with decent portion size. Aside from the potential long wait and the small interior, this is a great cafe to dine at when you are in Sai Kung.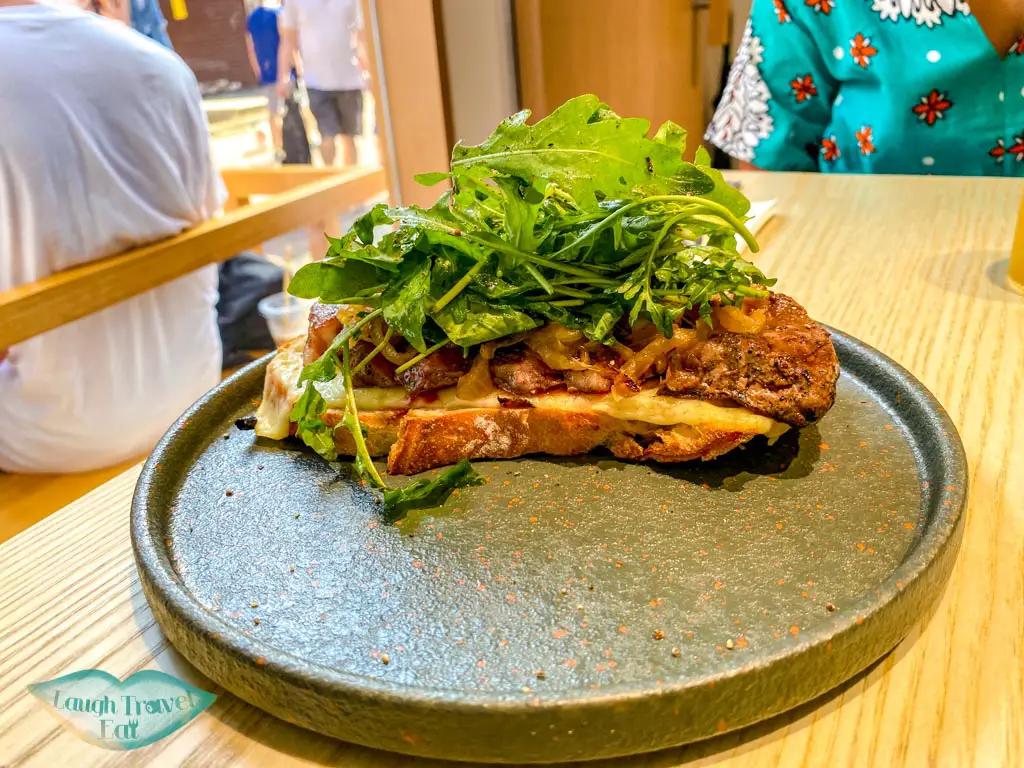 Note: the current waiting system doesn't involve phone call notification. And the time estimation given by the waiter is not often correct. We were told 15 minutes but we waited 40 minutes.
Address: Sai Kung, See Cheung St, 35號G/F, No
Opening times: 9:00 – 18:00

Bones & Blades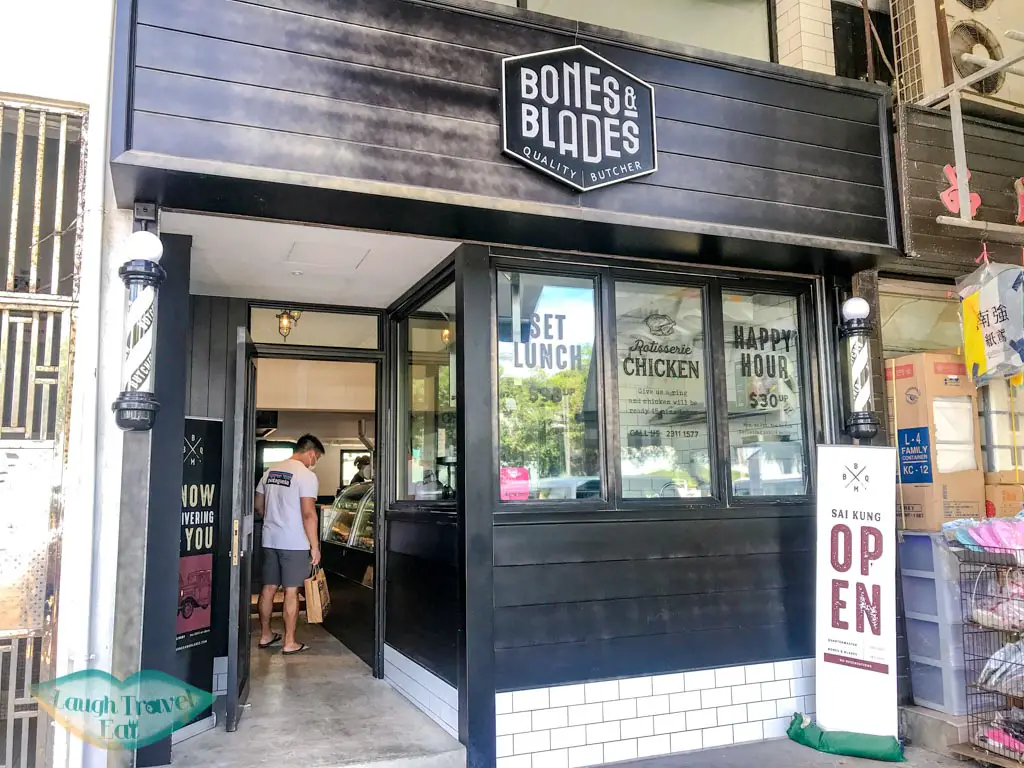 Hidden across the street from the promenade, Bones & Blades is a butcher and restaurant with a sleek dark wood decor. The menu is on the pricier side but their weekday lunch menu is a good time to try its cuts for less.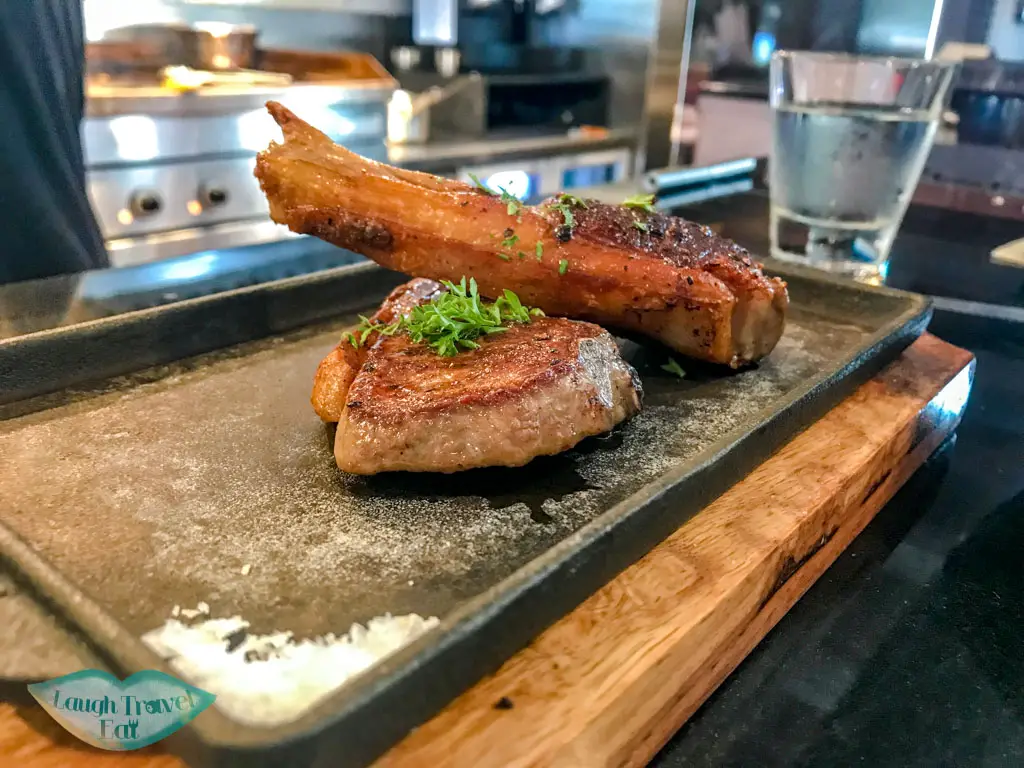 You have a choice of steak, burger, mix grill, and special. The lunch set comes with broth of mixed green salad, but no drink.
I tried their burger which came with a generous basket of fries. My mum tried their lambchop which was cooked to perfection.
Address: G/F, 106 Man Nin Street, Sai Kung
Opening times: 10:00 – 21:00

Little Cove
Little Cove is a cosy and charming cafe that offers a variety of espresso drinks, smoothies, and light bites. The cafe has a rustic and vintage decor, with wooden furniture, plants, and art pieces. The cafe is popular for its Australian-style breakfast and brunch, such as avocado toast, eggs benedict, and granola bowls. The cafe also has a selection of homemade cakes, pastries, and cookies that go well with their coffee. Little Cove is a great place to relax and enjoy the view of the Sai Kung. 
It is generally quite crowded though so be prepared to queue!
Address: Shop 1 and 2, G/F, Siu Yat Building, Sai Kung Hoi Pong Square
Opening times: 7:30 – 18:00
Coffee Academy

Coffee Academy is a coffee shop that also serves as a training centre for coffee enthusiasts and professionals. The coffee shop has a modern and minimalist design, with a spacious seating area and a large glass window that overlooks the street. The coffee shop offers a range of specialty coffee from different origins, roasts, and brewing methods. The coffee shop also has a menu of Western-style dishes, such as burgers, salads, and sandwiches. Coffee Academy is a place where you can learn more about coffee culture and taste some quality brews.
Address:  G/F, 55 Sai Kung Market Street
Opening times: Mon – Fri 9:00 – 18:00; Sat – Sun 9:00 – 19:00
Arm Coffee

Arm Coffee is a new coffee shop on the block. The coffee shop has a simple and elegant interior, with white walls, marble tables, and leather chairs. The coffee shop specializes in hand drip coffee, using beans from different regions and roasters. The coffee shop also offers espresso drinks, tea, and soft drinks. The coffee shop has a small food menu, featuring toast, croissants, waffles, and cakes and breakfast sets. Arm Coffee is a place where you can enjoy a quiet and refined coffee experience.
Address: G/F, 17 See Cheung Street, Sai Kung
Opening times: Mon – Fri 9:00 – 18:00; Sat – Sun 9:00 – 21:00
Deer Coffee

Deer Coffee is a cute and colourful cafe that has a deer theme. The cafe has a bright and cheerful atmosphere, with deer paintings, plush toys, and accessories. The cafe serves a variety of coffee drinks, such as latte, cappuccino, mocha, and cold brew. The cafe also has a menu of snacks and desserts, such as french toast, brownies, cheesecake, and ice cream. Deer Coffee is a place where you can have some fun and sweet moments with your friends or family.
Address: G/F, 25 See Cheung Street, Sai Kung
Opening times: 7:00 – 21:00
Commute

Commute is a trendy and spacious cafe that has a bicycle theme. The cafe has a cool and casual vibe, with bicycle racks, helmets, and accessories. The cafe serves a range of coffee drinks, smoothies, juices, and craft beers. The cafe also has a menu of healthy and hearty dishes, such as sandwiches, wraps, salads, bowls, and burgers. Commute is a place where you can enjoy some fresh and energizing food and drinks after your ride or hike.
Address: G/F, 37 See Cheung St, Sai Kung
Opening times: Tues – Sun 10:00 – 19:00
NN Cafe
NN Cafe is a cozy and friendly cafe that offers Japanese-style coffee and croffles. The cafe has a warm and inviting decor, with wooden furniture, plants, and lanterns. The cafe serves hand drip coffee using beans from Japan's famous roasters. The cafe also offers seafood dishes and Japanese desserts as well.
Address: G/F, 47 See Cheung Street, Sai Kung
Opening times: Mon – Fri 9:00 – 18:00; Sat – Sun 9:00 – 21:00
Sai Kung kayaking and other watersports
Sai Kung is one of the best places for watersports in Hong Kong, be it kayaking, SUP, snorkeling, wakeboarding, wake surfing, and even surfing. There are many great places to participate in watersports, and here I will list some:
Sai Kung Beaches
Sai Kung has one of the most beautiful beaches in Hong Kong. Some are government run and easy to reach, some require efforts but are well worth it! To put them all in the guide here would be too long:
Sai Kung hiking
Sai Kung hiking trail
There are so many hiking trails in Sai Kung that it's hard for me to list them all. While I have done a fair few, I honestly can't pretend to have cover more than half at most.  I have written a lot of them and even produced a guide:
My personal favourite: Tai Tun Shan, which takes 3 hours but isn't as easy as it seems, though the view is worth it!
For something easier, try Lung Ha Wan on the other side of Sai Kung near Clear Water Bay. for something more challenging, there's also High Junk Peak, one of the 3 sharp peak of Sai Kung.
For something more off the beaten path, Lai Chi Chong hike takes you past some pretty unique geology and mangrove forest.
While not technically a hike, the Nine Pin Islands are the most glorious group of volcanic islands in the sea
The Sai Kung Nature guide includes everything that is on my blog and more. I have drawn maps and added GPS offline map that you can download and follow!
Sai Kung hotel
There are no hotels in the Sai Kung town center. Surprised? Me too. There are two beautiful ones near the Hebe Haven Yacht Club, the Pier Hotel, a gorgeous two storey modern space, and spacious rooms.
There are a few AirBnBs, but it's worth checking with the host just how you are going to get there from the airport.