The Sham Shui Po food scene has soared in the past few years, with a plethora of hip cafes joining the many small restaurants and eateries already in the area. From traditional cha chaan teng to minimalistic coffee shops, the already vibrant Sham Shui Po district with its famous Apliu Street might just beat Sheung Wan as the next dining/cafe neighbourhood.
Since I'm always in Sham Shui Po – shopping for crafts, fabric, or the odd cable that I needed – I always eat there, too. And unlike other lists, I've personally been to every single one of these places and can highly recommend:
Sham Shui Po Food:

Restaurant
There are many great food in Sham Shui Po – I had scratch only the surface of what it has to offer. I'll keep the list updated if I find something new, but here's what I recommended:
Dragon Center food court
The Dragon Center has an amazing food court with many budget friendly dishes to offer. If you are on a budget and looking for Sham Shui Po food on the cheap, there's everything from Japanese to Thai cuisine there!
Personally, my favourite is the Thai chicken rice stall that offer a full meal at only 36 HKD and a classic Thai lime soda at 8 hkd. But take your time there to choose your pick.
Q1 Vietnamese Restaurant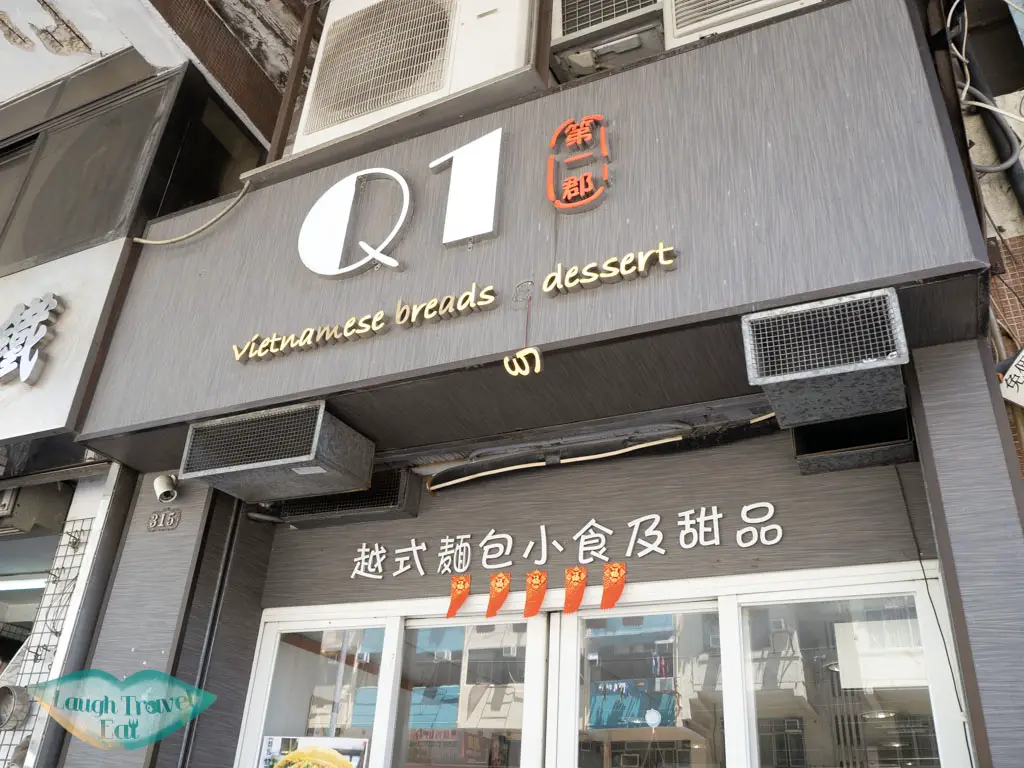 They make by far the most delicious avocado smoothie I had ever had, Q1 is a popular restaurant in the neighbourhood that often sports a queue during lunch time.
With only a small number of seatings, it's a local restaurant so don't expect anything 5 star.
They are most well known for their tomato-soup pho, but my personal choice is the signature Banh Mi.
Address: G/F, 315 Lai Chi Kok Road, Sham Shui Po
Opening times: Closes on Monday 11:00 – 21:00
Sun Heung Yuen 新香園 (堅記)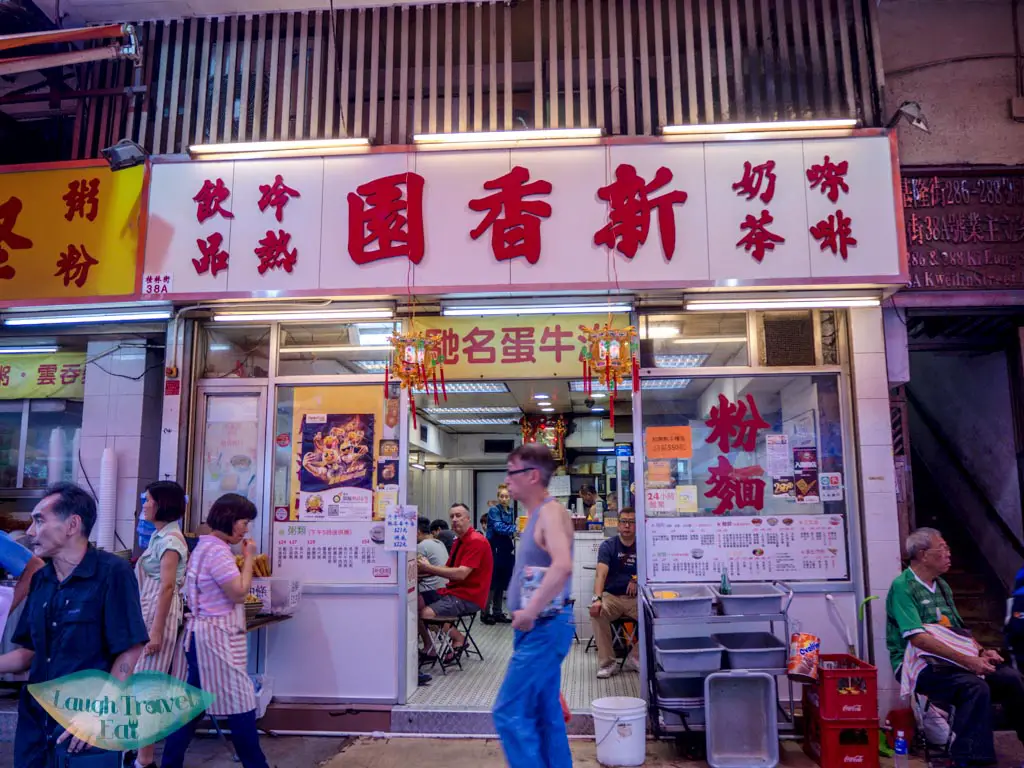 An oldie in the Sham Shui Po food scene, this cha chaan teng is popular with the locals and out of district visitors a like. Sun Heung Yuen is most famous for its egg-and-beef sandwich and red bean drink. Though I personally didn't like it so much, it is widely praised.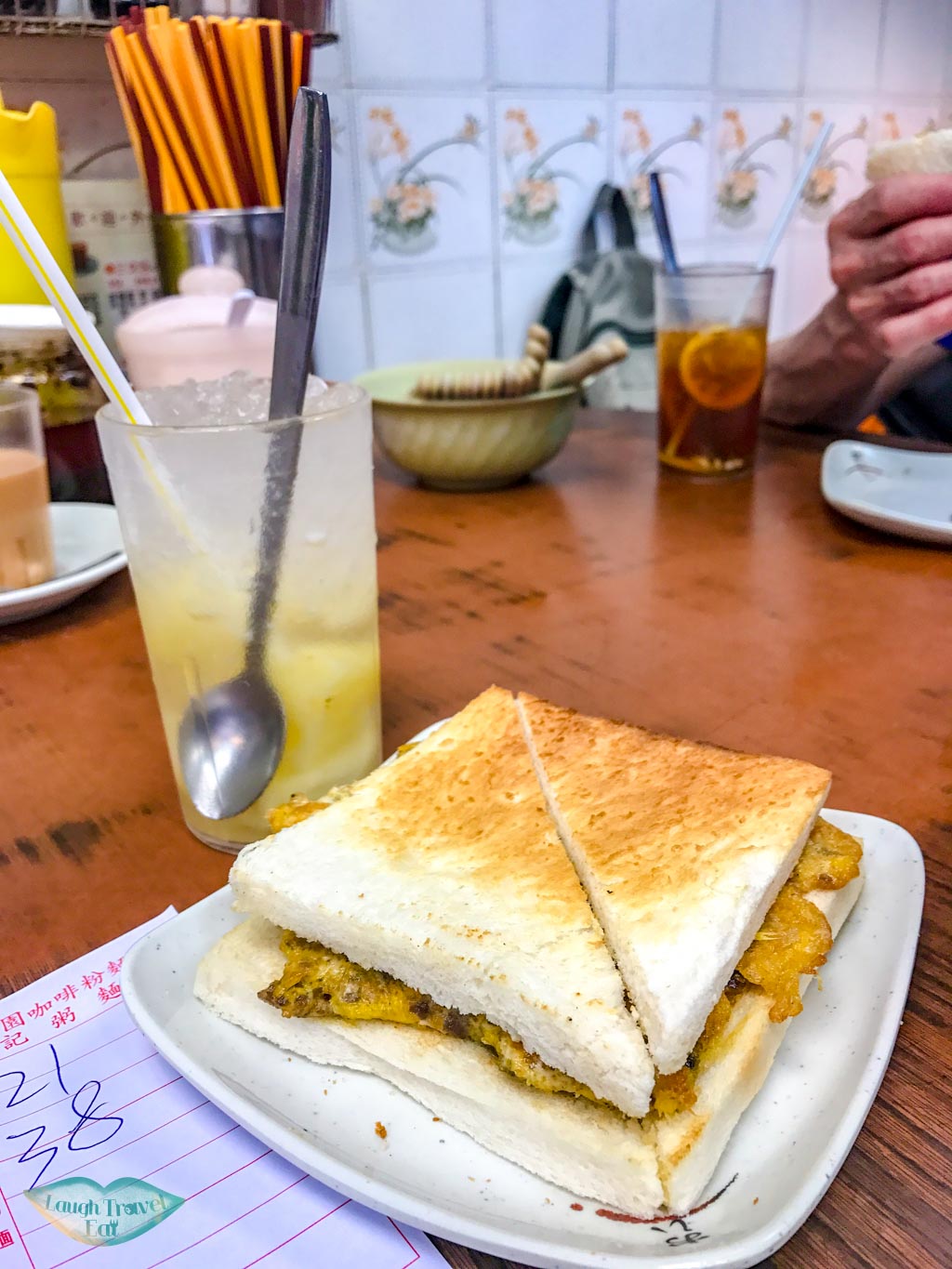 Address: 38 Kweilin St, Sham Shui Po
Opens 24 hours
Kung Wo Beancurd 公和荳品廠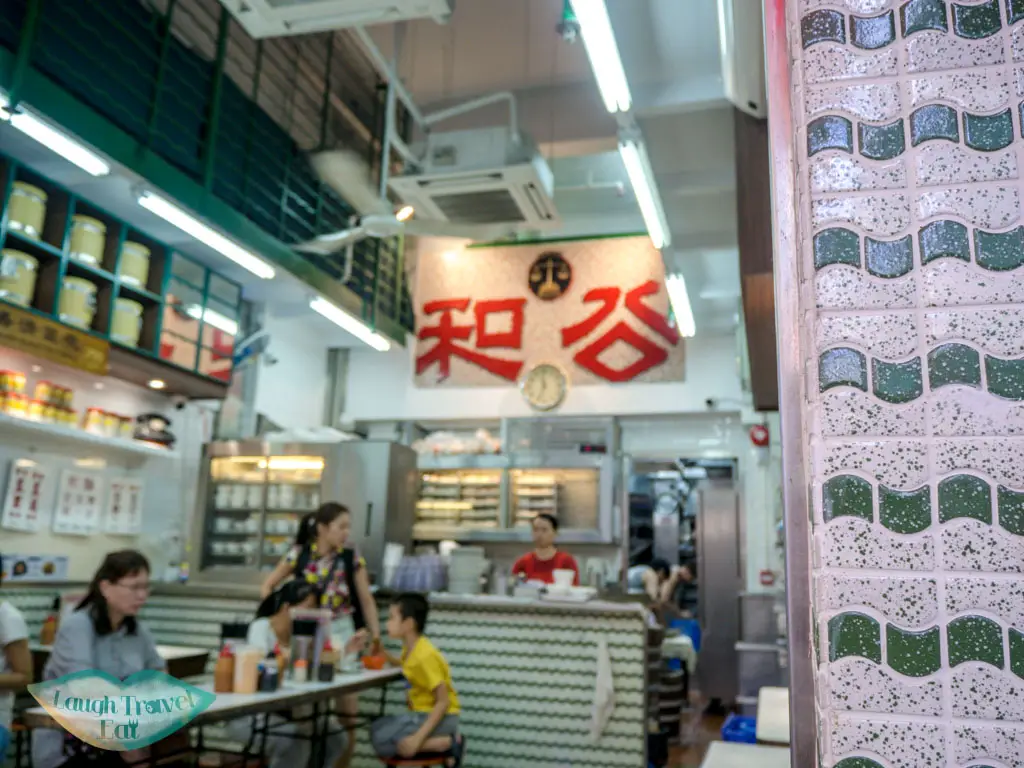 More of a snack and dessert stop, Kung Wo Beancurd if famous for, yes you guessed it, beancurd products. With a vintage green and white tile theme, it's photogenic as well.
Address: G/F, 118 Pei Ho Street, Sham Shui Po
Opening times: 7:00 – 21:00
Kwan Kee Store 坤記糕品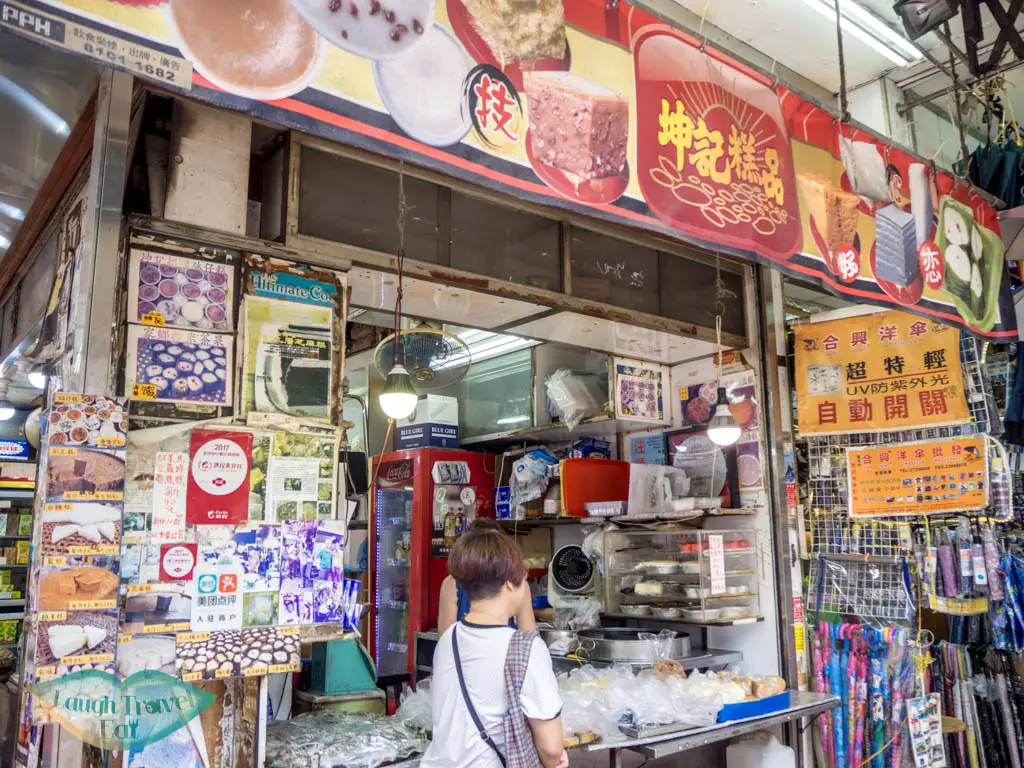 A Michelin-star Chinese dessert place on an unassuming street corner, Kwan Kee Store is the place to go for a good sesame cake or white sugar sponge cake. Even if you aren't a fan of sweets, you can go there to see what they look like  
Address: 10, 115-117 Fuk Wa St, Sham Shui Po
Opening times: 8:00 – 23:00
No Milkshake No Life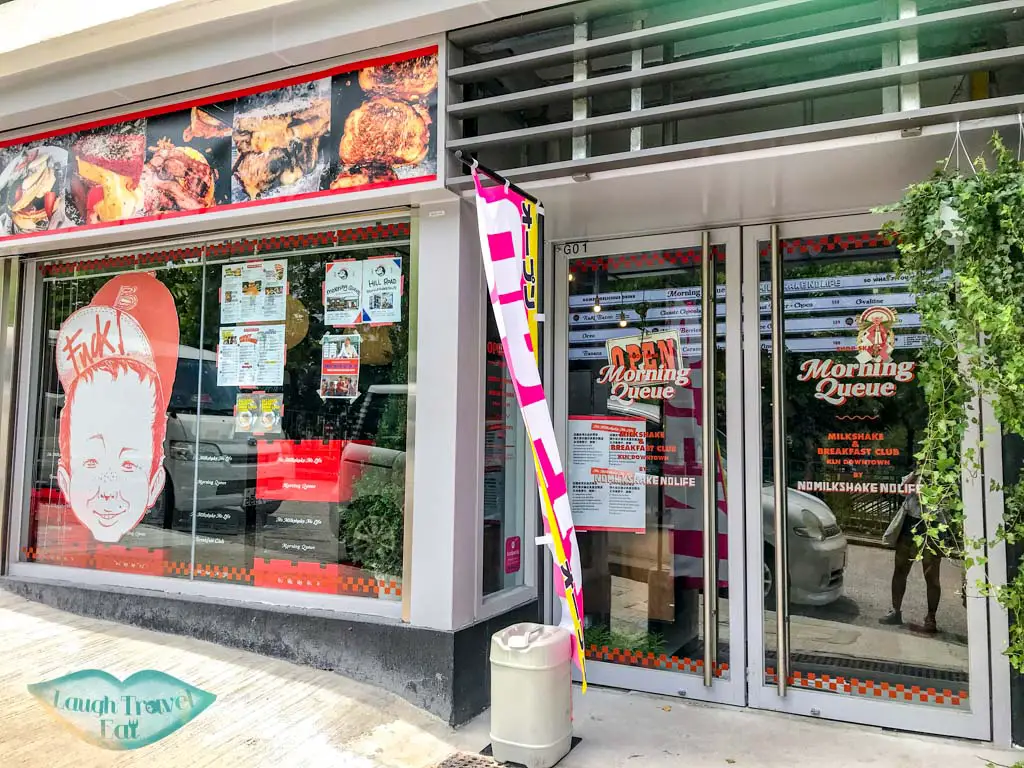 A new American style diner in the Sham Shui Po food scene with lightbox style menu by Mei Ho House, its a basement/first floor cafe that is dominated by red. Its interior is surprisingly spacious, featuring many American style props.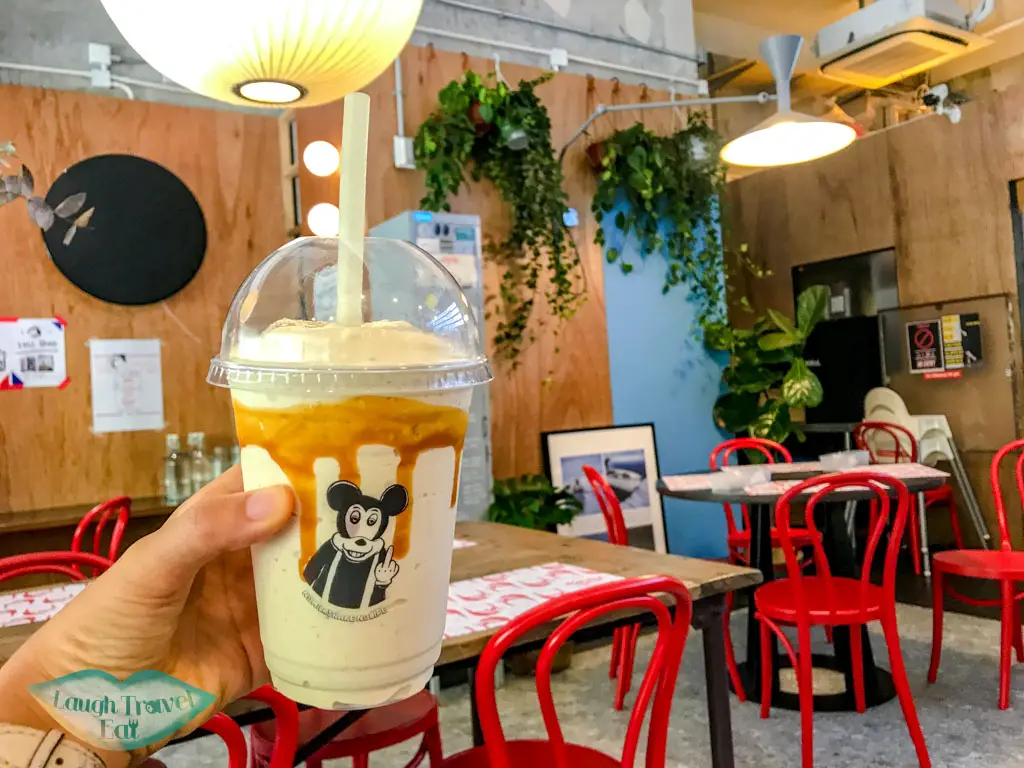 While some of the style clashes, their food is instagrammable and the milkshake rich. For the price, I think the food is decent but it won't be the most delicious food in the area.
Their signature beetroot cheese toast is a pop of colour albeit a little tough and difficult to eat. Their popcorn bacon pancake with banana was also decent, as is their signature bacon peanut butter milkshake.

Note: they only accept cash or PayMe as payment when I visited, so go prepared

Address: Shop G01, G/F, Mei Kwai House, 13 Pak Tin Street, Shek Kip Mei
Opening times: Closed Monday, 10:00 – 18:00

Years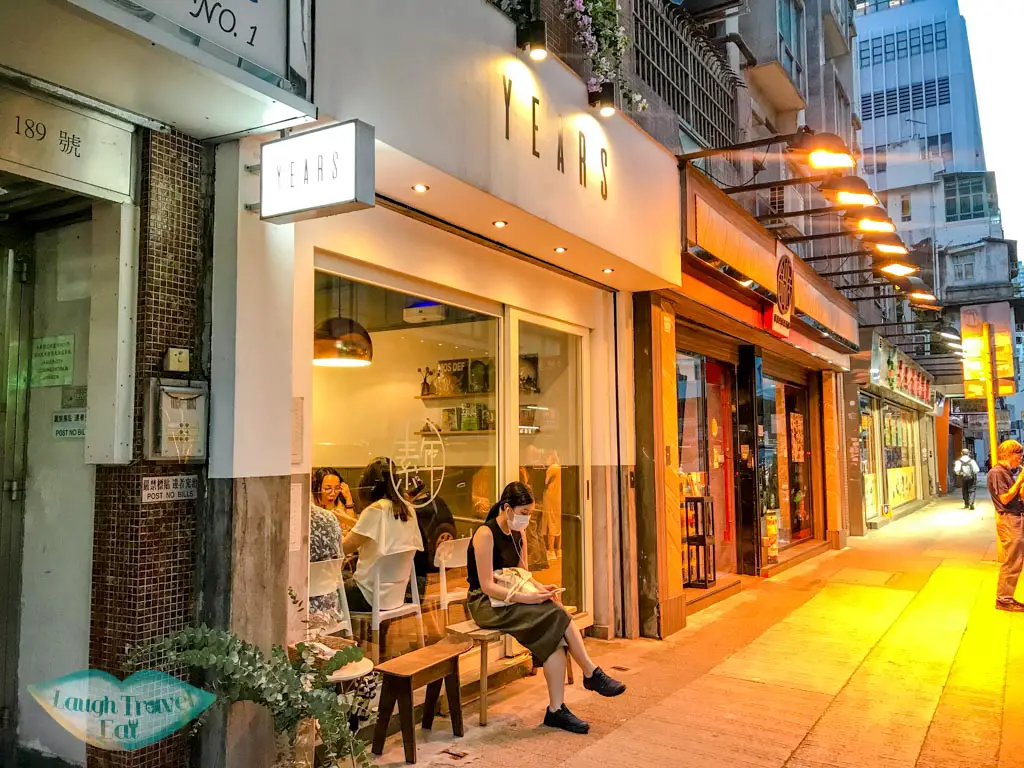 A Japanese style vegetarian and vegan restaurant, Years is one of the best veggie restaurants in Hong Kong with a Japanese and western fusion menu. From pumpkin risotto to Japanese set meals to Impossible burgers, there is something for everyone.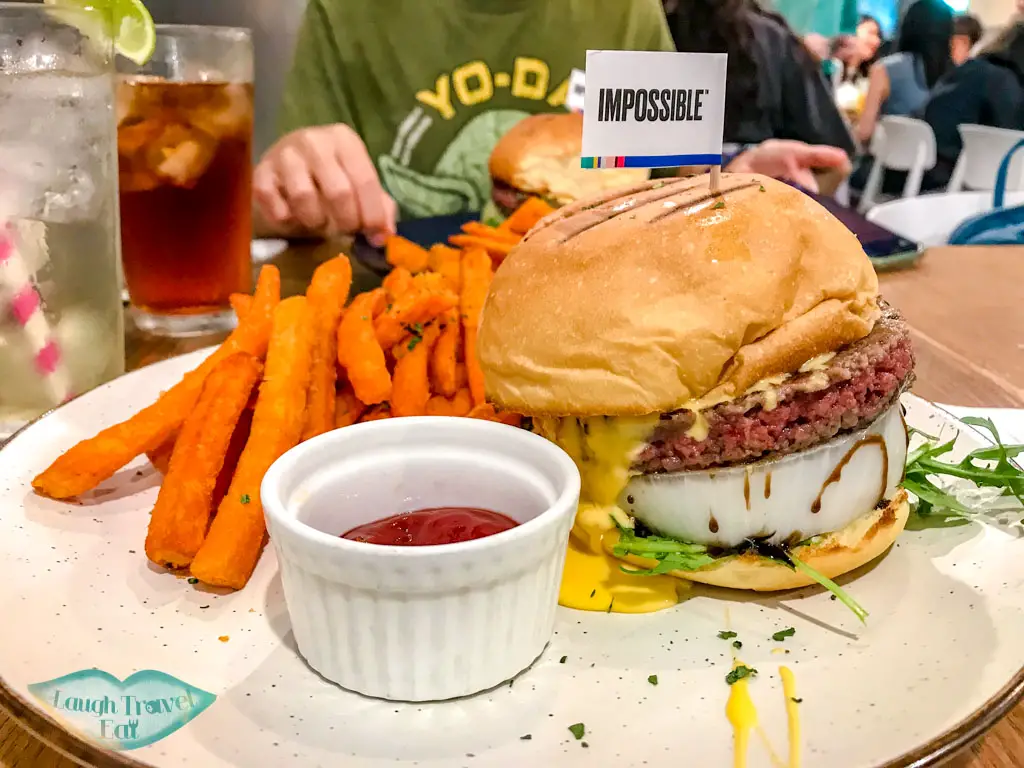 In fact, some people don't even realise it's a vegetarian restaurant because of their use of vegan meat and good menu curation. 
Note: the restaurant does get quite busy so if you know you are going there, make a reservation in advance.
Address: Shop 1, G/F, Fuk Lung Building,191-199 Fuk Wah Street, Sham Shui Po
Opening times: 12:00 – 22:00
Griddle Top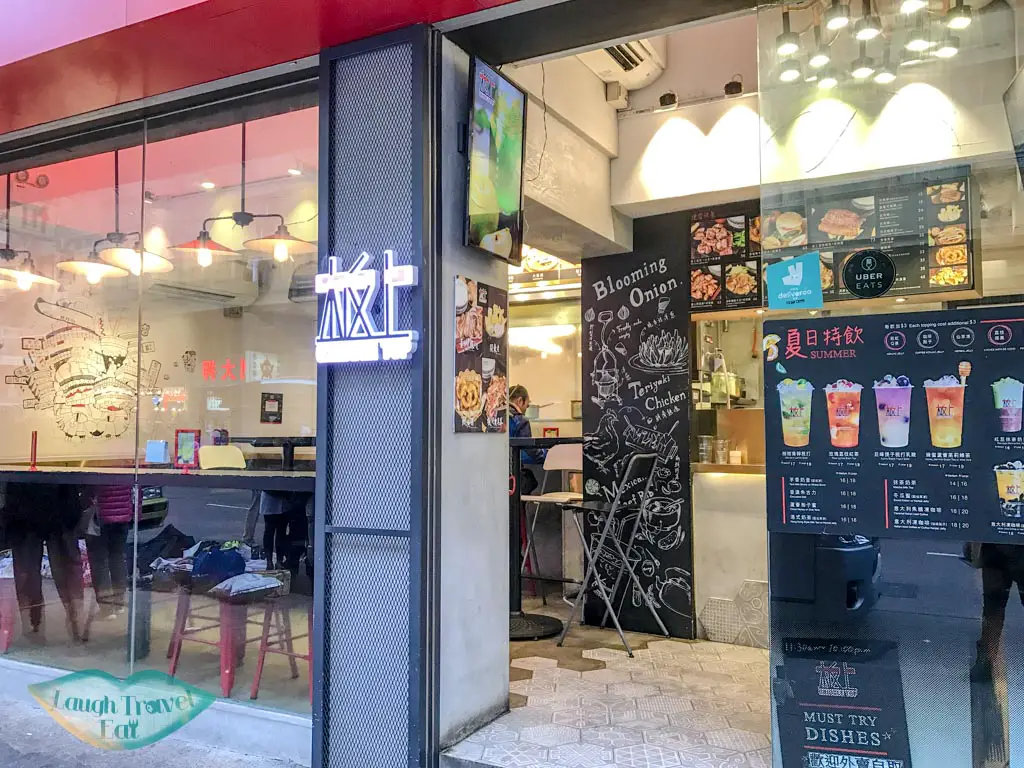 A fast food style teppanyaki place, Griddle Top has affordable and tasty food that's perfect for a quick bite. I usually go there for their soda drinks since it's close to the Apliu Street.
Address: G/F, 36B Kweilin Street, Sham Shui Po
Opening times: 11:30 – 21:00
Sham Shui Po Cafe
To be fair, a lot of these Sham Shui Po food cafes (okay, some kind of only serve coffees) are actually in the area between Prince Edward and Sham Shui Po. But since it's walking distance from both, I'd lump them all together here:
The Park by Years
Run by the people behind Years, the Park is a Japanese-style minimalist cafe closer to Prince Edward that also serves vegan only dishes. The menu is different to Years, with their All Day Breakfast a favourite of mine featuring Impossible Breakfast Sausage and turmeric fried tofu (as scrambled eggs).

Another treat I love is their sweet potato fries and their rotating dessert menu, and one of the reasons why I go back time and again.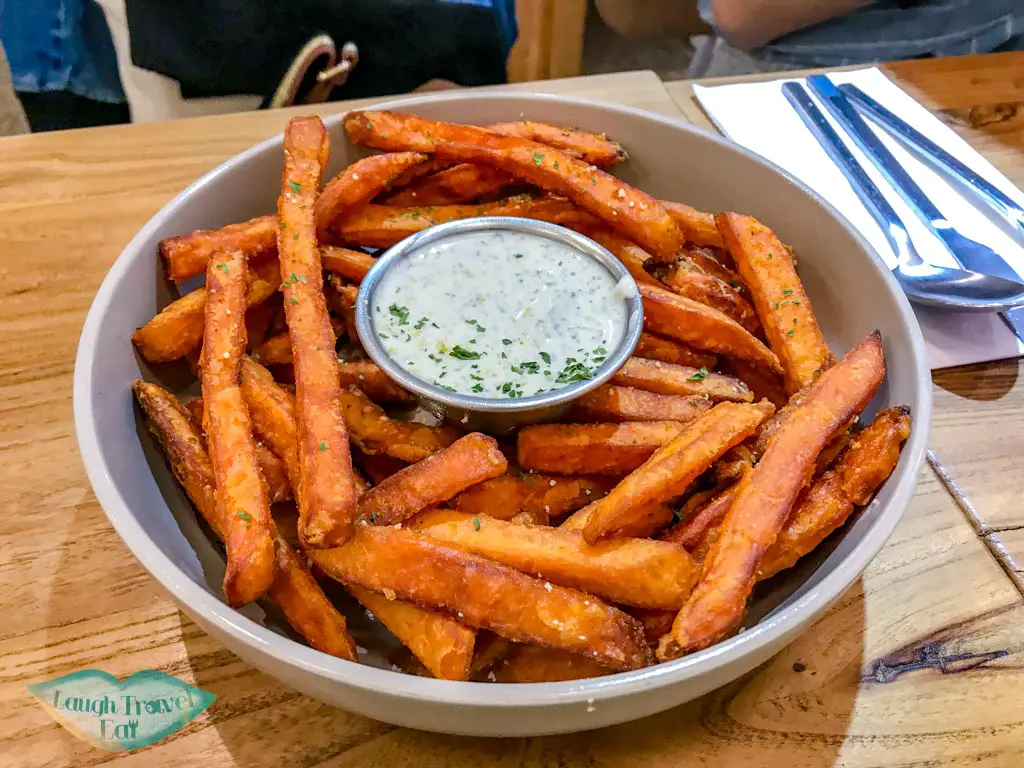 I also admire their small waiting area lined with bookcases, which not only hold books but various locally produced handicrafts and condiments.

Note: it's cash only for payment

Address: 132 Yu Chau St, Sham Shui Po
Opening times: 12:00 – 22:00

十常八九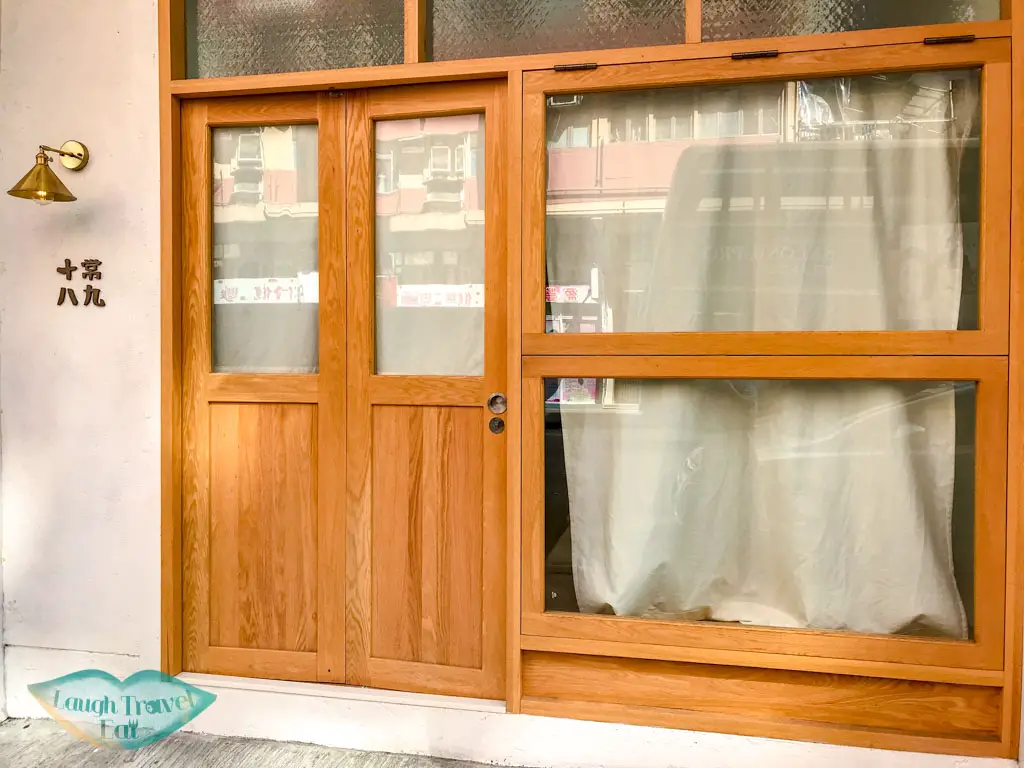 A secluded dessert cafe a few streets away from all the others, this Japanese style cafe is named after a Chinese proverb that means 'eight or nine times out of ten'. The small cafe has two tatami seating and three side seats, so you best arrive early to snag a spot. They have a good reservation system with a clipboard at the storefront where you can leave your phone number, and they'll call you when it's your turn.
As mentioned, there are only sweet treats and drinks at the cafe. I tried their signature French Toast, which I loved, and their strawberry cake, which was a tad too creamy for me but beautifully presented. All in all, it's a great place to chat with your friends and split a dessert, and not at all pricey if you don't order drinks.

Address: 2e號 Wong Chuk St, Sham Shui Po
Opening times: Weds – Monday 12:00 – 18:00

Kokoni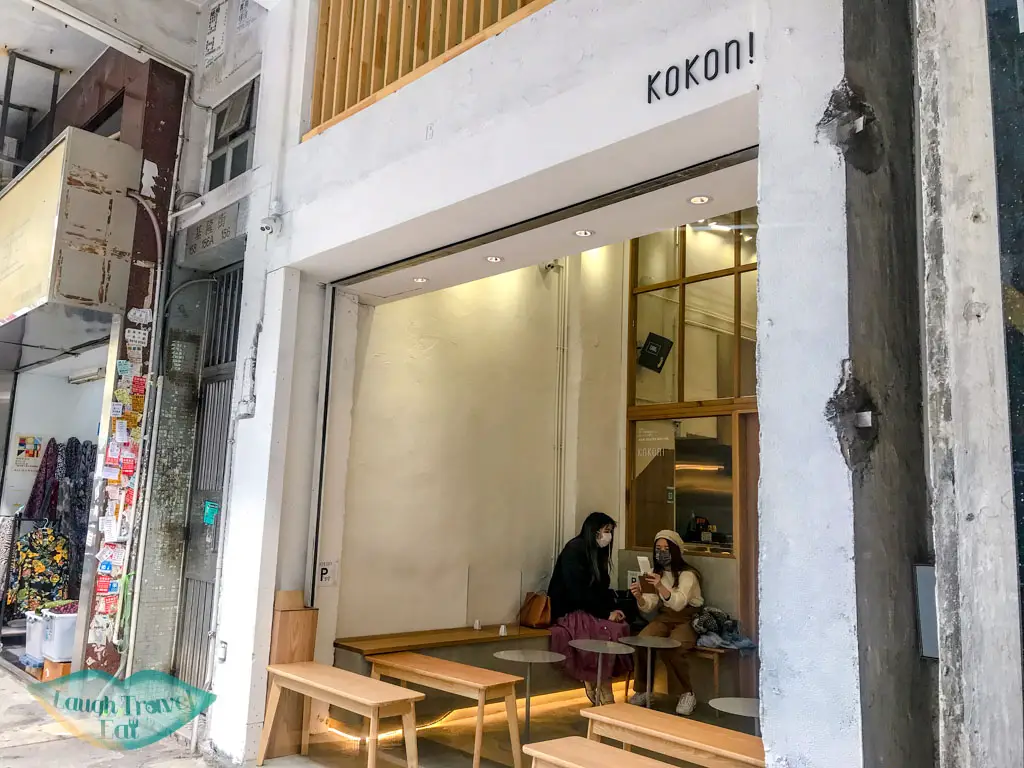 Across from the bustling fabric shops on Kee Long Street is yet another Japanese-style minimalist cafe: Kokoni. Its whitewashed outdoor area is lovely and popular for dog-owners, although be warned of the frequent foot traffic of fabric-buyers.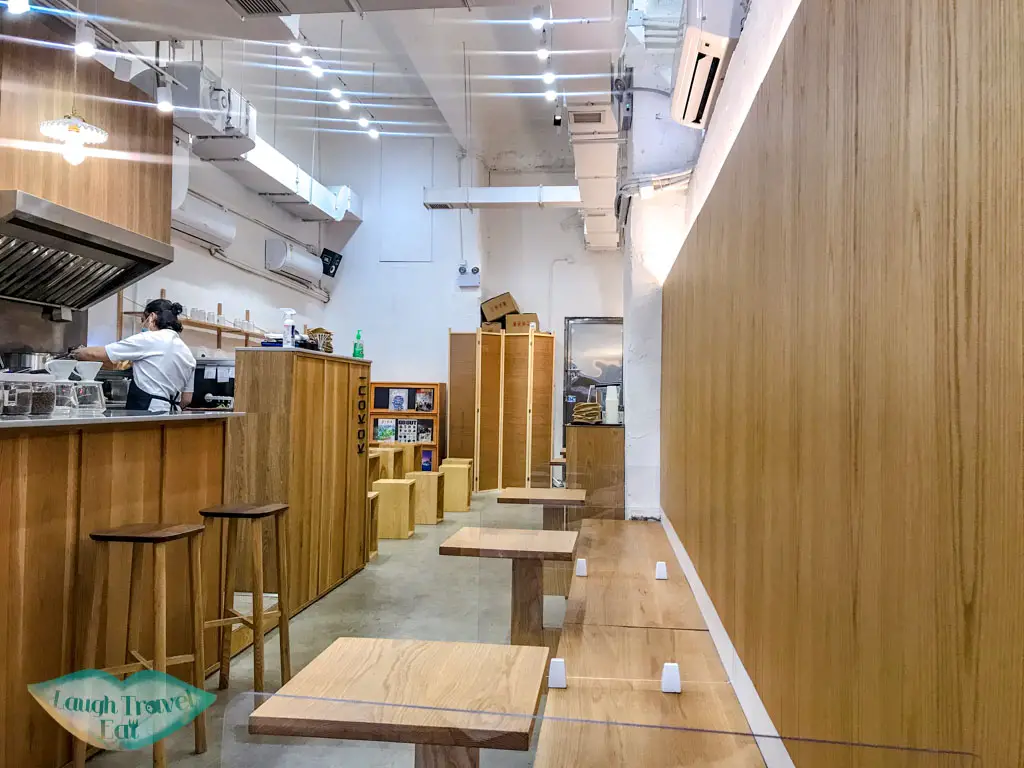 Serving drinks, egg drop sandwiches, and some tea-based cakes, it's quite popular for dog owners and instagrammers.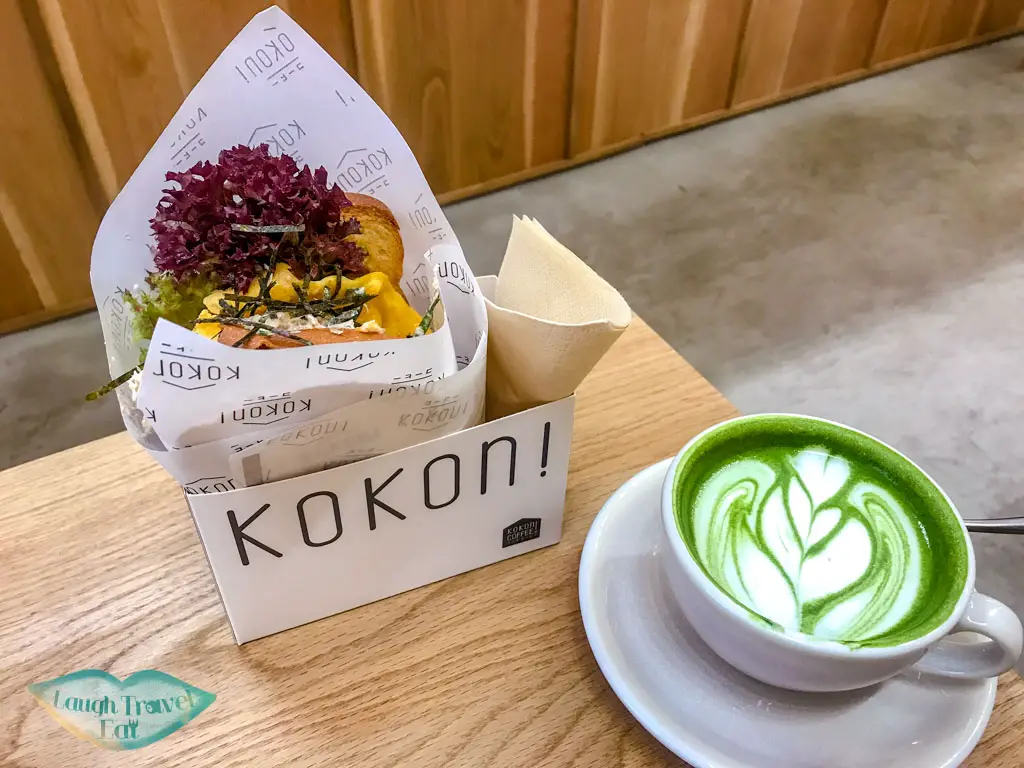 While I adore the ambience, the value for money is a little lacking for me and the service a tad slow. Their crab meat egg drop sandwich was good with a brioche bread, but the matcha latte at 50 HKD was small and lacklustre.

Address: 156 Ki Lung St, Sham Shui Po
Opening times: 10:30 – 19:00

Nomad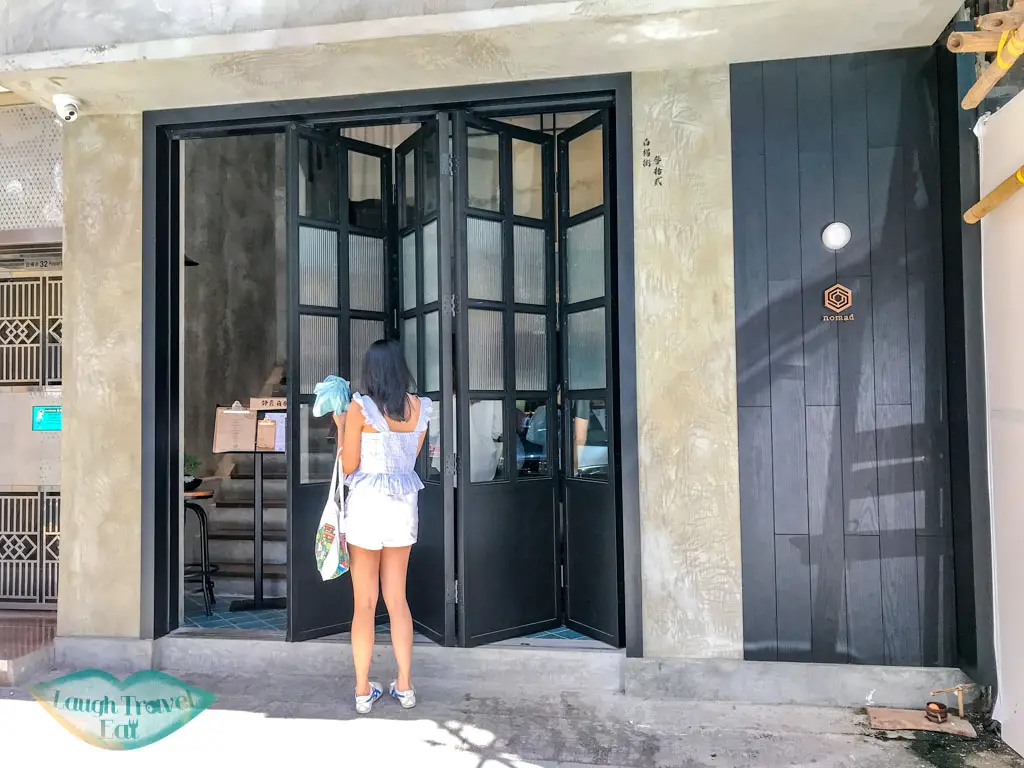 If you're up for something more substantial, the Nomad is a candidate. Although I do think it's lower on the spectrum in terms of value for money, it has a lovely, more industrial vibe Japanese style and a mixed Japanese-Western menu. The two storey cafe also offers more seatings, although the wait time still tends to be on the long side.
I tried their pork katsu sandwiches, which, although not bad, is pricey at 138 HKD. They also have a cute waiting area with homemade handicrafts and pottery items for sale.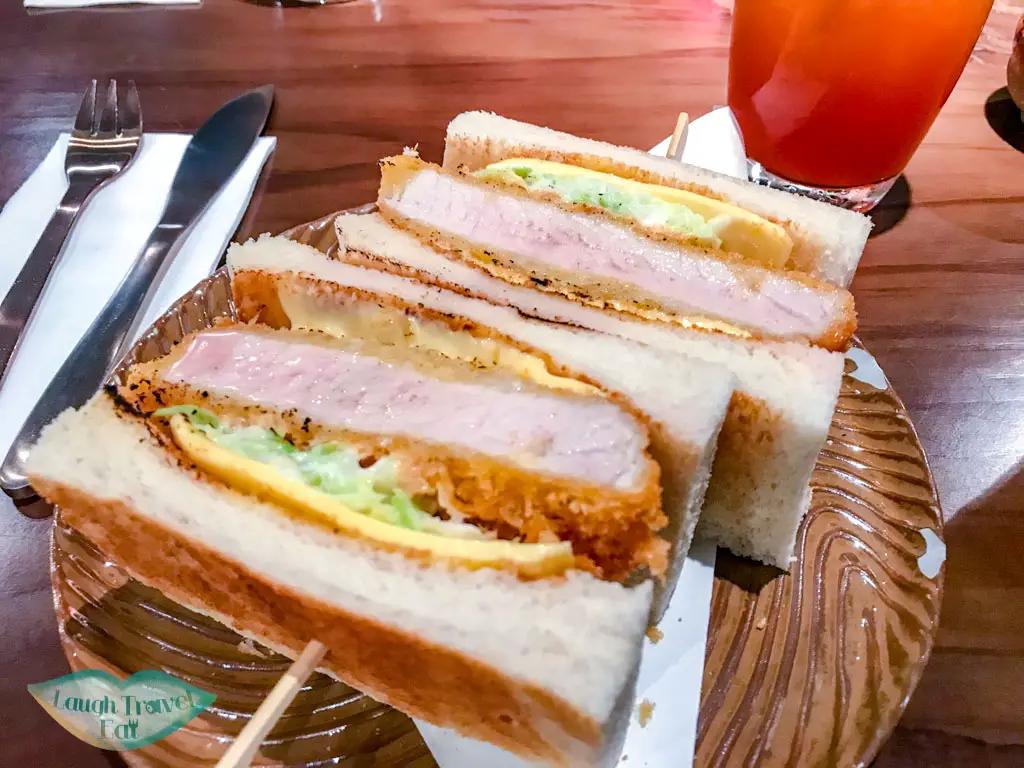 Address: 32 Poplar St, Sham Shui Po
Opening times: Mon – Thurs 12:00 – 22:30; Fri 12:00 – 23:00; Sat 11:00 – 23:00; Sun 11:00 – 22:30

Flow
A boutique cafe who is serious about their coffee, Flow is a relatively new kid on the block on Tai Nan Street. The sleek modern design incorporates wood and concrete with full glass windows, giving it plenty of light and an air of urban escape. They offer a choice of hand drip and ice hand drip with beans from all over the world like Ethiopia, Bolivia, and Myanmar.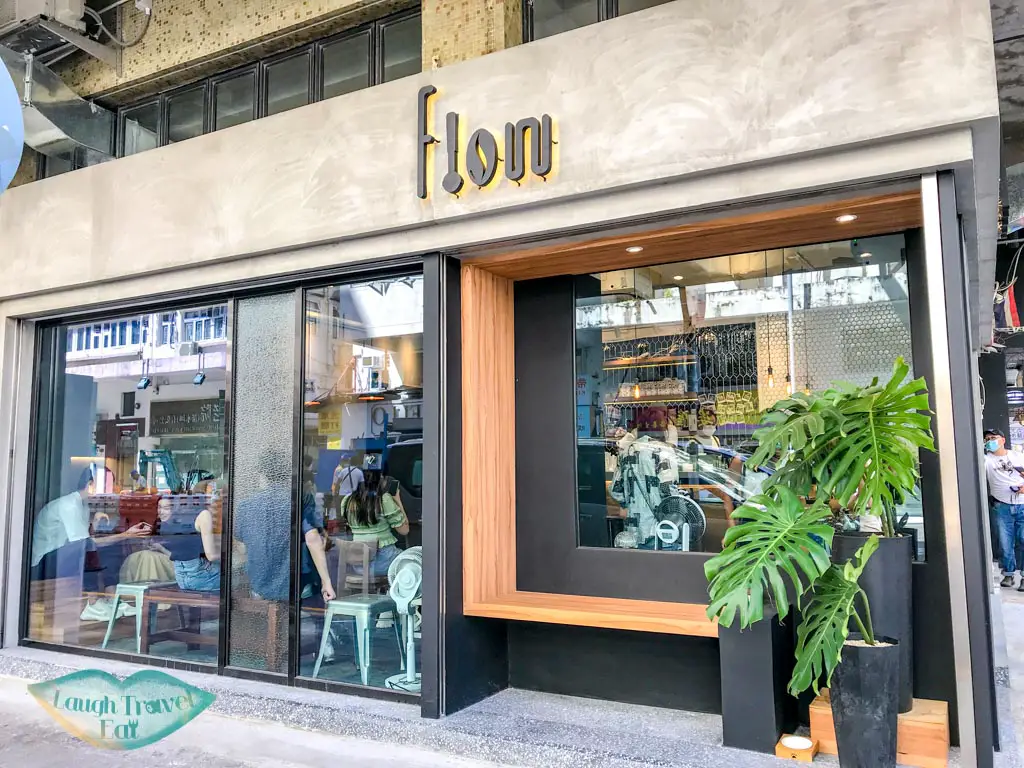 But as a non-coffee drinker, I was mostly there for their egg rolls. The flavours on offer depend on the availability with matcha, hokkaido milk, hojicha, and two types of chocolate. I had the hokkaido milk topped with caramel crunch and it was delicious and the size is bigger than Kokoni.

There is a minimum order of one drink per person so I ended up ordering a hot chocolate made with real chocolate. It was delicious and beautifully presented, though it cost me almost 100HKD for a drink and an egg roll. 

Address: Shop 3, G/F, Hing Ga Building, 195-201 Tai Nan Street, Sham Shui Po
Opening time: closed Tuesday 12:00 – 18:00

Slash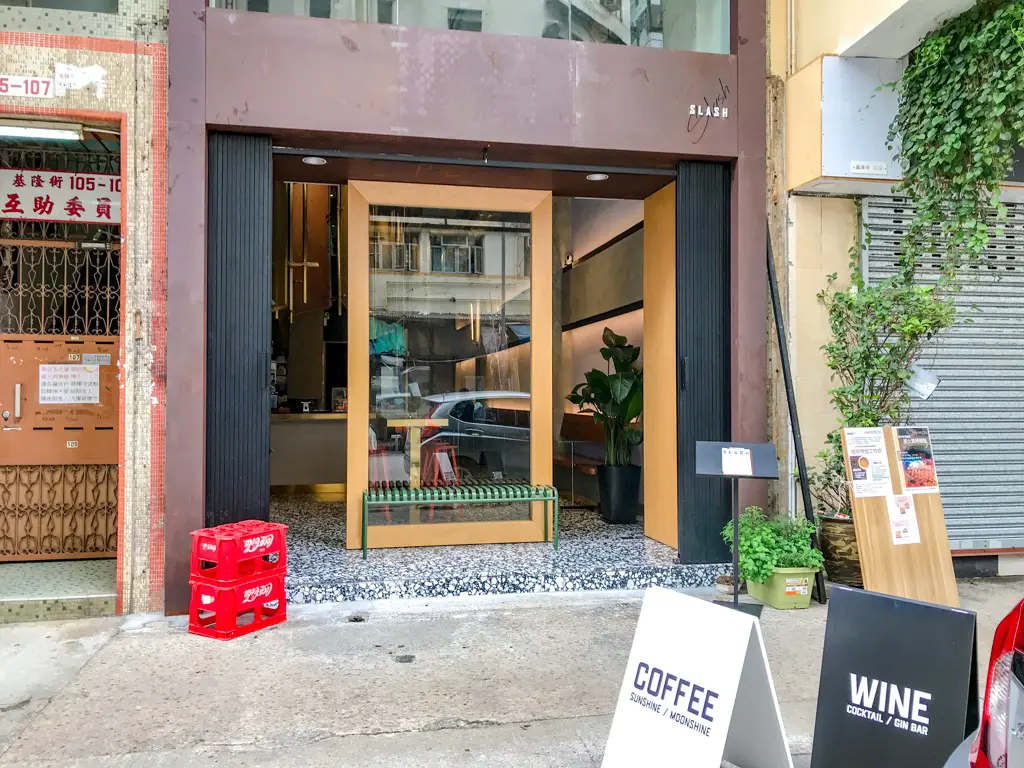 Arguably one of the most instagrammable new cafes, Slash is closer to Prince Edward and located on a side street south of Boundary Street. Its central glass panel fronted by a green bench made it an ideal photospot, and the elongated room is divided by a bar table and small tables against a long bench, which suited its cafe by day and cocktail bar by night model.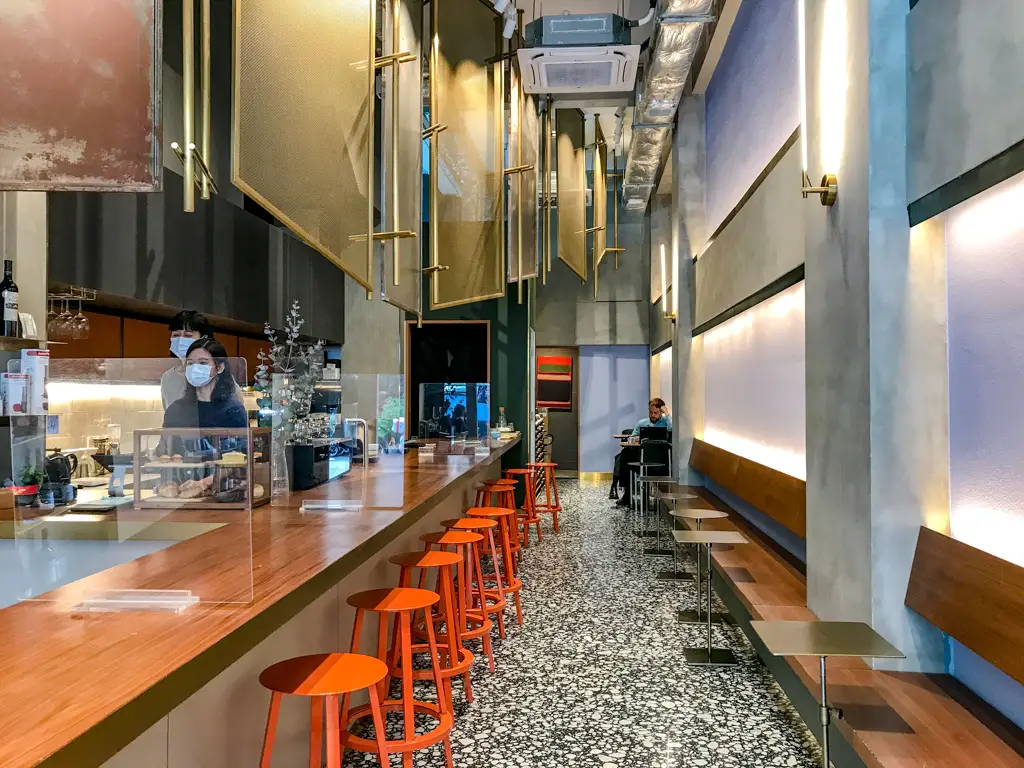 During the day, it serves single origin coffee by Roastwork and the usual fare, though as with most cafes, the prices are high and the portions are small, so I didn't order any. They primarily serve light meals with an innovative menu.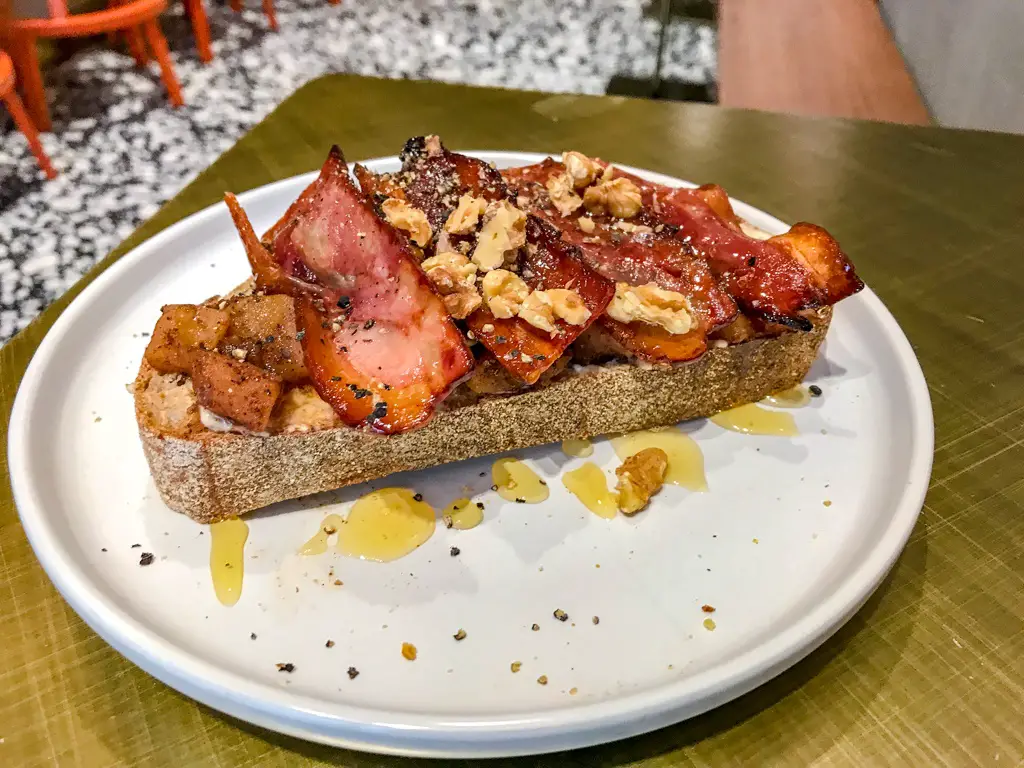 I tried their cinnamon apple bacon open toast, which was on the sweet side but the crunchy and sweet pairing was on point. Of course you also have the good old avo n' egg, camembert melt, and a purple food toast. There are also a selection of baked goods like bagels, brownies, cookies, and cheesecake.
For nighttime cocktails, reservation is needed and there aren't as many choices as a bar. But for chill ambience in an off the beaten path location, it's perfect.

Address: G/F, 107 Ki Lung Street, Sham Shui Po
Opening times: 10:00 – 23:00

Alive Eatery
Across from the Park by Years, Alive Eatery's lively logo and white shop front already gives off a cherry vibe. It has one of those across the shop front table seating, beige mosaic tile floors and turquoise-green table top. Alive Eatery is run by Alive Bakery, so you know their sourdough is legit.
They now have a weekday set lunch at 148 HKD with a main, a drink, and a dessert, which is great value for money considering some of the mains are 138 HKD each.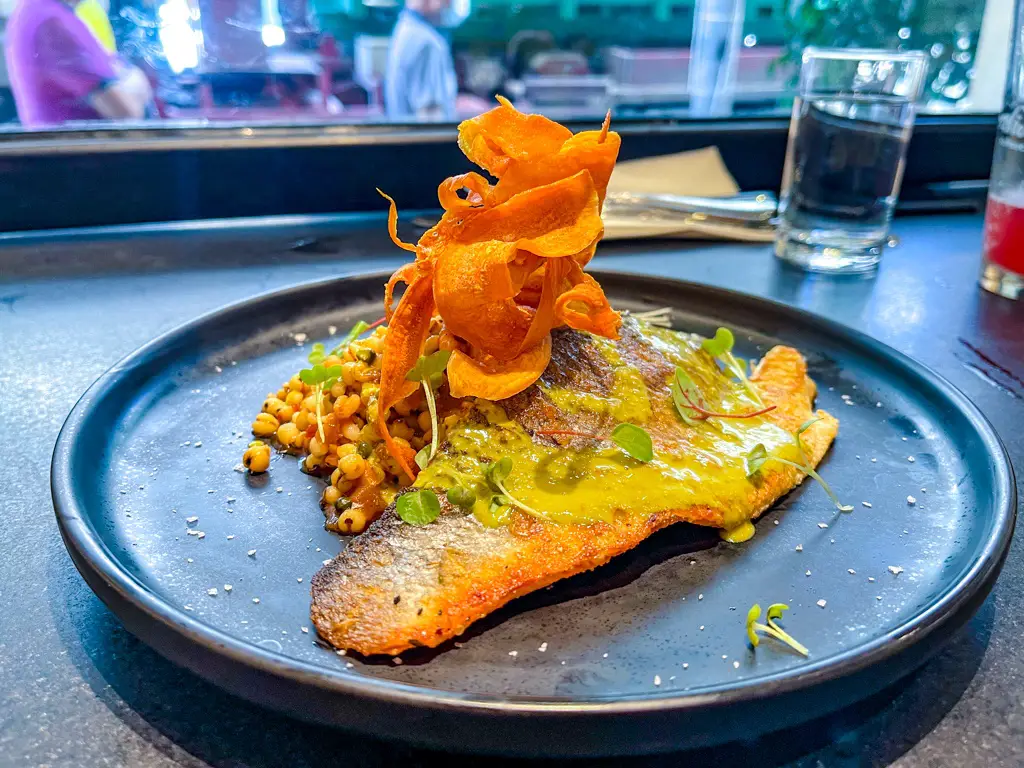 The portions are on the big side and my friend and I shared the seared seabass with barely rice, had a brownie, and ordered their Caramelized Soft Bread Pudding and were both full.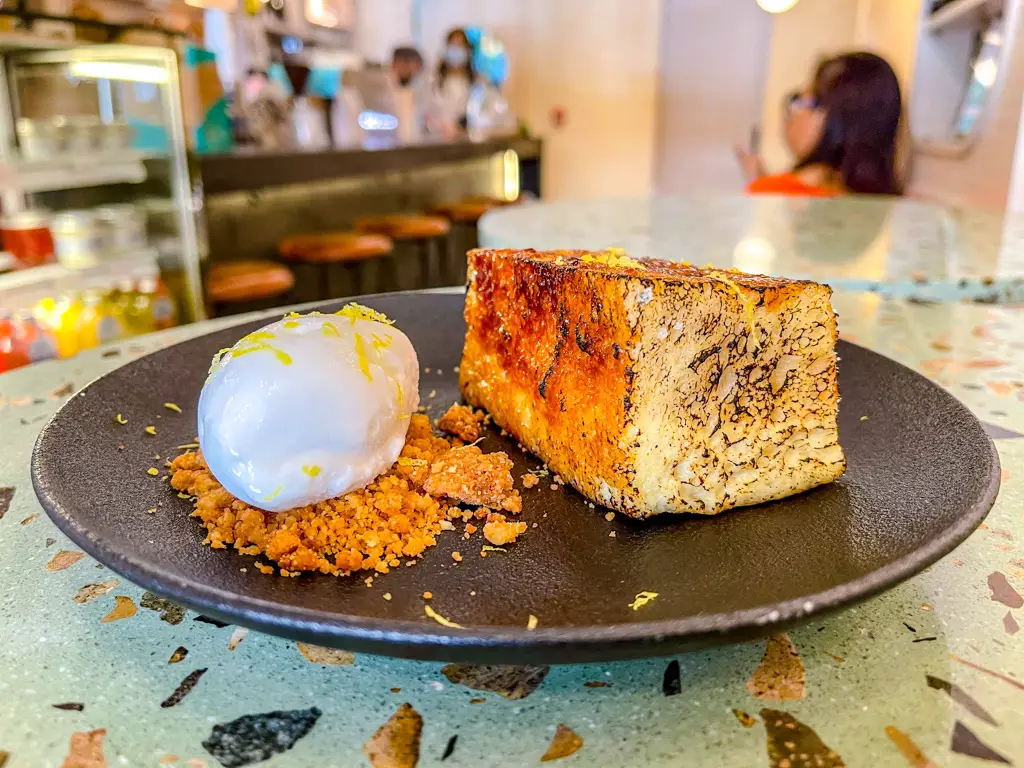 Speaking of the Caramelized Soft Bread Pudding, it definitely lived up to its look. The caramelised exterior is crunchy and the sourdough brioche is soaked with the milk and egg batter and paired splendidly with the lemon sorbet.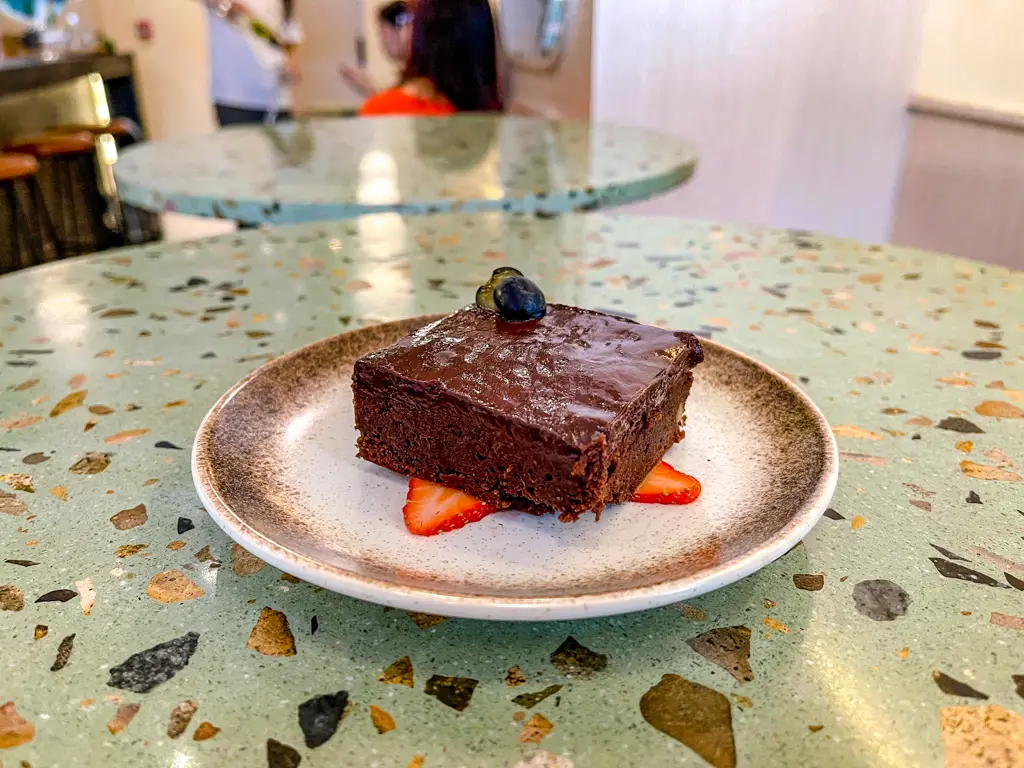 The set dessert was a vegan brownie that was soft, moist, and not too rich, just what a brownie ought to be.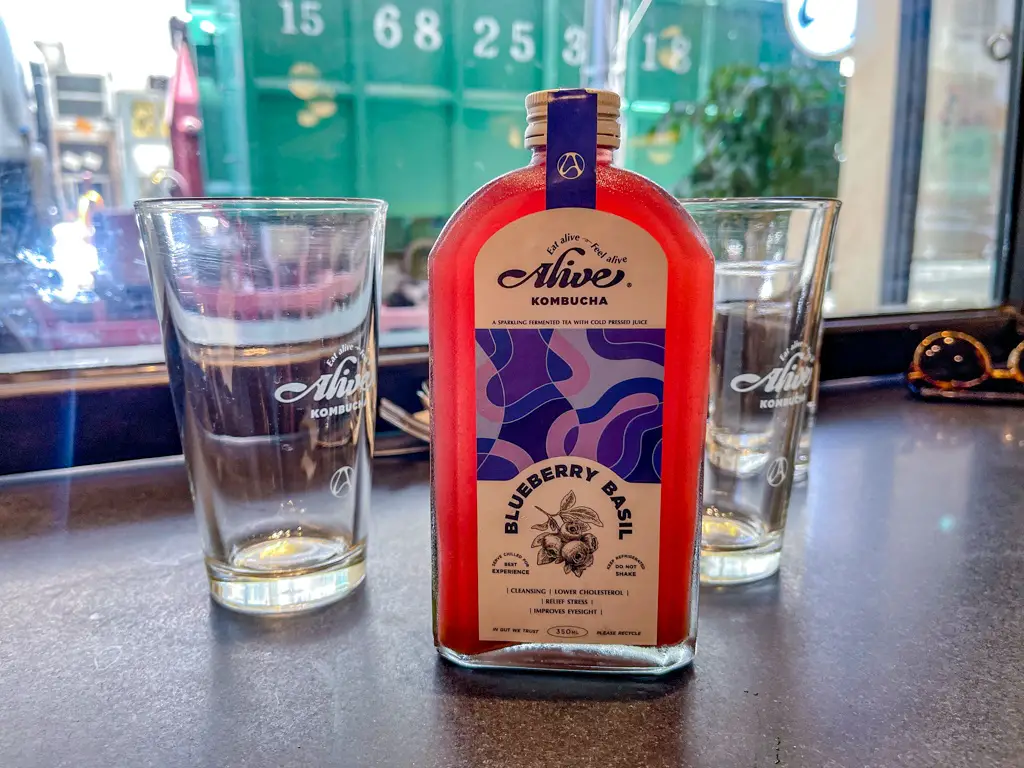 I've also tried their iberico pork tacos which come with a side of black beans and is a filling pairing.

Address: G/F, 131 Yu Chau Street, Sham Shui Po
Opening times: Tues – Sun 10:00 – 20:00

Rehab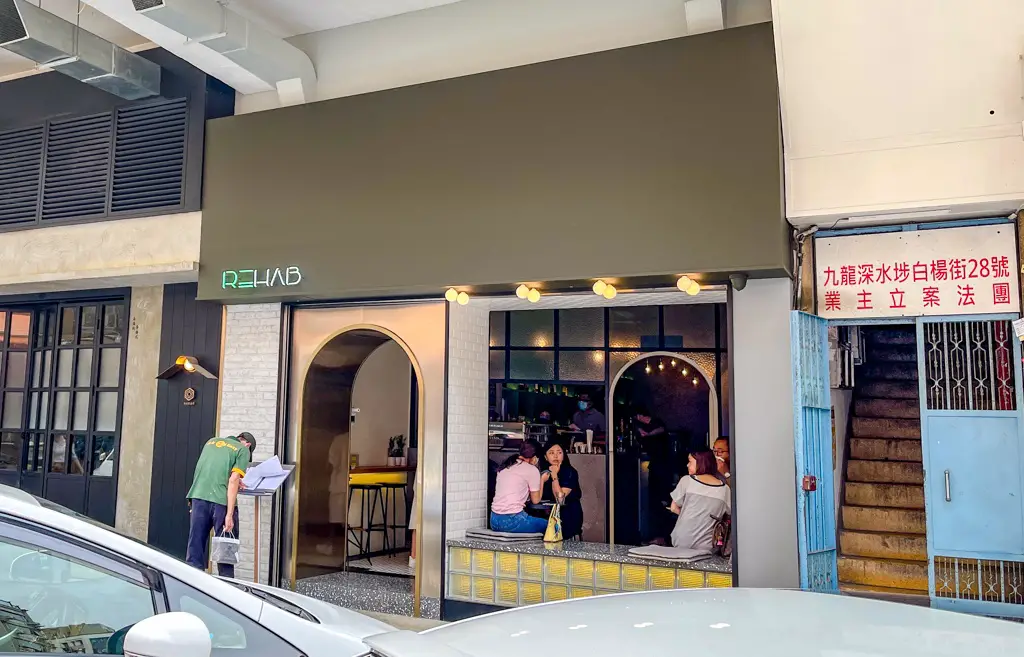 Departing from the prevalent minimalist and or Japanese style, Rehab's brick walls and floor and the archway entrance lends it an exotic, almost Morrocan vibe. Pass the atrium and lobby, which is home to the instagrammable floral murals, is the green-walled bar table and more intimate seating in mood lighting.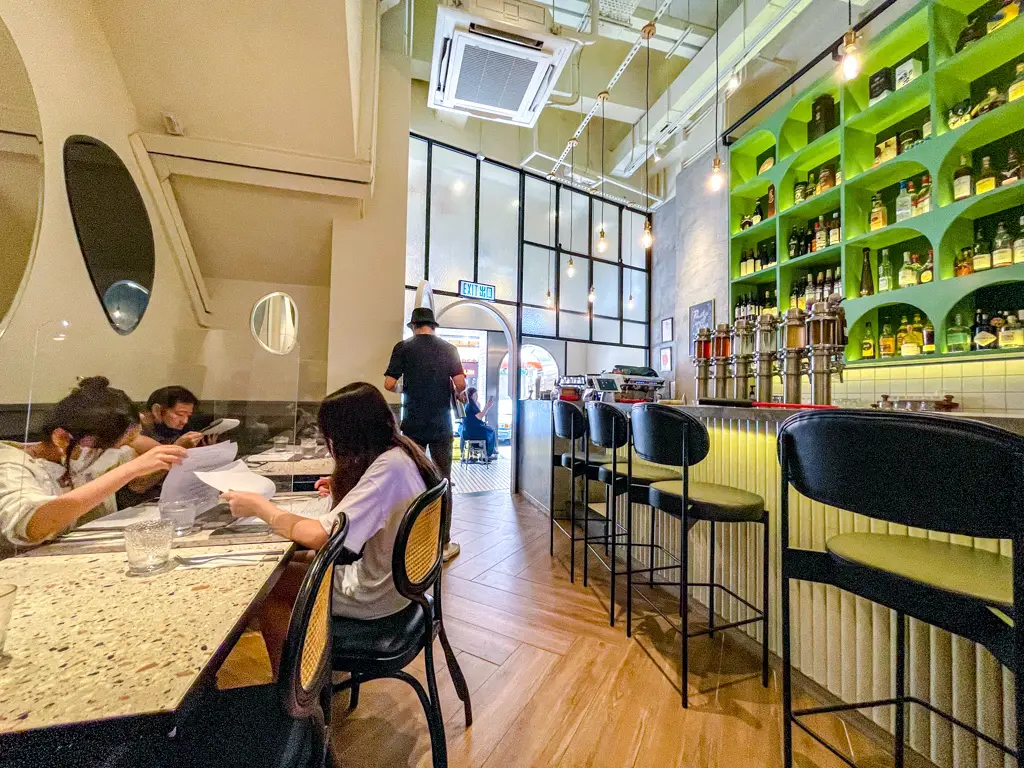 Their lunch menu comes with pasta of the day and range from 98 to 148 HKD, including a drink with upgrade options, so it is value for money. I had their 12 hours sous vide beef cheek and it was probably the best food in the whole area. The ox cheek is melt in the mouth tender, and while the spaghetti carbonara was more like a fried pasta, it was still good.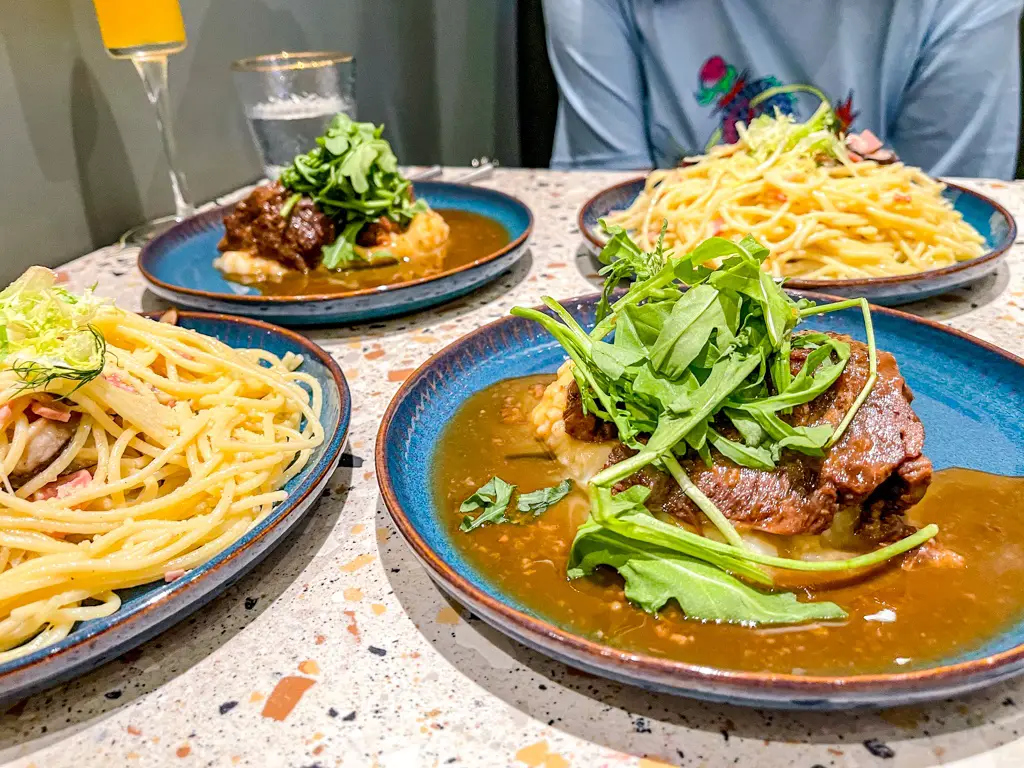 They also have sandwich and salad sets that include a drink but not pasta, which offer more choices. And there is no service charge.

Address: Shop 30, G/F, Poplar Street, Sham Shui Po
Opening times: 12:00 – 22:00