Cloudy Hill is known as Kau Lung Hang Shan in Chinese and is part of Wilson Trail Stage 9 and 8 that straddles Tai Po and Fanling. It's connected to the Pak Sin Leng mountains via the Wilson Trail and the Lau Shui Heung Country Trail on the other. This is the easy way to hike starting from Lau Shui Heung:
Cloudy Hill hike summary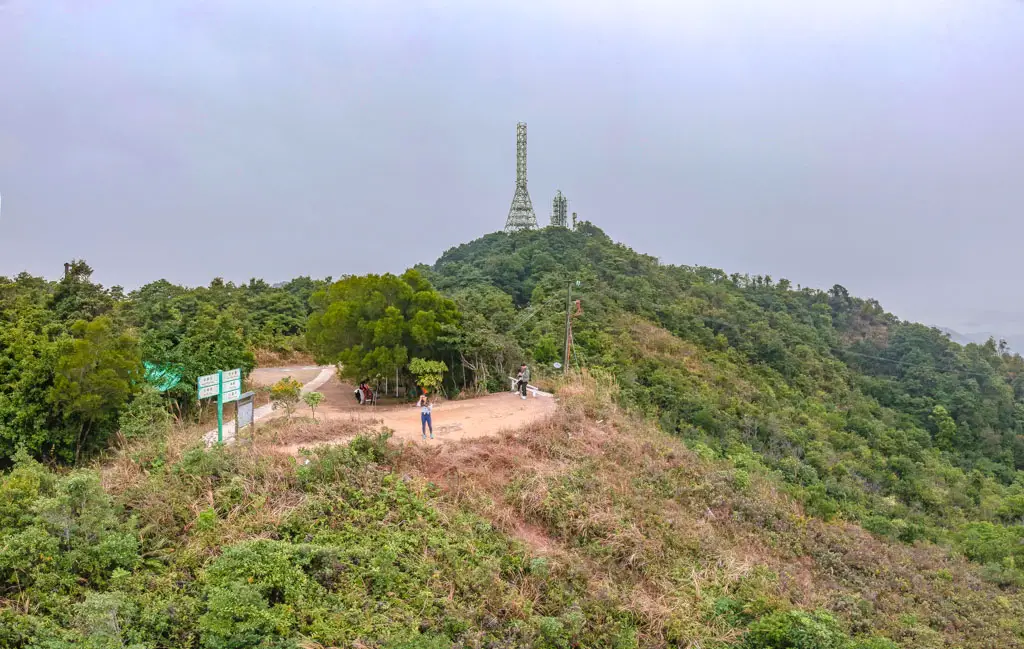 Time taken: 3 hours – more if you make some side trips
Cloudy Hill hike difficulty: 2.5 /5 
Pro: a hike that takes you to a scenic reservoir and an intermediate hike
Con: a lot of stairs going down (or up), and parts of it is on concrete
Note: I recommend hiking from Lau Shui Heung then going down to Tai Po to avoid going up a lot. It doesn't matter as much if you want to add Pak Sin Leng.
Lau Shui Heung start for Cloudy Hill hike
Take the minibus 52B from Fanling Station to the roundabout and walk toward the Lau Shui Heung Reservoir.
The last public bathroom of the trip is by the Lau Shui Heung Dam.
After that, continue to the Lau Shui Heung Country Trail that stretches along the reservoir all the way to the end.
Lau Shui Heung Country Trail to Kat Tsai Shan Au
Once you are at the end, there's a bridge in front of the trail and to the right. The Lau Shui Heung Country Trail continues in front, but if you want to see the famous tree-lined path at the reservoir, take the bridge to the right and come back once you've got your photos.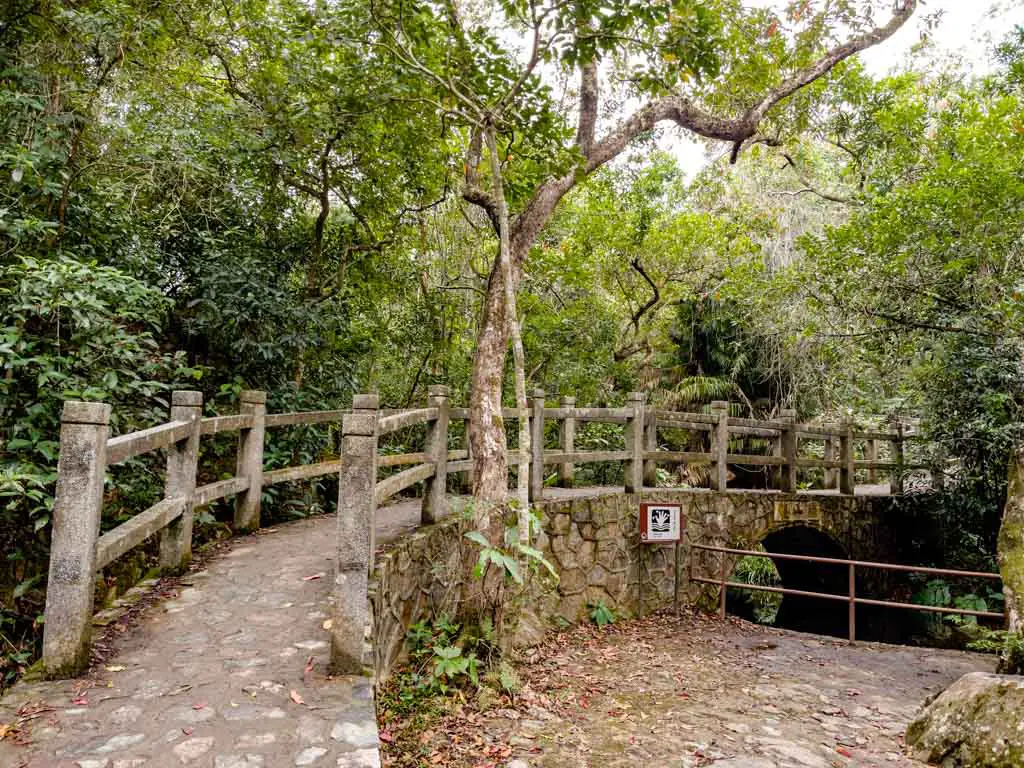 This part of the country trail is easy to hike, about two people wide on dirt or stone-paved gentle stairs. It takes you past the campsite with a picnic area, too.
The last part up to Kat Tsai Shan Au is the steepest part.
Kat Tsai Shan Au to Wilson Trail Section 9 Junction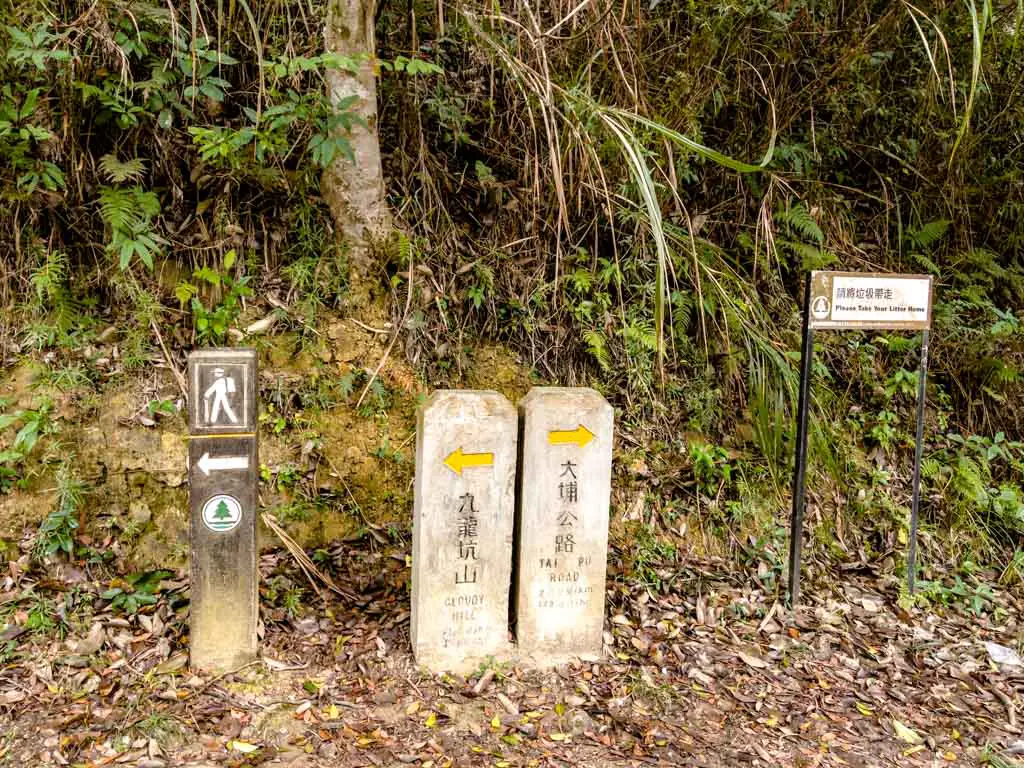 You can get out here by taking the trail to the right, which loops out to Kowloon Hang.
To go to Cloudy Hill and carry on the Lau Shui Heung Country Trail, take the left trail with a sign that says Cloudy Hill. This part is wider and on a concrete road, too.
But we did catch a glimpse of Pak Sin Leng.
Wilson Trail Section 9 to Cloudy Hill
The trail leads straight to the junction of Lau Shui Heung Reservoir and Wilson Trail Section 9. You can take carry on the country trail, which is in a loop,l back to Lau Shui Heung Reservoir or turn right to Hok Tau Reservor.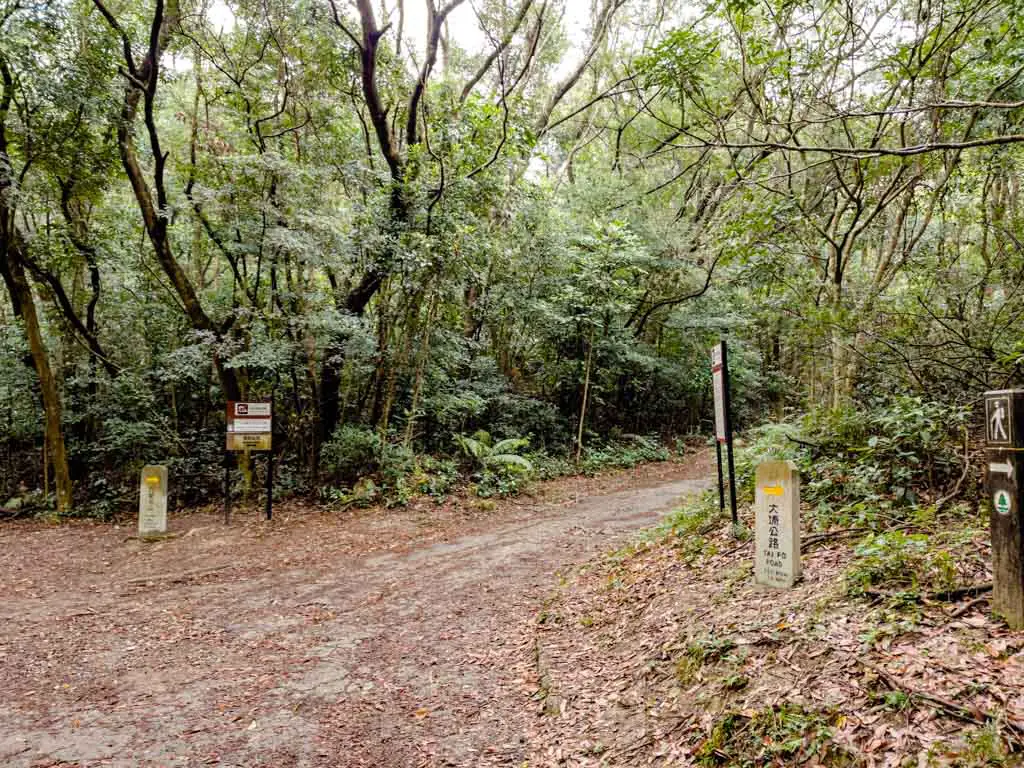 But to go to Cloudy Hill, we need to take the Wilson Trail Section 9. It is the widest concrete trail to the right.
The Wilson Trail Section 9 is relatively monotonous, going up on a concrete trail that has seen better days. It's surrounded by trees which can provide some shade, but that also means there's not much of a view.
It does get quite steep at places, going up over 100m from the junction all the way up to the peak.
Cloudy Hill 440m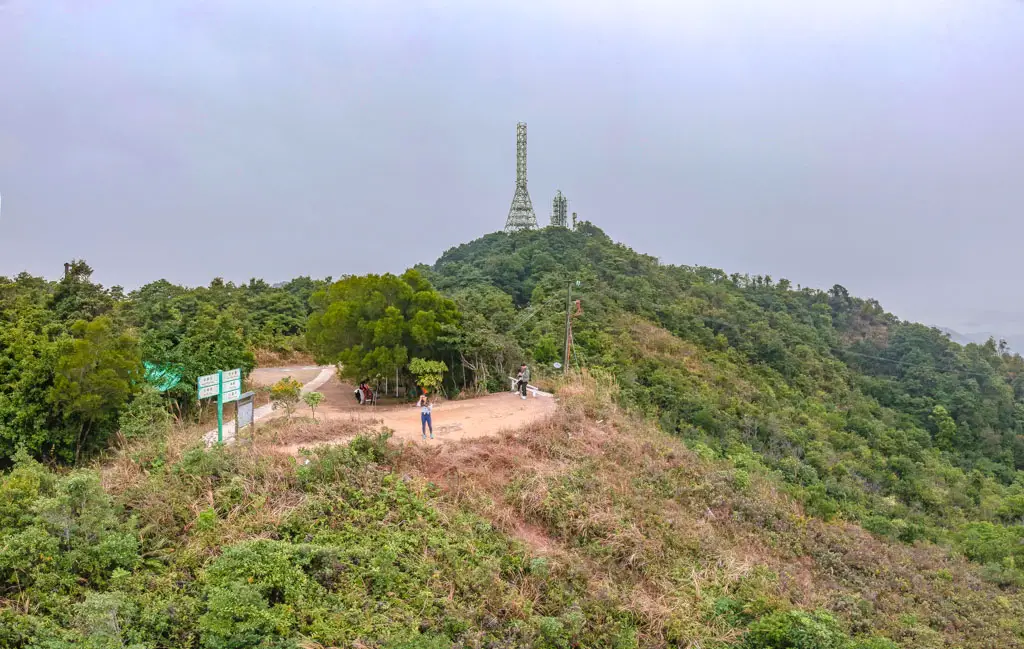 Standing at the top of Cloudy hill is a radio tower, which we'd walk past but not go up to.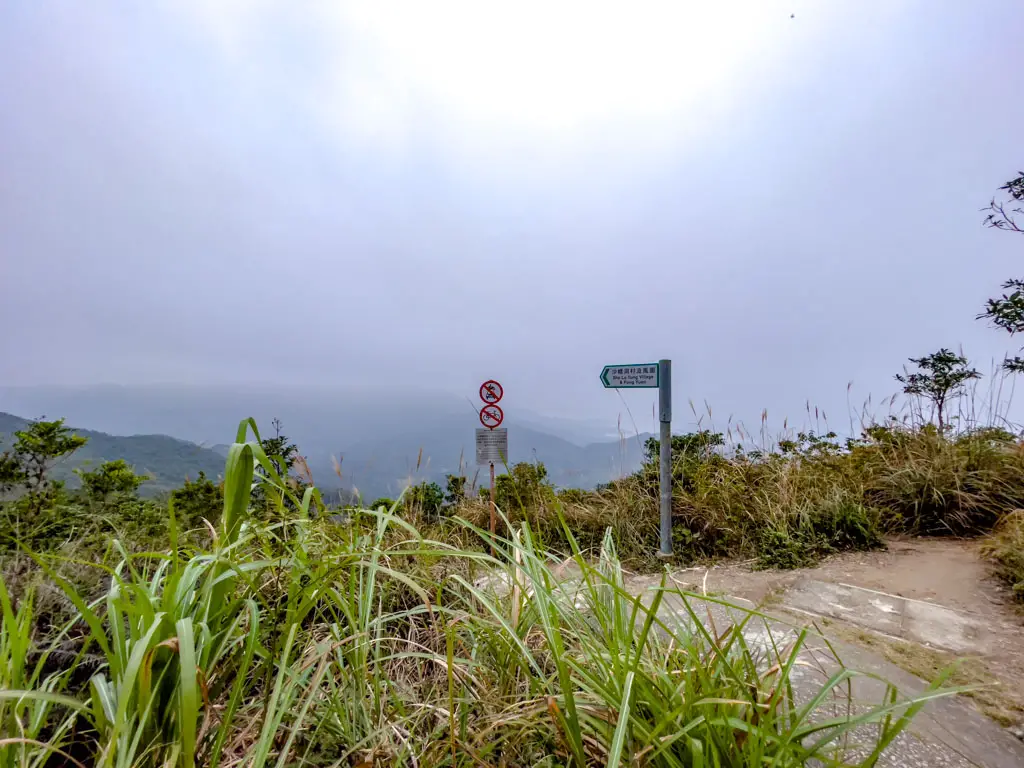 There is a trail that goes down to Sha Lo Tung there, but we want to go down to Tai Po center.
So carry on along the Wilson Trail Section 9 to a junction.
Wilson Trail Section 8
We took a break there and admire the view of Tai Po before carrying on. This is also where Wilson Trail Section 9 becomes section 8.
This would have been more stunning on a sunny day but I have to say, the trail itself really adds a certain charm to the whole scene.
This marks the beginning of the end of the hike which goes up and down for a bit before descending steeply. 
Yuk Sau Fung (288m)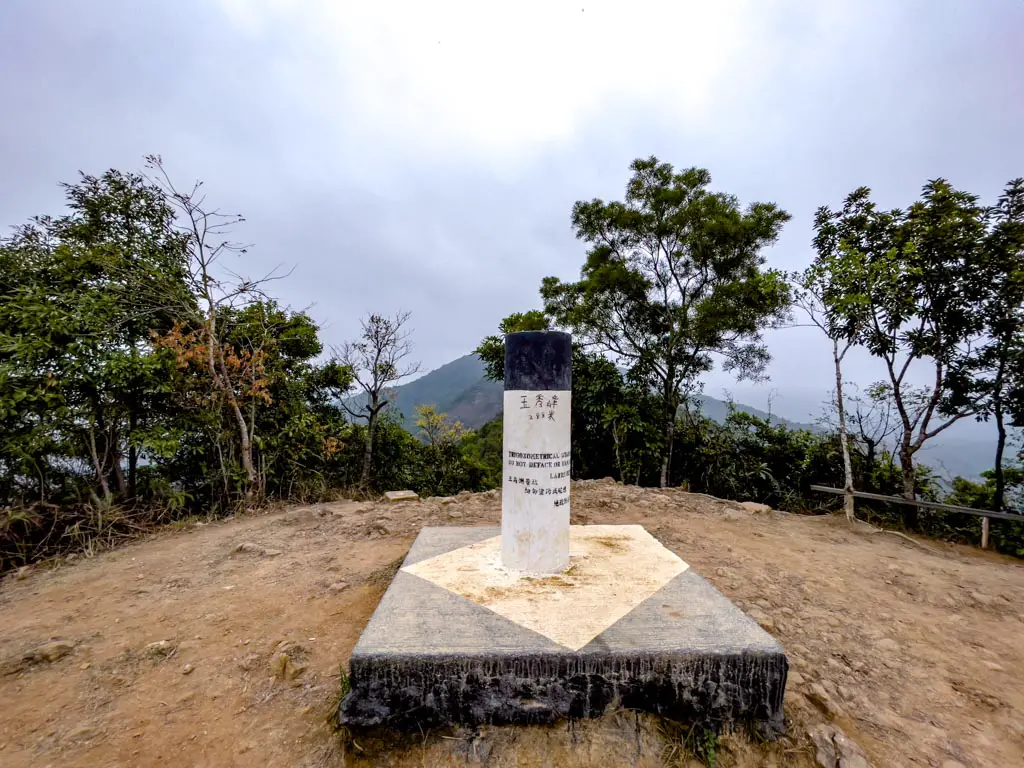 The Wilson Trail Section 8 goes all the way to Yuk Sua Fung at 288m, meaning we have descended almost 160m.
Take the trail to the left that starts as a dirt trail that becomes partially paved stairs then on a tiled path. Wilson Trail Section 8 continues on left towards Tai Wo.
At the pavilion, turn right and go down all the switchback stairs that go all the way down to the edge of Fu Heng Estate.
Once you see this pavilion, you're nearly there.
Getting out at Tai Po
The trail ends at the Fu Heng Estate and it's a short walk to their main bus station. You can get on a bus there to go to Tai Po Market or walk another 10-15 minutes to the Tai Po Super Malls, where there are plenty of restaurants.