The 4 consecutive pools and falls in Sai Kung, Hong Kong are the famed Sai Kung rock pools known for its gorgeous setting and the possibility of cliff jumping. One of the most popular hiking destinations in Sai Kung, the pools (which has a much shorter and elegant name in Chinese, I promise) is a series of 4 pools and falls that run along the river that joins the sea at Sai Wan. Although the view is great, this hike can range in difficulties depending on where and how you want to get there from.
How to reach 4 consecutive pools and Falls
There are no designated starting points for reaching the 4 consecutive pools and falls, though all of the trails involve getting to the Sai Kung region. Many would have breakfast at the town center first, but I would recommend starting early since it can get quite crowded there. Here are several ways you can get in:
Walk from Pak Tam Chung
The cheapest and the longest route, you can start at the Sai Kung Country Park bus stop and walk along the road into the protected region. You then basically follow the Maclehose trail section one until you reach the one that reaches into Sai Wan and ends up in the village. This can take up to 2 hours with no refreshment points. It offers some good vantage point for the Highland Reservoir, but the walk can get quite brutal under the heat and is rather monotonous.
Minivan 29R from Sai Kung

There is a minivan option. The 29R has a stop opposite McDonald in Sai Kung Town Center, although the sign isn't very visible so be sure to check because it is there! If you are going there during peak times, I recommend queuing up to an hour to half an hour early.
It costs 19 HKD per trip, and the minibus runs from 8:30 to 18:00. It also reaches Sai Wan Pavilion and is definitely the cheapest option. From here, the hike in takes about 30-45 minutes, so be sure you leave 16:45 latest to make sure you catch a minivan out (there are queues sometimes).
Taxi to Sai Wan Tang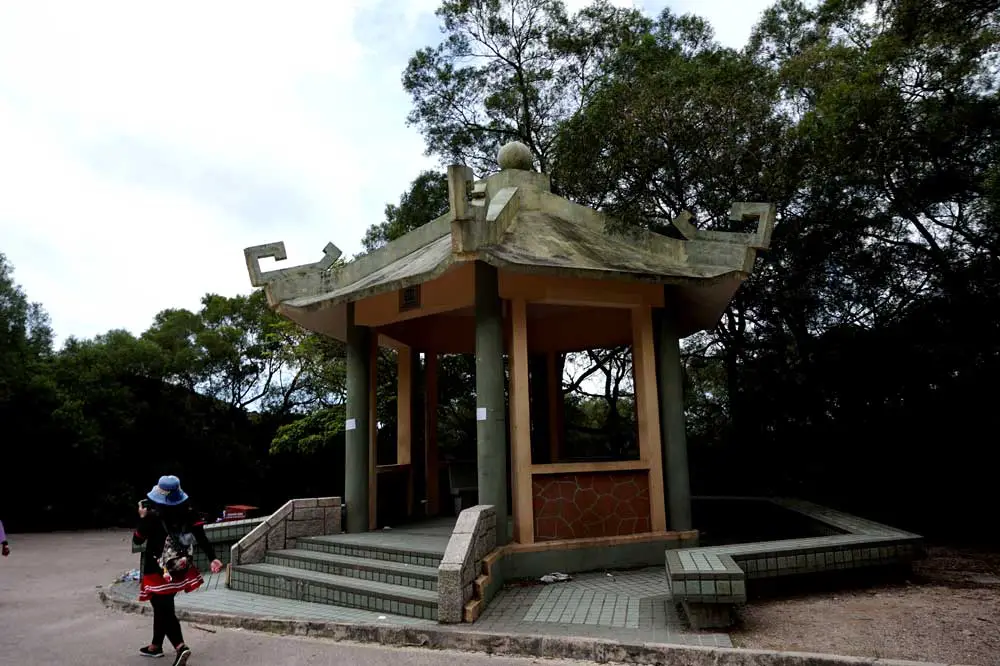 Getting a taxi from Sai Kung Town Center to the Sai Wan Tang costs around HKD$120-140, but this will save you almost 2 hours of walking time. It goes down to about HKD$25-30 per person for 4 people, so it's definitely worth grabbing some friends to go with you.
*It's actually best to take a taxi as you might need to be there half an hour early to queue for the minibus and might not even get on!
There is no reception at the pavilion, therefore if you need to call a taxi in, you must do so before you reach the pavilion. 
However, if there are roadworks or recent landslides along the road, then the taxi can only drop you off at the furthest, unrestricted part.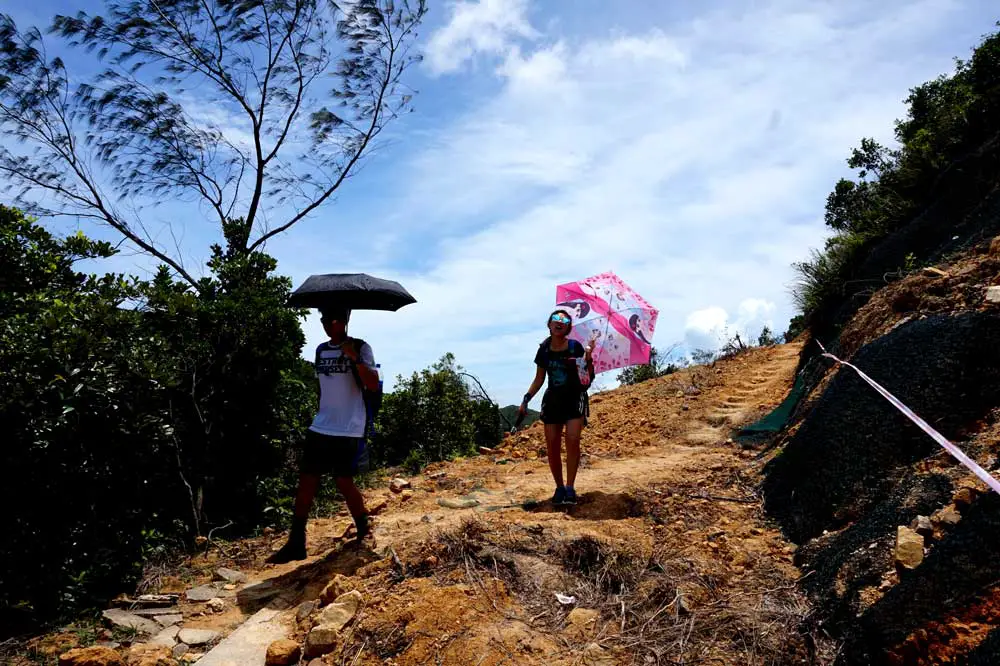 Speedboat to the Sai Wan Village from Sai Kung
For HKD$150 per person, you can hop abroad a speedboat and reach the village directly oneway. It is the most expensive method, but it's the fastest. Simply look around the Sai Kung public pier and you will find a boat company that will take you.
Sai Wan Village
The first stop of the trip, Sai Wan is home to a lovely beach that's relatively un-littered and stretches on for quite far. This will be your lunch stop or refreshment point if you require one, but the prices will be quite steep and inflate some more if there are roadworks. If you hike in, there are more cafes closer to the sea and not just the one that greets you at the entrance.
I had the bean curd dessert, which costs HKD$15, because it's the cheapest option. However, we did get a spectacular view of the sea.
Feel free to take a swim break here too, and there are a few surf schools.
The Four Consecutive Pools and Falls
The hike from Sai Wan to the pools involves finding the hidden path that's denoted by a wooden signpost. The hike itself is not difficult, but you do need to step through some vegetation and climb on uneven rocks.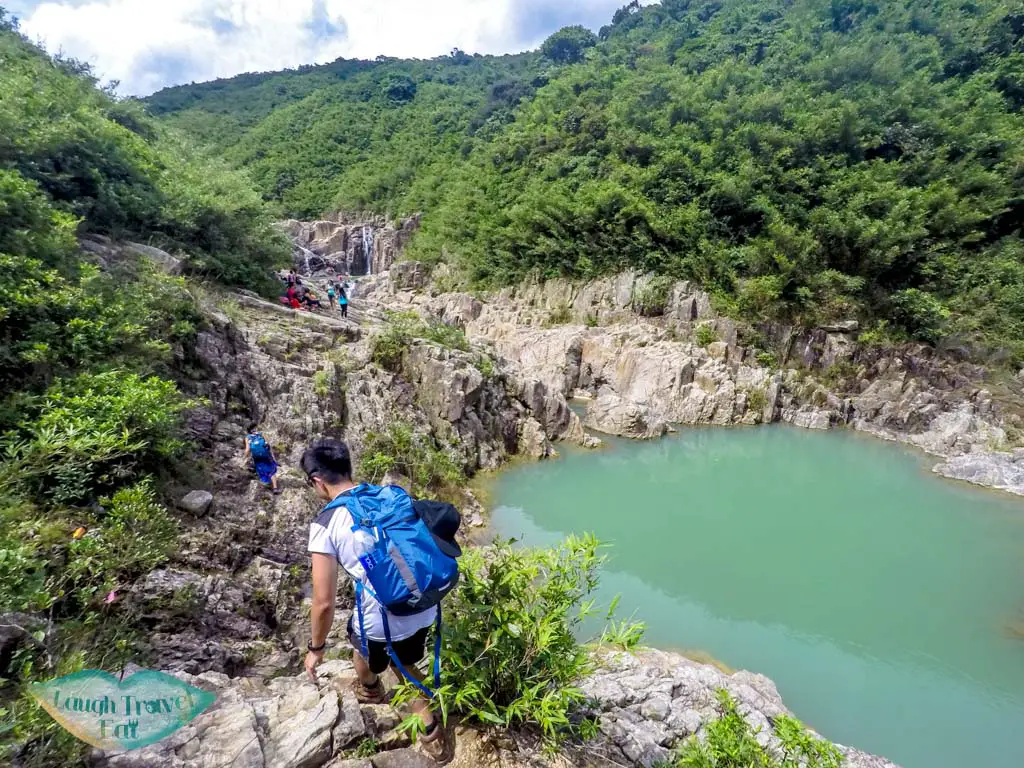 As the name suggested, you will see four pools in steps, with the most famous one surrounded by people completed with a 5m high waterfall.
There are plenty of spaces to the left where you can dump your bags, and the concrete dam offers a great place for those who do not wish to swim to dip their toes. The area is quite safe, but you can always take a lock to lock your backpack when everyone is in the water.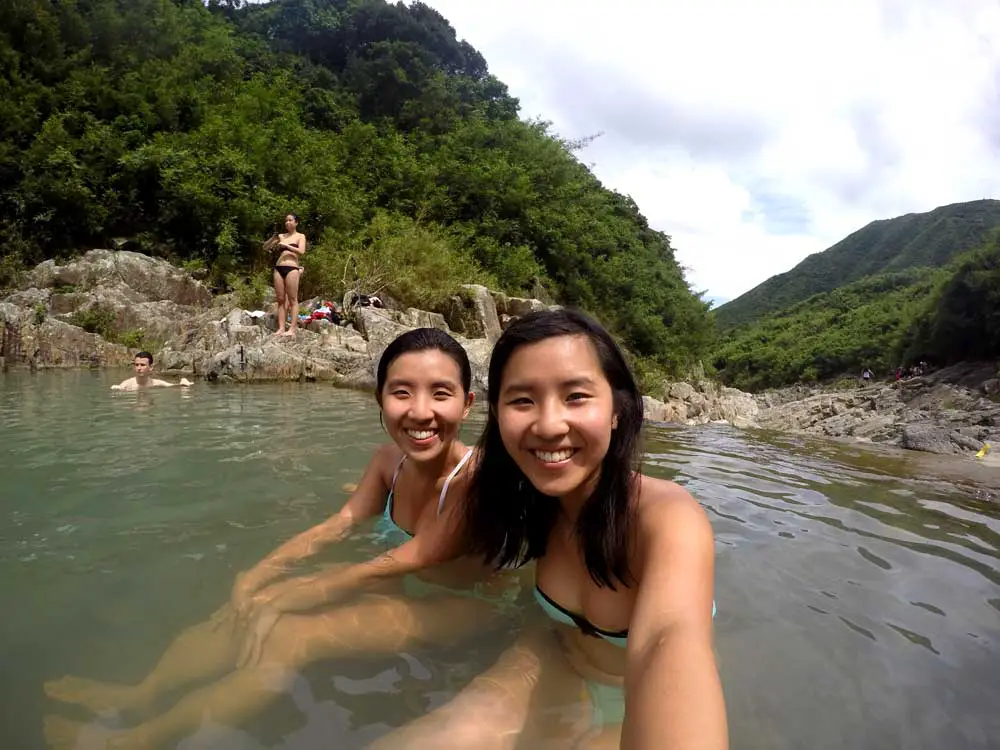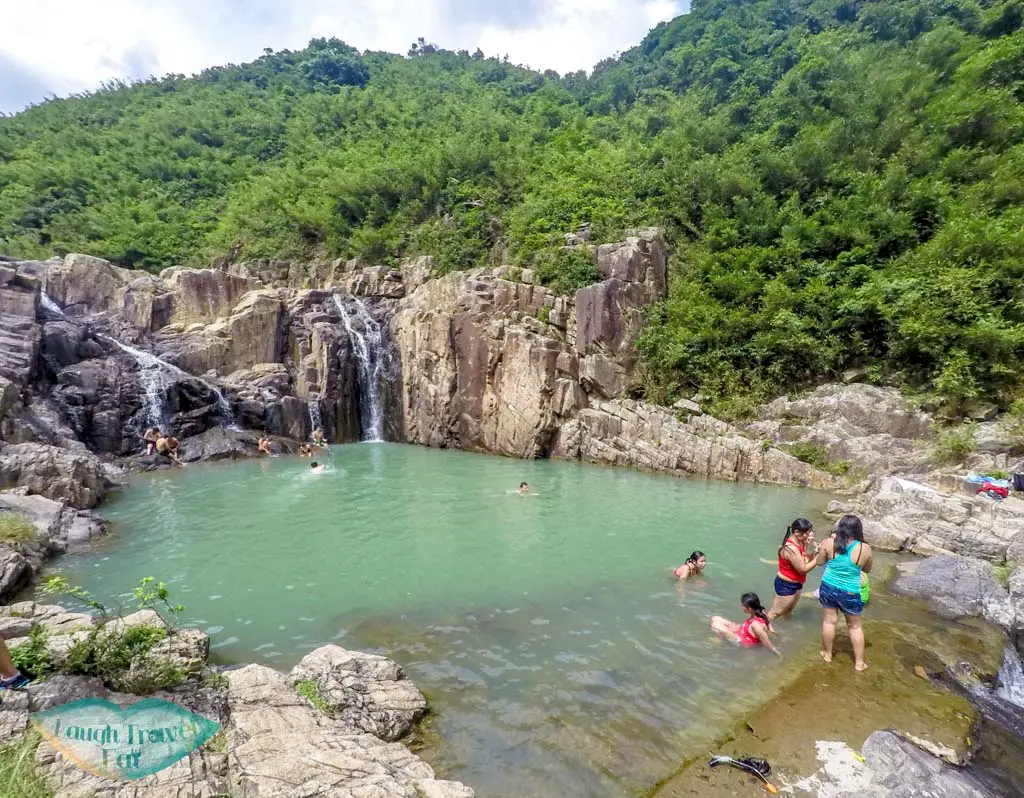 The rock pool at the bottom of the waterfall isn't very deep or big, therefore cliff jumping is not a recommended activity. Also, the location of the fall does not allow easy access to helicopter rescue, so in the chance that you do injure yourself, you are unlikely to reach hospital quickly. If you insist on doing it, head to the far right section where the rocks do not jut out.
Getting into the pool can be a slippery business, and the water is quite murky so it can be difficult to judge where water becomes rock. Most people swim to the waterfall or stay on the shallow side.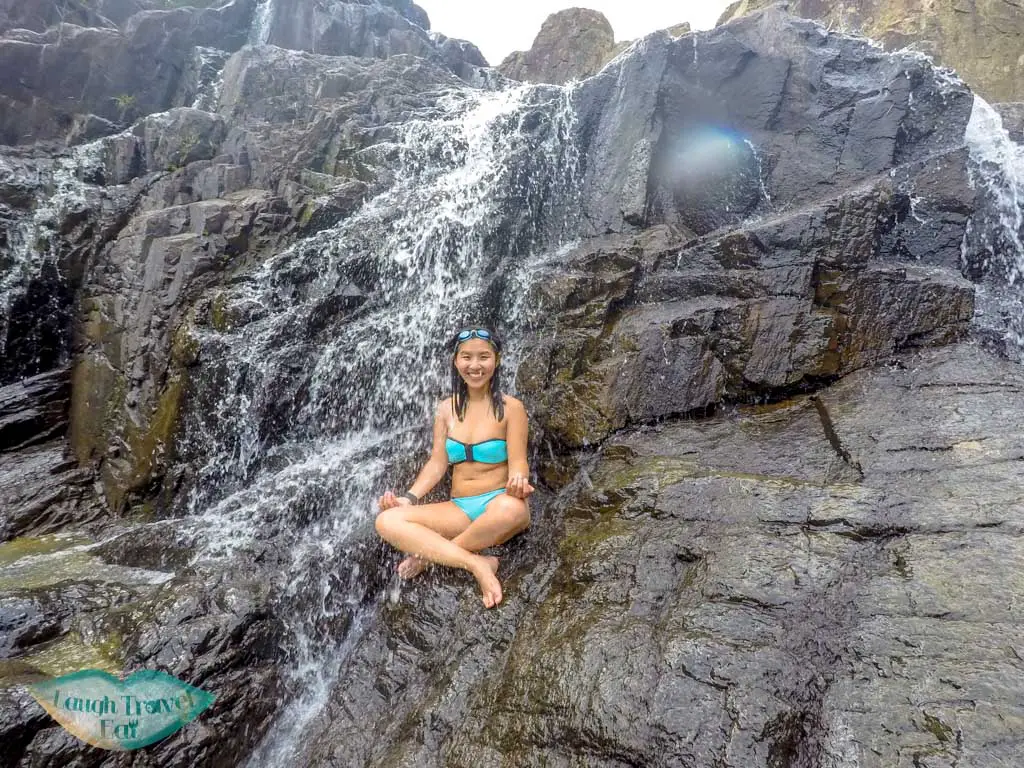 If you want some good photos, climbing up to the top of the waterfall and standing at the furthest edge offers the best view.
Getting back to civilization
Again, there are numerous options for this, depending on your tiredness, ability to hike and the amount of time you have.
Back through Sai Wan Village
You can walk back out the way you came via the Sai Wan Village. You won't be guaranteed to find a taxi as it vastly depends if there happens to be someone coming in. The same can be said for the schedule of the minivan.
Getting the boat back out – fastest way and of course, the most expensive, it's a perfect getaway fast option if the weather turns south.
Hike out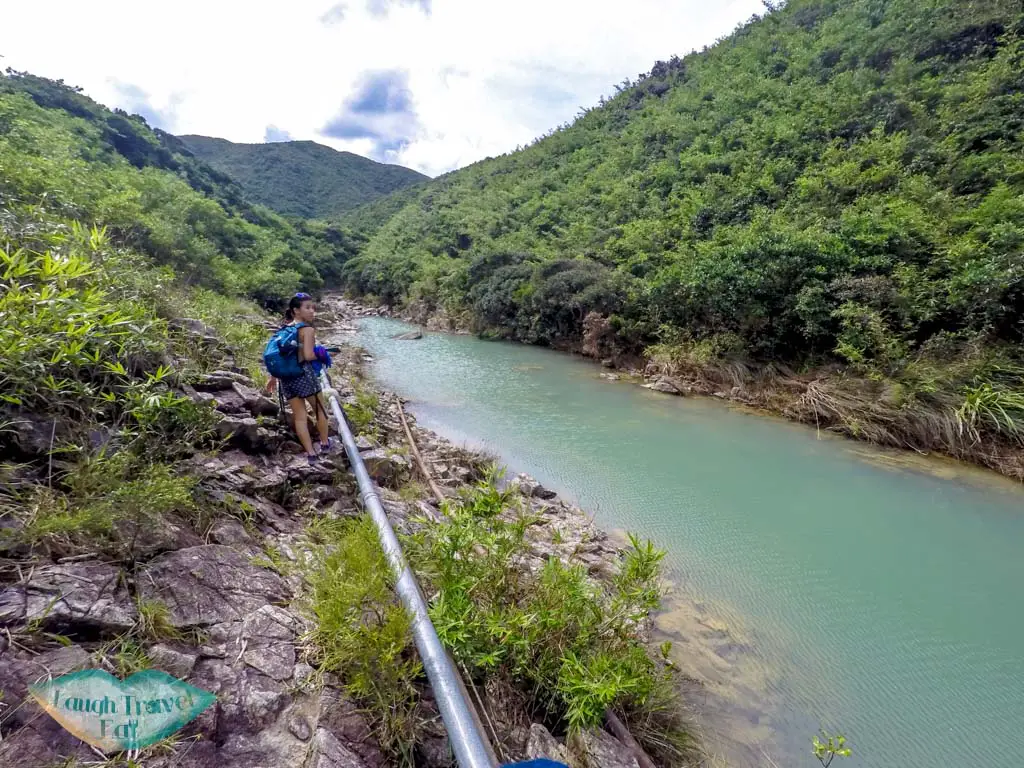 You can hike upstream from the waterfall northwards and continue on with the Luk Wu Country Trail. If there has been recent rain, then be prepared that you would have to tread through some water or do some serious rock climbing. If you had never hiked up streams before, then don't do it here, because you will be faced with some steep cliffs. I wouldn't even know that it's a trail until I saw the pink ribbons that mark the path.
However, going up it actually very doable despite the look, but then you will have to get up the dam too at the end.
From there, you can take the route that links back to the Sai Wan Tang (shorter), or carry on towards Pak Tam Chung.
Hiking out this way is not recommended if a) you are short on time, or b) if you are not a regular hiker
What to bring
Since this is a more serious hiking trip, you will need ample supplies and the correct footwear:
Swimsuit: if you want to swim at the beach or the pool, I highly recommend you wear your swimming gear underneath to avoid the issue of getting change.
Trainers, if not hiking boots: you will need to climb some rocks, and you can't do that without proper footwear. Hypothetically, you can get away with fashion shoes if you are only taking the ferry.
At least 1.5 L of water: and definitely more if you are not taking the boat. Walking for hours, especially in the heat will cause dehydration faster than you think. Drink regularly even if you don't feel thirsty because you are.
Sunscreen: bring it and reapply regularly – sunburnt can be painful.
Insect repellent: even though I wore it and reapplied frequently, I still got half a dozen bites from mosquitoes, so imagine how much worse it could be.
Snacks: it's better to have something when you need than to starve, so bring food that won't spoil easily.
Money: for taxi/food/ferry
Towel + change of clothes: if you swam and want to get change, or for showering at Sai Kung
Umbrella: it can block out some sun and saves you from being drenched.