Hong Kong is a photogenic city, there's no doubt about that. from Montane Mansion and Choi Hung Estate to Garden Hill and spectacular hikes, there are so much more eye candies than the Peak and Victoria Harbour
Want to know what are the best not-so-secret and gorgeous photography or Instagram spots and how to get there? You're in luck! From housing estates to hiking trails, below are the 15+ hidden instagramable place in Hong Kong:
>More information on where to stay in Hong Kong and the Best time to visit
Instagrammable spots on Hong Kong Island
Montane Mansion
Hong Kong is famous for being over-populated, and if you want to draw that point closer to home with your photos then Montane Mansion is your friend. Located in Quarry Bay, Montane Mansion's courtyard is surrounded by buildings, close enough to be claustrophobic to some. That said, it offers excellent photo opportunity for those who visit. The entire complex was built in the 60s and the unique colouring of their exterior adds to their charm. In fact, the Transformers 4 filmed here, too.
Note: this is a residential building so try to minimise disturbance to the inhabitants. Don't talk loudly, use flash at night, and adhere to the instructions and warnings put up, such as NOT climbing on the concrete platform for photos. There are stairs at the end of the courtyard that serves the purpose for photos, too.
Address: Montane Mansion, King's Road, Quarry Bay, Hong Kong Island
Nearest station: Quarry Bay MTR Exit A
Sai Wan Swimming Shard
On the opposite end of Hong Kong Island from the Montane Mansion is the Sai Wan Swimming Shard. Although it is originally intended as a place for people to swim, the wavy conditions of the bay and the frequent ferry that passes it further out doesn't inspire safety.
There are warning signs around the area about it, too. The wooden pier, which is the star attraction, was built in the 60s or 70s for swimmer and there are changing rooms available. Though nowadays, most people who venture down here are in it for the photos rather than the swim.
Pro tip: for the best viewpoint of the pier, don't go all the way down towards the pier but go right at the second last set of stairs.
 Address: Sai Wan Swimming Shed, Victoria Road, Sai Wan
Nearest station: Kennedy Town MTR Exit C
Instagram Pier
Note: as of end of 2020, you can no long access the pier
Also in Sai Wan, the Instagram Pier is so named because of its popularity for instagrammers and photographers alike. It is actually a shipping container pier but somehow it's open for everyone to enter. Its trademark include the black and yellow striped stopper, a depression where water collects after rain that makes for a perfect reflection. it is also an amazing place to catch the sunset!
How to get there: Take the tram to Whitty Street or the MTR to Hong Kong University station and walk towards the coast at the end of the promenade.
Graham Street Grafitti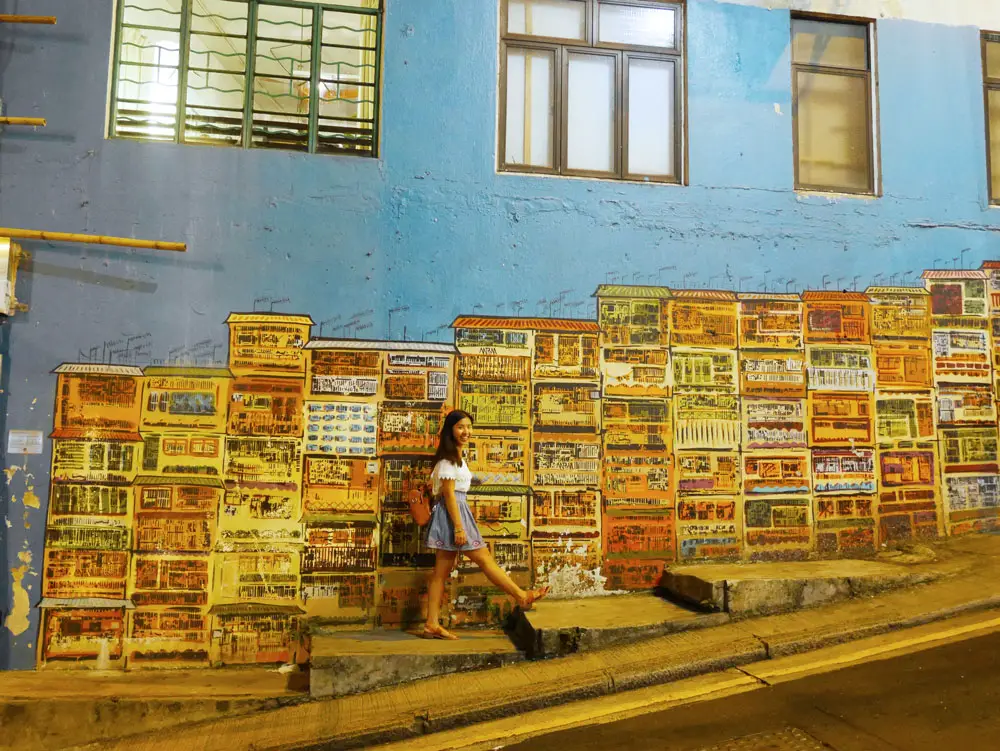 Hidden in the streets of SoHo district in Central, the Graham Street Graffiti is easy to miss if you aren't paying attention. As mentioned in my Central and Admiralty guide, it consists of a colourful array of old-fashioned, Chinese style "Tong" buildings against a vivid blue background. The fact that it's painted on a sloped street along its steps makes it even more unique. While the graffiti is well photographed, you must be careful on the street as it is a road used by many cars.
Address: Graham Street, Central
Nearest station: Central MTR Exit D2
Pottinger Street
Another one that's been mentioned before, the Pottinger Street and its stone steps offers a glimpse to Hong Kong in its colonial time. Running parallel to the first stretch of the Mid-Level Escalator, the inclined street is home to many props and costumes shops.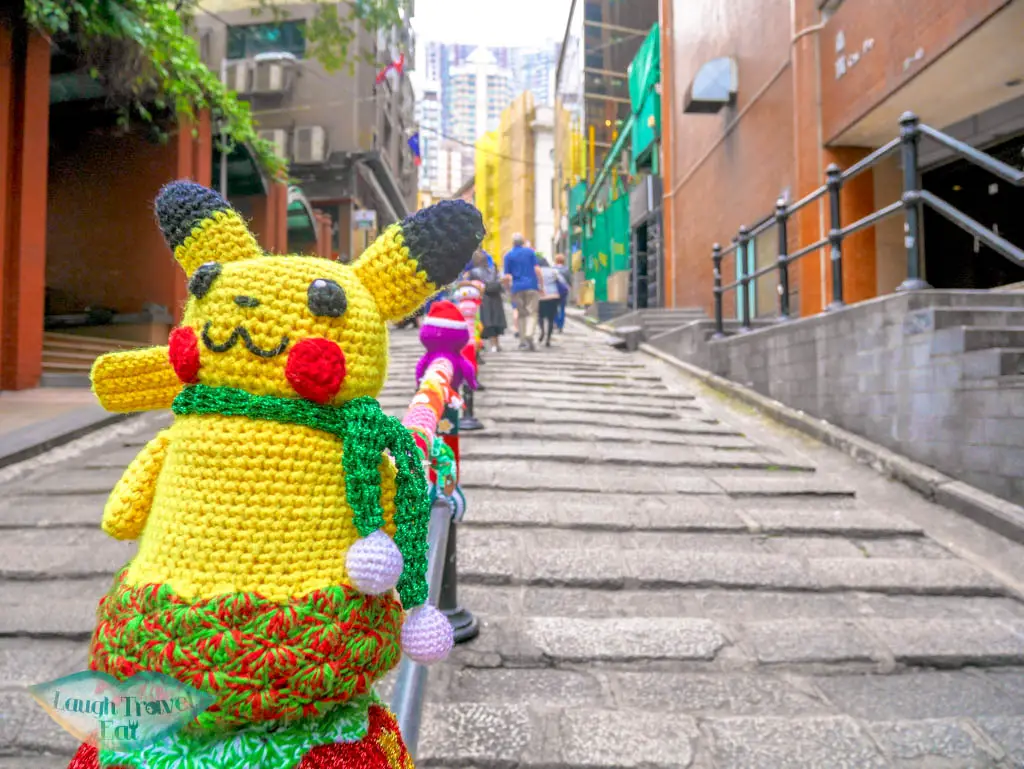 About two blocks long, the second half is more suited for photographing with people as it is less crowded with no stalls lining either side. One of my favourite Burger Joint: shake 'em buns, also happens to be on this street.
Address: Pottinger Street, Central
Nearest station: Central MTR Exit D2
Instagrammable spot in Kowloon
Choi Hung Estate
Famous for the rainbow coloured building, Choi Hung Estate's direct name translation is rainbow. Given the spectrum of colours and the high-rise building, many heads to their courtyard and take advantage of the basketball field for an insta-famous shot. Fun fact: the seven streets of the estates all start with each colour of the rainbow! It is also one of the oldest public housing in Hong Kong, hence well worth a visit to see how the general public in Hong Kong lives like.
Pro tip: if you can, go on weekdays so you won't be swamped by people in your shot.
Address: Choi Hung Estate, Wong Tai Sin, Kowloon, Hong Kong
Nearest station: Choi Hung MTR Exit C4 – turn left once you have exited the tunnel and the playground is on top of the carpark
Nam Shan Estate
Located near Shek Kip Mei MTR, Nam Shan Estate is like the green version of Choi Hung Estate, attracting people to its playground above the local market. One of the most iconic pieces here is the semi-circular contraption pictured above, though admittedly I got a little scared climbing up as an adult!
The various shades of green are pretty cute – so and it's right next to one of my favourite dessert places!
 Address: Nam Shan Estate
Nearest station: Shek Kip Mei MTR
Shek Kip Mei Estates
Shek Kip Mei is one of the bigger residential neighbourhoods and it so happens to be between Nam Shan Estates and Garden Hill. It's an easy walk from Sham Shui Po so can easily tie in together as a day trip. You have probably seen countless photos of the yellow and white as well as the blue and white high density buildings around Instagram but none of them tells you where these photos are taken!

But you no longer have to wonder! After a day running around rooftops (legally), I've finally uncovered the best places to get those estate photos without compromising safety!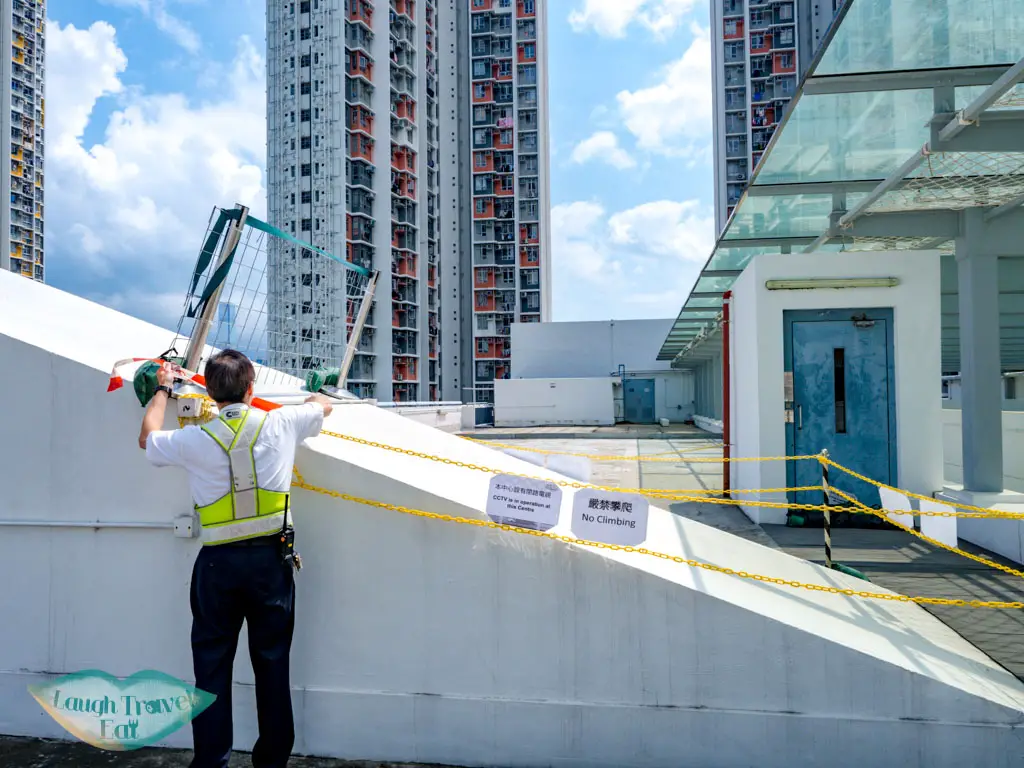 The most famous ones are taken on the rooftop of JCCAC building. However, the sloped ledge in question is now under CCTV surveillance and blocked off, along with most of the ledges. However, you can still get some pretty nice shots.
A girl climbed onto the white fence while we were there and was immediately told off by a security guard. There are some area with wider fence but it's quite high up so it's definitely not safe.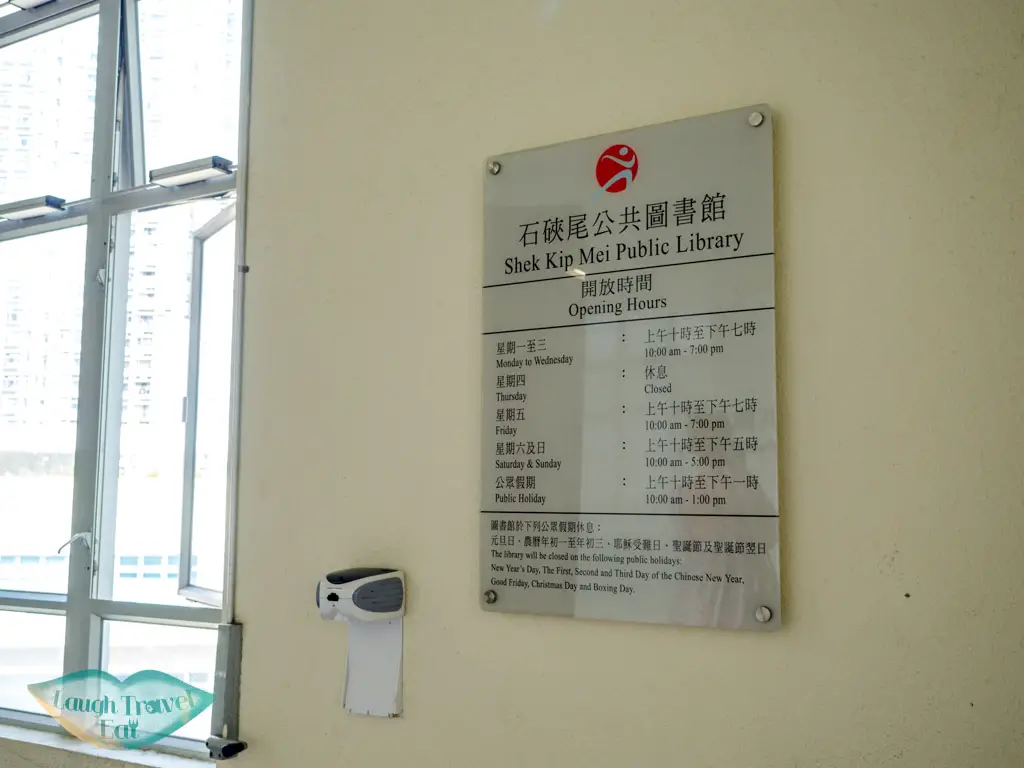 Another great find is the rooftop above the Shek Kip Mei Library. The door leading up was not locked nor was there any sign that says not to go up – so it should be fine to go up (as of April 2019).
It's not too far from JCCAC but is closer to the yellow building and offer a different angle.
JCCAC address: Jockey Club Creative Arts Centre, Pak Tin St, Shek Kip Mei
Shek Kip Mei Library address: 100號 Woh Chai St, Shek Kip Mei
Lok Wah South Estate
Famous for the blue circular structures atop the housing estate car park, Lok Wah South Estate is hidden in the residential hillside of Kwun Tong. Although it's unclear how this can be recreational for the children of the housing estates, they are great for photography.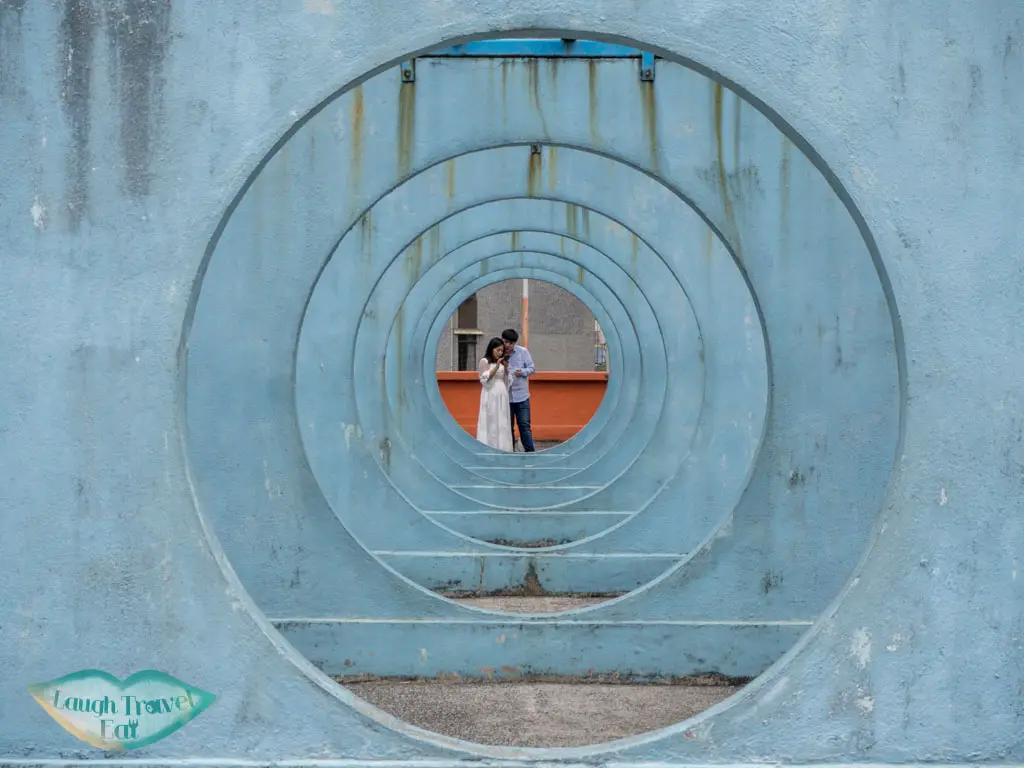 To get there, you can either walk uphill from Kwun Tong MTR for half an hour, or take the minibus 22M to reach it.
Nearest MTR: Kwun Tong MTR
China Hong Kong City

 For fans of architecture and tones, the China Hong Kong City is without a doubt the best place to go. The symmetrical golden exterior is excellent at reflecting light, casting a spectacular warm glow during sunset that would have you clicking that shutter none-stop! 
Address: China Hong Kong City, Tsim Sha Tsui
Nearest MTR: Austin West Rail or Jordan MTR 
Xiqu Center
The Xiquo Center was finished in 2018 and a fusion of traditional and contemporary art. It is on the edge of the West Kowloon Cultural District near Jordan. The center is designed with a parting curtain like entrance that reflects the opening of shows. It is photogenic both inside and out, and is generally not too busy during the day.
Address: 88 Austin Rd W, Tsim Sha Tsui
Nearest station: Jordan MTR
Garden Hill Sham Shui Po
Who's up for some city vibes and views? Garden Hill is one of the easiest to reach viewpoints in Hong Kong, involving a (albeit huge) flight of stairs that's only a 5-10 minutes from the heart of Sham Shui Po. But you do get the reward of a great view without having to go far. This is also a popular place to catch the sunset – and be sure to wear sunblock or a hat if visiting on a sunny day.
How to get there: Head to the Mei Ho House and take the trail right of it to the back, where you will see the stairs that lead up the hill.
>More on what to do in Sham Shui Po here
Ping Shan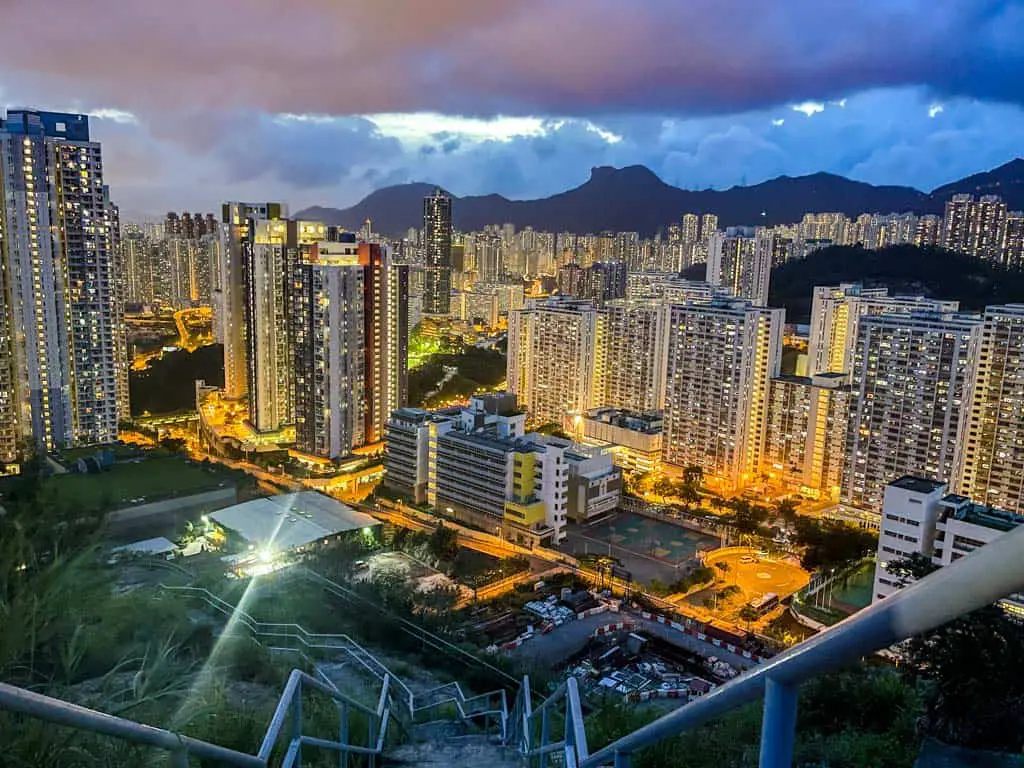 An alternative to the often crowded Garden Hill in Sham Shui Po is Ping Shan in Kowloon Bay. It's definitely a harder hike than the one above, but still on concrete road and more accessible than most.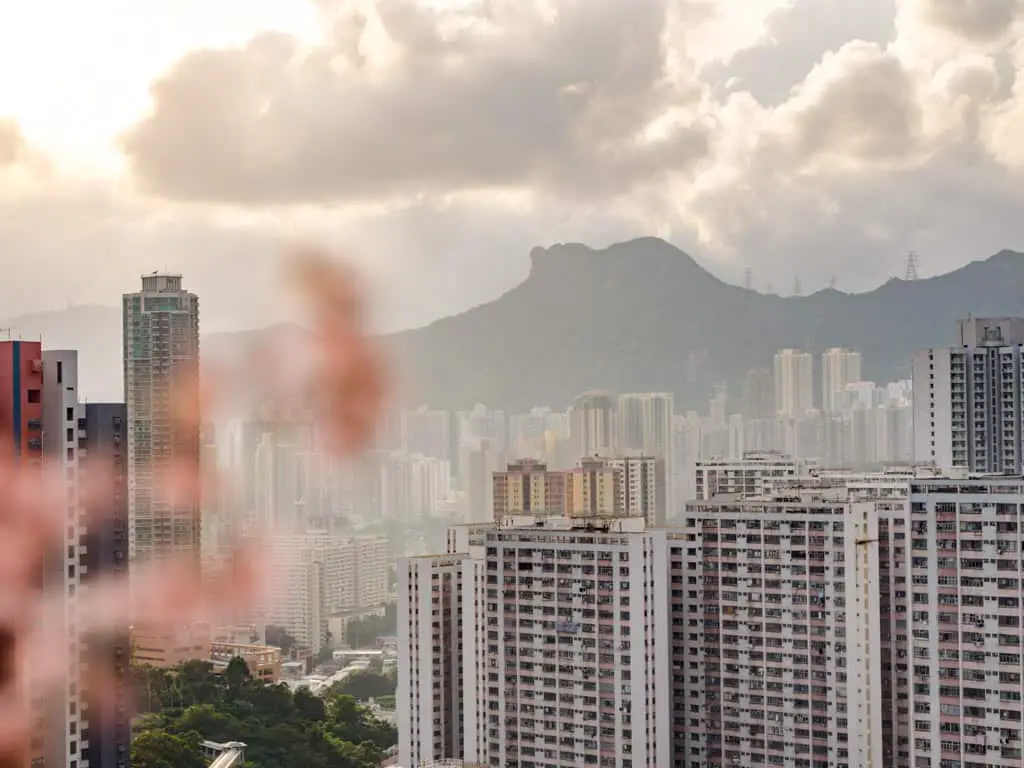 It has a view of Lion Rocks and even across to Hong Kong Island and Victoria Harbour!
See more on how to hike it in the easy hiking trails in Hong Kong.
Suicide Cliff
You've seen countless photos of Hong Kong night view from the Victoria Peak, which, while beautiful, does get old sometimes. This is where night hikes and Suicide Cliff comes in. I've already written about the hike up to Kowloon Peak, passing by the Suicide Cliff which makes for a dramatic backdrop.
You can see the whole of Kowloon as well as the Victoria Harbour and parts of Hong Kong Island from there with the added bonus of few people being around. If you are a hiking or photography enthusiast, definitely add this to your bucket list!
If night hike isn't your thing, day time is equally stunning.
Pro tip: don't go without enough water and gloves!
 Details of how to get there in this blog post. 
Instagrammable spots in New Territories
Aviary Pagoda
Hidden in the Yuen Long Park, the Aviary Pagoda is sat on the highest point. It is part aviary, with trees and birds at the bottom two floors, and a observation tower on top. The blue and white colour scheme and the octagonal shape makes it an ideal photo spot!
Opening times: 8:00 – 12:00, 13:00 – 18:00
How to get there: go to Yuen Long West Rail station, then change to lightrail – either 610, 614, 615, or 761P for 3 stops to Shui Pin Wai. Go left and walk towards the park.
Nam Sang Wai Pier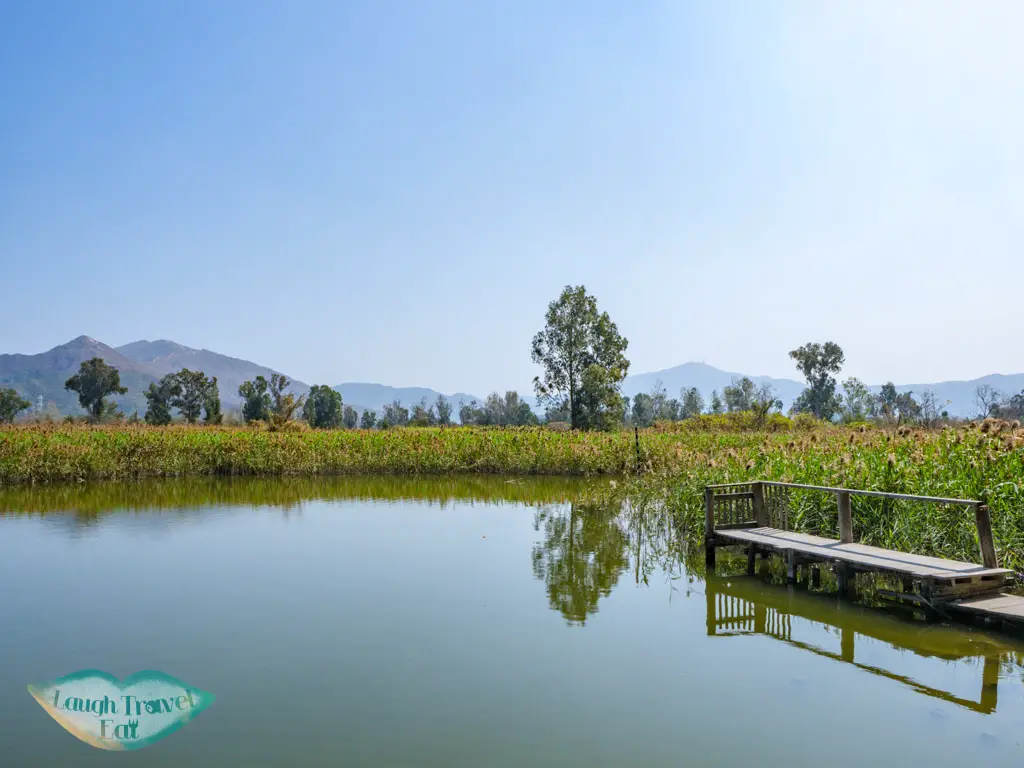 Now on to some more rural destinations. Nam Sang Wai is a little area in Yuen Long near the wetland parks. Famous for birdwatching and its cycling path, it is surrounded on either side by the Kam Tin River and the Shan Pui River. The most famous thing, however, is the Nam Sang Wai Pier, built by a local who wanted to add something to the landscape. Situated in a pond filled with swaying reeds, it almost feels like you are not in Hong Kong.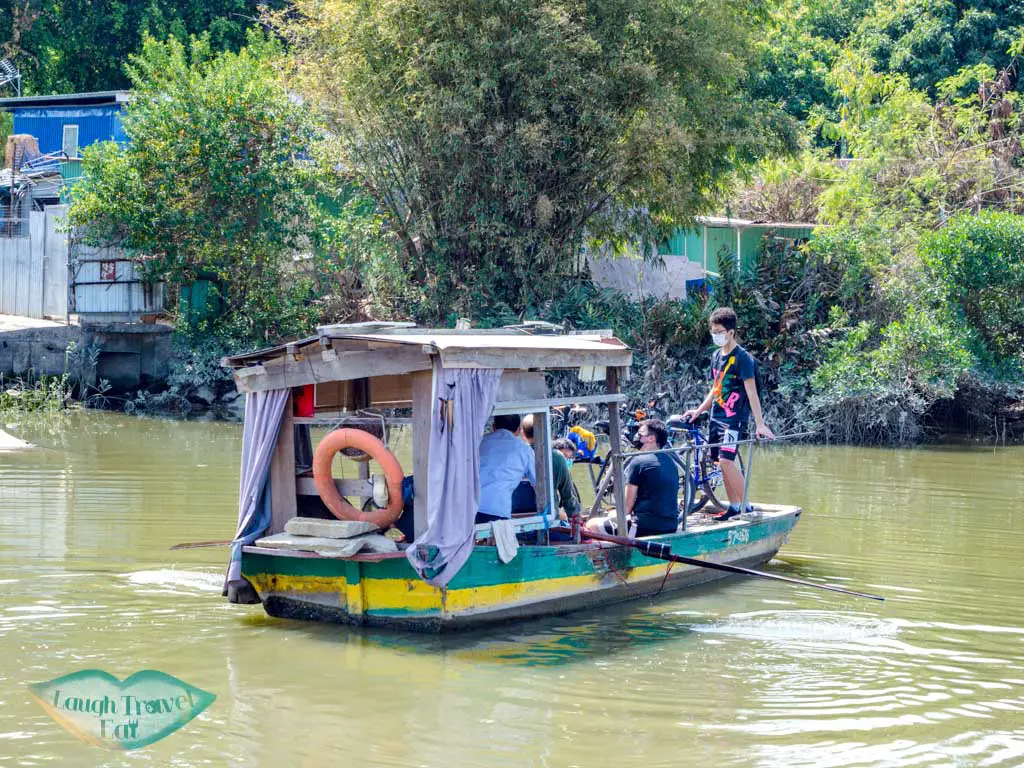 The best way to head to Nam Sang Wai is by cycling, though you must beware of traffic on the single lane road. Another highlight of Nam Sang Wai is the ferry you can take across the Shan Pui River – with your bike, no less!
How to get there: The nearest MTR station is Yuen Long, you can either rent a bike or walk over (more details in the free map
MacLehose Trail Stage 4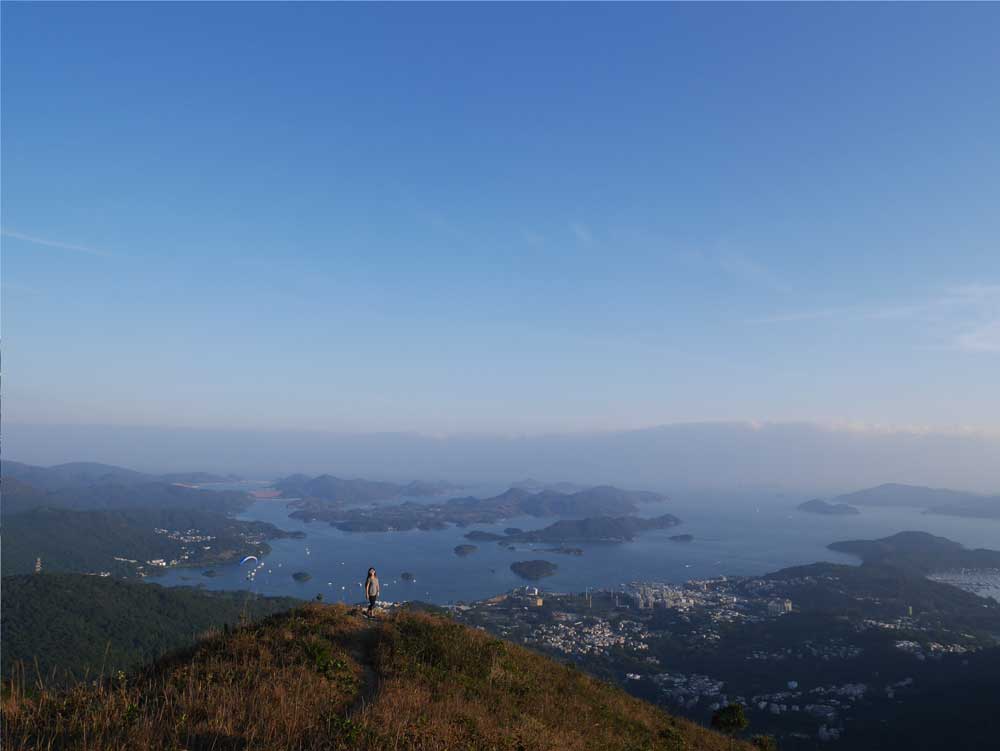 Although this one isn't really that famous, I can't help but put it in because it's my favourite view and hike. While the views of the skyscrapers and nightlights in Hong Kong are gorgeous, Sai Kung and its sea are equally as stunning and shows a different side of Hong Kong, too. Part of the MacLehose Trail that spans across Kowloon and New Territories over 100 km, you can hit two birds with one stone by hiking stage 4 for a fabulous view and hiking along part of the longest trail in Hong Kong.
Pro tip: go on a weekend and you might just see some paragliders!
How to get there: visit my blog post on Shui Long Wo for full instructions.
Pineapple Mountain
Another one that I had covered in a previous blog post, almost everyone who heads to Pineapple Mountain far in the northwest of New Territories are because of the photos they see on Instagram. With the unique weathering landscape that is dubbed as the "Hong Kong Grand Canyon" and the easy hike, it draws tens and dozens of people there every weekend. It also happens that you can end the hike at Ha Pak Lai, which is a sunset photo spot as well. So why not hit two birds with one stone and head out there?
Pro tip: the hike lasts less than 3 hours maximum, so time it wisely if you plan to stay at Hai Pak Lai for sunset.
How to get there: it's all covered in details in this post.