Tsim Sha Tsui is at the southern tip of the Kowloon Peninsula and hailed as the shopping heaven north of Victoria Harbour. Known as TST to the locals, Tsim Sha Tsui means pointy sand mouth but the city it is today is anything but sandy. Whether it's a spectacular view of Victoria Harbour, digging into the history of Hong Kong, or admiring new exhibits, there's something to do in TST.

Tsim Sha Tsui attractions
There are arguably too many things to see and do in Tsim Sha Tsui that have people going back again and again. There will be a separate post on food, so this will be focused on things to see! Even though I have been to TST countless times, revisiting any one of these places is always a treat. Because there are a million guides out there, instead of a list, this will be a bucket list!

Walk along the Tsim Sha Tsui waterfront and Tsim Sha Tsui promenade during sunset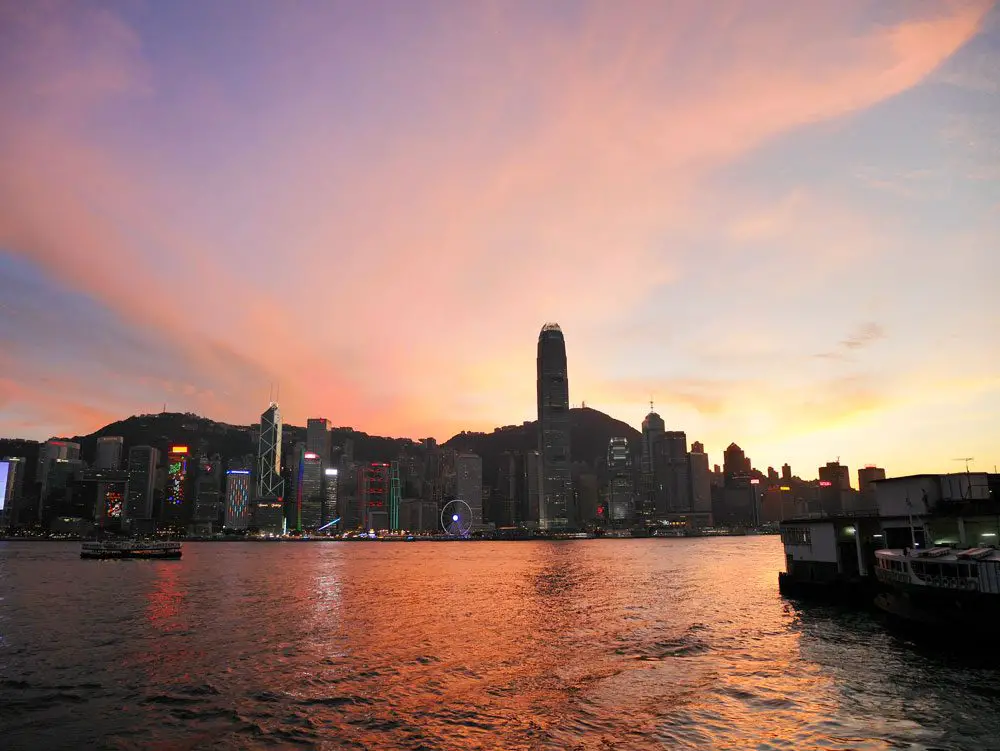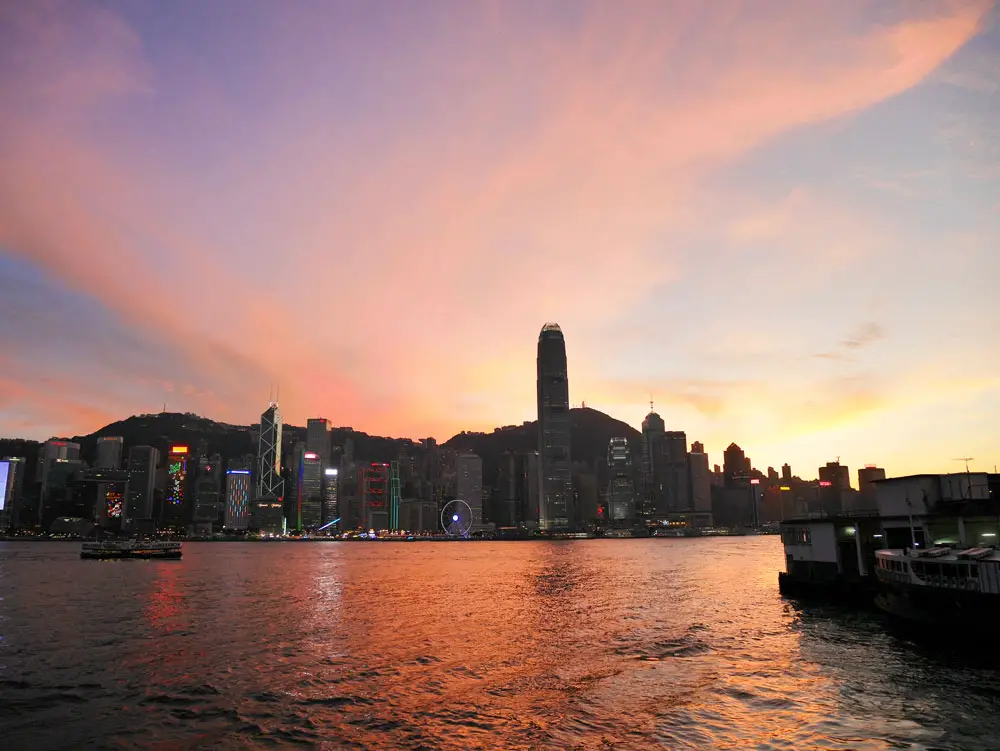 Being on the tip of Kowloon means that Tsim Sha Tsui waterfront faces Victoria Harbour, and the recently renovated Avenue of Star connects the promenade all the way to Hung Hom and Whampoa. But the most iconic and spectacular view is from the raised platform in front of the Hong Kong Culture Center.
Landmarks you must look out for include the IFC, Hong Kong's Convention and Exhibit Center, the Peak Tower, and HSBC building. There's no better time to be there during sunset and the view is always incredible.

Find handprints and whale tail along the Avenue of Star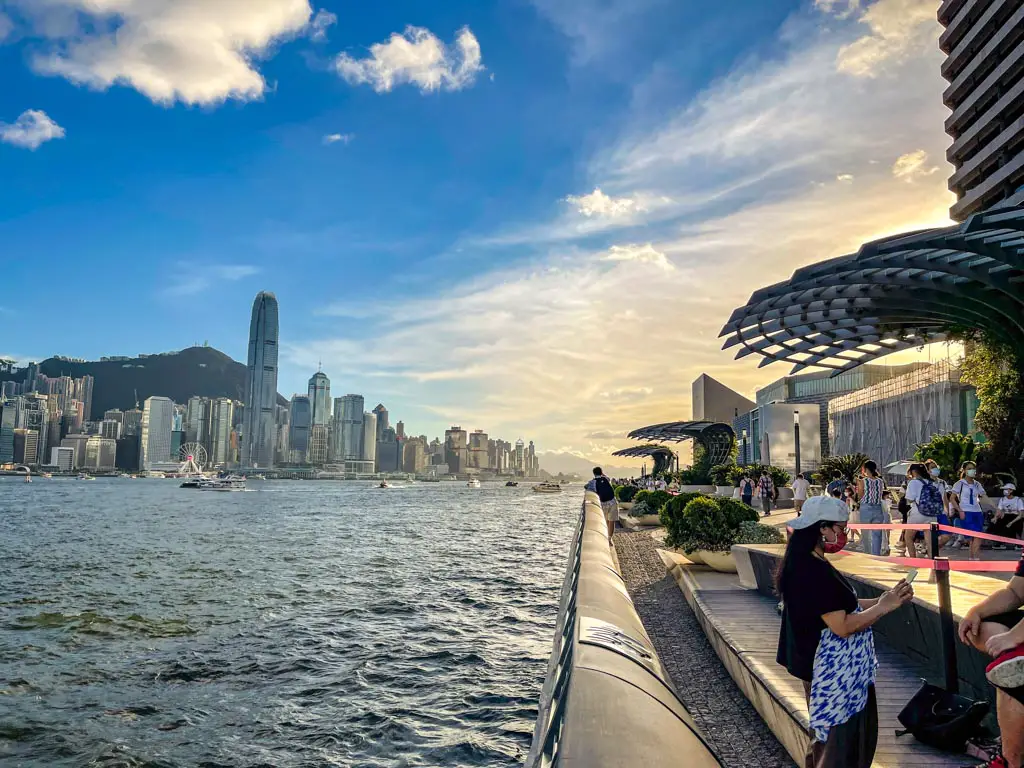 The Avenue of Star reopens in 2019 and its concept is akin to the one in LA but Hong Kong focused. While the handprints used to be on the ground, now they are on the railings leaving the wide promenade for pedestrians. The walkway loops in front of the Intercontinental Hotel and extends towards the new K11 Musea Mall, with an inner harbour area that hosts occasional fountain shows.
It is a popular place for joggers and strollers with plenty of seating. It took me a while to realise that the metal shade providers are in the shape of a whale's tail. Now that it's been there for a few years, the vines have climbed on it providing shade.

Take a photo in front of Tsim Sha Tsui Clock Tower and the fountains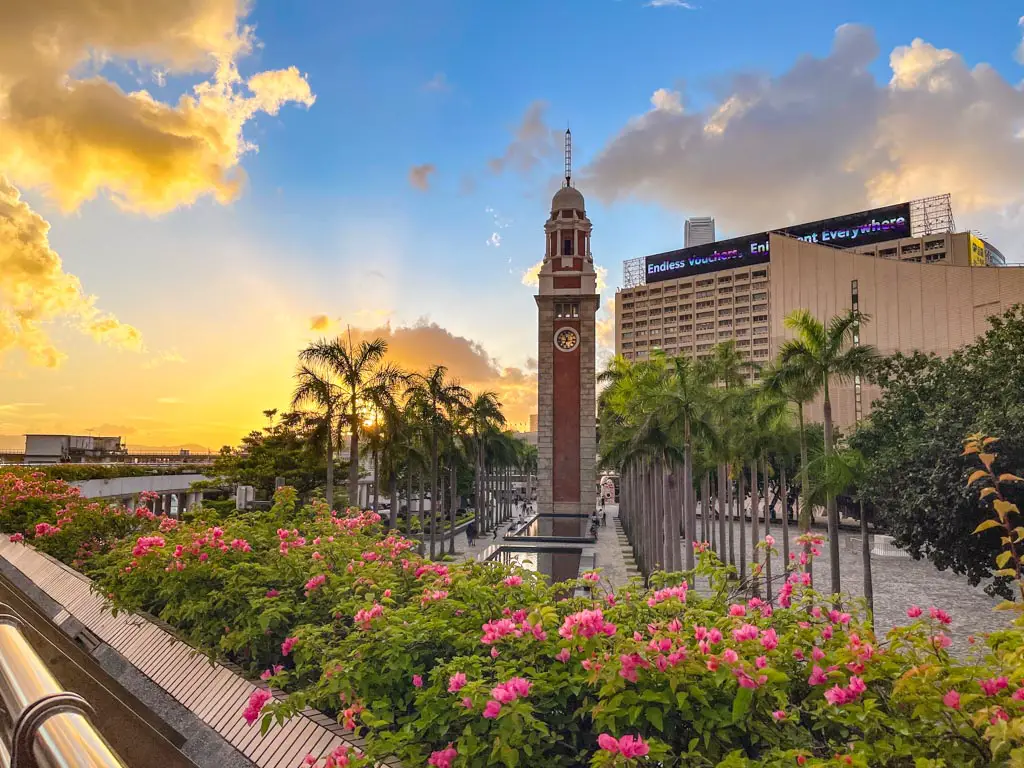 The last remaining vestige of the Kowloon-Canton Railway Station that once stood at the site, the Victorian-style clock tower is an iconic landmark on the seafront. Built in 1915, the tower was built with red brick and pink granite, and had been operational except for the time during Japanese Occupation. Despite only being 44m high, its colour and build made it stand out on the skyline.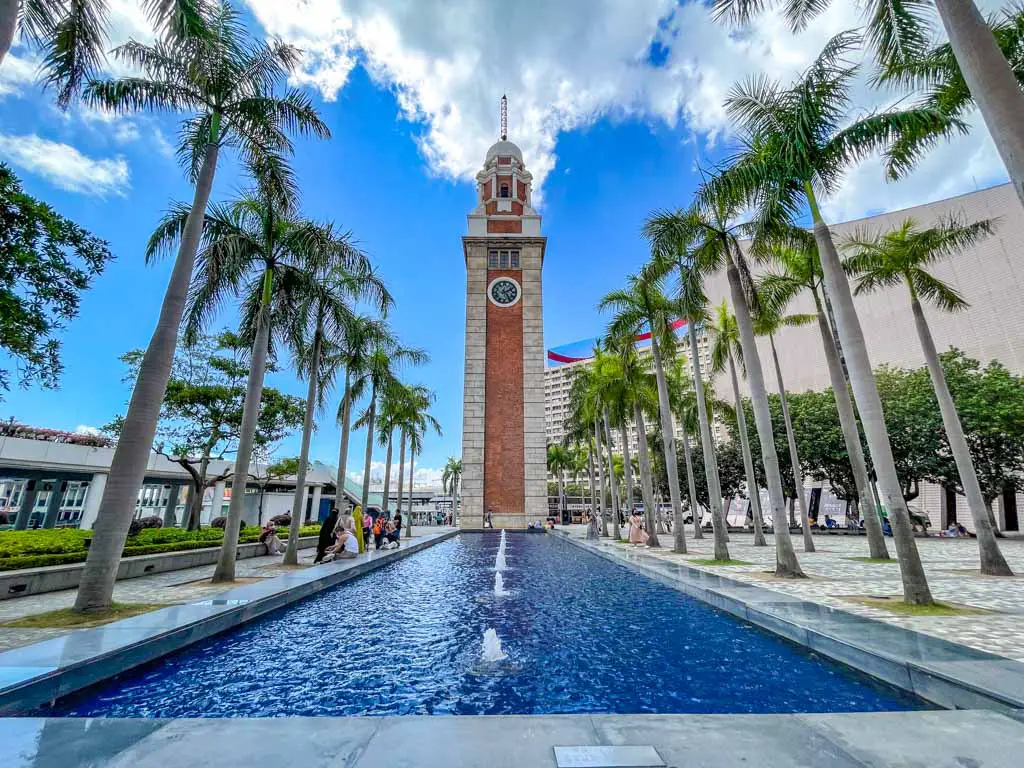 Although often a little crowded, the fountain in front of it lined by palm trees is an excellent photospot.

Cross the road from K11 Musea to Peninsula Hotel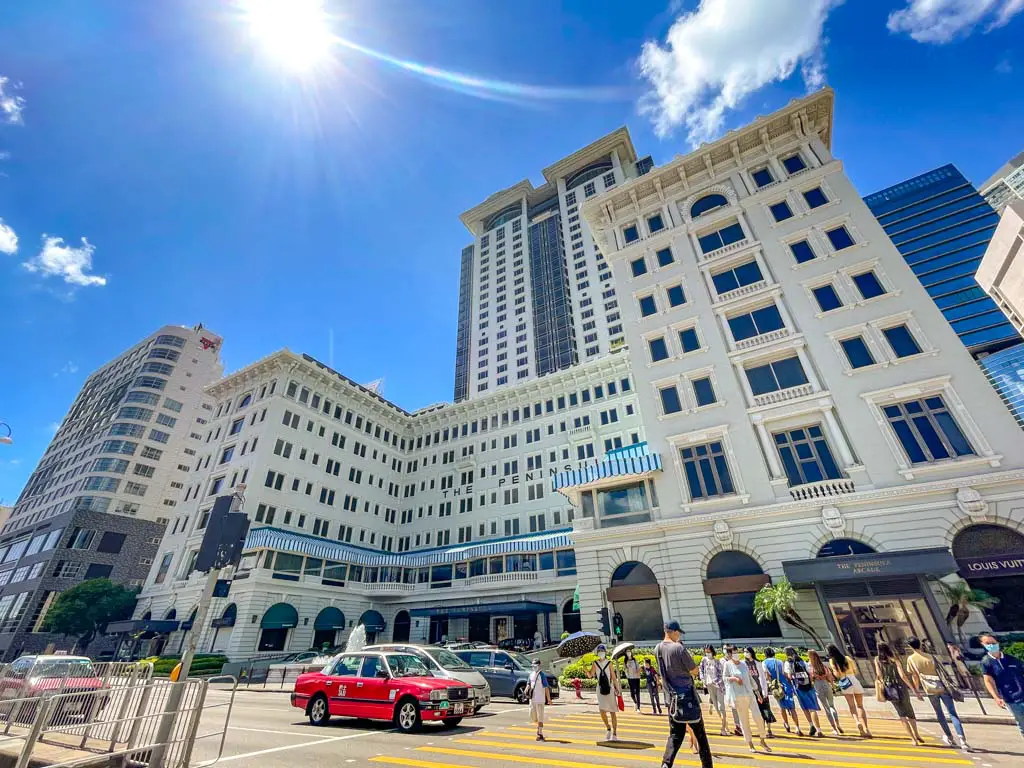 The Peninsula Hotel is one of the oldest hotels in Hong Kong. It is the flagship property of the Peninsula Hotels group and opened in 1920. The classic colonial style exterior and its green Rolls-Royces fleets are iconic. It is a sort of landmark in Tsim Sha Tsui, and their Christmas and New Year lights. Their afternoon tea is also quite famous and worth checking out!

Because of its size, the best view of it is from across the road and while you are crossing!

Take a stroll or swim in Kowloon Park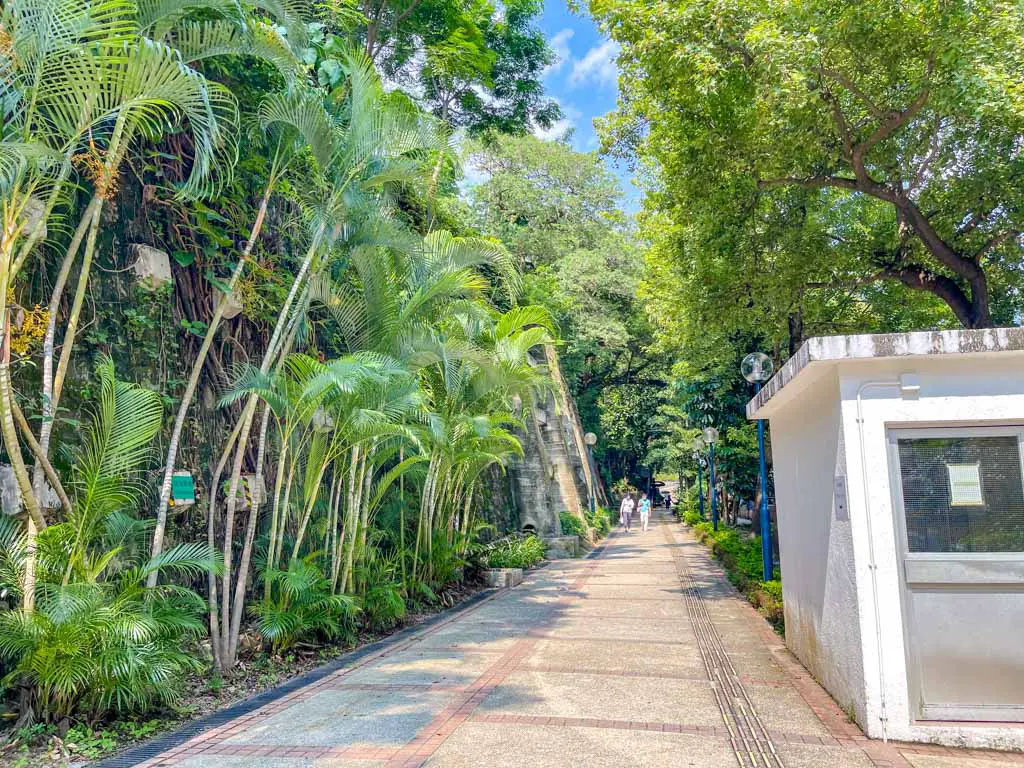 Kowloon Park was built on the former site of Whitfield Barracks in 1970 and is one of the biggest public parks in Hong Kong. However, it isn't just green fields and pavilions.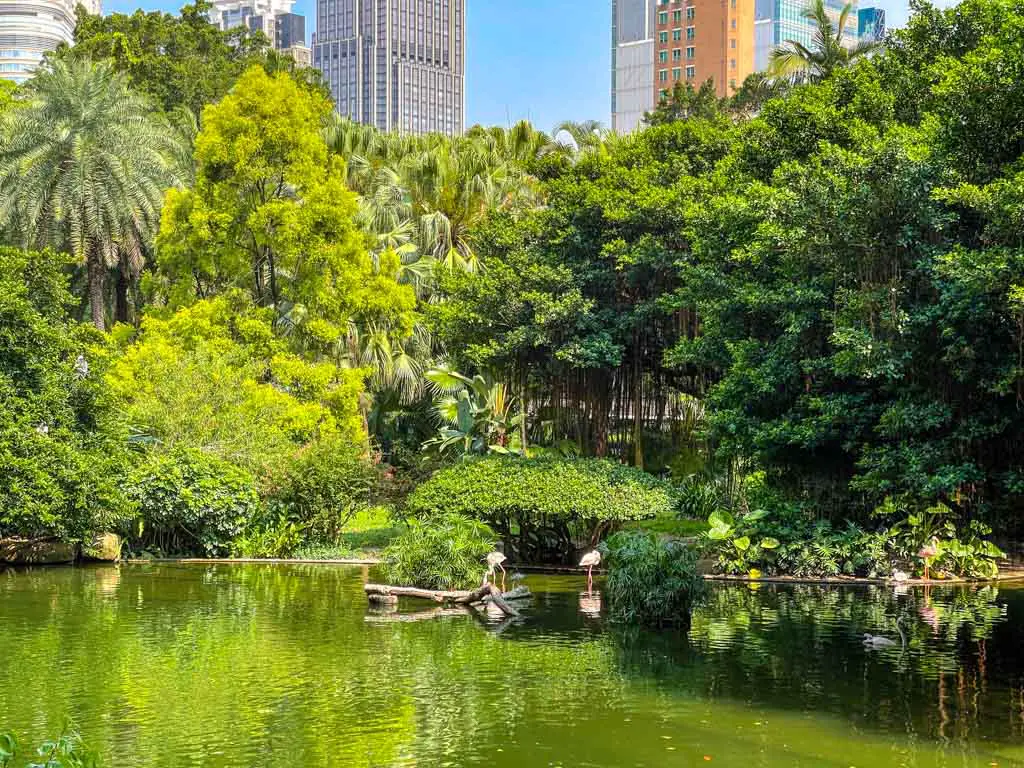 True to Hong Kong style, it is a multi-purpose space with an aviary, bird lake that is graced by flamingoes, Avenue of Comic Stars, and two small museums for heritage and health education respectively.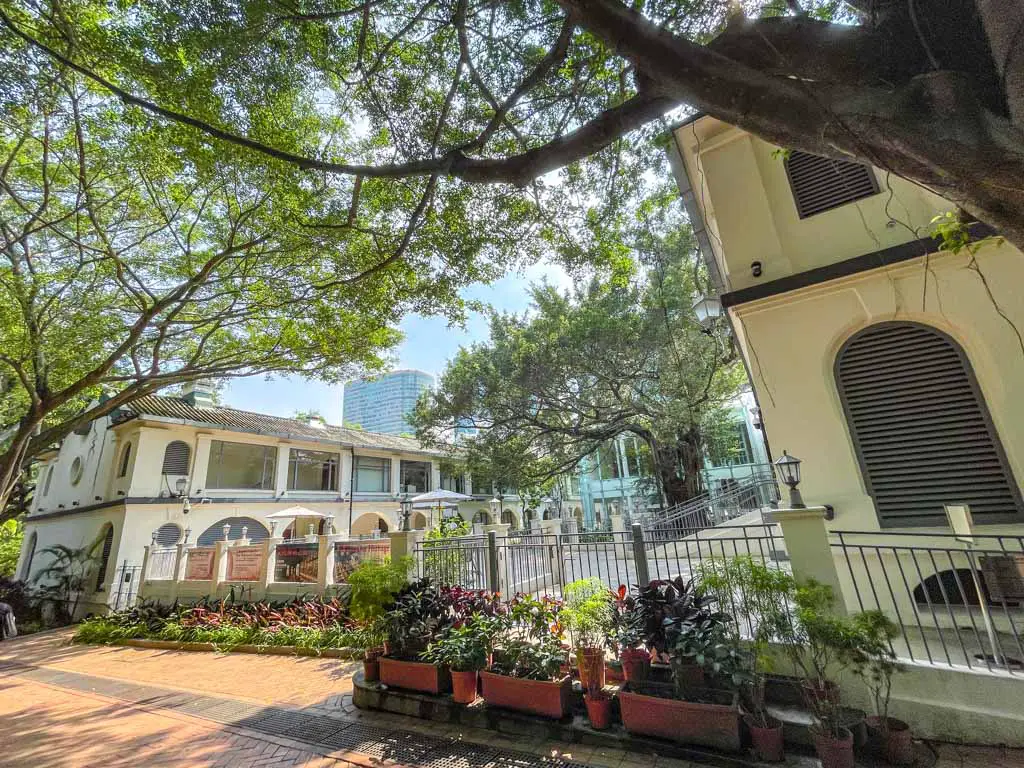 Last but not least is the Kowloon Park Swimming Pool which has both indoor and outdoor pools and houses fond childhood memories.

Walk all the way down the Nathan Road Tsim Sha Tsui
Nathan Road is one of the longest roads in Hong Kong and cuts straight down Kowloon from Tsim Sha Tsui all the way to Sham Shui Po, spanning 3.6km. There are many notable buildings and malls that line the street in the TST section, including the Kowloon Mosque and Chungking Mansion. I'd even challenge you to walk all the way up to Mong Kok, something that I've done countless times!

Admire the Kowloon Mosque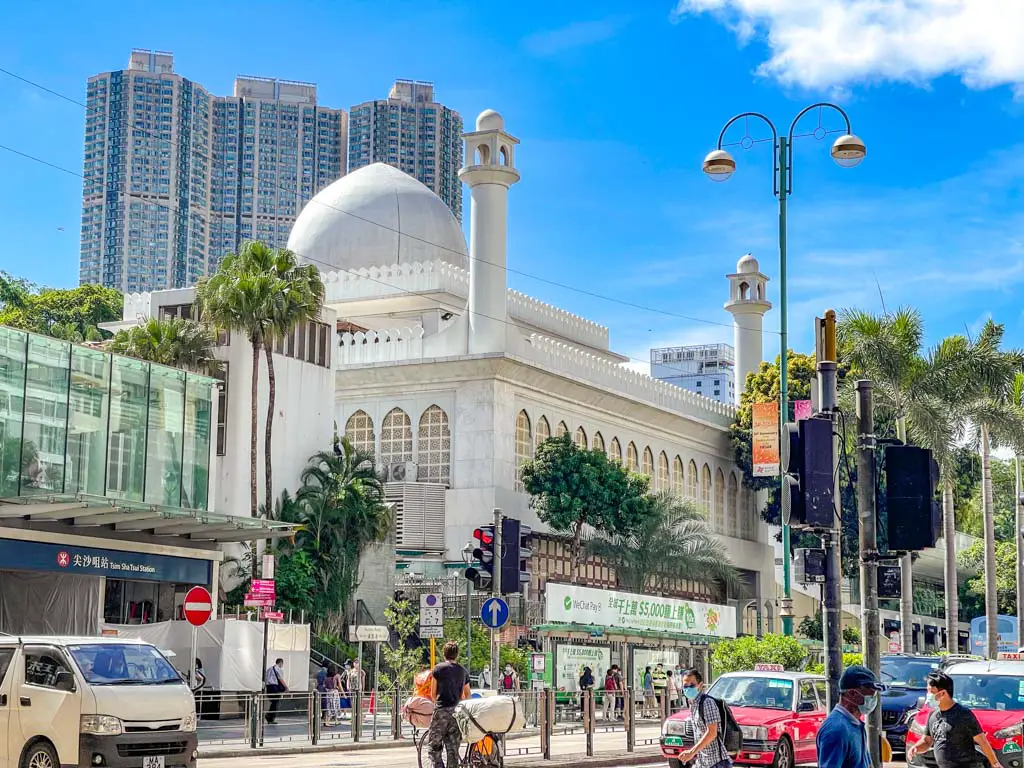 As the largest mosque in Hong Kong, the Kowloon Mosque full name is the Kowloon Masjid and Islamic Center. It sits on the site of the former Tsim Sha Tsui Police Station and established at the end of the 19th century to serve the British Muslim troops. The current mosque was built in the 1980s following damage by the old one due to MTR construction. 

Personally, I have not visited the inside of the mosque. But it is lovely to see such a different architecture style in the modern, busy hub of TST.

Get your money exchanged Chungking Mansion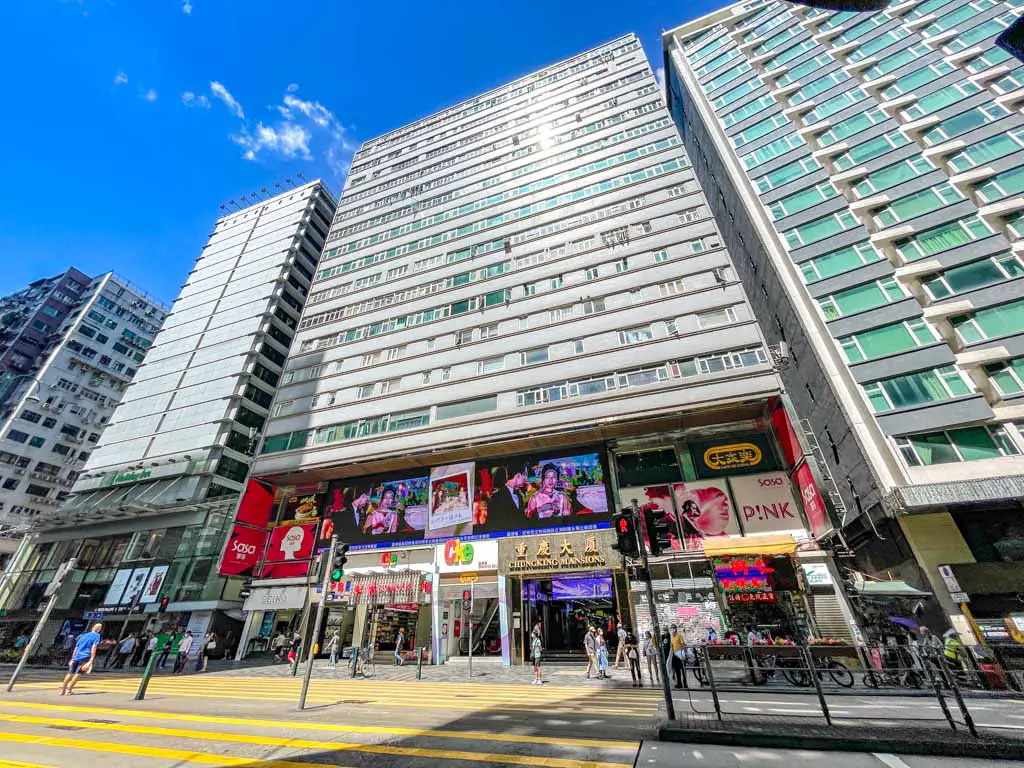 Chungking Mansion is famous for being the hub for cheap guest houses, Indian and African eateries, and currency exchange. It is the gathering point for many ethnic minorities and located on Nathan Road, across from I-Square. While it is dubbed to be unsafe, it is where I get my currency exchanged before a trip and I also went to an Indian restaurant there with a friend. One just needs to go in with purpose and assertiveness!

Tsim Sha Tsui Museums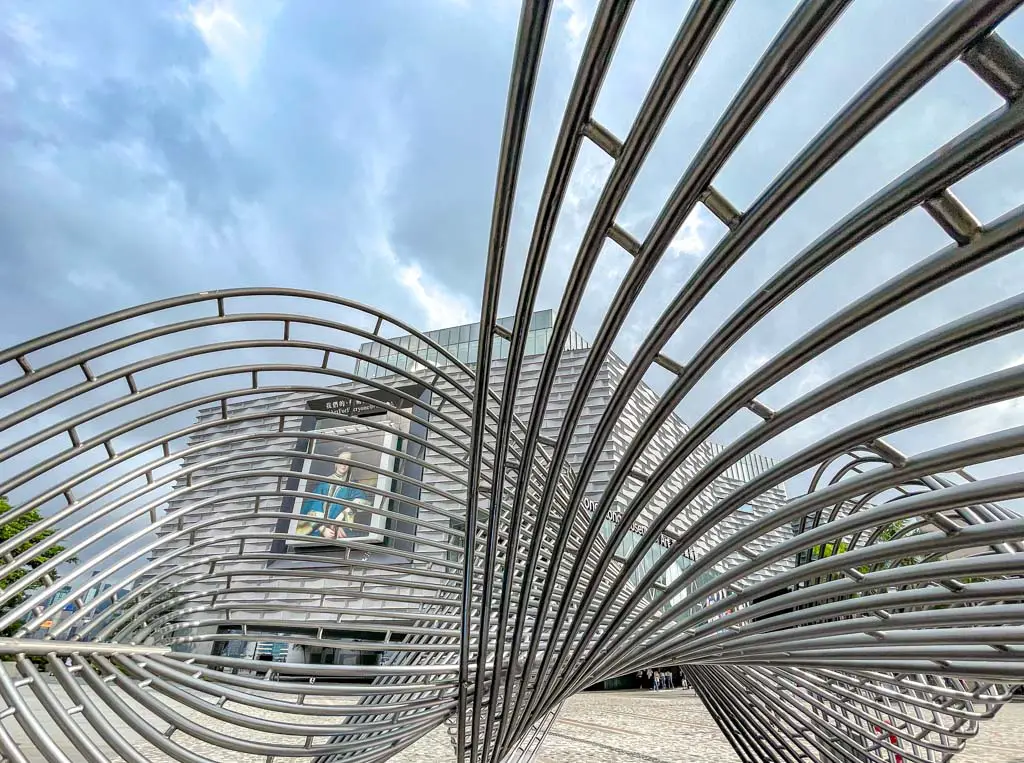 Quite a few of Hong Kong's best museums are in Tsim Sha Tsui, although the Science Museum and the History Museum are technically in Hung Hom. But there's the newly reopened MOA and the longstanding Space Museum and Culture Center:

Sit on a chair and look out at the Victoria Harbour at Museum of Art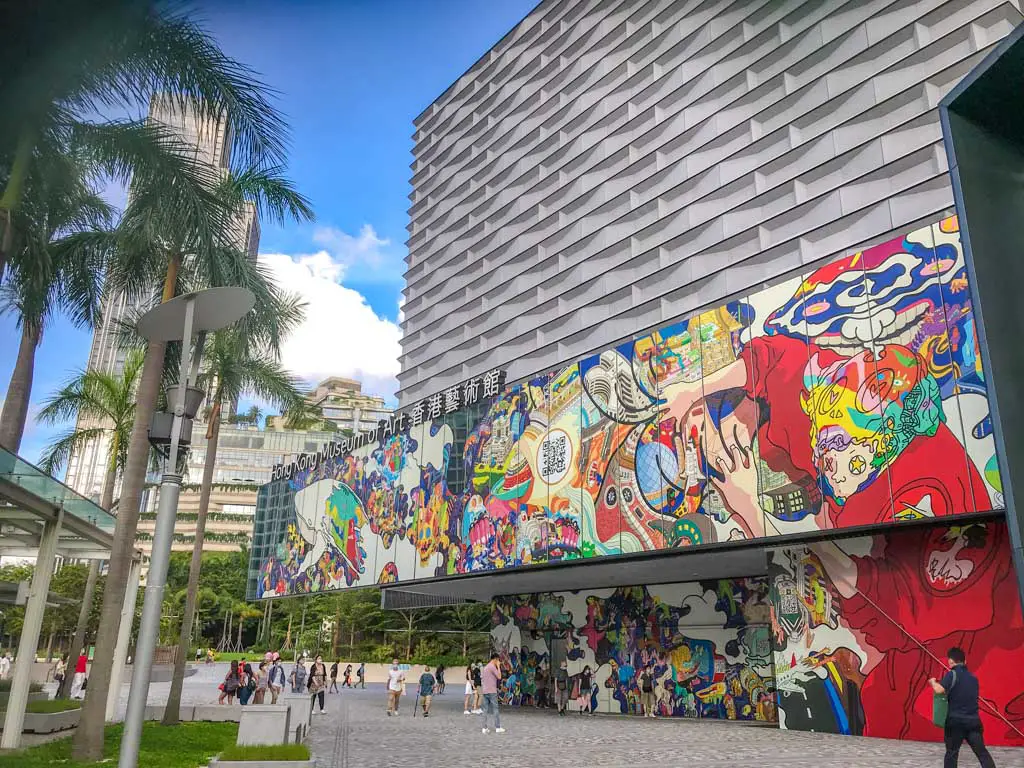 The Hong Kong MOA is relatively new, opening its doors in the new location next to the Science Museum in 2019. There are five floors to the museum with both permanent and seasonal exhibits.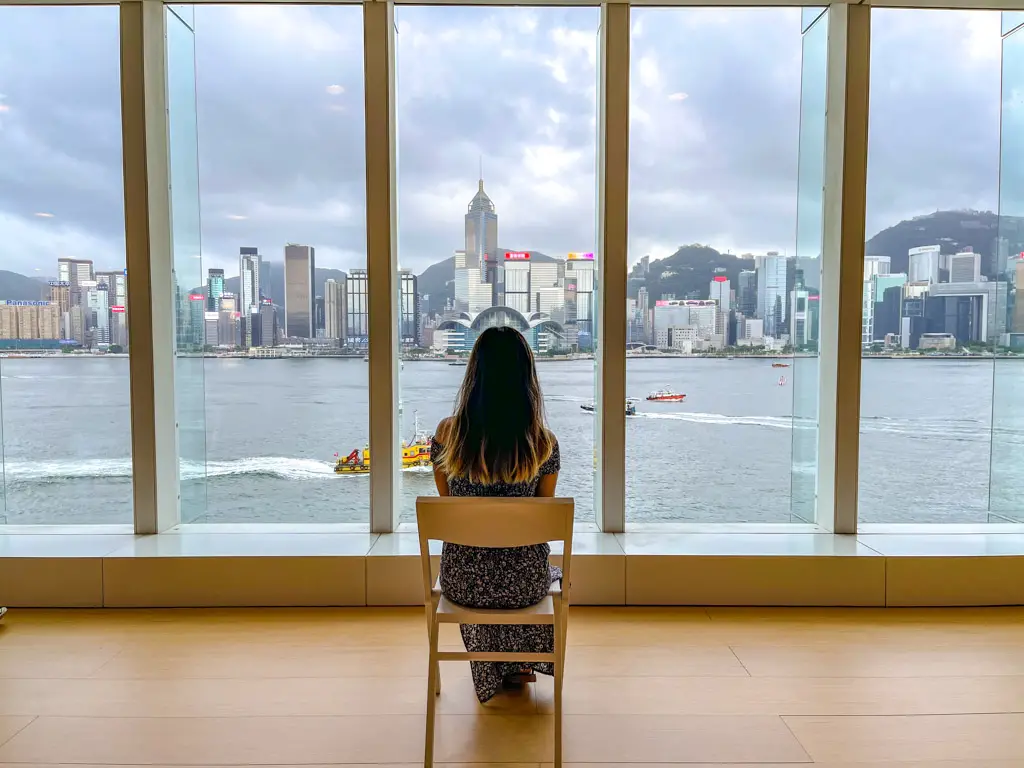 Even if you are not an art lover, it's worth visiting for the simplistic decor. On its second and third floor there are chairs facing the window, which makes for a great photo and or relaxing space.
Admission free
Address: 10 Salisbury Rd, Tsim Sha Tsui
Opening times: closed Thursday, Mon – Weds, Fri 10:00 – 18:00, Sat – Sun 10:00 – 19:00

Catch a showing inside Hong Kong Space Museum
The Hong Kong Space Museum's iconic half-dome shape houses the only planetarium in Hong Kong and it's a great place for families. It houses interactive exhibits but that is not the main attraction in my opinion. You can catch dome shows in the Space theater and they are generally educational.
Admission Free (tickets need to be prebooked under COVID-19)
Address: 2 Science Museum Rd, Tsim Sha Tsui East
Opening times: Mon – Weds, Fri 10:00 – 19:00, Sat – Sun 10:00 – 21:00 

Hong Kong Cultural Center


More of a performance facility, the Cultural Center sits behind the clock tower and is recognisable from its asymmetrical curved exterior that is reminiscent of wings and sails.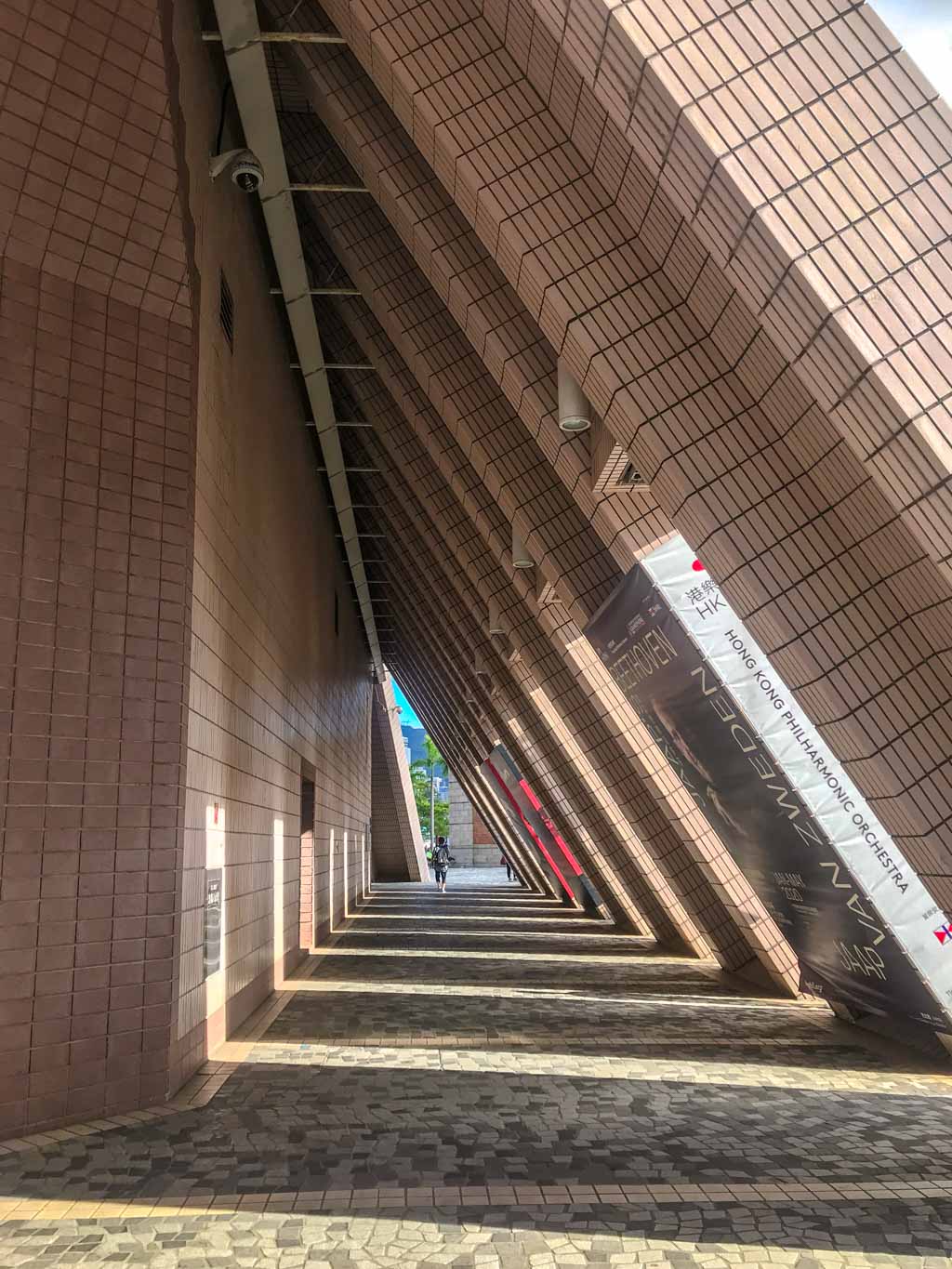 If you are interested, you can see their schedule here, but I usually like to get some photos at the triangular pillars to the side.

Look at what new display is up in front of the 1881 Heritage
The 1881 Heritage Hotel was revitalised from the former Marine Police Headquarter. The 1881 reflects the 1880 start of the headquarter that remains operative until 1996. It is now a a shopping mall, hotel, and an exhibition hall. They always have some kind of themed display in the square that is popular for photos.

Tsim Sha Tsui Shopping Mall
Shopping in Tsim Sha Tsui: mall hop
While personally I tend to do my shopping in Mong Kok, Tsim Sha Tsui is great for roaming in malls and finding international brands. The bigger and more popular ones include K11 Musea, K11 Art Mall, Harbour City, The One, Mira Mall.  But there are many, many things you can do in the malls in TST beyond shopping.

Look at trendy shops at LCX in Harbour City
Harbour City is a huge mall, and the Ocean Terminals juts out into the harbour and on the second floor is the LCX mall strip. It houses younger brands and I often go and check out the latest international trends.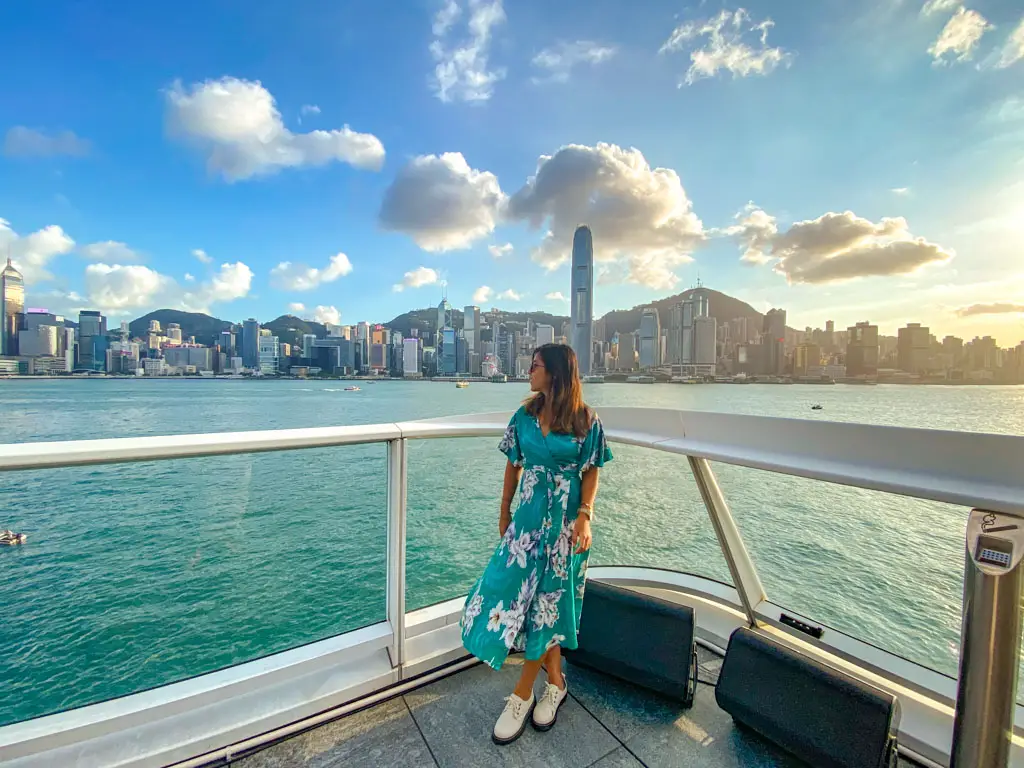 At the end there is a balcony that overlooks the Victoria Harbour, towards Sheung Wan, Tung Chung, and the west. There are several restaurants here that have the same view. 

Look at the underground gallery at K11 Art Mall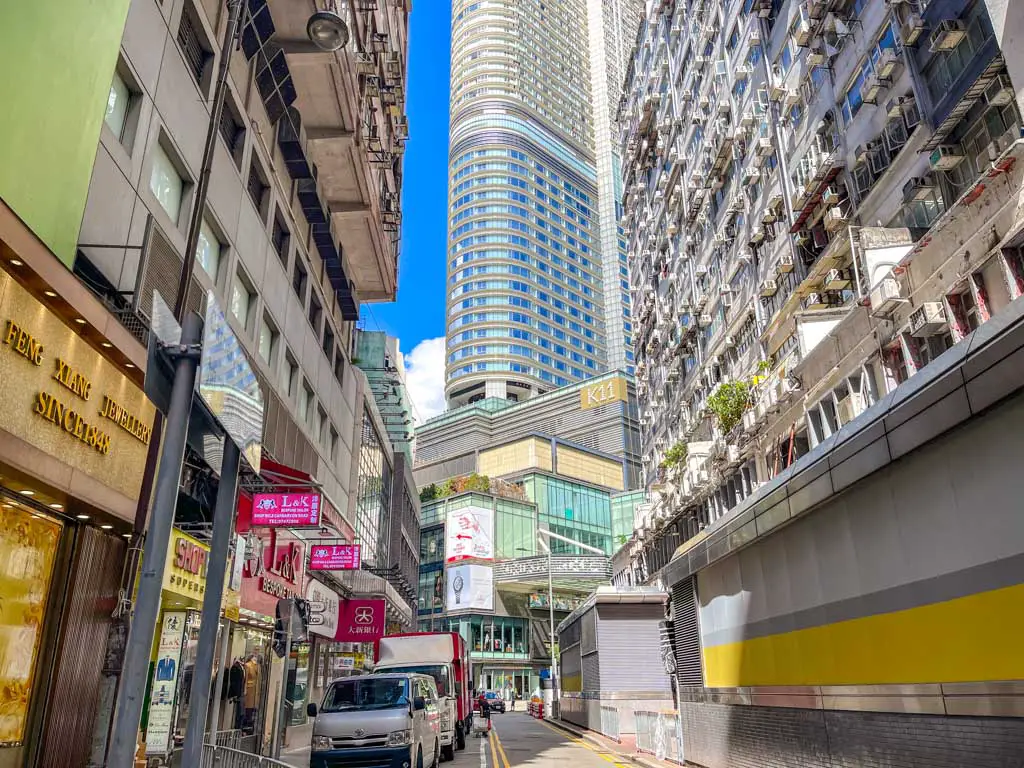 Not to be confused with the K11 Musea Mall, the K11 Art Mall has been around longer but – clearly – they belong to the same ground. They have an underground gallery that hosts different exhibits on different topics and can be seen from the extensive underground tunnel.
There are also a lot of small shops and eateries, but more on what to eat in its own article.

Enjoy the air con, free WiFi, and the many eateries at K11 Musea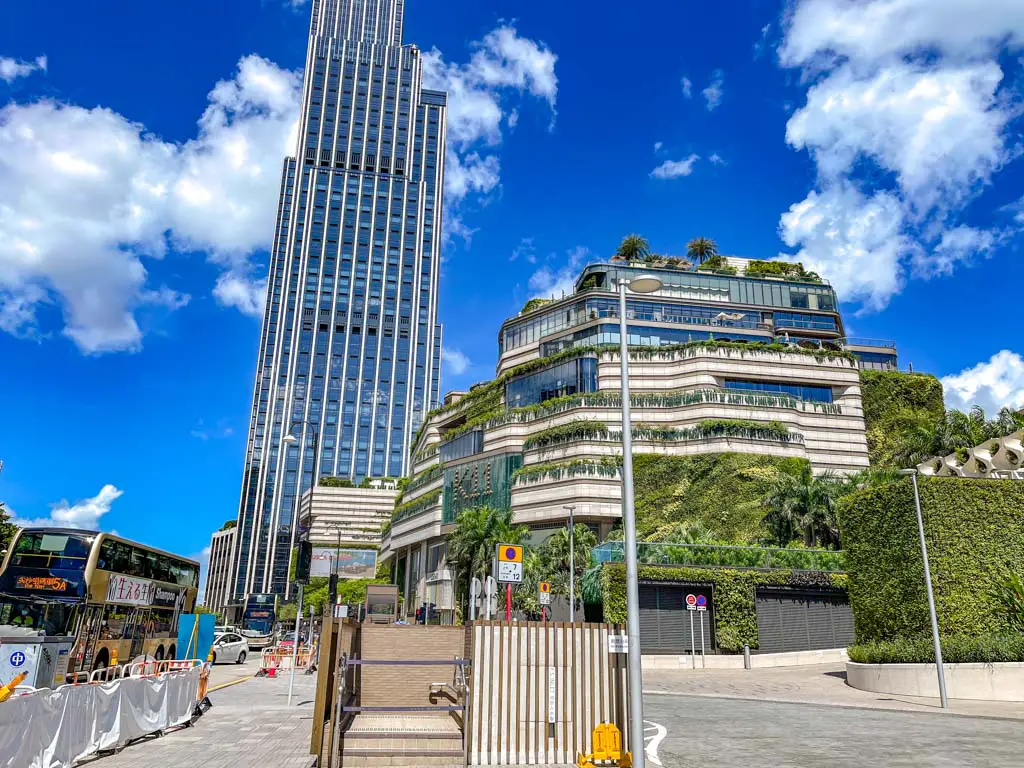 The new K11 Musea mall is an amalgamation of many design elements by different artists and architects. Aside from being a well-designed piece with many temporary exhibit items here and there, it is also home to many restaurants and eateries, with a foot court at the underground level. 
There is a terrace where you can see the view of Victoria Harbour from above, too, and is a good place to go and hide since it's shaded. It also connects to many other parts of Tsim Sha Tsui via a tunnel, and is a short walk from East Tsim Sha Tsui station.

P.S. you get 4 hours of free WiFi if you sign up as a K11 Club member

Get lost between Tsim Sha Tsui and East Tsim Sha Tsui tunnels
When I first moved back to Hong Kong, I often (and still at times now) got lost around the extensive tunnels. It primarily links the East Rail and the MTR stations of East Tsim Sha Tsui and Tsim Sha Tsui, and there are so many exits that the numbers go to P. The best thing to do, when you are not sure, is to find the nearest exit to where you need to go or else you might get turned around a little.

Discover the unofficial little Korea
Although there's no official Korean Town or little Korea, the area around Kimberly Road in the north of TST is home to a cluster of Korea shops and restaurants. Interestingly, this is also where the wedding dress rental shops are and is an older part of Tsim Sha Tsui.

Catch the instagram spot of China Hong Kong City
The ferry terminal that connects Kowloon to China and Macau is inside a mall. And at the top, the bronze-gold glass buildings are a famous Instagram spot. Be careful when you take photos as the road links to the carpark.
See more Instagrammable spots in Hong Kong here.

Nightlife in Tsim Sha Tsui – get a drink at Knutsford Terrace
The center point of nightlife in Tsim Sha Tsui is Knutsford Terrace, closer to Jordan and just north of Korean street. While it is not as big as Lan Kwai Fong, the single street is set back from the main road and definitely has a relaxed, more social vibe. 

Hotels in Hong Kong in Tsim Sha Tsui
The Gateway Hotel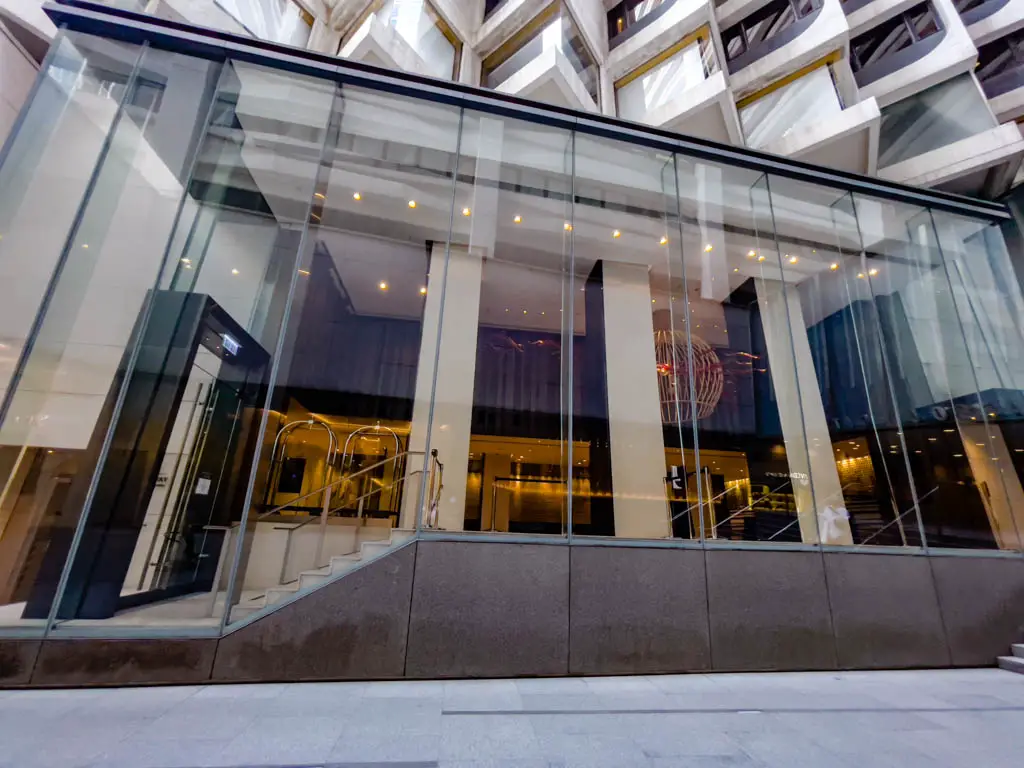 The Gateway Hotel by MarcoPolo is nestled in Harbour City Mall in the corner that links to the Kowloon Park. It's a quiet but central choice with an offering of spacious rooms.
This is the continental twin room with a living room area and nice, big double beds.
My experience at the Gateway Hotel was for a stayacation called the Culinary Experience, which included a nice afternoon tea spread and then a shrimp tower:
We hda a lovely night of sleep and heard no noises from the street. There was a coffee machine, tea bags, and two TVs. Though the TVs were a bit dates, but we were able to connect it to a laptop to watch a movie by borrowing an HDMI cable.
The buffet breakfast had great variety with Chinese food and western choices. There's also a noodle bar and an egg station.
The Gateway Hotel, along with the other Marco Polo Hotels in Hong Kong, can be booked through the GHA Discovery program. It's free to join and you can book over 550+ hotels at a great rate and earn points.
Park Hotel Hong Kong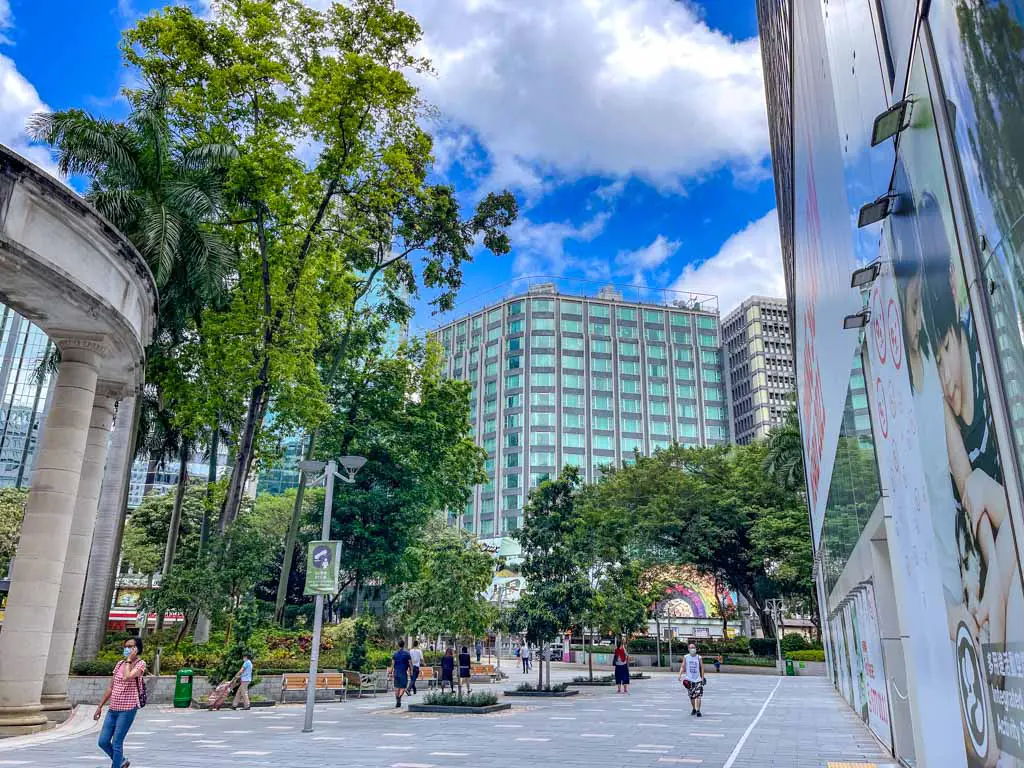 Park Hotel Hong Kong is more on the northeast side of Tsim Sha Tsui on Cameron Road, an easy walk to Hung Hom and the promenade, as well as other parts of Tsim Sha Tsui.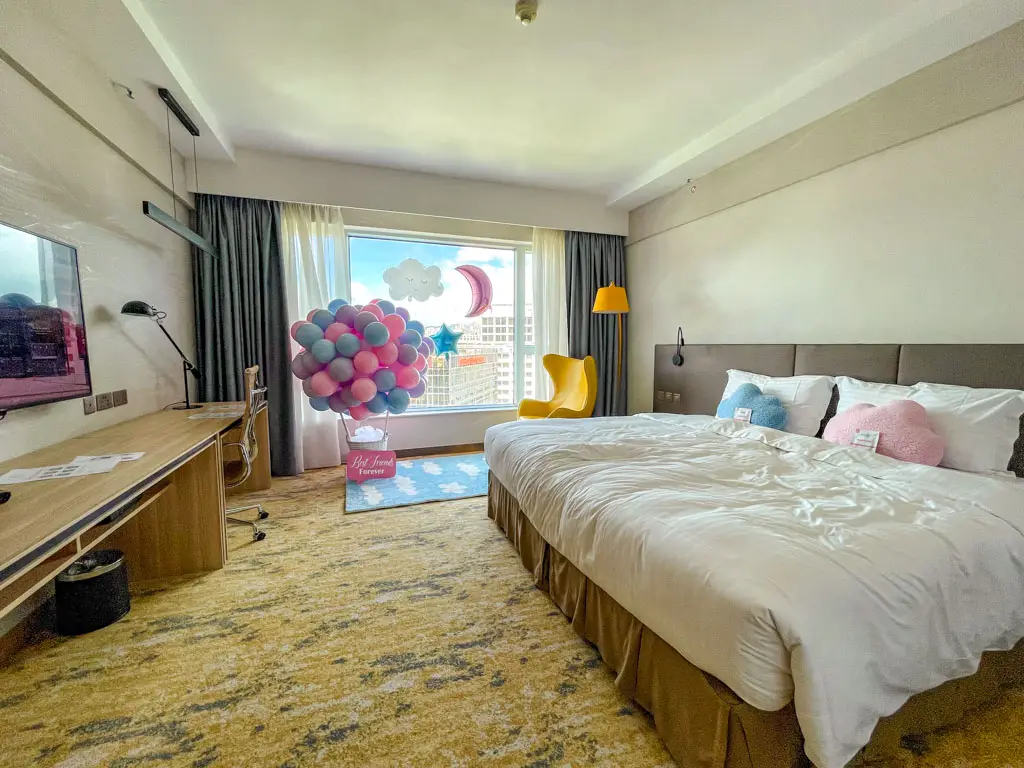 The hotel has been recently renovated, and I stayed in their very spacious premium room on a staycation. I love that they labelled the power switches, have plenty of sockets and usb ports, as well as screen mirroring.
The bathroom also has a bathtub and ring lights around the mirror you can turn on, which is a nice touch. You can also screen mirror your phone or laptop to the big TV, although I can't connect it to my phone. We also got a view towards Hung Hom and a small glimpse of the Victoria Harbour.