Ap Lei Pai is a cute little island south of Ap Lei Chau, which can be reached by hiking through or around Yuk Kwai Shan, which can also be directly translated as Cinnamon Hill.
There is the unrivalled 360 degrees view at the top of Yuk Kwai Shan, the small tombolo that connects it to Ap Lei Pai, and the Mount Johnston Lighthouse on the other end that draws the crowd. But what ended up making my trip was the Ap Lei Pai coasteering back on the west side of Yuk Kwai Shan back.

Summary of Yuk Kwai Shan and Ap Lei Pai hike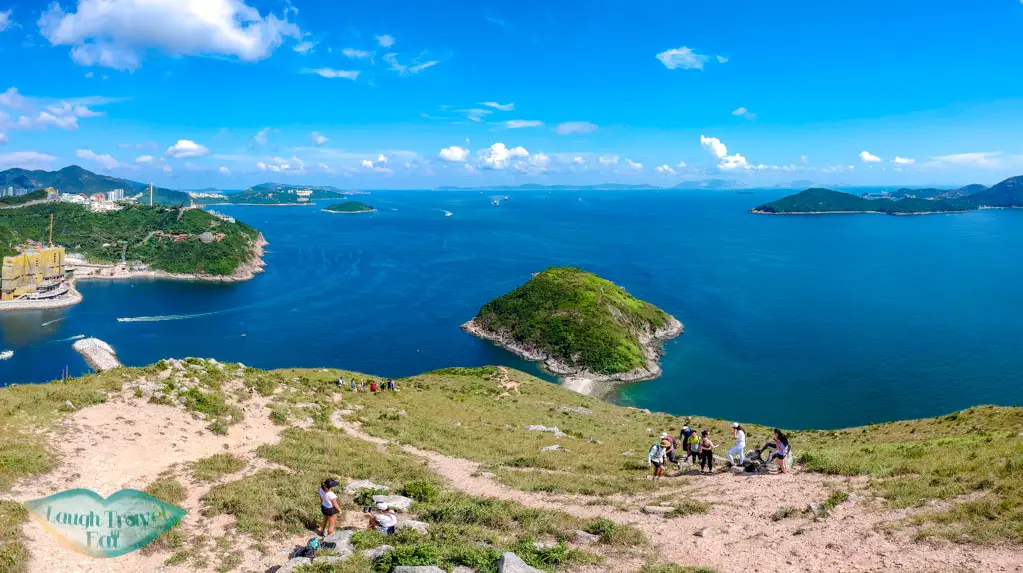 Difficulty: 4/5 due to its steep terrain and exposed trail
Time taken: 2-4 hours depending on which route you take and whether you take the ferry out
Pros: a beautiful hike with both mountains and sea and plenty of photo spots, great view of Ap Lei Pai, and close to public transport
Cons: can be a crowded trail, very steep parts on the descent form Yuk Kwai Shan to Ap Lei Pai, and no swimming opportunities

How to get to trail start for Yuk Kwai Shan and Ap Lei Pai
To go up Yuk Kwai Shan, simply get the new South Hong Kong Island line to the penultimate stop Lei Tung. 
Take exit B, go up the elevator, then cross the road towards the shopping mall. Go past McDonalds and curve behind the bus stop and to the left there is a set of concrete stairs between two yellow rest stops (box) that looks a little obscure.
Simply follow it up up, and up, then you'll reach a sign that warns of the danger of the trail ahead. It is fairly steep, with ropes installed here and there but be careful using them as they are not 100% secure.
Note: do not attempt this trail during or immediately after heavier rain. 

The whole uphill trek can only take 15 minutes or so if you are fast, but take your time and pace yourself.

Yuk Kwai Shan peak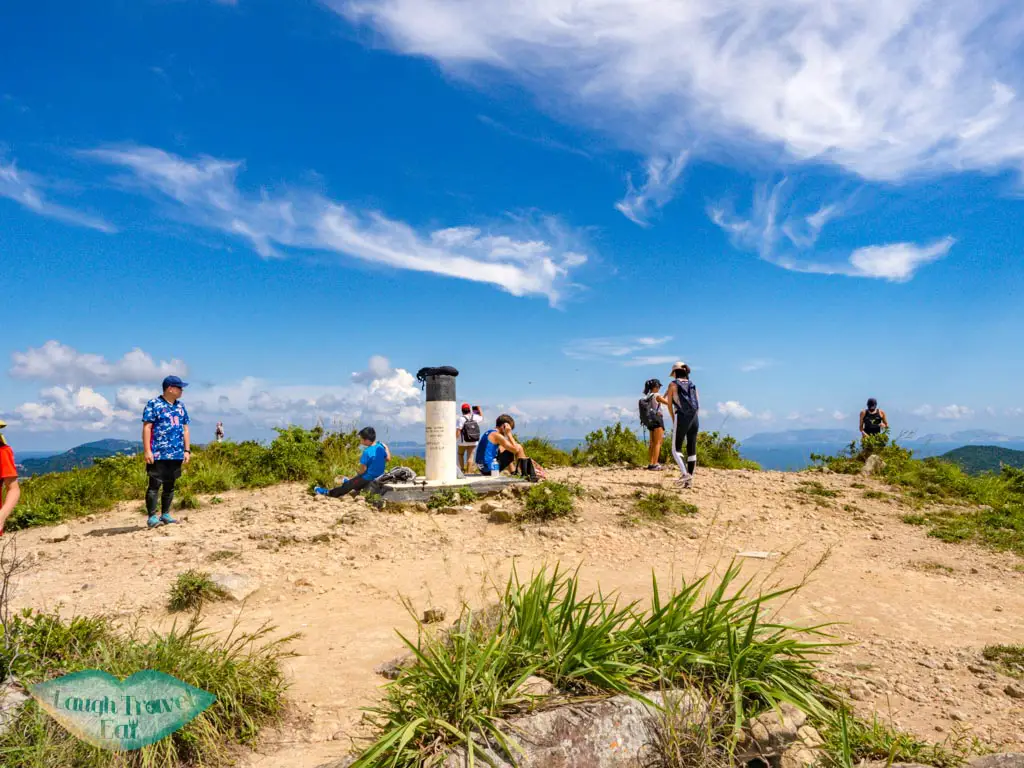 The top of Yuk Kwai Shan boosts a 360 degrees panorama, and you can see Lamma Island, glimpses of Aberdeen, Ocean Park, and Ap Lei Chau clearly.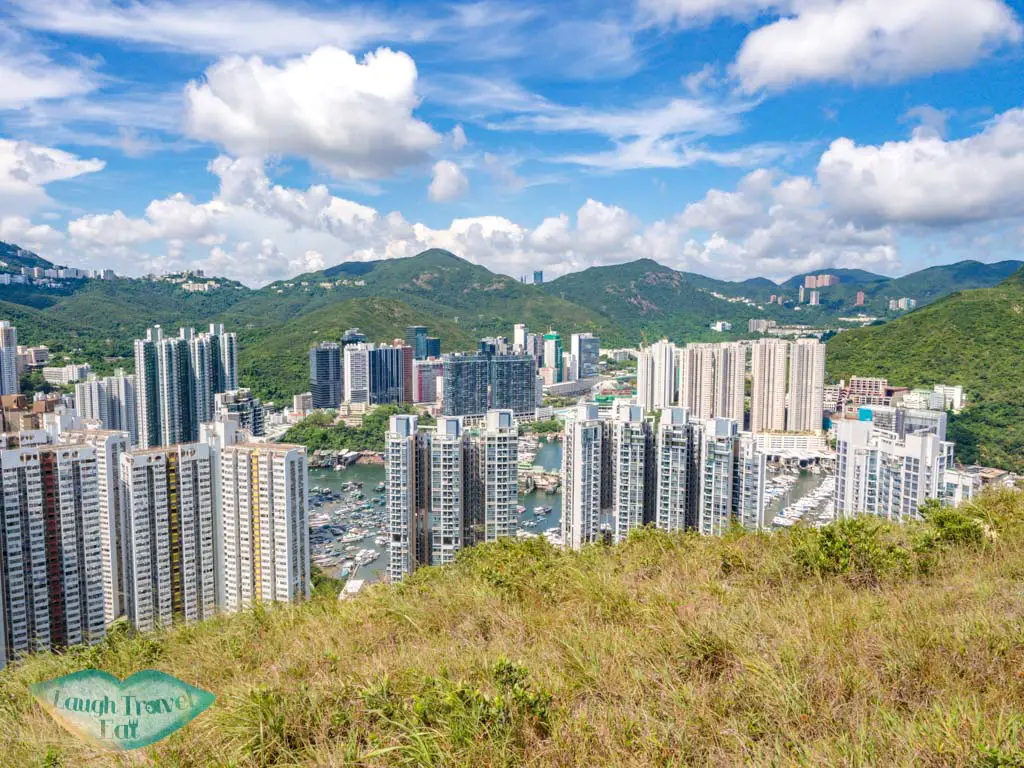 The peak comprises a large area but is fairly exposed.

Descent to Ap Lei Pai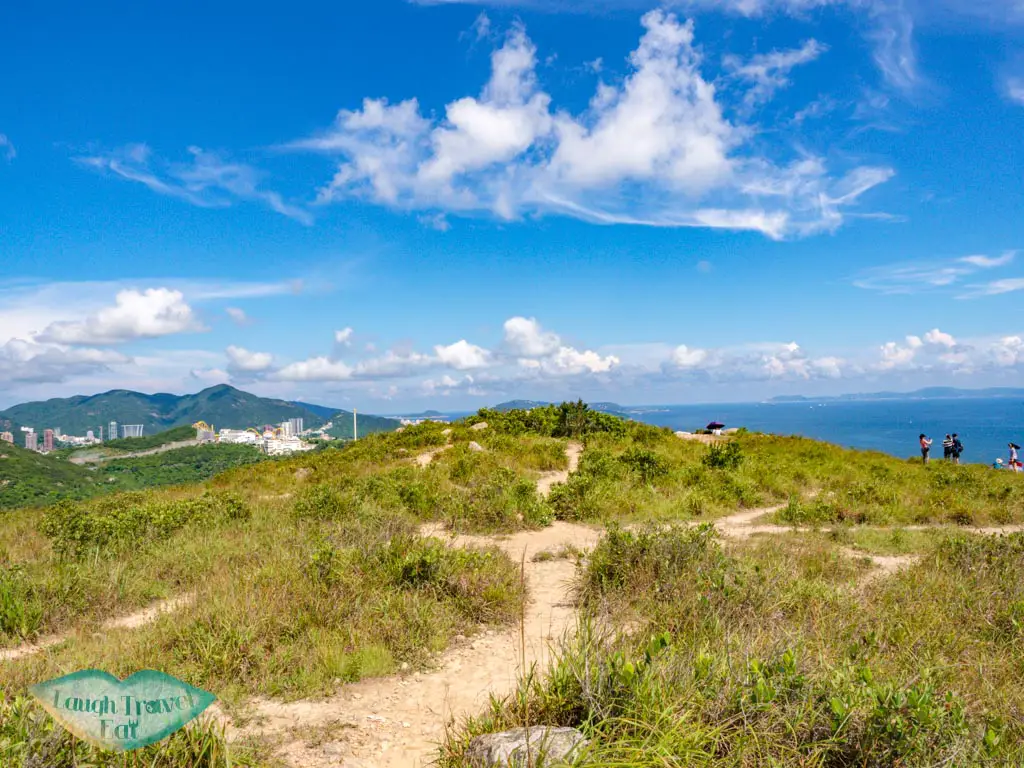 Once you are ready, carry on southwards and the trail will start to slopes to the south. The view of Ap Lei Pai is clear with some big rocks scattered around for photos.
Then is the trickiest part. It's a scree-like slope that goes down steeply with a rope in the middle, but that's more for ascent than descent.
Stick to the sides, first left then right and close to the vegetation and you should be able to get down by being careful.
The slope even out a little towards the end but you have top hop down on big boulders to land on the tombolo.

Ap Lei Pai tombolo
The tombolo is well formed, better than Sharp Island's with sandy center but rocky sides. But this means that wedging out to swim isn't really possible without proper wet shoes and it is fairly wavy.

To carry on hiking to the other end of Ap Lei Pai where the lighthouse is, go towards the right of the island but not along the ropes or the coast where there is a trail. There is only one path from there.
It first takes you up a small hill, then a higher one before descending towards the end.
Just before the lighthouse, we duck into the bushes and emerge on huge igneous rock.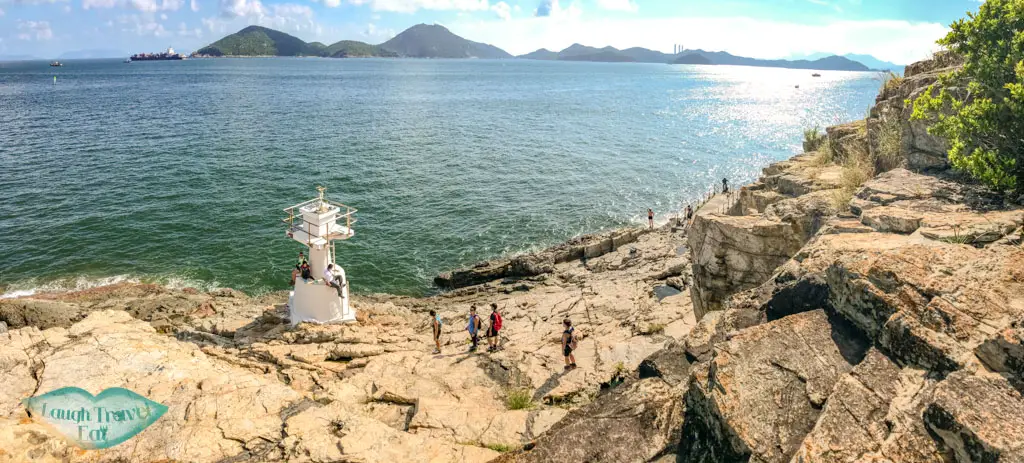 Find the small steps that lead down to the coast and you'll be at the lighthouse.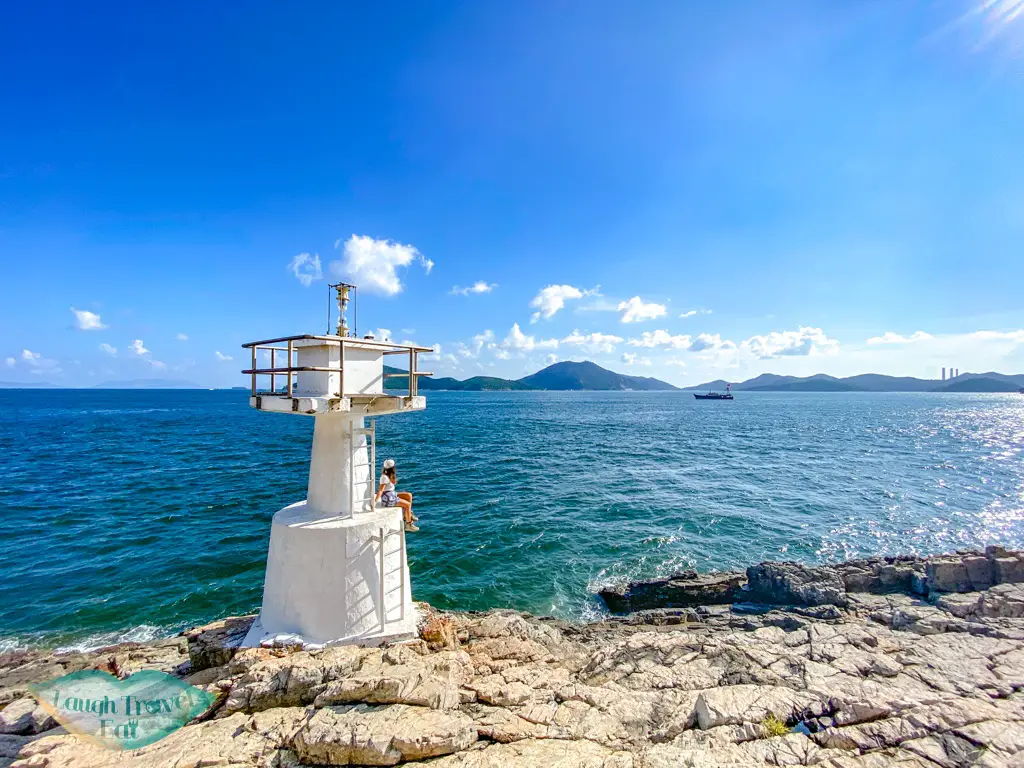 You can wait by the pier there for kaito that shuttles people back to Aberdeen.

Ap Lei Pai Coasteering to South Horizon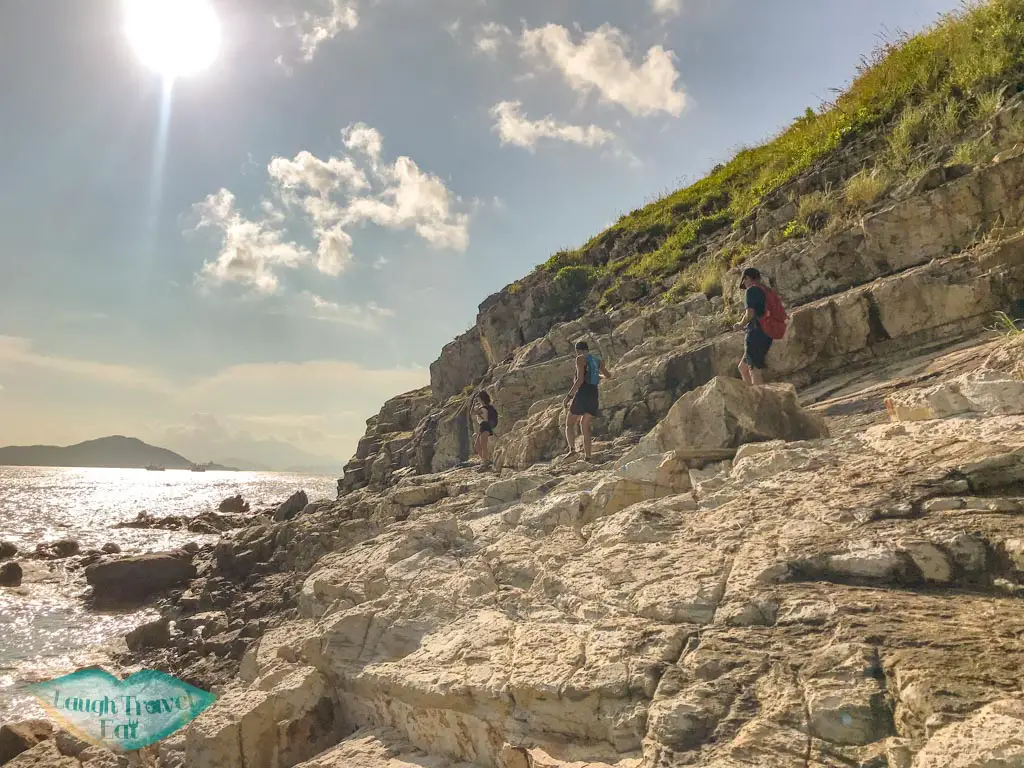 Once you get back to the tombolo the same way you came, you can head back up Yuk Kwai Shan or go west and costeer to Lee Lok Street, which is about a 12 minutes walk from South Horizon.
This takes about 45 minutes but it is along the coast with some rope asist and metal or wooden plank fixture, so I don't recommend doing it if you are not in the right footwear or isn't experienced with hiking. 
The view, however, is great and you can still walk along a little before turning back if you want.
Highlights include a wooden bridge, a very man-on-the-ledge walk, and this giant bamboo stairs.

It takes you all the way to a pebble beach right by the pumping station. Just make you way to the concrete fence and down.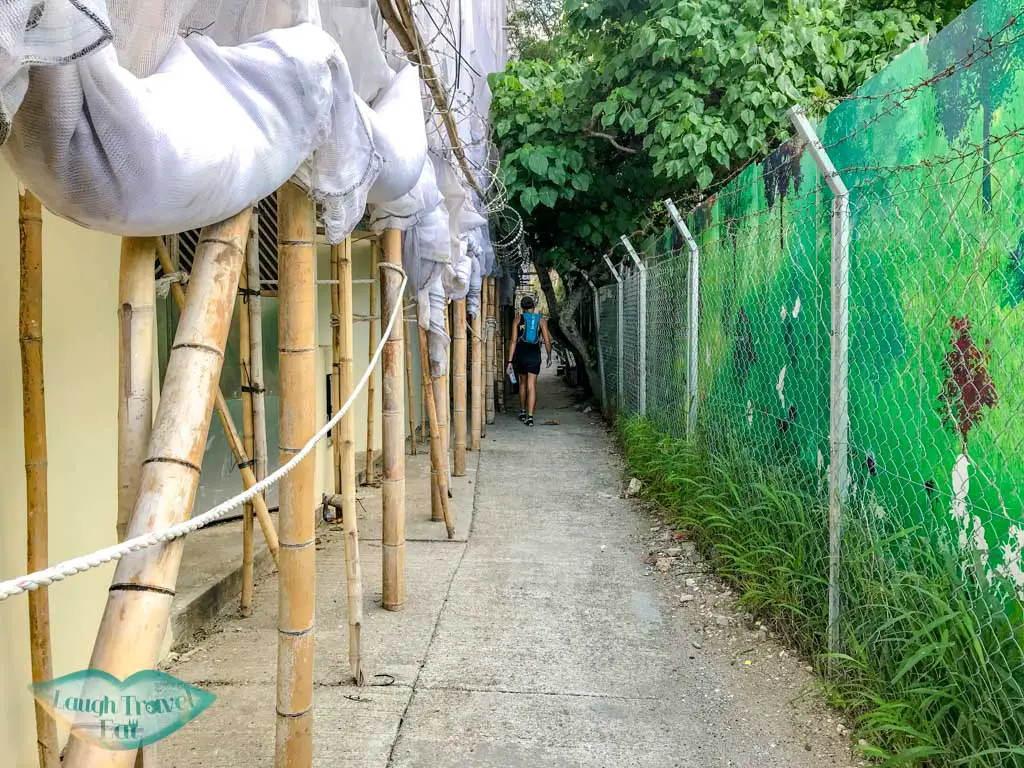 There is a public bathroom at the end of Lee Lok Street. However, the nearby mall Horizon Plaza only has furniture stores. But simply follow the signs towards South Horizon MTR station and you'll be there in 15 minutes.