Cheung Chau is a sleepy little island in the shape of a dumbbell about 30 – 60 minutes boat ride from Hong Kong Island. It's a fishing village that's most famous for its annual Bun Festival. Much like Lantau island, it's known for its slower pace of life and seafood, as well as home to several historical sights. If you are looking for a day trip in Hong Kong that's not too taxing with variety, Cheung Chau is the one for you!
A brief history of Cheung Chau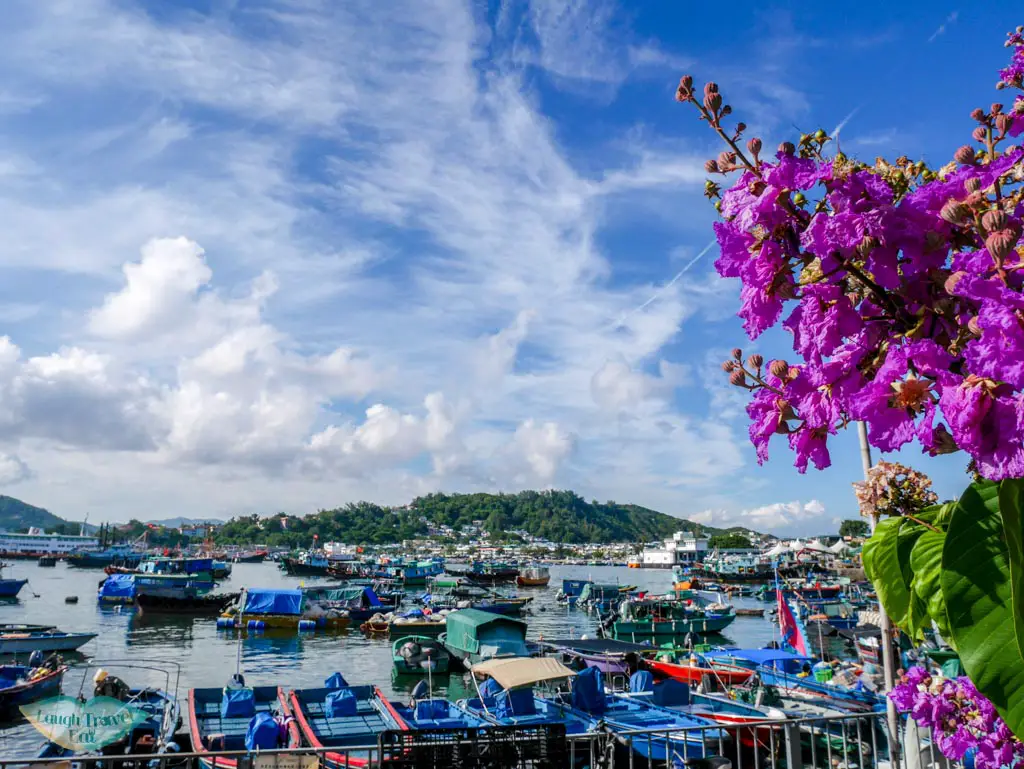 While traces of human occupancy can be found as far back as three thousand years ago, Cheung Chau as we know it today started in the Ming Dynasty. It was affected by a plague in the 18th century which leads to the start of what is known as Cheung Chau Bun Festival. The fishing village flourished in the Qing Dynasty, during the time it was the hideout of the infamous pirate Cheung Po Tsai. 
How to get to Cheung Chau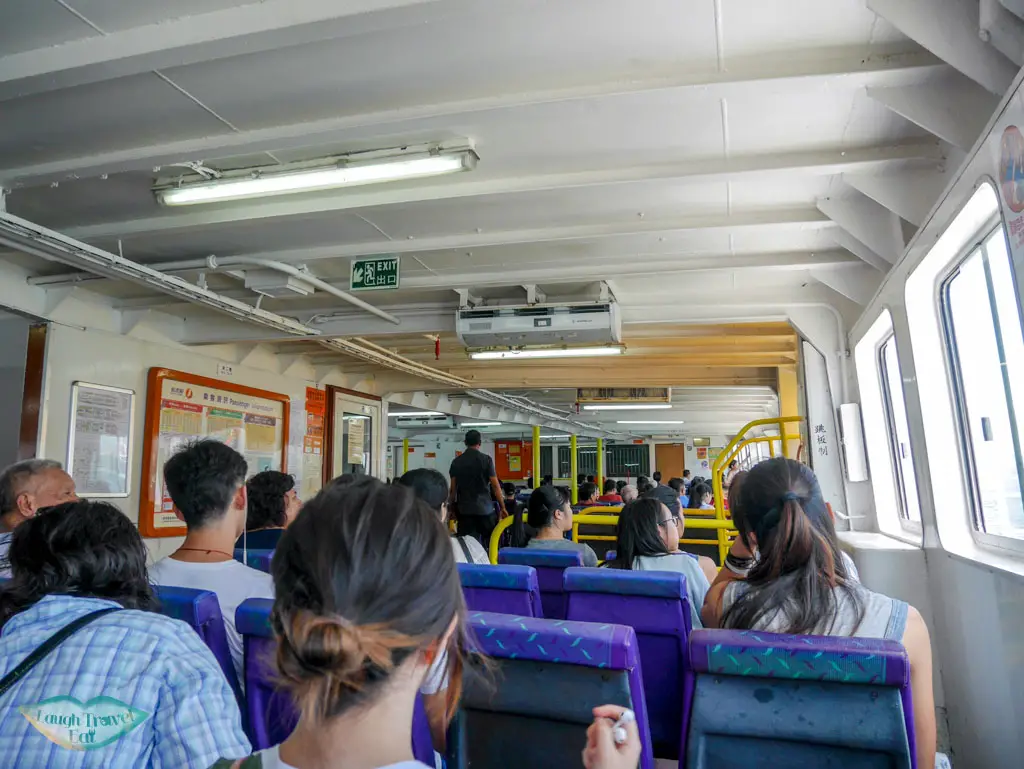 As an island, the only way to get in and out of Cheung Chau is via ferries. There are a few ferry lines that connect Cheung Chau to the other parts of Hong Kong:
Ferry to Cheung Chau
Central to Cheung Chau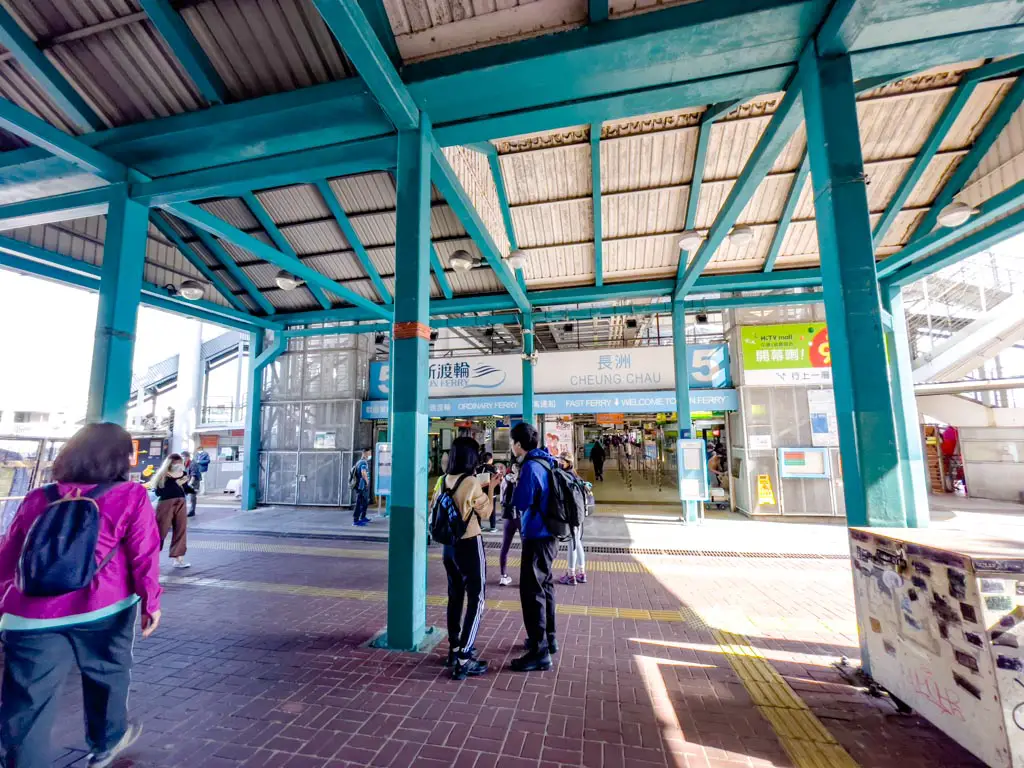 The main ferry line that connects the island to the rest of Hong Kong, there is one ferry every half an hour between Cheung Chau and Central. There is a fast and a slow ferry, the former only takes 30 minutes while the latter an hour to reach the island.
Address: Central Pier 5
Fast ferry: Mon – Sat HKD $26.8 Sun & Public Holiday HKD $36.8
Slow ferry: Mon – Sat HKD $13.6 Sun & Public Holiday HKD $22.2
(elderly and children fare are half priced)
Other islands
From Cheung Chau, you can also get ferries to and from the following locations:
Chi Ma Wan on Lantau Island
Peng Chau
Mui Wo on Lantau Island
Unless you are doing a combination day trips or staying on Lantau Island, there's little reason why you would take the ferry to or from these places. However, if you do happen to (or is curious), you can find the timetable here.

Things to do in Cheung Chau
Wondering what to do in Cheung Chau? Cheung Chau island is a versatile place to visit and one of the top Hong Kong day trips destinations. It's an island where you find cute cafes and quirky houses, explore historic temples, and even go on a short hike or two before chilling on the beach. Here, I'm listing the attractions with a day trip route recommendation at the end.
Cheung Chau Bun Festival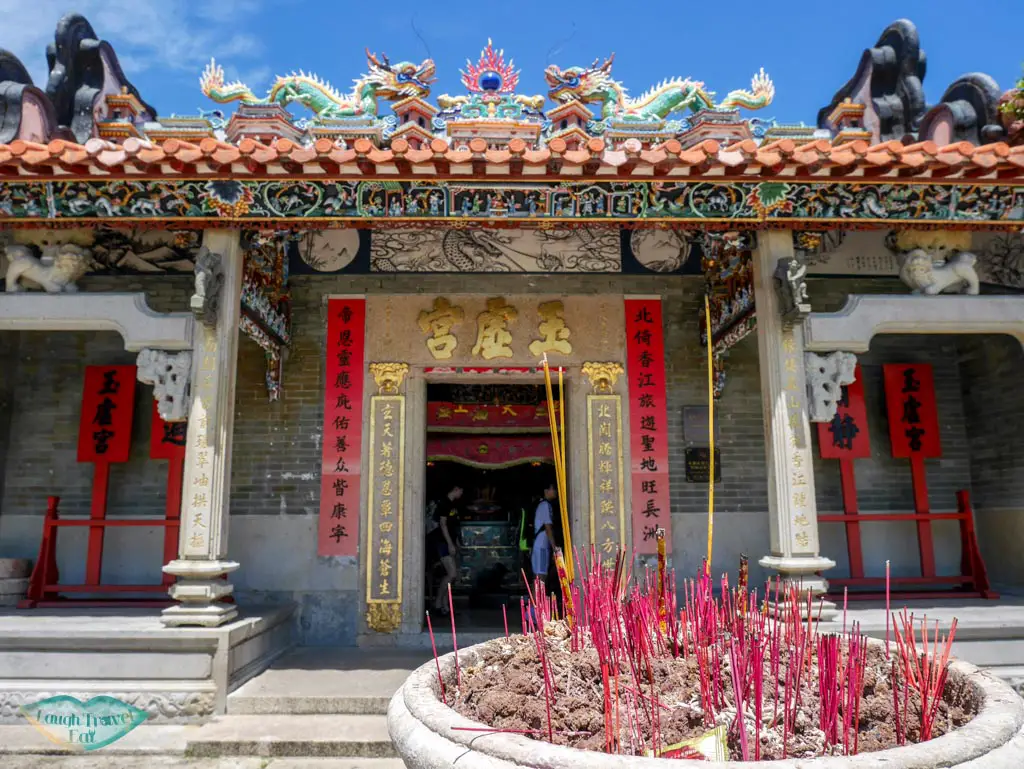 Arguably the most famous attraction on Cheung Chau, the Bun Festival takes place annually on the Buddha's birthday on the 8th of April in the lunar calendar. As briefly touched on in the short history above, it stemmed from the villagers' efforts to eradicate the plague in the 18th century as well as praying for safety from pirates and subsequently become a yearly celebration.
It is tied to the Pak Tai Temple, dedicated to the heavenly emperor Pak Tai, on the northern end of town. The religious aspect of the festival has faded with time, however, vegetarianism is still practiced during the period and many local restaurants – including McDonalds – will only offer vegetarian meals during the festival.
The most eye-catching part of the festival is the parade floats and the bun snatching. Traditionally, the parades involve villagers walking with the shrines or statues of the deities to symbolise the blessing of Cheung Chau. Now, we see the addition of floats from the 30s, each with its unique theme featuring kids dressed as characters from recent or ancient history. Political satire can often be found, too. 
The Bun Snatching Ceremony takes place on the same day but close to midnight. Three 14m high bamboo cone is filled with buns on the surface, with participants scrambling up to collect as many buns from as high as possible at the sound of the gong. It was on pause between 1978 and 2007 due to a collapsing incident, and plastic buns are now used instead.

Note: if you do plan on visiting Cheung Chau for the Bun Festival, know that it is often extremely crowded and accommodations book out months in advance and are pricey. Many also attempt to take the last ferry out and it often means that some cannot get on.
Colourful houses and murals
The main part of town is situated right in the thinnest part at the center. The few long streets that runs across it lengthwise houses retain the scenes of old Hong Kong of old-fashioned mini-stores, vintage iron gates, and lazy cats lounging by.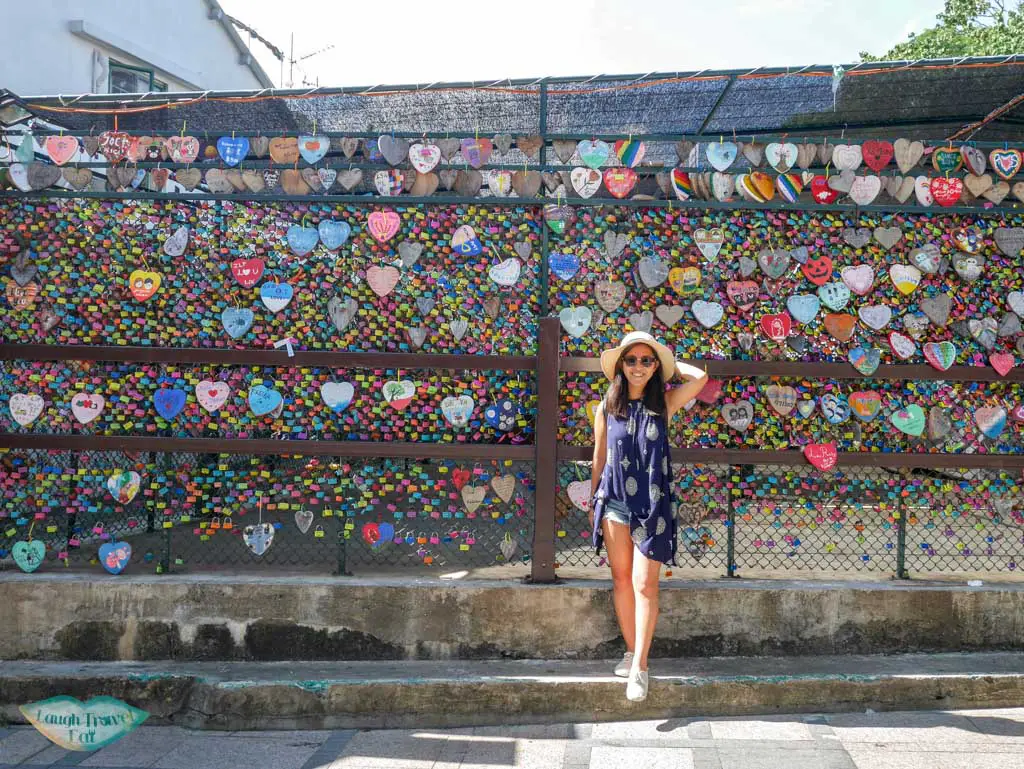 Some of the iron gates and walls are painted with colourful murals and make for excellent photo backdrop.
Cheung Chau Beaches
Tung Wan Beach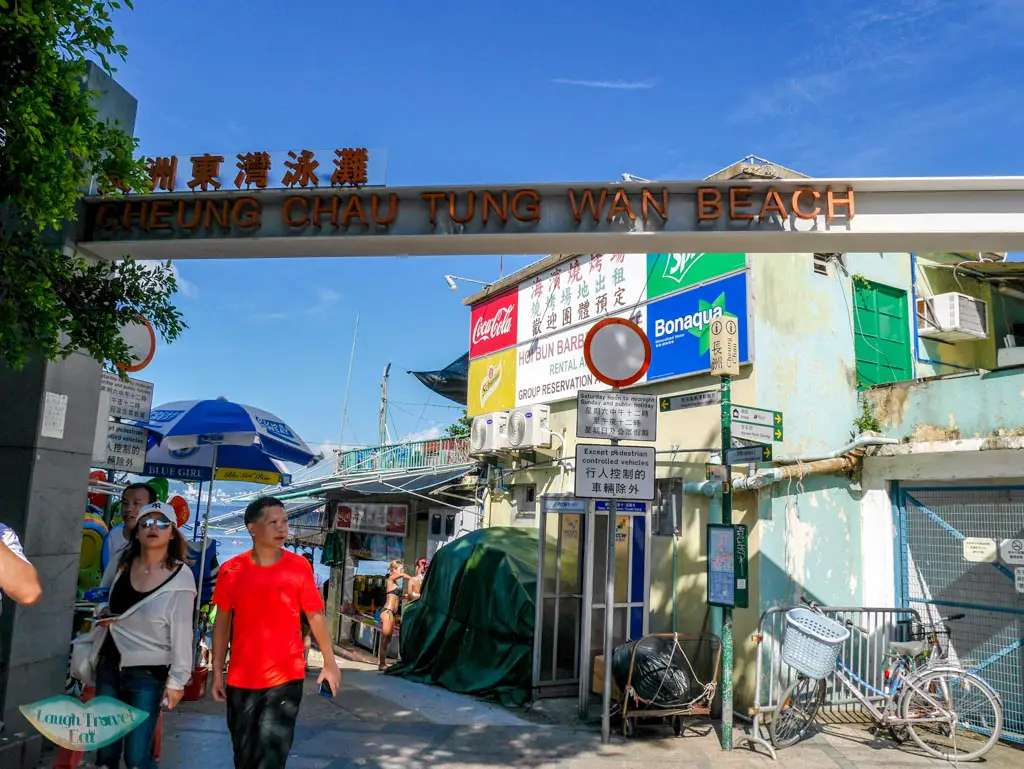 The main beach of Cheung Chau, Tung Wan Beach is just a 7 minutes' walk from the pier and a popular hangout for locals and visitors alike.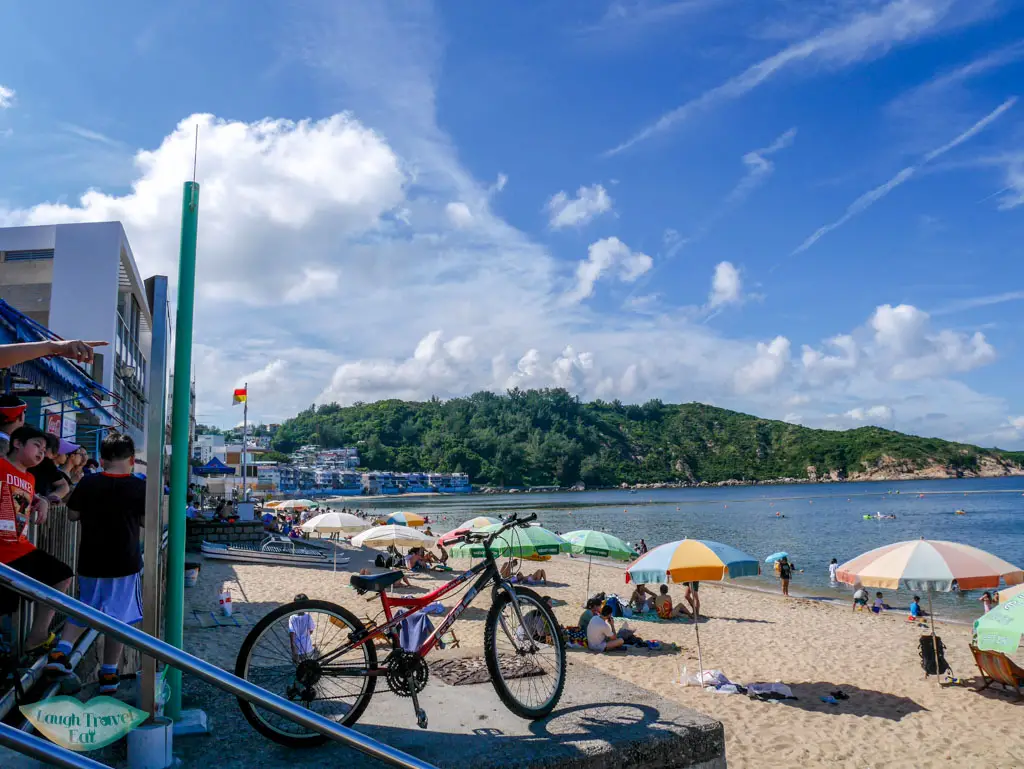 As a government run beach, there is a lifeguard as well as changing room facilities. While the beach isn't that wide, it makes up for it for being long.

Kwun Yam Wan Beach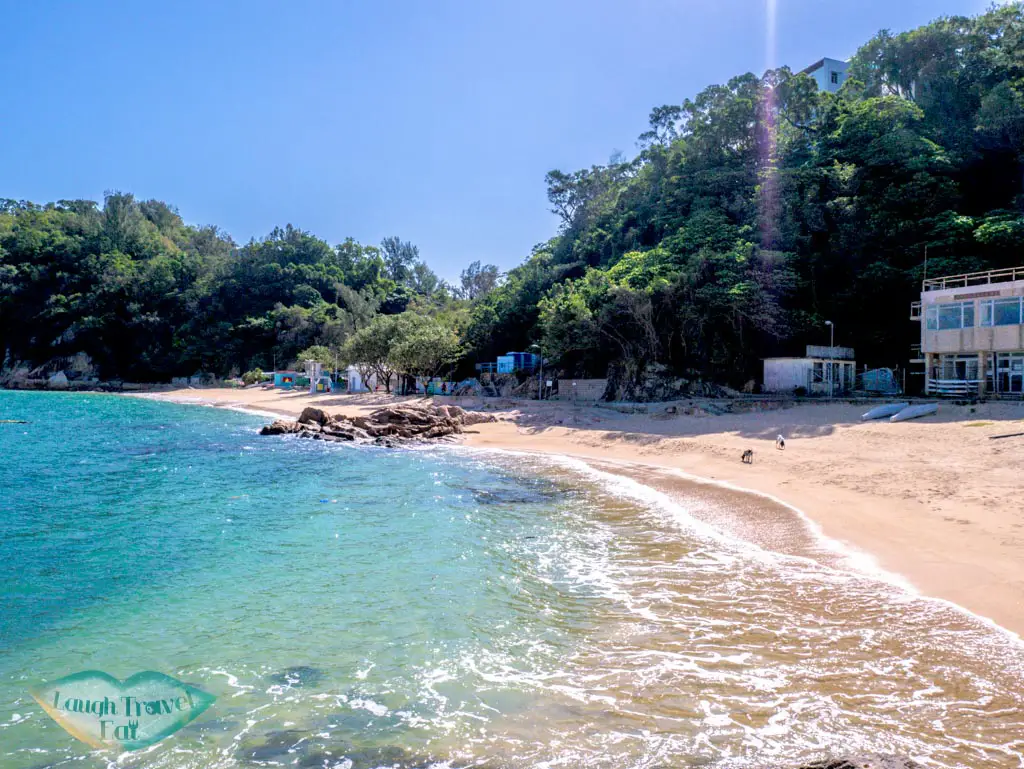 Right next to Tung Wan Beach, Kwun Yam Wan means Lady Buddha's bay and is a quieter beach for those who want to escape the crowd. It's enroute the the Mini Great Wall and a good place to hang out with friends.

Pak She Praya Road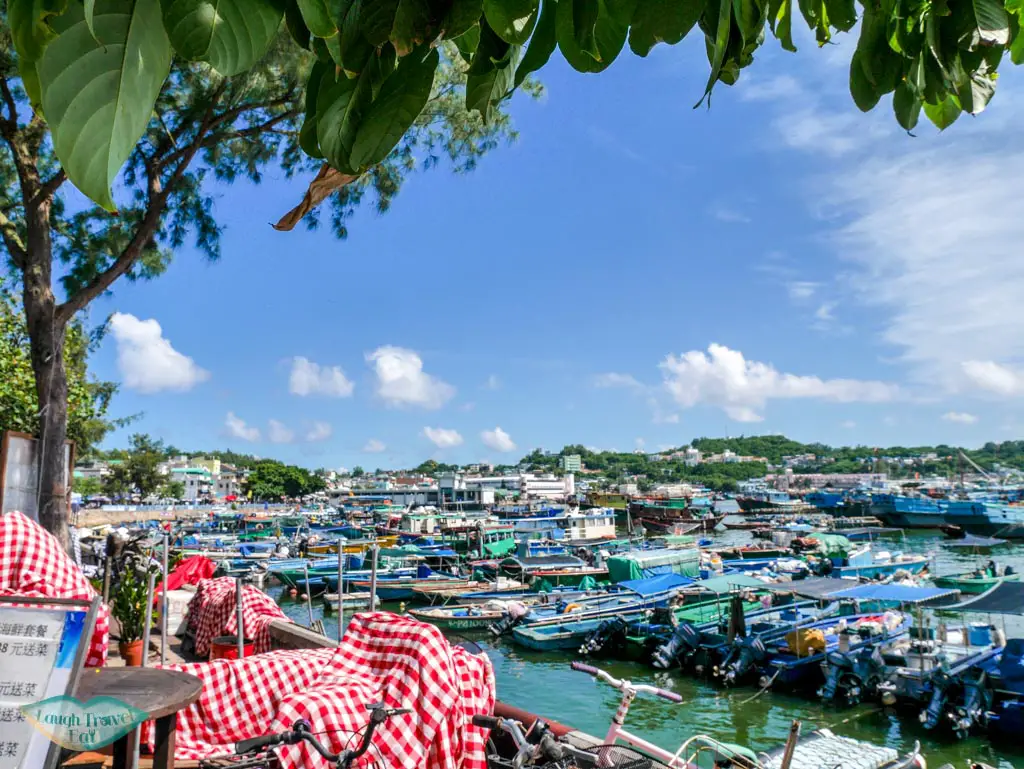 Love seafood and photography? The Pak She Praya Road is essentially the seafood promenade, one side is the sea and the other side a plethora of seafood restaurant. Since it faces the protected bay, there are many fishing boats that makes for good photo ops. There are fairly little road traffic on the island but many locals (and tourists) will whiz by on their bicycles, so watch out for them when you pause to take photos.

Visit the Temples of Cheung Chau
Pak Tai Temple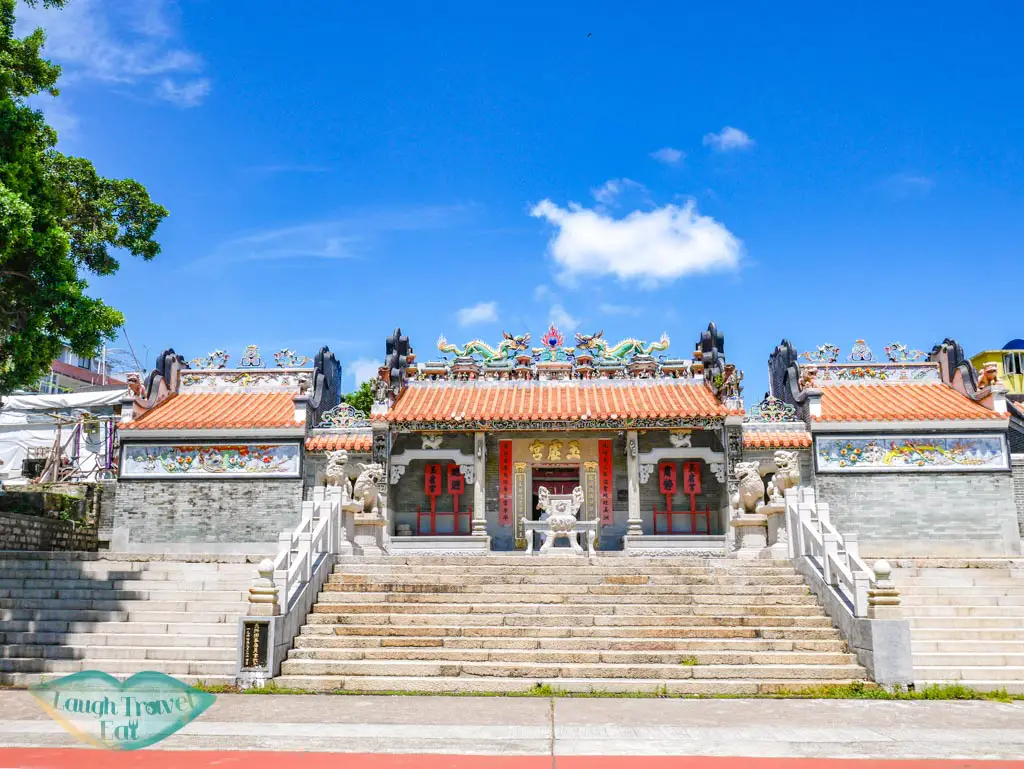 The most famous temple on Cheung Chau, Pak Tai Temple is also called Yuk Hui Temple, a Taoist temple that dates back to 1777. It is set behind a basketball court atop a flight of granite stairs, guarded by two stone lions.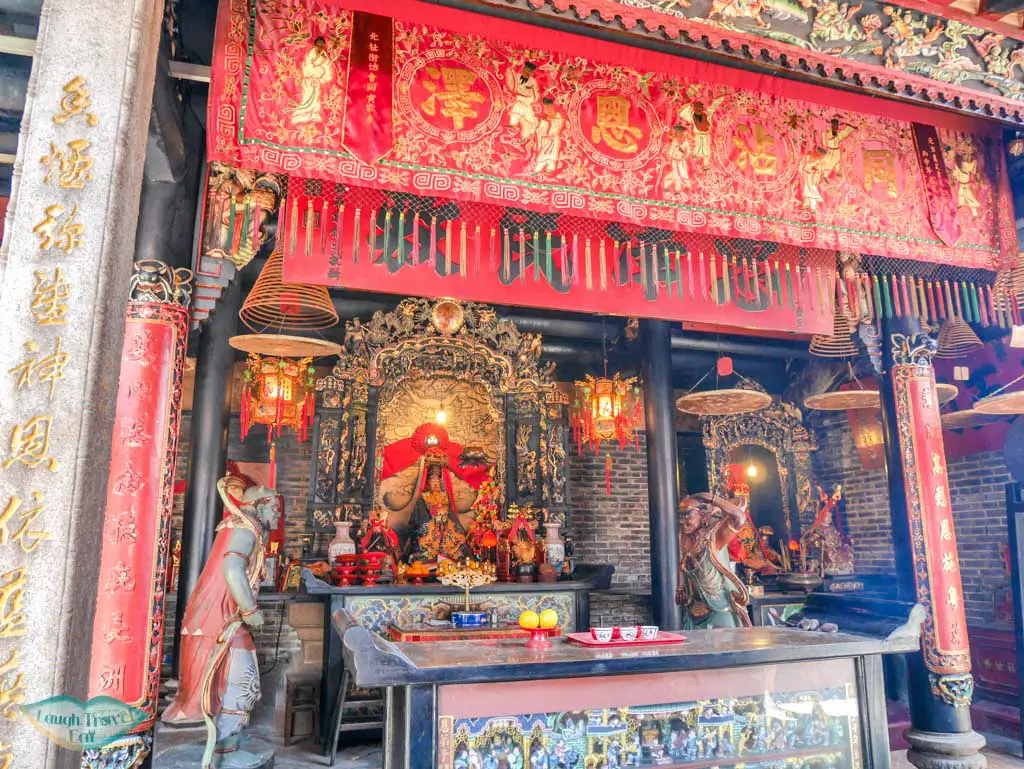 Aside from Pak Tai himself, the temple also houses Tin Hau, Lady Buddha, and Chinese Cupid. This is the center of the Bun Festival and houses many relics as well, including an iron sword allegedly from the Song Dynasty.

Pak She Tin Hau Temple
Not too far from the Pak Tai Temple, the Pak She Tin Hau Temple was built in 1767, making it the oldest temple on the island. Its architecture is much simpler, with a Qing Dynasty bronze bell inside.
Kwan Kung Pavilion
Much lesser known than Pak Tai Temple, Kwan Kung Pavilion is more well hidden. A red pavilion built in the 70s, its highlight is the wooden statue of Kwan Kung – the god of Mercy and Martial Art – made from one single piece of cephor.

Sai Wan Tin Hau Temple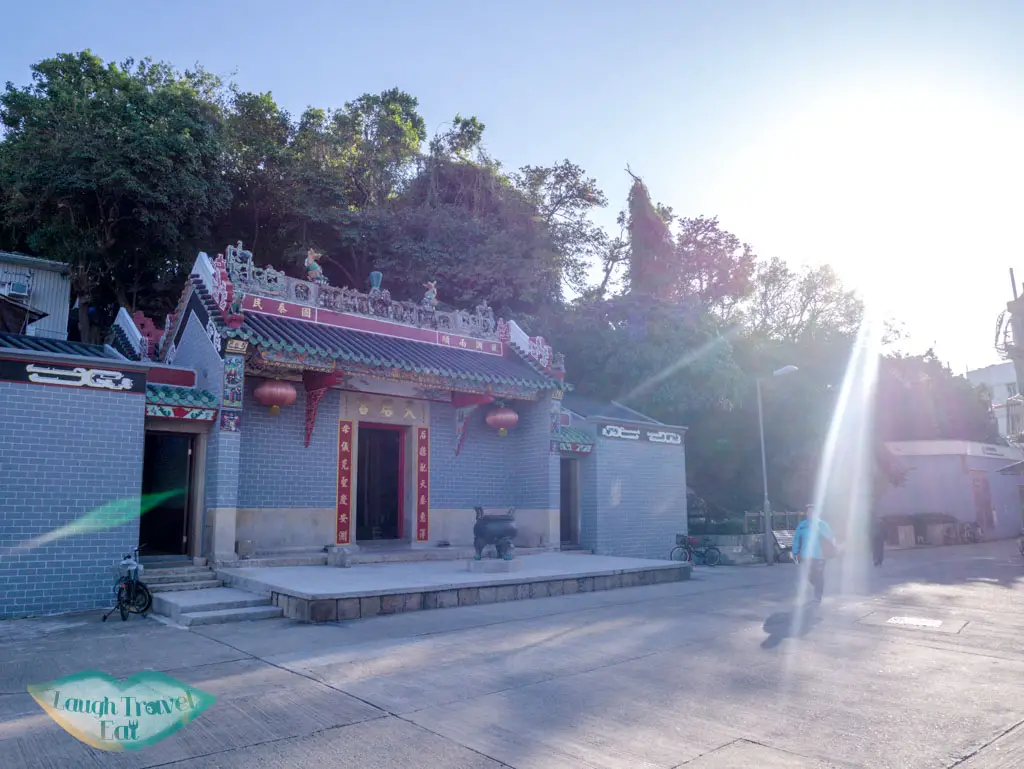 The younger of the two Tin Hau Temple, Sai Wan Tin Hau Temple was built in 1772. It is easier to spot than the Tin Hau Temple in the north part of the island and enroute to Cheung Po Tsai Cave.

Cheung Po Tsai Cave
A famous pirate from the Qing Dynasty, Cheung Po Tsai used a cave in Cheung Chau as his hideout. Although it now devoid of loot, many visitors are still lured to come here to witness the famous hideout. You can head inside the cave for a quick look, but not recommended if you don't have good footwear.

Cheung Chau Hikes
It seems strange to think that Cheung Chau hiking is an activity since it's a small island, but there are several hikes that link up some important viewpoints and cultural sites. It can be split into the northern circuit, southeast, and southwest:
Cheung Chau Family Walk
North Lookout Pavilion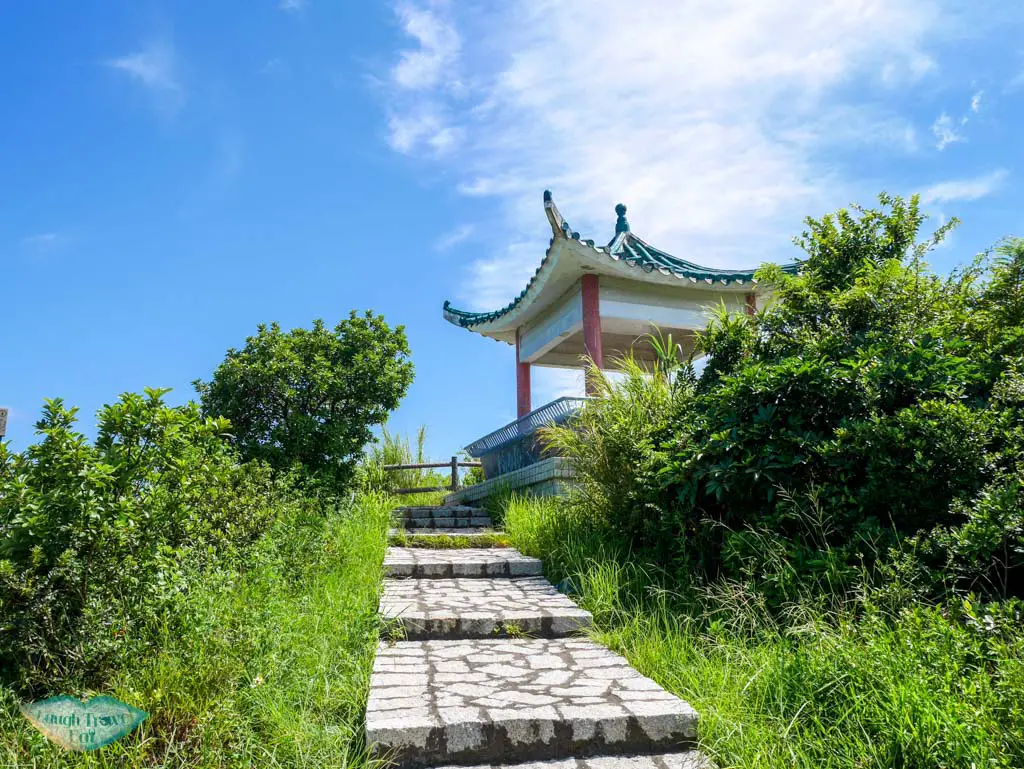 From the Pak Tai Temple, head left and up a paved trail that leads up the mountain to the North Lookout Pavilion.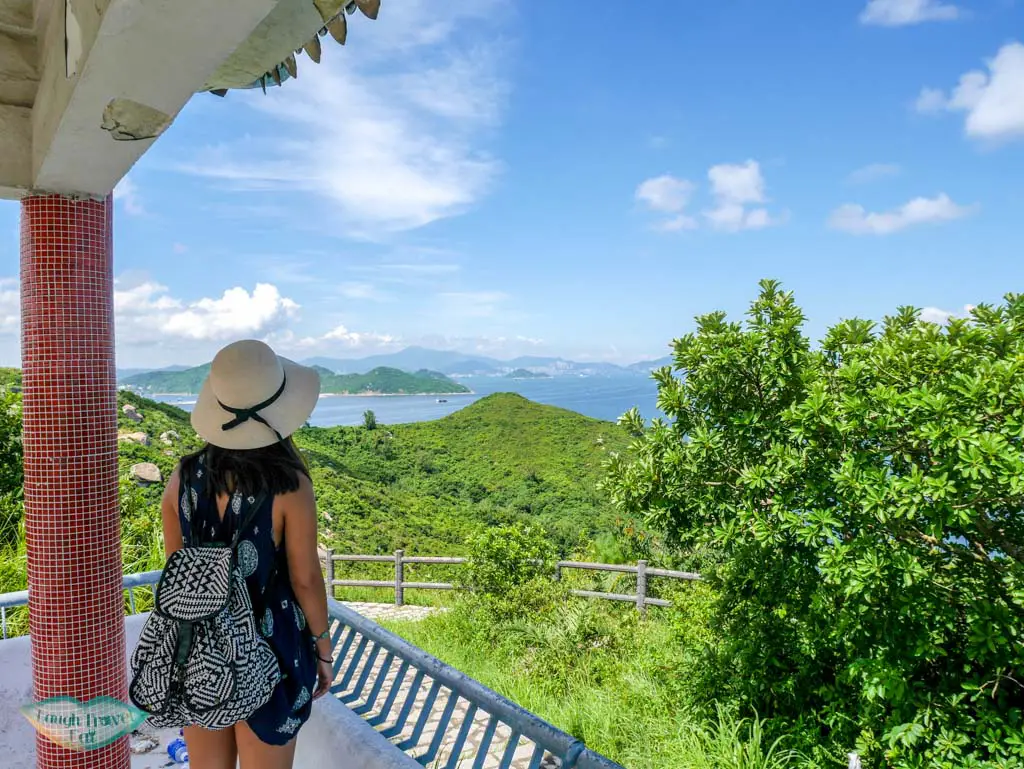 The path extends up and down the surrounding hills where hikers can explore the northern part of Cheung Chau, but most stop here to take in the view before turning back.

Cheung Chau Mini Great Wall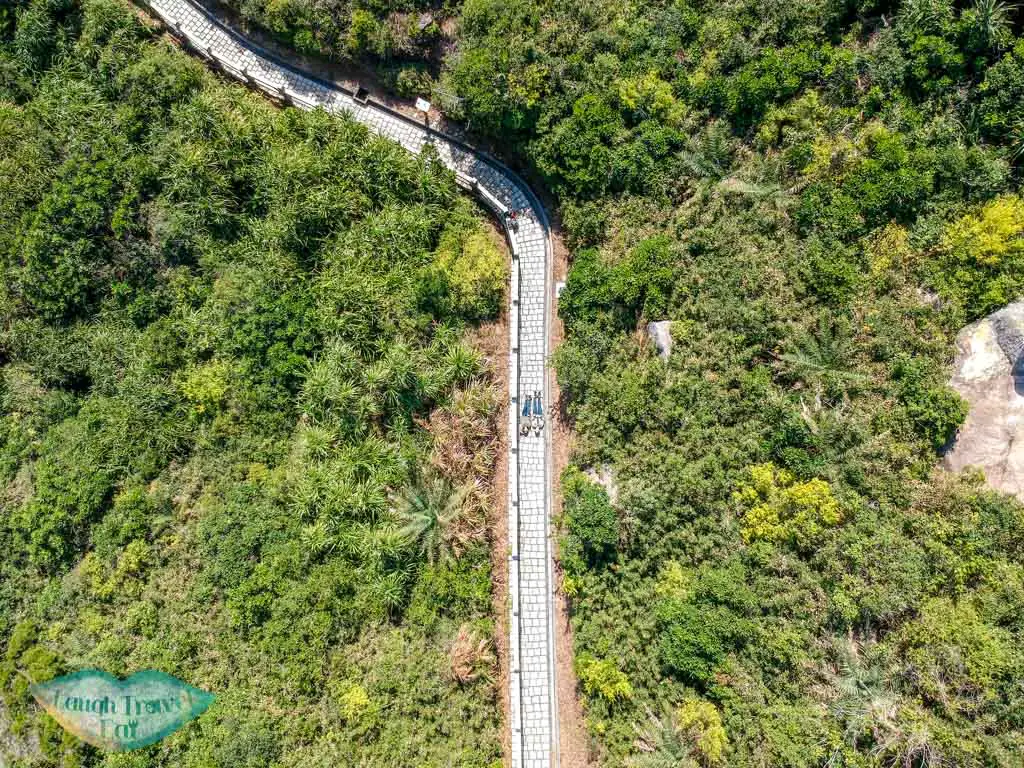 An 850 m stretch of trail in the southeast part of Cheung Chau, it was built in 1997 as part of Cheung Chau's country trails.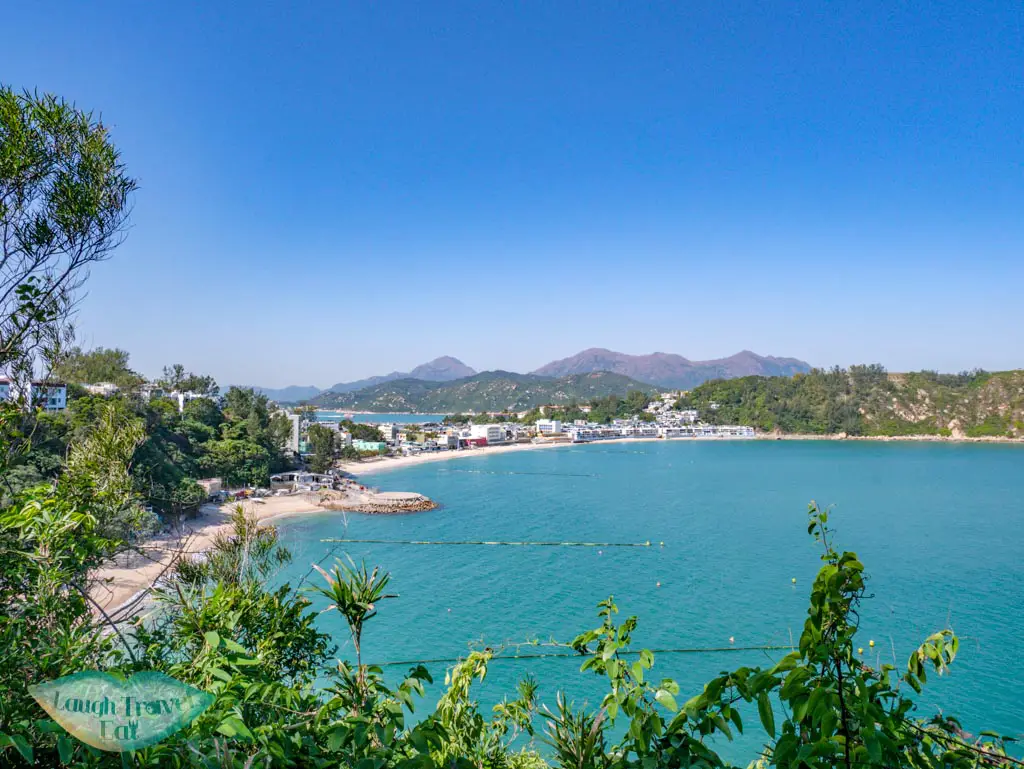 Its nickname comes from the granite railing that resembles those of the Great Wall, but is much smaller. The highlight of the walk along the coast, as well as various rock formations in curious shape.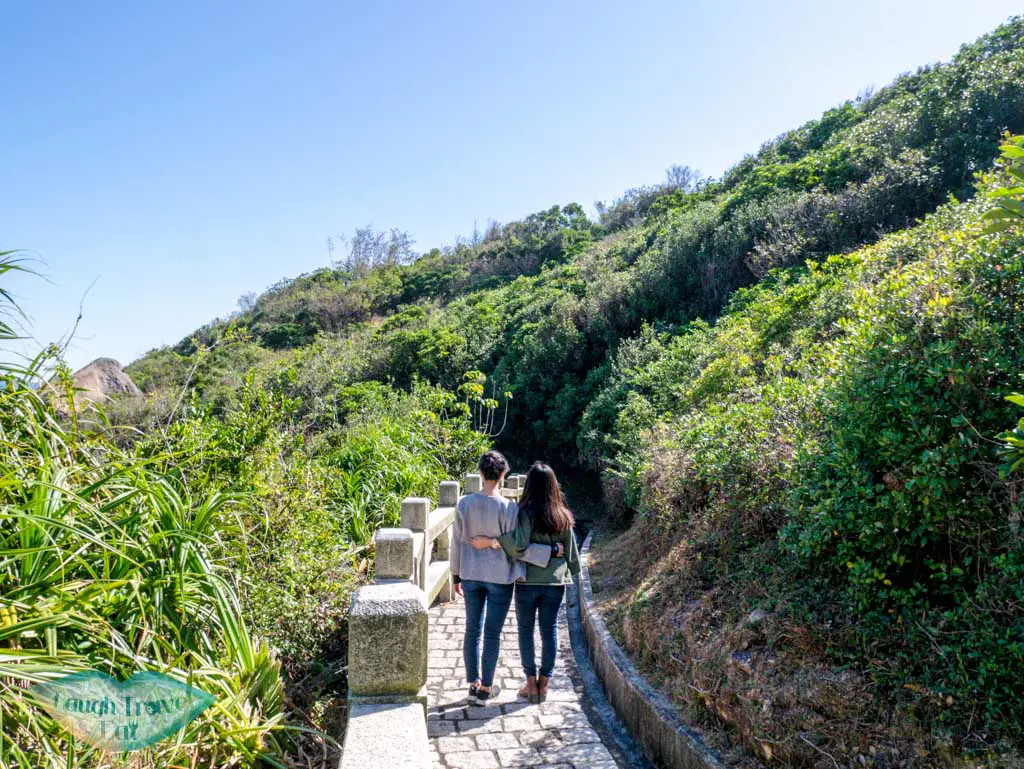 There are maps and signposts along the way, so you definitely won't get lost.
The trail starts from Tung Wan Beach, then go to Kwun Yam Wan Beach and past the Tin Hau Temple. Here's what to look out for though:
Chi Ma Hang View Point
The first check point on the Cheung Chau Mini Great Wall is the pavilion known as Chi Ma Hang View Point. You can go down towards the coast via the stairs extending to the left, or carry on with the stairs to the right on the far side.
Fa Peng Rock (Vase Rock)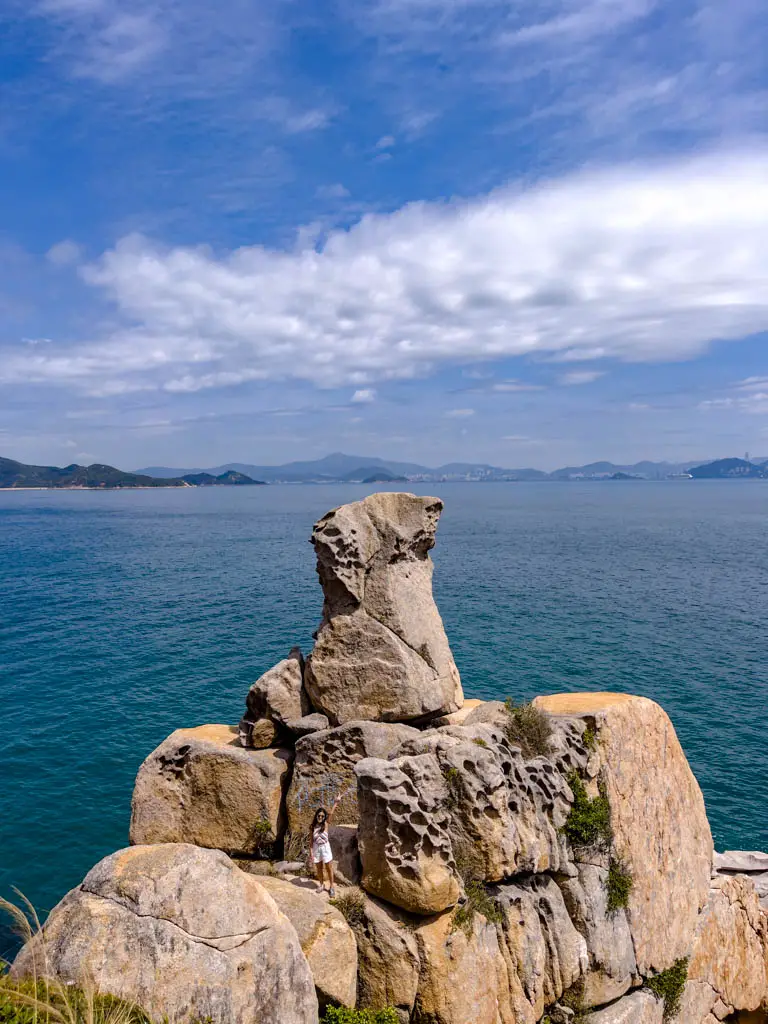 There is a flight of stairs down near a bend that takes you down to Fa Peng Rock and Bell Rock. Truth be told, I don't think it looks much like a vase, but it is a pretty interesting looking rock. 
Some people like to climb up but it is a little dangerous, so I recommend just to stand one level below it. 
Bell Rock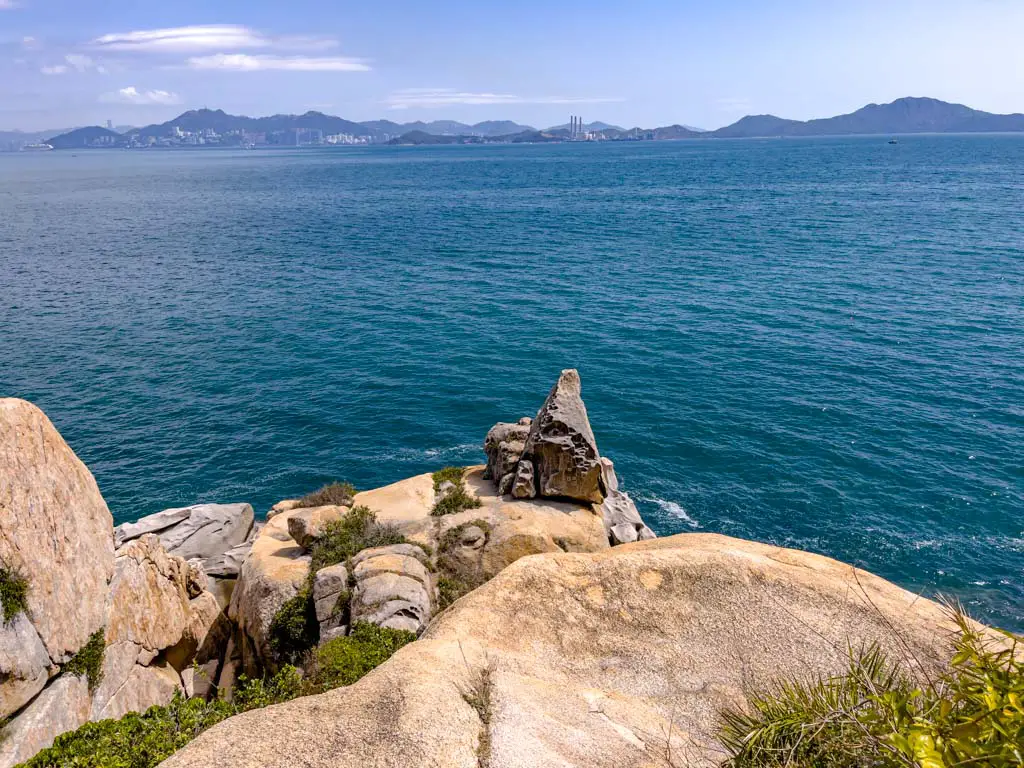 A pyramid shaped rock to Fa Peng Rock's east, the bell actually refers to Chinese bells, which are bronze plates changed together as opposed to a clock tower bell.
Elephant Rock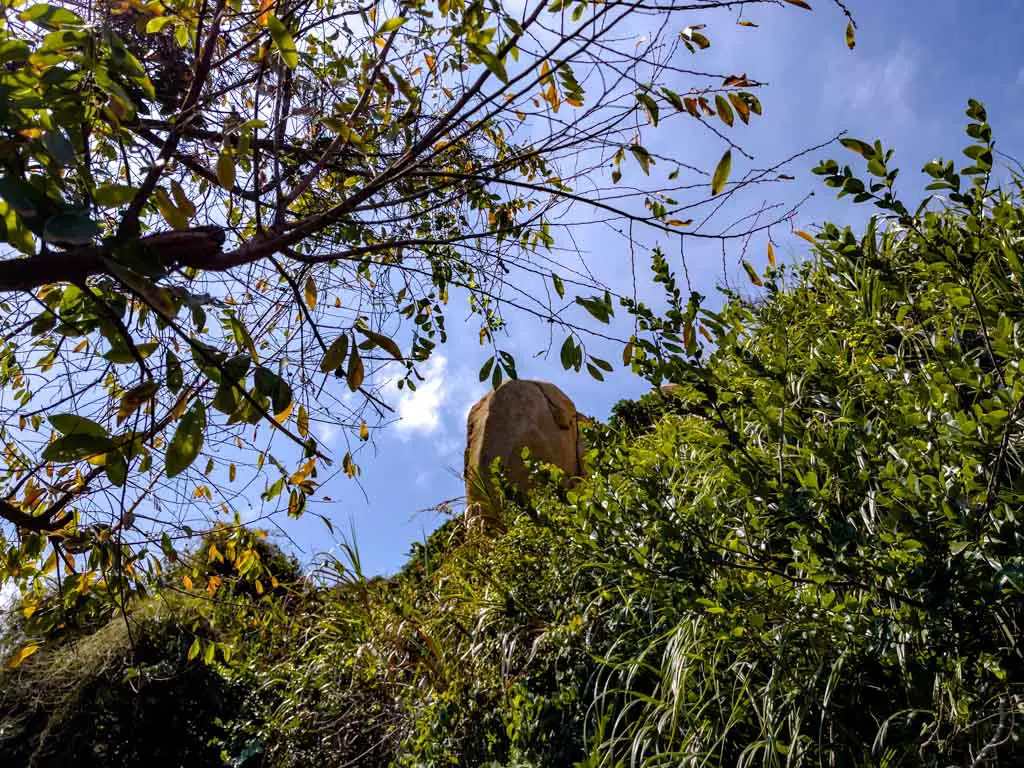 The Elephant Rock is a bit difficult to spot on the right side of the mini Great Wall between the Vase Rock and Sleeping Cat Rock, Once you're back on the main path, look out and up to the right and the boulder does resemble the head of an elephant from that angle.
Sleeping Cat Rock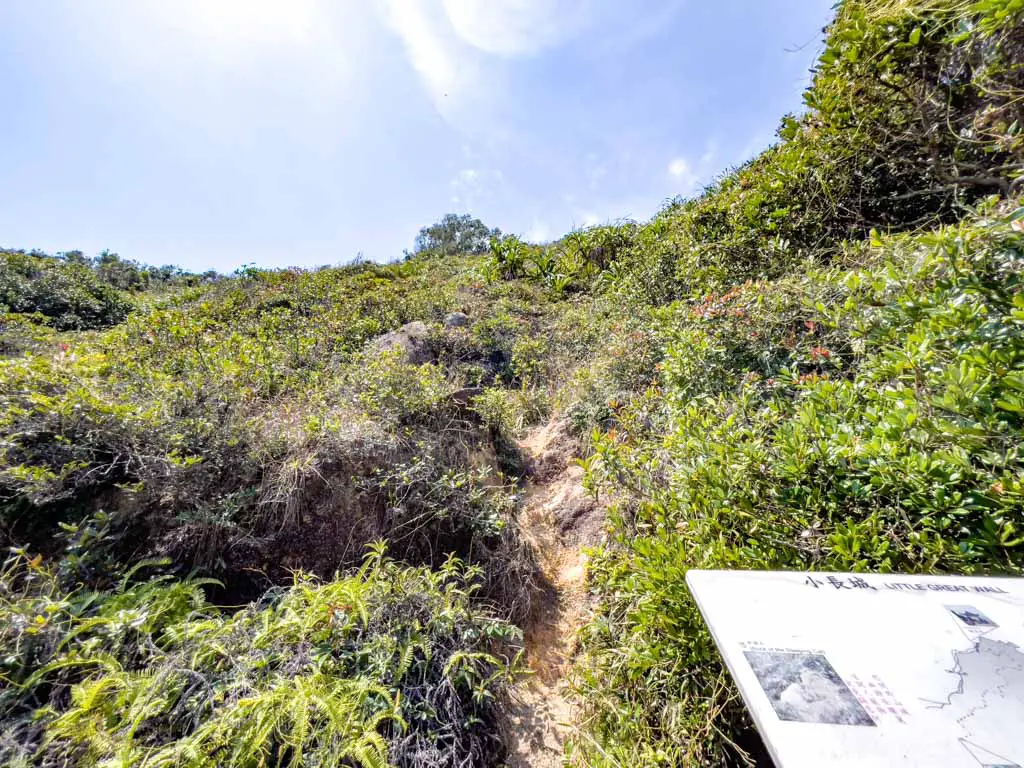 This is probably the most difficult rock to reconcile with its namesake – I would have missed it if there wasn't a sign in front!
Skull Rock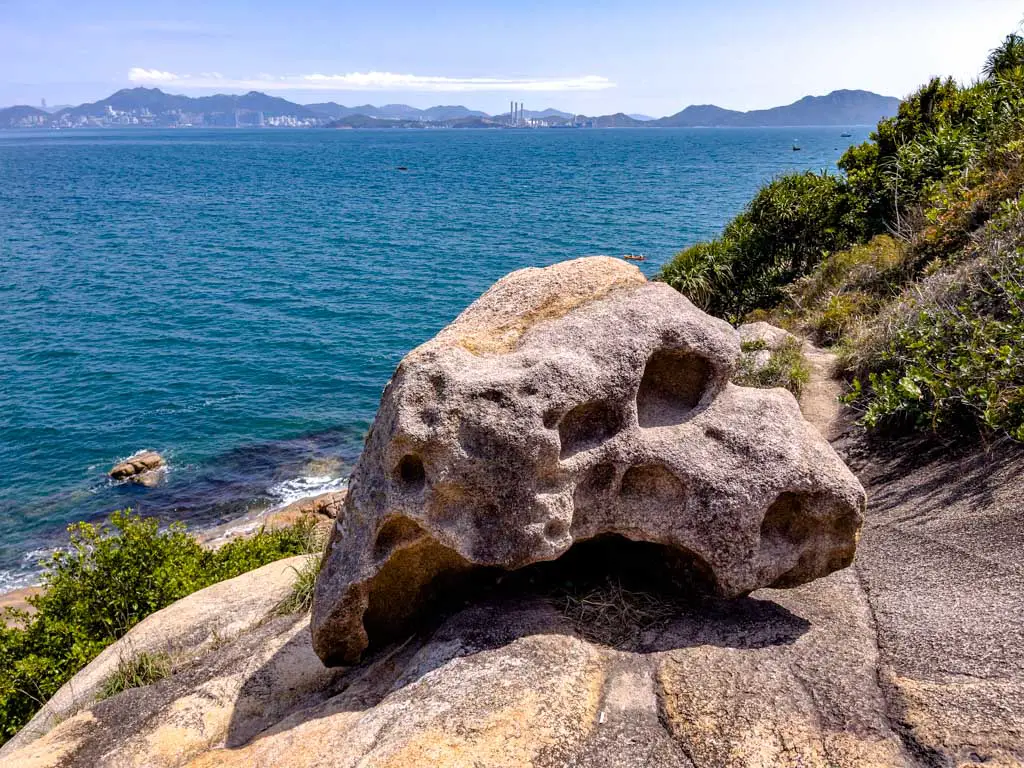 The Skull Rock can be seen from the trail but you have to hike off-road to get to it. It doesn't look like a skull per se, but it is a round boulder with holes that could be imagined as facial features.
Jade Seal Rock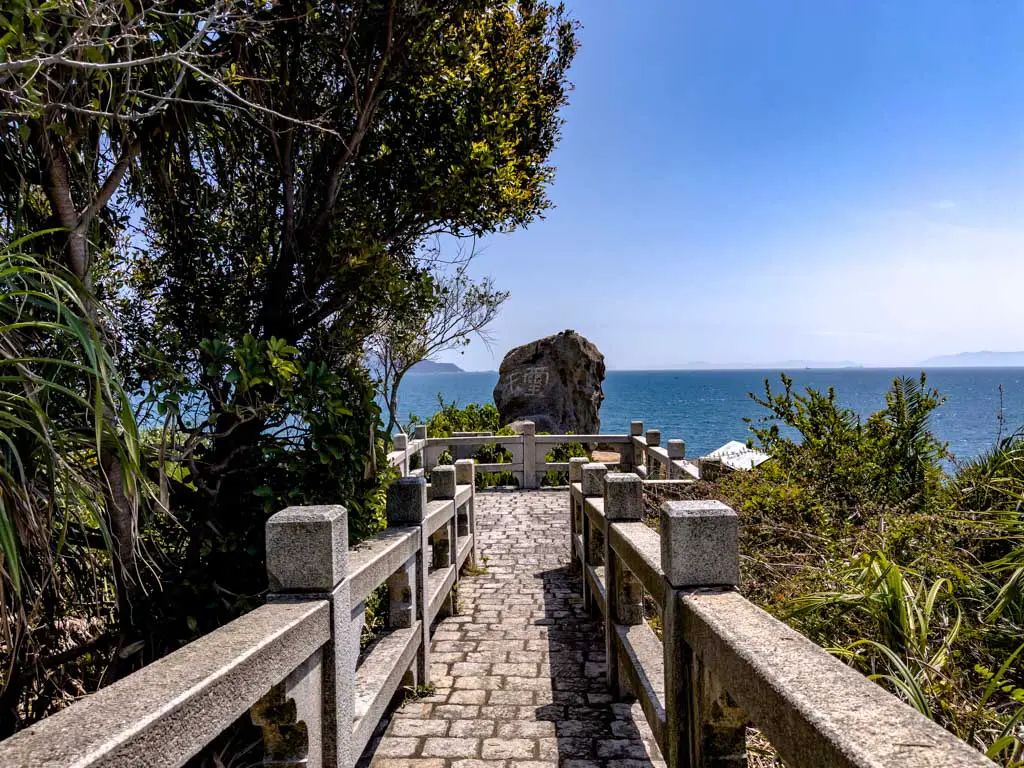 The Jade Seal Rock is at the very end of the mini Great Wall hike. It's more of a squared rock with the Chinese word for Jade Seal on top.
To go back, you can turn around and exit the same way or take the stairs pointing towards Fa Peng, which would link up at a junction where you can go down to Nam Tam Wan or carry on to Kwun Kung Pavilion.

Reclining Rock
If you have made it to Cheung Po Tsai Cave, you might as well head a little further to see the seemingly going to fall over Reclining Rock.

Cheung Chau Restaurants
Most people automatically think about seafood and seafood when it comes to Cheung Chau food to eat. But there are also many boutique cafes and small eateries that have popped up around the island and here are some of my top recommendations:
New Baccarat Seafood Restaurant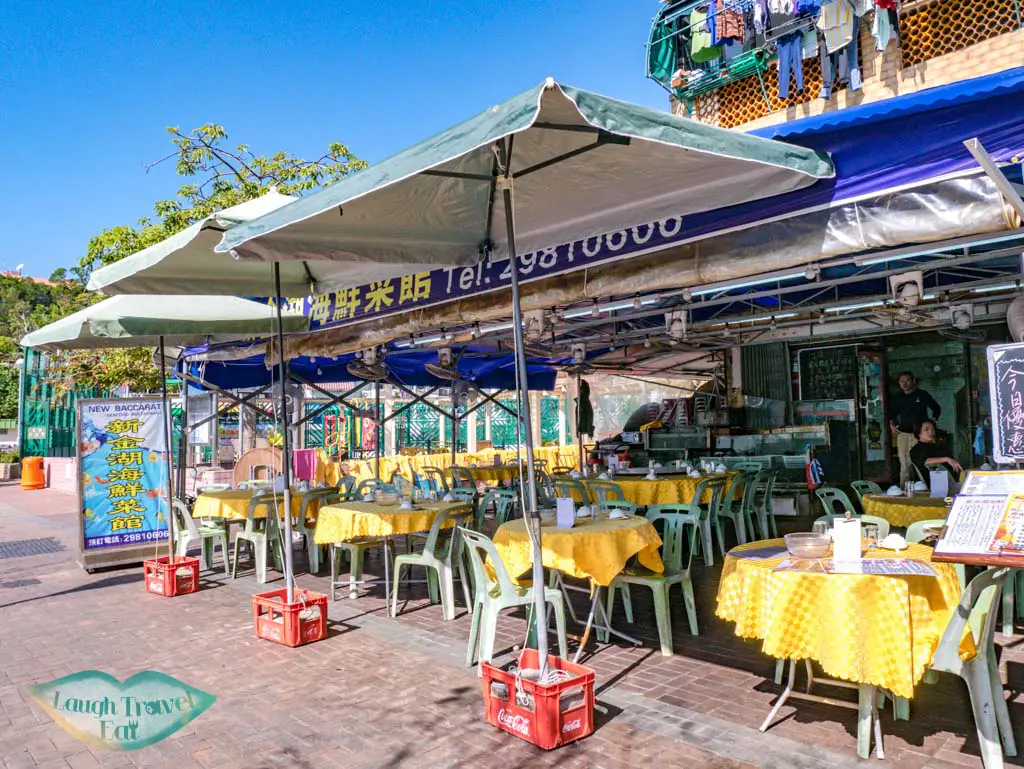 Seafood is undoubtedly one of the main attractions on Cheung Chau. The Pak She Praya Road is lined with seafood restaurants and it can be difficult to choose one.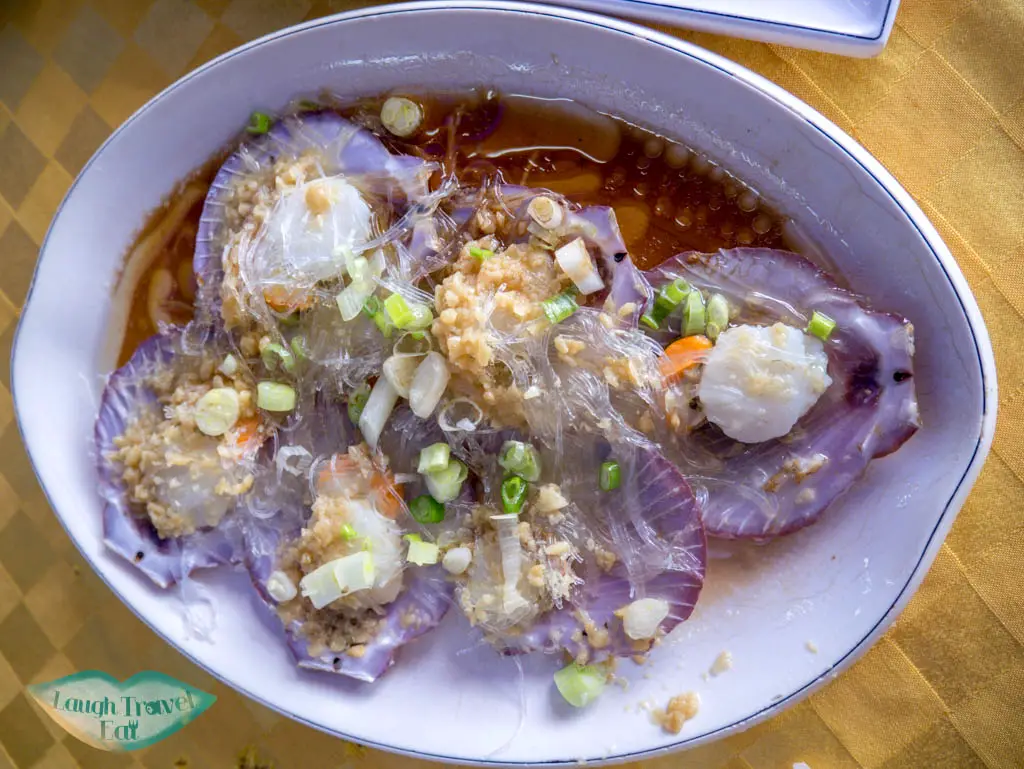 I've been to the New Baccarat Seafood Restaurant a few times and find it pretty good, although it has mixed reviews online.
Address: 9A G/F Pak She Praya Road, Cheung Chau, Cheung Chau
Opening times: 10:30 – 22:30

Hing Lok Seafood Restaurant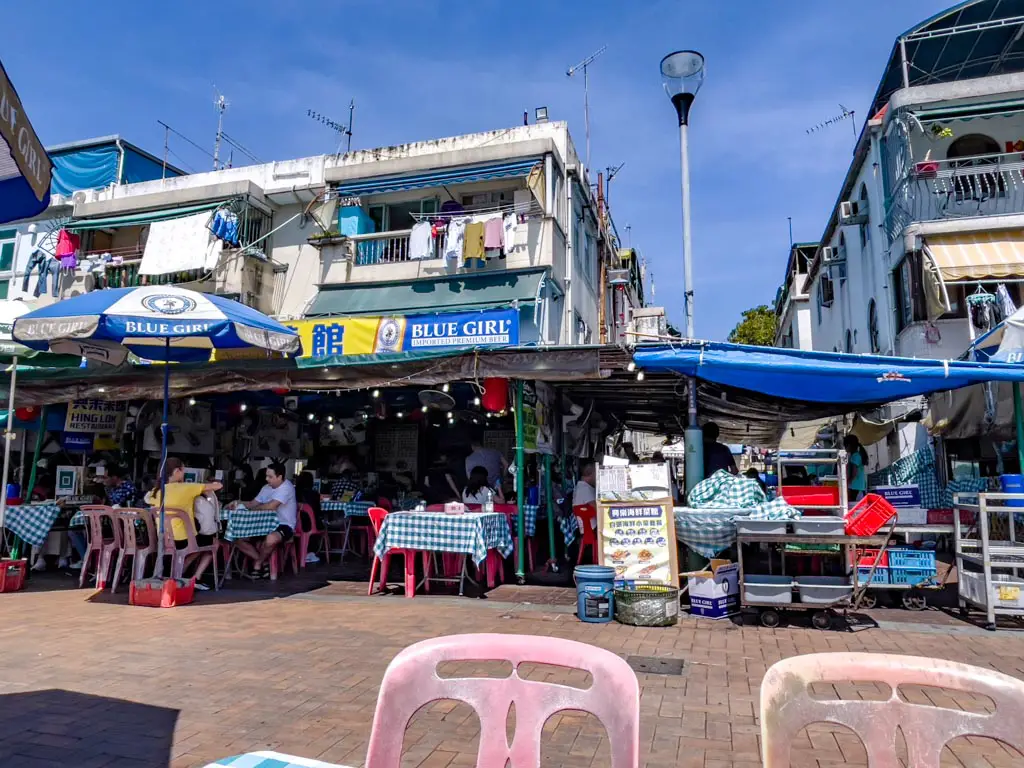 The seafood restaurants along the Pak She Praya Road tend to close irregularly, so if the New Barracuda is not open, you can try any of the others The price are pretty standardised and we ate at Hing Lok Restaurant on my most recent trip.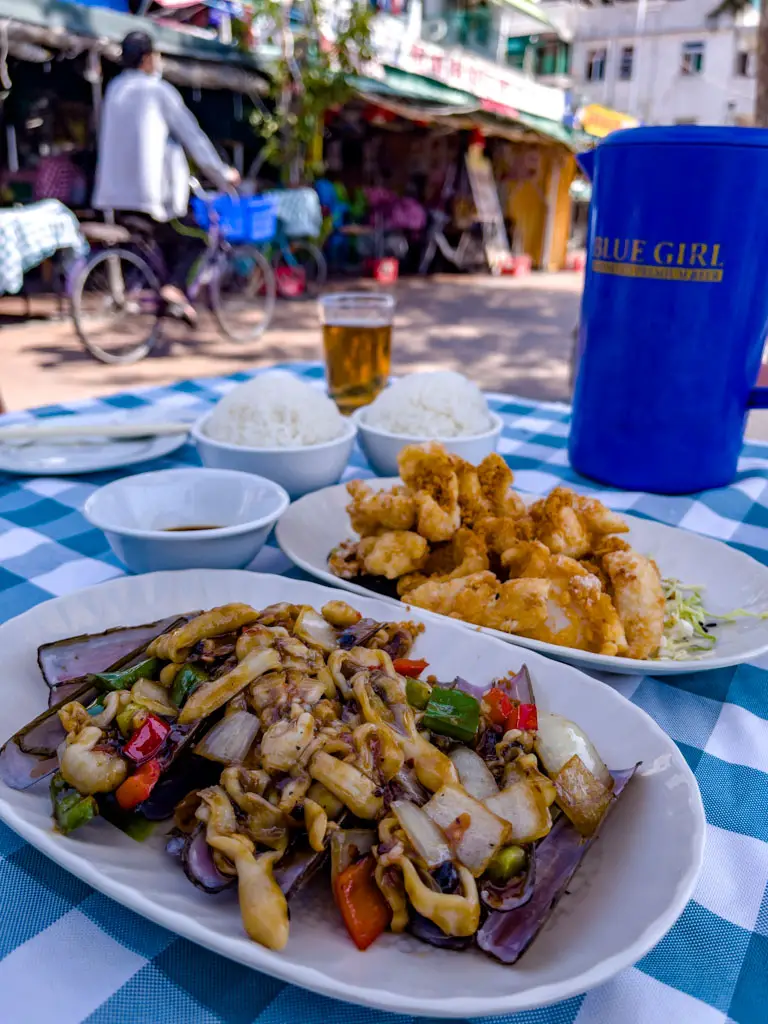 They do a deal of 3 dishes for 248 dollars (not including rice), which is pretty decent.
Address: G/F., 11D Pak She Praya, Cheung ChauD座地下, 11號 Pak She Praya Rd, Cheung Chau, Hong Kong
Opening times: Mon – Fri 11:00 – 18:00; Sun – Sat 10:00 – 18:00
甘永泰魚蛋  fish balls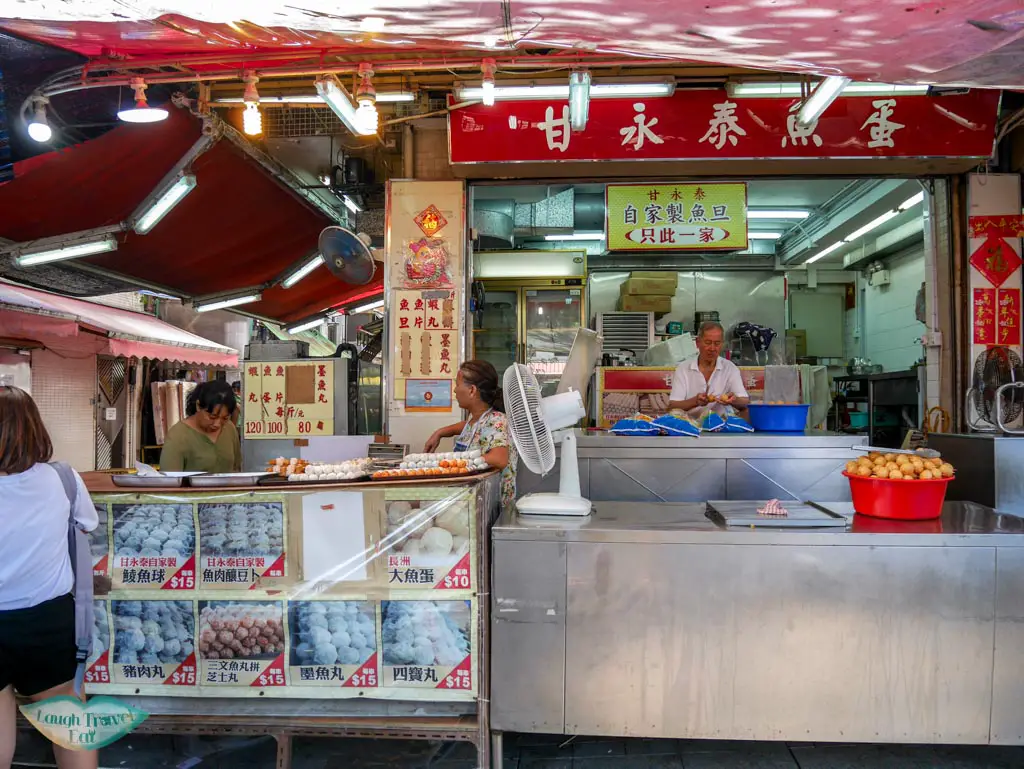 One of Cheung Chau's most famous delicacies is their fish balls. And not just one type of fish balls! You can get them in small, large, medium size, made from different fish, or shrimps, or squid. It's best to go with friends so you can each order one and share.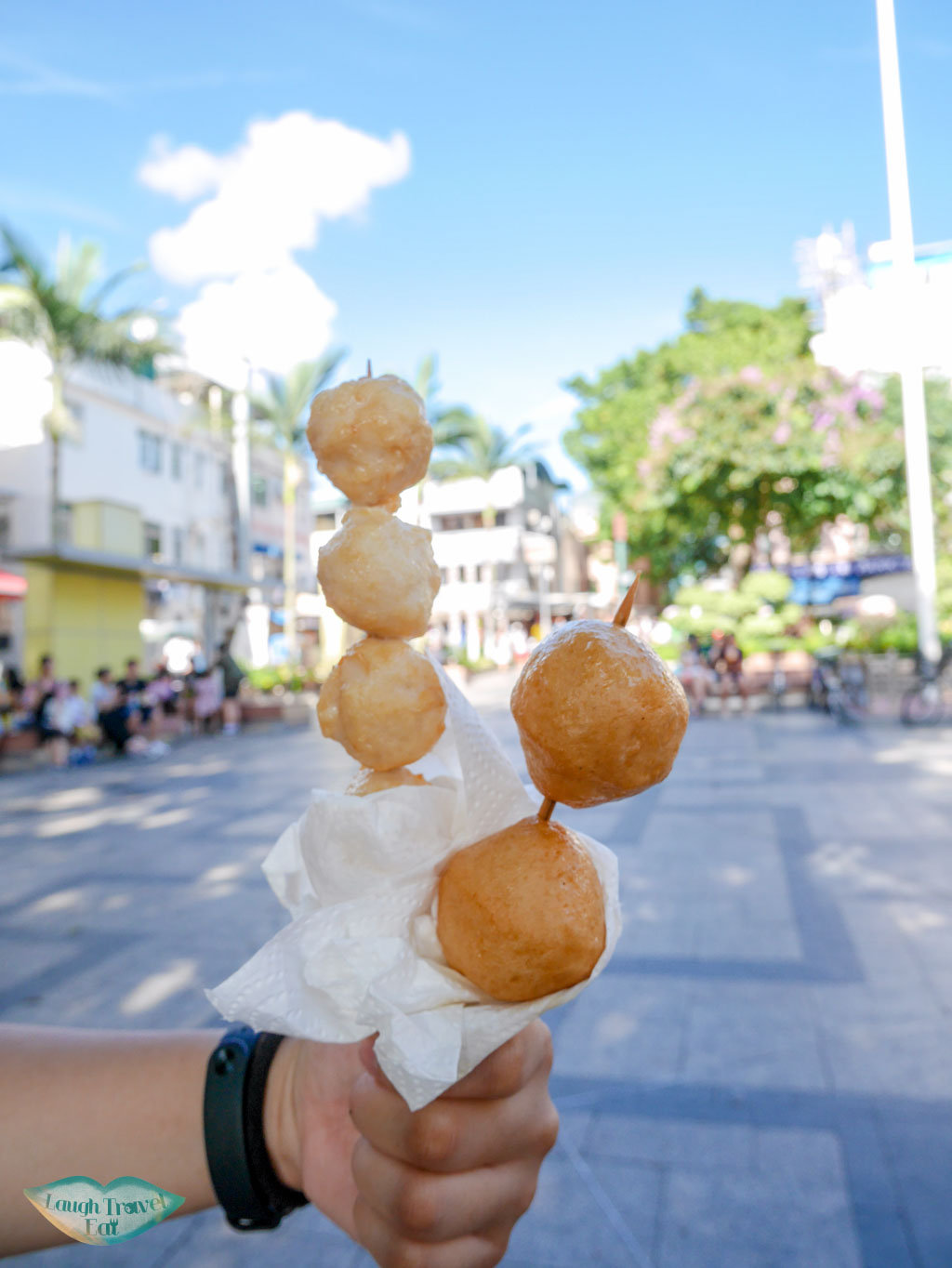 Address: G/F, 106 San Hing Street, Cheung Chau
Opening times: 7:00 – 19:00

康蘭餅店 Hon Lan Bakery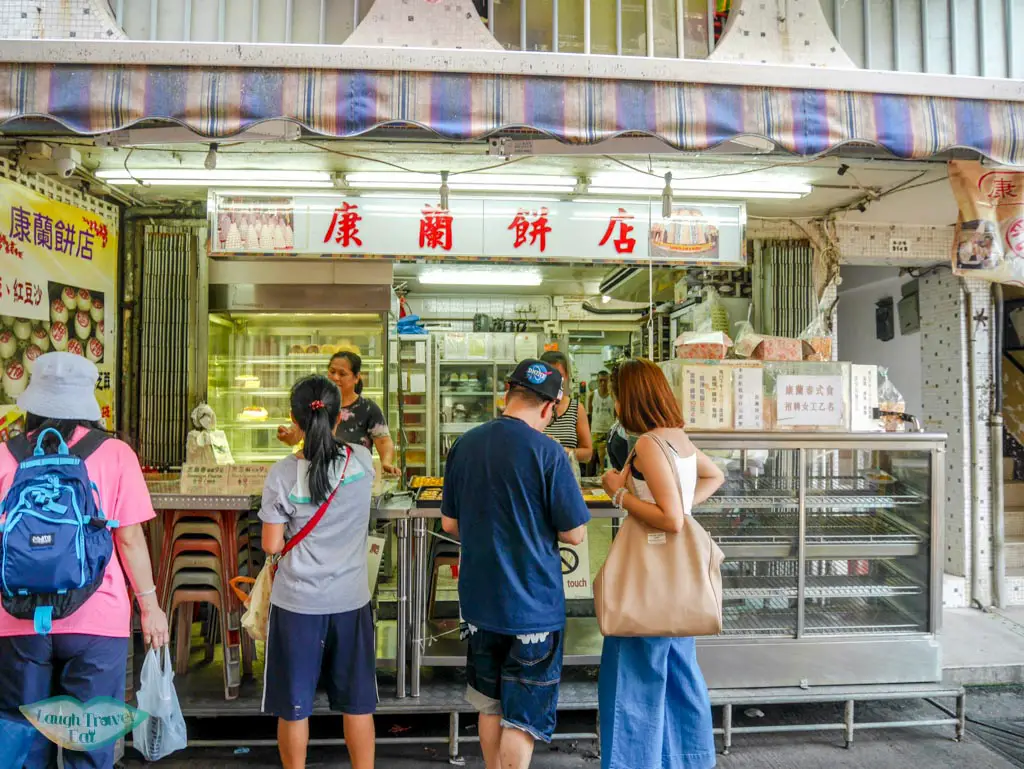 A good and affordable bakery in the center of Cheung Chau, my favourite here is their small egg tart – you can get 4 for 10 HKD. They sell various buns and tarts as well as the Ping An 'Peace' Bun that you see in the Bun Festival!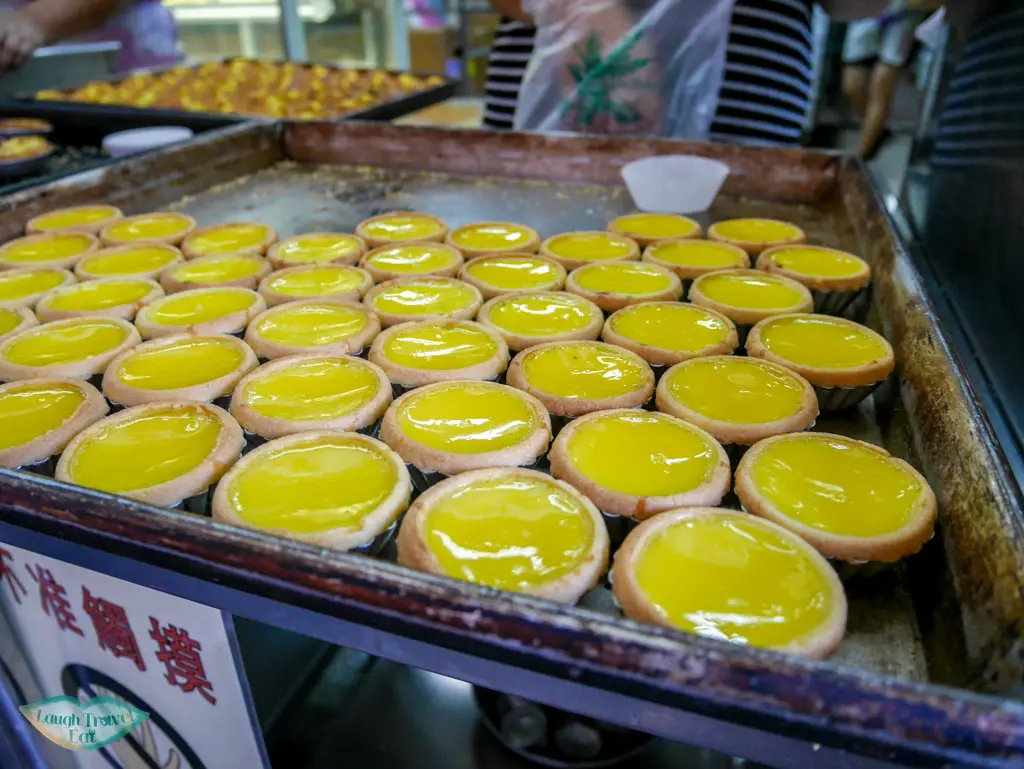 Address: 長洲海傍道91號B地下
Opening times: 6:00 – 19:30

Valor Cheung Chau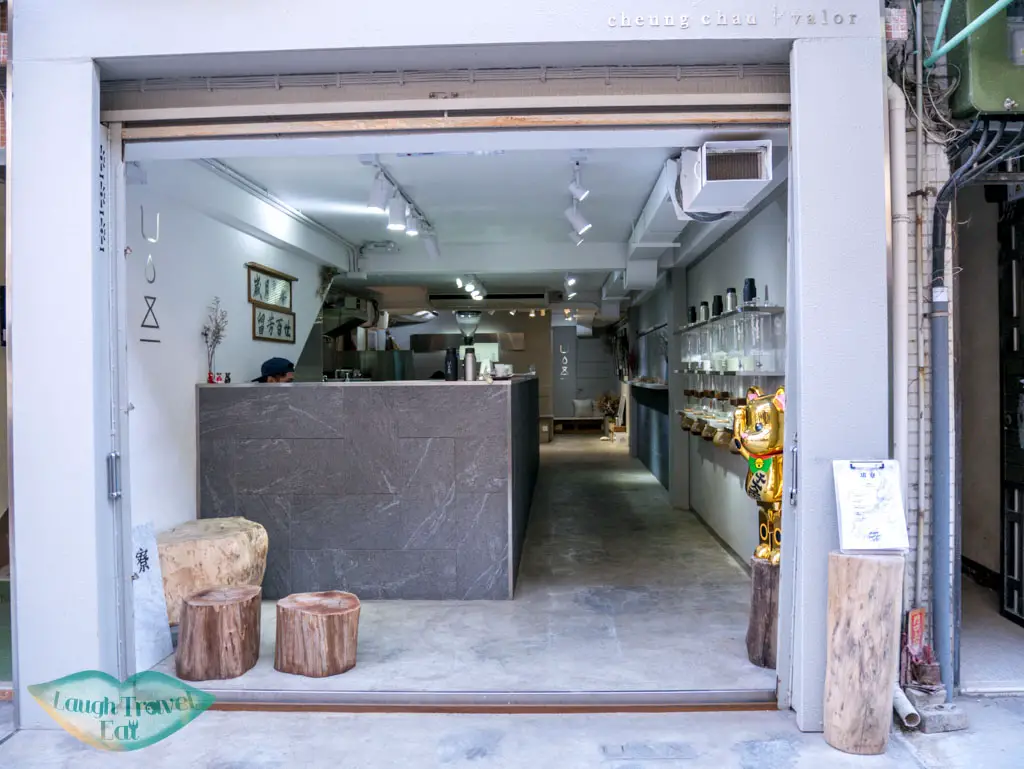 A simplistic modern cafe in white-grey tones, Valor's coffee is approved by my coffee snob friend. It's a calm place for those who want to retreat into the quiet island vibe with quality coffee, this is the spot.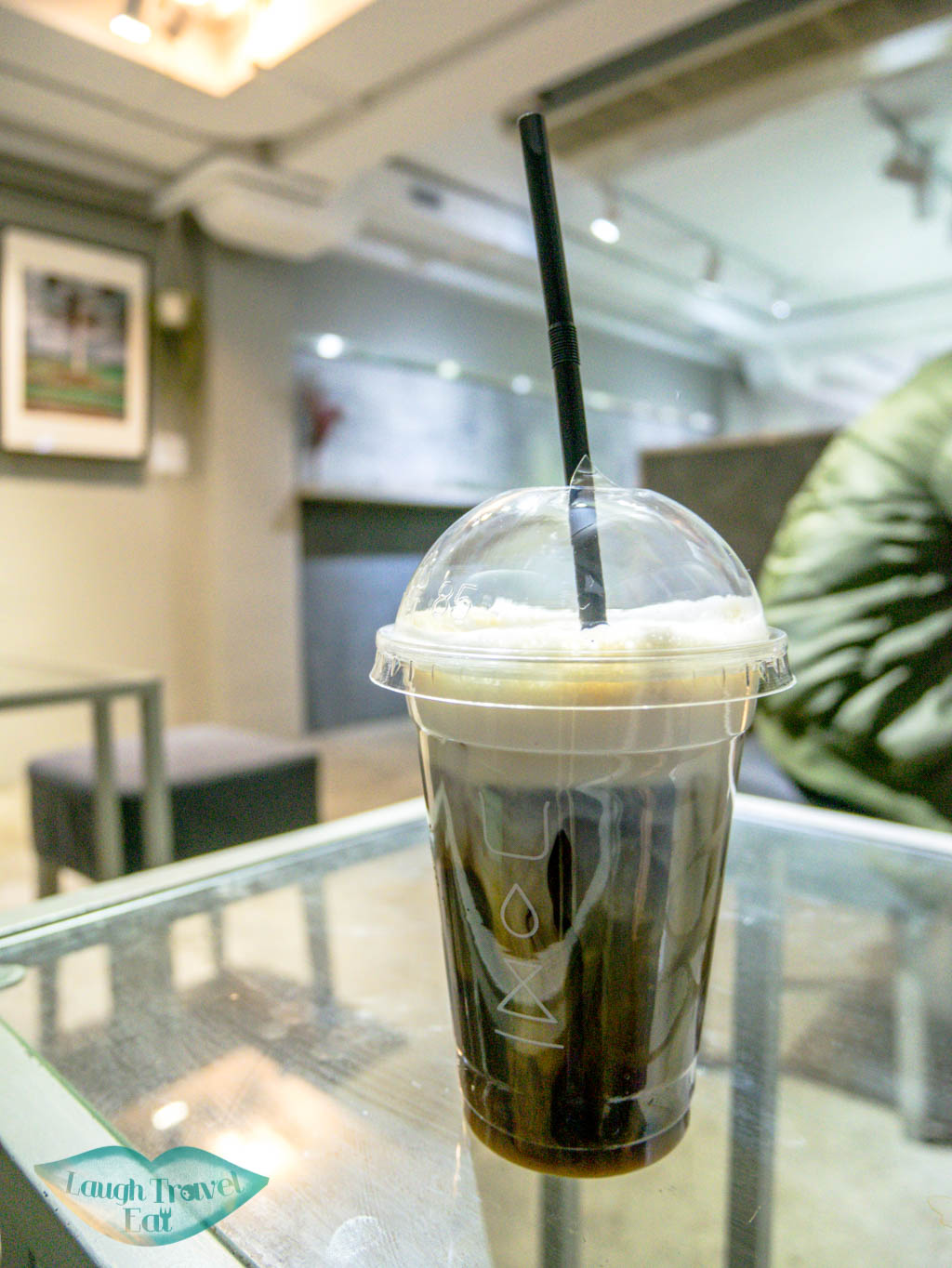 Address: G/F, 4 Sun Hing Street, Cheung Chau
Opening times: 10:30 – 19:00

Cheung Chau Corner
One of the most popular instagrammable cafes in Cheung Chau, Cheung Chau Corner is known for its yogurt drink and egg roll desserts. It's on the pricier side, but well worth a try if you're not into coffee like me!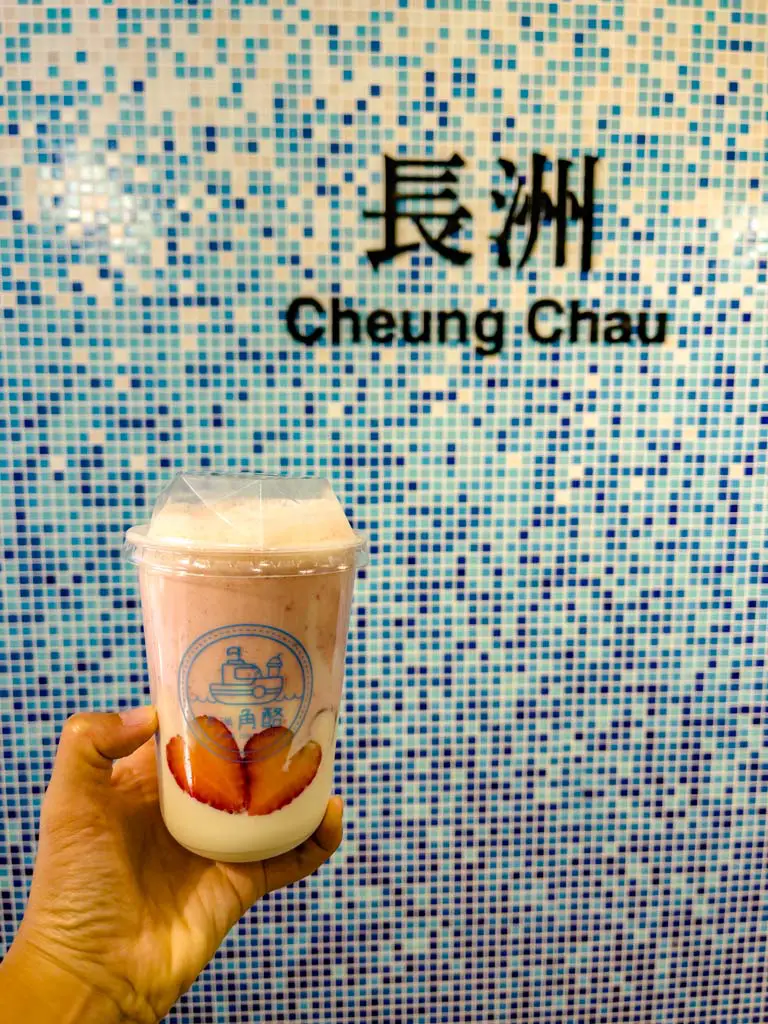 We tried the mango and the strawberry version. The former is suited for those who don't like it too sweet, the latter is their signature.
Address: 78號 San Hing St, Cheung Chau, Hong Kong
Opening times: Mon – Sat 12:30 – 21:00; Sun 11:00 – 20:00
Cheung Chau Day Trip
Cheung Chau is one of the best day trip destinations in Hong Kong. For those planning on visiting Cheung Chau, it's more efficient to split the island into three parts to visit: north, southwest, and southeast.
Each loop takes around 1-2 hours to wrap up, and you should definitely save some time to eat and stroll around the main town near the pier. If you want to do everything, you probably should arrive early and stay for dinner.
Cheung Chau attractions map
I personally recommend going to the north first, coming back for lunch, then going to the southeast then southwest. That said, the Cheung Chau Family Walk is the most popular out of all three, and therefore likely to be crowded at the start.
Cheung Chau Hotels
There aren't a lot of options on Cheung Chau in regards to hotels, at least, not great ones. It was once a hotspot for youngsters on weekend getaways so there are numerous B&B and guesthouse options. You can also have a look on AirBnB. Here are some suggestions if you want to extend your stay on the island:
Note: if you are looking to stay over the Bun Festival, booking as early as possible is recommended.

Warwick Hotel Cheung Chau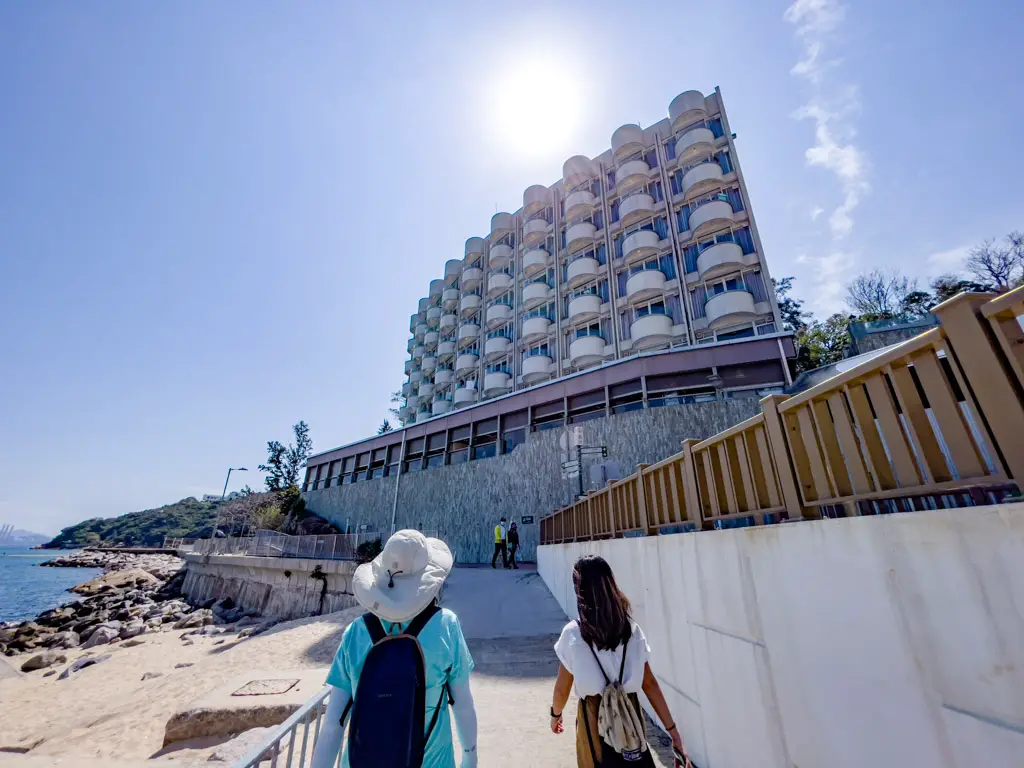 Warwick Hotel is located right by Tung Wan Beach on the east coast of the island, close to the pier and the city center. It's most famous for its seaview balconies which is what draws most of the guests. The hotel has a nautical theme with family friendly suite as well, but the main draw remains its balcony.
Sai Yuen Glamping Cheung Chau
Located in the southwest corner of Cheung Chau, Sai Yuen Glamping is a good choice for those looking for some adventure and nature-lovers.
Their star gazing tents are one of the most popular accommodation type.
Budget 
Fong Che Ho Hau Summer House is a local guesthouse that offers decently priced rooms with basic amenities.

Mid-range
The Lychee Sunset Hotel Cheung Chau is newly opened in 2019 with a rooftop facing the sunset. It is associated with B & B Cheung Chau and both have great reviews. Rooms are modern and spacious, however, soundproofing is not the best.