Sok Kwu Wan is the southern settlement of Lamma Island and often overlooked by visitors. With roughly one thousand inhabitants, it is a different world from the hip Yung Shue Wan in the north. It is a seafood heaven, with a hidden hike, local delicacies, and a fisherfolk village to visit. Whether you are doing a day trip of the whole Lamma Island or thinking of adding this on from Aberdeen or just a leisurely trip, here's all you need to know:

Sok Kwu Wan ferry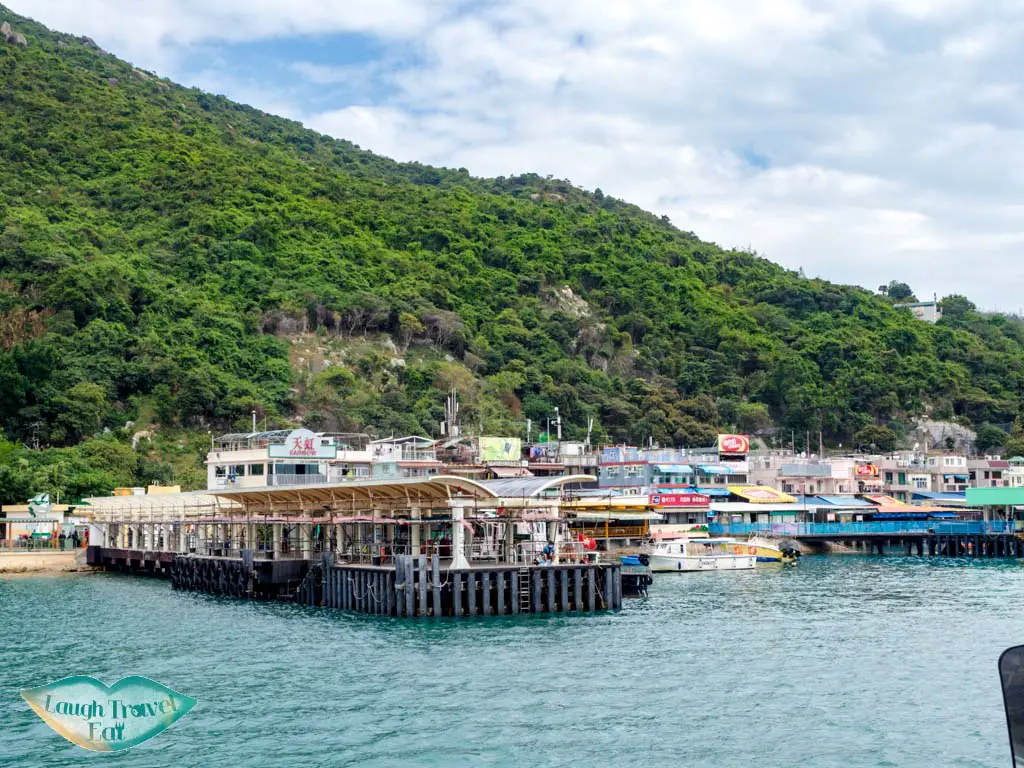 The public ferry to Sok Kwu Wan runs from Central Pier 4 and departs around every hour and a half. The journey takes around 30-40 minutes.
Alternatively, if you book a table with Lamma Rainbow tour (more on this later), they offer free transport to Central or Tsim Sha Tsui.

Cost: 23.1 HKD weekday, 32.5 HKD weekend for adult, 11.5 HKD weekday, 16.2 HKD weekend for kids

Aberdeen to Sok Kwu Wan
You can also get from Aberdeen to Sok Kwu Wan, whether it's via Lamma Rainbow combined tour or the public ferry. It is cheaper than going from Central but the journey time is around the same.

The schedule is more regular over the weekends and the traditional Kaitou passed Mo Tat Wan then Aberdeen seat up to 200 and takes half an hour. If you take the Lamma Rainbow tour, the trip only takes 15-20 minutes.

Cost: 12.5 HKD for weekday, 18.7 HKD for weekend adult, 6.2 HKD for weekday, 9.3 HKD weekend for children

A short history of Sok Kwu Wan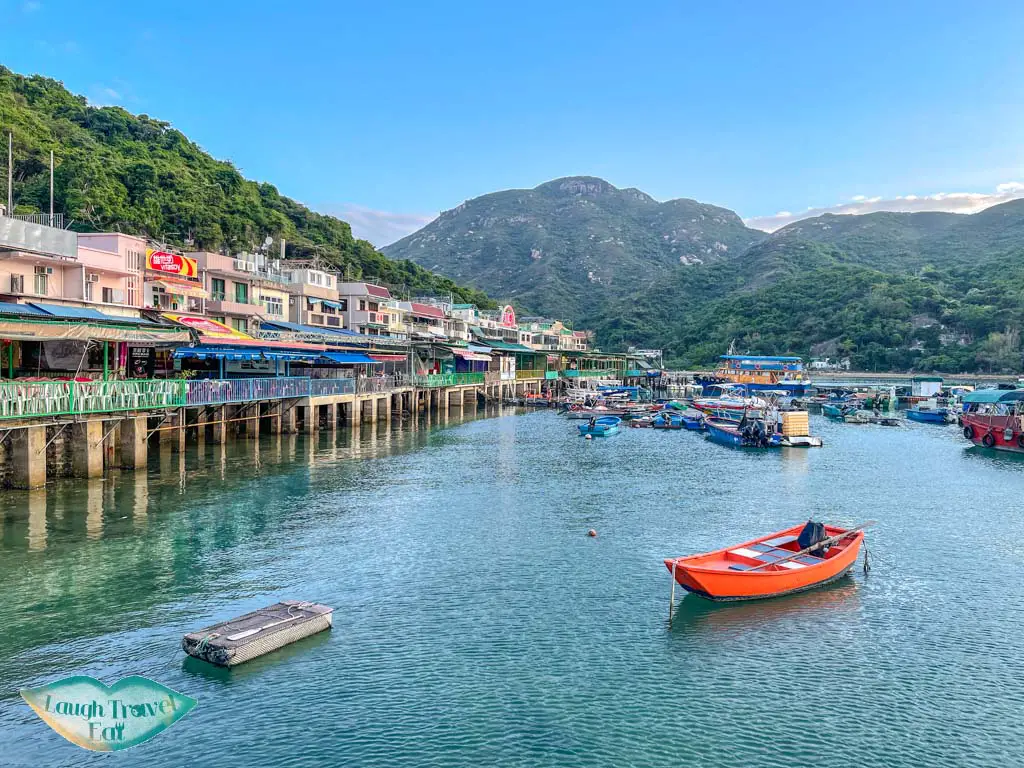 Sok Kwu Wan was nicknamed Picnic Bay by the British, but Lamma Island was not ceded to the UK until 1898. It is a more remote part of Hong Kong and kept the quieter charms of a coastal village.
It is also shielded by the mountains from the signature three chimneys of the power station. With only 300 residents, traditional fishing practices are still being carried out including fish farming.

Things to do on Sok Kwu Wan
Lamma Rainbow Restaurant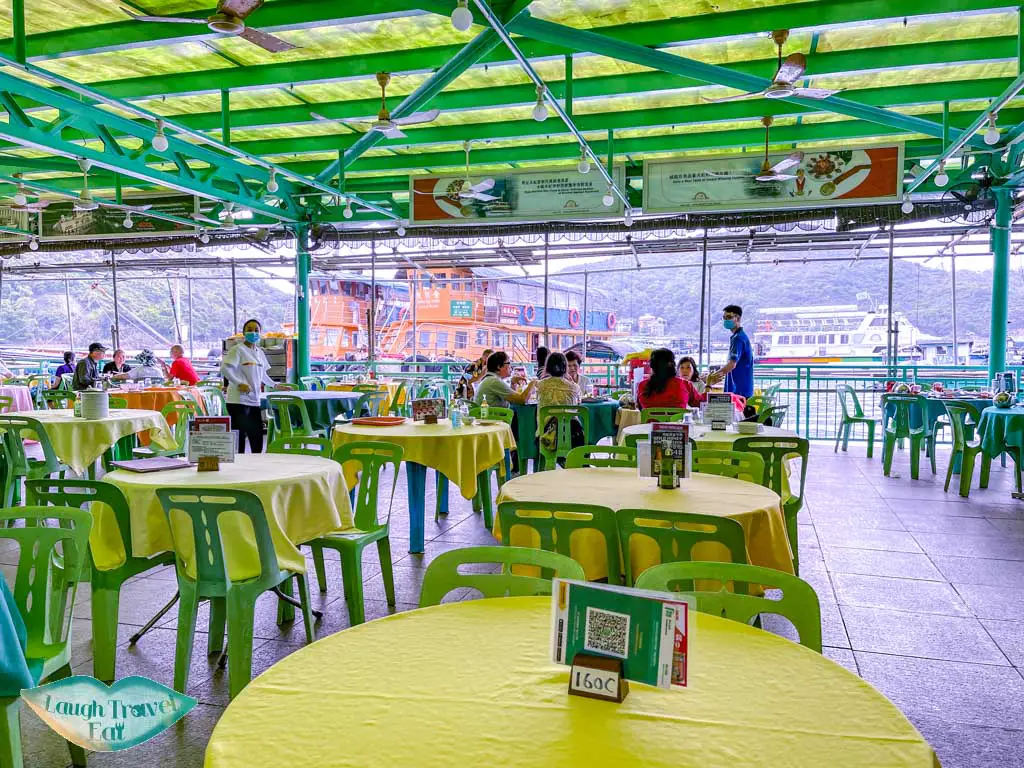 Dining on fresh seafood is the thing to do in Sok Kwu Wan, and one of the longest standing seafood restaurants there is Lamma Rainbow. They are legendary for their lobster, Jackie shrimp, fried squid, and Kua Lo Meat. Among other award-winning dishes, of course, and an amazing sea view.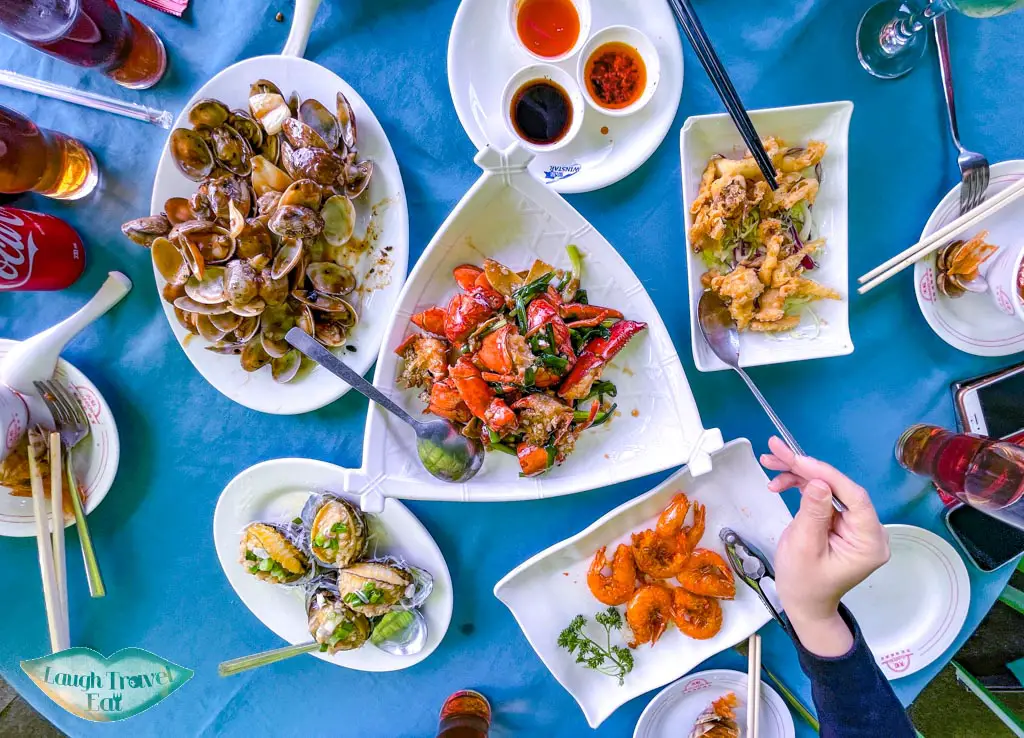 Their biggest perk though, aside from the delicious food of course, is the free ferry between Sok Kwu Wan and Central and Tsim Sha Tsui for anyone who books a table. 

Lamma Rainbow official website

Lamma Fisherfolk Village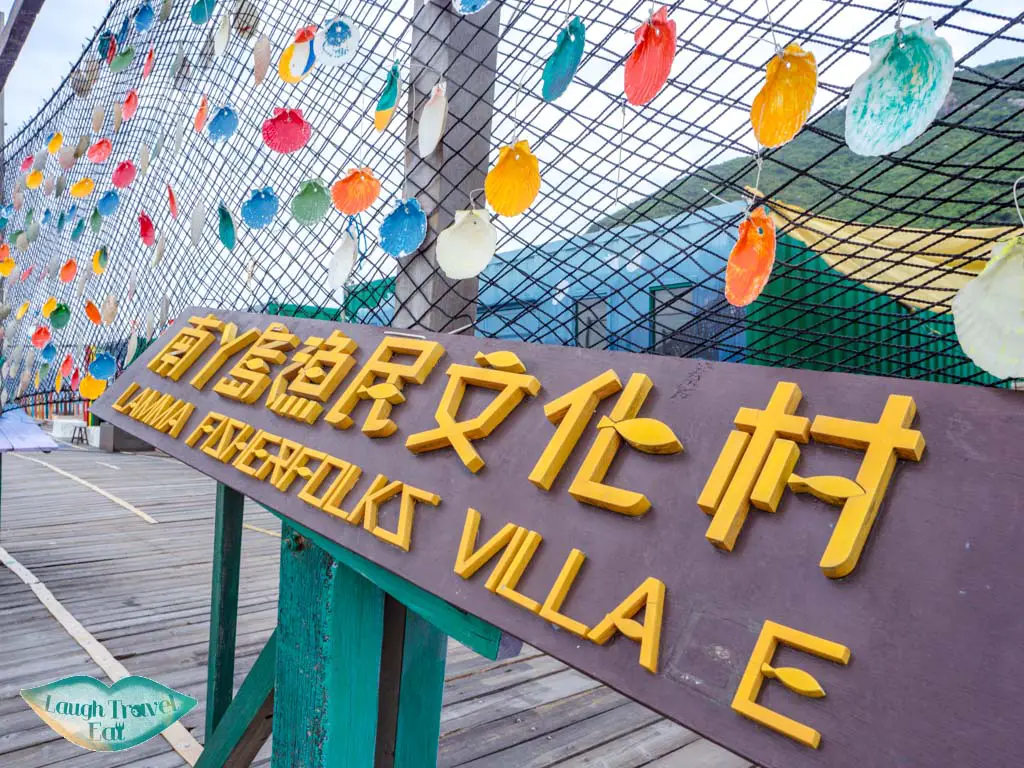 The biggest leisure fishing raft in Hong Kong, the Lamma Fisherfolk Village is an open air museum that preserves the traditional fisherfolk culture. It is a 5 minutes speed boat ride from Sok Kwu Wan pier with over 40,000 ft2 of space.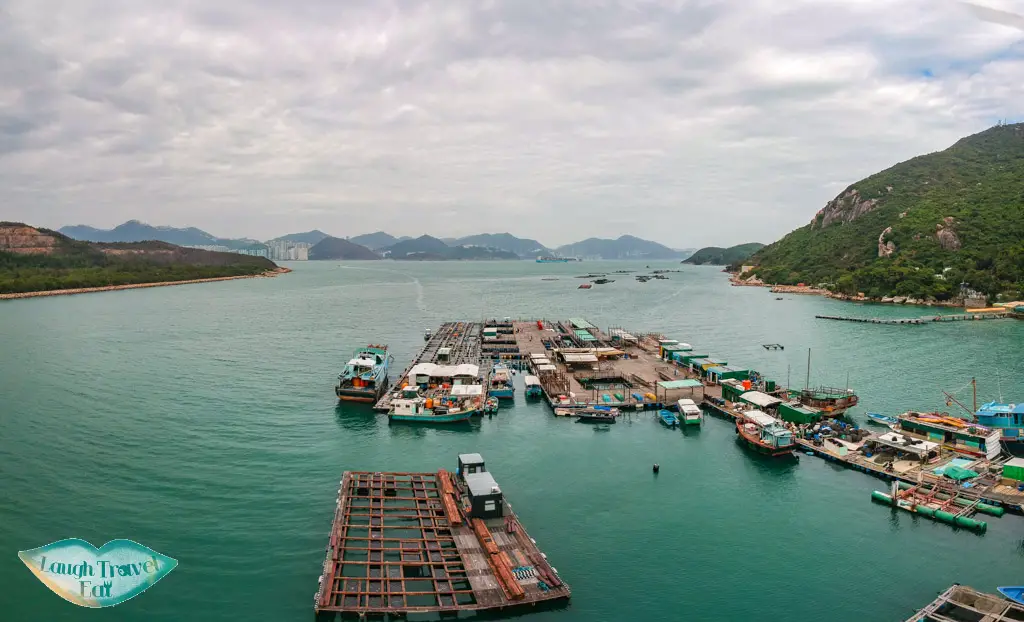 From traditional fishing junks to fishermen slang, it's both educational and a fun visit. Here are some of the highlights:

Authentic fishing junk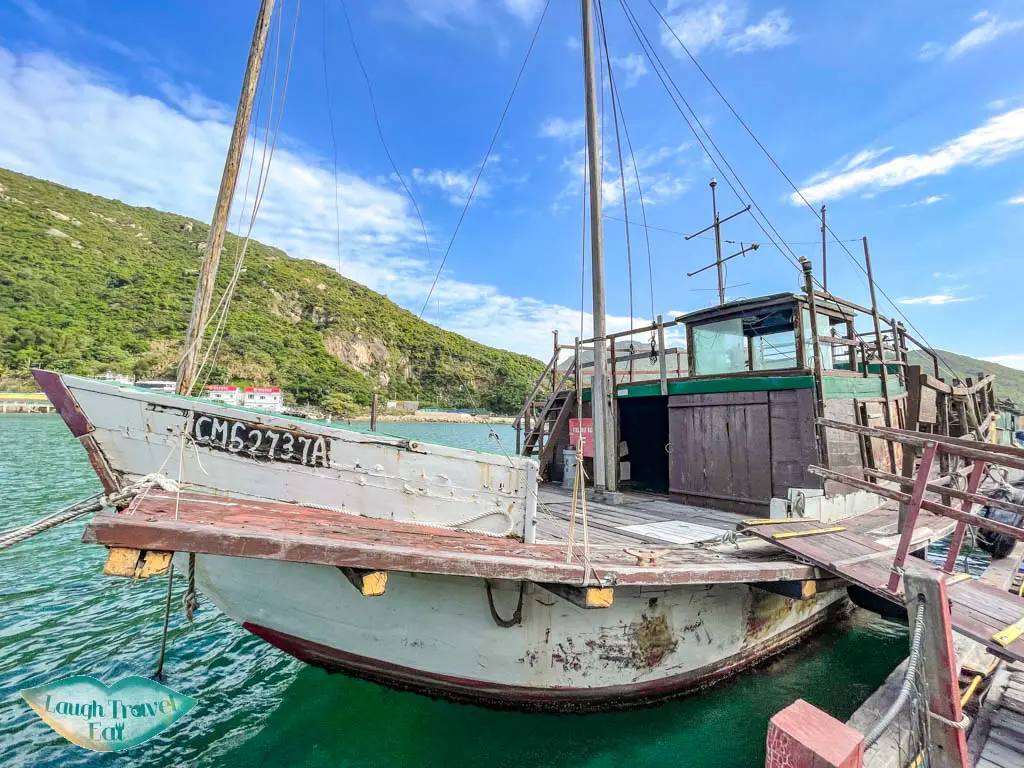 The authentic fishing junk is different to the houseboat in Aberdeen, as it is larger and also heads out to the sea. It was bought from a relatively well-off family and the ceiling is raised slightly to accommodate visitors more comfortably.
They offer a short guided tour to show you where the fish were kept, the setup of the junk boat, and the family rooms, and where the kitchen is.

Funny Hookless Fishing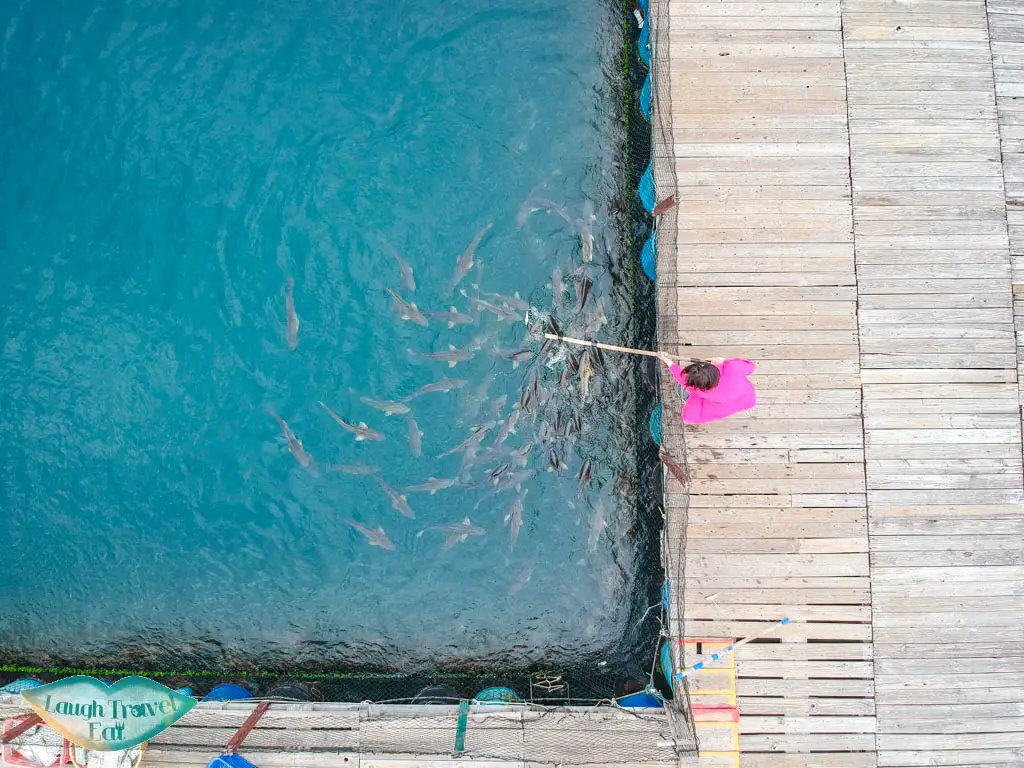 One of the most popular activities to try is the funny hookless fishing. This is a traditional fishing method by the fisherfolks and requires a lot of skills to succeed. The trick is to lower it gently and to pull it out in one go. That said, I, too, was unsuccessful!

Fishermen Slang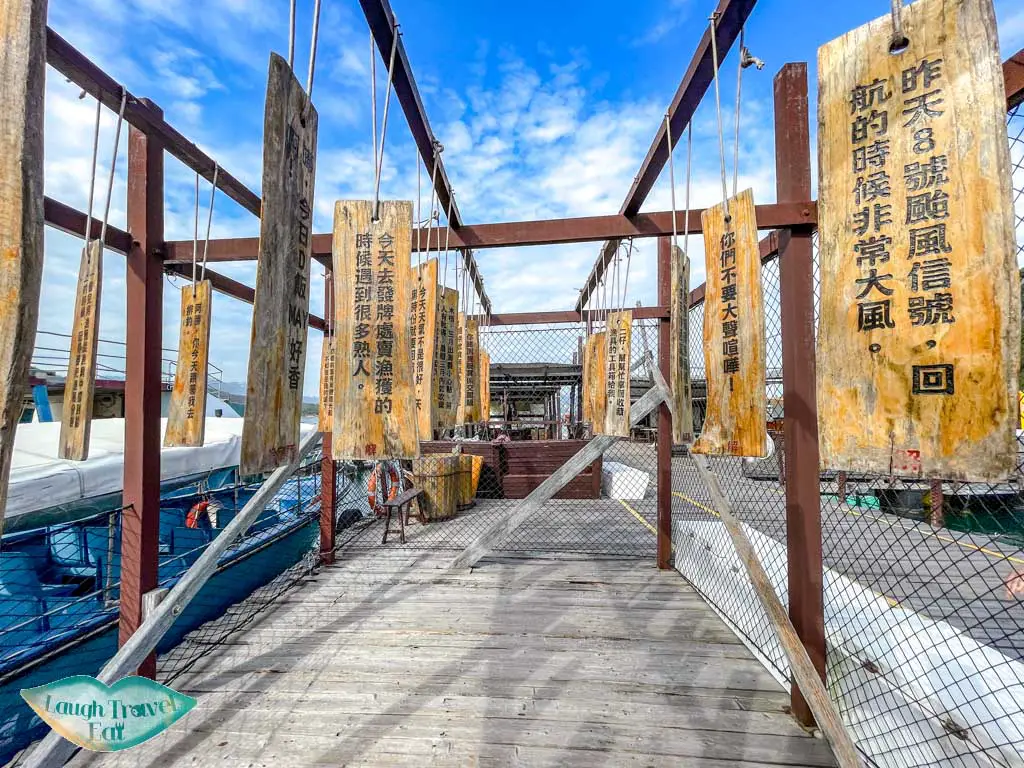 The hanging wooden plaques dangle from a metal mesh ceiling. It has the fishermen slang on one side and what they actually mean on the other and it's fascinating. If you have time, definitely have a read.

Feeding Raft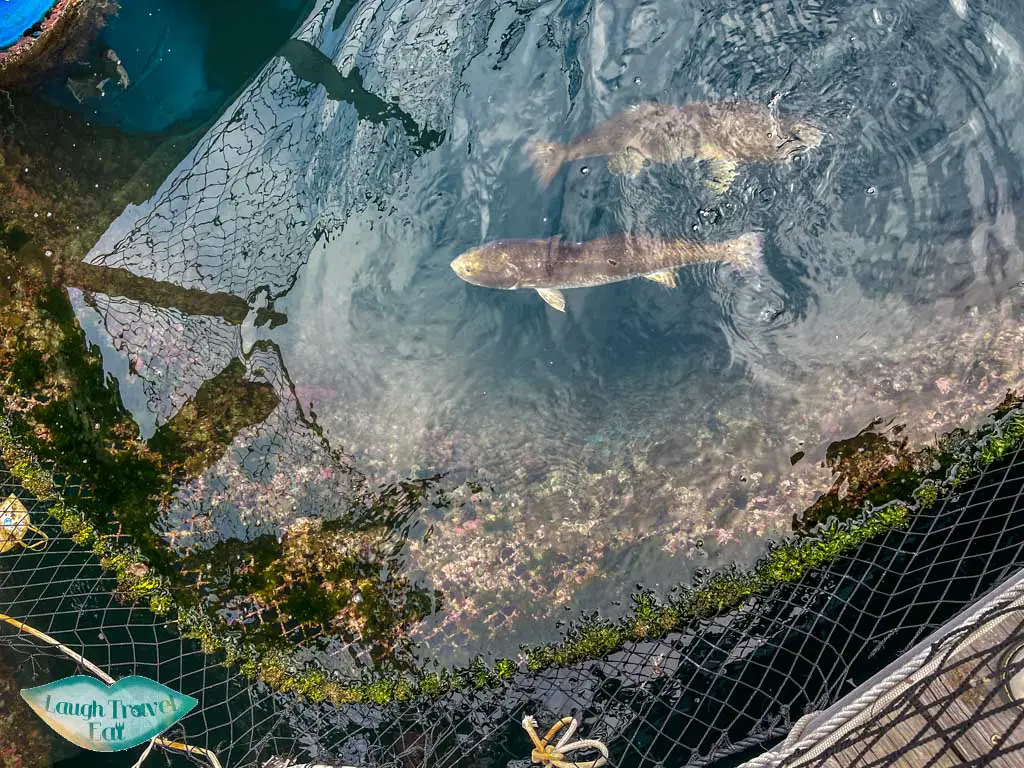 The feeding raft is where fish are kept on fish raft. While the ones here are not as crowded as the fully operational ones, it's an interesting glimpse into the inner workings of a fish raft. The nets on the side have to be cleaned yearly, depending on the seaweed and shell growth. They are fed little fishes that are caught by the local fishmen and can grow to quite big!

Ocean Gallery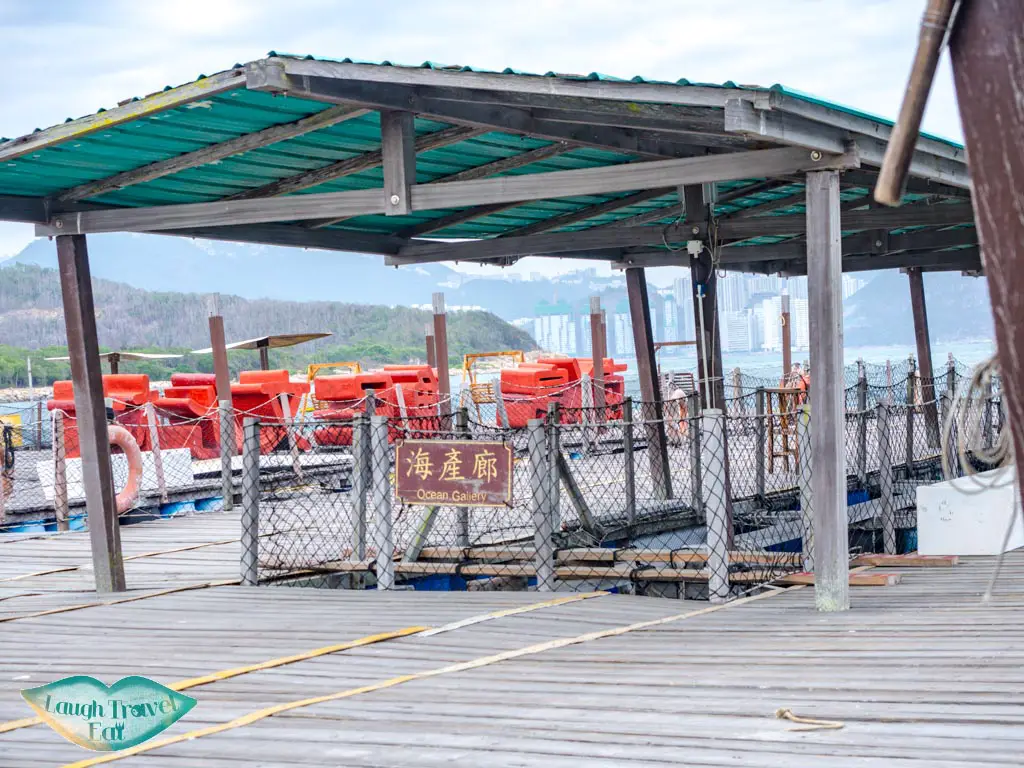 The ocean gallery is home to creatures that local fishermen caught. They are kept here for a while before being released back to the ocean, so there's a rotating cast.
Some of the ones you'd see are sea anemone, crabs, and fish. We saw a really strange crab as well!

Street art

Graffitis and seashells by volunteers and visitors are spread around the fishing raft. There are the sealife scenes behind the fishing net and dragon boat, and at the other end are some cute swings that look back towards Hong Kong Island.
You can paint a seashell, recycled from the seafood restaurants on Sok Kwu Wan, and take it home or hang it there.

They also have a souvenir shop and a snack stand that serves light meals with a local flair.

Fishing round 

There are several large fishing rounds nearby where they raise fish. They can accommodate up to 1000-10000 kilo of fish – new tour coming soon from Lamma Rainbow – there are also plenty of birds around for those who are into photography.

Opening times: 10:15 – 18:00
Admission fee: 80 HKD adult, 60 HKD children/senior, tickets can be purchased at the cultural center by the pier

The Kamikaze Cave
The Kamikaze Cave might look unassuming at first glance, but it was a strategic point for the Japanese during World War II to hide the speedboats that they used to disrupt the Allies' supply chains.

Tin Hau Temple
The Tin Hau Temple at Sok Kwu Wan dates back to 1828 with several artefacts that date back to the same period. 

Coastal and The Rocks hiking trail
The southern part of Lamma Island has some beautiful coastal sceneries and unique rocks to see. The hike takes 2.5-3 hours to Ling Kok Shan and Mo Tat Wan. You can extend the walk by looping further down to Yung Sheu Ha, the butterfly zone, and Balcony Rock.

Lamma Rainbow Tour: fishing village half day visit
Running every Tuesday, Thursday and Sunday until 30th June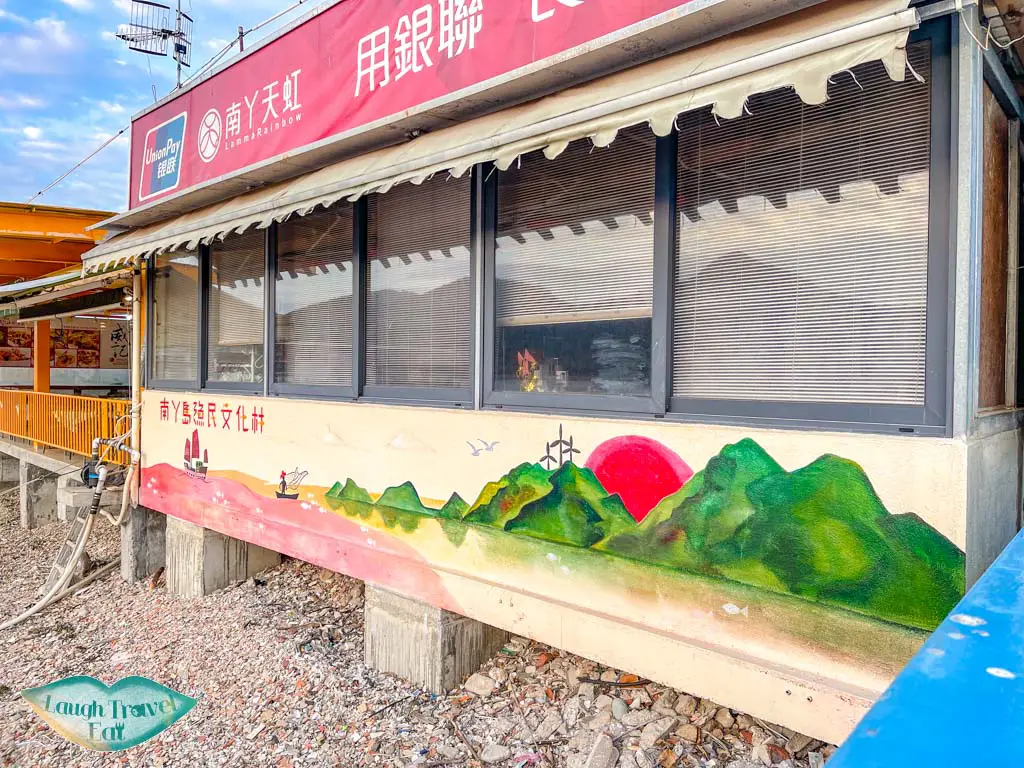 I was invited to take part in the tour and documented in the trip on my Youtube Channel. The 4.5 hours trip takes you from Aberdeen houseboat visit to seafood dining at Sok Kwu Wan and visiting the Lamma Fisherfolk Village as well.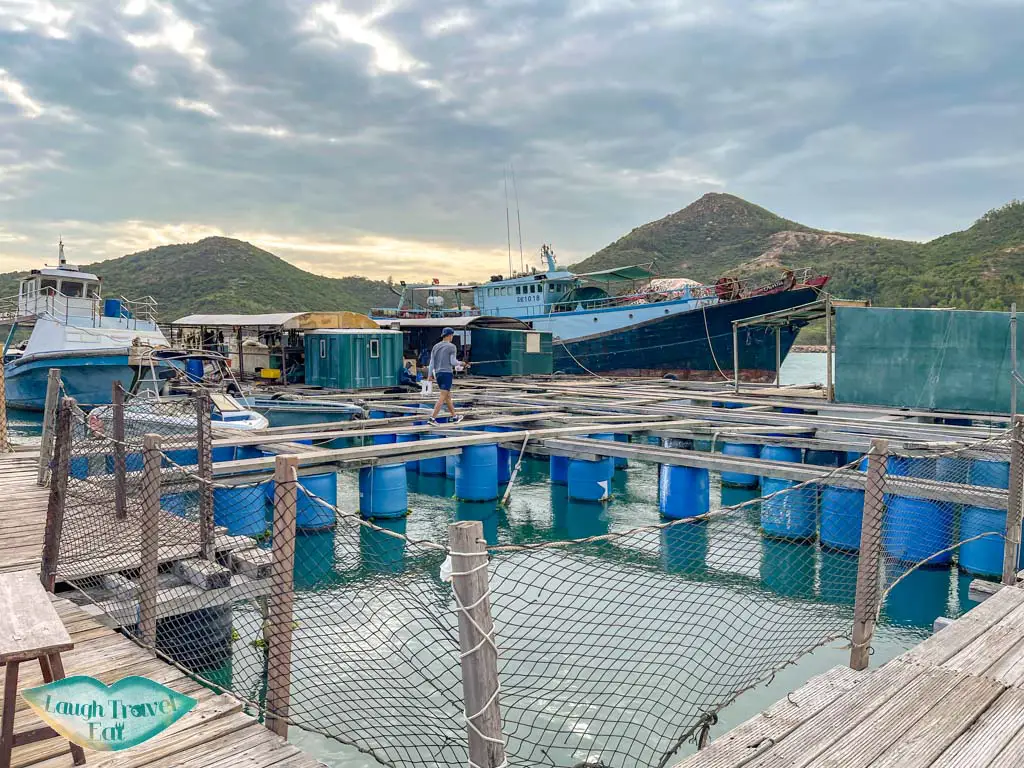 Do note that the guided tour at the fisherfolkquote village is only available in Mandarin and Cantonese.

Lamma Island Seafood Chill Half day tour

Cost: 520 HKD adult, 490 HKD 3-11 years old, +60 HKD per person for the luxury seafood set to include all of Lamma Rainbow's signature dish and a complimentary soft drink or house red/white.
How to book: quote the tour number LAA1773-D and email [email protected]