Looking for the best burgers in Hong Kong? Join the club because I've been on a quest to find the best burgers in Hong Kong for a while now! Hong Kongese are equally fond of burgers and there are a plethora of choices available. Whether you are looking for a no-frill American style burger or something more innovative like having pancakes instead of buns, there is a choice for you!

There are already quite a few established 'best burgers' in Hong Kong, so I'll cover those as well as hidden gems. For ones that I absolutely recommend, I'll put an * at the end, while others are places I've tried and found to be decent but not crazy delicious. 

Hong Kong chain restaurants best burgers
Some of the best burgers in Hong Kong are not limited to one location! Barring from the international chains like Five Guys and Shake Shack, the latter of which has some amazing seasonal menus, there are some chains that whip up a good burger:

Beef and Liberty*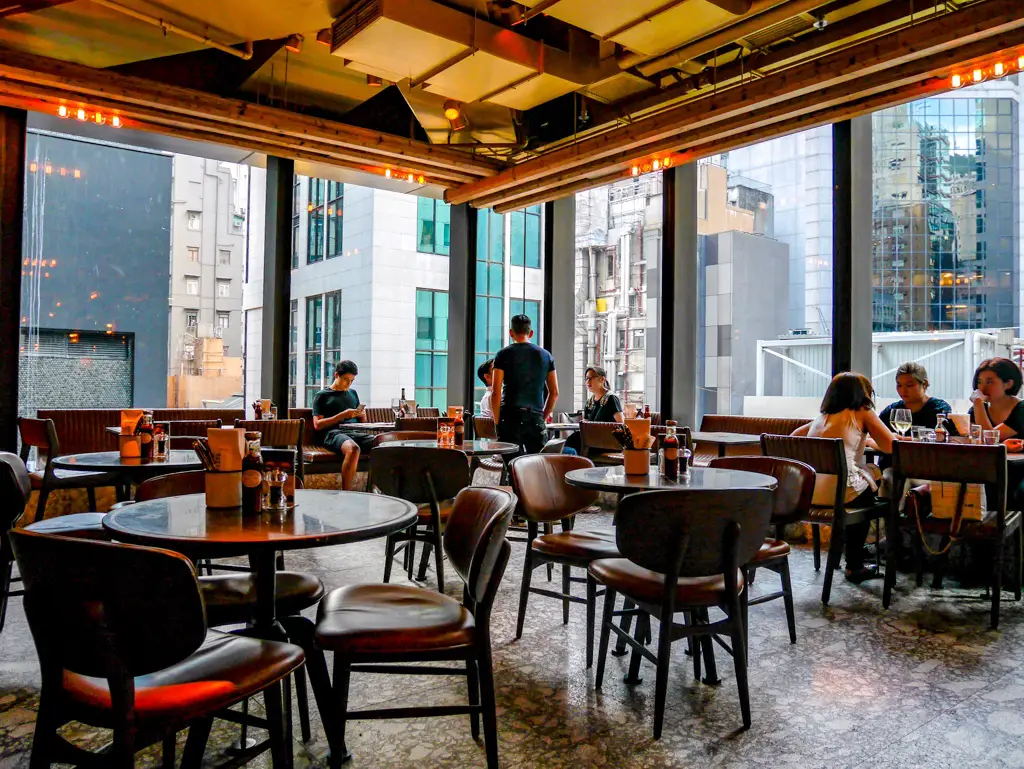 One of my go-to for a quality burger in Hong Kong, Beef and Liberty is an American-style burger joint with an extensive menu. All of their restaurants have a modern industrial style with neon signs and dangling lights. Aside from classic beef patties, there are also other options including vegetarian and vegan choices.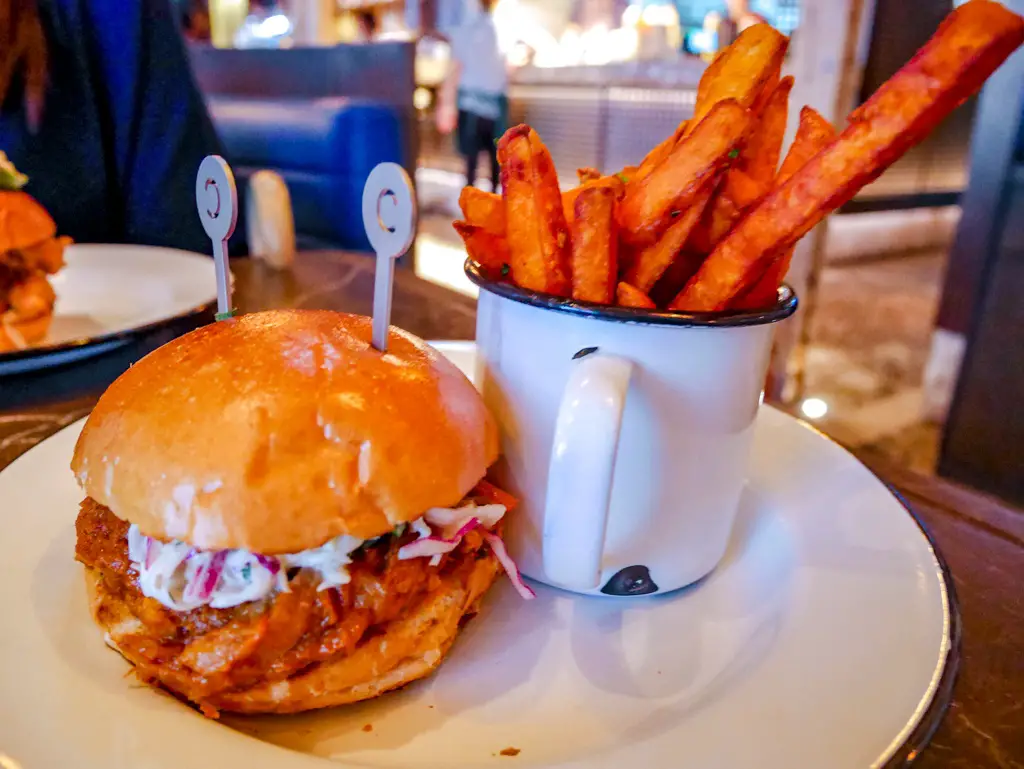 I've had their classic burger and various other seasonal menus like a soft-shell crab burger. For example, they are currently doing a vegan pull-pork made from jackfruit (May 2021)!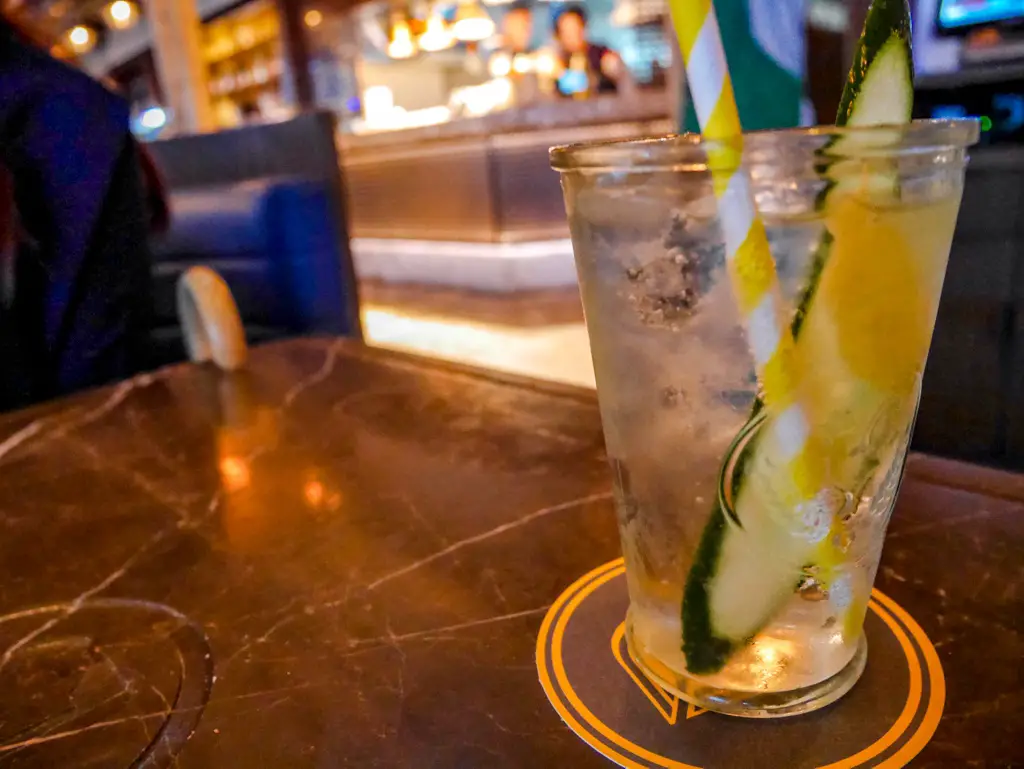 They have a lunch set during the weekdays until 3pm that includes fries or salad and one drink for +35 HKD. I highly recommend their fresh Liberty lemonade.

You can see a list of their locations here

Burger Joy
A classic American hole-in-the-wall burger joint, Burger Joy resembles a cross between a diner and a sports bar. That said, its prices are on the higher side considering its size and lack of seating but it keeps drawing people back because it is pretty good. Their burgers are juicy with enough toppings and sauce, which makes for a perfect lunch break or after work treat. 

You can also get a set for +41 HKD, which includes a can of soft drinks and a choice of regular fries, curly fries, or onion rings. Their black truffle fries are also super popular and worth a try, and another +21 HKD add on if you want it with the meal. They also have milkshakes, wings, and unlimited lemon tea refills.

Burger Joy has three locations on Hong Kong Island and you can see them here.

Honbo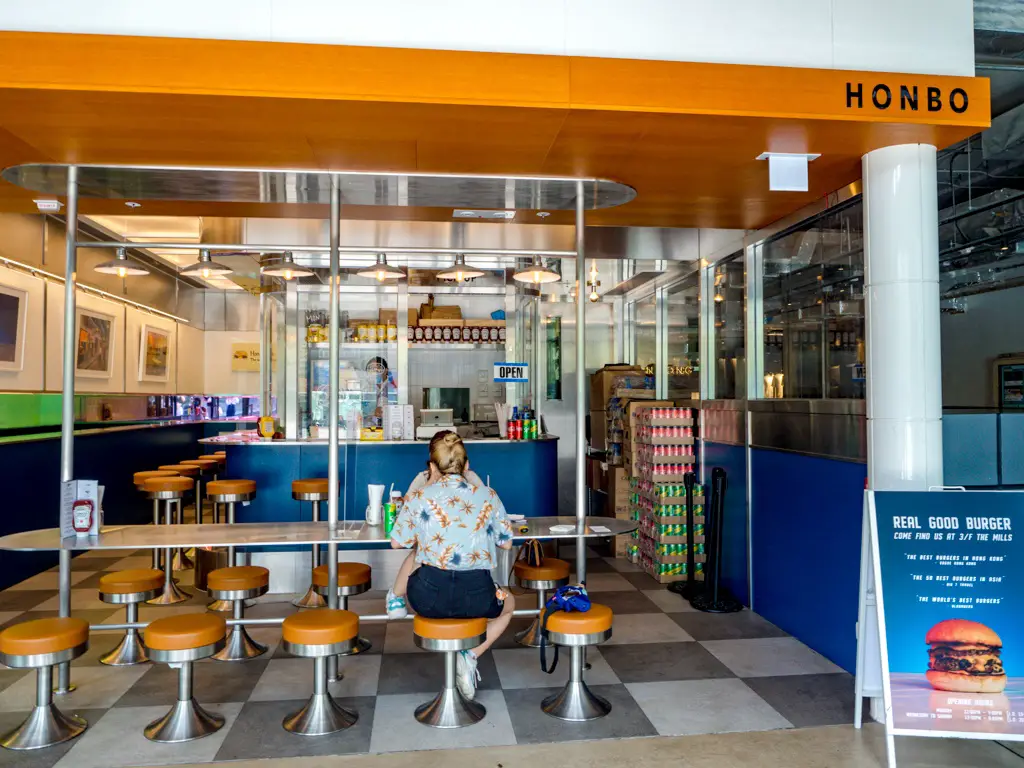 With a location in Wan Chai and one in the Mills in Tsuen Wan, Honbo is the phonetic translation of burgers in Cantonese. It is a local brand that has earned the title of must-try burgers in the world by Bloomberg in 2020. Their patties are made from a mix of meat from various parts of the cow and hand beaten.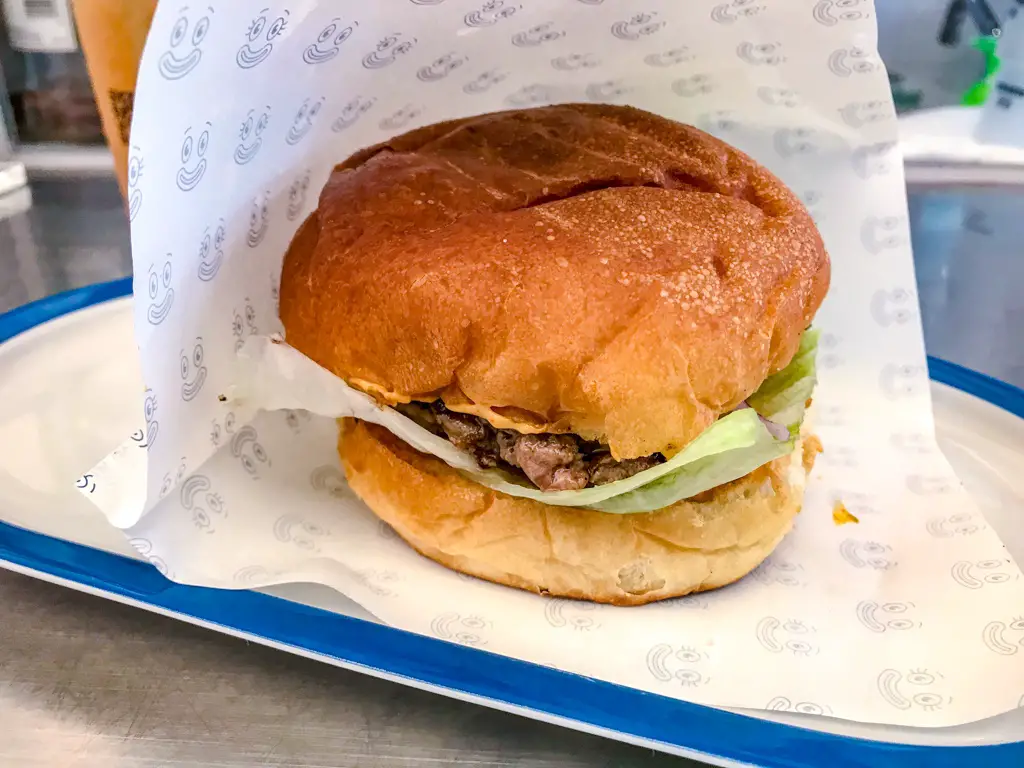 Their classic burger starts at 88 HKD and you can get up to a combined 8 oz pattie in your 
They even have a soft-shell crab and scallop burger! You can see the full menu here.
You can find Honbo's locations here.

Hero's Friday*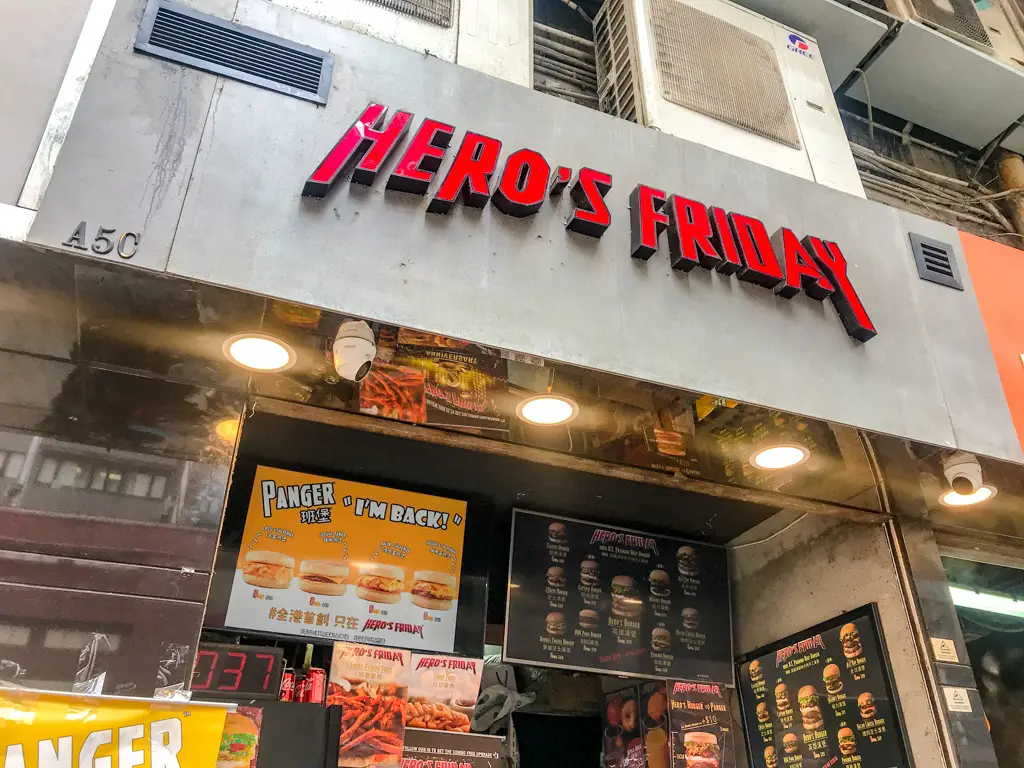 If you are looking for cheap and tasty burgers, then Hero's Friday is the best choice but it is takeaway only! But what more do you want when a burger starts at 48 HKD and getting a drink and fries are only an additional 8 HKD.
I actually haven't tried their beef burgers but their panger – pancake burger! The combination works wonderfully with eggs with sausage or bacon, with the pancake being fluffy but sturdy enough as the burger buns. The sweet potato fries are also a delight. I visited the Lai Chi Kok but they also have two more locations.

Address: Shop A5C, G/F, Block A, Hong Kong Industrial Centre, 489 Castle Peak Road, Lai Chi Kok
Opening times: Mon – Fri 11:00 – 20:30; Sat 11:00 – 20:00

Kowloon best burgers
Neighbor
Another great budget choice, Neighbor is a small restaurant in Cheung Sha Wan with only a dozen seating. They have an open kitchen behind the counter where the team cooks the burger after each order, so you know that everything is made fresh.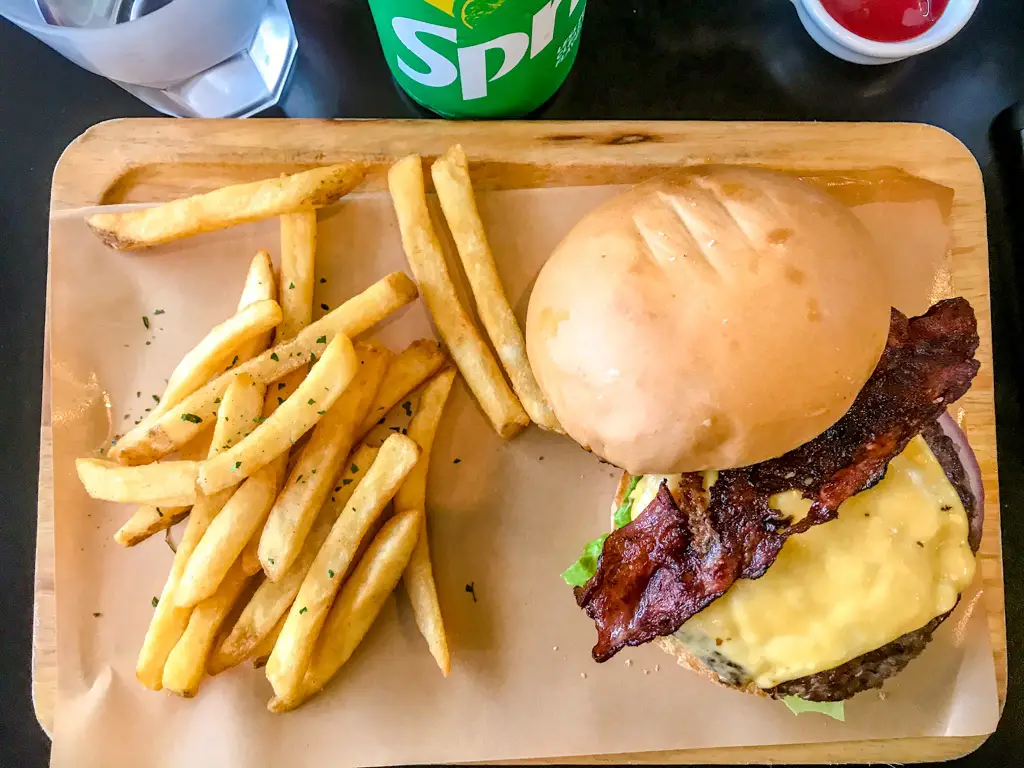 They have lunch sets on weekdays from 12:30 to 14:30 and a classic beef burger at 50 HKD that comes with fries or salad and a soda. A la carte burger starts at 42 HKD with more fancy options like mushroom beef burger and their signature Neighbor Burger at 62 HKD. They also have chicken and vegetarian options and hot dogs! It's not a long walk from Sham Shui Po if you are in the mood for burgers.

Address: Shop A8, G/F, Smiling Plaza, 162-188 Un Chau Street, Cheung Sha Wan
Opening times: 12:30 – 22:00

My Burger*
On the ground level of the East Plaza, My Burger has long been one of my favourite burger places. They have an innovative menu with beef, chicken, seafood, veg, and port burgers. Adding fries and set drinks are only 20 HKD, and their sweet potato fries are one of the best!
My favourites are the Aussie Burger with beetroot, egg, and bacon, and Pineapple bacon beef burger. Their other popular burgers are the Jamaican jerk burger and soft shell crab burger.

It has two other locations that I haven't tried before
Address: Legend Tower, G12 & G13 E-Plaza, Kwun Tong, 7 Shing Yip St, Kwun Tong
Opening times: Mon – Fri 8:30 – 21:00, Sat – Sun 11:30 – 21:00
The Cool Cousins Cafe & Noodle Bar*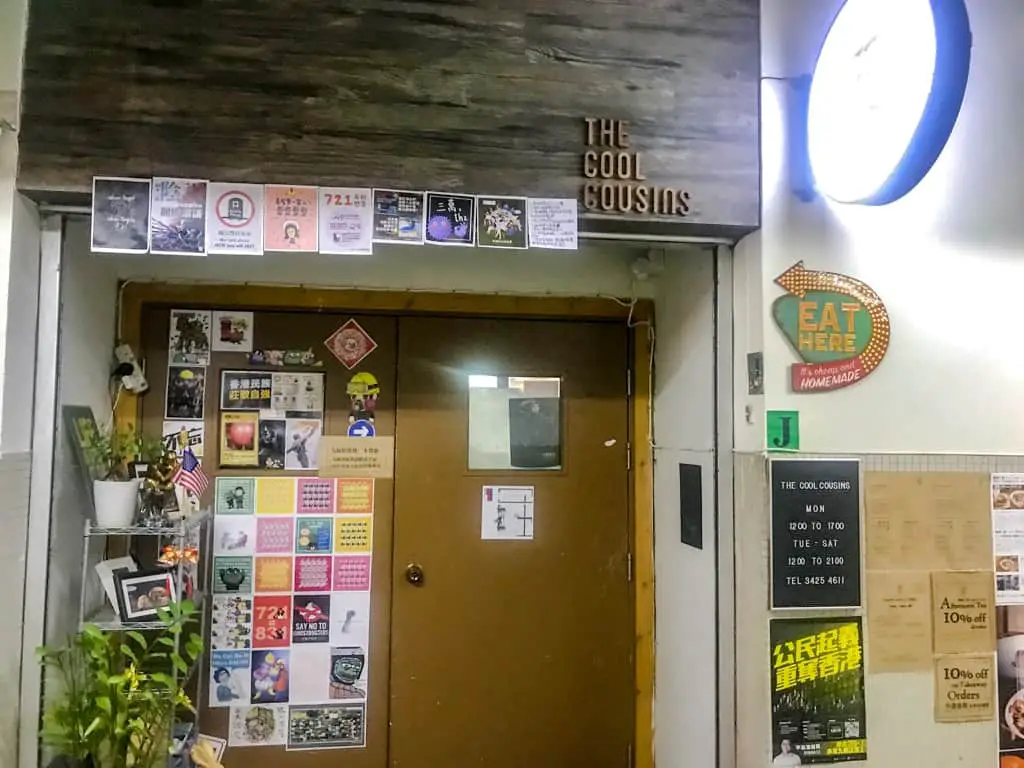 Hidden in the Camel Paint Building in Kwun Tong, the Cool Cousins is actually a Thai fusion restaurant but is most famous for their handcrafted burgers. While they are on the pricier side, starting at 95 and going up to 135 HKD, they do come with fries, salad, and a drink.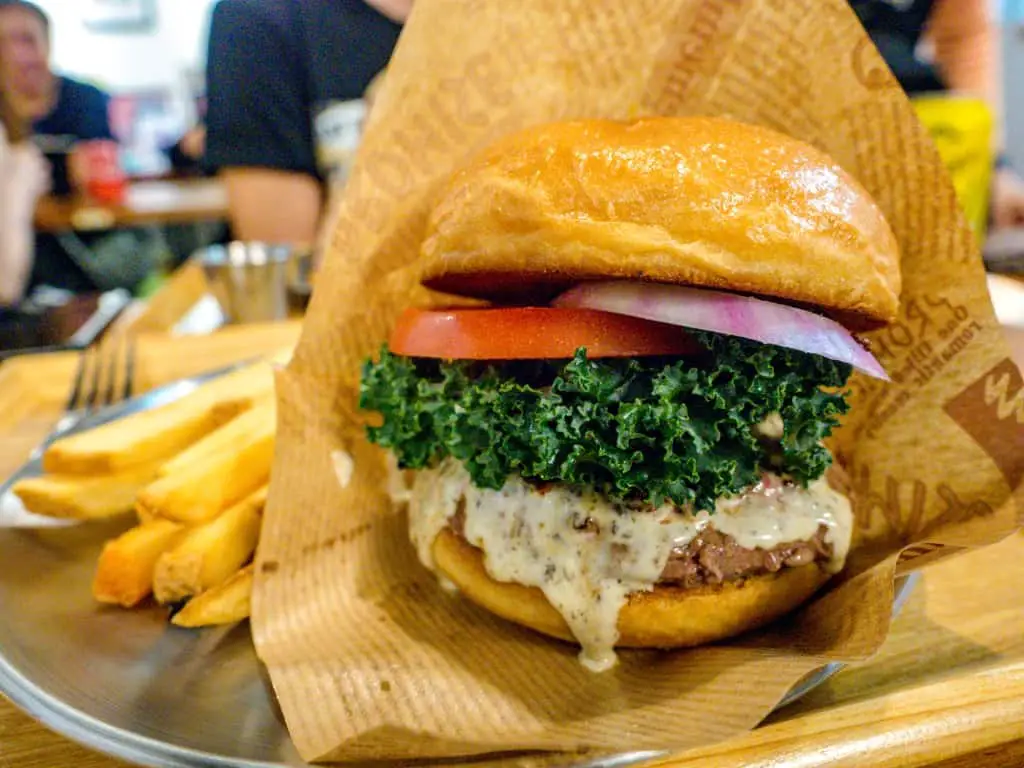 I have tried their portobello mushroom cheese burger which is very good, and have been eyeing their mac' n cheese burger as well as the pineapple peanut butter burger. My only complaint is that they never seem to have sweet potato fries!

Address: Room J, 11/F, Block 3, Camel Paint Building, 60 Hoi Yuen Road, Kwun Tong
Opening times: Tue 12:00 – 18:00, Wed – Sun 12:00 – 21:30

Fratelli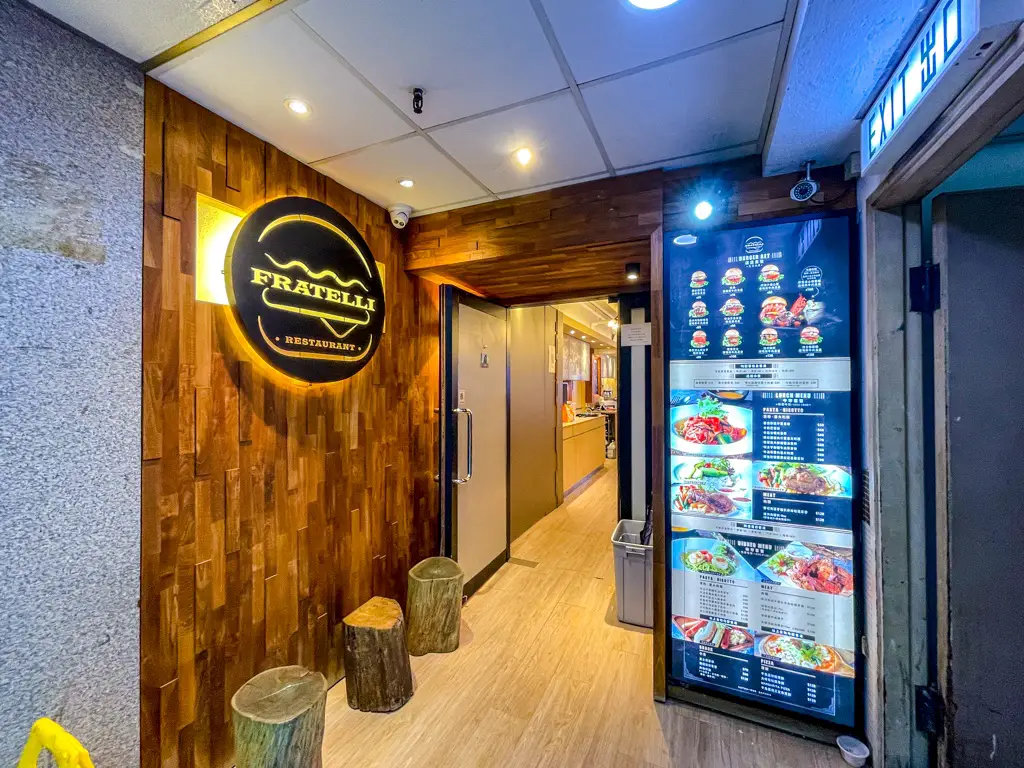 Fratelli, which means brothers in Italian, is a burger place that feels like a burger-only cha chaa teng, with soups and fries accompanying the burgers, too.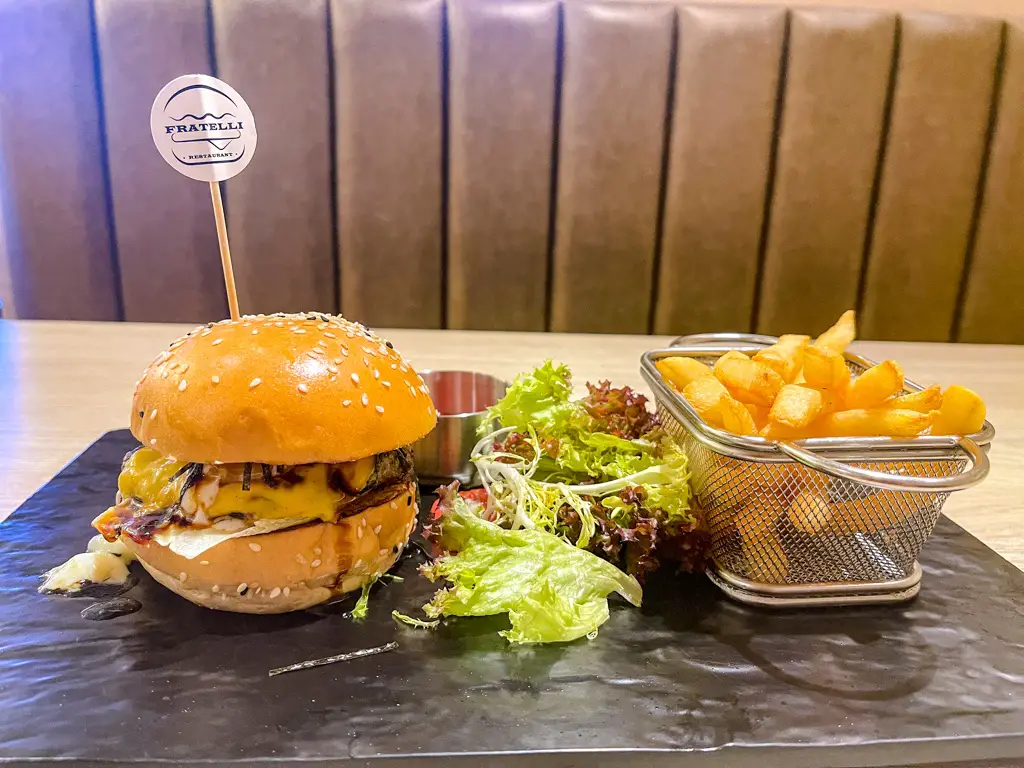 Their range of burgers starts at 68 HKD to a lobster and Angus beef burger at 168 HKD. I had their classic burger which was a little drier than expected, but overall good value for money. The restaurant is in the basement but they have free WiFi for guests.

Address: Room C, 1/F, Fully Industrial Building, 6 Tsun Yip Lane, Kwun Tong
Opening times: Mon – Sat 12:00 – 21:30

New Territories best burgers
Bully Base
Another place that serves both burgers and hot dogs, Bully Base is decorated to the part with dark interior and diner-style tables and chairs. It stands out among the white wood facade of most cafes around it in Sai Kung with the dark front and neon sign. There is even a motorcycle inside the restaurant, too.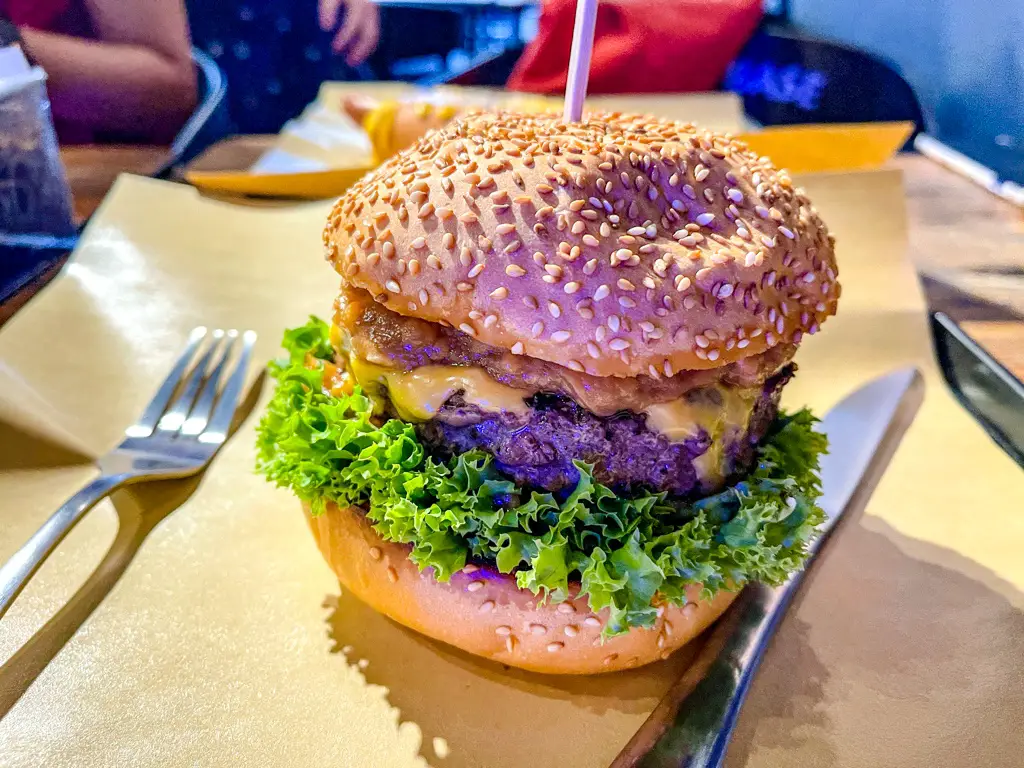 Their portion sizes are very generous, too, and I struggled to finish their peanut butter beef burger! My friend had the hot dog which was cheesy and tasty, too.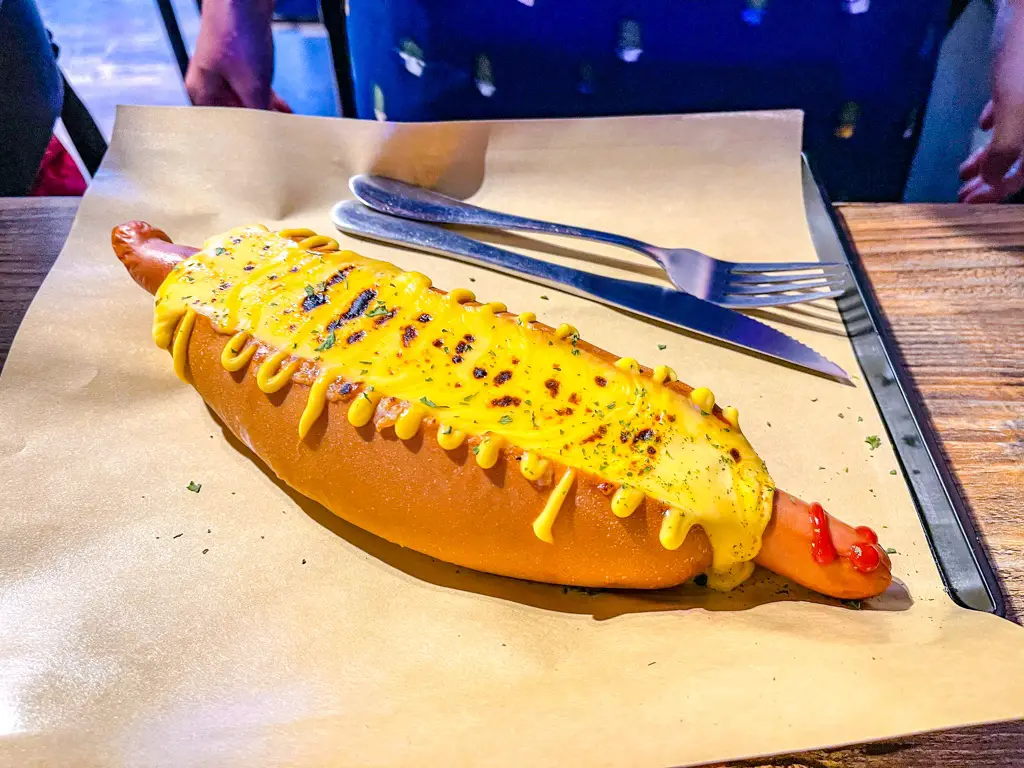 Address: G/F, 37 See Cheung Street, Sai Kung
Opening times: 10:00 – 22:00

Burger Deli*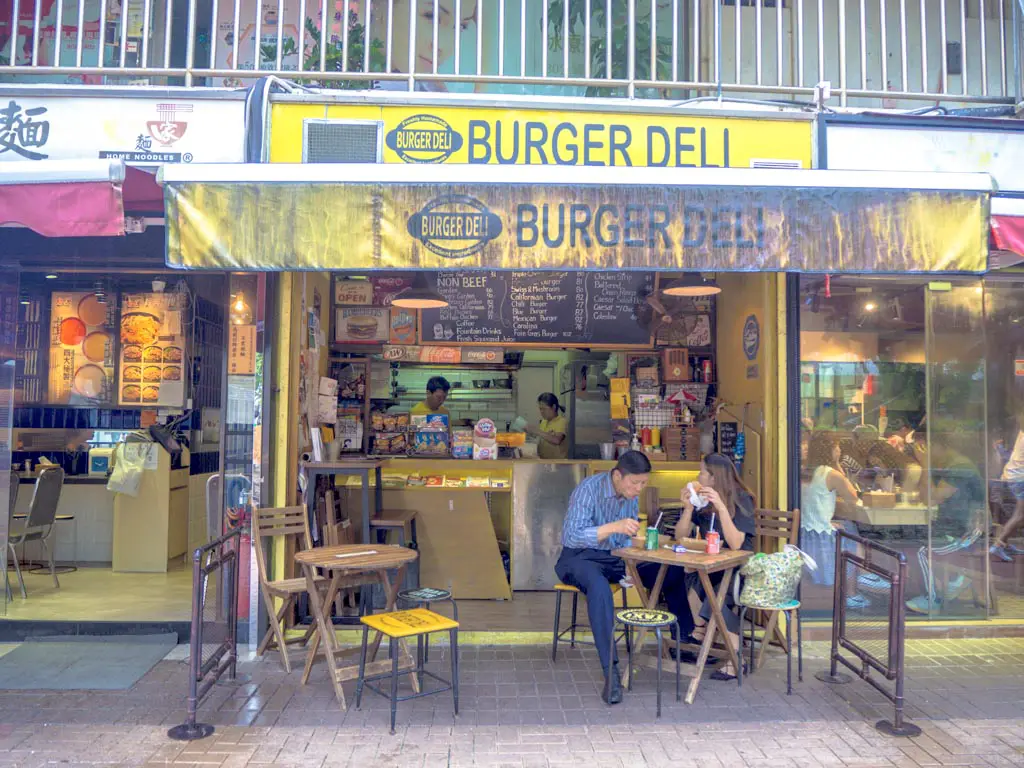 The OG burger stand in Sai Kung, it's paralleled to the main road with limited seating. It's a great place to grab a bite before or after a trip to the beach or a hike.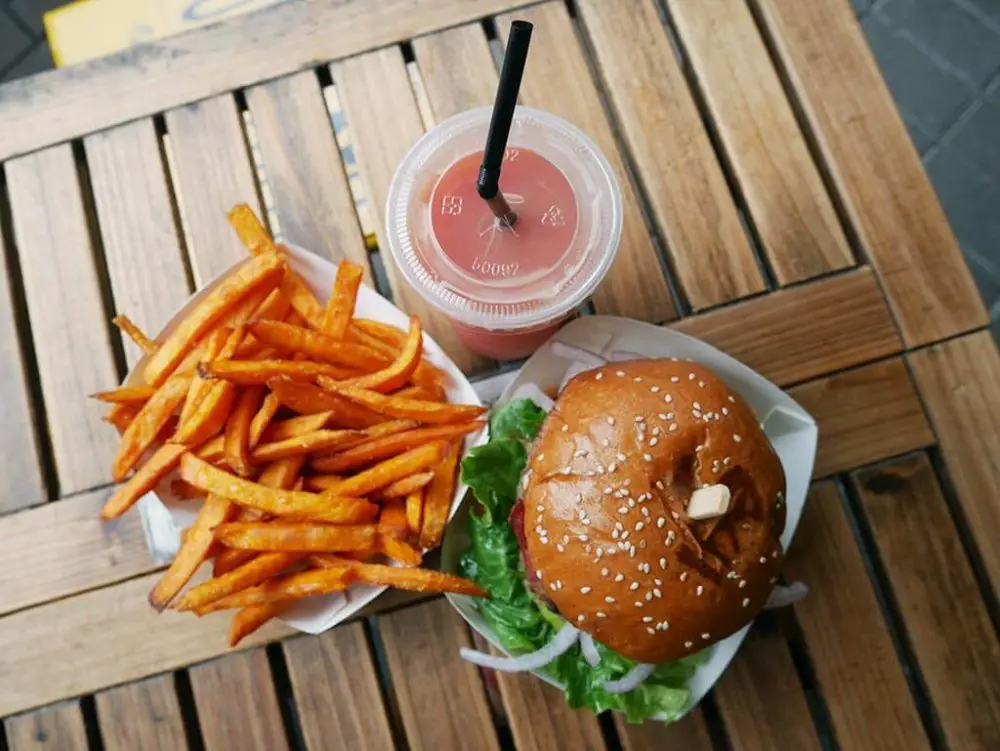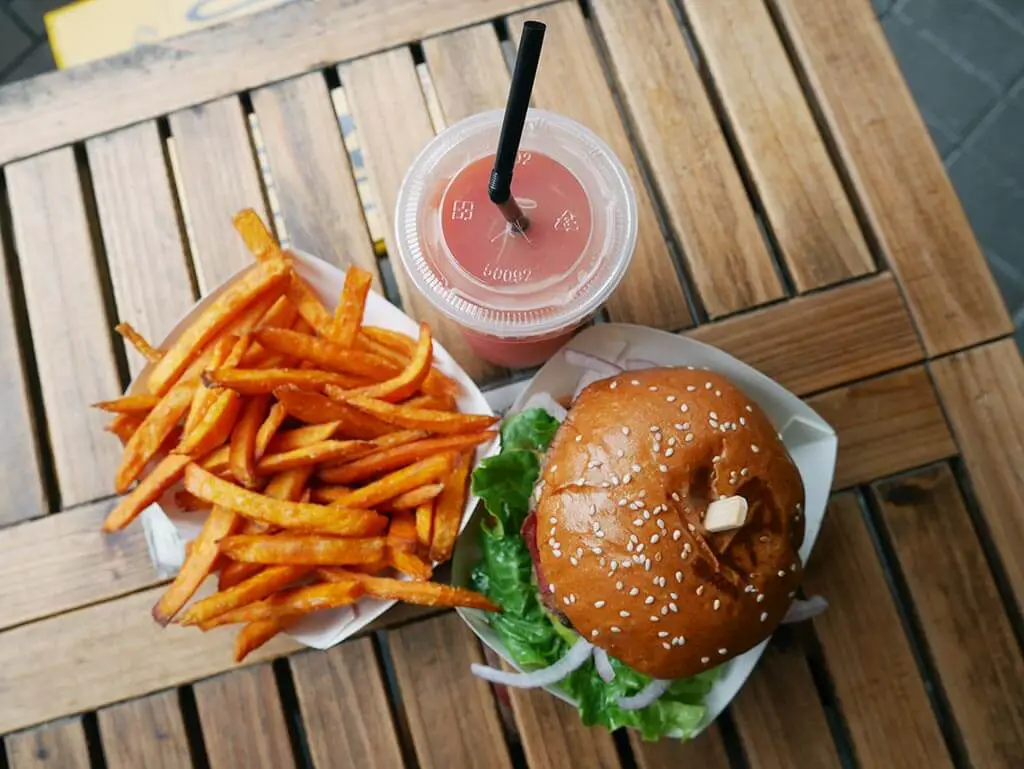 Their sweet potato fries are great as well and their themed burgers such as Aussie burger are great.

Address: G/F, 2 Ko Shing House, 9 King Man Street, Sai Kung
Opening times: Tue – Sun 11:00 – 20:30