Ping Nam Stream is the name of the river that flows from Ping Fung Shan towards Nam Chung deep in Fanling near Bride's Pool and Wu Gau Tong hike. Chasing waterfalls is something that I never thought I'd do in Hong Kong, yet it has become an essential summer activity because of how hot it gets in Hong Kong.

There is an easy way to hike Ping Nam and a hard way. Right now I've only done the easy way:
Ping Nam Stream hike summary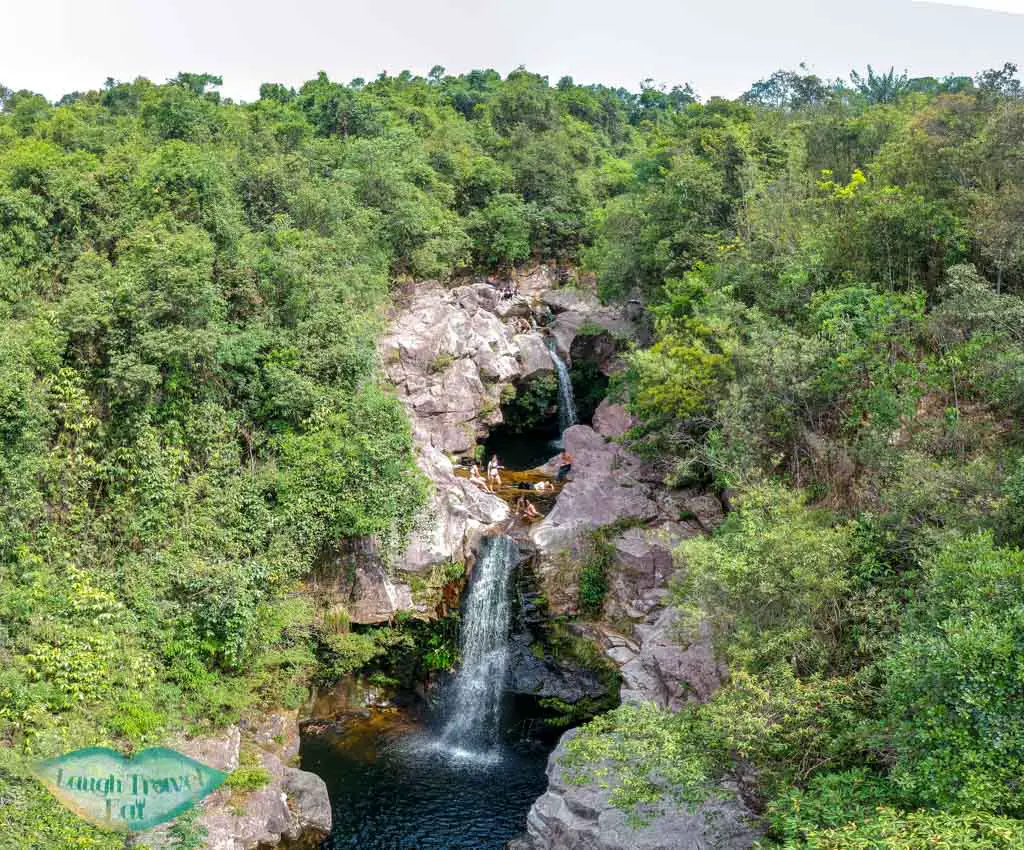 Time taken: while walking in and out only takes an hour or so, you need to factor in the commuting time. I'd say expect to spend half a day there.
If you are doing the full hike from the bottom up, it should take 3-4 hours including time to relax a little.
Difficulty: 1.5/5 – need to be careful getting in and out of the waterfalls. For the full hike, I'll bump it up to 3/5 because of the climbing involved.

Pros: a short hike can bring you to beautiful pools and waterfalls that's perfect for a cooling dip. Gives a sense of secludedness the higher up you go.

Cons: the minibus that goes in runs infrequently. Since it's a short hike, it tends to get quite crowded at lv 1.

Note: Please do not cliff jump. While there are many who do it, the pools here tend to either be on the shallow or narrow side.
Here is a vlog of our hike to Ping Nam Stream:
Getting to Ping Nam Stream
Make your way to Fanling East Rail Station, where you have two choice:
If you are a group of 4-5, take a taxi to Nam Cheng, which shouldn't cost more than 90 HKD
Exit to the minibus station and head to the furthest lane by the pedestrian bridge to queue for the 56K minibus to Luk Keng.
The 56k minibus runs around every half hour, which is why I recommend taking a taxi!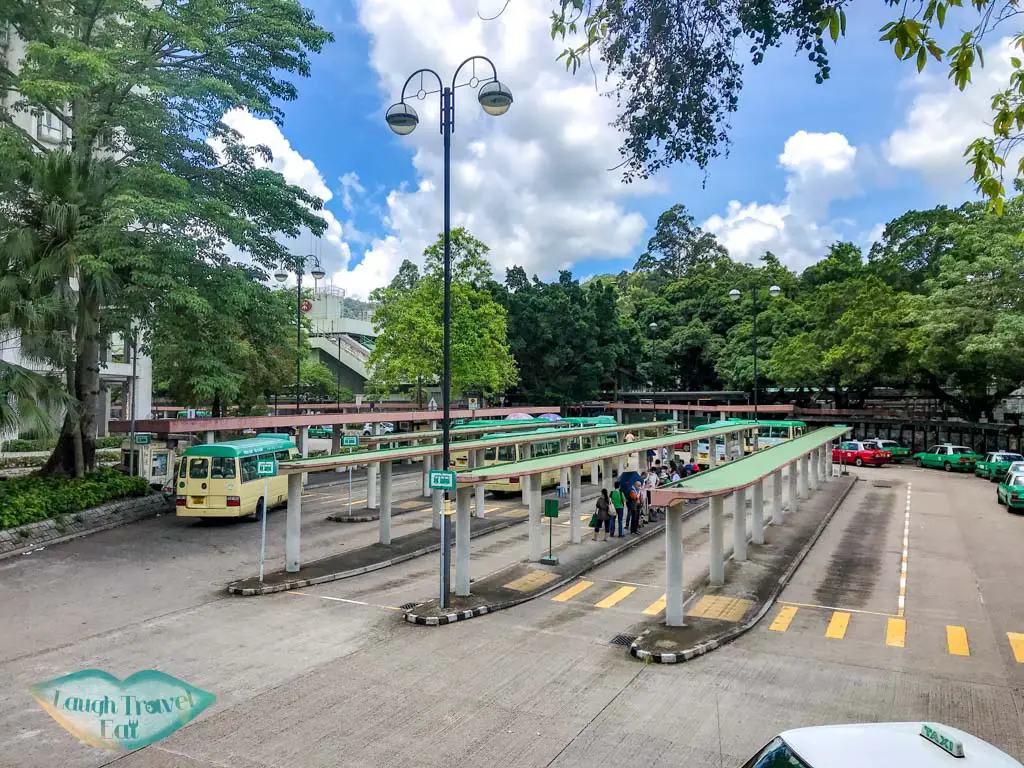 Watch out for where to get off if you are on the minibus as the driver will most likely speed on ahead to Luk Keng. The ride takes around 15 minutes and you get off before the minibus cross a bridge near a pavilion.
P.S. if you did end up in Luk Keng, it's a 15-20 minutes walk back so not a huge issue
Nam Chung to Nam Chung Country Trail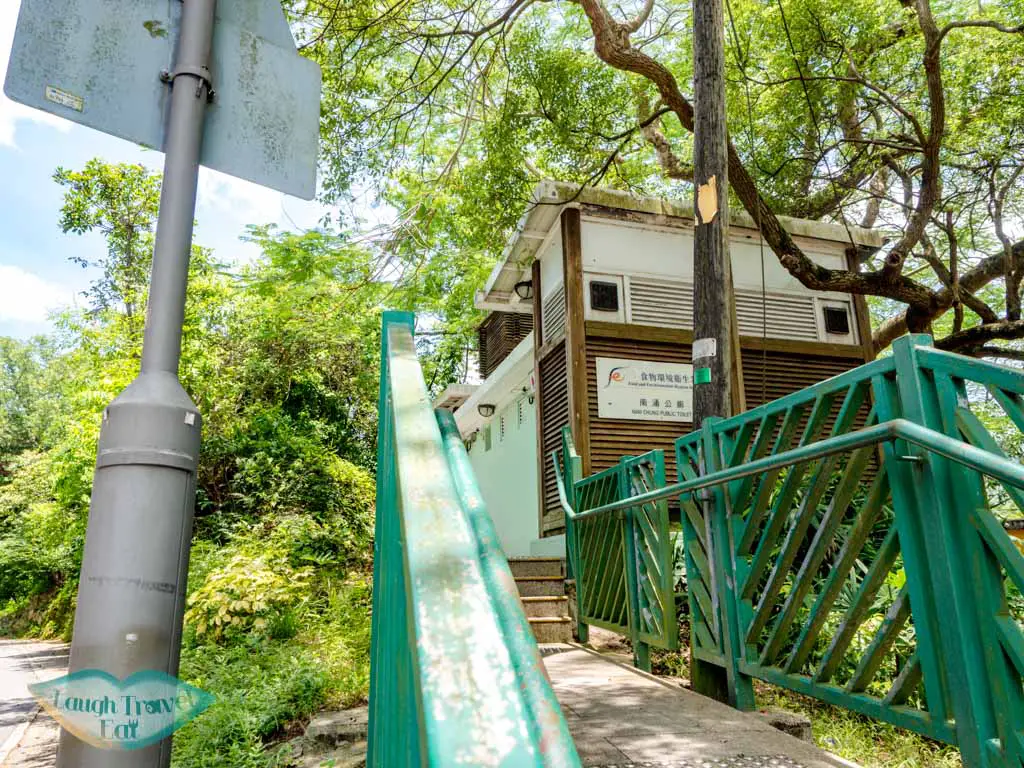 If you need to use the bathroom, there is a public bathroom at Nam Chung that's better than the one further in. head down the lane that goes perpendicular to the main road into Nam Chung.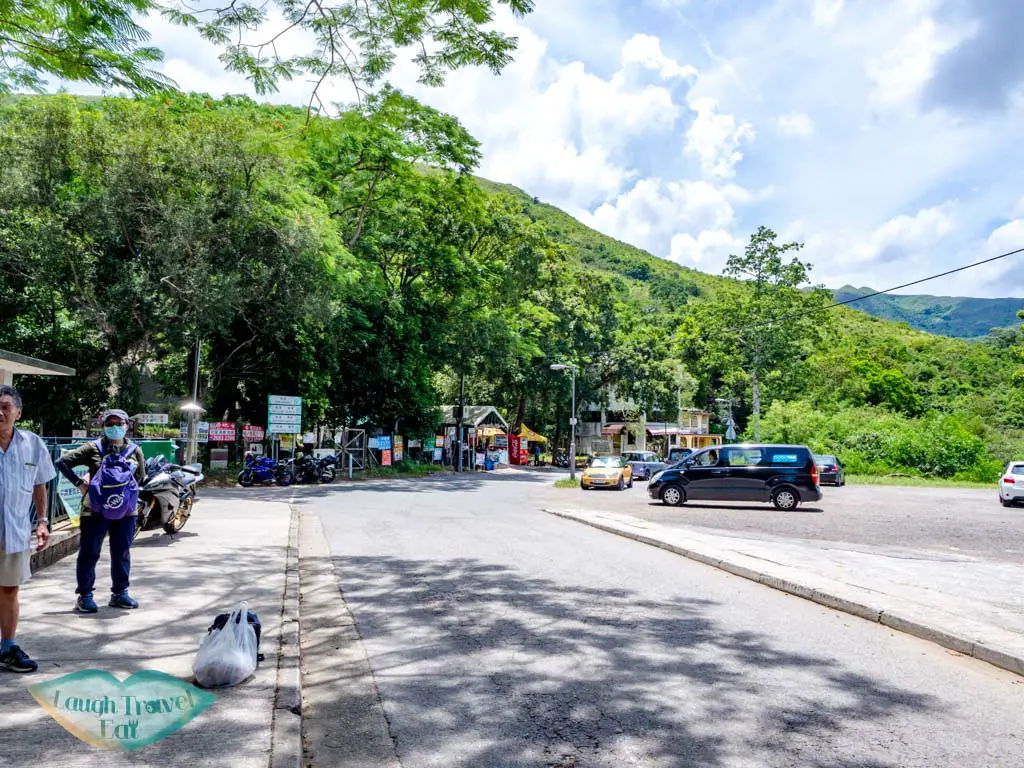 Watch out for cars as this is a working road.
Either side of the road are ponds and mangroves, with the trail start easy to spot.

Ping Nam Stream
The most famous waterfalls on Ping Nam Stremam are all downhill from the intersection between the stream and the Nam Chung Country Trail. That said, if you want to visit a nice pool and not climb up and down a lot, jump to the next section. Here's how to visit the lower stream, too:
Instead of going up the trial at the sign, continue down until you reach the blue gate of the dam. There are parking space here as well, if you want to drive here.
Take the dirt path next to the blue gate and the turn left sharply, following the trail pass the sign. It should only take a few minutes to reach the flood gate.
Ping Nam Stream flood gate
This is the lowest part of the stream and the water is very quick. DO NOT get into the water here!
The trail is well shaded and run along the stream, but it does get quite steep and requires climbing – so bring gloves if you need them!
Square Dams
These square dams are the second landmark, and if there are more water, it will form a small falls here!
The trail is marked by ribbons which make it easy to follow. Most of the trails are into the hillside so we did have to go up and down. It is much safer to do that.
After the square dams, we reach some small waterfalls. Again, the water was a big stagnant so we didn't stay, but I can see this being a good spot to chill with more water flow.
This is the typical trail we hiked that day, just follow the route and look out for offshots to the right that would take you down to the hula skirt falls. We did go pass another pool first.
Hula Skirt Falls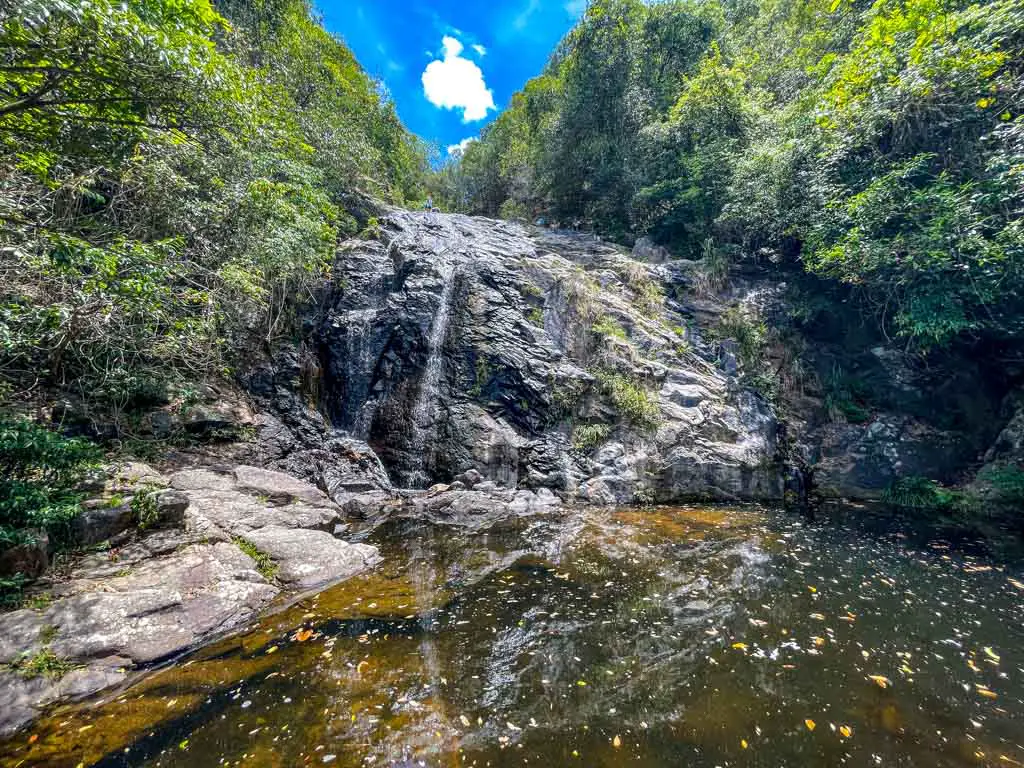 The most famous waterfall on Ping Nam Stream – which translates roughly to hula skirt falls because of its shape. However, there wasn't much water so we only had 1/4 of the skirt.
We then continued up on the trail to the left and saw a small canyon – which conincidentally had some canyoneering people! So we carried on a bit further up and saw a trail down to this wonderful waterfall:
From there, it's a final ascent up towards the intersection with the Nam Chung Country Trail.
Nam Chung Country Trail Start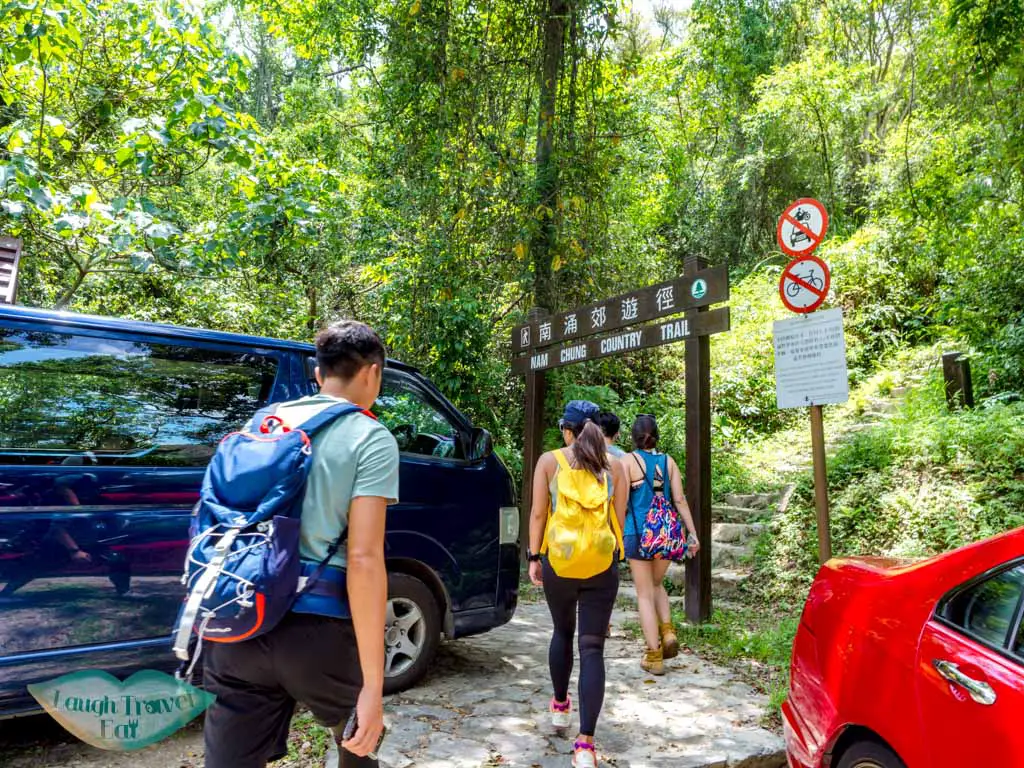 Go up the country trail which is well paved by rocks and relatively easy to hike and follow.
The first pool is right by the path and easy to see, let's just call this lv 1.
Usually, there are a lot of people at lv 1 because it's easy to get to with a large pool. But if you want somewhere more secluded, keep going up!
Keep an eye out on the right side of the Nam Chung Country Trail for offshoots that'll take you to the pool.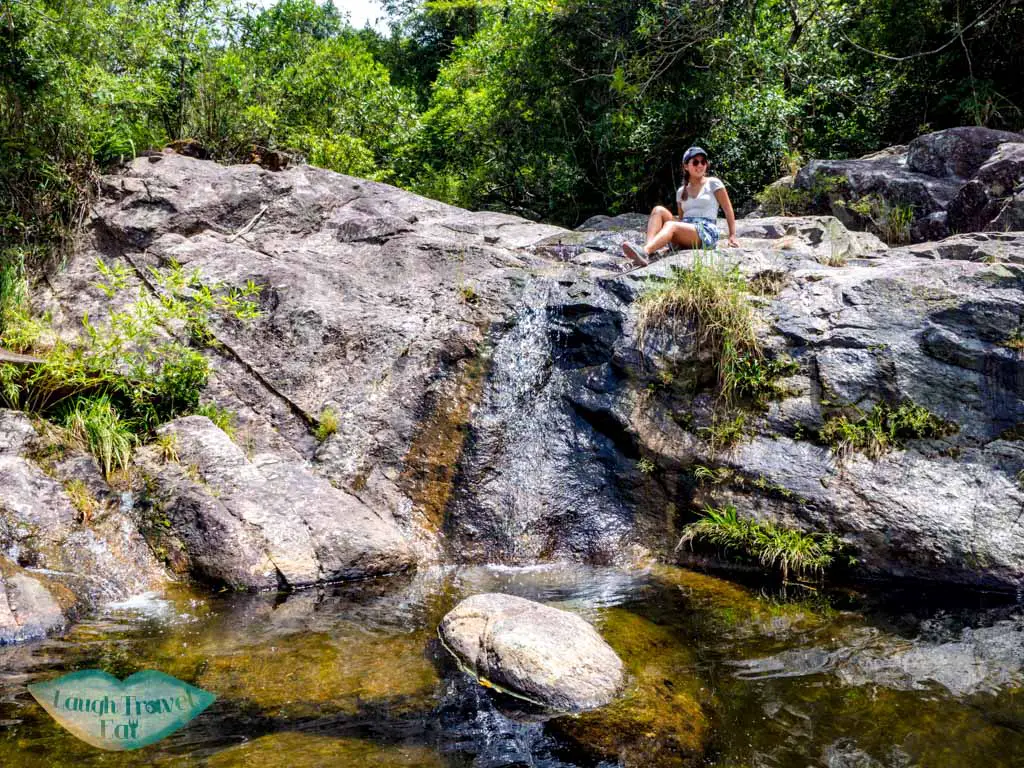 Let's call this lv 2 – we then continued up for a longer period of time before we found another offshoot that lead us back towards the stream. Of course, you can scramble up the rocks but it's not that safe, really.
This is where we found lv 5, where you can scramble down to lv 4 and 3′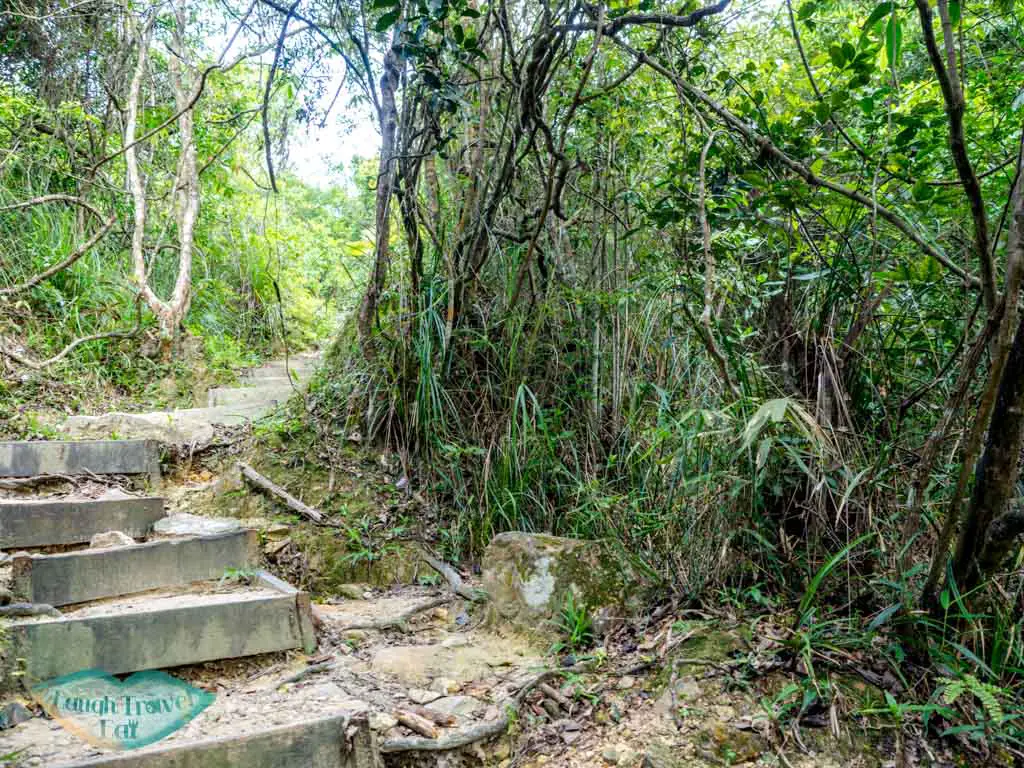 There are already some people at lv 5 so we went down to lv 4:
Ping Nam Stream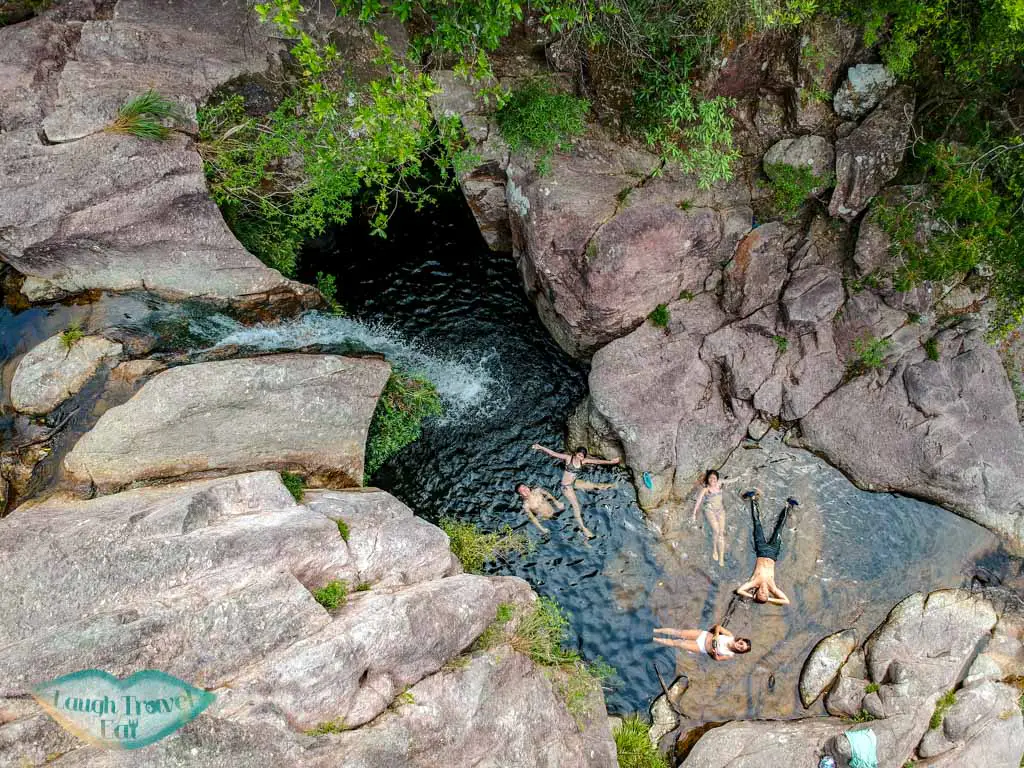 The stream continues down to the dam where you would be able to get close to and see if you continue down the road from the Nam Chung Country Trail start. Most of the waterfalls photos/videos you see online are the lower end (so down from lv 1).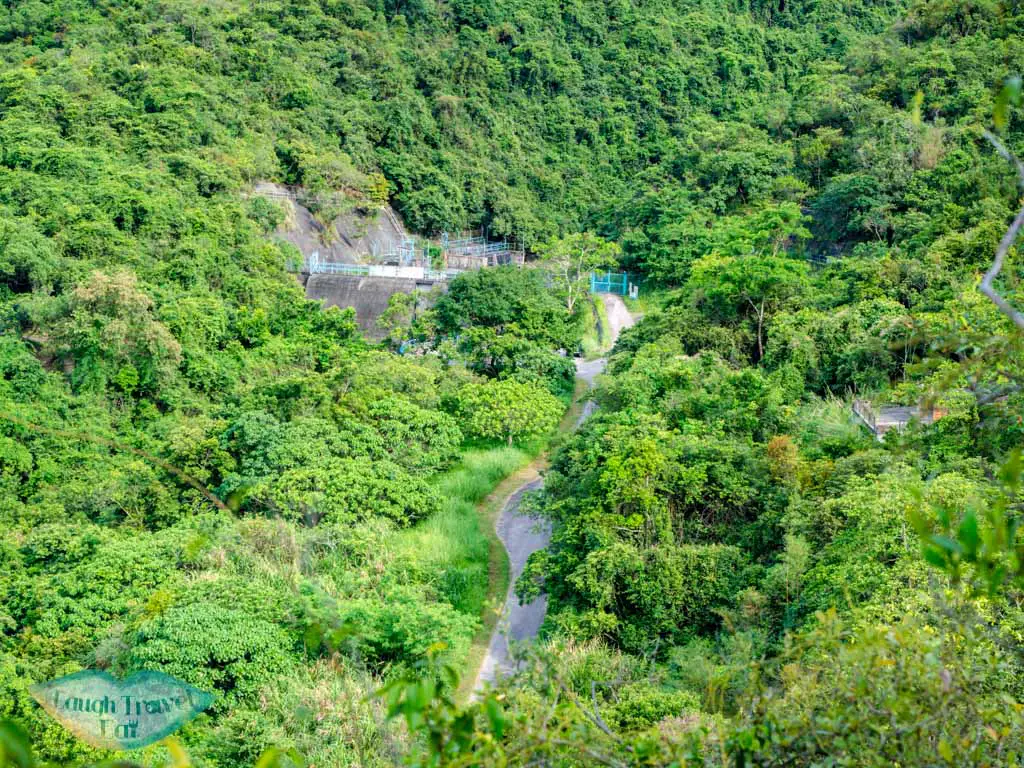 To hike this path, you'll need to scramble up the rocks and sometimes in the water. It is not recommended to do that if it has been raining or if you are not experienced.

Getting out of Nam Chung Country Trail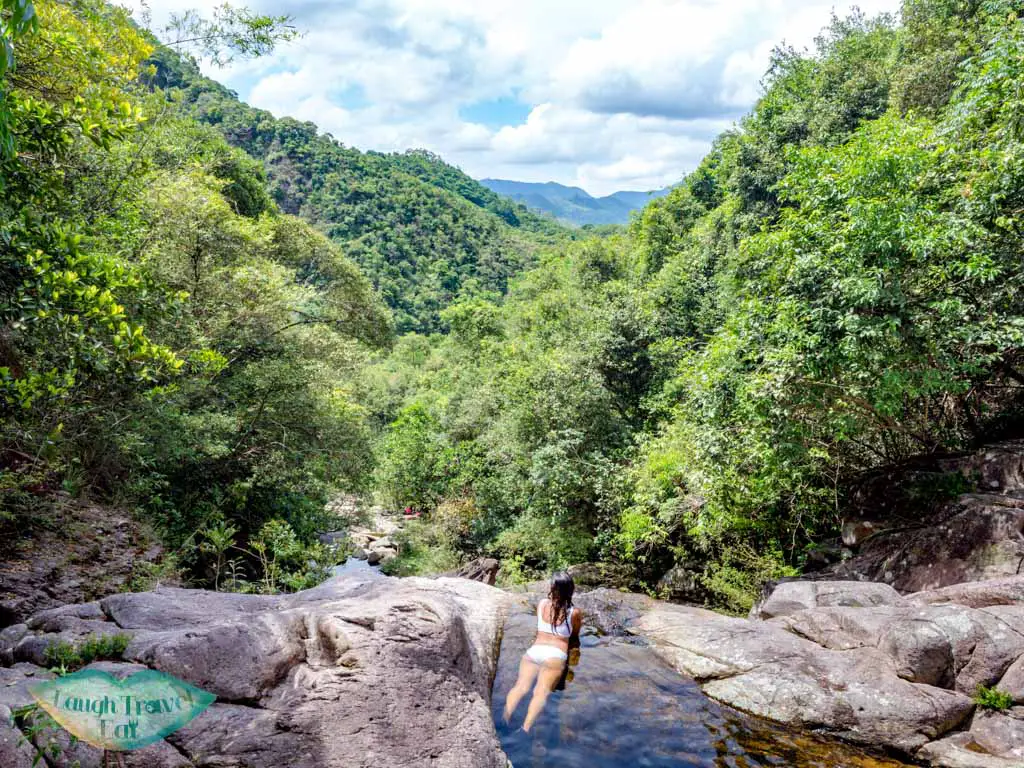 Simply head out the way you came.
However, getting out from Nam Chung is not easy since the minibus starts from Luk Keng, which is often full already.
You can try to call a taxi or walk to Luk Keng and queue for the minibus there. There are several small restaurants and local cafes to eat, too, if you are hungry or thirsty.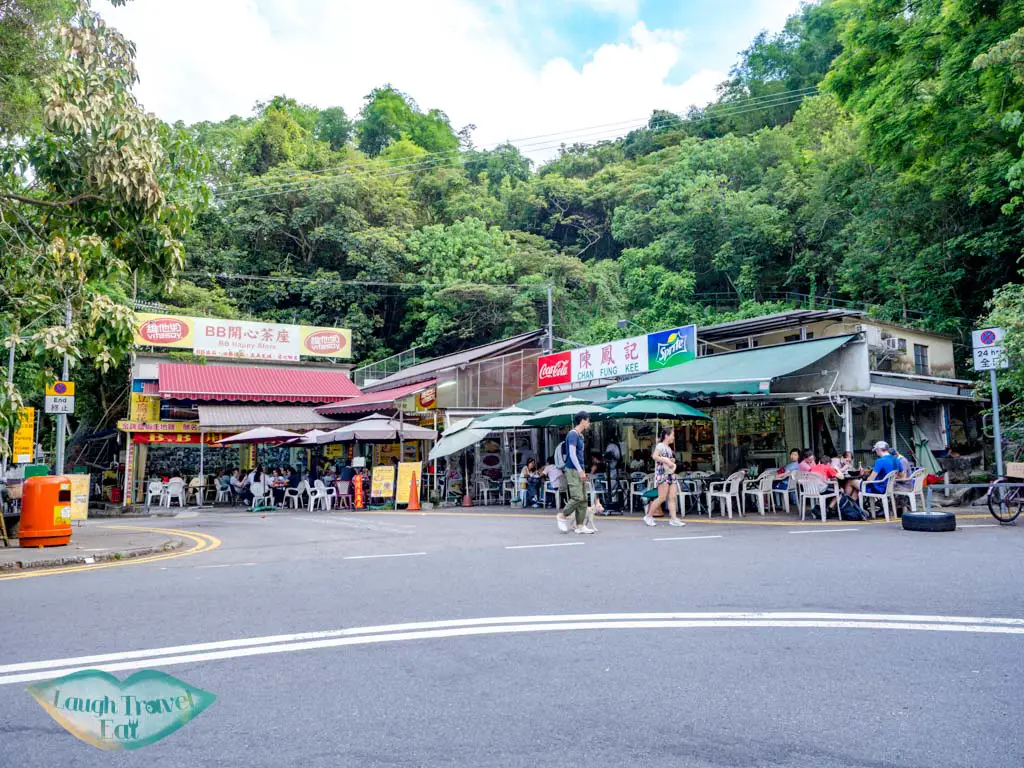 In particular, the tofu fa at the restaurant by the minibus station is quite famous.

Finish the Nam Chung Country Trail
The Nam Chung Country Trail continues up from the gorgeous waterfall. It runs parallel to the river until a bridge cuts across it.
From there, it's an uphill hike that is mostly on a dirt trail with some stairs. It's a relatively easy to follow trail with occasional signpost along the way.
It meanders a bit until we emerge to a much wider trail and can see Ping Fung Shan, Wong Leng, and Pat Sin Leng in front.
Ping Teng Au
At Ping Teng Au, which means flat peak junction, there is a trail that goes up and joins Ping Fung Shan that can continue to Pat Sin Leng.
That would be a minimum two hours hike, so we simply follow Nam Chung Country Trail down. The hike is mild and through a forested path before emerging for a glimpse of mainland China. It's quite steep path with stairs.
Nam Chung Country Trail is not a loop, and it ends at Dan Chuk Hang village.
Dan Chuk Hang

Dan Chuk Hang is a village that is linked up to the Hok Tau Country Trail. It's a nice add on to the Hok Tau Reservoir if you have the time.
You can get the minibus 56B to Fanling as well – but it is on a sparse schedule.
Add on from Nam Chung Country Trail
From Dan Chuk Hang, you can take the Hok Tau Country Trail to go to the reservoir. This hike takes you through some farmlands and you can probably get some fresh organic produce from local farmers.
(take the green trail instead of the road)
From Hok Tau Country Park, you can also hike to Lau Shui Heung Reservoir and also the Hindu Temple. This makes for a great day trip and can be done the reverse way to cool down in the stream.
That said, it's easier to get a bus out from Queen Hill Estates by the Hindu Temple.