If someone asks me where they can see the real Hong Kong, I would usually point them to Sham Shui Po. While Mong Kok has its shoppers charm and Central is the heart of Hong Kong, Sham Shui Po is really where the locals remains. If you are a fan of electronics, fabrics, wet markets, and authentic neighbourhoods, then you will love Sham Shui Po as much as I do.
Note: for Sham Shui Po food, the list have since expanded and can be found here.
Sham Shui Po Shopping

Guide
There are plenty of great shopping spots around Sham Shui Po, but it is most famous for selling electronics and fabrics. There are several spots to hit for both, but let's start with the former:
Sham Shui Po Electronics market
Apliu street
In lieu of eBay and amazon, Apliu street is where you go to get your electronics and associated accessories at the best price in Hong Kong. Stretching across four blocks with no particular orders, you'll find anything from dash cam to SIM cards for oversea travel.
Some of my personal favourites are the phone case stall right by the public toilet and a cable store that sells all kind of wires towards the southern end runs by a kind old lady and her family.
Even if you don't need to buy something, it's a good place to walk to soak up the vibe. There are also bric-a-brac that appears around the area. For those who might be looking for GoPro accessories on the cheap, head towards Dragon Center direction and find this shop:
Sham Shui Po Computer Center
For someone seeking electronic gadgets that are more high end, then you'd need to head to Golden Computer Center. Known for selling gaming laptops and video game consoles, you can find everything and anything in between. There are two separate entrance to the ground level mall and upper-level mall, the latter is more game centric and the former has more accessories.
Prices do fluctuate between stalls so be diligent and check. I usually get SD cards and hard drives here because you can price check quickly between stalls.
You can also use price.hk to determine if the one you see is the cheapest around.
Sham Shui Po Fabric Market
Aside from electronics, Sham Shui Po is the perfect place to buy fabrics and haberdashery. Scattered around the the district, there are several key places to buy fabrics or just browse.
Note: most of the fabric shops won't be opened on Sunday
Yen Chow Street Hawker Bazaar
On the edge of forced closure, the fabric hawker bazaar is opposite the police station. At first glance, it looks formidable and gloomy with a low ceiling and dark interior. With hundreds of stores at its peak, it is a ghost of its former glory as the government stops issuing seller's permit.
Entering it is akin to entering the wonderland, with mountains of fabrics forming the divide between aisles in all patterns and textures.
Prices per yard start at as little as 10 hkd, although you would also be wise to check out the whole place before committing. Most store owners are rather friendly and chatty, but most don't speak good English.
Address: 373 Lai Chi Kok Rd, Sham Shui Po
Ki Lung street
Still hungry for more fabric? Then walk on south along Ki Lung Street. With street side stores as well as wholesalers, you should be able to find exactly what you are looking for unless you are super picky. The fabric stores stretches to a halfway point between Prince Edward and Sham Shui Po MTR station, so you can either continue down or turn back for MTR.
If that's still not enough for you, head to the streets parallel where there are some more. For those looking for a bargain, you'll find clearance buckets in front of some shops with end cuts. I've scored 2-3 yards of lovely fabric for 10 HKD there.
Sham Shui Po Beads shop
If you are looking for beads, trimmings, threads and smaller knick-knacks, you'll find it on Yu Chau Street, parallel to the Apliu Street Market. Prices, again, fluctuates between stores, though most sell slightly different items.
Dragon Centre Sham Shui Po
THE shopping mall in the area, Dragon Center is as big as it looks on the outside. Featuring a food court, ice rink, and seven floors of stores. Admittedly, I rarely actually walk around Dragon Center for its shopping. I mostly go there either for ice-skating or the food court. More about the latter in the food section. It is a good place to find the bathroom, though be warned it's not the cleanest. But it's a good place to go if you are getting overheated.
Address: Sham Shui Po, Yen Chow St, 西九龍中心
Opening times: Fri – Tue 10:00 – 21:00; Weds 11:30 – 22:00; Thur 12:00 – 21:00
Things to do in Sham Shui Po
Garden Hill
For a glorious view of Sham Shui Po, head up Garden Hill. One of the most instagrammable places in Hong Kong, the path up Garden Hill consists of paved stairs, making it an easy urban walk (providing it's not boiling hot).
It's a hotspot for sunset and night time photography, with its name deriving from the Garden bread factory nearby. I would definitely aim to get here during the golden hours for the perfect lighting.
Mei Ho House/YMCA
A historic building that was once a public housing estate, Mei Ho House is distinctive with the H-shape structure and is now a youth hostel. The only original building from Shek Kip Mei Estate, it was built in the 50s to answer the housing crisis. The horizontal of the H acted as the bathrooms, with residential units on either side. It was chosen to be preserved and opened as a youth hostel in 2013, with a small museum where visitors can learn about life in Mei Ho House as well as the region. There's even a vintage-themed cafe there!
P.S. the path that goes up to Garden Hill is right next to Mei Ho House.
P.P.S. there is a free walking tour daily, check their website for details
Sham Shui Po Police Station
Opposite the Yen Chow Street Hawker Bazaar, it might seem curious why a police station is on a neighbourhood guide. Rest assure, it's because of its architecture and not because you have a need to know its whereabouts.
It is a Grade III historic building, notable for the Neo-Classical design and the trademark pale grey and navy colour. It used to serve as the Harbour Master's office which eventually moved as the sea front shifted.
Sam Tai Tzai and Pak Tai Temple
The only temple dedicated to Sam Tai Tzai, the temple is hidden in the busy streets of Sham Shui Po. It was built when the area still belonged to the Qing Dynasty after a plague in the area. The Pak Tai Temple was originally the fishermen's temple, but was moved here in the 20s. It's a quiet temple favoured by the locals, so be careful not to take photos of them.
Tai Nan Street 大南街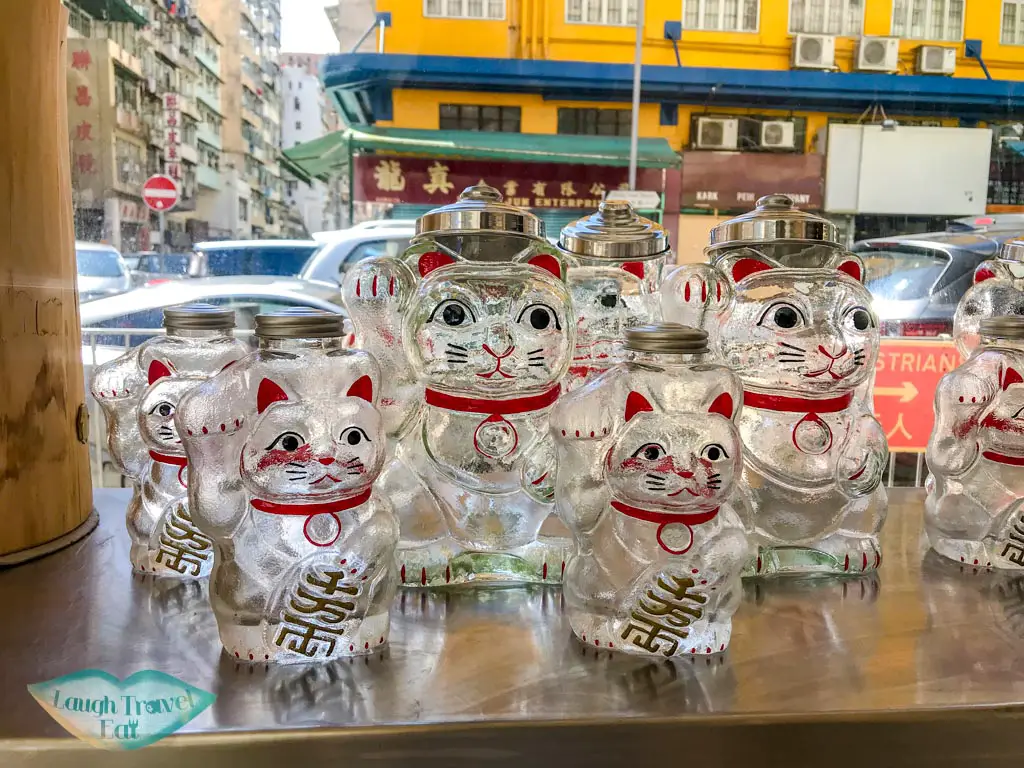 The stretch of Tai Nan Street a block south of Nam Cheong Street is now an up and coming hip district. From cute cafes to leather workshops, it's a contrast to the wholesale fabric Ki Lung Street that runs parallel.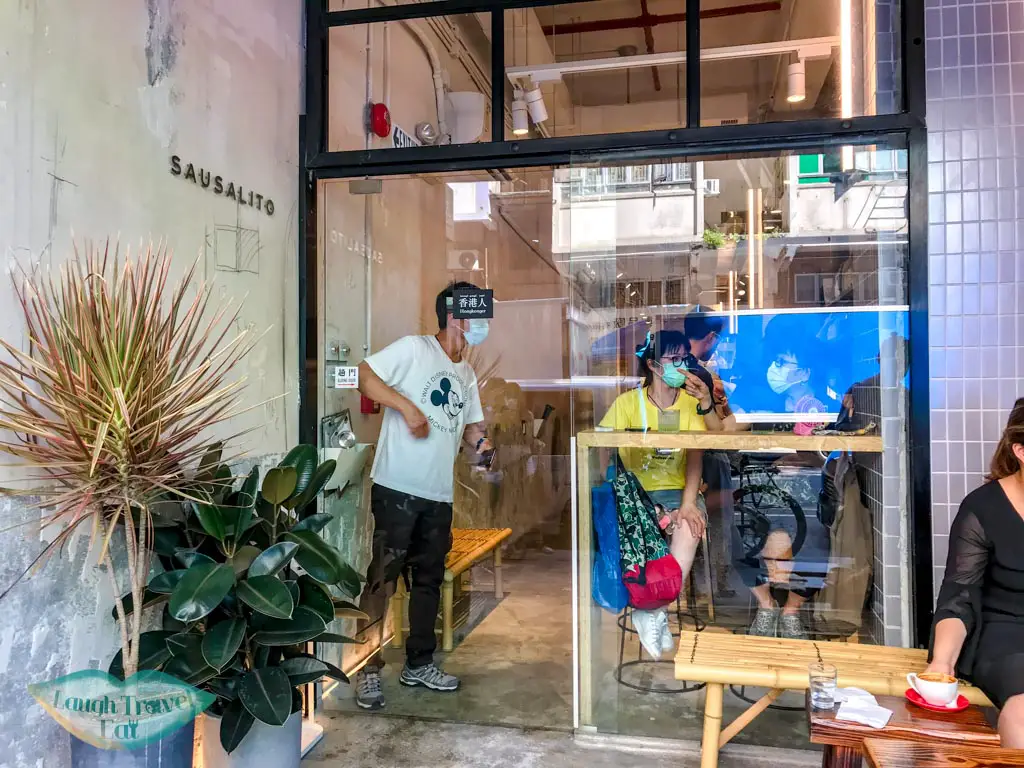 Some of the more famous occupants include Cafe Sausalito, which always spots a huge line throughout the week.
The record store next door is a great place to discover and find records, or just to visit the two cute cats.
At the end of the block, there is a yellow building with multi-colour murals that is great for photos. If you continue down the street for another block then go left, there are still a few cute cafes to be found.
As I'm not a coffee drinker, I haven't personally tested any of them.
Where to stay in Sham Shui Po
In terms of accommodation, there are some, though not a lot, of options in this area. Most notable one we had just talked about before: YHA Mei Ho House. With budget dorm options as well as private rooms for bigger groups, it is a great choice if you want to live in a historic building that's been refurbished.
For those who prefer a proper hotel, Minimal Hotel Culture is between Sham Shui Po and Prince Edward and has some lovely, modern, and minimalistic rooms.
Pin me!