Sheung Wan has a wide range of restaurants and cafes that would take you weeks, nay, months, to discover. But lucky for you, I have spent a fair amount of time eating around the neighbourhood. This is an extension of my favourite restaurants in Hong Kong guide, specifically focused on Sheung Wan.
> for things to do in Sheung Wan, read my guide here.
Breakfast Sheung Wan 260/35
Shui Kee Coffee 瑞記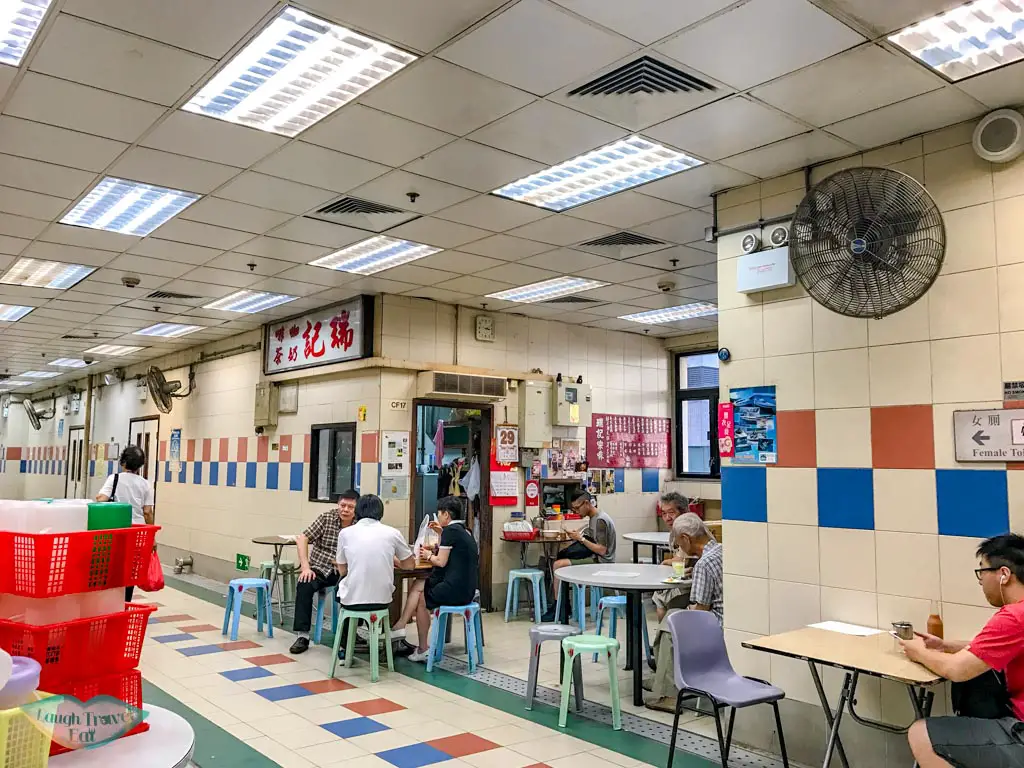 Inside the Sheung Wan Wet Market food court, Shui Kee serves up some classic Hong Kong dishes from the depths of our collective childhood.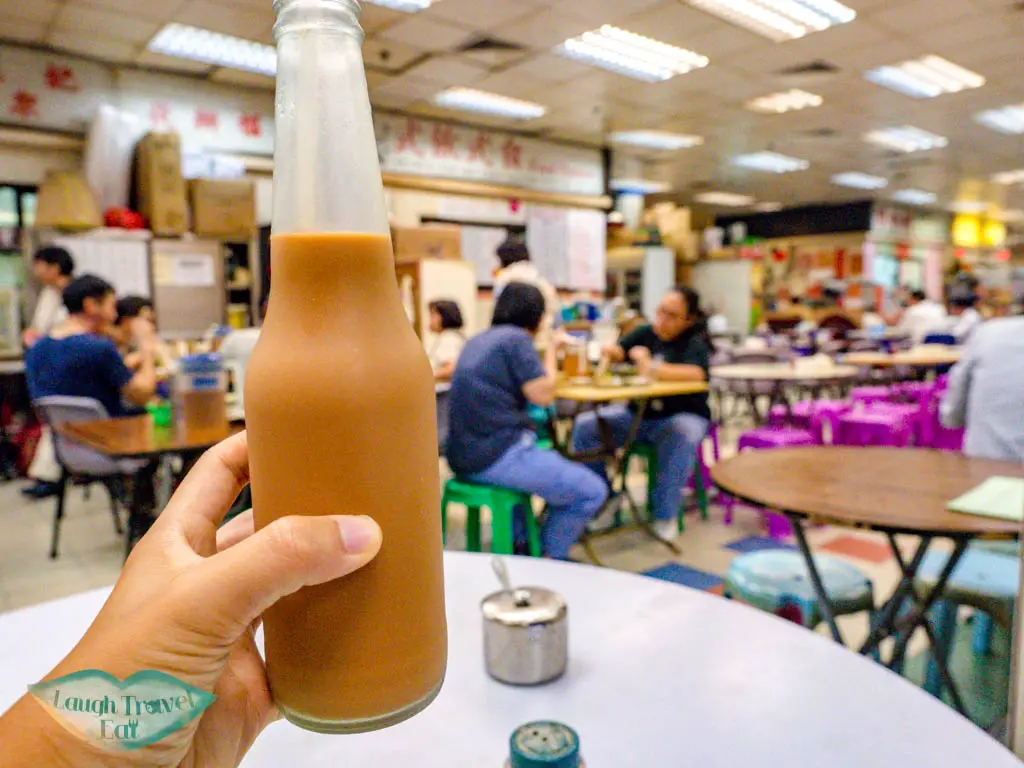 They are most famous for the Hong Kong style coffee and milk tea in classic glass bottles, as well as their beef and egg sandwich.
HK Style French Toast

egg and corn beef sandwich
For breakfast, mix and match your favourite side dish with instant noodles for the ultimate local experience.
Note: it's cash only
Address: Shop 17, Sheung Wan Wet Market lv 2, 18167, Sheung Wan
Opening times: close Sunday 7:30 – 17:00
Grassroots Pantry
For veggie and vegan food, Grassroots Pantry will not disappoint. The high ceiling and wooden modern design makes it a pleasure to sit and it is, naturally, very photogenic. While the price point is on the higher end, it is reflected in the quality and portion size. They uses both western and asian ingredients, with their popcorn chicken (mushroom) being the most popular.
Address: 108 Hollywood Road, Central
Opening times: 9:00 – 23:00

Sheung Wan lunch
Sun Bor Kee Restaurant 新波記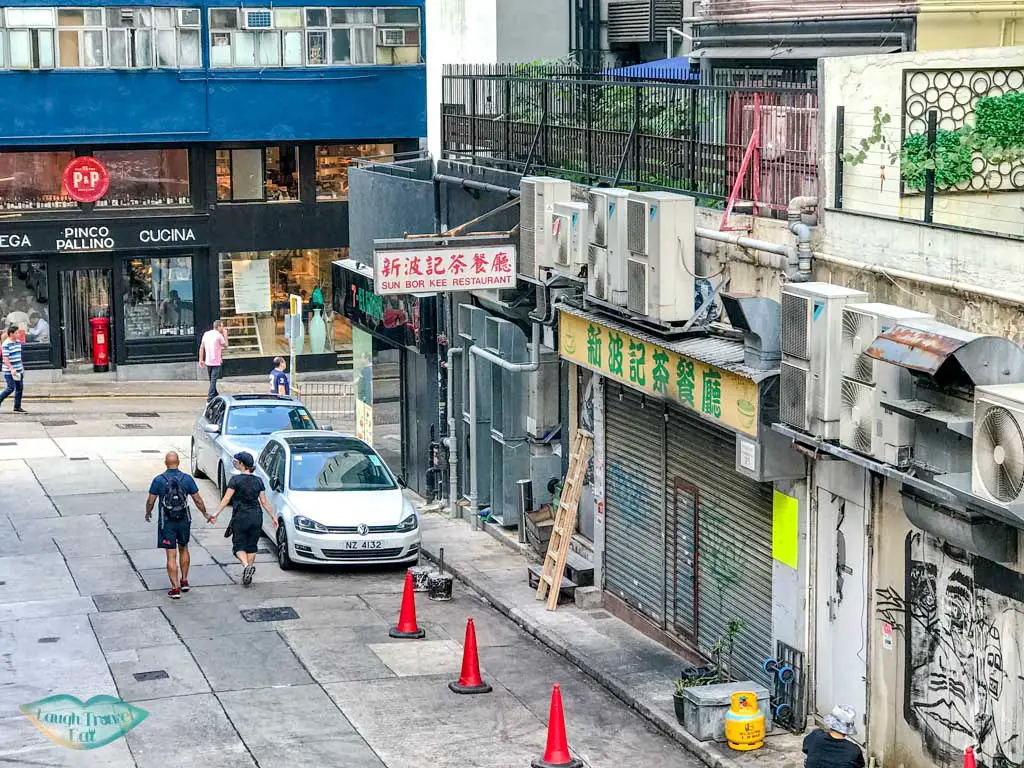 My absolute favourite Cha Chaan Teng, Sun Bor Kee is a tiny place at the edge of PoHo by the foot of the hill. It is most famous for its pork and chicken chop in scallion oil, but also serves a variety of regular Hong Kong diner dishes.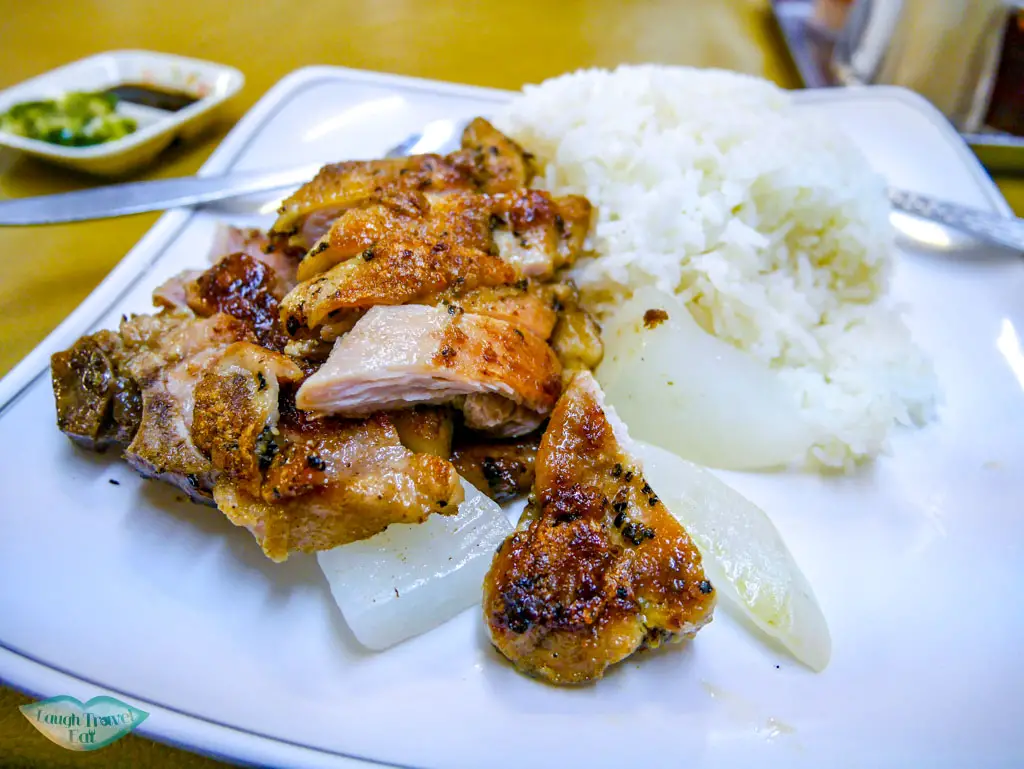 Address: 25 Tai Ping Shan St, Sheung Wan
Opening times: closed on Sunday, Mon – Fri 7:00 – 17:00; Sat 7:00 – 16:00

Kau Kee Food Cafe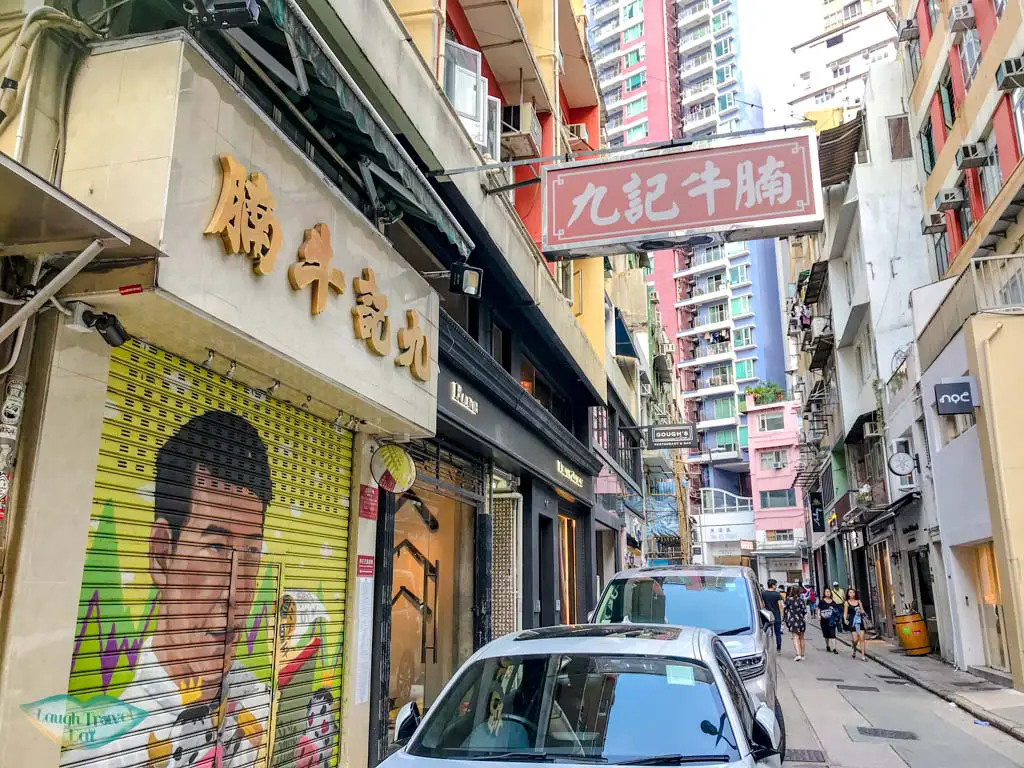 Often sporting a long queue, Kau Kee Food Cafe is famed for their beef brisket noodles. Their simple set of menu serves up some long time favourite noodle dishes of Hong Kong at affordable prices, with the average cost of 50hkd per bowl. As they are popular with tourists, there are English menus in additional to Japanese as well.
Address: Ground Floor, 21 Gough Street, Central
Opening times: Closed Sunday, Mon – Sat 12:30 – 22:30

Sing Heung Yuen
Just across the street from Kau Kee is the Dai Pai Dong (outdoor style restaurant) Sing Heung Yuen. It also draws a large crowd with the signature dish of tomato beef macaroni, and doesn't get more Hong Kong than that. If you are looking for a snack, their butter honey lemon toast are crunchy and delicious.
Address: 2 Mee Lun Street, Central
Opening times: Closed Sunday 8:00 – 17:00

Lin Heung Tea House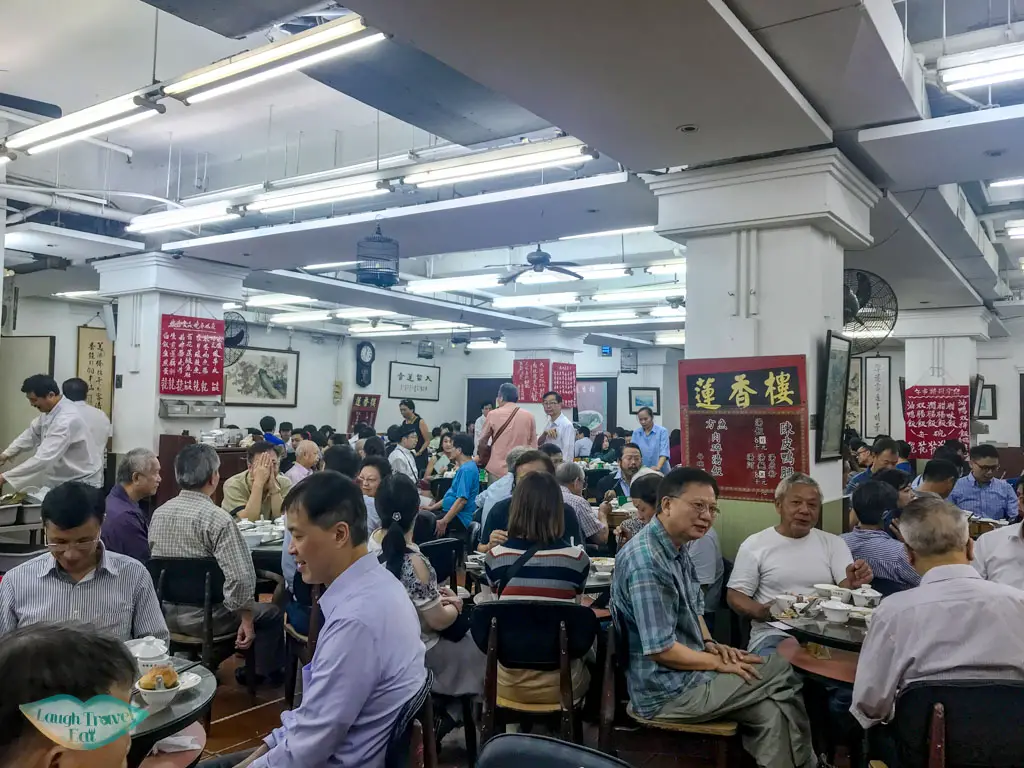 Lin Heung is of the last remaining traditional tea houses in Hong Kong. It features excellent tea, push-cart dim sum service, and find-your-own-seat experience. You won't get to order the dim sum you want but rather have to fight for whatever freshness that just exited the kitchen.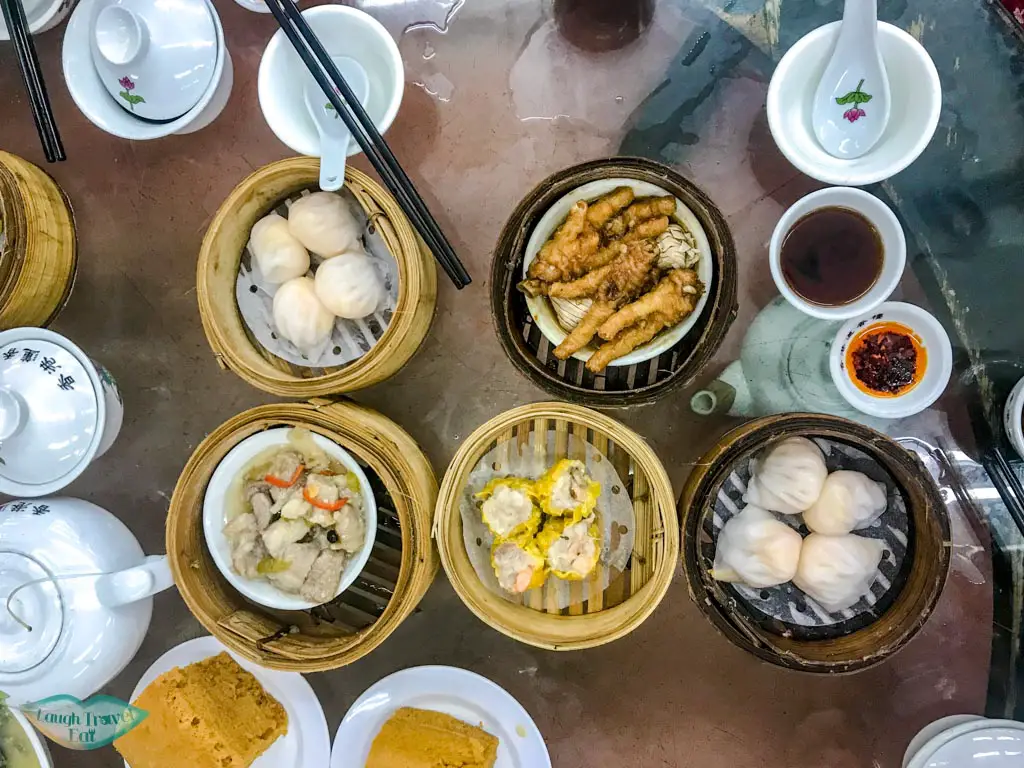 Eating at Lin Heung is more of an experience rather than a dining treat. So come and see the bygone ways of yum cha and be prepared to spring up at a moment's notice for your food.
Address: 162 Wellington St, Sheung Wan
Opening times: 6:00 – 17:00

Aberdeen Street Social
Located in its own corner in the PMQ, Aberdeen Street Social is a great choice for brunch, lunch, or dinner. It is run by Michelin star Chef Jason Atherton with a western menu. I went there for a steak night with my sister once and really love the food and the ambiance. It severes breakfast, brunch, lunch, dinner, and drinks – opening almost the whole day.
Address: G/F, JPC, PMQ, 35 Aberdeen Street, Central, Hong Kong, Central
Opening times: 7:00 – 23:00
Little Bao
Little Bao is a hole in the wall known for its fusion cuisine, and yes you guessed it, bao burgers. Located on the edge of Soho, it's just up the road from PMQ and often sports a queue. It's not a place that you go for a relaxed sit down dinner but rather for the noms.
The fusion of east and west isn't limited to their bao burgers such as the Sichuan chicken and fish tempura, but also in their cocktails! The prices aren't low but it's worth a try if you like fusion food.
Address: 66 Staunton St, Central
Opening times: Mon – Fri 18:00 – 23:00; Sat – Sun 12:00 – 16:00, 18:00 – 23:00

Sheung Wan Cafe
Teakha
A cozy cafe set at the backstreets of Poho, I sometimes still dream about Teakha's green tea cheesecake. The cafe serves up a selection of artisan coffee and tea which are reflected in the price, with the cutest outdoor seatings and a detached seating area around the back.
Address: 18B Tai Ping Shan Stt, Sheung Wan
Opening times: Closed Tuesday, Mon – Fri 9:00 – 18:00, Sat – Sun 8:30 – 19:00

Oldish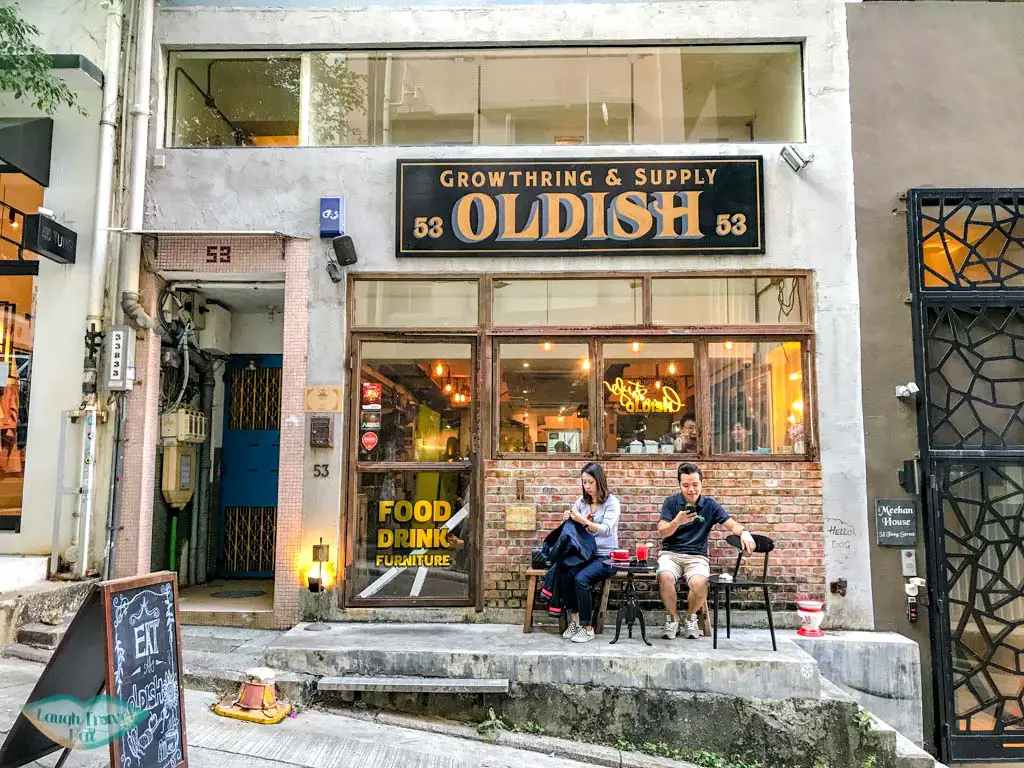 Oldish is a cafe that's true to its name with a decor that invokes the vibe of old England. In fact, for the passer by it almost seems like an English pub have been transplanted to the streets of Hong Kong.
The inside is more modern and cafe-like. They have an international menu with fusion food, with a focus on brunch. It is on the pricier side but it's about the ambience for a lot of its diners!
Address: 53 Tung St, Tai Ping Shan
Opening times: Closed Mondays, Tue – Sat 12:00 – 20:00; Sun 10:00 – 18:00

Lof10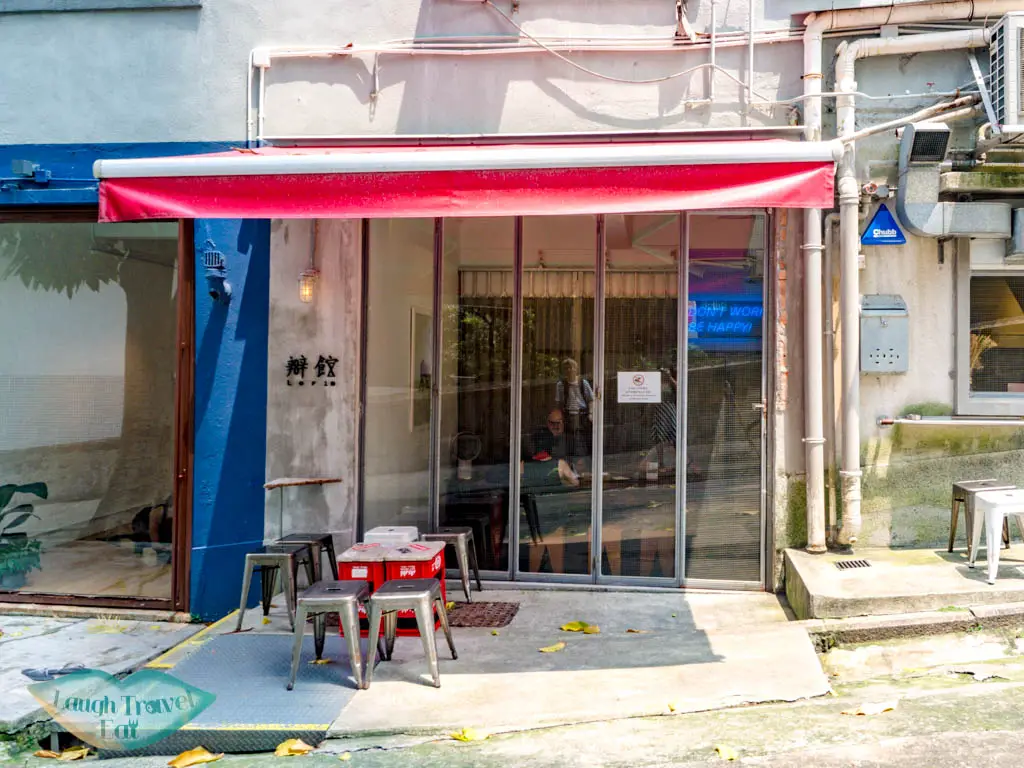 A minimalistic cafe hidden in the neighbourhood, Lof10 has great ambience and is known as an ig cafe hotspot. That said, the high prices doesn't reflect in the quality save for the environment. But it's a nice place to relax and chat on an afternoon.
Address: 1 U Lam Terrace, Sheung Wan
Opening times: 10:00 – 19:00

Oddies Foodies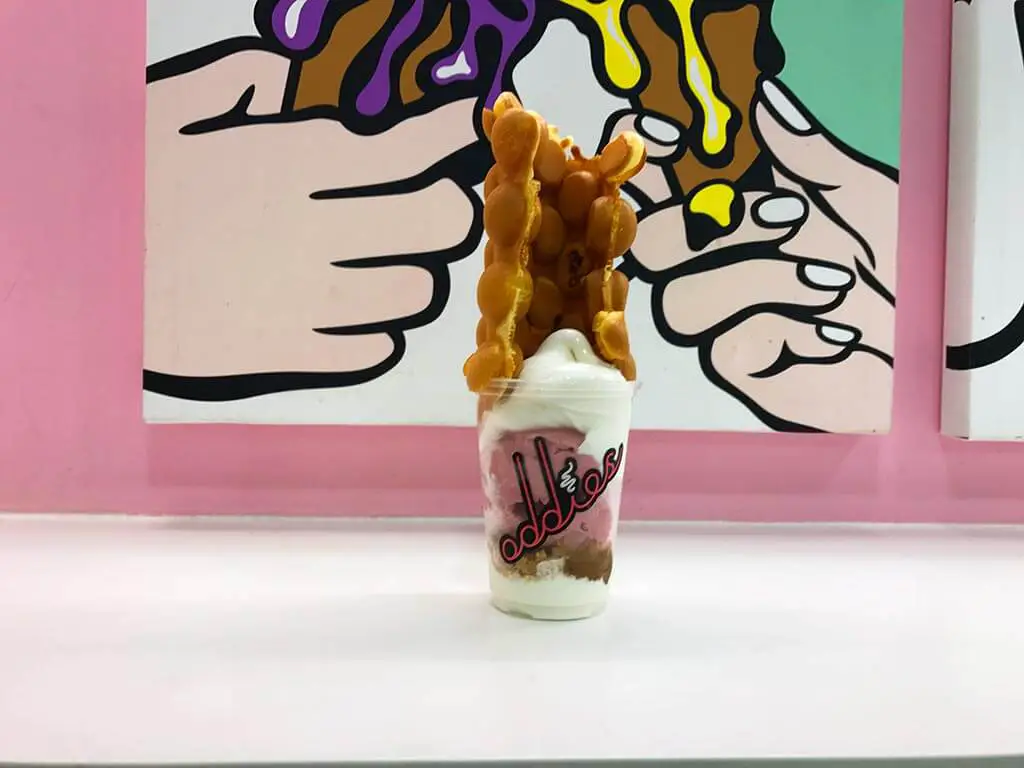 One of my favourite egg waffle places, Oddies Foodies has a range of great gelato, too! It's just down the street from Kau Kee and makes for a good dessert stop. The prices, however, is relatively expensive but it is good quality.
Address: 中環歌賦街45號號地下
Opening times: 12:30 – 22:00