Hong Kong Island is full of gems. Hidden in the streets of Wanchai is an exotic blue and white tiled restaurant that brings a Spanish vibe to the neighbourhood. I've always enjoyed tapas, and the idea that I can have them for brunch is just too good to walk away.
I've talked about my top 5 brunches, most of which have a set menu. While the Ham and Sherry brunch menu isn't set, it is a weekend only special. If you are looking for a chic place to chat with your friends and have some good food, then this is the place to do it. I am a bit of a picky eater and not everything catches my fancy, but Ham and Sherry pass with flying colours.
Ham and Sherry Brunch review:
Below is a quick vlog of my brunch and I'll talk more about individual dishes after.
Pan con avocado HKD$48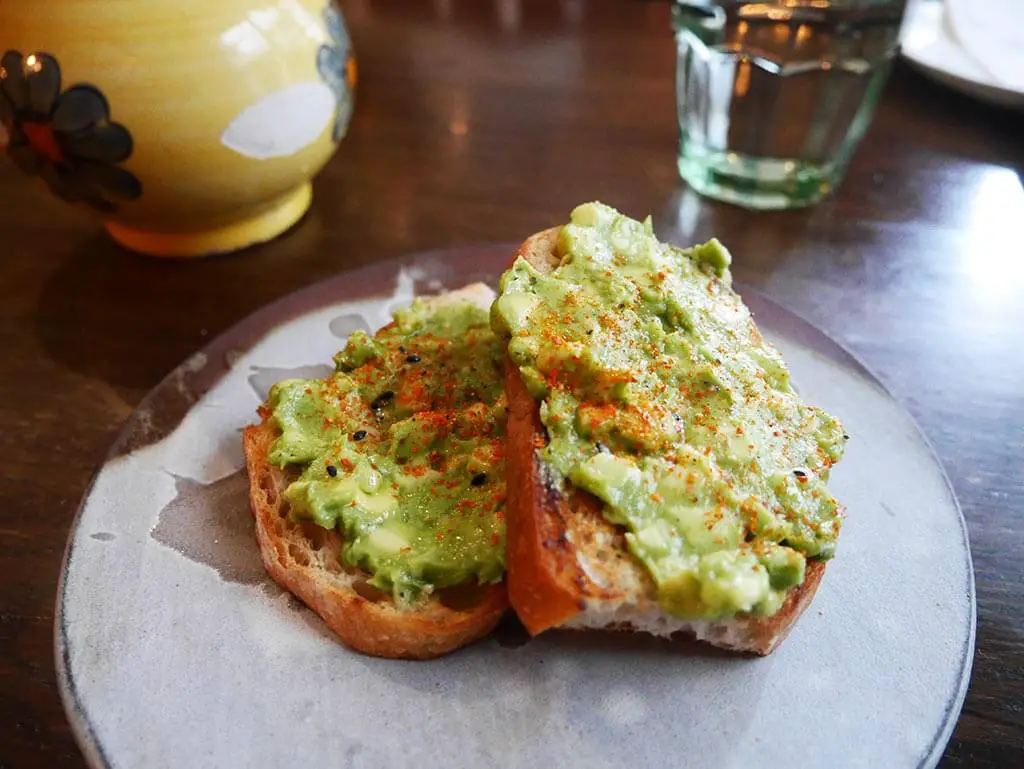 I can't resist avocado, it's a fact. There are 2 pieces of avocado toasts per serving and they are, frankly, awesome. With spices on top, the avocado mesh with olive oil is bursting with flavour.
Migas, chorizo, chili, scrambled egg HKD$98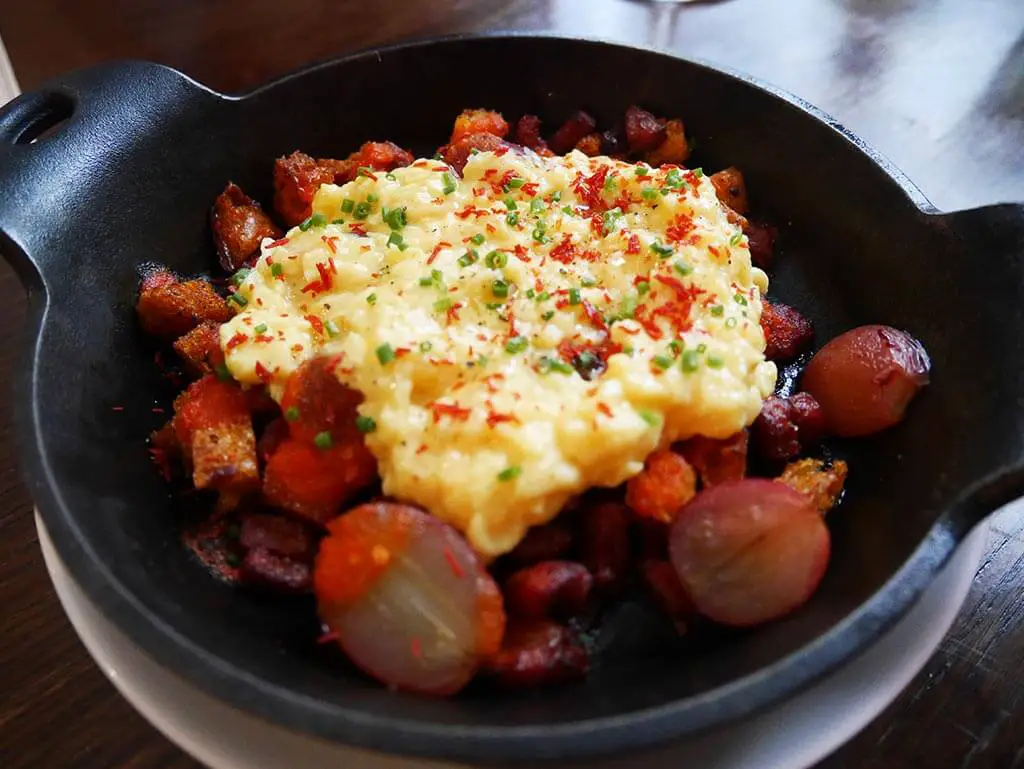 Admittedly, it was a bit weird to find grapes in scrambled eggs with chorizo and other savoury items. However, it works. Not only is the dish photogenic, the combo of the salty chorizo, salty and lush eggs and the sweetness of grapes are so good that I feel like I need to go back and eat it right now.
Crab tortilla, uni HKD$138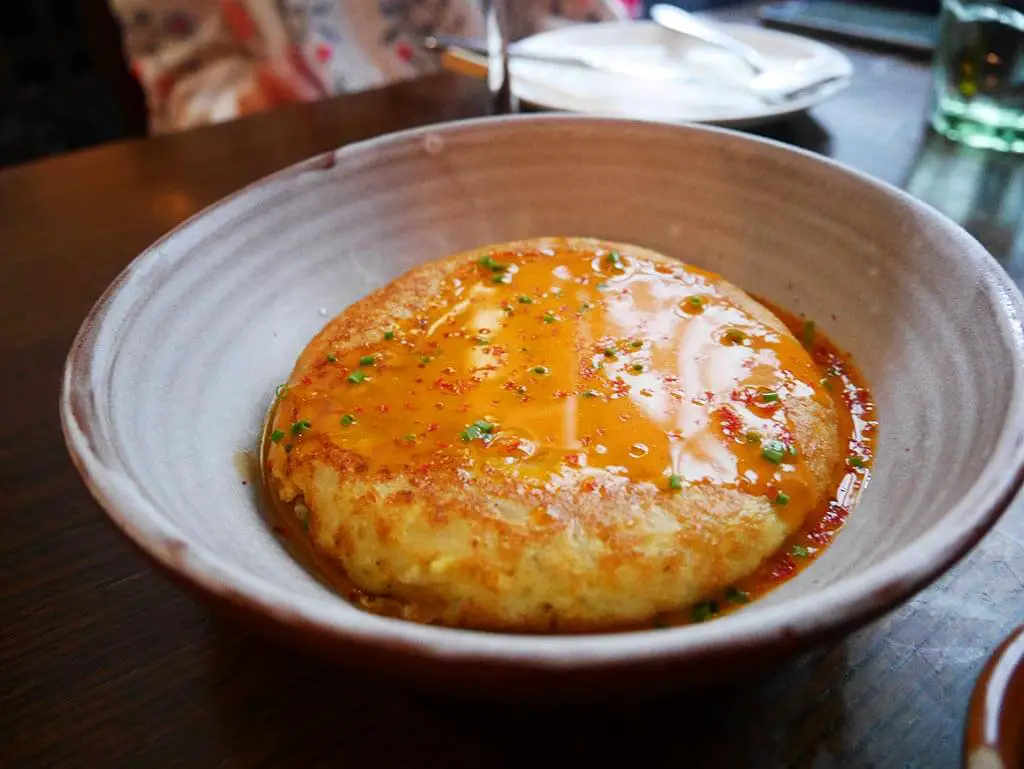 For those of you who don't know, tortilla is the Spanish word for Spanish omelette, this one complete with crab and uni. While it's nice and looks perfect, it's a bit runny for me. But then I've eaten countless potato and onion ones from vacuum packs during field trips in Spain.
Scallop ceviche, lime, avocado HKD$148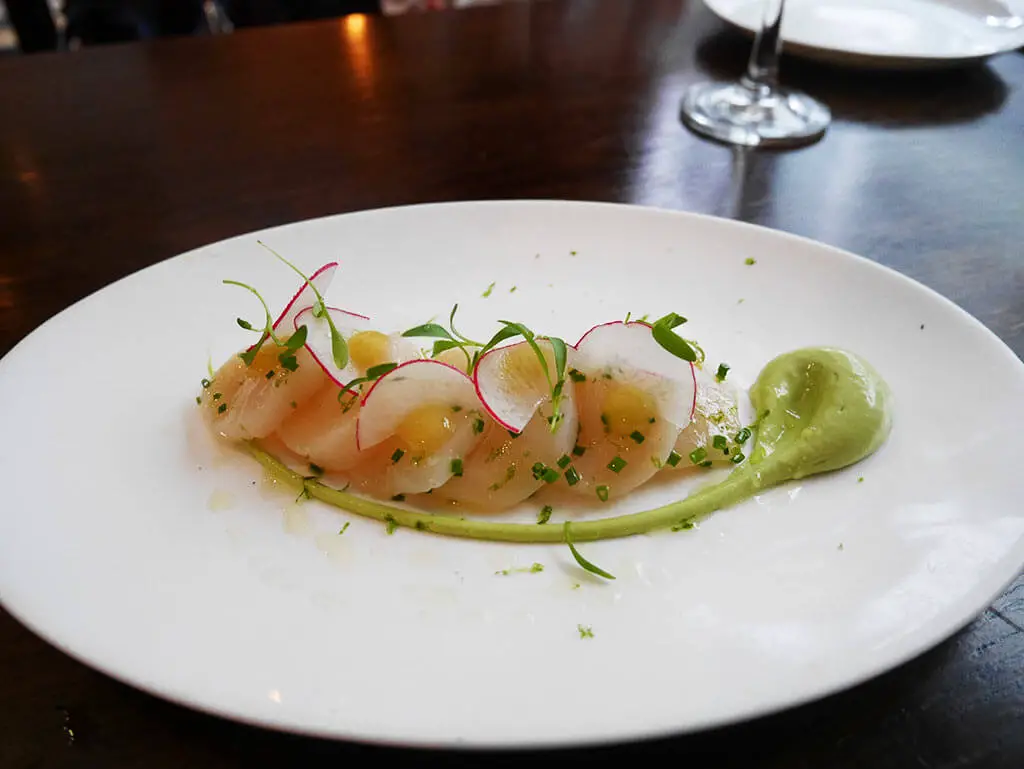 Ceviche means raw and this scallop sashimi-like dish with avocado and lime sauce is divine. The slices are quite generous in size with six slices in total, perfect to share between two to three people because you'd want more.
Iberico pork and chorizo burger HKD$168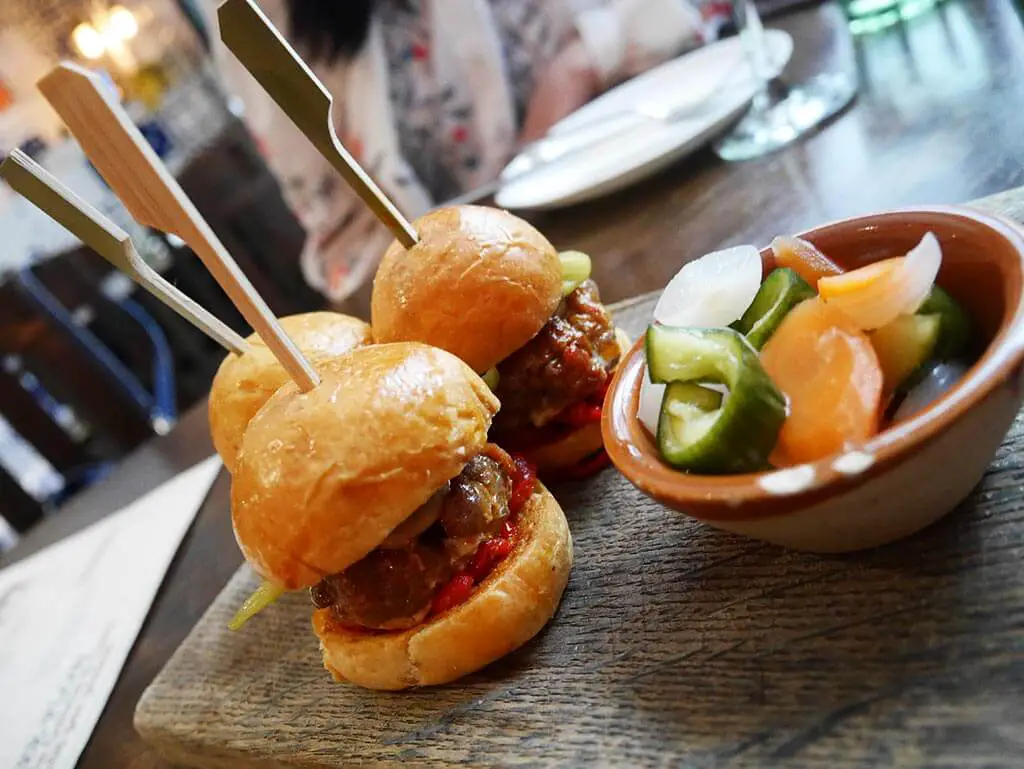 These little sliders usually come in two, which is quite small given the price. But as someone who doesn't normally like peppers (capsicum for those from down-under), they are cooked perfectly. If you want something more substantial, this might be it.
Jamon, tetilla toastie, truffle honey HKD$88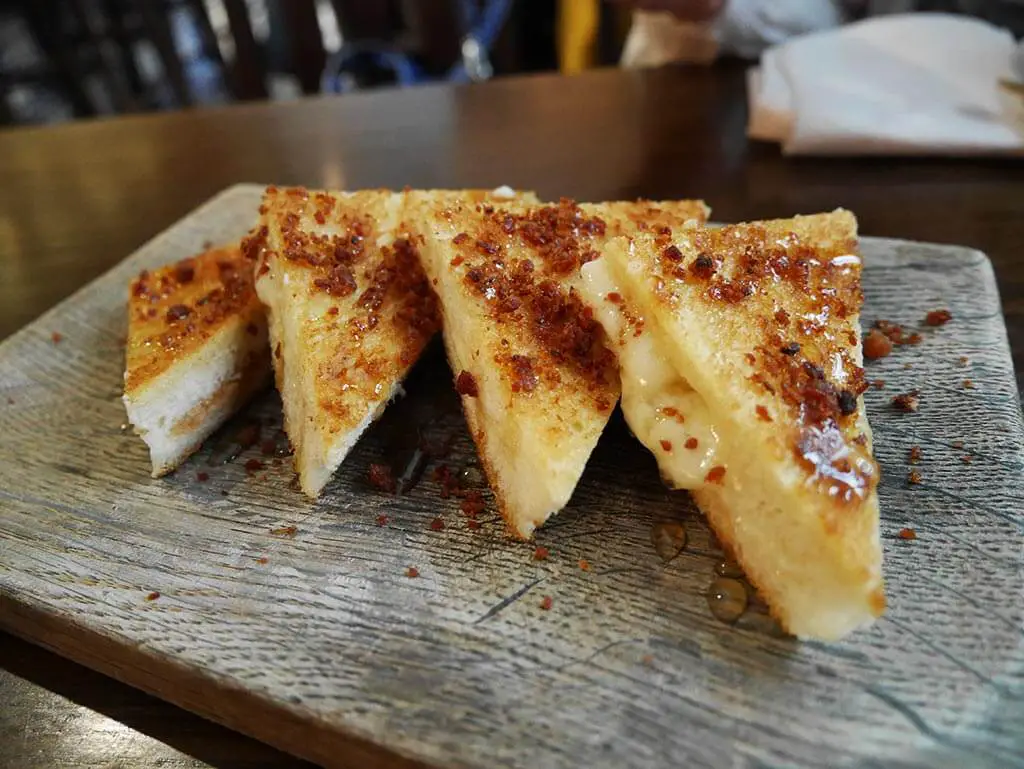 By far the favourite, these are the tastiest toasties ever. Who knew truffle honey is a thing? I for one am glad they are, because it's simply amazing. The toasts are crispy, the savoury and sweet well balanced, it's honestly a dark horse on the menu that I would have skipped without realising! Thanks Linzi for the recommendation.
Churros, chocolate sauce HKD$58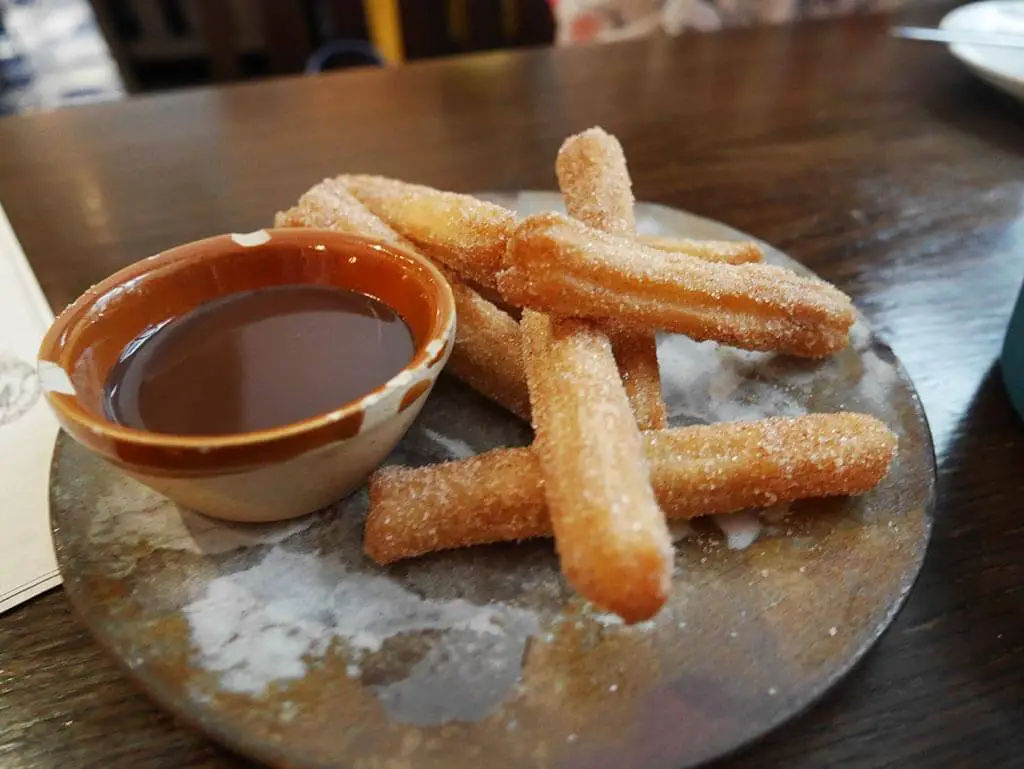 What is brunch without some dessert? Wait, does brunch usually have desserts? Nonetheless, these well-sized churros with dark chocolate sauce are a great addition to this tapas brunch!
Crème Catalan HKD$58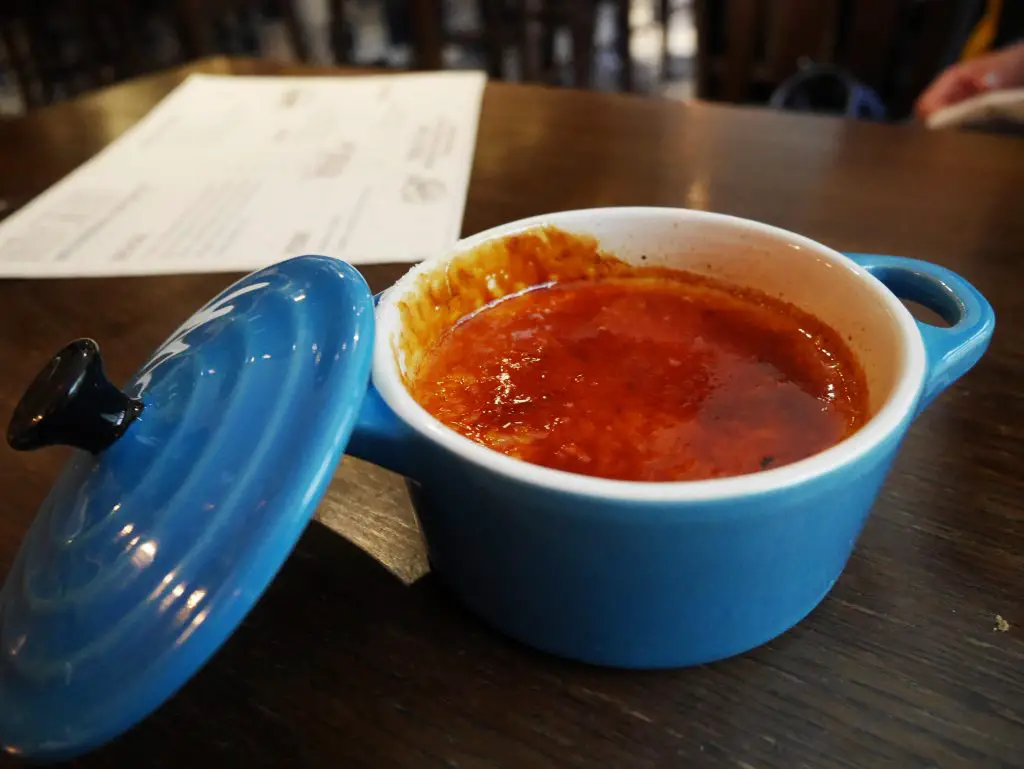 Delicious and fab layer of caramel on top of the crème below, I almost didn't want to share. But since it's one of the last dishes, I was getting quite full or else I'd eat it all.
Cava – sparkling wine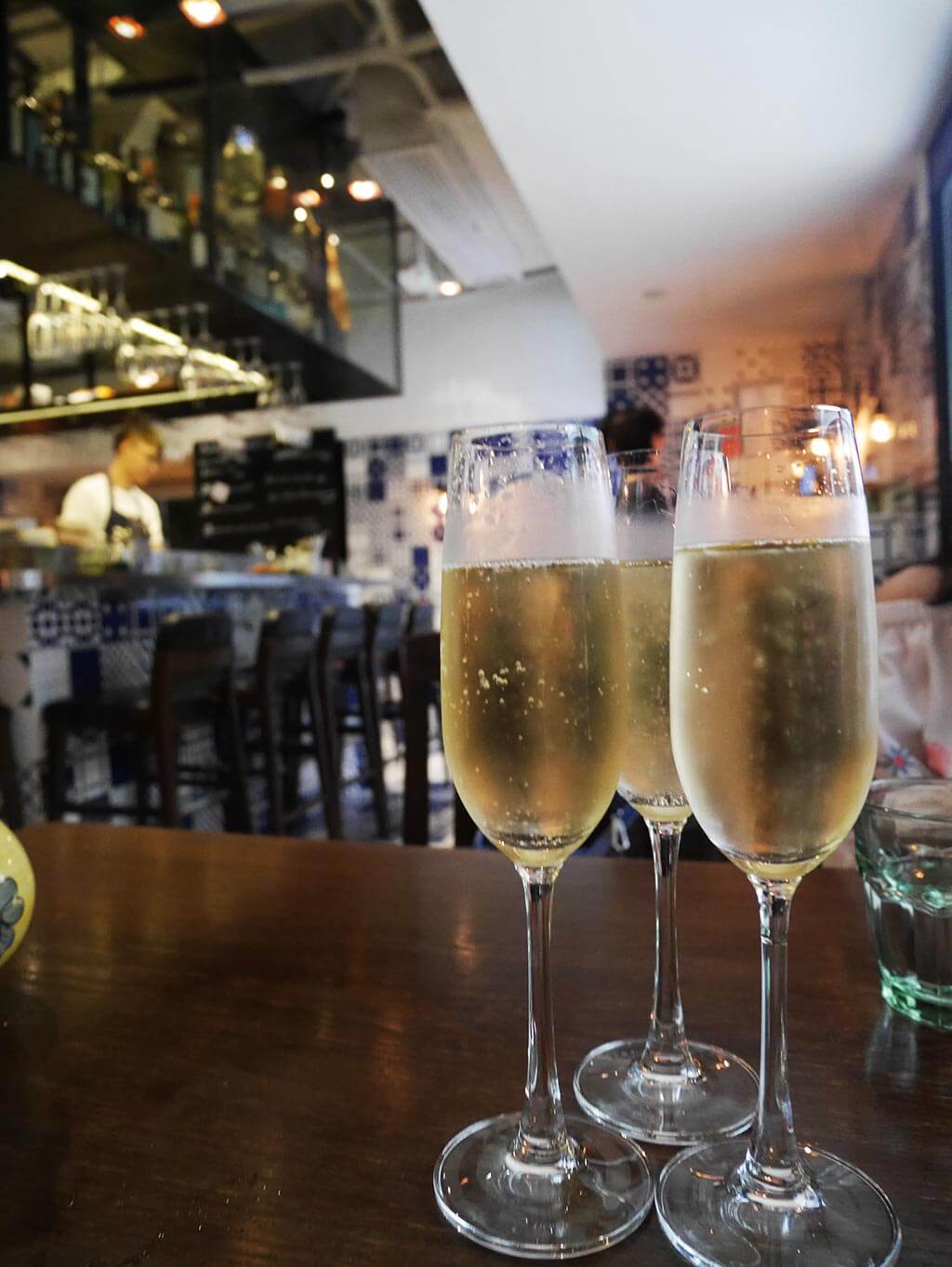 We also ordered a glass of Cava each, but you can get the free flow, too, depending if you want that much bubbles 😉
The average price per person: HKD$268 (minus drinks and service). Since we ordered eight dishes and shared between three, I'm sure your meal cost would be much less than that. We definitely got carried away!
Address: G/F., 1-7 Ship Street, Wan Chai
Opening times: Mon-Sat: 12:00-15:00; 18:00-23:00 Sun: 12:00-15:00; 18:00-22:00
We were invited to brunch but all opinions are our own 🙂