Tsang Pang Kok Tsui is the headland east of Long Ke and Long Ke Tsai in Sai Kung Geopark, arguably not a famous location, but it does have an amazing view of the beaches and towards the Port Shelter. Another big attraction is the sea caves along the headland that are dramatic and majestic.

It is an unexpectedly serene hike, far from any buildings and it can be combined as a hike from Tai Yue Ngam Tsui or a quick trip to and from the East Dam, which go past Long Ke Beach. The little sign that denotes it as Tsang Pang Kok Tsui also adds an incentive for hikers who want that instagrammable shot.

Note: while I'm not sure where the sign came from, be respectful of it and handle with care!

Tsang Pang Kok Tsui hike summary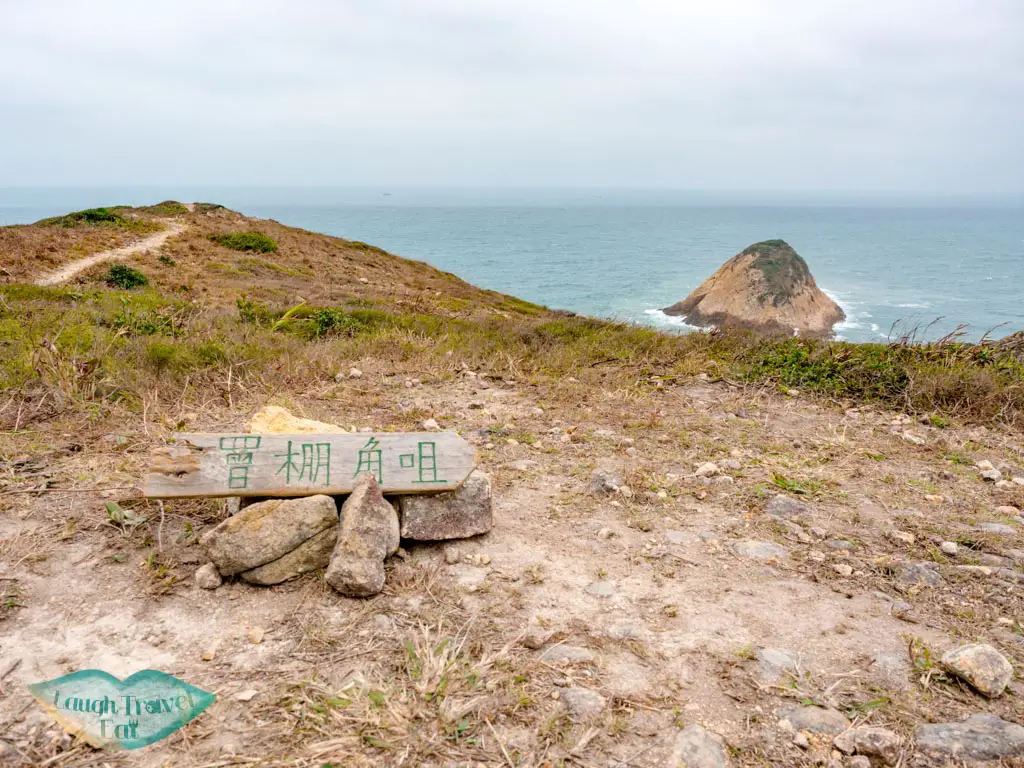 Time taken: 3 hours
Difficulty: 3/5 but you do need good shoes
Pros: far from the city and completely immersed in nature
Cons: the hike down to Long Ke Tsai is quite treacherous and getting in and out is hard from East Dam

East Dam trail start for Tsang Pang Kok Tsui
To get to East Dam, you need to take a taxi from Sai Kung town center (or anywhere) in. It should cost around 120 HKD, so best to find a group of friends and head over!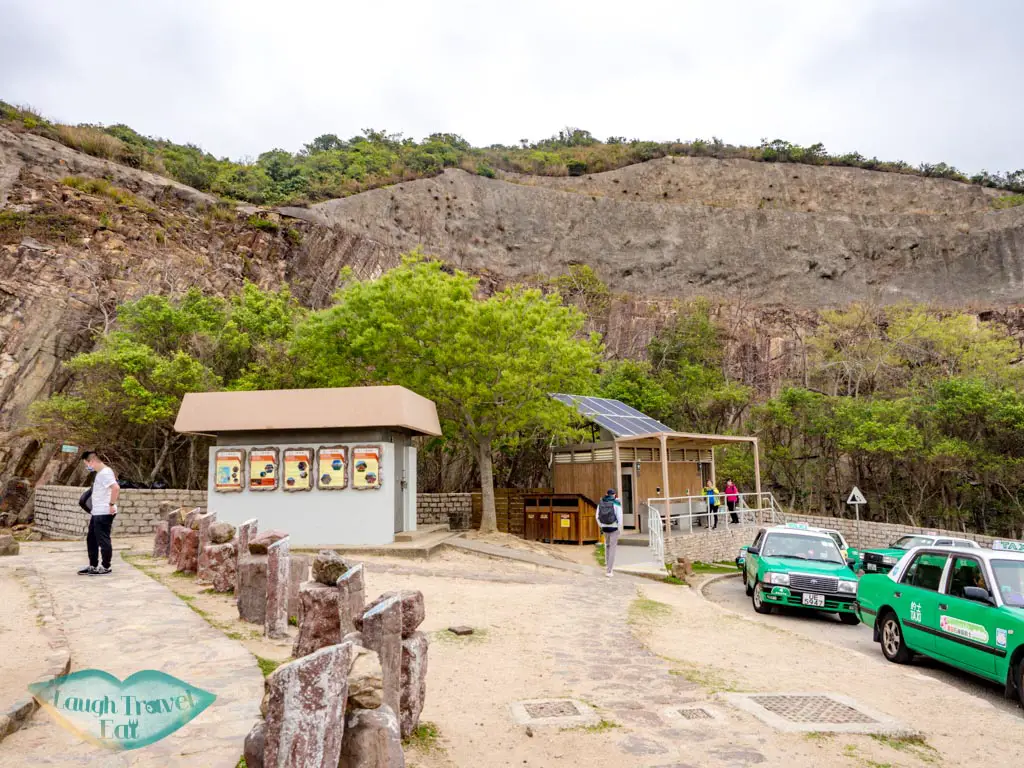 There is a public bathroom at the East Dam, and from there, it's a nicely paved trail on the MacLehose Trail Stage 2 to Long Ke Beach. 

East Dam to Long Ke
It's not a long hike but there are a lot of stairs down towards the beach. You can see the view of the Long Ke Beach from the trail and it's beautiful.
Once you get to the beach, carry on until you reach the end. If you don't want to get too much sand in your shoes, it's best to stick to the vegetation.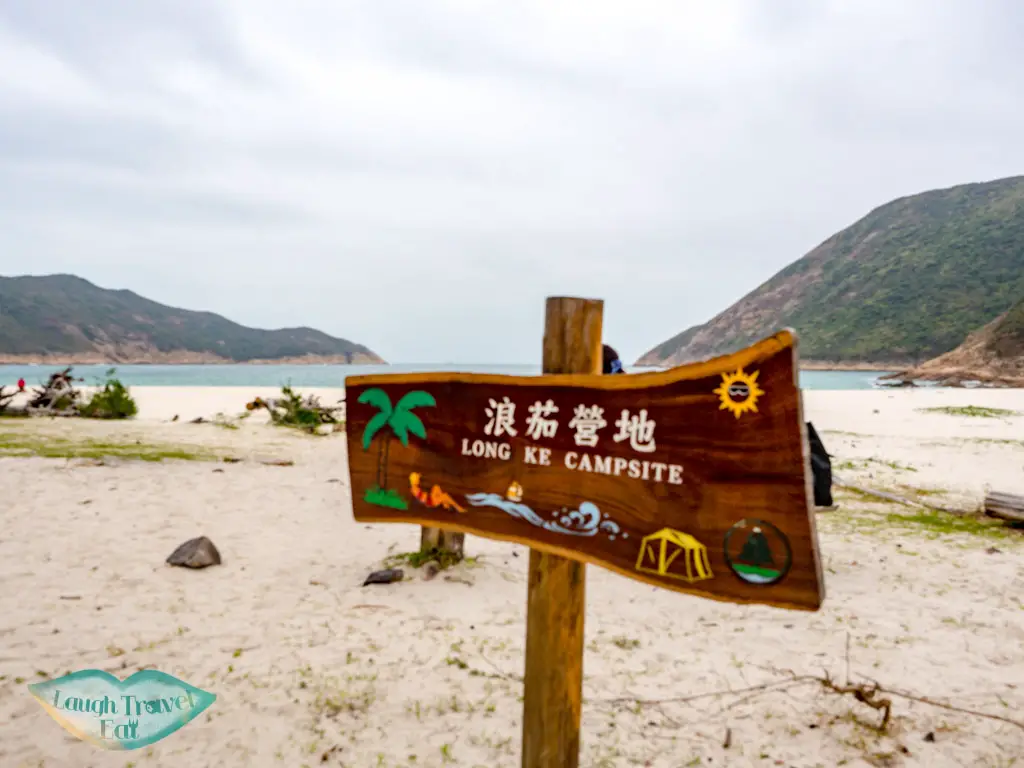 The trail that we need to find is towards the back of the beach anyway! Otherwise, enjoy one of the prettiest beaches in Hong Kong!

Long Ke to Long Ke Tsai
It's best to have a map handy so you can find the trail start more easily. It is marked by a ribbon but it is not very clear, although as the trail heads up between hedges so it's not too hard to spot.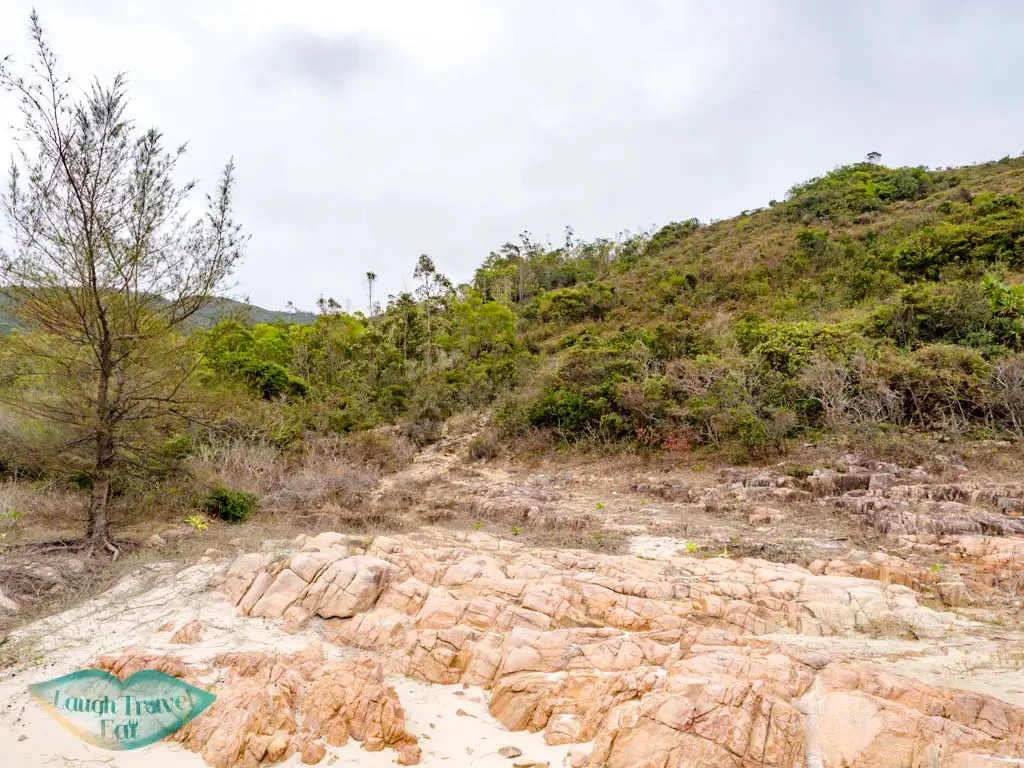 This part of the trail is a bit rocky and loose, which is why you need to wear proper shoes.
The hike ran along the headland and then around towards Long Ke Tsai. Long Ke Tsai literally means 'little Long Ke' in Chinese, and as you turn towards Long Ke Tsai, you can see the sea caves on Tsang Pang Kok Tsui, too, which is the headland across and our destination.
The trail down to Long Ke Tsai is close to the middle of the beach, so don't worry about missing it. In general, the trail from here on out has a lot of loose rocks, so it's important to watch out for your footing.
The descent to the small beach is actually the most difficult with a particularly steep rock surface with rope assist to the left that you have to descend. I find that sticking to the left is the best way and going slowly helps.

Long Ke Tsai to Tsang Pang Kok Tsui
When hiking towards Long Ke Tsai, we could see the trail that goes up to Tsang Pang Kok Tsui, so it wasn't hard to find.
The trail actually doesn't go up the highest point of the headland – Cheung Ngam Tsui – instead skirting to the side straight to Tsang Pang Kok Tsui. Along the way, you can see both Long Ke Tsai and Long Ke.
And if you turn back, you can see Sai Wan Shan and Tai Yue Ngam Tsui. Once you're far enough, you can see Sharp Peak peeking over (pun intended) as well! 
There are a few interlinking trails that go to the Tsang Pang Kok Tsui, so as long as you can see a trail, just follow it. There are some steeper parts, which aren't that difficult but a bit unexpected.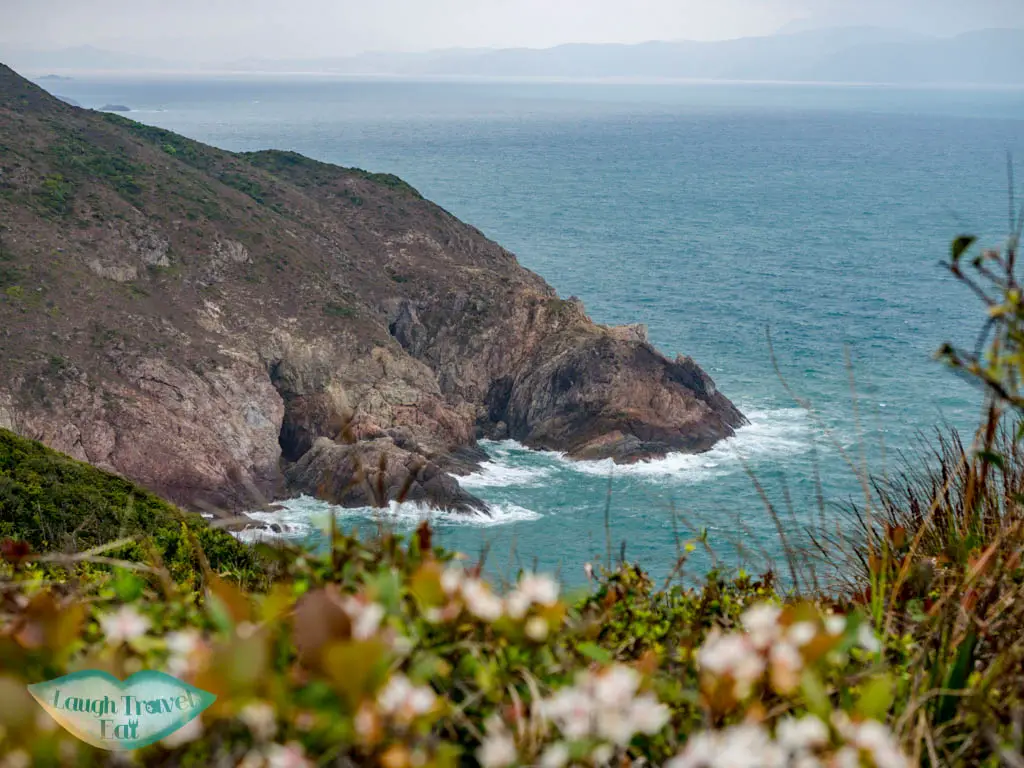 We somehow crossed over to the other side which also has some sea caves that look stunning. And in gloomy weather, they look majestic!
The final stretch to Tsang Pang Kok Tsui takes us through this field with the most quirky vegetation.
The green rounded shrubs and more yellow spiky leaves makes for a fun landscape. Once you can see the lone island at the very end, you're not far from the sign.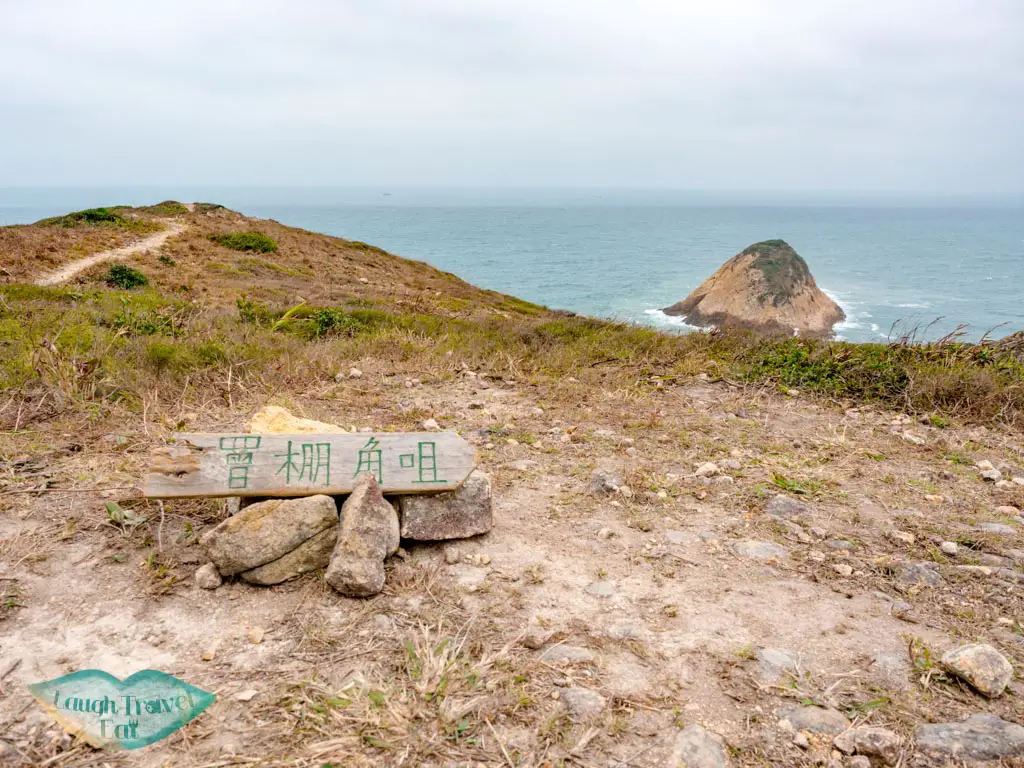 As I've mentioned, the sign with the Chinese word Tseng Pang Kok Tsui is smaller than expected. Pro tip: zoom in to make both the sign and the island looks bigger!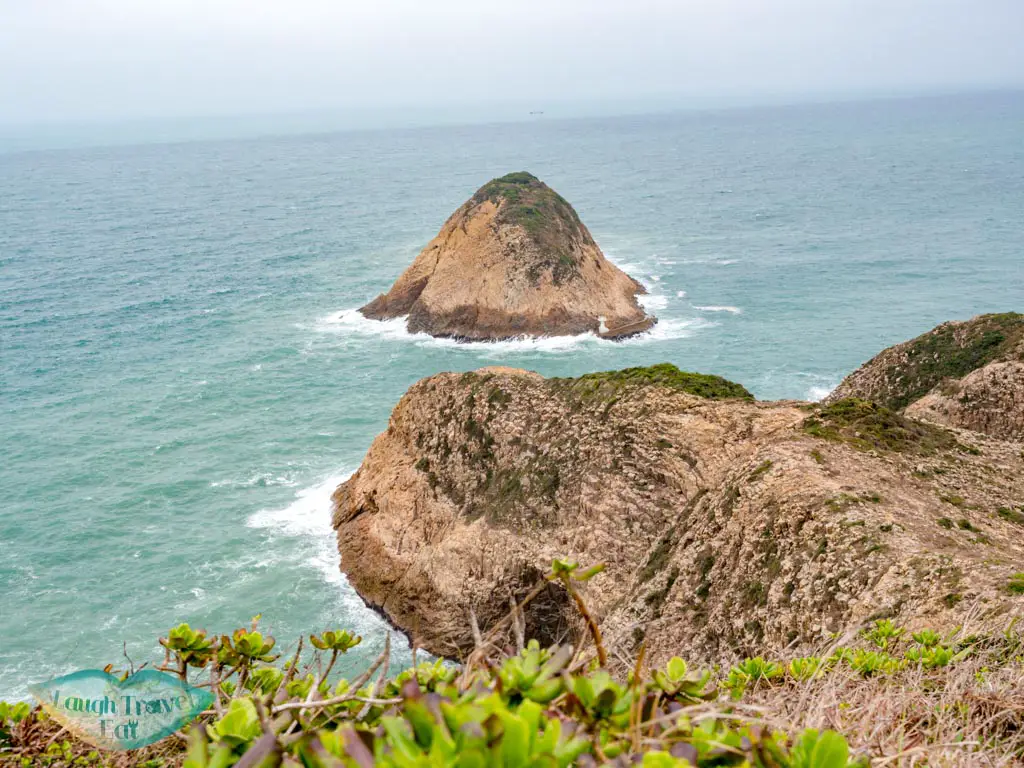 You can go further down to get a better view of the lighthouse on the island across, but it was super windy that day so we forego that. To get out, just return the same way!