Iris is an annual yoga and wellness weekend festival in Hong Kong that happens at the end of September. From acroyoga to Bollywood dance, it's a great two day events for anyone who is looking to try out new classes or seasoned yogis. It takes place at the Central Harbourfront, right in front of the Victoria Harbour surrounded by skyscrapers from afar. Here's a quick review of the 2 days event:
Note: I was hosted for the event but all opinions (and fun) are my own
Get your tickets to Iris on their website early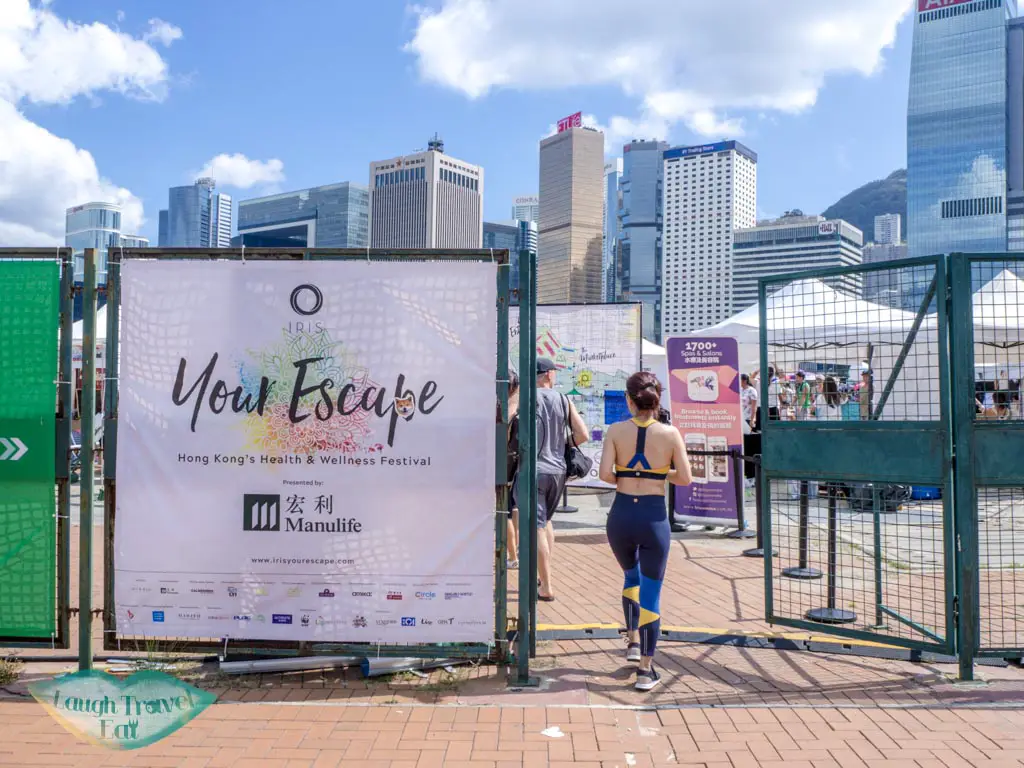 Iris starts selling their tickets to the event in July and offers great early bird pricing (2018) starting at 105 HKD for the whole weekend. The on-site pricing 255 HKD for 2 days and 205 HKD for 1 day, which is still amazing value as most yoga classes in Hong Kong costs 100-200 HKD minimum.
Besides, you also get a free goodie bag and there are tons of swags and giveaways happening so you might just get back your money's worth (more on this later).
Inside Iris: Your Escape
The official yoga schedule is posted on their website and you should definitely check it beforehand to make sure you don't miss classes that you are interested in. there are a scattering of sponsored booths and stalls in the event and hammocks to rest in, too, though some umbrella for shade would be appreciated, too! There are classes running across the entire area split into zones:
Mainstage Yoga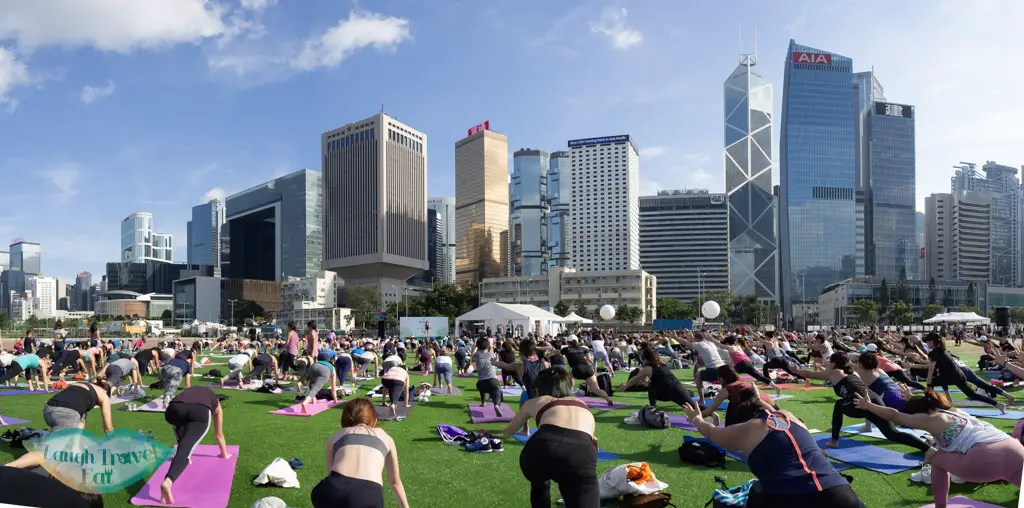 A huge area with grass carpet in the far corner is where the main yoga events took place. The sound system and main stage were done brilliantly and we can hear and see the instructors even at the far back.
Zen Garden Meditation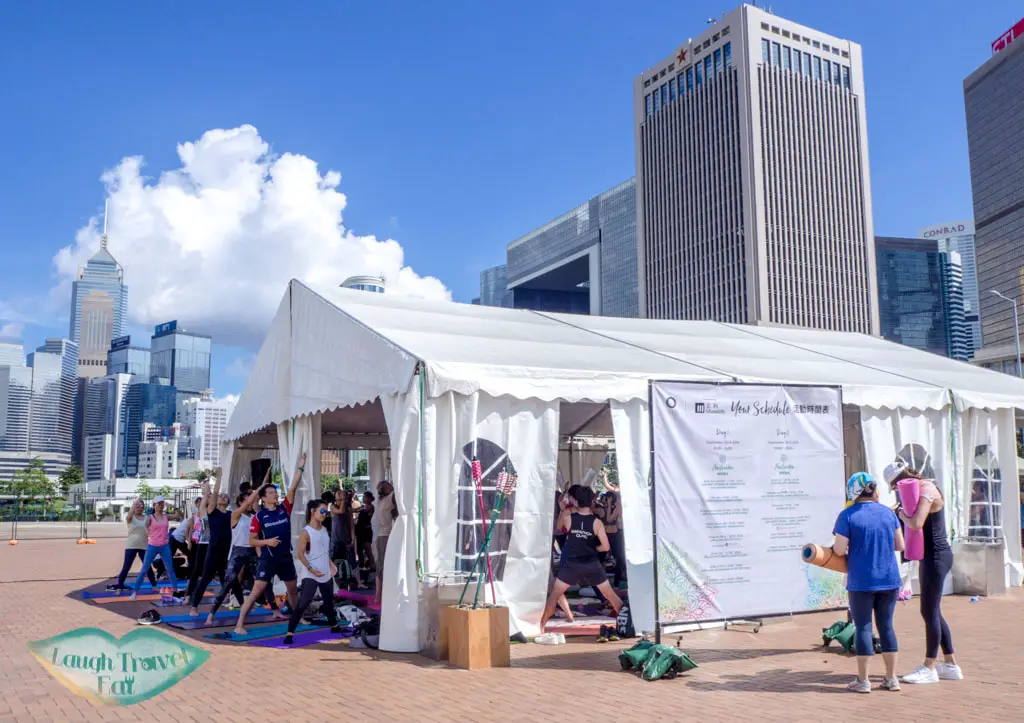 There is a white marquee behind the main stage where the meditation classes take place! It does feel very zen but space is limited to its smaller size. So if there is a class you want to do, you better get there quick!
Fit district Fitness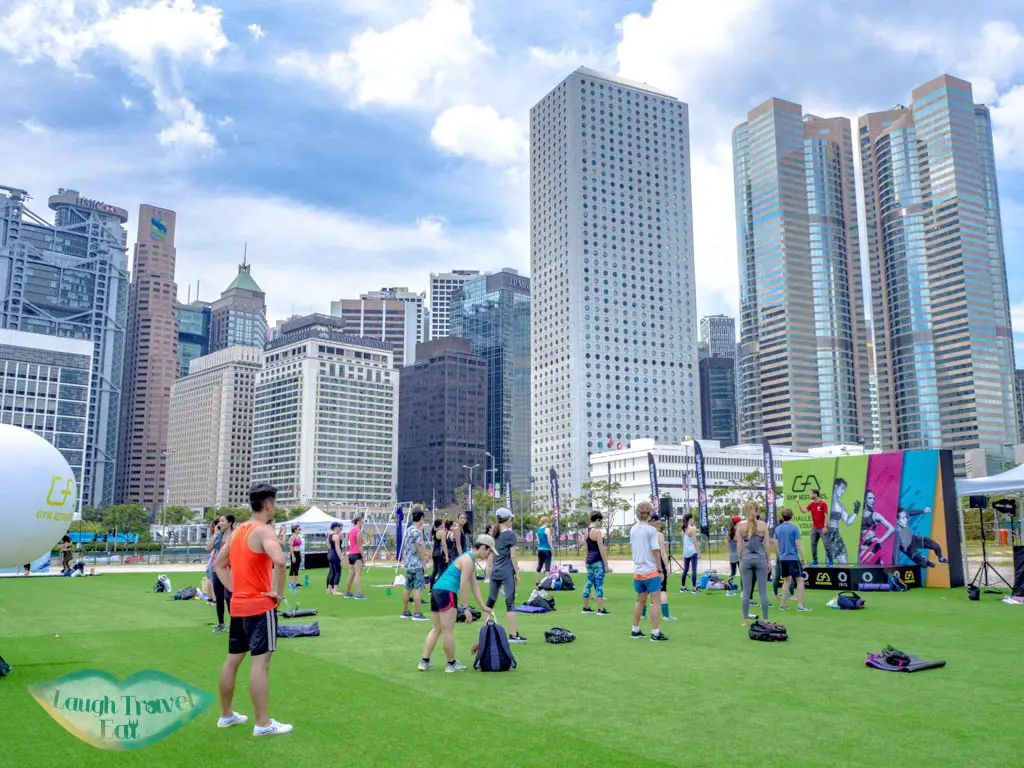 The big, rectangular area just right of the entrance is the fit district. There are actually three parts to it. The part closest to the entrance is a boot-camp style workshop that was running continuously with trampoline classes and fitness machines. The main stage is in the middle, where classes take place. And to the corner was a station set up by a yoga studio that runs small classes too and even has a hoop and aerial hammock.
Silent Disco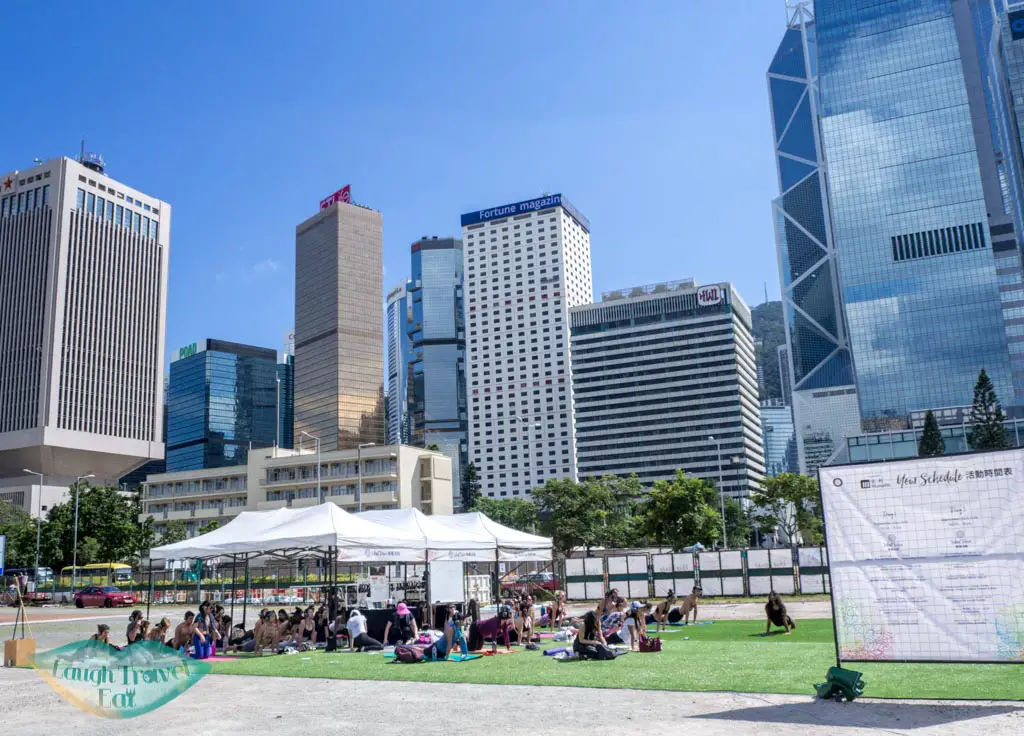 As the name suggests, silent disco provides headphones and jam alongside dance classes and workshop. It's another smaller area with a marquee, so go early to make sure you have a headphone for the class.
The Playground
For some family and dog-friendly yoga, head to the playground! I didn't make it to any classes here because I am sans kids and dogs, but we saw some dogs who are amazing at yoga poses!
Iris Insider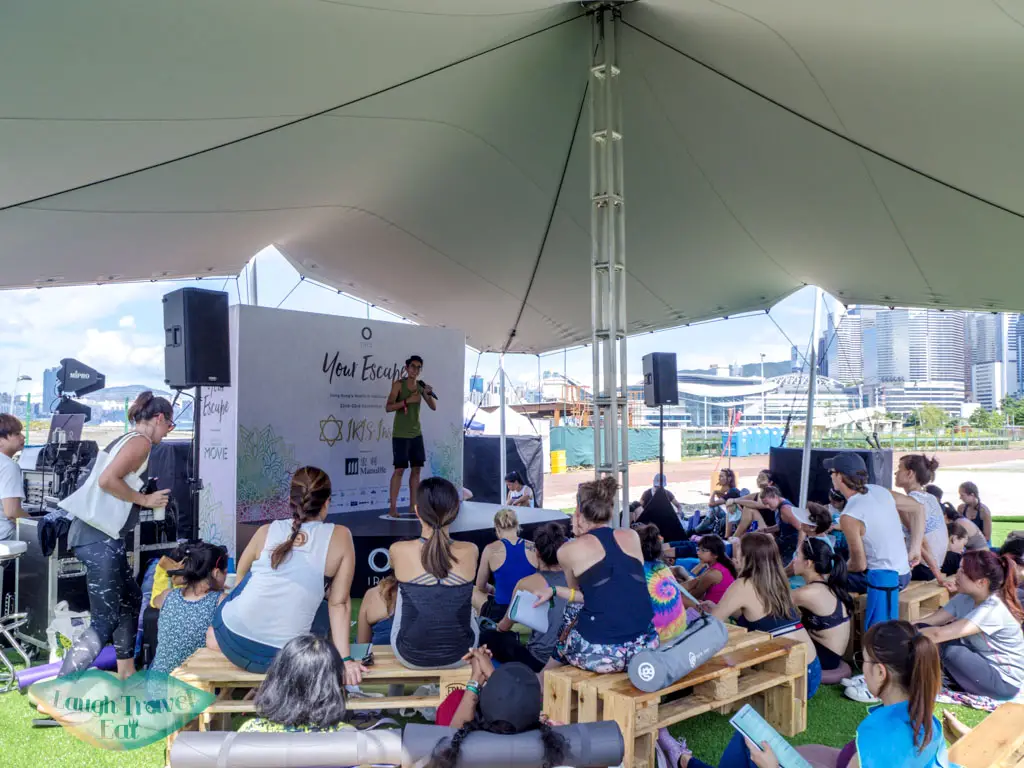 In a small intimate tent on grass mat, Iris Insider is where talks and speeches are given on health and yoga related topic.
Market Place
This is the area outside the yoga-practice zone (aka before the ticket counter) where you can find yoga mats, yoga outfits, food, and more. We ate lunch on the first day here, with a good range of choices from vegan wraps to burger. I ended up going with Nosh since they have a salmon with a sweet potato dish.


The coconut water stand just outside the yoga area is a brilliant idea under such a hot weather!
My experience:
I attended Iris for both days and had a fantastic time. However, it was brutal to be in the sun all day so we ended up going in the afternoon only on the second day. There really isn't any shaded area except for the few tables by the food stands, so there was a guy who fainted under the sun (he's fine though!).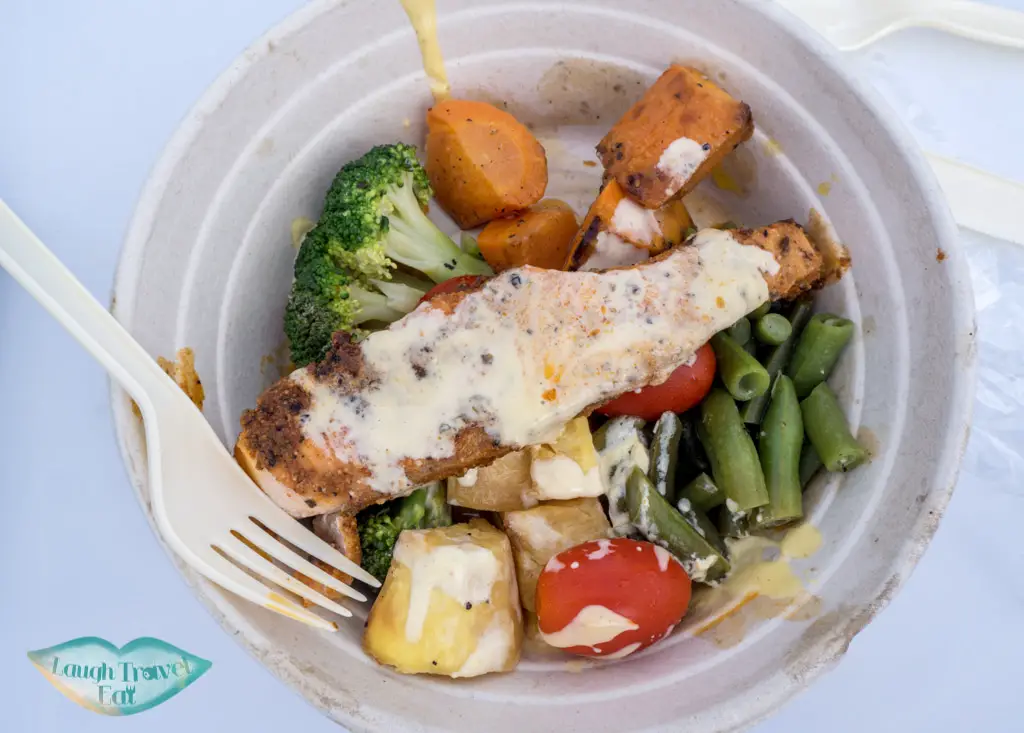 We did a power flow yoga on day 1 morning on the main stage which was a great start. After a quick rest and lunch on site, we tried aerial hoop for the first time – which wasn't as hard as I thought but still require a lt of arm strength. In the afternoon, we did a session of yogalates at the Fit District before we headed home since it was way too hot!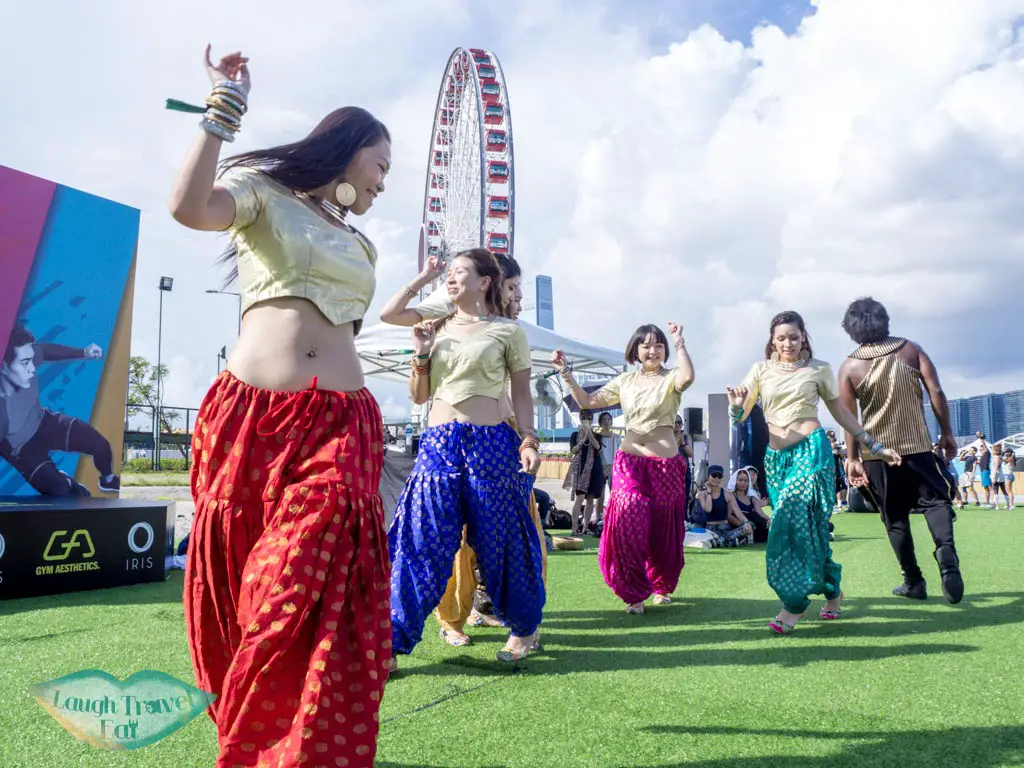 For day 2, we decided to go in the afternoon and joined the Bollywood dance workshop that was great fun! We then moved on to acroyoga – aka partner yoga – before finishing off with some innovative yoga.
During our time, we roamed around the marketplace too. This year, BloomMe have a stall and we won some credits to use on their spa apps. There are various goodies up for grabs around, too and competition. It was fun to get to know and see some local brands.
Quick tips for attending Iris: Your Escape: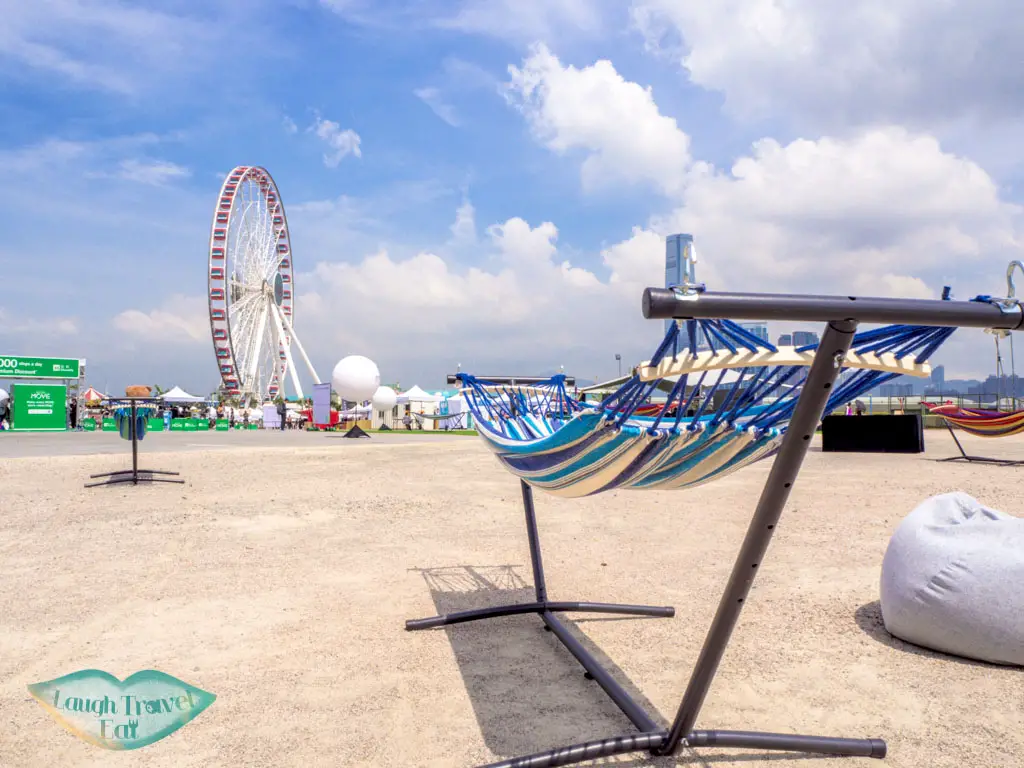 If you plan on only doing yoga, wear flip flops

You need to bring your own mat! Although there are rental options by the front entrance

Bring a hat, sunglasses, and an umbrella for the sun

There are water refill stations so don't worry

Food is available and not really that expensive