Jin island, also known as Tiu Chung Chau, is one of the islands in Port Shelter, Sai Kung. It's part of the Sai Kung Geological Park, but aside from it's hexagonal column, it's most famous for the arch formation on the south side that resembles a goldfish.

The Goldfish Tail has become popular for kayakers, but the best view point is high above the coast. Having done both, here are all you need to know visiting Jin Island:

How to get to Jin Island
Jin island is uninhabited, so there's no regular service there. To visit, you can either kayak or charter a speedboat.

Kayaking to Jin Island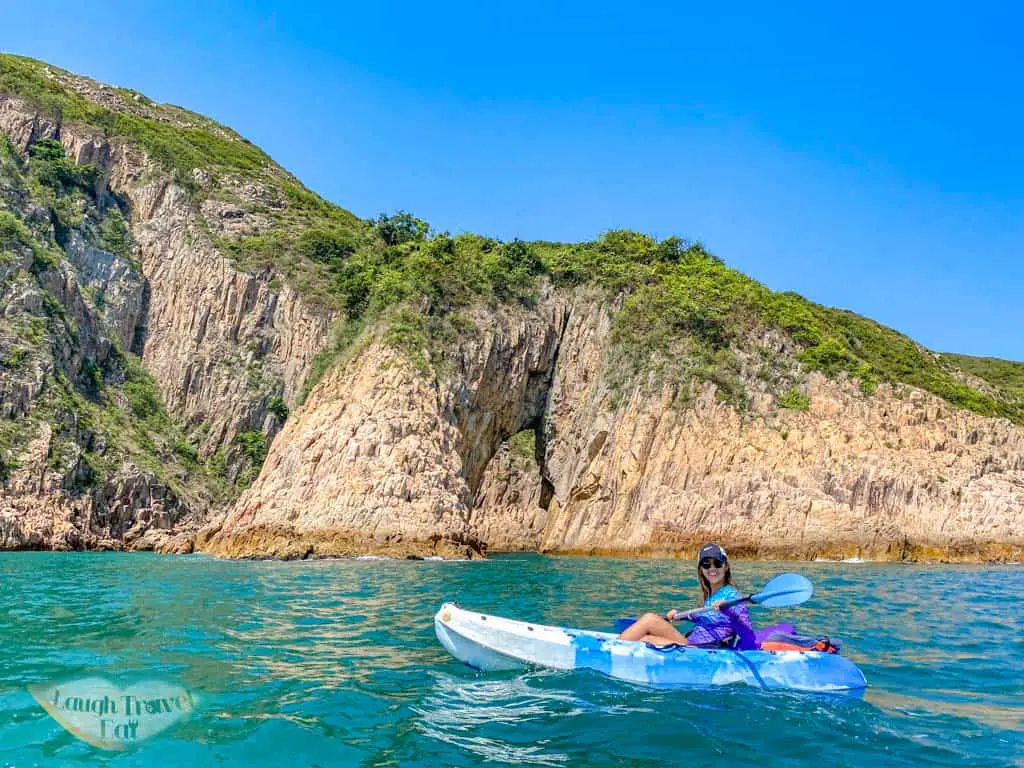 I've covered kayaking in Sai Kung in detail here. The closest kayaking center is 2 hours away and docking at Goldfish Tail involves putting it on the rocks.
This shouldn't be attempted if you have no kayaking experience.

Speedboat charter to Jin Island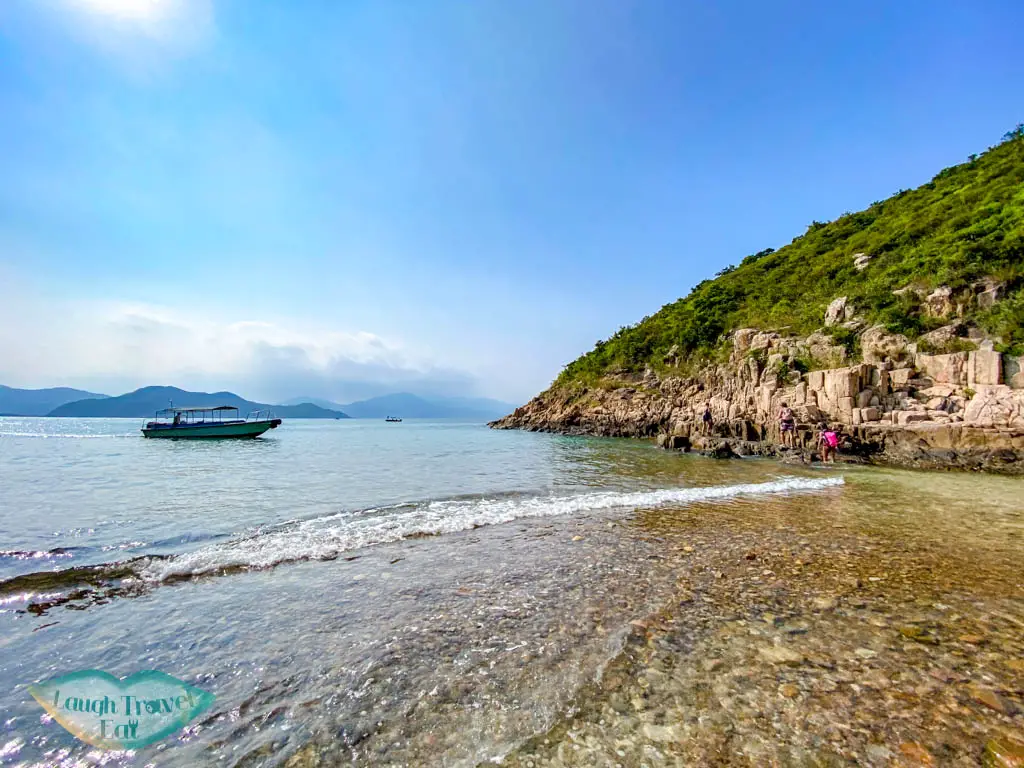 In general, a full spend boat takes around 14 people and should cost 200 hkd each. The best place to depart is at Sai Kung town center, which is only about 20 minutes away on a speedboat.

Do note that the general docking point for Jin Island is Tai Wong Wan, which is about 1.5-2 hours hike to Goldfish Tail.

Essential information for visiting Jin Island
As with Basalt Island, it's important to remember that there's no refreshment point on the island. Bring enough water and sun protection as dehydration and heat stroke are the two biggest threats.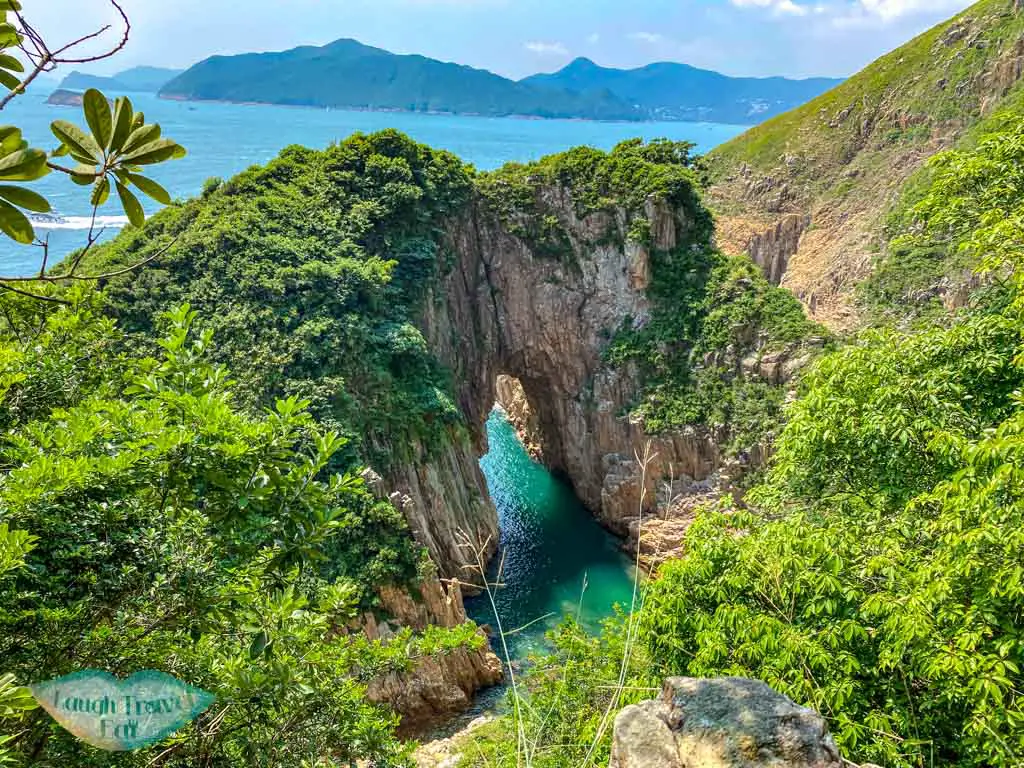 For those kayaking over, make sure to head back 2-3pm latest and do not attempt the journey if strong wind is forecasted. Take it from someone who kayaked there and back for 9 hours.

Depending if you intend on snorkeling, here's a quick list of gears you'd need:
1.5 L of water or more
Wet shoes and or hiking shoes that can get wet
Hat and sunglasses
Sunscreen
Gloves for climbing up from Goldfish Tail
Waterproof bag for all your belongings – usually the speedboat will try to drop you off on rocks, but you might have to walk through water
Waterproof bag for you phone
Snacks and lunch – fruits, especially grapes and tangerine, are usually great
Fast dry towel or small towel
Snorkel masks and floaties
A change of clothes
For more information on my hiking essentials, see this post.

Jin Island vlog
Exploring Jin Island
Goldfish Tail

From the ocean, the arch is the most iconic part of Goldfish Tail. You can kayak through the arch, and if the wave isn't too big, a speedboat can go in part way, too.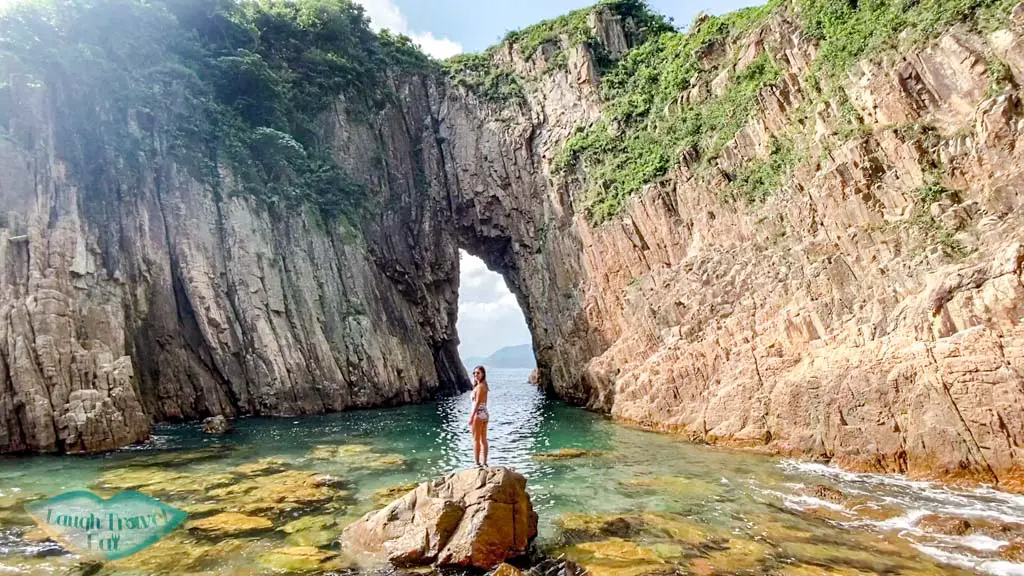 The area behind the arch is rather shallow, so it's not recommended to go in there on a speedboat. Kayaks need to be careful too as the rocks can scratch your kayak.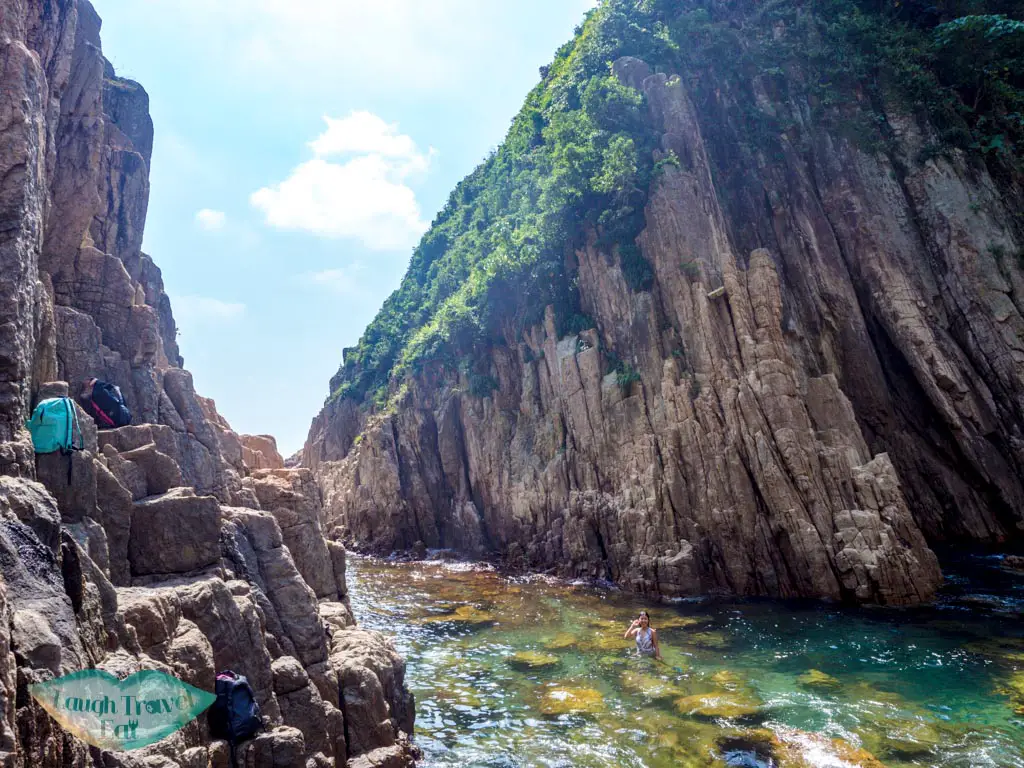 Waves can also get quite big so be careful when swimming or walking in the sea. There's no beach area, only rocks where you can put your bag or sit on.

Goldfish Tail viewpoint
From the arch, go left facing it and it is where you ascend or descend to the connecting trail on top of the mountain. It's basically bouldering so it's not to be attempted if you're inexperienced.
It's a good idea to bring gloves as you will be using your hands.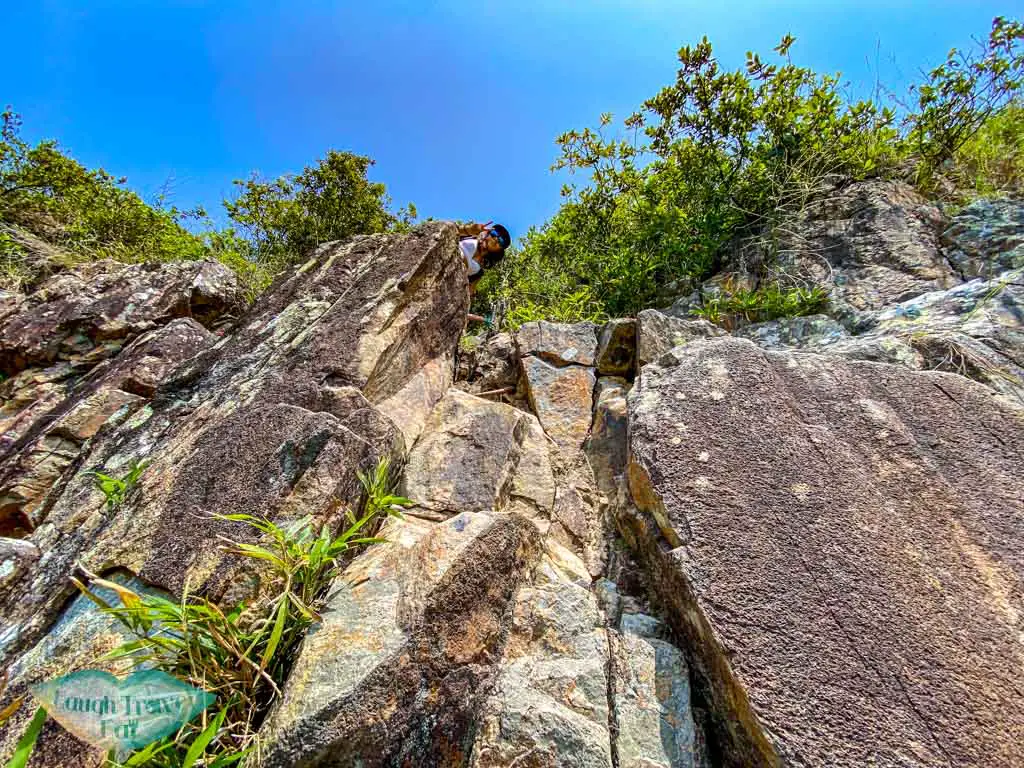 There are a few parts where you have to pull yourself up and also pay attention to your footing as some rocks are loose.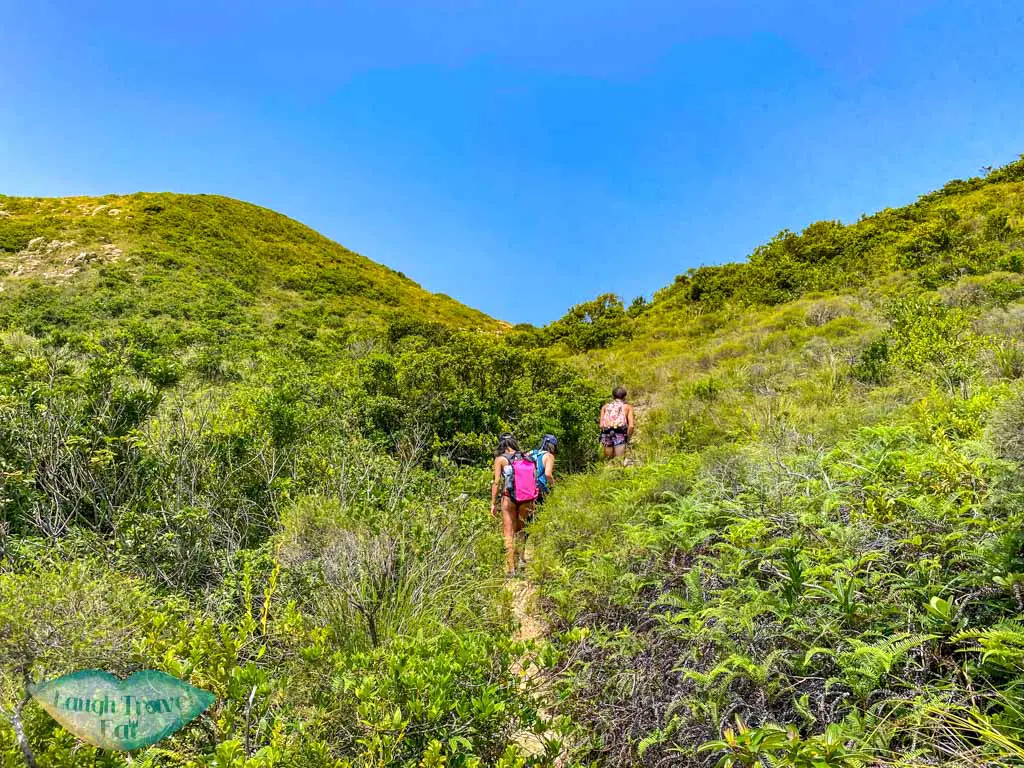 Once you reach the top, it connects to a trail marked by red ribbons that steadily go up.
It'll take you to an exposed stretch of barren rocks, keeping going up the peak then down to the coast again to the view point.
This is where you get a clear look at how the Goldfish Tail gets its name, with the head to the top left and a beautifully spread tail at the bottom.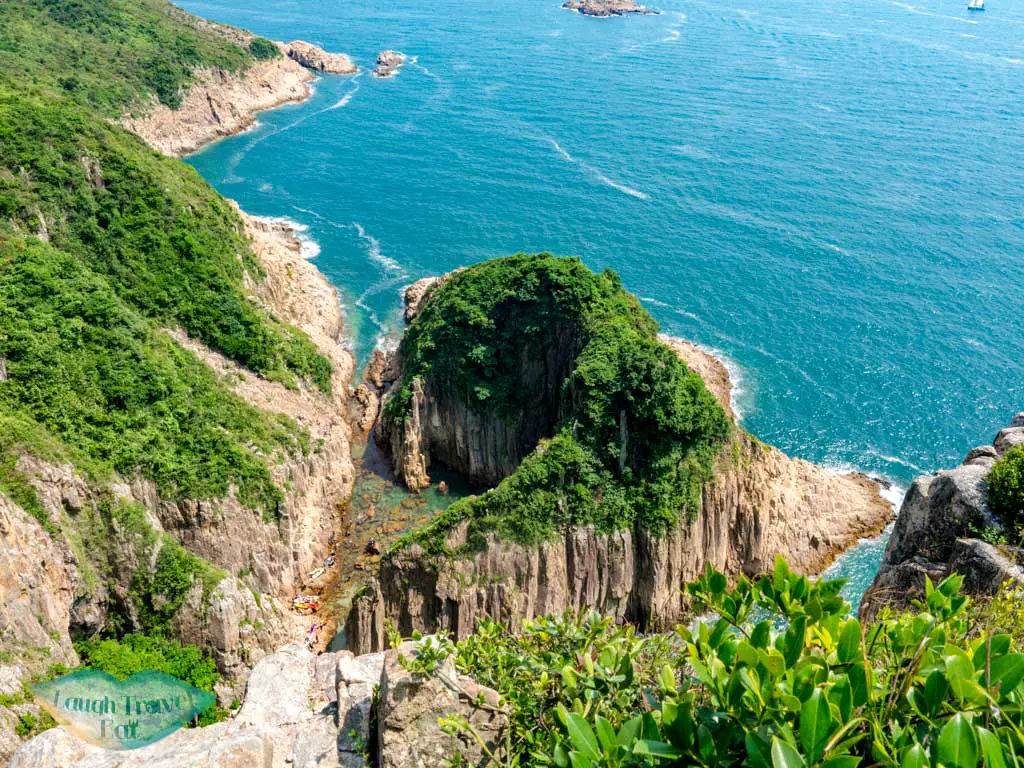 The best photos are taken by the edge and I don't recommend standing but to sit – both for safety and proportion reasons in photos.

Tai Wong Wan
From the viewpoint to Tai Wong Wan is a 30 minutes hike. Go back up towards the peak until you see a trail to the left marked by white and light green ribbon.
Just follow the trail which goes steadily down to the beach.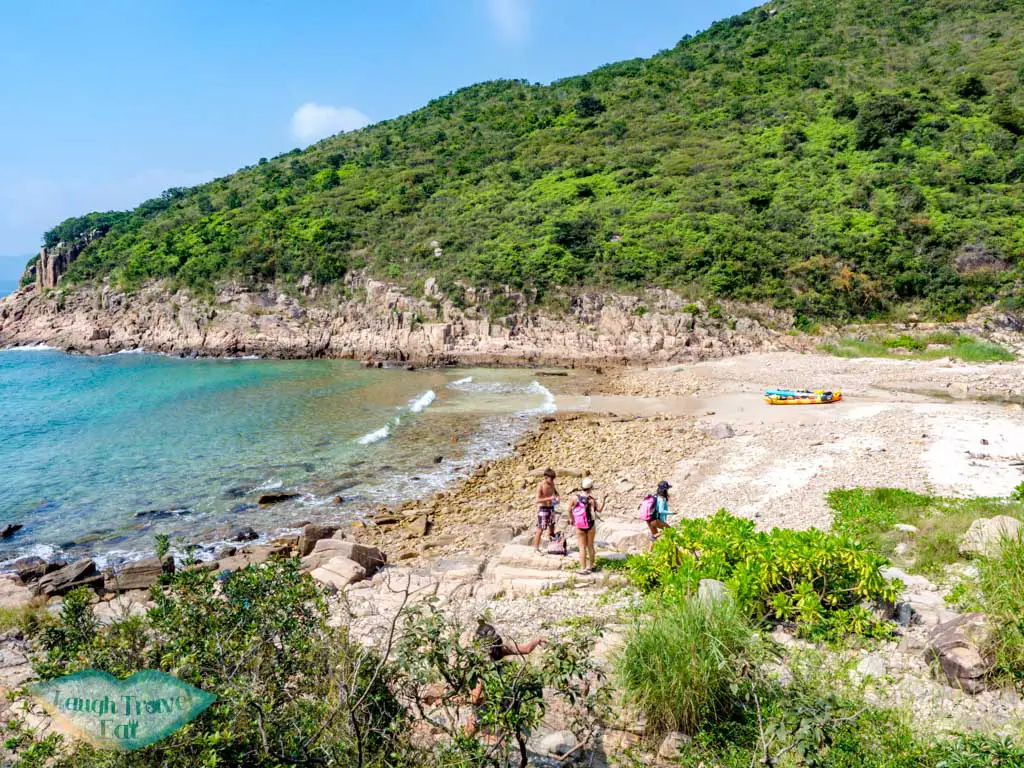 It's a better place to snorkel than Goldfish Tail with a nice little sandy beach. This is commonly where speedboats pick up and drop off people.