The Madai Stream might sound kind of exotic, but it is actually a phonetic translation from its Chinese name which refers to the Ma in Ma On Shan, and big, so it's Ma On Shan's big stream.
It runs from Ma On Shan down to Tai Shui Hang, where it joins the end of Shing Mun River and enters the Tolo Harbour. It stands out from the rest with its polished, rounded granite boulder and turquoise water, but also requires more sure-footedness.
Madai Stream hike summary
Difficulties: 3/5 depending on water levels, but if you are a beginner to hiking streams start at Ping Nam Stream.

Time taken: if you are experienced and don't make stops, this can be done in 2.5-3 hours. I'd make this a full day trip or at least half day.
Pros: it's so pretty that it feels like you're in Bali!
Cons: extremely busy on Sundays, and not suitable for beginners (in my opinion)
Gears needed: shoes with proper grip, wet shoes work too or waterproof hiking shoes

Note: as this involves walking along the stream, do not hike up if it has been raining a lot or consistently.
Please do take your rubbish with you as the area is already littered with trash.
Here is a vlog of our trip up the Madai Stream:
How to get to Madai Stream
The trail starts at Tai Shui Hang, so head to the MTR station of the same name and follow the exit towards Tai Shui Hang Village (exit B).
Once you exit the tunnel, there is a pavilion in front and a small concrete trail that goes right into the village.
Stay on the path and don't go up the stairs to the right – and then turn left at the end where you see a hut with staircase to its right.
Follow the path and when you reach some kind of campsite/bees keeping ground, head up the stairs to the left and that'll take you to the stream.
Hiking Madai Stream
Once you are on the Madai Stream, all you need to do is mind your footing, find a path on boulders and rocks that won't get your feet wet, and balance.
Overall, we had to zig-zag our way up.
The first half an hour there weren't many pools but we did stumble across some scenic waterfalls.
Eventually, we came across the first pool and took a quick dip. But it's also pretty busy.
Dam on Madai Stream
After that, there are a few more pools before we reach the dam. To get up and around it, head towards the right where there's a flight of stairs. Don't follow it all the way up but cut across it to get down to the other side.
This area is a lot steeper and home to dozens of waterfalls and small pools. That said, to get to higher ground it involves a rather treacherous descent with a small rope for assistance or to walk through water.
As someone who is only 5 foot 1, the water is only chest deep at most so it's not an issue if you can carry your bag above your head.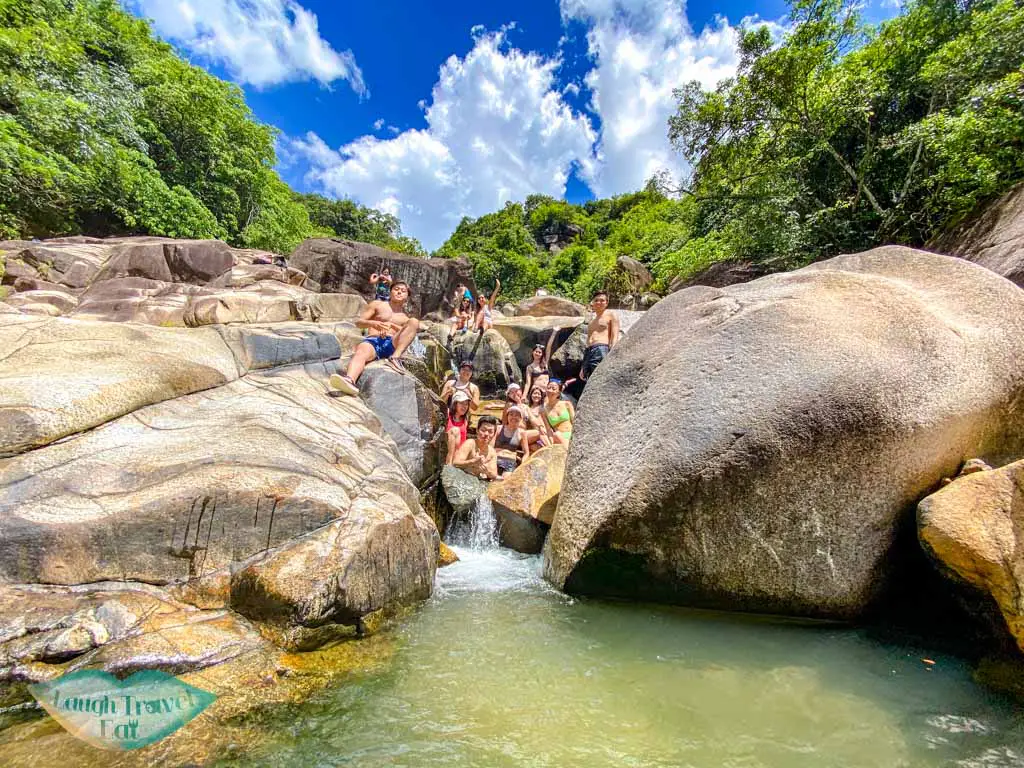 Most of the uphill paths here are on the left. We continued up after taking some time to snoop around, cool off, and take some photos. The granite does hold the grip well but for the inexperienced, it's a little scary.
The next waterfall resembles this one I've seen in Bali, with wide spread trickles of water dancing down like beaded curtains.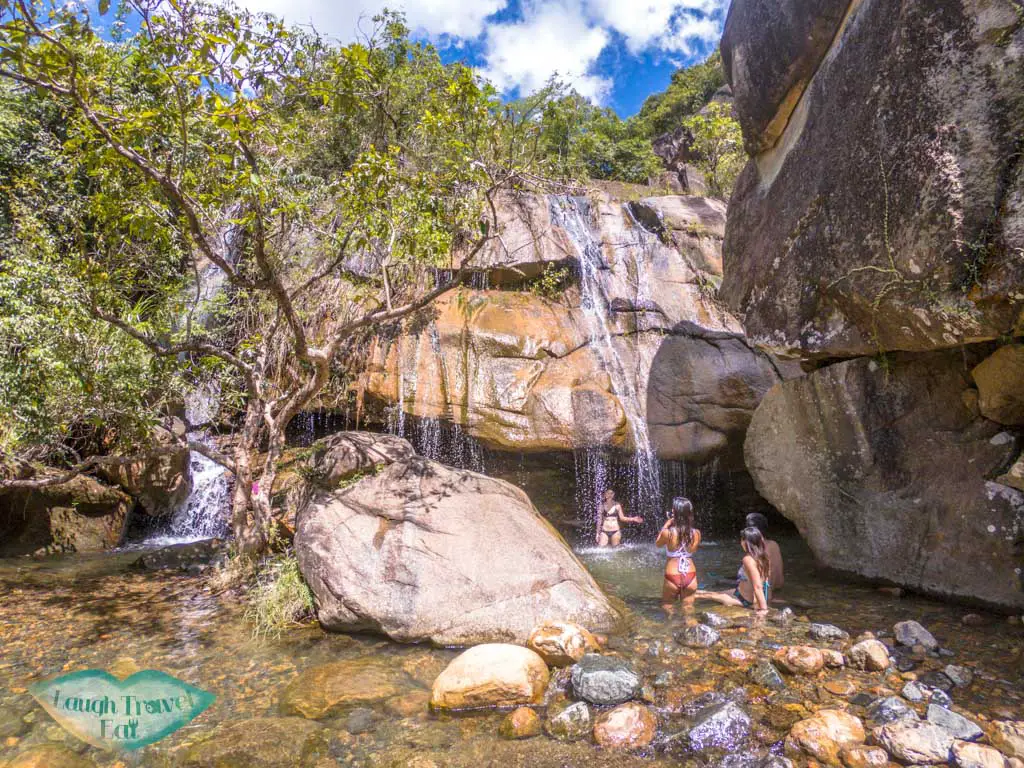 The best part is that there is a hidden waterfall to its side, which looks surreal with the line streaming through.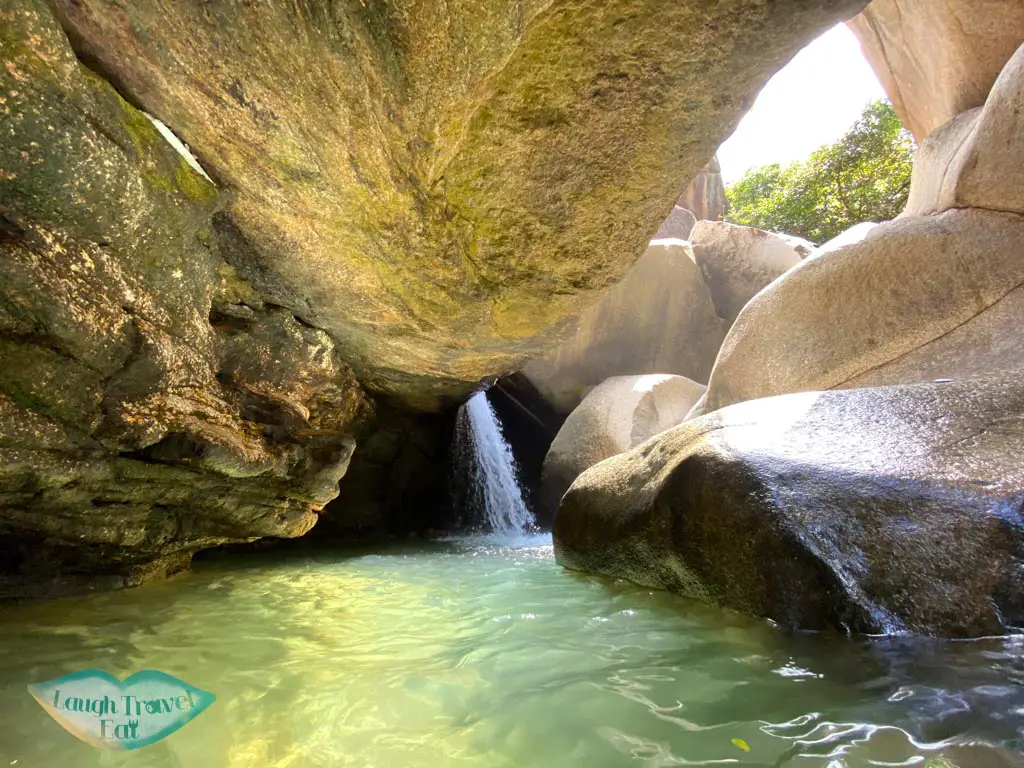 The final stop is the Hero Falls, which is just 10 minutes or so further up. We also went past some rock climbers as this is apparently a popular spot. Canyoning is also possible!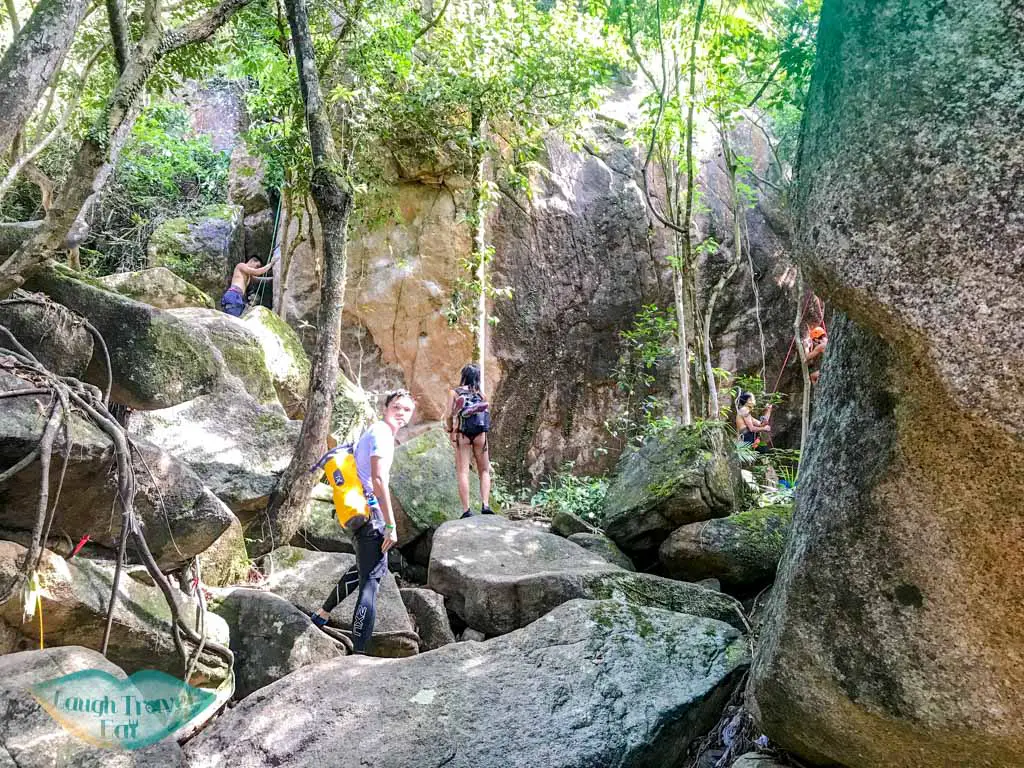 I'm not going to lie, getting up the last part of the concrete dam to the Hero Falls was kind of scary. If you have short legs like me, you'll need a pull and/or a push by a friend to get your leg up.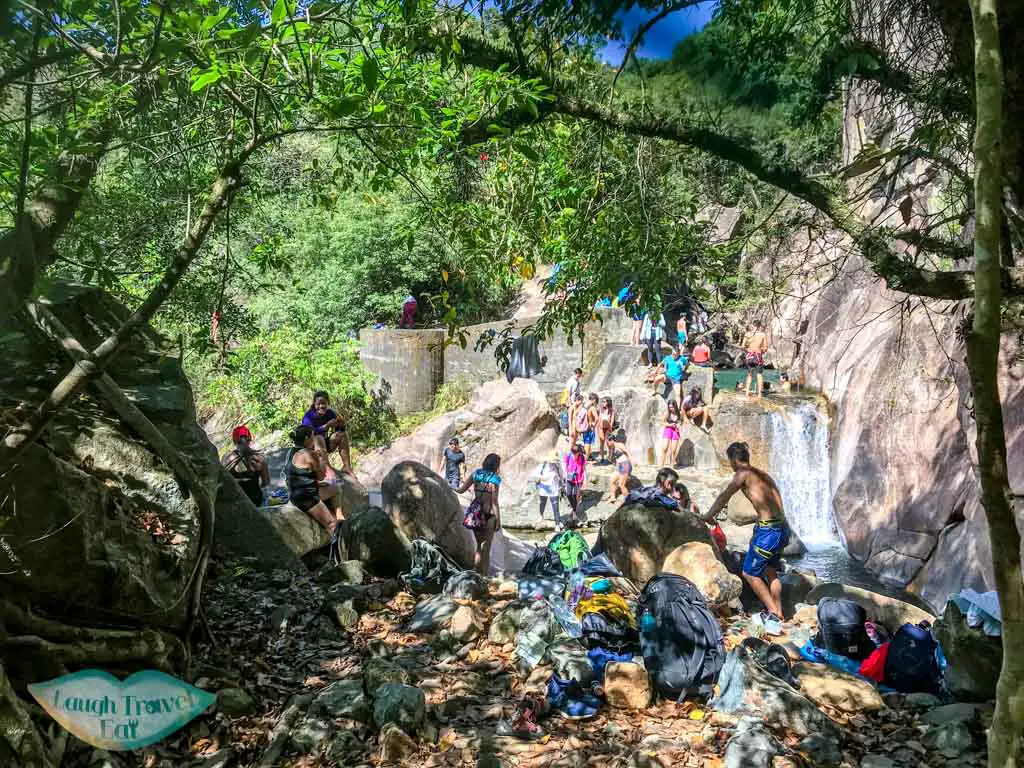 It is actually best to wear long trousers or leggings but I made it in shorts with some minor cuts and bruises.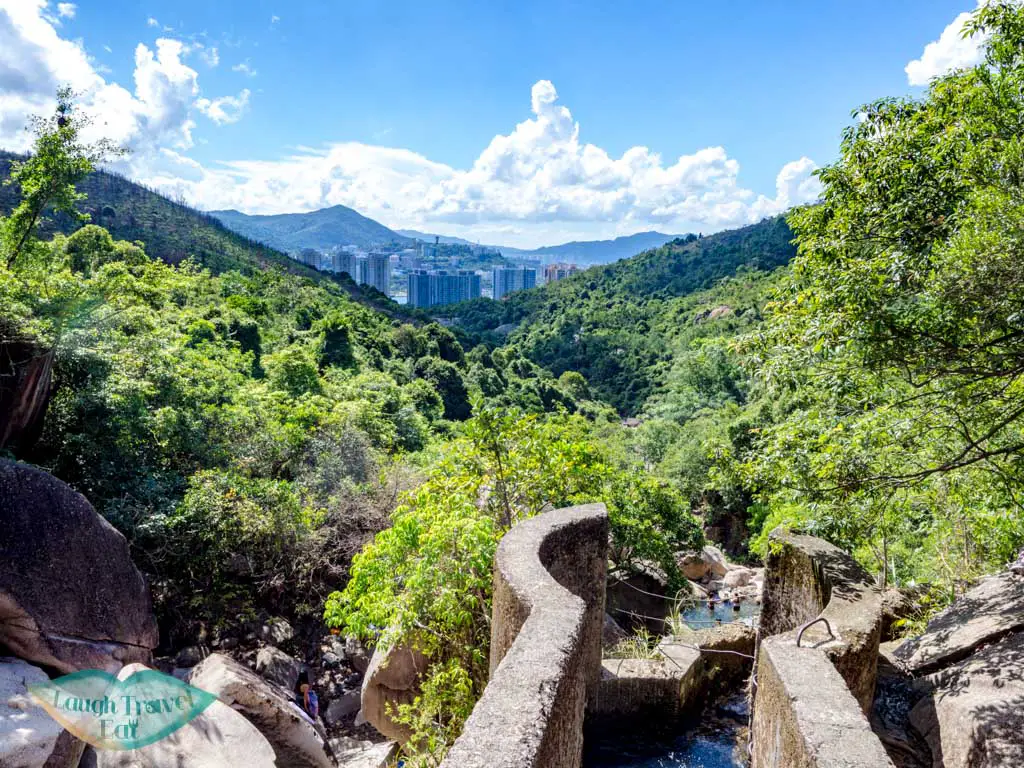 Many people were at this fall as the pool is larger and deeper. The shadow falls on the fall in the mid-late afternoon, but it's still gorgeous to see.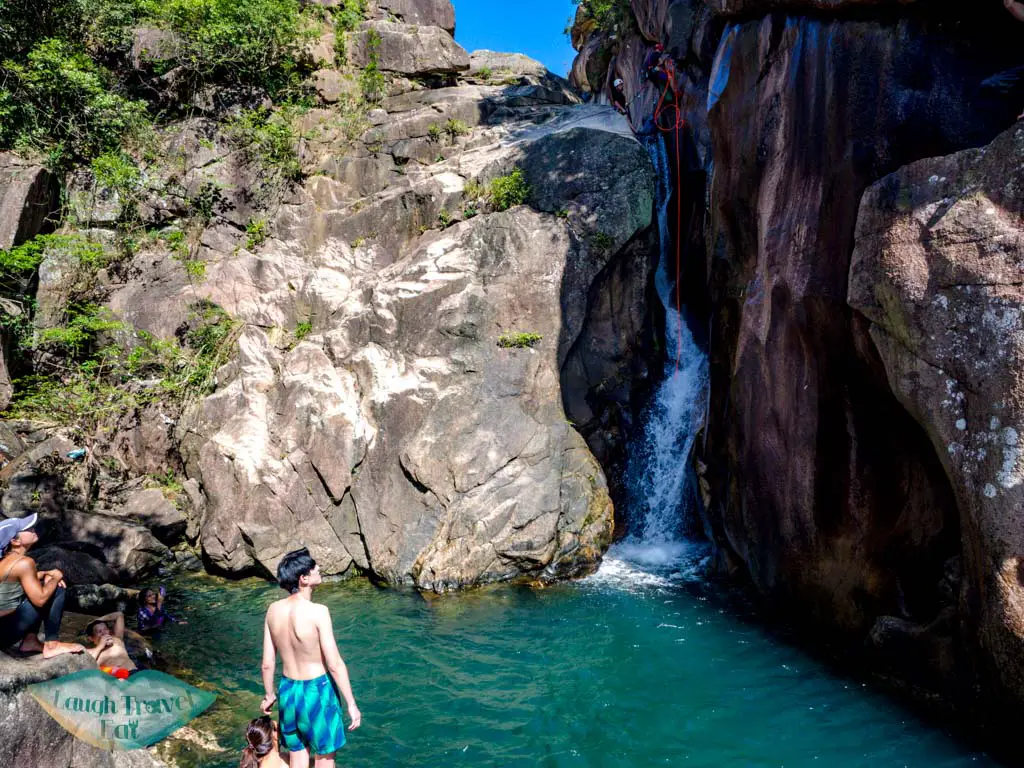 Some are fearless and climb up to cliff jump. I would highly discourage that because the rock face is almost vertical.

Madai Stream to Ma On Shan Country Park
From here, there's a trail that is directly up from where we climb up behind the concrete that takes you up the mountains.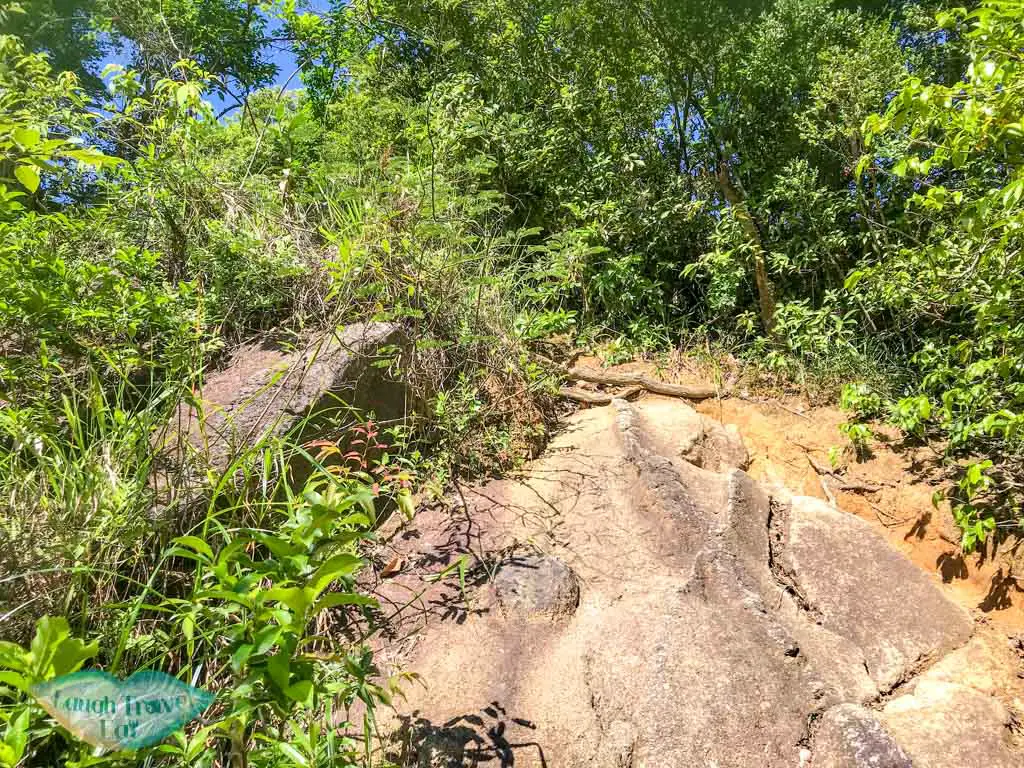 It cuts across a big hill which offers a great view of Shatin and Tai Po along the Shing Mun River.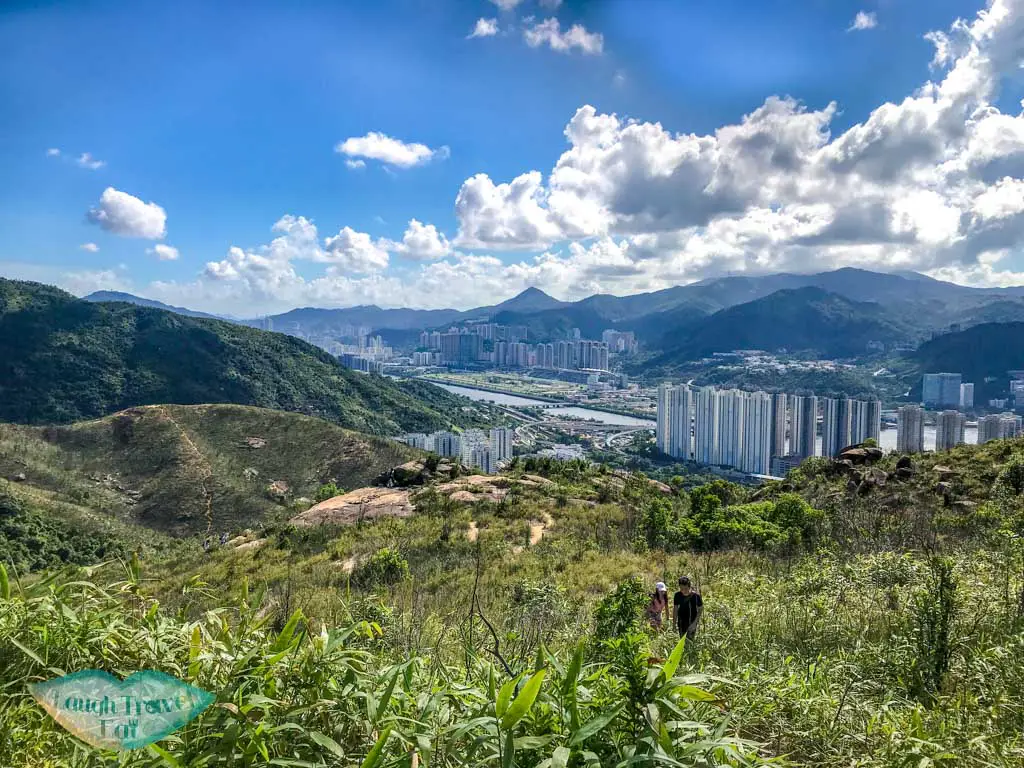 We followed the ribbons and had to cross a small ridge before reaching a big boulder.

From there, continue to follow the ribbon, stick to the right when you reach the concrete path and follow it.
It does zig zag a bit and is fairly overgrown, but it takes you to a flight of stairs that ends at the main road leading back to the Ma On Shan Country Trail.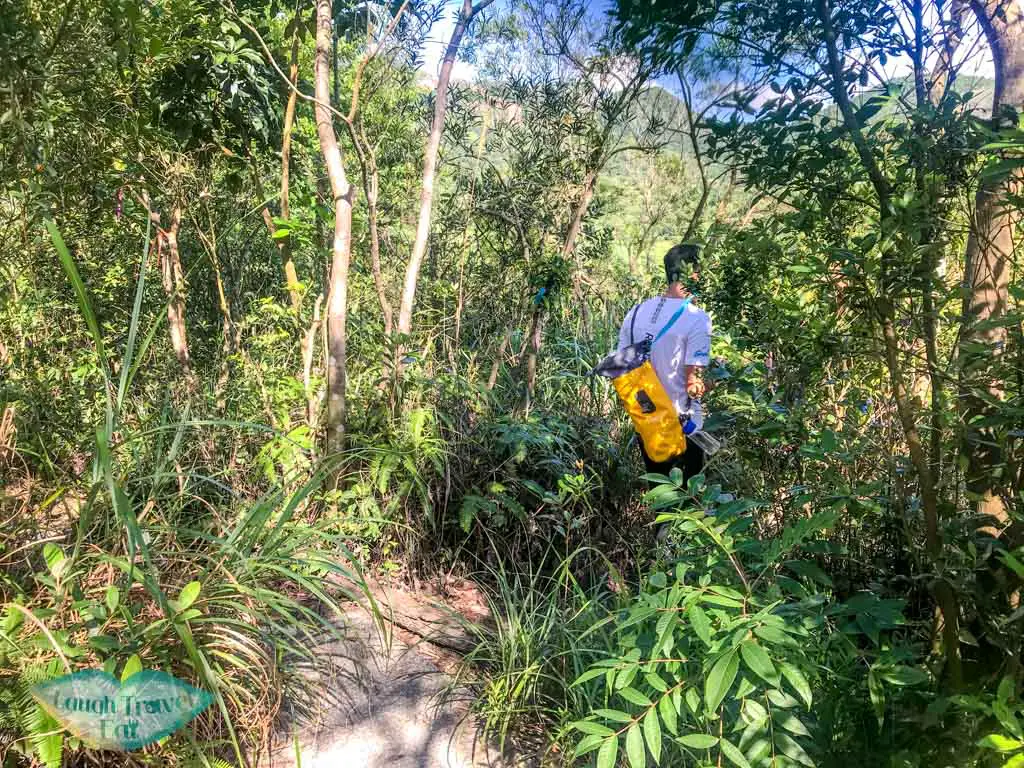 Once there, you can see if you can flag a taxi or walk down to Ma On Shan Center. You just follow the road until you see a sign with the MTR sign pointing at a flight of stairs that'll take you all the way down.