Admittedly, I have a lot of favourite swimming holes in Hong Kong but Wang Chung Stream might just take the top.  Located near Bride's Pool, it's not as easy to get to unless it's Sunday or public holiday where there's a special bus. Not only is the entire length of the Wang Chung Stream super photogenic, it is relatively easy to get in and out, too.That said, it must not be attempted without proper wet shoes or water shoes (or good hiking shoes that can get wet).

For a shorter hike and still beautiful fall, try the Ping Nam Stream, but the public transport there is more sparse.

Summary of Wang Chung Stream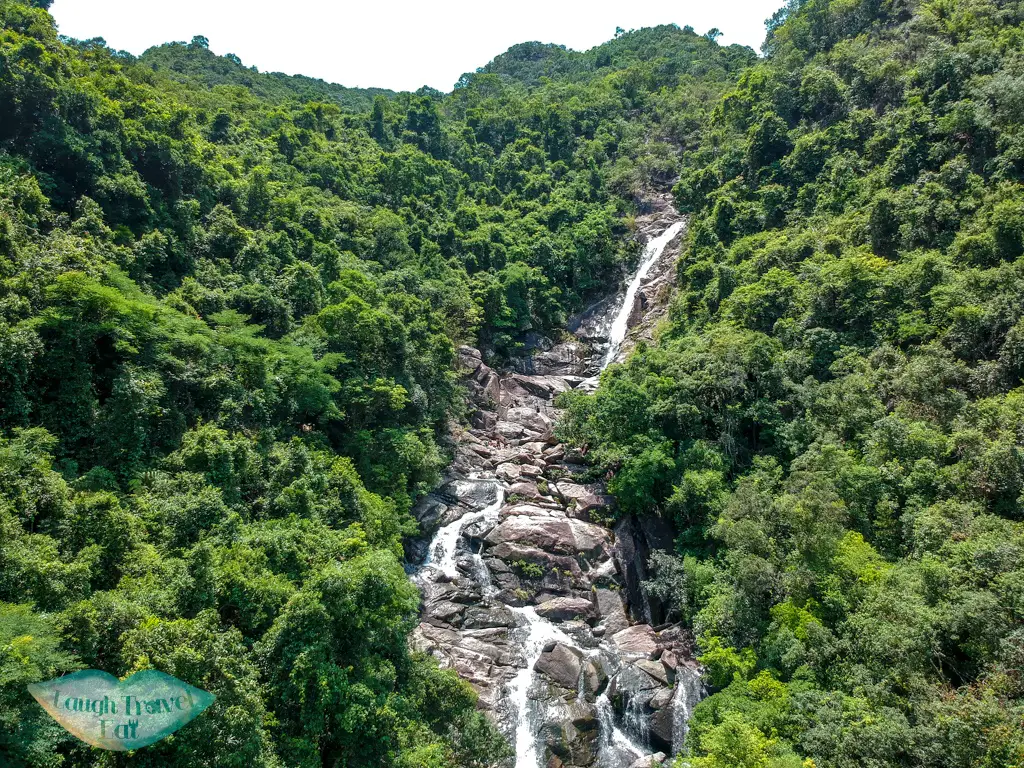 Difficulty: 4/5 – mostly for the footwear need as you best have great wet shoes or proper water shoes.
Time taken: the hike in and out probably takes 3 hours, but budget more time for dips and getting in and out
Pros: beautiful sceneries all the way through, close to public transport at both the beginning and end
Cons: a lot of climbing is still involved. Even if you are not looking for a dip, you are likely to get wet. Good shoes will definitely be needed

How to get to Wang Chung Stream trail start
From Tai Po Market, go to the bus station and follow the signs to bus 275R to Wu Gau Tong (note that this only runs on Sundays and Public Holidays).
If you want to do the hike on a weekday, it's best to take a taxi from Tai Po Market. The minibus 20C can get you to Tai Mei Tuk, but it's still a long way to Bride's Pool.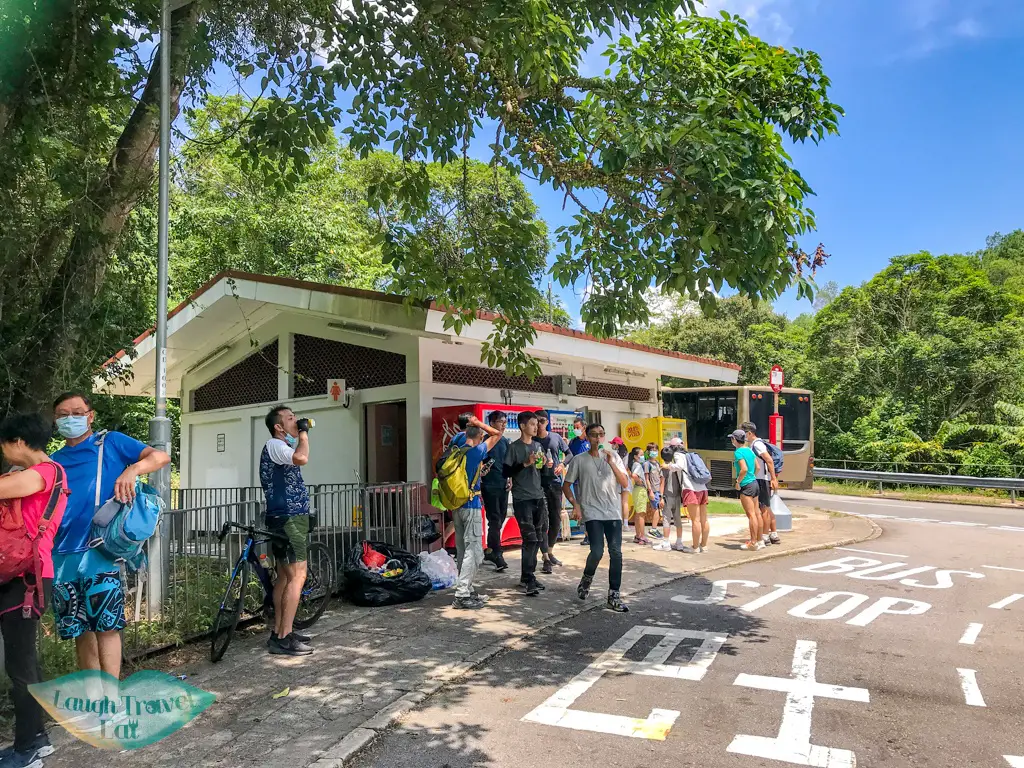 Once you get off at Bride's Pool, there is a public bathroom and it's the last one you'll see on the hike. Go back the way the bus came on the right side of the main road until you reach a flight of stairs going down to the stream. We went after some big days of rainfalls so the stream is pretty lively.
It's such a pretty stream already with many small waterfalls. We basically go from left to right then back again as we make our way up.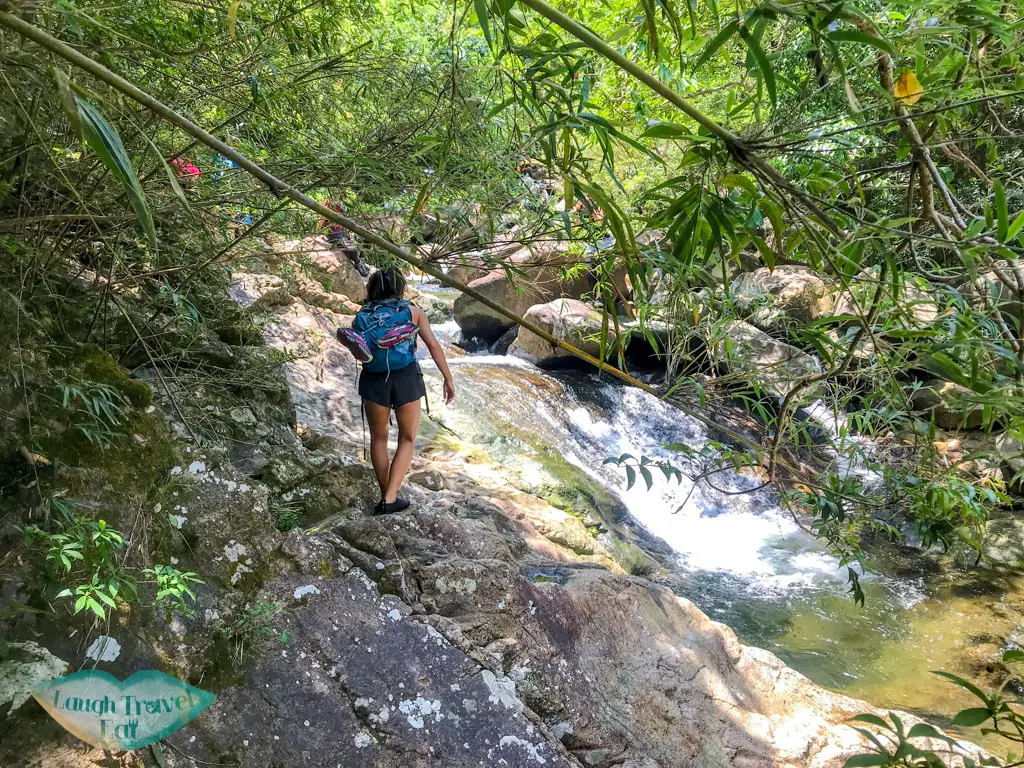 Soon, we reach the first bigger waterfall: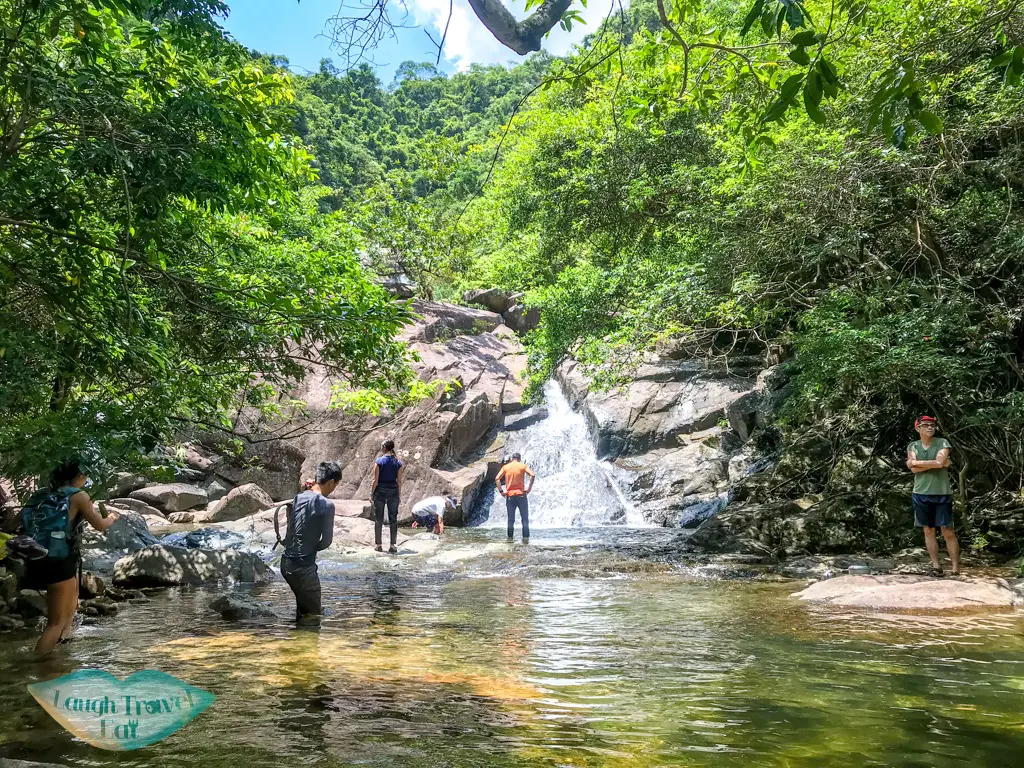 From this waterfall, go to the right side and look for the trail that goes steeply up.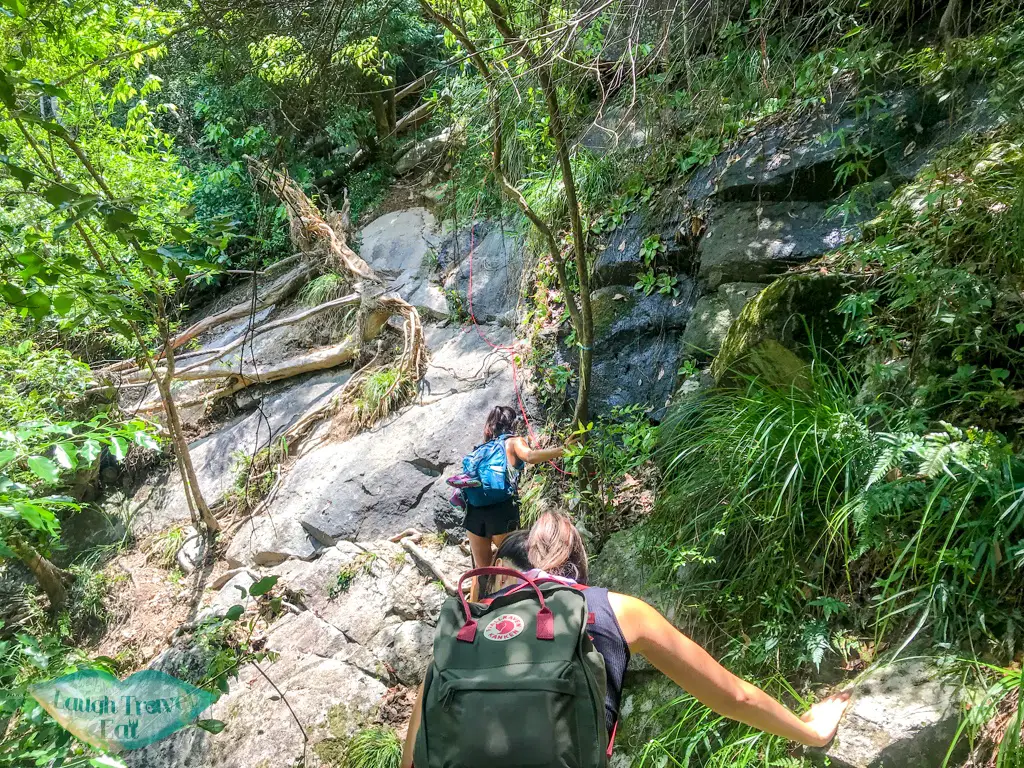 They are usually marked by ribbon and run pretty parallel to the stream. Then it's another gorgeous waterfall.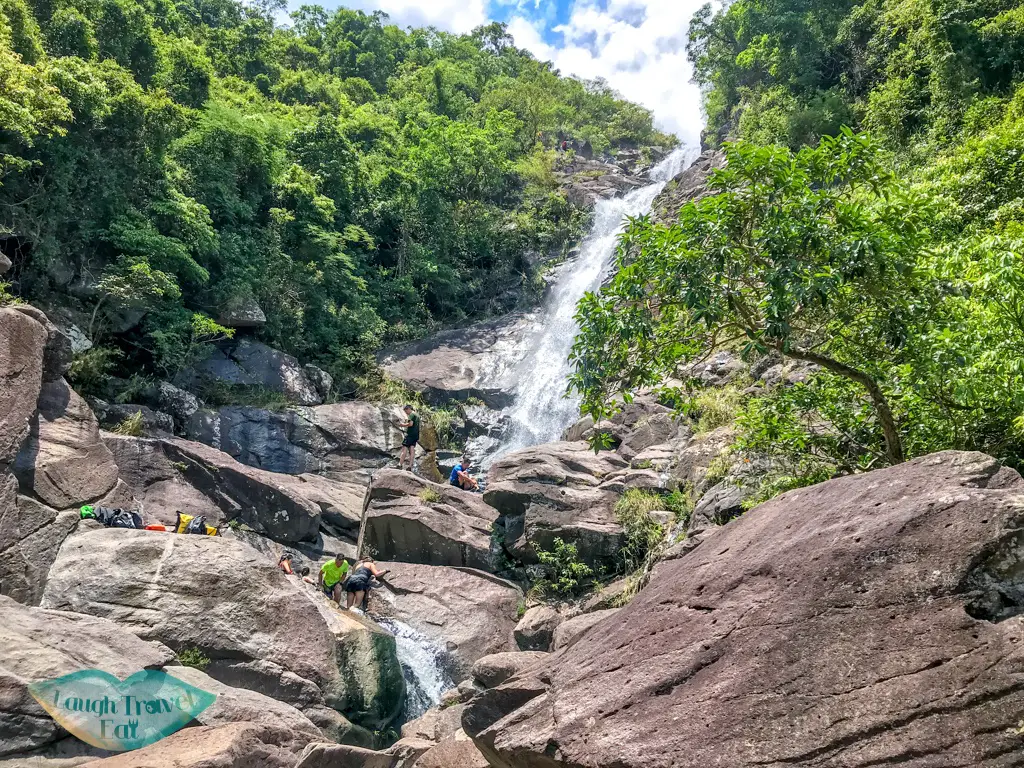 This trail is popular because of its reachability and there are many pretty spots, so if it's crowded head on ahead and find your own spot. Eventually, we reached the most famous fall: Dragonball Waterfall and the tallest along the stream.
To continue up, go back down a little and then take the trail up to the left. it goes deep into the jungle. You do need to be careful on these stretches – which is why I stressed on the importance of footwear, then we can see a small pool towards the upper stretch of the waterfall before a finally steep stretch that took us to the top of the Dragonball Waterfall.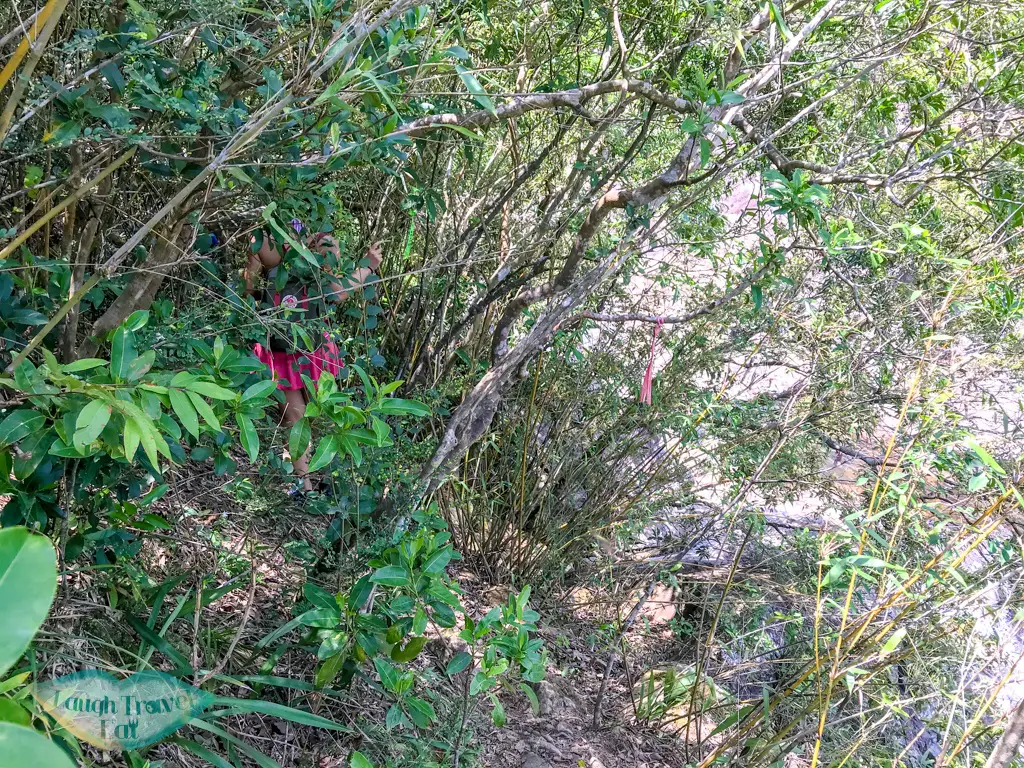 This is a great place to take a break with a beautiful series of pools. It is much less crowded with more space to perch on than below the waterfall.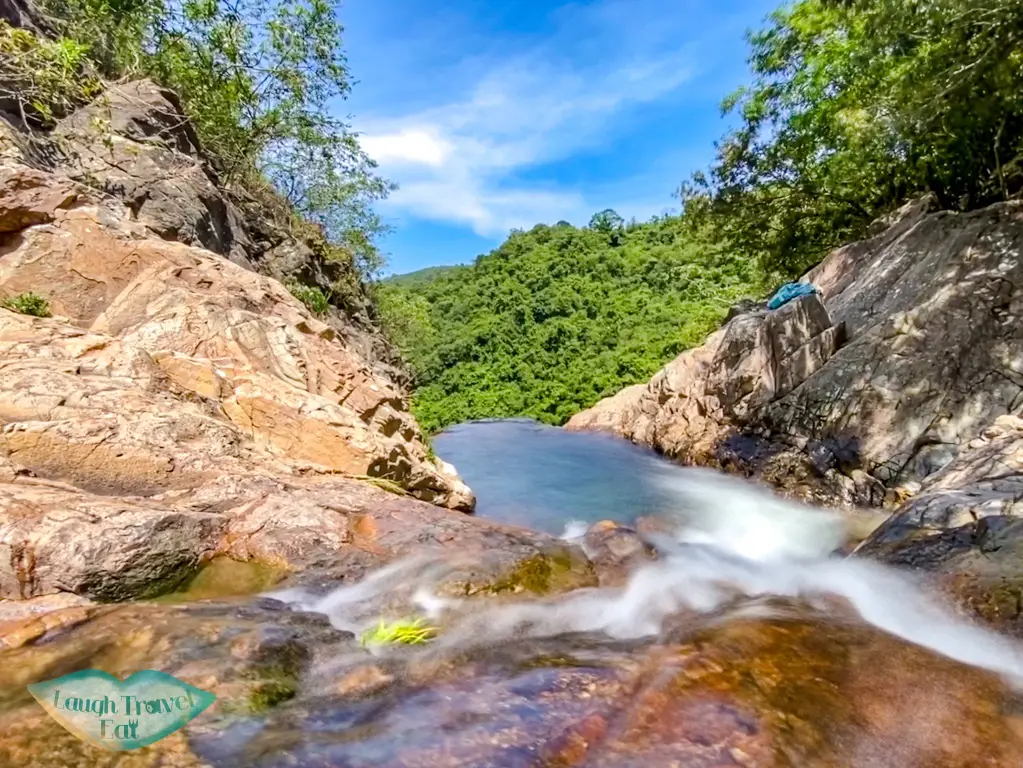 I also took the opportunity to get some drone shots in before we take photos around the pools. We eventually got back on our way which is equally scenic and we also saw some more pretty pools.
We then pass a dam, which only marks the halfway point of this stream.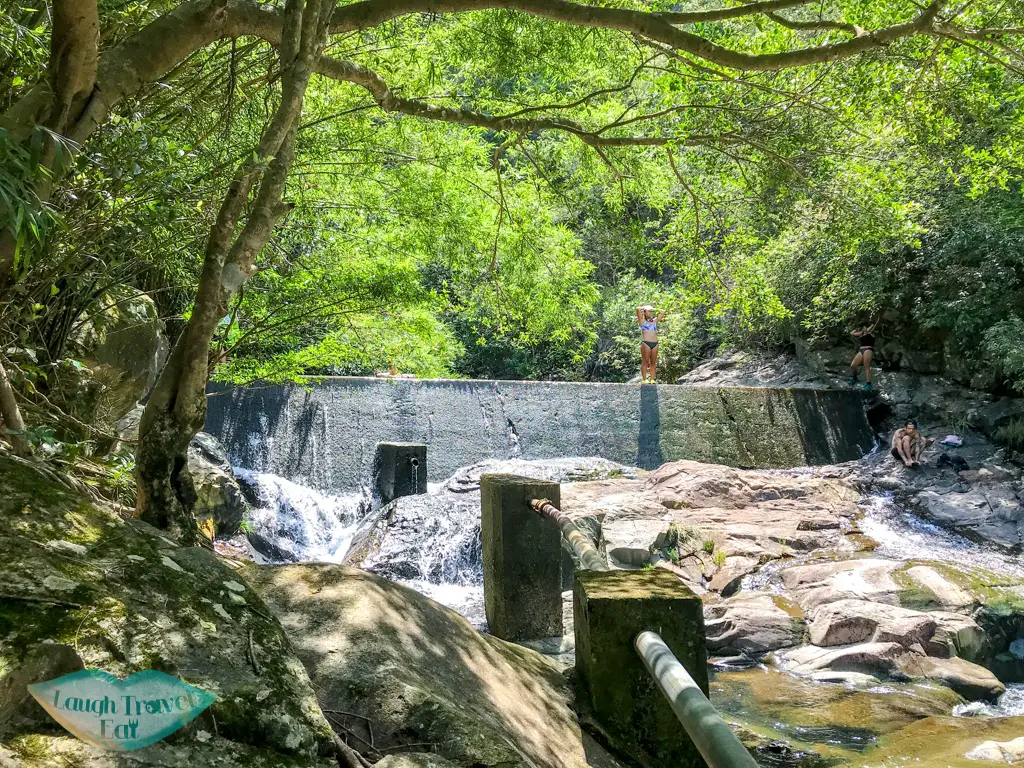 The water here is not as fast flowing and we saw another busy pool that has more of a 'swimming pool' vibe.
We carried on since it was so crowded, again, going up the hill and following the ribbons. There are many small fish in this upstream part of the river and the water is shallower, but by then we end up mostly walking on the trails next to the river.
There are ribbons marking the path and towards the end, we saw another two waterfall pools, then walked along the river bed again, saw a huge stretch of calm river under shade.
This means you are close to the intersection with Pak Sin Lan Country Trail.
Getting out of Wang Chung Stream
Once you reach there, you'll see a bridge to the left but we're going right.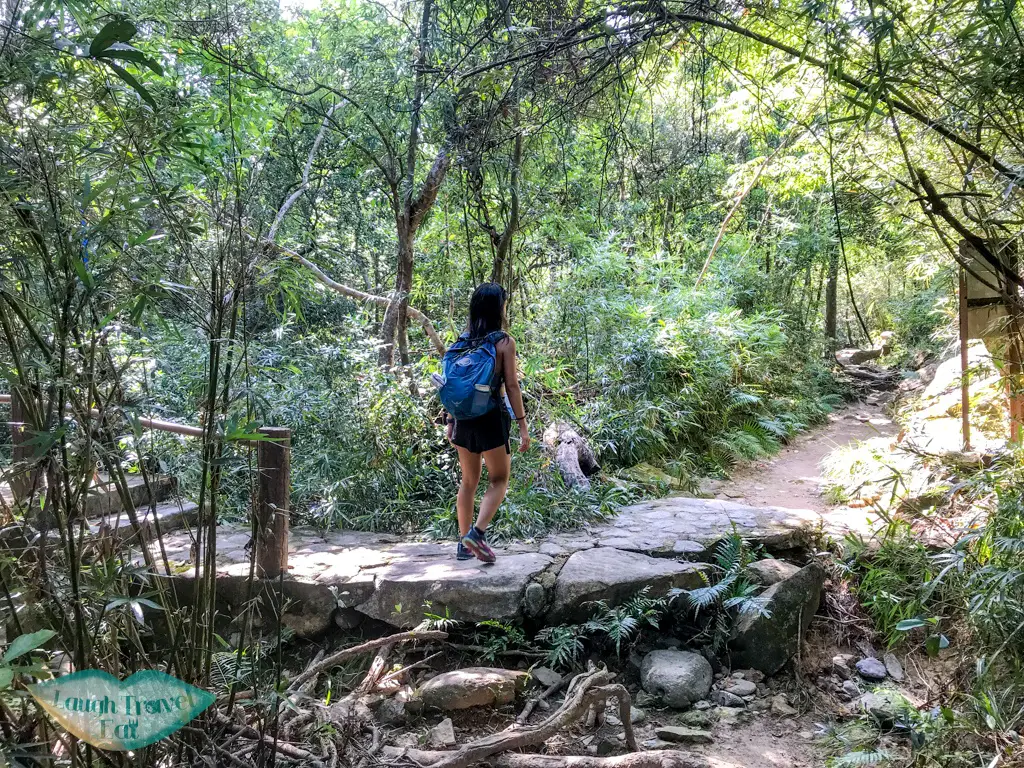 The trail is easy to follow and only has a flight of stairs going up before just going downhill. Follow the sign to Bride's Pool.
It's quite exposed so make sure you have sunglasses and or hats. Once you reach these stone steps, you're nearly there.

The bus stop to get out is just across the road and the 275R runs around 15-20 minutes. This is one stop before Bride's Pool and expect the bus journey to be around 30-40 minutes.