The Devil's Fist is a rock formation on the very end of Wong Chuk Kok Tsui, formerly known as Bluff Head, in the Plover Cove Country Park. Wong Chuk Kok Tsui is a peninsular with the oldest rocks in Hong Kong, a reddish Devonian sandstone from 400 million years ago. To get there, you either have to get on a boat or hike the full Plover Cove Reservoir Country Trail and nip and out of the Wong Chuk Kok Tsui around mid way. The hike is known as 環湖出咀 in Chinese, which means around the lake (reservoir) and out the peninsula.

Essential information on hiking Devil's Fist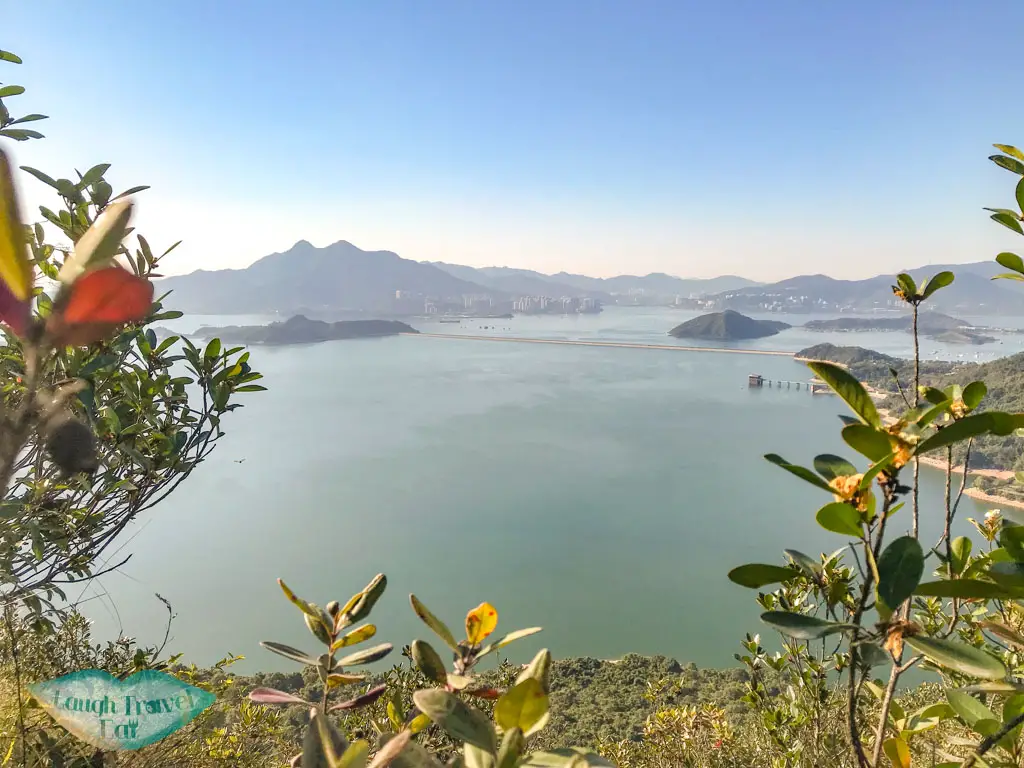 The hike to the Devil's Fist is one of the toughest hikes in Hong Kong, spanning 30km and takes around 11 hours on average to complete. I'd budget 12 hours to be safe as you do want to spend some time at the Devil's Fist. I recommend hiking some shorter but tough trails like Sharp Peak or Dog Teeth Ridge to train up and get used to it. Or you can also try to hike the Plover Cove Reservoir Country Trail on its own first, which is 18.9 km on its own.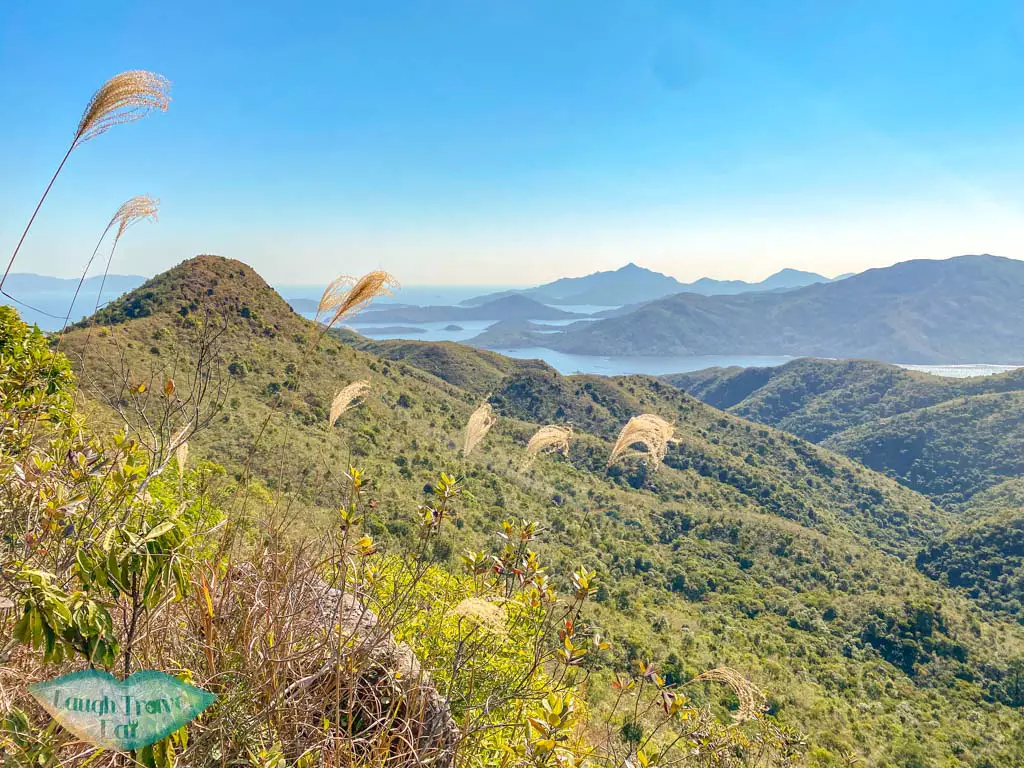 Essentially, here's what you need to be aware of when you want to hike to Devil's Fist 
Tides – when the tide is going out at Wong Chuk Kok Tsui, as the Devil's Fist is only visit during low tide, and thus you must time your arrival
Time of the year – it's best to attempt the hike in the winter when the temperature is more mild and you'd need less water. That said, the sunlight hours will also be shorter. In general, January – March is a good time.
Water – bring sufficient water for your trip. 3L is recommended even in the winter, and 1 L of it should be sports drink. I recommend getting a hydration sack too for easier drinking.
Food – this is a full day hike, so bring food, energy gel, and snacks! Remember to give yourself some time to drink and eat on the hike to replenish your energy level. 
Start as early as you can – it takes around 5 hours to get to the Devil's Fist, and the tides tend to be out around 1-3pm, so it's best to start at 7-8am, depending on your speed. The earlier the better as you have more room to rest.
Bring poles – if you have lightweight and foldable ones, they are great to have towards the end, on the stretch that goes out to Tai Mei Tuk.
Offline map – I personally use OSMAnd and it works wonderfully for me to follow the route. It's best to have it for yourself in case you are separated from the group (and it can happen, it's a long hike).
I had also gone light for our hike and left my camera at home, only bringing my GoPro and drone (with assistance from le sis, who carried the heavier body and I the remote). In all honesty, just bring your phone and an external charger in case you run out of battery.

This is the data from our hike, recording our hiking data (minus the 30-40 minutes we spent at Devil's Fist). You can see the vlog – coming soon – for the exact timing.

Geology of the Plover Cove Reservoir and Wong Chuk Kok Tsui
The rocks on either side of the Tolo Harbour belongs to the Palaeozoic age sedimentary rocks that predate Mesozoic volcanic rocks that are predominant in all of Hong Kong.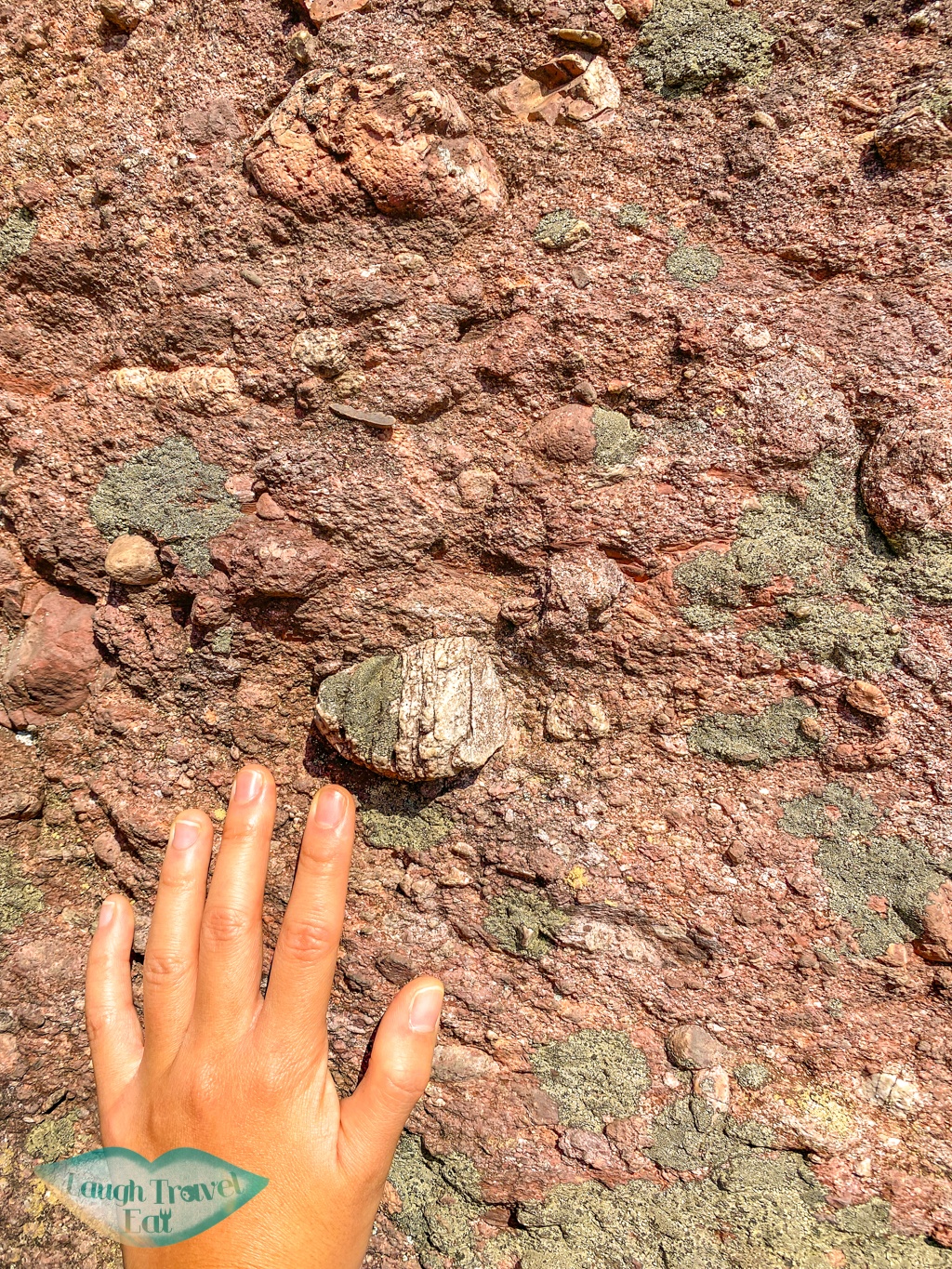 The rock types are generally deltaic or shallow marine. In particular, these are the oldest rocks from Palaeozoic, the Devonian age red sandstones, siltstone, and conglomerate that are deltaic (aka river deposit) in nature. The layers of conglomerate can be clearly seen as you descend 'Fall Dead Dog'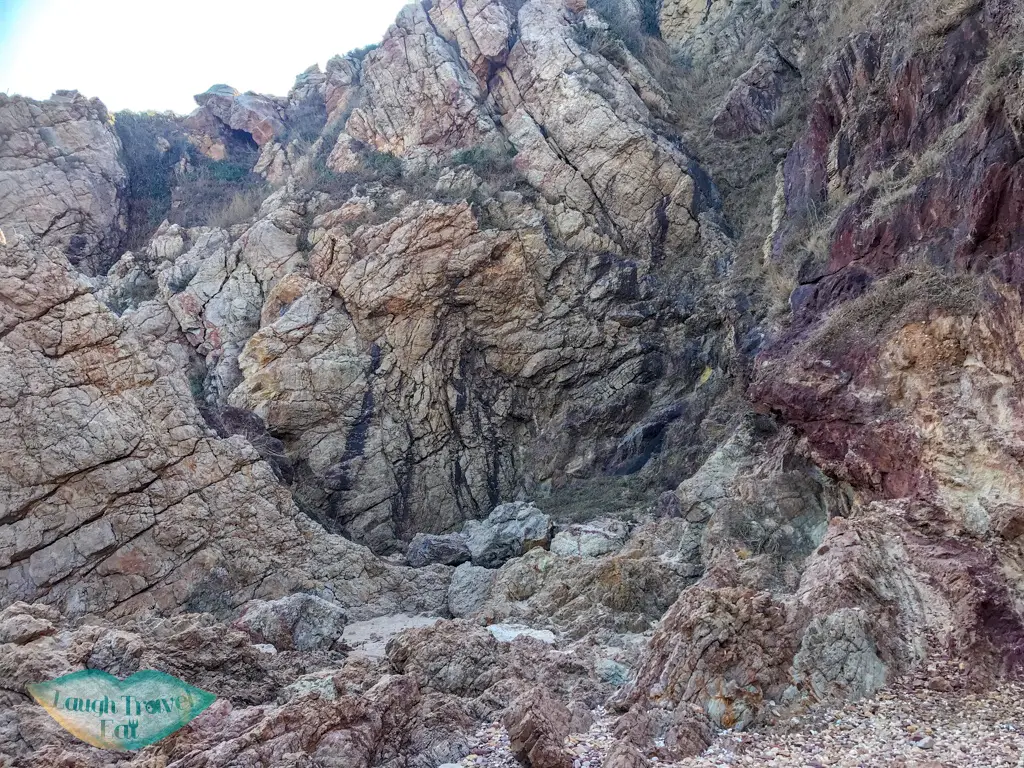 These are known as the Wong Chuk Kok Tsui formation and have been tilted to almost vertical at the very tip by tectonic process, which is how the fingers/knuckles of the Devil's Fist forms. The shape of it is due to the coastal erosion. You can find more information on the geology here.


Wau Kau Tang start for the Plover Cove Reservoir Country Trail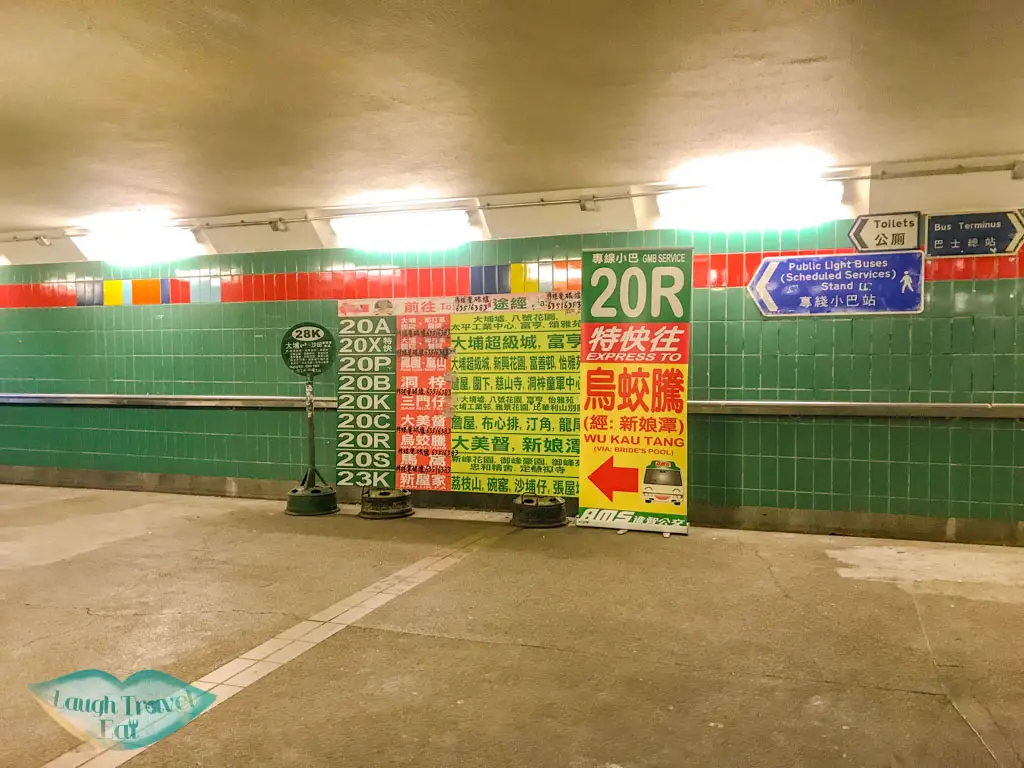 The hike starts at Wu Kau Tang, and the best way to get there is to take the minibus 20K from Tai Po Market East Rail Station. The signpost for the minibus is clear from the train station but the schedule is sparse: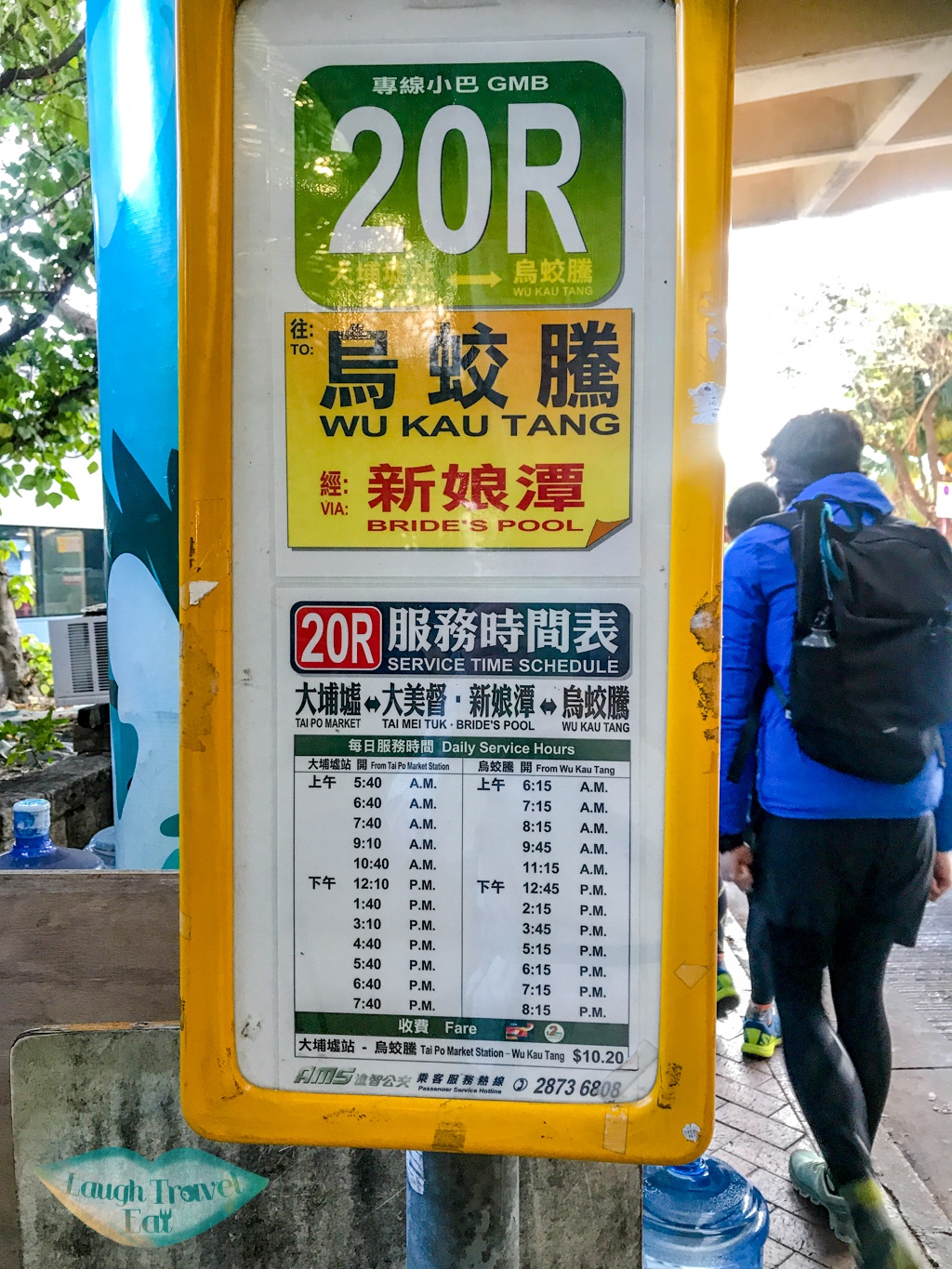 Alternatively, you can take a taxi over, which costs around 120 HKD per car.

From Wu Kau Tang, there are various hikes you can take and one of them is a lot easier, if you want to do something less strenuous. For this trail, follow the trail to the right until you reach the Plover Cove Country Park signpost. This is where we start to go up.

Plover Cove Reservoir Country Trail
The Plover Cove Reservoir Country Trail goes around the entire reservoir, and we'll be following it until Luk Wu Tung before heading out to Wong Chuk Kok Tsui and the back. The trail, though not as extreme as some others in terms of a long climb, still goes up and down a fair bit so be prepared! And to be honest, the trails are pretty similar the whole way.
Immediately behind the country park sign is a steep stretch up and you can see the view of the Plover Cove Reservoir and the Tai Mei Tuk dam in the distance as well as Ma On Shan.

Ma Tau Fung (295)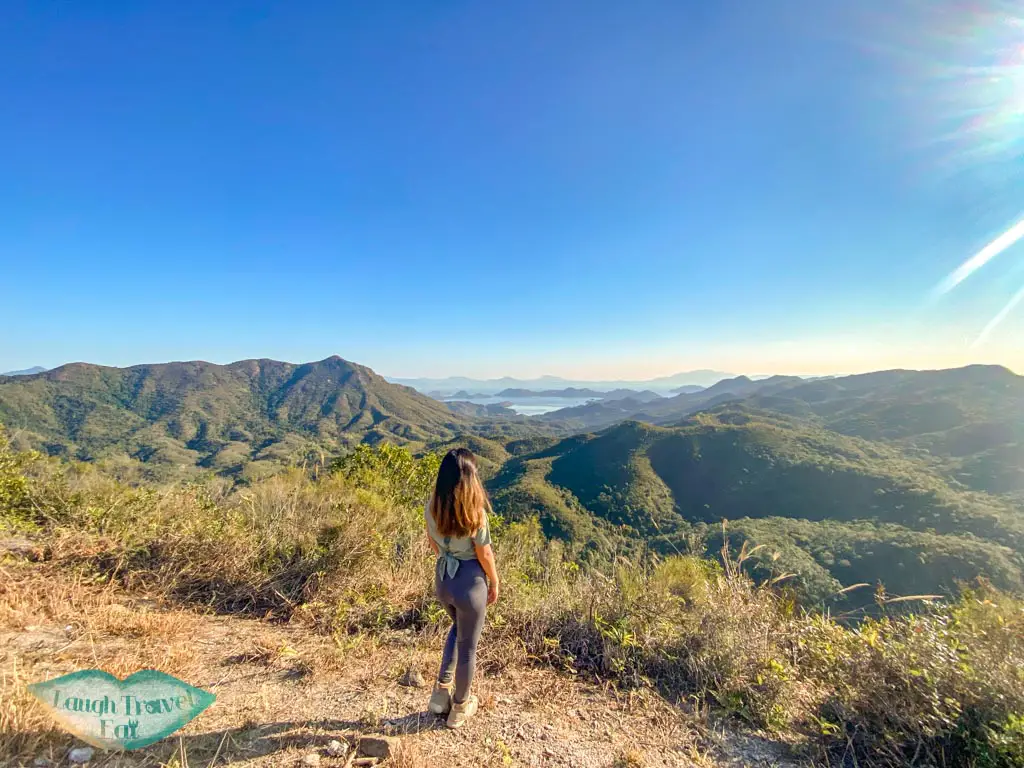 Luckily, the trails become flatter after the initial ascent. The first peak is Ma Tau Fung, a relatively exposed hill with an almost 360 degrees view of the surrounding. We can see towards both Ma On Shan and to China, which is pretty lovely.

Chek Ma Tau (290)
The hike then dips down and up to Chek Ma Tau, which is also marked by a pillar but is surrounded by more vegetation than Ma Tau Fung, and therefore has less of a good view.
After that the hike is pretty monotonous, but you'll encounter not one but two junctions that can take you back to Wu Kau Tang. Simply carry on right to go east along the reservoir.

Mount Newland (304)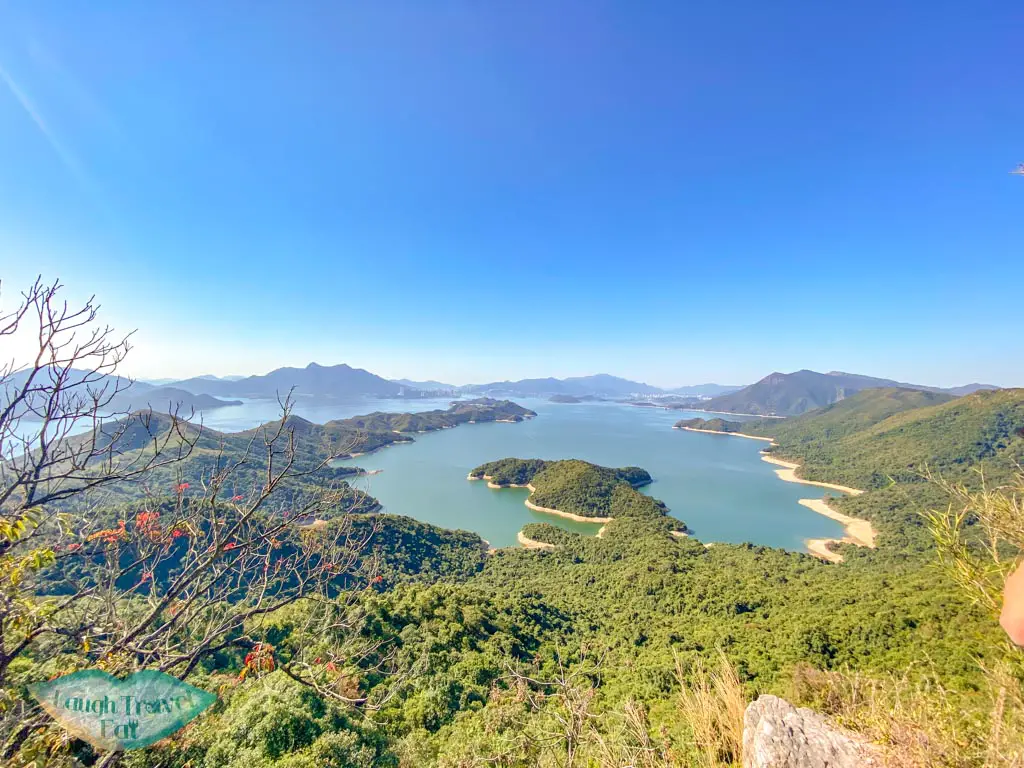 Before we reached Mount Newland, there is a great viewpoint, and we're now far enough along that the scenery are seen from a different angle.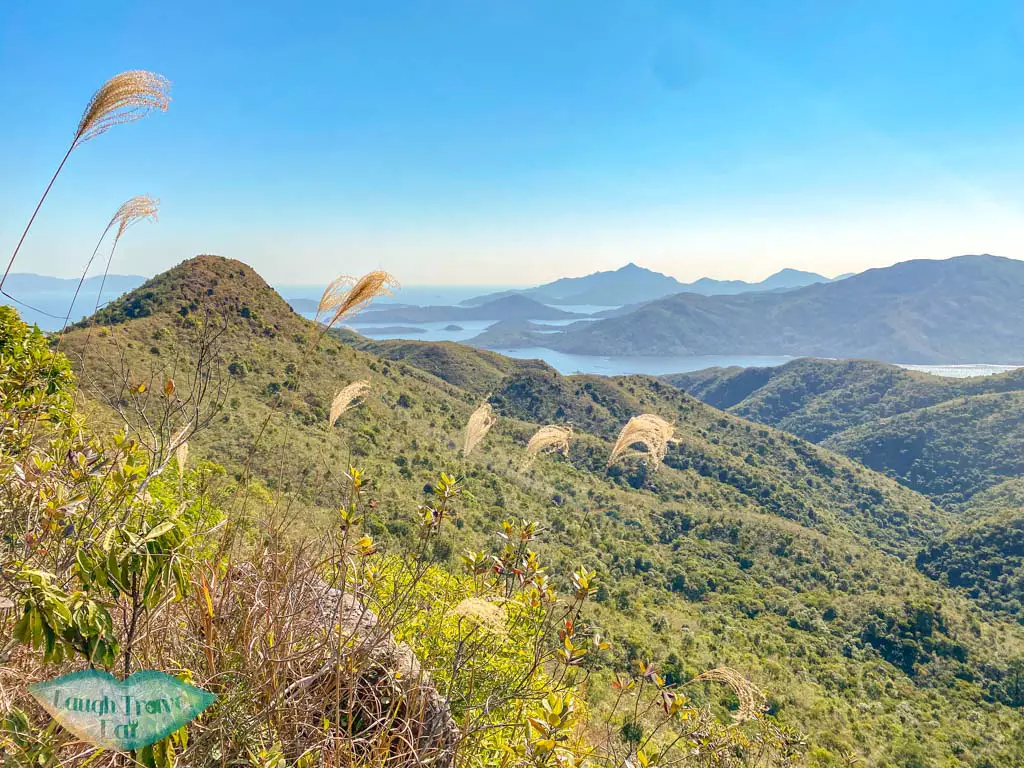 The path remains more or less the same as we made our way to Luk Wu Tung

Luk Wu Tung (295)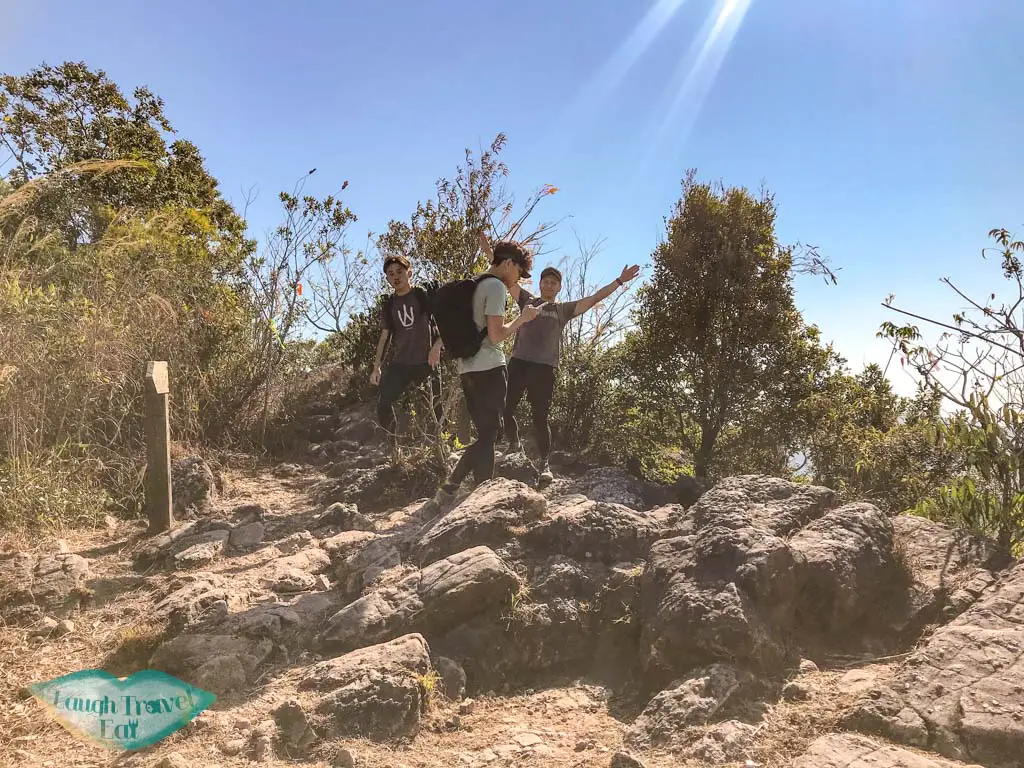 We then reached Luk Wu Tung, where instead of going right, we plunged eastward to Bluff Head.

Wong Chuk Kok Tsui/Bluff Head portion
Bluff Head is now called Wong Chuk Kok Tsui and is a peninsula that juts out behind the reservoir and is known as one of the most remote parts of Hong Kong.

跌死狗
The trail continues to be flat for a while treating us to some amazing view, then we head up the hill known as "Fall Dead Dog" and encounter the famous red rocks.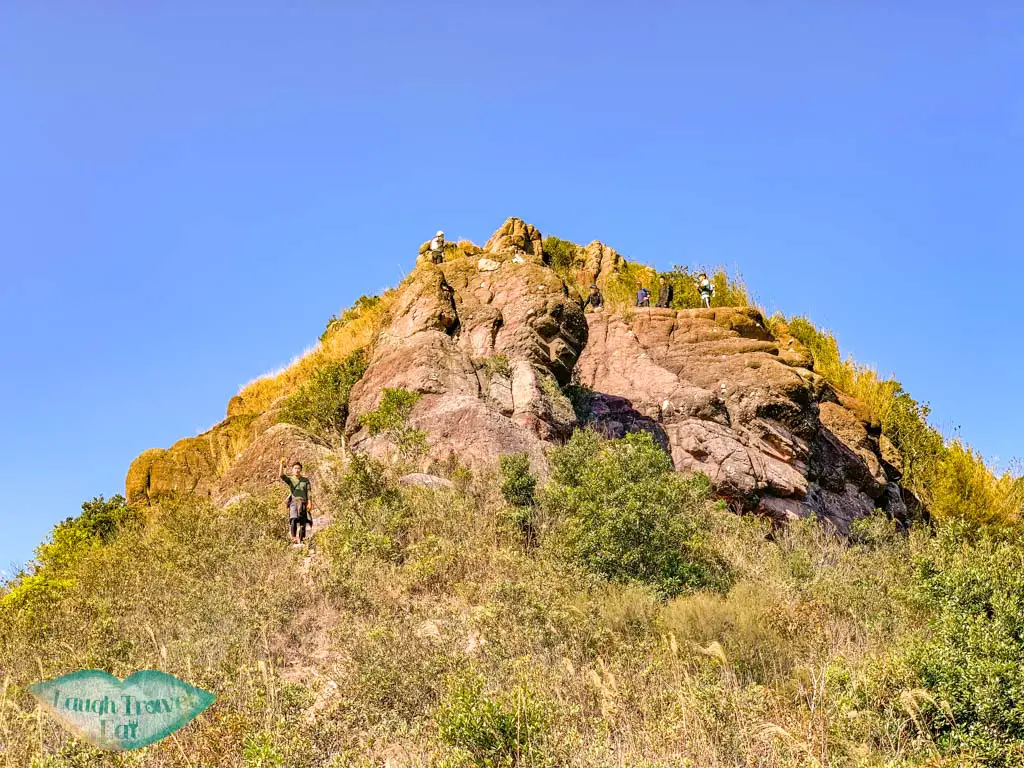 These reddish rock are Devonian sandstone from 400 million years ago and a river deposit. Once you get down, stick to the right first until the next junction.

Fung Wong Wat Teng
There are actually two trails around Fung Wong Wat Teng, but the easier one is the right trail. When you reach another junction, fill of ribbons and in the middle of a small forest, take the one in front to the left and not right and towards the back (which currently have an instant noodles package tied to it).

Pak Kok Shan
The trails here are narrow and therefore quite scratchy if you're running fast. It is also a long way from Fung Wong Wat Teng to Pak Kok Shan, which is, at least, involves less uphill and downhill. We also weaved in and out of forests until we reached the final ascent for the peak.

Ngong Chong Shan
Ngong Chong Shan is easy to miss as well, as it doesn't have a meteorological column to mark it.

Tai Leng (152)
From there, the last stretch is to Tai Leng where you can also see the Qi Dynasty Wong Chuk Kok Watch base, then it's a steep, steep climb down to the coastline. There are some rope assists but do try to get down yourself as they can snap at any moment.
Once we got down, we started climbing over the boulders to the left to go to see the Devil's Fist.

Devil's Fist
The coastal scrambling only takes ten minutes or so, and we almost mistake thisred-white rock as the Devil's Fist, which interestingly turns out to be the Red Devil's Fist. depending on how far the tides are out, you might have to maneuver over some big rocks before you get to the cove where the Devil's Fist is.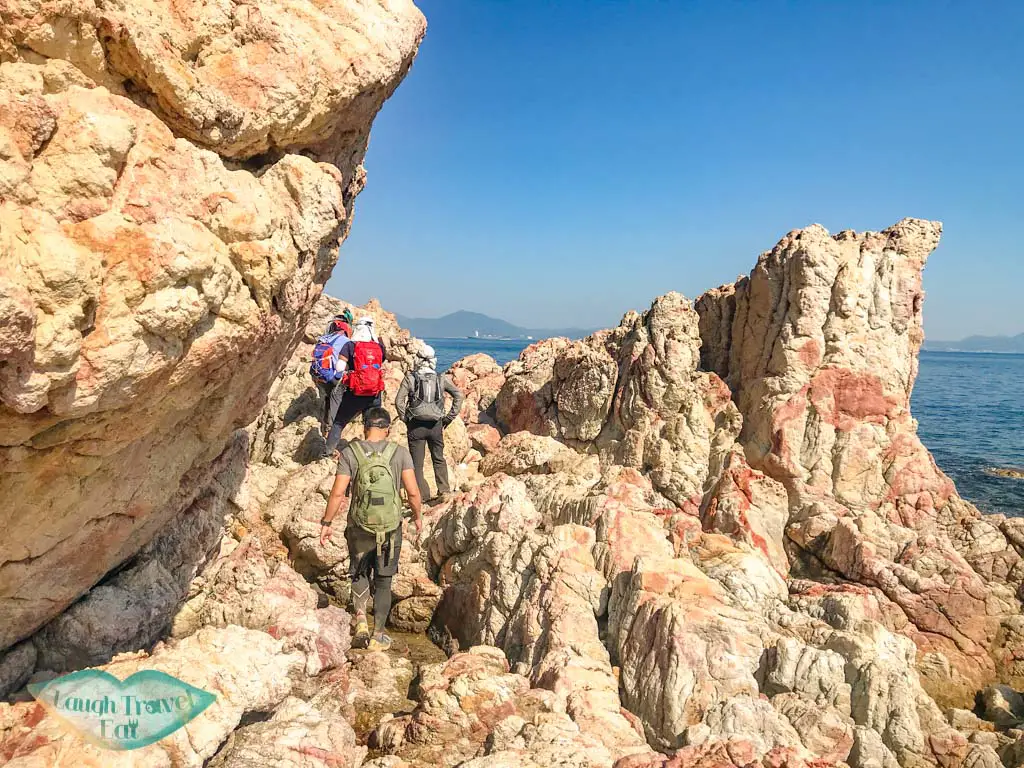 You do have to watch for the timing of the tide since the fist is only visible during low tide. We made it in time but the Devil's Fist is a lot smaller than expected. The fist is 1.7m high and also resembles Groot (from the Guardians of the Galaxy).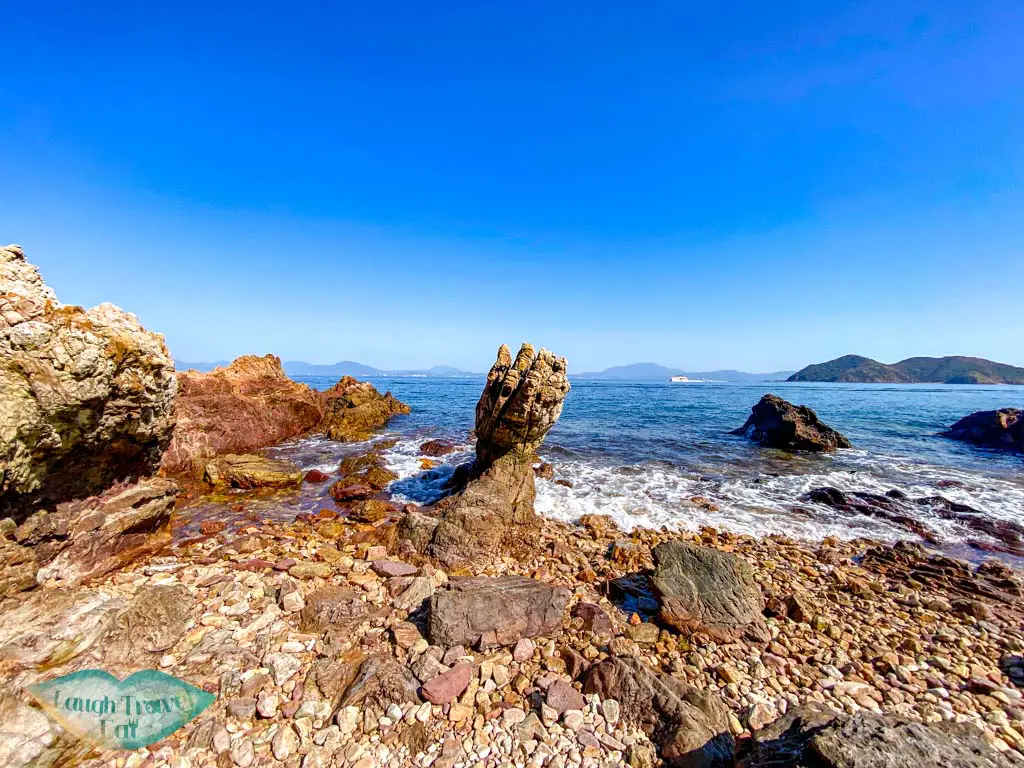 Please note that you SHOULD NEVER climb on it.
The semi-circle cove is surrounded by the same Devonian red rocks, this time sandstones, that have been uplifted and tilted into an almost vertical position. Their red streams are due to oxidation of the ferric minerals in the rocks, due to extreme temperature difference during day and night and arid climate. And somehow, resembles bacon.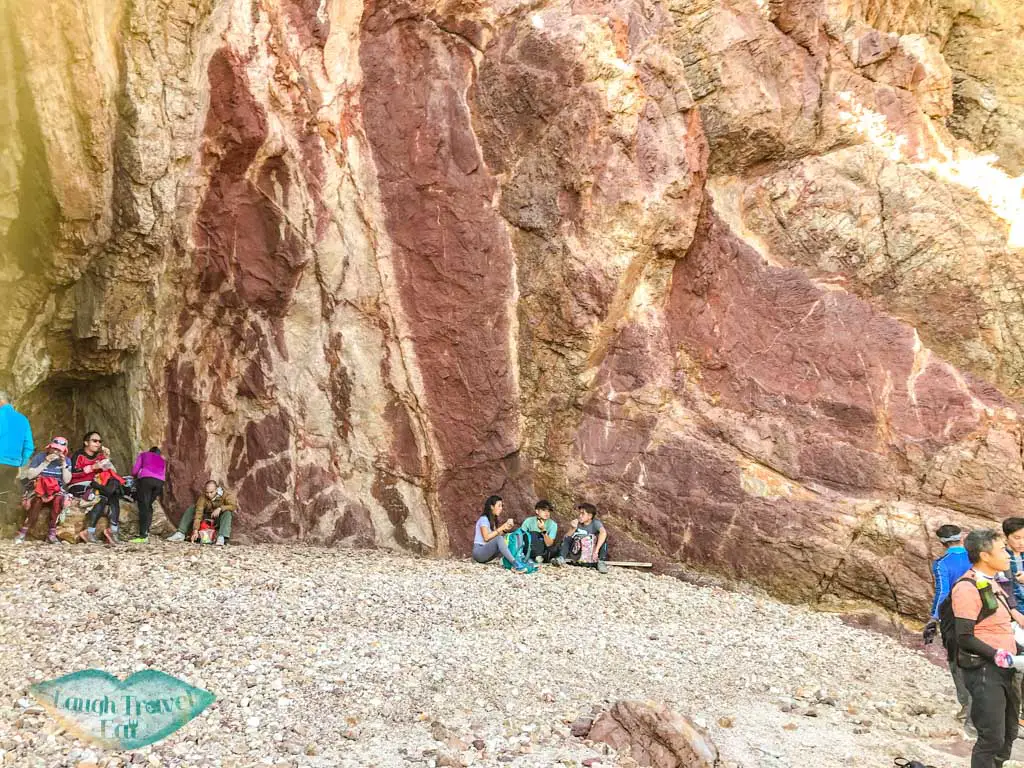 Ideally, you should arrive at the Devil's Fist at noon, if not at least 1pm, and leave by 2pm the latest to make it out. If you want to hike out before it goes completely dark, then the ideal time to leave is 1pm in the winter.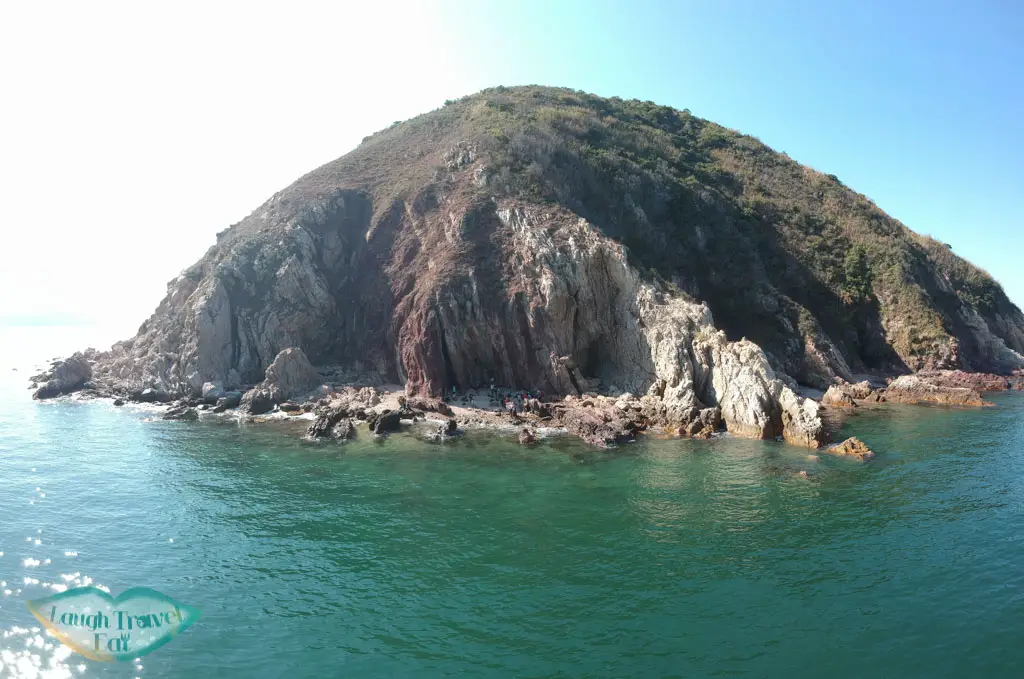 So take your lunch and photos – although do be prepared to queue for it – and go back the way you came.

Back to Fung Wong Wat Teng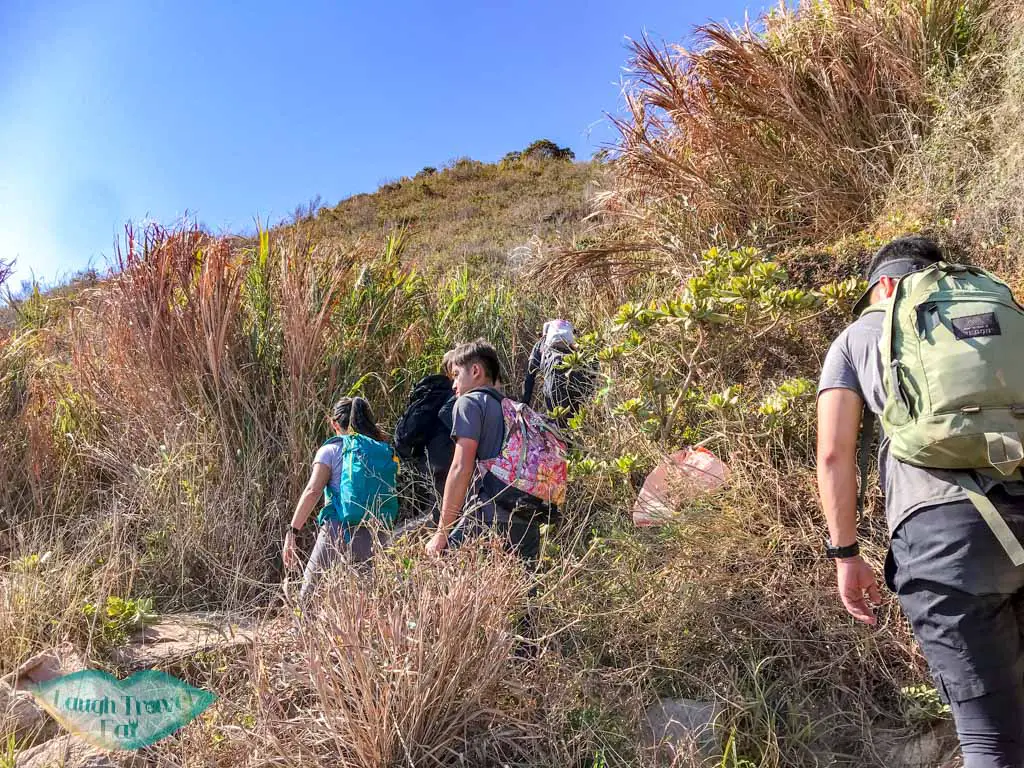 I somehow forgot how long it took us to hike in so hiking out and kept thinking that we'd be nearly there.
We weren't, especially since the stretch after the watch base until Fung Wong Wat Teng is pretty similar.
Once you are back in the forests, however, keep your eyes peeled as we don't have to go back up the 'Fall Dead Dog', but rather, at the junction with a million ribbons, turn to the trail with the instant noodles package.
This trail is mostly flat and in the forest, and takes us right back to the Plover Cove Reservoir Country Trail. You won't miss it, since it's a big wide path. And it's a straightforward path from there onwards.
The hike out to Tai Mei Tuk from there is a series of up and down peaks for the next 10.5 km or so.

Plover Cove Reservoir Country Trail
Ngore Kai Teng
Once passed Ngor Kai Teng, the trail flattens a little and we are finally right by the Plover Cove Reservoir again.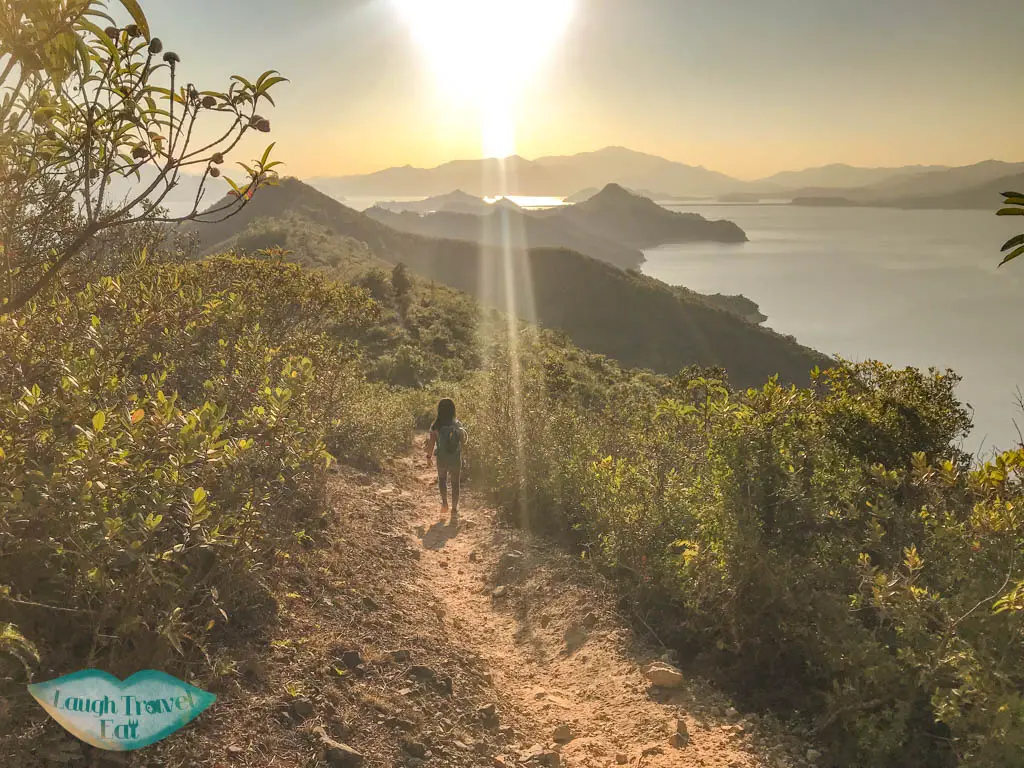 The next two mountains, Fu Tau Sha (110) and Sam Mun Shan, are not marked and simply go up and down until we've reached the last big peak.

Cheng Pai Tung (125)
The last highest peak before we reach the end, Cheng Pai Tung is marked by a meteorological column and surrounded by trees.
The path then goes steeply down with both stairs and just dirt path with pebbles and rocks, and then it goes up again with around three more small hills to conquer.
We reached the area around sunset and you can get a pretty good view of it going behind the mountains from here. I had just missed it but the faster of the group didn't.

Pak Kung Tsui
The hike then exits to a small dam at Pak Kung Tsui, marking the true final section of the hike on the concrete path.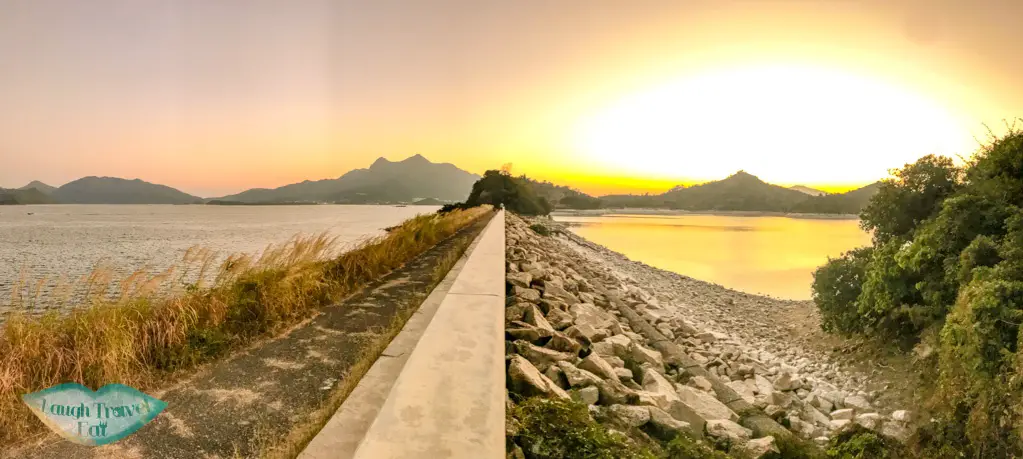 From there the trail is fortunately mostly flat aside from one flight of stairs case up and then down the next dam.
Then it is a short walk on a proper tarmac road before we reach the Tai Mei Tuk dam

Tai Mei Tuk dam
As it has become fully dark, I don't have any good photos, but we had to slip through a gate designed to stop cyclists going in. The dam itself is a good 3 km so expect to walk a little longer before you reach the end.

The bus stop for Tai Mei Tuk is just a short walk once you get down with a public bathroom nearby, and snack stores if you arrive before they close.

Getting out of Tai Mei Tuk
There is a bus stop where 75K bus runs regularly and takes you back to Tai Po Market.
The minibus 20C also runs the same route and is said to be faster.